14 Face Masks Made By Small Businesses
Similarly to how every company you've ever shopped with has taken it upon themselves to email you a generic message about how "they're here for you during these unprecedented times," every company that has ever existed also seems to now be getting in on the retail mask game. That being said, as easy as it is to just bulk order some trendy masks from Amazon right now, you should instead consider putting your dollar where it actually matters and support a small businesses in need. I mean, I'm pretty sure Jeff Bezos will still be okay without your $20 mask purchase. Plus, many small businesses have their own unique mask designs, which means they're going to be higher quality crafted than your mass-produced option (plus you can be original, if that matters to you). So with that in mind, here are some really cool small businesses that you can support and buy your masks from right now. This whole mask thing isn't going away any time soon (especially since only half of you seem to be following the guidelines of wearing them) so you might as well stock up and buy several, and even do some additional good while you're at it by supporting small businesses.
1. Thirty20

I came across this company on Instagram and was immediately obsessed. Thirty20 was born within the last year, started by a woman named Julie Gruttadauro who, after working in the fashion and retail industry for over 10 years, decided to start her own online boutique. Given the inventory implications resulting from COVID, Grattadauro is currently specializing her product assortment in custom tie-dye pieces, like the above tie-dye masks.
2. Righteous & Rich

'Aura' Washable Face Mask, $19.99
This sustainable fashion company, Righteous & Rich, is a Black-owned company offering unique pieces with cool designs, like their bright masks made with Ankara prints. The masks also have a filter pocket and wire at the nose which, as we've discussed, is crucial.
3. United by Blue

Salvaged Hemp Blend Face Mask (3 pack), $20
This Philly-based small business is doing good in more ways than one. To start, the company's mission is rooted in the belief that business should be a part of environmental solutions, not a hindrance towards it. They believe that businesses can operate in a sustainable, minimal-waste way, and are doing their part to prove it. They host cleanups, remove trash from the oceans, and now donate one mask to benefit Philadelphia residents experiencing homelessness for every three-pack sold. Amazing.
4. Flayr

In response to COVID-19, Flayr was founded in Santa Barbara by three friends whose mission was to create stylish and fun masks to help keep people safe. They use high-quality materials and fashionable prints to create masks you'll be excited to wear. Plus, making us love them even more, for every mask that they make they also will donate one.
5. CAAB Customs

Face Fashion Triple Layered Mask, $15
Founded in 2012 by Tiffany James, CAAB Customs makes some wild face masks that you're going to need to get you through this year (and that also make incredibly hilarious gifts.) Black woman-owned, this is a company you'll feel good about supporting, with masks featuring slogans ranging from the more conservative "gimme my 6 feet" to the more provocative "sh*t is gettin' real." 
6. NIGHT

100% Silk Face Mask + (7) Disposable Filters, $55
NIGHT is a company that specializes in high-quality sleep accessories, and they're on a mission to ensure you get the most out of every night's sleep. They've taken their philosophy now into the daytime mask game, offering silk masks that come with filters. Silk is known for its inherently antibacterial properties, which is obviously helpful when we're talking protective face masks. Not to mention, the softness of the material makes these masks comfortable enough to wear for long periods of time without any irritation.
7. Baliawear

Give Back Face Cover Animal Print, $25
Founder of Baliawear, Alvina Lam, founded her company with a focus on fit, allowing women of all shapes and sizes to wear her pieces. But that's not where the mission of Baliawear stopped. Lam's mission is also rooted in ensuring sustainable practices along with a desire to give back. She's now putting her mission into action, selling masks as part of an initiative to "buy one, give one" to donate back to shelters where social distancing isn't necessarily possible.
8. Frank and Myrhh Shop

Frank and Myrhh is an Etsy shop specializing in handmade African artisan goods geared towards millennials. Owner Baiyinah grew up with that entrepreneurial spirit in her blood, having parents that opened an African Arts Boutique 30 years ago in Pittsburgh, PA. Baiyinah has since channeled her own energy into creating her shop, Frank and Myrhh, selling her own curation of artisan wares. She sells tons of cool stuff, including masks ranging from more subtle plain ones to ones with abstract prints.
9. Zelda Boutique

Clear Skies Tie Dye Fashion Face Covering, $10
Zelda Boutique is a mother/daughter-owned boutique that is located in New Hope, PA. They sell an assortment of trendy cool clothes with the promise that everything is under $100. Since COVID, they've expanded their already incredible product assortment to now also include face masks, like this cool tie-dye one.
10. Hackwith Design House

I was introduced to this company by a friend who ordered their masks and was raving about them. Hackwith Design House is a sustainable, low-waste brand that makes versatile and long-lasting clothing. Recognizing the implications quarantine has had on domestic abuse victims, the company is giving back 10% of sales to the Domestic Abuse Project. Their masks are lightweight with simple prints, and, like I said, my friend raves about them.
11. SACHI

Japanese Cotton Pleated Mask, $26
This cute LA coffee shop (that also sells other goodies as well) is now personally hand-making masks that are double-layered and made with high-quality cotton. Their masks feature a Japanese block print design and, for every mask sold, they sew one for an essential worker. You can shop their products all currently available on their site.
12. Reuse Masks

Reuse 'Berries' Limited Edition Mask, $12
With a focus on comfortability and good fit, Reuse Masks designs and manufactures their masks in LA. Their goal is to add some personality to this new normal to help make these hard times a little bit better while keeping the community safe. Most of their masks are currently sold out, but stay posted for the next drop so you can support this incredible small business.
13. KASH Queen

KASH Queen is a women's online boutique that's all about manifesting your dreams in style, which I can definitely get behind. In addition to stylish and trendy clothes that empower women, KASH Queen sells masks with inspiring and cheeky messages, like the one above reminding us to keep the vibes strong even during these ~unprecedented times~ months ahead.
14. SACHIKA

SACHIKA 'Tease' Iridescent Transparent Mask, $22
This company is led by twin fashion designers To-Tam and To-Nya Sachika, who are selling fashionable transparent masks that will keep you safe while also allowing people to actually see you smile. But remember, if you're not smiling, people will also be able to see that too. Anyway, through their sales SACHIKA is also currently giving back to the Los Angeles Downtown Women's Center which makes them an even better small business that you'll want to support.
Given what's going on in our world right now, anything we each can do to help out the little man is going to be much appreciated. Whether it's an existing small business that's just currently struggling or a totally new business born as a means of income during these Corona times, it's important that we put our dollars where they actually matter. And plus, if you're anything like me, you need a bunch of different masks to match all your different outfits, so it's worth supporting a few of the small businesses from this list.
Images: @like1style / UNSPLASH; Thirty20; Righteous and Rich; United by Blue; Jaydee Studios; Flayr; CAAB Customs; NIGHT; Baliawear; Frank and Myrhh Shop; Zelda Boutique; Hackwith Design House; Sachi; Reuse Masks; KASH Queen; SACHIKA
UPDATED: Danielle Bernstein Accused Of Copying Face Mask Design From Small Business
Since the pandemic started, influencers have been getting into trouble. From Arielle Charnas' questionable COVID-19 journey way back in April to Bachelor alums breaking quarantine and going on interstate road trips for haircuts, it feels like influencers have been working overtime to get themselves canceled. Or maybe influencers aren't doing anything different than they were before, and we all just have more time on our hands to examine their behavior under a microscope since we're stuck at home. Either way, this time, Danielle Bernstein is being called to the hot seat after influencer watchdog accounts @influencerstruth and @diet_prada accused her of copying a face mask design from Second Wind, a Latina-owned small business.
On Monday afternoon, Bernstein announced via an Instagram post that she would be coming out with "sustainable linen masks that have a super lightweight detachable chain", adding that for every mask sold, one surgical mask would be donated to a frontline healthcare worker. In an Instagram Story, she shared that the masks would be available in three colors (black, white, and a nude), and would be sold for $35, with the option to purchase a separate silver chain for $12.

The masks are cute, and while I personally wouldn't want to have to disinfect my chain every time I return to my home, I could see why people would be into these. So what's the problem? Well, the problem is that face masks with a detachable chain are already being sold by a small business called Second Wind, and Bernstein knew about their existence before announcing the launch of her own similar designs. Second Wind currently sells masks made of organic linen with gold chains that are available in a few colors, including black, white, and sand. Second Wind's masks retail for $65, while Bernstein's cost $35.
On Monday night, @diet_prada and @influencerstruth both posted about the mask controversy, noting that Second Wind announced their launch of the detachable chain masks on May 30, and were available starting June 1.
Before this controversy started, @bysecondwind had a little over 3k followers on Instagram (they have since blown up to over 30k and counting). Is it possible Bernstein simply didn't know these masks were out there? No, because as @influencerstruth and @diet_prada revealed, she had actually reached out to Second Wind for them to send her a mask well before the launch of her own face coverings. She did so on June 29th. In case you need a refresher (no shade, time is a construct), today is July 21st.
A few days after requesting a mask, on July 2 from Second Wind, Bernstein messaged the brand's owner to let her know she would also be selling face masks with a detachable chain. But she assured Second Wind that she was not copying her, clarifying that her masks are a different shape. She also said she was inspired by sunglasses she owns—not, as it would appear, the very face masks with a detachable chain that she had just been messaging about. When Instagram users started pointing out the similarities between the two designs and the suspicious timing of the messages in comments on Danielle's post about her masks, they noticed their comments were mysteriously disappearing.
On Tuesday morning, Bernstein went on her Instagram story to address the accusations that she had copied Second Wind's designs. In the series of videos, she says she went into the production on her masks a few weeks before a mutual friend introduced her to Second Wind's masks. She says, "I was really excited to support her small business but in the spirit of transparency, just wanted to let her know that I'd already gone into production on linen masks with chains based off leftover fabric from an overall run that we did and chains that are coming out in a future swim collection."
She then goes on to say, "I told her I still would love to wear her masks and support her business because I think it's awesome what she's doing, and there's a bunch of really cool small brands making masks with chains right now and I'll definitely be sharing those." In a following slide, she tagged @bysecondwind and encouraged her followers to buy her masks. In subsequent stories, she also shows other brands making masks with chains.

This isn't the first time Bernstein has landed in hot water over masks, but usually it's because she is caught not wearing one. A few weeks ago, she was called out for attending a party in the Hamptons with little to no masks in sight, but later claimed that everyone at the party had been tested for COVID-19. Over the weekend, she caught similar heat after she put up a story of a dinner party in the Hamptons that was being cooked by four private chefs, none of whom were wearing masks. She later took to Instagram story to clarify that the chefs were "personal friends" of her roommate and they had all been tested. New York State guidelines mandate all food service employees wear a face covering at all times, regardless of physical distance.
On April 30, Bernstein launched @wegavewhat, a platform highlighting the charitable initiatives by the WeWoreWhat team. As part of the initiative, Bernstein has partnered with small businesses and creators and raised money for various organizations, including the Food Bank For New York City, and donated thousands of masks to be distributed to NY frontline health care workers. In June, she joined the first American Influencer Council, an "invite-only, not-for-profit membership trade association" that aims to "further legitimize and sustain the influencer marketing industry in America." The council aims to do things like lobby the Federal Trade Commission to "cooperatively adhere, promote and improve the Endorsement Guidelines," according to Fashion Week Daily, as well as examine the contributions of influencers to the U.S. through research and analysis.
In an Instagram post on Monday, Bernstein opened up about experiencing her first panic attack, brought on by the stress and criticism that is inherent in her job as an influencer.

The comments on that post, as well as her posts about her face masks, have since been turned off.
Updated: On Tuesday night, Bernstein once again addressed the controversy surrounding the masks. She said in an Instagram Story that since she had been receiving death threats, she decided to post proof that her team had, in fact, been working on a similar concept well before coming into contact with Second Wind.

As the screenshots indicate, Bernstein was communicating with, presumably, someone on her team about moving forward with a design for a face mask with a chain as early as May 19. The correspondence with Second Wind did not happen until the end of June.
Second Wind also posted an update on her Instagram story, saying she is "overwhelmed" by the response regarding the situation, saying, "I only ask that we try to lead with our hearts and be kinder to each other".

Her follower count has since shot up to over 45k and, from the looks of her stories, she is getting inundated with orders. So it seems like the situation has been resolved. Please remember: No matter where you're buying your mask from, just f*cking wear one.
This article has been updated to correctly reflect Bernstein's role in the American Influencer Council.
Images: Christian Vierig/Getty Images; weworewhat (2), influencerstruth, bysecondwind / Instagram
11 Breathable Masks (That Are Also Cute)
Whether you want to admit it or not, masks have become an everyday staple. You literally can't leave your house without one, because you won't be allowed in anywhere and will get scorned by the public. Of course, like most other things in life, not all masks are created equal. And with everyone and their mom selling masks right now, it can be hard to figure out which ones are actually worth the money. As a retail store manager, I'm lucky to currently be allowed back in my store every day doing what I love. However, major precautions have been set in place in order for the store to even be open, which means I'm wearing a mask for eight hours a day. So I definitely know a thing or two about which masks are actually breathable and what makes them that way. Here are my top picks for masks that are both cute and breathable.
1. Blush Mark Face Mask

Blush Mark Cotton Reusable Face Mask Blushing Pink, $2
The first thing that I quickly learned while trying out different masks is that the design makes the difference. This design that's contoured to the shape of the face prevents the fabric from getting pressed against your mouth, which is what makes it hard to breathe in. And, as someone whose job not only requires them to wear a mask for eight hours a day but also to be able to communicate with customers simultaneously, I know the impact this difference in design makes.
2. DIOP Face Mask

A major downfall of most masks is that the elastic that goes around the ears is either too small or too tight, so the mask pulls on the back of your ears and hurts after a while. Fortunately, DIOP's masks solve that problem with straps that go around the head rather than around the ears. The mask is durable and lightweight with a design that's contoured to the face, making it an all-around great option. Not to mention, DIOP is a Black-owned business inspired by founder Mapate Diop's Nigerian heritage. His designs honor his heritage through utilization of Ankara, a boldly colored and patterned fabric used throughout West Africa. These masks are breathable and comfortable to wear, and they come in unique bright patterns, making them the all-around perfect masks.
3. South Moon Under Face Mask

South Moon Under Palm Print Face Mask, $7.95
What separates this mask from others that I've tried is that it has a moldable piece at the bridge of the nose that allows you to fit the top of your mask tightly to your face. Especially if you're someone who has had the annoying and awkward experience of fogging up your own glasses while wearing your mask, you know that this moldable nose piece is a total game changer.
4. Montce Face Mask

Montce Leopard Texture Adjustable Face Mask, $22
I'm sure most of you are familiar with Montce, a super cute swimwear brand known for their fashionable and well-fitting swimsuits. But what you may not be aware of is that they're now in the mask-making game, and doing a hell of a good job at it. Their masks are extremely well-structured so that they protect your nose and mouth without having the fabric pressed up against your face. This mask also has adjustable ear elastics, an underrated feature that many masks don't have. Not to mention, their masks come in all of the same cute prints as their signature swimwear, so you can match!
5. Shop Betches Face Mask

Shop Betches Pink Tie Dye Face Mask, $20
You might be rolling your eyes right now at the blatant self-promo, but like, since we sell masks I couldn't not include them. But mind you, I'm also not willing to risk my journalistic integrity over promoting our own masks if they're sh*tty. So you can believe me when I tell you that our Shop Betches masks are great—they're breathable, cute, and *BONUS* for every mask purchased, we donate a mask to a frontline worker.
6. Socialite Bandanna Mask

Another great option for a face mask that's also breathable is the bandanna style mask. This one from Socialite is amazing and way better than just an ordinary bandanna because the fabric is super soft and, since this one is actually designed to be a mask, it actually stays around your head. It's also trendy and stylish enough to be worn around your neck for when you're in a scenario where you don't need it pulled over your face.
7. Rad + Refined Face Mask

Rad + Refined Lemon Lime Remix Mask, $18
This brand, Rad + Refined, is a celebrity fave for its cool and unique accessories that are so special they can't be found anywhere else, and their masks are no exception. They have fashionable masks in tie-dye prints and rhinestone details that are stylish and still super comfortable. They're also v breathable with their lightweight face-fitting fabrics and designs.
8. CR Clothing Co. Face Mask

CRCCo. Homemade Face Mask, $15
Another Black-owned company with phenomenally comfortable masks is CR Clothing Co., a company founded by fashion designer Charla Ruschelle. Charla's brand is rooted in made-to-order designs that actually fit realistic body measurements. Charla carries this same brand mission in the creation of her masks, which are also homemade and designed with the perfect comfortable fit.
9. Shore Face Mask

Shore Adjustable Masks – Set of 3, $36
Made from upcycled swimsuit fabric, the material of these masks is buttery soft on your face and so unbelievably comfortable. Especially during the summer, a mask that's made of the same moisture-wicking material used for swimsuits is definitely ideal. These masks from swim brand Shore are also easily adjustable, so you can ensure that it's not pressed against your mouth, forcing you to inhale it every time you take a breath.
10. PQ Mask-Scarf

PQ Bay Stripe MasQuini Yamia Scarf Face Mask, $24
When I first saw this mask, I thought there was no way I'd like it considering the abundance of fabric. However, once I put it on I was actually in love. This mask-meets-scarf design is not only super breathable, but also very wearable with its lightweight fabric and adjustable ear straps. Of course, there's definitely a lot going on with this mask, so I wouldn't want to wear it on a day I'm trying to flaunt my outfit. I would definitely have to save this for a more basic T-shirt kind of day.
11. Brave New Look

Brave New Look Floral Breast Cancer Ribbons Printed Mask, $20
These masks are made from 100% cotton, have pockets for filters (each mask comes with one filter, but you can buy refills), and feature adjustable ear straps. That's basically all the ingredients you need for a comfortable, breathable mask. They also come in about a million patterns, so you're bound to find something you like. Really no excuses.
PSA: Masks are no longer optional, so it's time to get on board. I guarantee you'll be a lot less resistant to wear a mask in public if you have ones that are cute and breathable. There are now tons of cute options out there to keep ourselves and the people around us safe. At the end of the day, not wanting to put a piece of cloth on your face to help others stay healthy is the definition of first world problems, so I say it's time we all just stop complaining and read the room already.
Betches may receive a portion of revenue if you click a link and purchase a product or service. The links are independently placed and do not influence editorial content. 
Images: @natedumlao / Unsplash; Shop Betches; Azazie; DIOP; South Moon Under; Montce; Socialite; Rad + Refined; CR Clothing Co.; Shore; PilyQ
People In Alabama Are Having Coronavirus Parties To Get Infected On Purpose
In news that could not be more quintessentially Alabama, CNN reports that some young people in Tuscaloosa are holding coronavirus parties in order to purposely infect themselves with the virus. Truthfully, not a single word in that sentence surprised me, except maybe the fact that Florida was not involved. Congrats guys, it wasn't you this time!
In a presentation to City Council members, Fire Chief Randy Smith explained that there is a trend amongst young people in Tuscaloosa where they're throwing ticketed parties to catch coronavirus, and the first person to get a confirmed positive test wins a payout from the ticket sales. So this is like a coronavirus party-meets-pyramid scheme. Great! Council Member Sonya McKinstry said that there have been several parties in Tuscaloosa and surrounding areas in the past few weeks, and they confirmed with doctor's offices that these are actually real. And this is why we can't have nice things (and why other countries are literally banning us).
The city is reportedly working on breaking up these parties, and also passed a mask ordinance that will go into effect on Monday. It will require adults and children over the age of 8 (parents will have discretion with children aged 2-8) to wear face masks in all public places, including inside businesses, on public transportation, and at outdoor gatherings with 10 or more people. It will be in effect for at least the next 30 days, and those who violate the law face a $25 fine.
Though it seems like a special breed of stupid, the idea of hosting a gathering with the express purpose of exposing guests to a virus is not actually new. Beginning in the 1970s and 80s, parents would set up "chickenpox parties" for their children in the hopes that they would contract chickenpox sooner rather than later. Today, however, the CDC "strongly recommends against hosting or participating in these events," urging parents that the chickenpox is a serious disease that can cause severe complications and even death, even in healthy children (hmm, where have I heard this before?). The CDC adds that since there's no way to tell how severe a child's symptoms will be, "it is not worth taking the chance of exposing your child to someone with the disease."
While for most people, the CDC says, one-time exposure to chickenpox grants immunity for life, when it comes to COVID-19, we're really not sure yet, which makes having these immunity parties extra dangerous. According to Mayo Clinic, "It isn't yet clear if infection with the COVID-19 virus makes a person immune to future infection." We also don't know yet if having the antibodies protects someone from re-infection. Dr. Dyan Hes, founder of Gramercy Pediatrics, tells Betches, "Currently, we really do not know if there is COVID-19 immunity at all." Cool cool cool cool cool. While some people who contract the virus do get antibodies, she says, "Studies show that many patients lose their COVID-19 specific IgG antibodies within weeks to months after their infection. Other studies show that patients with mild infection or asymptomatic patients never mounted an IgG response with antibodies."
And just to scare you even further, Dr. Hes adds, "We do not know if the antibodies are protective, and this is a problem. Many people who have antibodies assume that they cannot be susceptible to the virus again," but this is not necessarily true. She advises, "The moral of the story is that everyone should still be wearing a face mask, follow social distancing guidelines, hand wash frequently, and use hand sanitizer when washing is not an option."
But, I hate to have to break this to you, it's not only Alabama. The New York Times reported that on June 17, well after large gatherings were banned, a group of about 100 people attended a party in Rockland County, NY. (In fact, the state order at the time limited gatherings to 10 people.) The host of the party apparently showed symptoms of being sick at the time of the event and, along with eight guests, later tested positive for COVID-19.
Rockland County officials deployed contact tracers to see who else may have been exposed at the party and found that guests were refusing to speak with officials or outright denying they were at the party. Officials were forced to subpoena eight people they believe were at the party, and those who refuse to cooperate will face fines of $2,000 per day. Stupid and stubborn! Tracers were also concerned about two other parties in New York City on June 20 and 27 that may have had some guest overlap with the Rockland County party.
BuT wHaT aBoUt ThE pRoTeStS? While you're right, Karen, that experts worried that the mass protests would cause a surge in virus cases—Dr. Fauci called them a "perfect set-up" for the virus and L.A. mayor Eric Garcetti was concerned they would become "super-spreader" events—so far, this has shown not to be the case. In New York City, there has not yet been an uptick in coronavirus cases, despite the large protests that have been continuing for weeks. Experts are attributing this to a variety of factors, including but not limited to: protests being held outside as opposed to inside; protesters marching at a brisk pace, not remaining stagnant, and wearing masks; protesters being younger and therefore less likely to show serious symptoms; and even just dumb luck.
And, a new working paper from researchers at Bentley University, the University of Colorado Denver, and San Diego State University analyzed data from 315 American cities and compared incidences of COVID-19 in 281 cities where large protests were held to the 34 cities in which they were not, and found that protests had no significant effect on COVID-19. They attribute this surprising finding to the fact that protests may have actually caused an increase in people who stayed at home. In other words, maybe people who would have otherwise been out and about stayed at home so as to avoid the protests.
Even though it's July 4th weekend and the urge to party might be tempting, I'm going to take a page from Coach Carr's playbook and say, "just don't do it, ok, promise?" And before you go sh*tting on Alabama, Florida, or any other states, just remember that recklessness isn't limited to one part of the country, and that the U.S. is the Alabama of the world right now.
Image: Kyle Smith / Unsplash
10 Face Coverings That Are Actually Cute
Depending on where you live, stay-at-home orders may be beginning to let up a little bit. This means we have more places to go besides our government-approved mandated daily walk. Seriously, what dystopian teen novel are we living in? Where is the part where I find out I'm secretly gorgeous and two perfect yet very similar guys are fighting over me? Anyway, even though some regulations are lightening up, we're still going to be avoiding other people and wearing masks for quite some time. We really need to leave the disposable masks to our healthcare professionals, so it's time you invest in a cloth mask if you haven't already. As things start to open up, you will probably be wearing these masks with real clothes again instead of the same sweatpants for five days in a row. Okay, nine, but who's counting? Since these masks are basically our new lipstick (seriously, no one is going to see your mouth anyway), you should definitely consider getting some cute/trendy ones to match your outfit. I found some of the best ones that you can buy right now.

This is definitely the face mask that Elle Woods would be wearing right now. It's pink, it's glittery, it even comes in other colors! This is definitely for you if you usually like to do a bold lip. You can center your outfit around this statement piece. Plus, it's very summery, and who knows how long we'll be wearing masks? You might as well coordinate via season too. Can't wait for mask colors to come in pumpkin spice. (But actually though, we better be free by then!) As a bonus, The Mighty Company is donating one mask for every mask they sell to The Midnight Mission homeless shelter in Downtown Los Angeles, so you can feel good about this purchase.

If you want to do a fun print without it being too over the top, this galaxy mask is perfect. It will match basically everything but is still super cool. You can wear it with your all black everything and still be on trend. If you're feeling really adventurous, match your eye makeup to the colors. We've got to try to have fun where we can, guys.

Snakeskin is having a moment and lucky for you, there's a mask for that. This print is way more luxe and reminds me of something the Kardashians would wear. Plus, it's neutral colors so it'll go with most of your outfits. Just don't accidentally Photoshop yourself a third hand and you're good.

Another mask in a fairly neutral pattern is this Daniel Patrick one, that kind of looks like acid wash jeans. (Remember jeans? Me either.) If that's not really your thing, they have just about every color mask under the sun, including a fun neon green and a bright orange.

Tie-dye, so hot right now. Why not combine this season's two biggest trends into one with this mask? As a bonus, the $12 masks come in a pack of two, with the second being a neutral gray to match all of your outfits. These are made from a french terry knit fabric with a 100% cotton lining, antimicrobial interior, and elastic straps, so they are probably more comfortable to wear than whatever old bandana you've been tying around your face.

If you're not into the Rolling Stones, first of all, who are you? Second of all, Bravado is also selling masks dedicated to a bunch of musical artists, like The Weekend, Billie Eilish, Bob Marley, Ariana Grande, and more. And even better, they're only $15 and 100% of net proceeds go to MusiCares, which, according to their website, "provides a safety net of critical assistance for music people in times of need."

If you want your face mask to depict all the places you won't be going this summer (unless you live in LA), look no further. The swimsuit brand Dippin' Daisy has repurposed their factories to make non-medical face masks for first responders, and for each mask sold, they will give one mask to a first responder. Plus, they come in just about every pattern you could conceive of. And they're only $10. Basically, you have no reason not to get one.

If you're looking for something fun but less aggressive, try this floral print mask from Urban Outfitters. It's soooo pretty. The colors are soft so you can wear it with just about anything. This mask is for sure the most Instagrammable for your quarantine selfies. I mean, if you're going to bother putting on makeup, you might as well take a pic, right?

If your wardrobe is as black as your soul (like mine!), you probably need some basic black masks to match. Really, we should all have some black masks on hand to go with whatever we're wearing. This set from Shop Betches comes with three masks, which is awesome because you can wash them the second they start to smell like mouth (you know exactly what I mean) and still have one to wear!

A little more on the subtle side, these super soft masks come in four striped patterns. Solid navy, olive green, and black are also available. The masks are made by hand from fabric scraps, so they're eco-friendly, plus 5% of proceeds go towards La Casa De Las Madres, a women's domestic abuse shelter in San Francisco.
Hope these masks help you guys stay safe and contain your disgusting germs! Thank you for practicing social distancing and staying at home.
Betches may receive a portion of revenue if you click a link and purchase a product or service. The links are independently placed and do not influence editorial content.
Skin Care Diaries: My Four-Step Routine For Highly Sensitive Skin
As you can probably tell from the title, this skin care diary entry will be less sexy than others we've published. Welcome to the world of sensitive skin. I graduated college a little over two years ago, and it's been an absolute whirlwind watching my skin and metabolism compete over who can deteriorate faster. I've never suffered from serious acne (*knocks on every piece of wood in the tri-state area*), but my post-grad skin has offered up plenty of dullness, dryness, and increasingly visible pores. I also developed what I refer to as "my problem cheek," and my dermatologist refers to as "rosacea." Basically, one stubborn patch on my face is perpetually red with some bumps—not quite pimples but just not smooth.
Before I finally caved and saw a dermatologist about it, I was convinced I had chronically dry skin and was layering on fancy oil-based serums and thick moisturizers every night. I genuinely believed that the more I spent on a skin care product, the better it was for me. But here's the honest, tragic truth about my (highly sensitive) skin. Just about anything I do to it beyond doctor-recommended cleanser, treatment, and moisturizer only makes it worse. As my dermatologist explained, the rosacea means that my skin barrier is damaged. So any products I'm applying don't actually soak in. They just settle in the top layer, creating that fun bumpy texture I was describing.
Long story short, many of the fun, bougie skin care products I'd love to try are off-limits to me. All those "intensely moisturizing" products I used to swear by? They make my oil-prone areas worse, and ultimately clog my pores. Any physical exfoliants just activate my redness-prone rosacea patches. And forget about face makeup. Any time I go for a full face of foundation, or—God forbid—highlighter, which I seem to be allergic to in every brand, I accept that my skin's overall appearance will take a hit for the next three days. So, I've worked very hard to assemble a routine that keeps my sensitive AF skin smooth, even, and pimple-free. If your skin is more dramatic about a change in routine than you are when asked to attend a 9am meeting, read on. Here are the products I've found really work.
My sensitive skin every time I try to introduce a new product: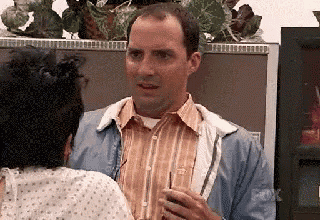 My Routine
Face Wash: I wash my face morning and night with CeraVe Hydrating Cleanser. My dermatologist recommended it, and it makes my face feel crazy soft. I'll double cleanse on days when I bothered to put on make-up, or if I skipped my routine the night before. And while I'm sure that a Clarisonic or the equivalent would make it even more effective, I frankly just do not have the time or patience to use one. Plus, I kind of hate reusable skin care accessories because I'm a germophobe and convinced they're growing bacteria. This is a problem I imagine could be alleviated by like, cleaning it, but once again I am lazy/perpetually short on time.
Toner: I follow (most) cleanses with Belif Witch Hazel Herbal Extract toner. In the words of my dermatologist, it's "not really doing anything," but she graciously invited me to finish the bottle I'd just purchased. Despite her (rude) commentary, I like the idea of an additional cleansing step while living in the cesspool of dirt known as New York City. Also, it smells refreshing and makes me feel fancy. As I mentioned before, most products that fit that description give me some kind of weird reaction, so I really appreciate the ones that don't.
Prescription: Once my doc determined that problem cheek = rosacea, I was given a prescription for an azelaic acid called Finacea Foam. It treats the redness and bumps caused by rosacea, and I use it twice a day after cleansing and before moisturizing. While it hasn't 100% cleared up the problem, I've gone from having bumps spread across both cheeks to one small patch (damn you, problem cheek!). The overall texture has also greatly improved, and what was once a weird blotchy redness now shows up as more of a flush after hot showers/working out. Highly recommend.
Spot Treatment: This is not dermatologist-approved behavior, but if I see a pimple coming on I'll dab some spot treatment with salicylic acid on the area before locking it all in with moisturizer. It's a little annoying because I have to wait for an additional layer to dry, but fully worth it if you can stop a burgeoning zit in its tracks. If I go a little too nuts and start using it daily I end up getting dry and triggering some redness, but in moderation I find this kind of product to work wonders. My two faves are Clean & Clear Advantage Acne Spot Treatment and Neutrogena Rapid Clear Acne Eliminating Spot Gel.
Sunscreen: I use EltaMD UV Clear Broad-Spectrum SPF 46 every morning, at my dear dermatologist's behest. Apparently rosacea can be triggered by sun exposure, so I guess this plays a role in calming it down. Honestly, I struggle to get excited about any product from which I don't see immediate effects, but I know it's good for me and I feel lightly smug for using it for that reason. Also, it sinks in quickly enough and replaces my moisturizer in the morning.
Moisturizer: I use CeraVe PM Facial Moisturizing Lotion every night and some mornings, depending on how dry my skin is feeling. I love it because it's lightweight, has the same silky feel as their cleanser, and doesn't sit on top of my skin like all those fancy jar moisturizers I was buying for years did. Does it make me feel rich and chic? No, but it also doesn't cost me $50 every six weeks, and my skin is way softer. I'll take it.
Serum: Eminence Facial Recovery Oil. My dermatologist all but begged me to throw this out (in her words, "I don't think more oil is what you need right now"). But I'll still dab a little on my forehead every now and then because I can't help myself. Nose, chin, and cheeks are off-limits for this riskier product, but I'll mix a little in with my moisturizer and apply to my forehead a few times a week. It smells amazing and my sister swears it's improved her fine lines.
Wednesday
Morning: Cleanser, toner, Finacea, sunscreen. I have a week-old pimple on my cheek, and last night I put on a bunch of spot treatment and extra Tretinoin on the area, plus Neosporin since I keep picking it open. (Don't @ me, it works.) The pimple is finally fading from view, but I see two to three more bumps lurking below the surface. Problem Cheek, will you ever set me free??? I've tried changing pillowcases, changing what side I sleep on, never holding my phone to that side of my face… nothing works. I take a few pictures in hopes of taking you on a visual journey, but I'm on week 7 of a 10-week shoot and the bags under my eyes/general lifeless demeanor are a little much to take.
Evening: Cleanser, Finacea, moisturizer. No spot cream or toner because I just worked 14 hours. Moisturizer I applied lying down maybe three seconds before passing out. I manage to apply more Neosporin to my cheek spot, though, because at this point I've been wrangling it for nearly 10 days and it's all I can think about. To anyone reading this: do not pick your face until it bleeds, no matter how fun and genuinely helpful it seems in the moment! I fall asleep praying it will heal overnight.
My poor, picked-at skin: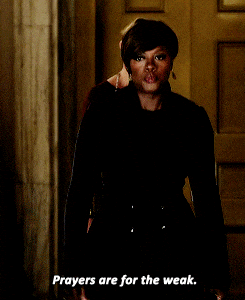 Thursday
Thursday morning I don't have to be at work until 9am. This would be better news if it didn't mean I'll be there until 11pm. However, the extra time in the morning means I can cleanse, tone, apply Finacea, and put on sunscreen all in the comfort of my home. I'm sad to admit I sometimes apply sunscreen on the subway, which I am aware makes me gross. I have a thing about layering products too quickly. I worry I'm just diluting one product with another if I don't give them time to dry. If I'm totally wrong on this, PLEASE call me out in the comments. I would love to stop putting on sunscreen with hands that just touched subway poles.
I'm not home until 11:40pm, as expected. As I dutifully cleanse, tone, Finacea, and moisturize, I realize something miraculous. Cheek pimple is, if not totally invisible, highly faded. Neosporin saves the day again. I stare at my nearly clear cheek and think about how I definitely would have skipped washing my face tonight if I weren't writing this diary. This makes me think I should start journaling my food, too. Then I eat four bite-size candy bars I stole from work and fall asleep.
Friday
Today is an exciting skincare day for you all! I'm working from home until 6:30, so I don't get out of bed until 11. I don't do anything to my face because I want to work out first, a dream it takes me two hours and 15 minutes of yoga to give up on. I wash my face in the shower, then put on Kiehl's Rare Earth Deep Pore Cleansing Masque. It's my go-to for all generalist, make-my-skin-look better needs. It's great for calming down redness and inflammation, improves overall tone, and just makes your skin look clear.
After, my skin is looking the best it has all week. The cheek pimple is totally gone, and those bumps I was complaining about on Wednesday seem to have died down too. I add toner, Finacea, and sunscreen. After sunscreen, I add my new favorite no-makeup makeup product: Smashbox Photo Finish Foundation Primer. This is the closest thing to foundation I can wear without triggering a breakout, and despite being sheer, I swear to God it visibly blurs away my flaws. Friday night, I cleanse/Finacea/maybe moisturize? I spent my evening getting high and watching Vanderpump Rules, so I honestly don't remember. I do remember eating a Twix bar at 1am and thinking the single greatest thing I could do for my health is cut down on sugar, so take that as you will.
Me: I should cut down on sugar!
Also me every time I go out: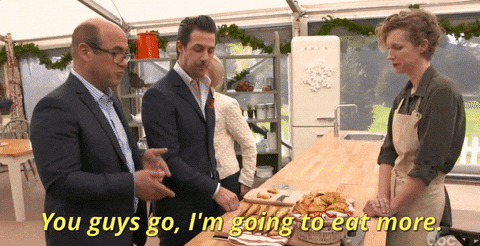 Saturday/Sunday
Saturday morning, I cleanse and tone, and get dressed in a rush waiting for toner to dry. Then I add Finacea and try to find my insurance card for a doctor's appointment for 10 minutes. Two hours later, I remember to moisturize—hope it still counts for something. No sunscreen today, oops. Saturday night I make a genuine attempt to go out. But I still end up asleep on the couch before midnight. At least I manage to wash my face before crashing. I tell myself I'll put on Finacea and moisturizer in bed. I don't.
Sunday morning I've slept for an annoyingly long time. I cleanse, tone, Finacea, and moisturize—no sunscreen. My skin's feeling dry since I fell asleep without moisturizing the night before, and I don't really plan on spending time outside anyway. I go to the movies, where I realize the junk food and half-hearted skin care Saturday has resulted in two new bumps rearing their heads on Problem Cheek. I tell myself I'll do a mask and spot treatments that night. Instead, I drink two margaritas at 5pm, and barely manage to cleanse/tone/Finacea/moisturize. I suck.
Monday
I wake up at 4:30am, regretting Sunday's margaritas with every bone in my body. I seriously consider quitting my job for five minutes, then get out of bed and cleanse, tone, Finacea, sunscreen. Monday night, I get home "early" (7pm), and treat myself to some salicylic acid spot treatment following my cleanse/Finacea/moisturizer routine. No toner because I'm already tired at the prospect of the spot treatment, but the bumps I saw at the movie theater Sunday don't seem to be going anywhere on their own.
Tuesday
Tuesday morning I cleanse, tone, Finacea, and liberally apply sunscreen to try and make up for the fact that I don't have time to apply moisturizer (and wait for it to dry). At work, I read a different skin care diary in which someone who clearly has more money and better skin than me also swears by salicylic acid for clearing breakouts. Even though the salicylic acid product is the only one in her routine I can remotely afford, I allow myself a brief moment of smugness. I also remind myself that fancy $100 skincare items have never done anything but made me break out.
Tuesday night, I cleanse/tone/Finacea, and add more spot gel (Clean & Clear) to those bumps on my cheek. I can't be sure if they're actually pimples or just rosacea bumps, but I feel hopeless if I can't even pretend I'm treating it. I tell myself I'll moisturize in bed, and as I'm sure you can guess, I do not. At 3am, I wake up, realize my mistake and moisturize. It's terrible.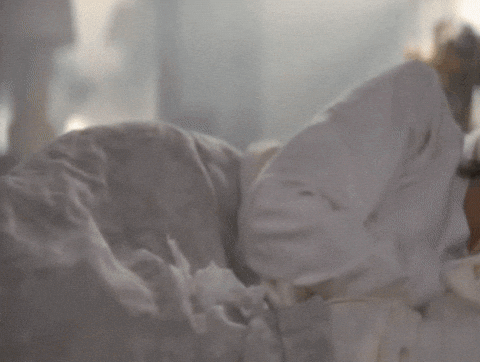 All in all, the moral of my not-so-exciting skin care routine is that I've (reluctantly) stopped chasing Instagram-perfect skin. And both my wallet and face are a lot happier for it. I don't use drugstore products because I'm low-maintenance and don't GAF. I use them because the alternative is spending $78 on a moisturizer that sits on top of my broken skin barrier and makes me break out. So if you have sensitive skin like me, remember that the #1 investment you can make is a dermatologist, and when you're rich, biannual microneedling and injections. Can't wait.
Images: Giphy (4)
5 Face Masks To Fix The Damage You Did To Your Skin Over The Weekend
So you went out last night. And you drank. And maybe danced. And sweated. And probably walked through a sh*t-ton of cigarette smoke (but you didn't smoke yourself, right, because that causes wrinkles cancer?). Then you came home and were like, hey, maybe I should do my 95-step skin care routine. Or I can pass the f*ck out before everything starts spinning. Hopefully you at least used a Makeup Eraser or baby wipe to take your makeup off first. But chances are after exposing your skin to makeup, dust, sweat, smoke, and dehydration, you didn't take care of it properly after a late night out. And you probably didn't the night before that, either. Now it's Sunday night and if you don't act fast, your skin will be f*cked this week from your (multiple) nights of total abuse. But don't worry, no matter your ailment, there are face masks that can repair what you've done to your poor skin.
This mask is a charcoal peel-off and it's so much fun to use. Also, kind of disgusting. Thanks to you being nasty and not properly washing your face this weekend, all that smoke/sweat/old makeup/alcohol breath of your friends/etc. is now sitting in your pores. GROSS. This mask is a miracle worker at cleaning all that out. Wash your face, apply a thick layer of the mask, let it dry completely (~20 minutes) and pull it off. It hurts like a b*tch but it cleans out everything and takes any flaky, dead, dehydrated skin with it. Just follow up with a good moisturizer. Also? Apply it after a steamy shower while your pores are more open for better results.

If you have super oily or acne-prone skin and you can just feel the buildup of grease under your pores, this is the mask for you. It will dry out anything lurking in your pores, exfoliate to release excess oil, and it neutralizes any redness. I always keep a jar of this on hand in case of any breakout crisis, and I get cystic acne so you know it's legit if I think it helps. Plus, it has peppermint oil in it and leaves my skin feeling refreshed and tingly.

This is my holy grail product. If I could only bring one thing to a deserted island, it would be this mask. If your skin is dry since you forgot that whole "drinking water" thing in your weekend of mayhem, this will fix it overnight. Plus it smells so good. I dream of being super rich and bathing in it every night. It's so gentle, you could even use it after one of the drying masks to moisturize.

This is one of Lush's fresh face masks, meaning if you bring in five empty black Lush containers, you get it free. I don't know why they only count the black containers, but it's their policy, and I'm not gonna argue with something that gives me free stuff. Rosy Cheeks is the best of the fresh masks for irritation, dry skin, and redness, since it's full of calamine and rose oil. If you need a product to get your skin just to calm the f*ck down, this would be it. Also, since it contains fresh ingredients, you keep it in the fridge and it feels amazing when you put it on.

Sephora's sheet masks are so inexpensive and they have varieties for every skin problem imaginable. They're one-use only, which sucks, but I like to stock up when they have value sets on sale since they're cheaper. Whether your skin is too dehydrated or breaking out from your weekend neglect, there is a mask for it. They even have ones that treat sun damage and pollution. For hungover, post-partying skin, I recommend the Aloe Vera (quenching & replenishing), Rose (ultra-moisturizing & brightening), or Grape (protecting & anti-pollution).

Images: Amazon; Lush (2); Sephora (2)
Betches may receive a portion of revenue if you click a link and purchase a product or service. The links are independently placed and do not influence editorial content.
Essential Travel Beauty Tips So You Don't Look Gross After Flying
Travel is without a doubt one of the greatest parts of summer. First of all, there's the crack-like (I assume) rush of turning on an "out of office" email reply. Chase that with a daily routine of margaritas for breakfast, followed by triple-digit likes on a "look at my ass this beautiful view" 'gram, and I'm decidedly living my best life. Unfortunately, even the highest of vacation highs tend to come crashing down within 24 hours of returning home. Not only did your "out of office" reply deter exactly zero people from emailing you multiple times, but you now have to deal with the ravaging effects of whatever public transit hell you were subjected to on your return home. (I'm primarily discussing air travel here, but let's not pretend that buses/trains don't leave you feeling pretty icky as well.) Here are some travel beauty tips for avoiding and even reversing the damaging effects of air travel.
Start With A Clean Face
If you're one of those people who can't leave the house without a full face of makeup, I have bad news. No one believes you woke up like that, and you should absolutely never fly in makeup. If you absolutely have to roll up to the airport made-up, at least take it off ASAP once you're in the air. Makeup wipes like these Philosophy facial cleansing cloths are a must, given the state of airport bathrooms and the fact that your bougie-ass cleanser definitely won't make it through TSA. Alternately, you can go with a (travel size) no-rinse micellar water—just please God use cotton pads, not airplane toilet paper. Ew.

Purity Made Simple One-Step Facial Cleansing Cloths
Embrace In-Flight Skincare
Ok, so now your face is clean. Sadly, your work is just beginning. One of the biggest damaging factors on airplanes is that they dry you out like crazy. This means you're looking at red patches, flaky skin, and the overall pallor of a three-day-old corpse (just me?). Luckily, there are ways to avoid this—though they do involve giving exactly zero fucks what the people in your row think. For starters, it seems like every celeb on earth applies a hydrating mask while flying. Luckily, there are "invisible masks" like the Origins Drink Up Intensive,  or Kiehl's Ultra Facial Overnight Hydrating Masque, both of which you can leave on for hours to absorb maximum moisture, without getting dirty looks from flight attendants. For those a little less shameless, the Summer Fridays Jet Lag Mask goes on like a regular mask (that you'll have to rinse off with a warm towel, somehow), but it provides hydration and anti-inflammation without any harmful ingredients or artificial fragrances (it's also vegan). If you're brave enough for a sheet mask, Chrissy Teigen and J Lo swear by the SK-II Facial Treatment Mask.

Kiehl's Ultra Facial Overnight Hydrating Masque
Once you've removed the mask, it's recommended you follow up with your preferred serum/moisturizer/eye cream. (Or if you're prone to puffy under-eyes (hi), consider some cooling pads like these skyn ICELAND firming eye gels.  Emma Stone swears by argan oil for long flights, but your heaviest daily moisturizer should work fine.

As a final, extra-luxe step, invest in a face mist. Celeb stylists love rose-water infused options (try Khloé Kardashian's preferred Jurlique version), but regular old Evian is fine too. If you're reallyyyy trying to get extra about this, the Caudalie Beauty Elixir is another celeb fave. (It's a toning spray, but don't ask me what toner does). Or,  you can follow up your SK-II celeb-approved face mask with their Facial Treatment Essence. (Seriously, do not ask me what essence does.)
Stock A Full Mom-Purse
You know that one friend whose purse is always fully stocked with Kleenex, lip balm, gum, etc? Yeah, you'll want to emulate that to an extent. In addition to all the face wipes and hydrating essentials mentioned above, you should never board a flight without hydrating lip balm, hand lotion, and more water than you usually drink in a week. This final point is especially key, because in addition to making your outsides dry AF, your insides are also dying from dryness when you're on a flight. So drink, drink, DRINK. Even though it's annoying to get up every half hour and use the bathroom, you'll thank me when you don't arrive bloated and constipated (ew), not to mention the fact that the simple act of getting up and moving frequently is proven to help beat in-air bloat, and can help prevent blood clots. Woo!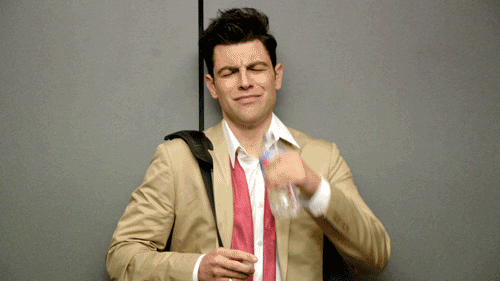 Be Careful What You Eat & Drink
Oh, and speaking of drinking—I have another bubble to burst here. As you know from waking up at 3am with desert mouth after a night of drinking, alcohol dries you out—which means drinking on flights is a big no-no (same is true for caffeine). Yes, air travel is definitely one of those memories I'd prefer be a little hazy, but the pounding headache and exaggerated dehydrating effects all around are not worth the 25-30 minute buzz. Save the drinking for your final destination.
When it comes to eating, you're better off the less you ingest while actually on the flight. Sugar-free foods and gum escalate an already gassy situation (sorry—I don't make the rules), and chewing gum makes you literally swallow air, which, you guessed it, escalates both the gas and the bloat. The same goes for high-sodium foods and any carbonated drinks. So yeah, even your beloved La Croix is a no go. Some experts suggest to avoid eating anything on a flight, since flying may cause your digestive system to slow down, and the restarting process will be all the more unpleasant if there's new food to digest rolling around in there. Whether or not that's 100% scientifically proven, many people who avoid eating on planes say they feel more rested and hydrated after, so it's worth a shot. Were you really that hyped about airplane food anyway?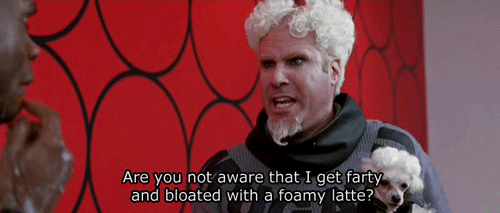 That's all from me (though TBH, it's plenty). I purchased maybe six more products over the course of writing this article, as I'm currently in the throes of post-flight bloat and ogre skin myself. Learn from my mistakes and help slightly soften the blow of going back to work by not having to deal with a pimple the size of a third eyeball taking over your forehead. Really takes away from the glamour of an overseas vacay.
Images: Giphy (2); Sephora (2)
Betches may receive a portion of revenue if you click a link in this article and buy a product or service. The links are independently placed and do not influence editorial content.