Everything You Should Know About Microblading & The Aftercare
I've written before about the wonders of microblading: the magic treatment behind so many celebs' perfect, make up-less brows. While microblading is slowly becoming more common, the treatment is expensive enough—and permanent enough—that I assumed my microblading days were years away, if they existed at all. Perfectly sculpted brows first thing in the morning were a luxury for the rich and famous—I, who struggles to go a single day without spilling food on my shirt, was not worthy. Cut to: in an exchange I thought maybe I had dreamed, EverTrue Microblading Salon offered me a treatment with their head stylist. I (obviously) couldn't accept fast enough, and two weeks later, I'm confident it's the best beauty treatment I've ever gotten. Read on for details on the procedure, aftercare, and some dramatic before and after shots.
WARNING: Side effects of this procedure may include taking a disgusting amount of selfies, a small obsession with what other semi-permanent treatments could also improve your face, and a general spike in vanity. WORTH IT.
The Microblading Procedure
I got my brows done at EverTrue's Flatiron salon, with their Master Therapist Michelle Wu. (Pictures of her work, and other brow specialists, are available on the salon's Instagram.) Wherever you go, make sure that you look at samples of your stylist's work beforehand, and even speak to past clients if possible. With semi-permanent makeup, there's no such thing as being too careful. While I'd been daydreaming about this procedure for years, I found myself getting nervous the night before. What if I hated it? What if it hurt? Was I crazy for going through with this?

Luckily, both the salon (pictured above) and Michelle herself were incredibly soothing—and it didn't hurt that everyone there, down to the receptionist, had flawless brows of their own. Before diving in to the procedure, Michelle did some tweezing, and we discussed brow shape and color. My brows, as you'll see in a moment, have always been lighter and patchier than I've liked, which meant about 20 minutes spent with my Anastasia brow pencil every morning. They're also lacking when it comes to having a defined shape, or noticeable arch, something that's harder to fake with my particular makeup skills.
After listening to my concerns, Michelle drew in my brows with pencil, showing me exactly where every stroke would go, and what the end product would look like. The first time through, she gave me a very natural look, following the existing shape of my brows and just filling in. On a second draft, I asked her if she could give me more of an arch, even if that meant tweezing my brows further to fake it (it did). She drew it in, I fell in love, and she went off to mix up a pigment that would match my natural hair. Twenty minutes of numbing cream later—and 30-45 minutes of Michelle individually drawing in each "hair" with a tiny, pigment-carrying blade—I was all done. In less than 90 minutes, and with no pain other than a slight soreness toward the end, my brows were complete.
My brows, before and after:


Microblading Aftercare
Honestly, most of my night-before fears about microblading weren't about the process itself; they were about the aftercare. Mostly, I blame this InStyle article, which led me to that my brows needed to be on full lockdown for a week following. No moisture (including sweat), no showering unless you wanted to tempt fate, and don't you dare roll over in your sleep—unless you want to ruin your brows like this author's unfortunate, side-sleeping co-worker did. Obviously, this writer had no malicious intent, but as someone who believes basically everything she reads on the internet, I was pretty f*cking stressed.
After carefully rattling off my concerns to Michelle, she gave me a few pieces of good news. Given improvements in the pigment they use, microbladed brows now only need to stay dry for 48 hours after the procedure—not a full week. And short of sleeping fully on my face, she was very skeptical that I would manage to mess up her work overnight. Phew! That being said, I had still just gotten eyebrows tattooed onto my face, and she was clear that certain aspects of aftercare were non-negotiable. For one week: apply a thin layer of healing balm (provided) twice daily, don't get any product on your brows, and don't apply direct pressure. This means when people see your brows and immediately try to touch them, you back the f*ck away. (Maybe no one in your life will do this. But all of my weirdo friends definitely did).
So yeah, my showering regimen definitely took a hit the following week (I could get them wet after 48 hours, but I was scared of stray body wash or shampoo getting in there). And I may or may not have yelled at my boyfriend every time he tried to kiss me, but every rose has its thorns and all that. It was a slightly annoying week with 3-5 heart attacks that I'd fatally messed up—but I never had, and my brows remained intact.
The Final Results
Finally, I didn't realize how much your brows change in the weeks following the microblading procedure. For the first few days, they were much darker—now, two weeks later, they're almost too light. This is all a normal part of the healing process, as your skin scabs, heals, and grows back, and as the pigment adjusts to your skin. Brows will reach their "final" color 4-6 weeks after the initial process, and just in time for a mandatory touch-up session, where your stylist can fill in any holes, go bigger if desired, and make adjustments to the shade.
I have to say, though, both at their darkest and their lightest in this healing process, my brows look the best they've ever looked. Even my sister, who is skeptical of all beauty treatments that take more than water to remove, was thoroughly impressed. And of all the slight modifications I've made to my appearance over the years—eyelash extensions, laser facials, coloring my hair—it's made the biggest and best difference. Having thicker, filled-in brows gives me the exact boost I sought out with my minimal makeup routine: I look more put-together, and frankly, more natural than I did before.
Me, one week in and feeling myself:

Something about having these permanent (technically, one year to 18 months) brows makes me want to wear less makeup on the rest of my face, too (obviously, the above selfie notwithstanding). While I know these brows aren't actually natural, I feel like they look like they could be—and appreciating a natural look goes a long way toward putting down the eyeliner and taking on the world with nothing more than my fancy new brows. It's boosted my confidence, cut down my morning routine, and flooded my DMs with questions about the procedure. If you're able to make a beauty investment right now, and you're wondering what to go with, run, don't walk, to EverTrue, or your nearest (reputable!) microblading salon.
Images: Alexandru Zdrobău / Unsplash; EverTrue Microblading Salon (2); @evertruesalon, @louisabhaus / Instagram
The Most Expensive Celebrity Engagement Rings
I'm one of those girls who is obsessed with all things weddings. And much to my boyfriend's dismay, I've known what engagement ring I've wanted since I was little. I jokingly say to my friends that if the ring isn't big enough, no matter how much I love the guy, I'm going to have to say no. Shallow? Maybe. But don't pretend like you'd be thrilled with a ring that was less than a carat. Because of this obsession fascination with weddings, whenever I hear of anyone getting engaged, my first question is, "what does the ring look like?" This is why celebrity engagements are so exciting because you know the ring ain't gonna be small and neither will the price tag. So, here is a list of the most expensive celebrity engagement rings. I promise they will not disappoint.
Starting this list off of expensive celebrity engagement rings with a bang (and the most expensive one) is our girl Mariah. Being the diva she is known to be, we all know she wouldn't accept a ring less than fabulous. Her then-fiancé, James Packer (an actual billionaire), proposed with a 35-carat emerald cut engagement ring designed by Wilfredo Rosado. Its estimated value is $10 million. Although the engagement was called off seven months later, Carey got to keep the diamond ring. BRB, gonna go slide into James's DMs.
Kimmy has had her fair share of most expensive engagement rings in her day. When Kris Humphries popped the question in 2011, he gave her a 16.21-carat engagement ring, estimated at $2 million. After that marriage fizzled (rather quickly, might I add), Kanye West popped the question to Kim 2013 with a 15-carat engagement ring that rung in at $4.5 million. However, after her ring was stolen in Paris in 2016, Kanye upgraded her v expensive ring to a vvv expensive ring (below). KKW's most expensive engagement ring? A whopping 20-carat ring that is estimated to cost $8.5 million. And who designed these three rings? The queen of expensive engagement rings, of course: Lorraine Schwartz. Kanye, do you have a younger brother? Just asking for a friend.
3. Paris Hilton
As an heiress to a successful hotel-chain, you bet Paris Hilton is going to have one of the most expensive celebrity engagement rings. Her fiancé, Paris Latsis, proposed with a 25-carat ring that set him back casually cost him $4.7 million. However, after their split, her ring was auctioned off to help raise money for Hurricane Katrina. TBH, I'm v impressed. Nice work Paris.
4. Beyoncé
Jay-Z needed to make sure the engagement ring he bought was fit for a queen. And he did just that. Her 18-carat, $5 million ring is the envy of everyone (especially me). The emerald-cut designed by Lorraine Schwartz is amazing.
5. Elizabeth Taylor
Elizabeth has had her fair share of expensive engagement rings (8 marriages, to be exact—smh some people have all the luck). In 1957, she received a ring from Mike Todd was 29.4 carats. However, after that marriage ended and she met and married Richard Burton in 1964, she was gifted with another spectacular ring. He proposed with an 18.61-carat ring (that could also be removed from the band and worn as a brooch) that was surrounded with diamonds. After the first 5 years of their marriage, he gifted her with a MASSIVE ring, now known as the Elizabeth Taylor Diamond. Ringing in (lol) at 33.19-carats and worth $8.8 million, Elizabeth Taylor's ring from Richard Burton is one of the largest on this list.
6. Jacqueline Kennedy Onassis
In 1968, 5 years after the death of John F Kennedy, Aristotle Onassis proposed to Jackie with a 40.42-carat engagement ring. Yes, you read that correctly. Although her ring is the biggest on this list, it isn't the most expensive. The estimated value was $2.59 million. However, Jackie only wore this ring twice before it was stored in an NYC bank vault until she died.

Images: @jewelryjournall, @kimkardashian, @daralyaqza, @thewedlist, @elizabethtayor/Instagram; Wikimedia
Are Eyelash Extensions Worth It? What To Know Before You Book
For the past few years weeks, I've been getting increasingly restless. (I'd call it spring fever but given the weather, that seems cruel.) Specifically, "restless" meaning I want to replace my entire wardrobe, dye my hair, and suddenly burst out of a winter cocoon into Spring Self 2.0. And since eyelash extensions have been slowly creeping into the mainstream, this naturally means I'll need a set of those. To be clear, this is not suddenly an "expected" thing. I only have one other friend who's ever gotten them, and many more who have never even heard of it. But since I'm kind of obsessed with myself anthropologically curious about the beauty industry, I couldn't resist the idea of having Bachelor contestant lashes for six whole weeks,* no makeup required. Here are my thoughts on eyelash extensions: the good, the bad, the money etc.
*Duration absolutely varies. More below.
The Good
First of all, if you live somewhere hot and/or water-adjacent, I cannot recommend eyelash extensions enough. I mostly got them while living in LA, because I was physically incapable of not sweating off my makeup. When done well (more on this later), eyelash extensions are nothing short of magical. The lashes are thick enough that they add definition to your eyes, creating the illusion of effort and/or being awake. But, they're not so thick that it looks like you forgot to take off your falsies from the night before.
Overall, they slightly enhance your face like a good haircut—people notice you look better, but they won't immediately zero in on why. And when you do go full makeup on top, it finally looks like the Instagram you're using for inspiration. (You know why? Because they ALL HAVE EXTENSIONS. THEY HAVE TO.) If you're using a reputable place where you know you'll be happy with results, I absolutely recommend the summer splurge.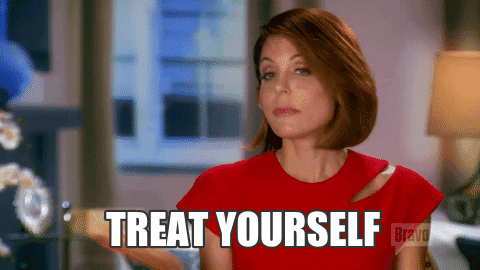 The Bad
Unfortunately, all services are not created equal. Last time I got extensions, I was living in DC (mistake #1) and suddenly decided I had to have eyelash extensions within 12 hours (mistake #2). This led to me paying someone $45 via Venmo, walking up three flights of stairs, and then submitting to three hours of torture, after which my eyes burned until 2am. My eyelashes have still not fully recovered, and the lashes were clumped onto my eyelids in a way that made me look half-asleep/stoned at work for the next month. So, don't make my mistake. Only go to a place that's been vetted (preferably by someone you know), do not pay under $80 for a full set, and if you feel something burning your eyes during the treatment, SPEAK UP.
Footage of me post-treatment: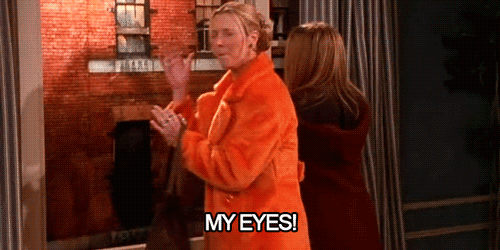 The Money
Like I said above, I really don't think you can get a good set of extensions for under $80. Be prepared to shell out $100-120 if you want it done well. The thing about cheap extensions is that they don't just look bad, they can seriously damage your lashes if you try to remove them yourself. (And you will definitely try to remove them yourself.) Then there's the question of how long they last. Most lash places will tell you up to 6 weeks with proper care, and recommend a touch-up after three weeks. They will also tell you that "proper care" is basically living in a dry windowless room for six weeks, so you definitely will fuck up some of those rules.
All in all, I've found that 3-4 weeks is a safe bet for the full effect. But by the end of week four, you'll be missing lashes in certain patches and in order not to look weird, you'll probably want to go in for that touch-up. Touch-ups are usually about half of whatever the original set cost you. So no, I can't really justify spending roughly $150 every six weeks to keep these year-round. (I wish I could, but that's $1,200 a year. So no.) But I'll go for it for summer vacations/when my paycheck hits special occasions.
Me, before and after payday: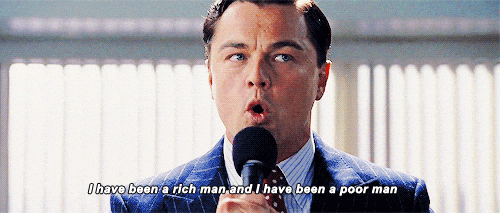 Choosing Your Style
When it comes to lash type, style, and length, you'll want to choose carefully. Do a little research beforehand and figure out your eye shape (some places will group styles by shape). Anything that calls itself "diva," "dramatic," etc. is going to be obvious AF, and look more like a party style. My favorite type of lash is faux mink—anything overly synthetic will look like one-night falsies. And the longest I've ever gotten is 13 mm, but make sure your technician measures your natural lash length and gives you a sense of how much longer you'll be going.  You obviously want it to be noticeable, but unless you regularly go full-glam, dramatic lashes will be way too intense for everyday.
(This is mostly an unrelated GIF but was anyone else traumatized by this as a kid??)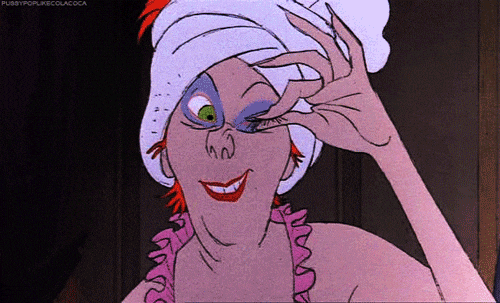 Overall, the idea of eyelash extensions appealed to me for the same reason laser hair removal did. It seemed like an at least semi-permanent solution to a daily (or at least bi-weekly) annoyance. While I've been pleased with the quality of my eyelashes more than my laser results so far, I can't say it offers comparable longevity. Then again, it's also a fraction of the cost. Go book your appointments and then Instagram yourself looking down while sipping iced coffee for the next four weeks. Thank me later.
Images: Giphy (4); Wesley Quinn / Unsplash
Is Laser Hair Removal Worth It? What To Know Before You Book
I've literally always wanted laser hair removal. It seemed completely unattainable; an urban legend of hairlessness reserved for celebrities (or like, Corinne). Then things changed. Instagram influencers started publicizing the "secrets" of their beauty routines. (Hint: many involved laser.) Laser centers multiplied (at least in NYC/LA), and prices dropped. And, most importantly, I graduated college, got a job, and started paying my own bills (*sob*). The only silver lining of that last change? I suddenly had free reign over how I wanted to irresponsibly blow spend my money. So on a day I was feeling particularly brazen (read: my paycheck had just hit), I went for it. I bought five Brazilian laser hair removal sessions at the "special discount price" of $800. Having gone through the process, here's what you should know before getting laser hair removal.

The Cost Of Laser Hair Removal
Obviously, the cost of laser hair removal will vary depending on what you want done, where you go, and whether you've heard of Groupon. Groupon is a must (especially if you live in NYC or LA, where you'll get the best deals), but don't go crazy. You should always research facilities by reputation first—a hack lasering job can leave you with scarring, burning, and a whole host of other nasty consequences—and then see what deals are available. It's also important to note that most areas will take a minimum of five sessions to see lasting results. (If you have particularly thick hair, it can take a few more). So, most places offer packages of 5 or 6, which I highly recommend if it's your first time.
All told, you should be able to buy a set of underarm treatments for around $200, bikini/Brazilian for around $500, and lower leg for upwards of $700. (Disclaimer: I live in DC, so my options were more limited. Hence the $800 payment). And while I found myself paying off my laser hair removal treatment over several months, I haven't regretted it. I've been getting Brazilian waxes since high school, usually at around $50 each. So I went to a very dark place thinking how much money I could've saved by getting laser earlier. On the other hand, the cost of shaving my legs is so relatively cheap (financially—the emotional toll is enormous). So I couldn't quite justify a laser leg treatment since a razor is like, $20 every few months or whatever. You ultimately need to decide what makes sense for you.

The Experience
As I said before, I've been getting Brazilian waxes monthly for a little under a decade. So compared to that, the pain of laser hair removal was NBD. It's kind of like a hot, sharp pinch, but it passes quickly and they give you a cooling pad after. It's obviously not the most relaxing experience in the world—I'm naked from the waist down and talking about my weekend plans with a stranger, after all. Other cons include some redness/swelling for 24 hours max (not every time), the terrifying comment that I might find "ash in my underwear," and the time my time my technician shaved me instead of giving me the option to do it myself. But it only takes about 15 minutes per session (legs take longer), and honestly, no hair removal is fun.
Disclaimer: If your skin is particularly sensitive, or if you're at a facility that's using shitty machines, you may have a more painful experience. Never be afraid to ask questions about what to reasonably expect from treatment, or more information about how the procedure works and what they're using.
The Results
To be honest, I'm not as blown away as I thought I'd be. Five sessions later, I'm still growing hair—thin and fine hair, granted, and it's mostly invisible unless you're six inches away. Then again, I'm really only doing this treatment for the people who are six inches away, and I'd been hoping for a full-on Beyoncé bikini line. I also have some ingrown hairs, and hoped laser would heal those marks. And it did—but again, it didn't eliminate them entirely. It just made them less obvious.
Since having a few fine hairs on my lower legs would bother me less than having them on my bikini line, I don't think I would have these complaints with lower leg laser treatment. I'm just still trying to justify the cost to myself. Which brings me back to the original question: Is laser hair removal worth it?

In certain cases, like replacing a waxing habit, I say just do it. Even if it's not quite the swath of Barbie skin I had in mind, my bikini line is effectively clean. I won't have to put mental energy into whether I'm bikini-ready all summer, and I've already saved $250 and three hours of my life from waxes I no longer need. On the other hand, buying laser for areas where the alternative is shaving (like my legs) is still something I can't commit to. In the end, it all comes down to your current needs. If you're someone who shaves her legs every day, is sensitive to razor burn, and freaks out at the first sign of stubble, then laser might be for you. It won't turn you into a Victoria's Secret Angel, but it will take unwanted hair off your mind for a long, long time.*
*(Touch-ups after a few years are common.)
Images: Tumblr (3); @alexiswaters_ / Instagram