5 Facial Scrubs That Won't Dry Out Your Skin
If there's something we can all relate to, it's the relentless journey to find products that will give us Facetuned-looking skin. In case it wasn't already obvious, all of the facial cleansers, primers, and toners aren't enough to produce results overnight. This is clearly an issue since we're impatient af and would much rather never leave the house again than let people to see a zit the size of a small country on our faces. If you're looking to amp up your skincare routine, you'll need an exfoliating scrub to achieve flawless, glowing skin. Not all of them need to be harsh enough to rip your skin off, though. It's fucking winter, so obviously, that's the last thing we need for our already dry skin. Thanks to me, obvi, these exfoliators are suitable for *all* skin types and work their magic in no more than 30 minutes for visible results even your mailman will notice.

Inspired by the feeling of entering a sauna, this dual-action scrub instantly warms up your face to really deep clean your pores and loosen dead skin cells, while absorbing excess oil so your skin is left feeling refreshed with the slightest cooling sensation. It's full of like, a bunch of natural plants like algae, moss, and green tea, so it's super gentle and provides a healthy, natural-looking glow.

Both an exfoliating wash and peel treatment, this delivers noticeable results after 30 seconds. Seriously. It consists of micro-exfoliating beads that gently remove irritated dead skin cells and nasty grime, so your face looks immediately brighter, smoother, and clearer. Whether you're acne prone or experiencing fugly wrinkles, this works wonders on everyone.

This isn't nicknamed "Hollywood's two-minute facial" for nothing. Adored by some of our fave celebs that we stalk on Insta, the rinse-off exfoliating treatment works within two minutes of your first use. Full of healthy shit we actually like (i.e. pineapple and pumpkin), the treatment removes dead skin without irritating or drying it out. Pro tip: Using it in a hot shower with steam will only enhance the results and make you feel as though you just got a spa-quality facial in your own bathroom.

Formulated with three powerful (but v healthy) exfoliating acids and "skin-polishing" beads, this cleanser scrubs off dull, aging skin to reveal a younger, hotter, glowing you. Although it consists of beads, the cleanser also attracts water molecules to your skin so it never dehydrates or over-dries your face.

First of all, Mario is a fucking saint when it comes to skincare products. Second of all, I'm sorry in advance for getting you obsessed. I recently have been buying everything in his line and my skin has never hated me since. For a semi-weekly treatment in between your normal routine, use this scrub to smoothen and soften your skin. It helps keep your skin clean of gross bacteria, and it's only an added bonus that it smells like a strawberry field.
The One Face Product That Will Give You Clearer Skin Based On Your Skin Type
I think I speak for everyone when I say there's nothing worse or more embarrassing than visible sweat. It's obviously gross, very inconvenient, and like, literally so annoying. Sure, maybe it's a bodily function to keep us from overheating, but it's really so extra and unnecessary. Like, yes, thank you for letting everyone in my vicinity know I'm fucking hot as balls by making my face melt. Love that. By noon each day, my face is on its way to looking like a fugly greaseball, and although it feels like I've exhausted most remedies, I'm running out of patience to deal with this oily face bullshit. As much as it sucks to have the occasional oily face, it also blows to have to deal with dry skin, even after you've gone through bottles on bottles of moisturizers. Since winter is never going away, apparently (on the east coast, at least, so don't jump down my throat, west coast betches), those of you with mostly dry skin will need a savior ASAP, aka me. Below, I give you everything you need to prevent oily hot messes and dry af cracked faces.
If You Have Oily Skin, You Need: A Good Facial Cleanser
Good skin starts with the shit you're putting on it. Fucking duh. First things first, check to make sure you're using the right face wash for your skin. If you're prone to oiliness, be sure to opt for a cleanser with at least 2% salicylic acid, like Origins Zero Oil Deep Pore Cleanser With Saw Palmetto And Mint. This helps maintain a little oil (but in a good way) so that your skin at least keeps the natural stuff and you don't end up looking flaky.

If You Have Dry Skin, You Need: Intense Hydrating Masks
Washing your face is great. You're doing amazing, sweetie, but if you're prone to ultra flaky skin, you need a hydrating mask to lock in all of that moisture you're putting on. Not just any hydrating mask, but a super intense one that works immediately and has long-term results, such as Kiehl's Ultra Facial Overnight Hydrating Masque. Make sure to focus on extra sensitive and thin areas of your face like the eyes, nose, and chin.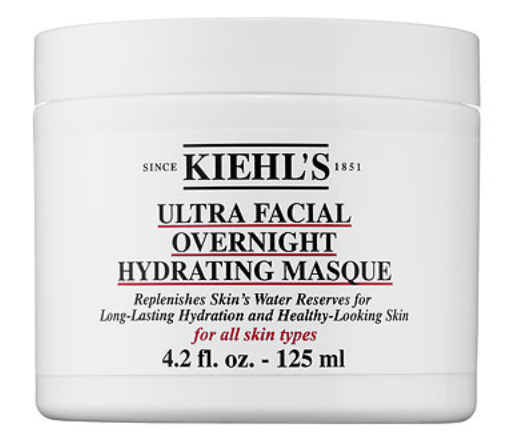 If You Have Oily Skin, You Need: A Cooling Facial Mist
Blotting papers are great and all, but going through millions of packs and growing pissed off at how much oil sits on your face clearly doesn't actually fix anything. To reduce shine throughout the day without ruining your makeup, buy a cooling facial mist or setting spray like Urban Decay Chill Cooling and Hydrating Makeup Setting Spray. Cooling your skin down throughout the day obvs minimizes your pores, which results in far less oily grossness.

If You Have Dry Skin, You Need: More Water
And I don't mean just chugging it on the regular. I mean, more water-based products, too. Since your face is clearly struggling to keep itself hydrated and moisturized, you'll need products that are full of good ol' H2O and designed to lock in necessary oils and hydration, like Neutrogena Hydro Boost Gel-Cream so, you're not cracking say crack again by lunch everyday.

If You Have Oily Skin, You Need: Oil-Free Everything
This is probs the most obvious of the bunch, but you'd be surprised and utterly disgusted to find out how much of your everyday skincare and beauty products rack up on oil. So goddamn rude. These are the reasons I have trust issues. Make sure you're using oil-free *everything* such as Clinique Dramatically Different Moisturizing Gel, BECCA Cosmetics Ever-Matte Poreless Priming Perfector, and Estée Lauder Double Wear Stay-in-Place Liquid Makeup to ensure you're not contributing to the hot mess that is your face.

If You Have Dry Skin, You Need: To Exfoliate Like It's Your Job
A big reason why your face is probs dry af is because your outer layer sucks, to say the least. All of your time and efforts aren't actually getting absorbed as well as they should to last, so be sure that you're exfoliating twice as much as you regularly would with a gentle scrub like the La Roche Posay Ultra Fine Scrub. This healthy route helps uncover new layers of skin and exposes the new, better layer to the much-needed moisture, water, and hydration you're putting on it.

Betches may receive a portion of revenue if you click a link in this article and buy a product or service. The links are independently placed and do not influence editorial content.
That Shitty Apricot Scrub We All Owned In The 90s Is Being Sued
PSA: St. Ives Apricot Scrub is even more nefarious than you thought it originally was when you found it in your mom's bathroom cabinet and decided to use it because you were desperate. Even though it was covered in mildew. And from 1994.

Apparently two losers with too much time on their hands consumers filed a class-action lawsuit against Unilever (who owns the St. Ives brand) claiming that the product is "unfit to be sold or used as a facial scrub" and "completely worthless."
If only you could sue other things (people) for being "completely worthless."
Here's the gist: Some dermatologists and exfoliant enthusiasts report that the walnut shell powder within the scrub actually tears holes in your skin and can lead to infection and, even worse than death, premature aging.

In response, St. Ives said, "We can say that for over 30 years, consumers have loved and trusted the St. Ives brand to refresh and revitalize their skin. We are proud to be America's top facial scrub brand and stand by our dermatologist tested formula."
Honestly, kind of sounds like they hired Donald Trump to write the statement and then just took out words like "SAD!" and "NICE!" and "TITS!"
In other news, someone alert Gigi Hadid.
Everything you need to know about the St. Ives lawsuit: https://t.co/FhKBhRUQkM pic.twitter.com/7ClSlf5HPd

— Glamour (@glamourmag) January 4, 2017