7 Common Skin Care Myths & What The Truth Is
In a world where beauty bloggers act like they have a medical degree and influencers promote facial cleansing brushes on their Insta stories, basically anyone can call themselves a skin care expert. While it's great that we can learn everything we need to know about toners and exfoliators from just a quick Google search, it also means that a lot of us have based our skin care routine on information that might not be accurate. Don't panic and throw out all of your favorite beauty products just yet, though! Take a look at these busted skin care myths to get all of the facts on how to achieve the glowing skin you've always dreamed of.
Myth #1: Anti-Aging Products Are Only For People With Wrinkles
You might think that anti-aging products are for "older" people who have wrinkled skin. What many of those people will tell you is that they've had no luck getting their skin to look baby-smooth again like it once did. The truth is, once your skin has wrinkles, there's no magic cream that can take them away permanently. The most effective way to be wrinkle-free is to start taking preventative measures when you're young (in your 20s and 30s). That means using moisturizer and sunscreen or another SPF face lotion every day to prevent the development of dark spots and/or other signs of premature aging.
Myth #2: You Only Need Sunscreen If You're Going To Be In Direct Sunlight
This brings us to our next point: it seems that the only time most of us remember to put on sunscreen is when we are going to the beach, or doing some kind of outdoor activity in the sunny summer months. While it is incredibly important that you use sun protection regularly when you plan to go out in direct sunlight, it's equally as important to wear sunscreen on a daily basis, regardless of how sunny or cloudy it may seem.  Especially when it comes to preserving and protecting your complexion, a daily broad-spectrum SPF is essential. Whether you realize it or not, even the smallest amount of sun exposure—whether that be through a window, sitting outside, or even through cloud cover—puts your skin at risk for negative effects from sun exposure. We know that getting a sunburn is very bad for your skin, but the sun can also penetrate the layers of your skin and cause damage deeper down, potentially leading to skin cancer, the most common cancer in the United States.
Myth #3: A Set Skin Care Routine Will Work For Everyone
You may be thinking, "everyone with perfect skin is following the same skin care routine, and I need to use exactly what they use if I want to have great skin too." Yeah, that just isn't the case. Each person has unique skin needs based on their skin type. A person with oily skin will need to use different products to cater to their needs as opposed to someone with dry skin. The same goes for people with mature skin, or sensitive skin, and so on. Just because one product worked amazingly for one person, doesn't mean it will have the same effects for you. Take the time to research your skin type, or visit a dermatologist to find out what your skin type is, and the best way to care for it. The good news is there are so many products available that you're bound to find the right ones for you.
Myth #4: Once Your Skin Reaches Maturity You'll No Longer Break Out
You'd think that once you make it past your teens, you'll never have to deal with acne again. Sorry, but we have some bad news. As it turns out, acne doesn't seem to magically remove itself from your existence once you turn 20. Actually, your skin doesn't fully mature until you're about 30 to 35 years old, and even once you've reached that age range, you may still find yourself dealing with those pesky zits. But why? The most probable cause of your adult acne is your hormones. Your hormones change a lot over the course of your life, but factors like birth control, menopause, and even just your menstrual cycle can cause your hormones to fluctuate and create acne on your skin. Ughhh, we can't have any nice things.
Myth #5: A Skin Care Routine Is Only For Your Face
Finally, you've perfected your skin care routine and your complexion looks the best it ever has. While achieving that sought-after facial glow does qualify for a well-deserved pat on the back, you may be forgetting about the big picture: the rest of the skin on your body! 
You can't forget to invest just as much time and energy into the skin on your body as you do for your face. Though your routine won't be the same—our body skin is much thicker, which is why you wouldn't use the same products on your face that you would on your body (and vice versa). TG, because facial products are expensive. 
When it comes to skin care on your body, keep it simple. Wash your skin well with a soap or shower gel to remove the daily dirt, sweat, and other sh*t that collect on your skin. Next, exfoliate your clean skin. Whether you use a dry brush or a scrub to exfoliate while in the shower, it's important to remove dead skin cells from your body to reveal the healthy skin underneath. Finally, moisturize. Once you've finished cleansing and exfoliating your skin, finishing off with a moisturizer is arguably one of the most important steps, as moisturizing serves to replenish your skin barrier, helping to improve its overall tone and texture.
Myth #6: A Skin Care Routine Is Only Effective If You Use A Multitude Of Targeted Products
With the thousands of skin care products available on the market, you may think that your routine will need to consist of 10 products minimum. The good news is, it doesn't have to be that complicated (or expensive). If you want to create a perfectly effective skin care regimen, keep it limited to these three steps: cleanse, exfoliate, and moisturize. Cleaning your skin of makeup and dirt, exfoliating off the dead skin cells built up on your face, and moisturizing the new and healthy skin underneath is the simplest way to care for your skin on a daily basis and maintain a clean, clear, and healthy complexion. 
However, if you have any unique skin concerns—like acne, for example—you may want to consider incorporating a specialized treatment product into your skin care regimen, as this will work to effectively target and address these areas. An acne cream containing tretinoin, for instance, is great for increasing skin cell renewal, which helps to prevent acne from the inside-out. On the other hand, if you're concerned about dryness or wrinkles, applying a serum for overnight recovery can help penetrate the skin at a deeper level for better results. 
At the most basic level, keep your skin care routine short and simple, and only incorporate more targeted treatments if and when necessary. Make sure to apply these treatments only to the particular areas of your skin that need some additional TLC.
Myth #7: "A Little Dab Will Do Ya"
Most skin care products will say to only apply a pea-sized amount of the product to your face, and this is true when using a product like an eye cream, where a little can go a long way. In reality, however, the suggested amount of product for proper use with most skin care products isn't enough to give complete results for your skin. If you're going to cleanse, exfoliate, or moisturize, don't be afraid to apply a little bit extra. The lighter products like a cleanser or moisturizer can't really hurt your skin, so if you want to get your complexion extra clean and smooth, you can add a little more than the bottle suggests. 
If you do choose to use more of a product than suggested, keep your skin type in mind. For instance, those with dry skin shouldn't over-cleanse, as their skin will dry out easily, and for those with oily skin, there's no need to go overboard on the moisturizer or facial oils. 
For products like a serum, a chemical exfoliator, or a targeted treatment, you'll want to stick to the directions on the label, as these products are stronger and can cause damage to your skin if not used improperly or too frequently. 
Images: Retha Ferguson / Pexels
The Right Type Of Facial You Need For Your Skin Type
I am 24 years old, and up until recently, I thought I knew how to wash my face. Like, I thought the face wash I was using was AMAZING. And it was, it really was. I was obsessed. But after a lovely facial at Massage Envy, I found out from my esthetician that the face wash I was using is not right for my skin type, and it was actually making my skin really irritated. I didn't even notice. You may think you're using the right face wash, but you could be wrong. *Gretchen Wieners voice* I always knew my skin was sensitive but had no idea face wash could possibly be harmful to me. Especially because it's not like I felt it stinging or ripping my face off. So she told me exactly which type of face wash I needed. I got it, and it DOES feel so much gentler on my skin. My mind was blown, and I decided I needed to ask about the correct face washes for each skin type on behalf of y'all. You're welcome.
Do not waste any more time using a product that is making your skin worse. I asked a few simple questions for each skin type: What type of face wash you should be using, which face products you should be avoiding, other easy steps you can take to make your skin better, what you're doing that's making your skin worse, and which facial is best for your skin type. And to make sure I got an expert opinion, I consulted Diana Morrison, the lead esthetician of Massage Envy. She's the HBIC who told us 3 easy things we can do for healthier skin.
Skin Type: Well-Balanced Or 'Normal' Skin
What type of face wash should I use: Look for a middle of the road cleanser that doesn't contain harsh exfoliants or too many moisturizing ingredients. A person with normal skin should look for a gentle foamy cleanser. This will allow them to cleanse their skin and remove impurities without stripping the skin of its natural moisture. To take the skin to the next level, I recommend a hydrating toner. This will add additional nourishment and vitamins to keep the skin as healthy as possible.
What types of face products should I avoid: For normal skin, the key is to be gentle. Avoid using aggressive scrubs that will over exfoliate the skin and leave it irritated and dry. The goal is to maintain balance.
Is there anything easy I could be doing that could make my skin better?:  The ABC method is essential for people with normal skin. The A, is a vitamin A, like a retinol for use at night. This can help promote cellular rejuvenation while we sleep and keep skin youthful. The B is a broad-spectrum sunscreen. Everyone should be wearing an SPF 30 every day. Even if you are not spending a lot of time outside, it is important to protect your skin. Try to look for a sunscreen that has extra benefits like hydration, or a moisturizer that has SPF. C is for Vitamin C, which is essential for healthy skin. I recommend using a Vitamin C day serum. Vitamin C is essential for the production of collagen, which is the building block of our skin.

Anything I might be doing that could be making my skin worse?: The most important thing is to find balance in your skincare. Have fun with your regimen, but don't over do it. At home, face masks can be beneficial, but over exfoliating will leave the skin dry and flakey. It's also important to not pick at breakouts and spread bacteria. You should also avoid tanning. There are many disadvantages to tanning but what most people don't know is that the UVA and UVB rays activate enzymes that eat away at the collagen in the skin. Collagen is the building block of the skin and essential for maintaining a youthful, plump, healthy complexion.
What type of facial is best for me: Someone with normal skin should look for a vitamin-rich facial to rejuvenate, nourish, and refresh skin. At Massage Envy, our Healthy Skin Facials incorporate Murad's Multi-Vitamin Infusion Oil to give skin a dose of vitamins A-F.
Skin Type: Dry
What type of face wash should I use: Someone with dry skin should stick to a creamy cleanser. It is important to gently cleanse the skin without stripping away oils. Infusing hydration with a cleanser will also help keep the skin nourished. Micellar water can be used as an alternative cleanser for dry skin.
What types of face products should I avoid: It is best to avoid mattifying products that are meant to dry out the skin. Salicylic acid has a lot of benefits but is simply too harsh for someone with dry skin. Stay away from anything that will accentuate dryness. Even when using makeup, heavy powders will dull out the skin. For the best results, use products that add luminosity and give a healthy glow.

Is there anything easy I could be doing that could make my skin better?: Facial oils can be a lifesaver for people with dry skin. Using the right amount in the morning will allow the oil to absorb into the skin, giving a plumping and luminous glow. It is also important to moisturize often and drink a lot of water. Healthy skin can start from the inside out.
Anything I might be doing that could be making my skin worse?: Over-exfoliating is dry skin's worst nightmare. A lot of people with dry and flaky skin try to over exfoliate it to get rid of dead skin cells. But in reality, they should be moisturizing and hydrating internally and externally.
What type of facial is best for me: A healthy skin facial works best for people with dry skin. Enzyme facials yield amazing results. The enzymes act like pacman and gently digest the old, dead surface cells on the skin. This allows moisturizers to absorb better and help with an overall healthy glow.
Skin Type: Oily
What type of face wash should I use: Foam cleansers work best for people with oily skin to remove oil, makeup, and sunscreen. Look for foam cleansers with lactic acid and salicylic acid. They remove impurities and tend to be a bit more drying, which helps control oil production while leaving the skin feeling clean.
What types of face products should I avoid: When it comes to oily skin, it is all about finding a balance in oil production. Anything too occlusive will not let your skin breathe and can lead to clogged pores and acne.

Is there anything easy I could be doing that could make my skin better?: For oily skin, I recommend a corrective serum. Topical products with AHAs like glycolic acid or lactic acid work throughout the day to help dissolve buildup and impurities in the skin. Salicylic acid also has many benefits. It helps balance the skin while acting as an anti-bacterial to effectively kill breakouts.
Anything I might be doing that could be making my skin worse?: The worst thing for oily, acne prone skin is to pick at breakouts. Most of the time, our bodies detoxify the breakout internally and can clear it up on its own. However, if you do decide to manually extract a breakout, make sure the skin is soft. It is important to be as safe and clean as possible when extracting breakouts. A misconception about oily skin is that you do not need a moisturizer. However, people with oily skin need the balance of a squeaky-clean feel and moisture. I recommend a lightweight, water-based moisturizer that will leave the skin looking balanced and healthy.
What type of facial is best for me: Massage Envy's Microderm Infusion treatment is effective for people with oily skin who do not have active breakouts.
Skin Type: Combination Skin
What type of face wash should I use: For combination skin, it is important to treat the dry and oily parts of the skin differently. I recommend a double cleanse. First, use a light, foamy cleanser that is not too drying. Then, use a corrective cleanser with a benzoyl peroxide or salicylic acid to treat oily and congested areas. The cleansers are most effective when paired with a corrective toner.
What types of face products should I avoid: With combination skin, it is important to find a balance. I do not recommend using anything that is too drying or too moisturizing.

Is there anything easy I could be doing that could make my skin better?: I recommend using a corrective serum. Anything with glycolic acid AHA works well with combination skin. I would pair this with a light moisturizer that is water-based and nourishing.
Anything I might be doing that could be making my skin worse?: Using any product that treats one extreme or another can have negative results on the skin.
What type of facial is best for me: A chemical exfoliation helps yield the best results for combination skin. Massage Envy offers Healthy Skin Facials that are personalized for the client's skincare needs. Microderm Infusions also work to give a gentle exfoliation and clear the surface of dead skin cells.
About Diana Morrison (Lead Esthetician of Massage Envy):
Diana Morrison is the Lead Esthetician of Massage Envy. She has been a dual licensed massage therapist and esthetician for over 10 years. Diana has practiced in multiple modalities, including both spa and clinical treatments, such as highly experiential facial and body wrap treatments, advanced skin care such as microdermabrasion with a chemical peel, dermaplaning, high frequency.
What Is Toner, Why Do You Need It, & Which One Do You Need?
Let me start off by saying that I am not a skincare expert. I am just a 24-year-old human woman. One who discovered six months ago that my college skin care routine ("washing most nights, probably") was no longer going to cut it. I'm lucky enough not to deal with serious acne. But all the "minor" concerns (dullness, dryness, redness, inexplicable bumpiness)? You bet. SO, I did what all good shopaholics journalists do best: research. I went into a very deep, surprisingly Korean internet blackhole, and emerged with a four-step skincare routine. Cleanser, toner, serum, moisturizer. Duh. Of all these steps, toner was the one I resisted most—and the one I still find most confusing. Since I'm sure I'm not alone in this, I've written up my findings on this v important topic. What is toner, why do we all apparently need it, and which one is best? Please enjoy.
What Is Toner?
First and foremost, toner is very different than it used to be. The toner I remember from high school was glorified rubbing alcohol prescribed by particularly vindictive dermatologists. But today's toners are so much more. A good toner can help you even out texture and tone (duh), shrink the appearance of pores, and leave your skin super soft and glowing.  To get technical, one skin care specialist describes toner as a way to "complete the cleansing of your skin." Apparently, cleansers "can leave a film on your face" that toner strips off. Which really makes me question why I'm using cleanser in the first place, but k.
If you want a buzzier description of what toner does, Allure describes it as "a fast-penetrating liquid that delivers skin a quick hit of hydration and helps remove some dead cells off the surface of the skin." (Seriously, are cleansers removing anything?) And in case I have any toner nerds in the comments, I'll also mention toner's effects on pH level. Apparently, a good toner functions by resetting your skin's natural acidic pH. You can read more here, or just trust me that it means you'll look good and resist more bacteria. Two equally sexy goals, am I right?
Finally, what is toner actually made of? The general answer is water, plus some combination of acids, glycerin, essential oils, plant extracts, and more. Kewl. Some toners still contain alcohol, but it's not recommended unless oil is your main problem.
TL;DR: Toners are a water-based product will give you a more thorough cleanse, prep your skin to absorb your moisturizing products, and overall improve skin's appearance and texture over time.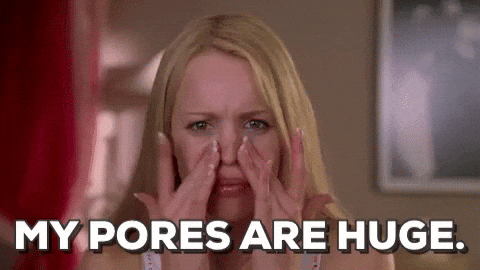 How Do I Use It?
You should think of toner as a chaser for your cleanser and a primer for your serum/moisturizer. If you're particularly anal, you should apply toner no more than 60 seconds after cleansing. Apparently, that's when your skin will absorb it best. After, you apply any serums/moisturizers/eye creams. My favorite explanation for how this works is given by Charlotte Cho, co-founder of Soko Glam. "Your skin is like a dried-up sponge," she says (adds up). "If you put thick cream on a brittle dry sponge, it won't accept it." If this doesn't make you spiral into self-doubt about every time you've put $70 moisturizer on your bone-dry face, congratulations. Can't say the same.
As for like, how do you literally put it on your face—you have two options. You can read the instructions on the bottle (some recommend cotton pads while others say to use your fingers).  Or you can really make a day of it and attempt to follow the K-beauty "7 Skin Method." I'd make a joke here about "who has the time for that," but I watched a full season of American's Next Top Model last weekend. I have the time for that.
Okay, What Kind Of Toner Should I Buy?
Now you're asking the important questions. The answer, of course, depends on your skin type. Generally speaking, Korean brands like Soko Glam will have great options, because their toner never went through the gross alcohol phase that American toners did. But beyond that, you should figure out your skin's needs (or see a dermatologist to find out) and pick ingredients based off that.
For sensitive skin, chamomile, aloe vera, and amino acids all help calm/soothe. Some good picks include Mizon Intensive Skin Barrier Emulsion and Exuviance Soothing Toning Lotion. For oily skin, alcohol will help kill oil and shine, but so does witch hazel—and the latter is less drying. Belif Witch Hazel Herbal Extract Toner is my personal fave, and Pixi by Petra Glow Tonic is another beloved one on the market. For dry skin, glycerin, essential oils, and rosewater are all key hydrating ingredients. Try the Klairs Supple Preparation Facial Toner or Caudalie Beauty Elixir. For dull, uneven skin, try Son & Park Beauty Water, which has both exfoliating and hydrating properties.
Oh, and whatever you do, stop buying Neutrogena toner. I usually love Neutrogena, but their crazy-drying alcoholic toners (yes, even and especially the "Alcohol-Free" toner) are the reason it took me so long to come around to real toner. I used that shit for two weeks and I may as well have been washing my face in Svedka. If you need any further convincing, take a look at their spokesperson. I rest my case.

That's all the wisdom I have today! But my recent skincare tear is showing no signs of stopping, so stay tuned for upcoming reviews of dermarolling, Hanacure, and how to file for bankruptcy when you've spent all your money on Korean beauty products.
Images: Giphy (2); sarah_glow / Instagram
Betches may receive a portion of revenue if you click a link in this article and buy a product or service. The links are independently placed and do not influence editorial content.