4 Exercises You Should Do Every Hour If You Work From The Couch
When quarantine first began, working from the couch felt like a much-needed break from the discomforts of office life. Nothing was more appealing than rolling out of bed, grabbing your laptop, and rolling straight back onto the couch. No shower, no shoes, no problem. However, the excitement of working from the couch can start to wane once the aches and pains of too much sitting start to set in. From your neck to your lower back to your hips, sitting on a soft surface with limited back support for a full work day is considerably less comfortable than it seems. And as it turns out, working from the couch for too long is bad for you, both physically and mentally. The good news? You don't have to give up working from the couch completely just to get a bit more healthy.
The Problems
Sitting all day can have a number of negative effects on the body, but sitting slumped on a couch can be even more detrimental. "Sitting allows your muscles to become extremely tight and dysfunctional, which will compromise your posture and increase your risk of pain and injury," says Jeff Brannigan, Program Director at Stretch*d (a New York-based dynamic assisted stretching studio). Furthermore, Brannigan goes on to explain that "working from the couch makes it very easy to sit in a not-so-great position. Many people quickly begin to slouch or slide down the couch."
The problem? "Sitting in a compromised position drastically speeds up the onset of muscle dysfunction. You're far more likely to feel muscle tightness, tension, and pain due to an increased likelihood of developing imbalance throughout the body." In fact, in a 2018 study, the CDC went so far as to say that "high amounts of sedentary behavior and low levels of physical activity are associated with increased risk of premature mortality and some chronic diseases". Yikes.
The good news is that even if you work in an industry that requires you to be sedentary for most of the day, small changes to your routine can make a big impact. Better yet, new work-from-home policies make it even easier to get up and move. Eve Lynn Chrust, a New York City-based fitness and yoga instructor (you can find her classes at Obé, SoulCycle, and Athleta) says that exercise doesn't have to be something you force yourself to do at the end of a long work day. "Make it cumulative," says Chrust. "If you do a little something every hour of the work day, by the end of the day you'll have gotten more done than you might've expected." Chrust says that a few exercises coupled with a few laps around your apartment every hour are enough to counteract some of the negative effects of working slumped down on the couch all day. Her advice? Set a timer on your phone to dedicate four (yes, just four) minutes of every hour to getting off the couch and moving. By the end of a standard work day, you'll have already gotten a half hour workout in.
Here are some moves you should be doing to counteract the effects of sitting all day:
1. Walk It Out

The first one-minute move in your four-minute set? A lap around your house, a walk up and down a set of stairs or a stroll down the block! Chrust says, "there's a mental component of getting off the couch. When you sit for too long, things can feel stagnant and repetitive and you tend to get stuck. Getting off the couch even for just a minute helps you to feel motivated, it gives you energy and might improve your focus."
2. Squats

Chrust recommends doing 10 squats every hour to open your hips, stretch out your legs, and work your booty. "Doing just ten squats every hour throughout the workday is totally accessible, and by the end of an eight-hour work day you'll have done 80 squats!" she says.
3. Planks

Next up is a one-minute plank. Planks are a favorite of most yogis, and with good reason. They're an efficient way to work your entire core, front and back, says Chrust. "Abs are fundamental for posture. If you're hunching on a couch all day, you need core strength to lengthen out your spine."
4. Cat Cow

After you've completed the one-minute plank, move directly into a tabletop position, with your knees on the ground directly in line with your hips, and your hands on the ground directly in line with your shoulders. Flow through one minute of cat cow to create space in your spine, chest and neck, three spaces that are compromised when sitting on a couch for too long, says Chrust.
Images: GIPHY; Maryjoy Caballero / Unsplash
The 10-Minute Full Body Workout That Will Kick Your Ass
Whether you spent the past week indulging in your grandmother's kugel or eating enough Peeps and chocolate Easter eggs to give you a three-month sugar high, I think we can all agree we could use a quick high-intensity sweat session to burn some of that shit off. In case you've been under a rock or on your couch for the past year, high intensity interval training, or HIIT is basically where you do short intervals of intense exercise where you feel like you might die followed by a brief recovery period. HIIT, so hot right now. Anyway, this workout is only 10 minutes, so you literally have no excuse not to get it done and go as hard as you can during every interval. The idea is to do each of these five moves for 45 seconds with 15 seconds of rest in between them, and then repeat all five one more time. You'll probably be panting on the floor by the end, but you'll thank us when your shorts from last summer still fit. Here's the workout:.
1. Mountain Climbers
Mountain climbers are a great move if you're doing them right, because they work your abs, shoulders, and legs while giving you a cardio workout. Place your hands on the floor with your shoulders over your wrist and your legs straight back in a plank position. Then, climb your knees into your chest one at a time while engaging your core. The faster you go, the higher you'll get your heart rate and the more calories you'll burn.

2. Jump Squats
Your legs burn the most calories out of all the muscles in your body, so doing jumping exercises while combining squats or lunges is super effective. It's also really hard, so pace yourself. Start in a squat position, making sure your knees are behind your feet so you don't hurt yourself. Get super low, and then jump up explosively while straightening out your legs and arms. Keep going until the 45 seconds are up, or until you literally can't feel your ass anymore. Either one works.

3. Froggers
Froggers sound cute and innocent, but as soon as you start, you'll notice they're fucking brutal. Stand with your feet spread about shoulder width apart and bend at your knees with your palms on the ground slightly in front of you. Keep your palms on the ground the whole time while you straighten your legs out behind you by jumping your feet backward, and then jump them inward close to your hands. This move is similar to a squat thrust, but you're staying low close to the ground the entire time without standing all the way up. If you're doing it right, you should feel the burn in your arms, legs, and butt.

4. Tuck Jumps
If the idea of tucking your knees to your chest while jumping sounds like you'd rather take a Xanax and pass out on the couch, pay attention. Tuck jumps are a plyometric move that shoots your heart rate up in seconds, so you'll burn a ton of calories and look like an idiot while doing it. Starting in a normal standing position, jump up, bringing your knees as high as you can, ideally tucking them into your chest. 45 seconds will be tough, but the trick is to keep jumping without resting in between so you don't have to overthink it.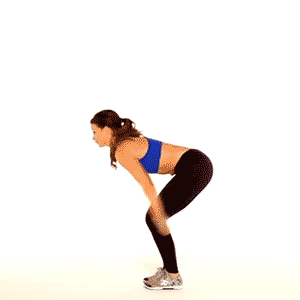 5. Burpees
Burpees are the ultimate hell when it comes to HIIT workouts, but let's just say, if it's not intense, it's not doing much for you. Burpees are the exercise we all know and hate, and we've written about them in almost every single workout article, but in case you're not getting the hint: START DOING BURPEES. Start by standing with your feet shoulder-width apart and your arms at your sides. Then, lower your body into a squat and place your hands on the floor in front of you, jumping your feet back so that you're in a plank position. Once your body is in a straight line, lower your chest to the floor and then bring it back up as quickly as you can. Then, jump your feet forward, outside of your hands, and jump up with your arms in the air. This is a full-body move, so make sure you follow the movements without just slamming your body down to the ground in the sloppiest way possible.

How To Tone Your Whole Body Without Getting Off Your Couch
Unfortunately, unless you're sponsored by a sugar daddy, have won the lottery, or still live in mom's basement, you're probably working for a goddamn living. That translates to sitting for extended periods of time, being tempted by cupcakes, doughnuts, and questionable vending machine treats, and definitely gaining back those five pounds you lost last summer. We shall overcome, and by overcome we mean "beat office obesity by exercising right in your office/cubicle/desk chair." Yah, people may see you and think you're losing it, but can you put a price on a six-pack you got while sitting and trolling through Pinterest? Probs not. Your boss will be super proud of how productive you are.
1. Seat Squeezes
Sounds weird and kind of is—while sitting at your desk, squeeze your butt, hold for like 10 seconds, and release. Repeat this shit until your ass is numb and your butt is like, sculpted and lifted.
2. Leg Raises
It's not like you're actually doing work, so it's time to strengthen your core, bitch. While you're sitting, straighten both legs and raise them slowly. Hold for 10 seconds, then lower. Repeat this shit as many times as you can without noticeably sweating. You can even put a weight like a briefcase or your purse on top of your legs to up the ante.

3. Squats
Alright so they're not as insane as the real thing, but doing "squats" at your desk will help get your heart actually moving and help to stave off those years of obesity coming for you as a result of sitting 10+ hours per day. From your chair, stand up, sit back down, and repeat like 20 times until someone walks by and decides you're really fucking weird.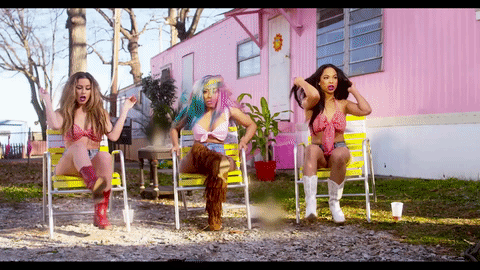 4. Shoulder Press
This will require finding something heavy, so get lookin'. Grab something that weighs like, 10-20 pounds (like your conscience, for instance) and hold it at shoulder length. Raise it over your head and back down for 12 reps three times or until your shoulders scream for mercy. Maybe save this one for when your coworkers are all on their lunch break so nobody calls the police.

5. Rolls
If you have a spinny rolly chair, congrats. Grab the edge of your desk with your hands, pull your feet off the floor, and pull yourself back and forth using your arms and core as many times as you can.
6. Raises
Since you aren't getting that 5% increase because of your attitude (WTF), try this raise instead (I kill myself with the jokes). Raise your legs up on to your chair in a cross-legged position. With your arms on the armrests, push up to raise your body off the seat. Stay that way for 20-30 seconds then release and rest. This is doubly hard in a spinny chair, so be fucking careful.

A Gym Routine That Even Unmotivated People Can Stick To
Everyone knows when it comes to going to the gym, getting there is the hardest part. Like, there are days when we genuinely feel we should be getting paid just for getting out of bed, so making it to the gym deserves an actual Nobel prize. As much as we complain, one of the reasons why going to the gym is so annoying is because you don't have a real plan that you're dedicated to, and so you don't have the motivation to get there. That's why we're gonna walk you through the process of creating a legit gym routine that will make you want to get to the gym and get shit done. Here's the plan:
1. Choose Your Days (Realistically)
Before you can map out your workouts, you'll have to decide how many days a week you'll actually be getting to the gym, and choose specific days that you're going. This can change over time obviously, but committing to exact days will help you actually get to the gym. For example, if you know you're going to work out on Mondays, Wednesdays, and Saturdays, you won't be deciding in your head all day on Tuesday if you should go to the gym after work, because you know that it's your day off and you're going tomorrow. It's kind of like making an appointment with yourself that you have to stick to, so mark your calendar and don't bail.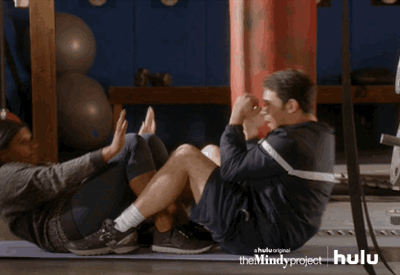 2. Decide On Your Workout Focus
There are a million online workouts that you can copy to a tee, but you're the only one that knows how you like to work out, and what machines and exercises will actually get you to the gym. It's totally fine to experiment with a few different types of workouts, but you should ultimately find the workouts you enjoy doing, and build your routine around that. For example, if you know you like doing HIIT cardio, ab toning, and leg workouts, break up your days into combos of each one. Trying new things is obv important, but if you're gonna dread going to the gym because you're making yourself do an exercise you don't like, it's not worth it.

3. Break Up Sessions By Body Part
Once you start working out throughout the week, you'll start to notice that it's harder to get to the gym after a few days because you're sore AF. I mean, it's understandable. If you're working hard enough and going to the gym consistently, your body will feel it, and that's not a bad thing. But even if you can't sit on the toilet without crying, it doesn't mean you need a day off—you just need to set your routine up accordingly. So, if you know you're going to do squats and lunges on Monday, you probably shouldn't plan on running on the treadmill on Tuesday, because your legs will be pretty shot and you'll end up half-assing your workout. Instead, plan to do upper body moves on that day or just some light yoga to keep your body active. Just don't be an idiot by hitting the same body parts one day after the other.

4. Make Playlists Beforehand
People undermine the importance of a bomb workout playlist. I mean, yeah working out is about your muscles and your body and your breathing and energy levels, but music low-key makes a huge difference, so take it seriously. Make your playlists at the beginning of the week so you have them ready for your workouts and you're not wasting gym time just shuffling through Spotify. By having good songs ready that you know will pump you up, your workout will be a thousand times better and you might actually look forward to the gym to listen to your sick playlist. It's kind of like the excitement you get before a SoulCycle Drake vs. Rihanna themed ride. You know you're about to die, but the playlist will be so good that it's worth it.

5. Only Focus On Yourself (As Always)
Once you get to the gym with your plan and your playlist ready, it can still be hard to get an effective workout if you get easily distracted by the other people around you. Like, stop thinking about the old man grunting in the corner, the girl next to you with amazing abs, or the relentless trainer offering you a personal session. Turn your music up and focus on your own workout, and you'll see a huge difference in your results. Also, just gonna throw this out there—your phone. You can literally scroll through Instagram and answer your texts all day, so now's not the time to ask your friends advice on a profile pic caption. Go on sleeping mode or airplane mode, or just put your phone away completely. The separation may be hard at first, but sooner or later you'll be the bitch judging the girl texting on the treadmill next to yours.