6 Popular Workouts That Are A Waste Of Time And Money
It's 2018, which means there's a gluten-free section on every brunch menu and a boutique fitness studio on every other block. Then again, our two main talking points these days are Kylie Jenner's pregnancy and Oprah Winfrey's presidency. So like, what a time to be alive. But back to the workout thing, there are actually so many fitness classes you can take, and each one tells you they'll help you burn calories, get toned, look good, etc. Some of these classes need to be called out on their bullshit, and we're here to do just that. Here are some workouts that are wasting your time and money.
1. Aerial Yoga
Also known as Anti-Gravity yoga, aerial yoga is a popular choice among 22-year-old girls who want to do something active on a Saturday to get a cute Instagram and make themselves feel better about the liter of tequila they'll be drinking later. If you've never heard of this type of workout, picture Cirque Du Soleil meets Lululemon for $38 per session. The idea is to do traditional yoga poses on a cotton hammock hanging from the ceiling. It sounds pretty bizarre, and that's because it is. We're not saying this is a total scam, but unless you're an experienced yogi with a ton of balance and a legit certification, you're prob not getting anything out of this class. Like, by the time you finally get the hang of it, the class is over and you didn't get any of the poses right, so you're wasting your time. If you want a more legit workout, skip the anti-gravity bullshit and go do regular yoga.

2. Aqua Cycling
Aqua cycling is another one of those fads that draw in a group of girls who "don't looove spinning, but would def try it in a pool for the experience." Honestly, find yourself a different experience. Peddling your legs on a bike underwater will obviously give you a workout, but the burn you feel is more intense than the calories you're actually burning. Like, there's a reason people don't run marathons in swimming pools. Because of the laws of physics it's clearly harder for your body to move in water, but that doesn't mean your heart rate is any higher than it would be on land. In fact, you're moving a lot slower, so the calorie burn doesn't even compare. Plus, let's not even get started on the amount of germs in that pool. Do you know how many people already sweat in that water before your 7pm class? Pass.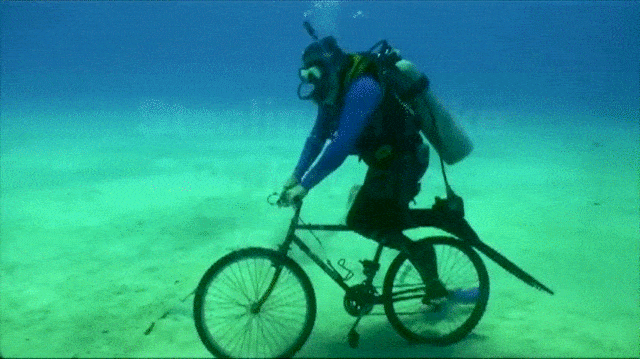 3. The Spin Class Arms Segment
This isn't a workout class itself, but it's a v controversial part of every spin class, so it's time to address it. If you've ever taken a cycling class, you may have noticed that about two thirds of the way through the class, the instructor tells you to peddle slower while you take out two one-pound weights and do a few shoulder raises and arm circles. During this time, you've probably thought to yourself, "This fucking hurts! I never knew 90 seconds of one-pound weights could actually tone my arms!" That's because it won't. Simply put, this arm segment is bullshit, and it's not doing anything for you. While your arms are burning from the pulsing exercises and you may be sore tomorrow, a short interval of light weights isn't actually doing much for your arms, and it only feels that hard because your body is already so exhausted from the intense spinning you've been doing. But it can fuck up your back pretty easily, so it has that going for it. You're better off skipping this part and doing a legit arm workout at the gym another day. Sorry.

4. Barre
People might kill us for this, but we're calling bullshit on most barre classes' claims. We're not saying that barre isn't a good workout at all, but it's definitely not doing what you think it's doing. Barre studios promise to create "long, lean muscles" and make your body "toned but not bulky." If you know anything about the mechanics of the human body, phrases like these are literally nails on a chalkboard. Whether you're using heavy weights or resistance bands with pulsing movements, your muscles can only do three things: get bigger, get smaller, or stay the same—you can't make them "longer" or "leaner." The low-weight, high-volume movements in a barre class can definitely help you get stronger over time, but all the marketing about getting small, pretty muscles is just scientifically impossible. Ballerinas may look that way because of their genetics and restrictive diets, but the barre isn't giving you that look if you weren't born with it. Sorry if you already spent $18 on the socks.

5. The Cardio Class At Your Local Gym
I know regular gyms offer classes and not all of them are horrible, but chances are, if you're attending a class called "Cardio Blast" taught by a 63-year-old woman named Gladys, it's probably not that intense. If you're attending cardio classes at your gym that make you dance around, squat in place, and do a few step ups, you could probably be spending your time more wisely and burning more calories. Any workout is better than no workout, but if you think this is really more effective than doing HIIT on the treadmill or the rower, or taking a bootcamp-style HIIT class, you should reconsider. I mean, a couple Equinox classes with celebrity trainers may be the exception, but the rest are probably not worth it. If you need to find a partner halfway through class to hold their feet down while they do a few crunches, look elsewhere.

6. Pole Dancing "Fitness"
I think somebody made a joke one time about pole dancing being a sport and someone took it too seriously. In case you've never heard of this sad phenomenon, people are literally signing up for pole dancing classes thinking they're getting a legit workout. There are so many problems with this, and I'm not even sure which to point out first. Let's ignore the moral, ethical, and political issues for now and stick with the actual workout. I've never taken this class myself, but I can only imagine the workout you're getting by soberly spinning around a pole and doing a few booty pops is sub-par, at best. Consider that strippers and burlesque dancers might be good at their jobs because they're strong, not the other way around. Unless you're Kate Upton, working out isn't supposed to be sexy, so please save yourself the time and skip this class. And don't follow the instructors on Instagram either.

Update: After some recent commenters pointed out my misinformation on pole fitness, I'd like to update my claims with a few facts. As I mentioned previously, I've never done a pole fitness class, and simply stated my thoughts based on some colleagues' experiences in the class. However, after doing some research of my own into the science behind the workout, it turns out pole can be a v efficient workout if you go to the right class. Personally, I don't think I would feel any effects of it until I've gone a few times and gotten a hang of the moves, so it may not be the best use of my time and money, but it turns out pole dancing can actually be a killer workout that not only tones and strengthens your body, but also improves your balance, flexibility, and coordination.
Considering you're only using the pole and your own bodyweight, the amount of core strength you need is insane. Like, all the planking in the world won't give you this type of ab strength. Plus, it's super intensive when it comes to both cardio and upper body strength. You're basically working your arms, shoulders, upper back, and legs in one workout, so it adds up to a legit calorie-burn, too.
Moral of the story: Pole fitness seems like a really intense workout and I feel bad for misjudging based on some misinformation. Anyone wanna take a class with me?
6 Healthy Resolutions For 2018 That Don't Require A Lot Of Work
Another NYE has come and gone, and luckily we drank just enough vodka to ignore the fact that we haven't thought about our 2017 resolutions since last January. Every year we tell ourselves we're gonna lose five pounds or stop eating past 10pm, but we never follow through and it's getting awkward. We could stop making resolutions altogether, but then what would we talk to our co-workers about aside from the god-awful weather and how tired we are? This year, we've decided to focus on smaller resolutions that will make you healthier without making you give up carbs or alcohol. Here are some maintainable healthy resolutions that will guarantee you a new year that's slightly healthier but also still pretty average.
1. Stop Being So Sleep Deprived
I'd say 99% of the world is going into 2018 completely sleep deprived, and even though I made up that statistic it's still really bad. Like, with Netflix playing the next episode for you and every video on the Internet calling your name at 2am, it's SO tempting to just stay awake, but like, don't. Not getting enough sleep leads to extra hunger, bad moods, cravings, bags under your eyes, and overall brain fog. You're just a better person when you get a good night of sleep, and it's not impossible to make this your resolution. Force yourself to get into bed an hour earlier than you usually do, and put away your phone once you're in bed. If you're falling asleep watching the Kardashian babies on Instagram every night, you're doing something wrong.

2. Take A Probiotic
Ever since probiotics became the new gummy bear vitamins, people are taking these by the handful and getting rid of their digestion problems and bloating once and for all. If you want an easy resolution that will literally make you feel and look better without doing anything except taking a capsule every morning, go for the probiotic. They put good bacteria in your gut to keep your body healthy and help you digest food more easily throughout the day. People also say they can help clear your skin and prevent sickness, so you literally can't lose. Getting healthy has never been so easy. This isn't even an ad.

3. Swap Your Splenda For Stevia
We're not being endorsed by a Stevia company to say this, but it's time to lose the Splenda and make the swap for Truvia or Stevia or whatever the hell is more natural. Splenda is made of an ingredient called sucralose, and even though it's zero calories, it's pretty terrible for you. Even if sucralose doesn't actually cause cancer, it definitely tricks your brain into thinking you're eating something sweet, which triggers worse sugar cravings later on. Plus, it makes you super bloated and gassy, and like, who wants that? Plant-based alternatives like Truvia are so much better for you and taste the same, so why wouldn't you make the switch? It's an easy swap and it's a solid resolution that you can't really screw up.

4. Drink Water In The AM
We're not making you vow to start drinking two liters a day in the new year, but if you want to start getting into the hydration habit, start by drinking a glass of water every morning right when you wake up. First of all, making yourself chug 16 ounces before your coffee will give you an incentive to get it over with. Like, if we saved it for later we'd probably get to 5pm without taking a sip. But more importantly, drinking water in the morning kick-starts your digestion and gets your system moving as fast as possible. Staying hydrated is so much easier than you think, and it'll pay off when you realize your intense 3pm chocolate urge is really just you not drinking enough water. Buy yourself a case of Poland Spring and start the year off right. Again, not even an ad.

5. Sign Up For Workout Classes
Classes like Soulcycle and Barry's Bootcamp used to be for Scarsdale moms who needed something to do before the department stores opened at 11am, but with the terrifying rise of ClassPass and a new fitness studio popping up every two blocks, you don't really have an excuse not to work out anymore. Like, people are actually suggesting hot yoga instead of Sunday brunch, so at this point you're kinda going out of your way when you don't give in. Make a commitment to go to a class at least once a week. By booking a spot you're forcing yourself to go, and you can drag friends with you to suffer together (and get a referral credit). Everyone wins and you didn't even have to join a real gym.

6. Go Grocery Shopping
We'd never actually suggest anyone start cooking all their meals or like, spend their Sundays meal-prepping for a nutritious week ahead, but going grocery shopping more often is an easy resolution that will do wonders for your body this year. Aside from the fact that you'll prob save a ton of money by not eating out every meal, you'll save a ton of calories by avoiding the oil, butter, and sauces that restaurants put in your food without you realizing it. By going grocery shopping once a week and stocking up on healthy ingredients, you'll be less likely to binge on random snacks you have laying around and more likely to *somewhat* get your shit together in 2018. You may need an extra Xanax before the checkout line at Trader Joe's, but it'll be worth it when you start losing weight without even starving yourself. I mean, it's like we have ESPN or something.

How Many Calories You Really Burn At SoulCycle, Barre & Other Workout Classes
Ever since Lady Gaga replaced her personal trainer for her own SoulCycle bike and we started shopping at Bandier instead of Lululemon, there's been a shift in the world of working out. Boutique fitness is trendier than ever, and betches across the world are drinking the organic sugar-free Kool-Aid. I mean, there's a Barry's Bootcamp open in Milan, so you know this shit has gone global. Workout classes are the new jog in the park, but are they really worth the price tag? We've been dying to know how many calories we actually burn in these classes, so we did some digging and the results are in. Keep in mind that everyone's bodies are different so it's hard to give you a straightforward number, here's how many calories you (approximately) burn in your go-to classes:
1. Spin
Spin classes have surprisingly been around for decades, but they didn't really get big until SoulCycle developed a cult following the size of China's population and was then followed by Flywheel, Peloton, Swerve, and a few other wannabes. A lot of these studios tell people they can burn up to 1,000 calories in a class, but that's ambitious, even if you're like, really pretty athletic. If you're working as hard as the teacher is telling you to work, you're probably burning around 500 calories in a 45-minute class. This obviously varies depending on the person, the class, and how much effort you're putting in, but just think logically. Like, if I'm drenched and crippled by the end of a spin class, I know I burned a shit ton of calories. I mean, It's like I have ESPN or something. Can I take all these free bananas now?

2. Circuit Training & HIIT
Circuit-style classes are becoming more and more popular recently, and it's not just because girls have realized they'll look good if they step off the treadmill and start lifting some weights. HIIT classes are short and effective, because the class is scientifically built to make you work in short, intense intervals that are meant to spike your heart rate and keep your body burning calories for a day after the workout. The scientific term for it is called EPOC, and the results are dope. So, even if you're only burning like, 300-400 calories in a 40-minute HIIT class, your body is put in a calorie-burning mode, which can last up to 36 hours, depending on how hard you worked. Thank you, science.
3. Barre & Pilates
Barre and pilates classes are obv different in many ways, but they're both focused on muscle toning and pulsing movements, so we're grouping them together for convenience reasons. Basically, whether you're on a pilates reformer or doing pulsing squats with a bouncy ball in between your legs, you're doing resistance training, which means you're damaging your muscles in class. Afterwards, the muscle fibers repair themselves, which makes your muscles grow and your body get toned AF. So, these classes usually burn only 200-300 calories, but the point of them is to spike your metabolic rate and strengthen your muscles, so don't freak out if you're not soaked and exhausted by the end of class—you're getting more long-term results that are not just about the amount of calories you burn in class.

4. Boxing
Boxing has had a trendy revival lately, so we've been dying to know what's so damn life-changing about these classes. Gotham Gym and The Dogpound have always been packed with celebs like Gigi Hadid, Shay Mitchell, and Karlie Kloss, but now new studios like Rumble and Shadowbox are taking over the NYC fitness scene, and it's not just because the trainers literally look like the strong versions of Victoria's Secret models. Boutique boxing studios incorporate traditional boxing drills in their classes, but they also usually have HIIT and strength training segments built into the class. With the cardio of boxing and the effects of weightlifting combined, these classes can burn anywhere from 500-800 calories. It's also a cheaper form of therapy if you're particularly angry at the moment. Just saying.
5. Hot Yoga
We know there are a lot of different types of yoga classes out there, but we can't sit here and dissect the caloric differences between Vinyasa, Bikram, and Ashtanga (pretty sure that's the name of a bomb sushi restaurant, though). We're talking about hot yoga because people tend to think they're burning a million calories due to the yoga poses being done at such a high temperature. While it's true that hot yoga classes take place in rooms set at over 100 degrees, the extra heat just makes your body lose extra water, not fat. If you're taking a rigorous yoga class, you could technically burn up to 400 calories, but most probably clock in at around 200. Basically, the "hot" part doesn't mean more calories burned, it just means one more day that you can't rely on dry shampoo again. Kind of a bummer.

6. Dance Cardio
Although Zumba hit its peak in 2009 and pretty much died since then, there are a lot of types of dance-based workouts that burn a ton of calories. Again, everyone's bodies are so different, but if you're really jumping around and kicking your legs in the air for an hour straight, you can probably burn up to 500-600 calories. 305Fitness in NYC claims you'll burn 800 in a class, but that's probably a stretch, unless you're that annoying person in the front row who does the absolute most the entire time (you know the one). Most dance cardio classes take breaks and have active rest periods, so it's obviously not as intense as spin or boxing. But then again, a workout is a workout, so if you'd rather dance than peddle on a bike until your quads feel like they're literally on fire, we totally get it. Do the dance class.