Chad Johnson Talks His New Show & Being Done With 'Bachelor' Girls
Christmas came a little early this year people because the new season of MTV's Ex on the Beach premiers TONIGHT at 8pm ET and it's about to be more lit than my Aunt Alice at Christmas dinner. If you're new to the show then I'm here to publicly shame you here's the premise: a bunch of unsuspecting singles show up to get trashed on a beach for a few weeks because that's the broken world we live in and is apparently the only way we can meet anyone these days. The "unsuspecting singles" are all former reality dating rejects (think some of your favorites from The Bachelorette, Are You The One?, Big Brother, and more) who just "want to find love" and a new Instagram branding partnership. Just when they start to open up to someone and prove that they're not the emotionally stunted circus animals we've come to know and love, surprise! The craziest ex MTV's budget could track down shows up to literally and metaphorically take a blowtorch to whatever scraps of happiness they've managed to find. It's like what I do on a Saturday night, but these people are actually getting paid for it. Fun!
And in honor of the premiere, we spoke with the man, the myth, the meathead Chad Johnson from ABC's The Bachelorette because—brace yourselves, betches—he's back on reality TV and DATING AGAIN. God help us all. In the interview we talked about his return to TV with Ex on a Beach, which Bachelor girls are sliding into his DMs, and if he's still using meats as a coping mechanism. So, let's see what he had to say!
So we all watched you on The Bachelorette and The Bachelor in Paradise. Did you always want to be on reality TV?
No, not really. It was never so much a plan of mine. I mean I had acted and modeled before, back in 2006, and so I kind of always had it in the back of my mind. I always thought that I would end up having done something from becoming really, really, really wealthy off of some business move and I then I would just be some crazy personality of some rich guy living out in LA or something and I'd get known that way. I didn't know that it would be through reality TV before I made my millions, you know what I mean?
Yeah, so I'm guessing you never thought you'd find love on reality TV then?
Right, no. Um, that all came about because I had just got done taking care of my mom who had passed away from cancer and reality TV came about because that was the first time I really had the opportunity to date since I had been taking care of her. You know, she had just recently passed away right before I started filming The Bachelorette.
Speaking of The Bachelorette, I know you took a little break from reality dating after Bachelor in Paradise, but now you're back! So tell us about your new show, Ex on the Beach.
Ex on the Beach was super fun. It's a totally different world than being on The Bachelor. It's wild, it's crazy, but I loved the realness of it and I loved the realness of the people. I made some awesome friends. I mean, even with my friends I had some crazy fights. So you'll see that for sure.
So, wait, how did you not know that your ex would end up on the beach? Like, how did they get you out there?
Yeah, I had no idea. The way I thought it was supposed to go was, I was just told that it was going to be an untitled dating project. So I thought, "okay, it's something where I'm gonna be having drinks on a beach somewhere at a mansion, hanging out, and maybe just hooking up and having fun." And then, they dropped the ex bomb on us, and from there we knew that they had done some research on us. You know, they must have found some way to track down the girls I'd been dating over the last couple years after the shows.
Is JoJo one of the exes who will show up? Please say yes.
Ha. JoJo is not one of the exes. I haven't talked to that girl since the reunion actually.
What about Lace?
No, no. Nah, I'm done with Bachelor girls. If I want to date a Miss America pageant girl I'll go to a Miss America pageant. Or I'll just get on my Instagram DMs.
So who do you have your eye on this season?
So, I mean this season I tried to basically be open to anything. The first day, every girl was good looking so I talked to every girl there. I think you can kind of quickly tell who's cool and who's really not. The first few hours there it's like you don't want to hit on anybody because you want to figure out whether anybody's cool or not.
So, like, I talked to Farrah and quickly realized that I, uh, did not want to talk to Farrah. Then I talked to Morgan, and I've navigated those waters before. A pretty blonde, white chick is easy for me to get to know her, what to say and do, and it's just kind of typical for me. That's what I know and that's what was easiest at the time, to do what you know. So, like, if you eat chicken every day and then you go to an unfamiliar place then you're gonna eat chicken.

So I talked to her and then I talked to Nicole—she was beautiful. I knew she was gonna take a little bit more work to get to know because she's more closed off in terms of initially meeting people and I could tell that. So I knew I wanted to get to know her a little bit but I knew it would take more time.
So let's get to the drama because I'm a messy bitch and live for that sh*t. You've mentioned flirting with Farrah and a few other girls, and I watched the trailer and it looks like you're already playing two girls. Can you give us any hookup details?
Um I mean you'll just to watch. So some stuff happens and I think it's pretty abrupt and I think you'll see that when you watch it. It's drama and it's messy, but it's messy in a very, like, "Oh sh*t! Okay!" type of way.  
So would you say you've changed your ways after your Bachelor days or are you back on your bullsh*t?
Am I back on my bullsh*t? Uh, I mean, ever since The Bachelor, I'm older now. It's been like two and a half, three years, and I'm in a different head space now, you know? My mother didn't just pass away. I'm not in that angry, grieving stage like I was. I went through a period of three years just dating a lot, you know? So I'm not really in that stage anymore.
I think the show did actually help me learn a bit about myself. I learned to take people's emotions seriously whereas, you know, before I was just hopping around from Instagram girl to Instagram girl for the last few years. And I think I actually grew with the show and now I'm just focused on my businesses—my health and fitness company, my podcast—and then maybe I'm dating somebody. So you'll just have to wait and see that on the show.
So speaking of the show, what else can we expect from you this season? You talked about hooking up, but will there be any more fights? Or any bromances over meat?
Oh there's definitely some meat involved. I think I punted some meat, I stole some meat, so, ah, that was fun. The ex girlfriend situation was unpredictable and that ex comes in and she's not quite who I thought she was so that's kind of interesting. There was a lot of fights, there was a lot of arguing but it was, like, in good fun. Even when people were mad we were still having fun, you know what I mean? Everybody was always fighting and I didn't understand what they were fighting about because 99 percent of their fights were so stupid and, like, petty so I would just run in and just watch and laugh and try and figure out what dumb sh*t they were fighting over now.
So you are back on your bullsh*t, you just weren't the instigator this time.
Nah. See that's my thing I'm never the instigator. I'm a reactor. You know you mess with me, sure, I'll mess with you back. You come at me, I'll come at you back harder. In this show it didn't happen to me too much where people were really coming at me. I mean, don't get me wrong—there were some instances where people do come at me wrong, and I come at them, but for the most part it wasn't like The Bachelor where every day I'm being attacked by people. And where I feel like I'm fighting for my life basically.    
Interesting. So is there any other tea you can spill for us?
Just be on the watch for Nicole's, ahem, untapped crazy. 
And lastly—and most importantly—what is your favorite meat?
I'm gonna have to say, like, steak. I mean, I eat chicken every day but a good steak at the end of every week has got to be the best. Hard to find in a deli meat, but by far the most delicious.

So I guess some things never change. Well we can't wait to see you bring the drama this season.
Yeah, but I think people are gonna see a different side of me and they'll see that really I'm, like, a lighthearted, fun guy who does have emotions. I'm not an angry jerk. I think it'll be a lot of laughs and a lot of fun and people will get to see a totally different side of me than they've ever seen before.
So there you have it, people, Hell has frozen over The Chad has changed! Don't forget, Ex on the Beach premiers tonight on MTV at 8pm ET, but you can also catch Chad recapping and talking sh*t after each episode on his new podcast "Chad's World". 
Images: Giphy (1); @realchadjohnson /Instagram (1)
The Shadiest Reality TV Hookups You Had No Idea Even Happened
I've always had a hard time remembering that reality stars don't live in their own little world on my TV, ready and willing to embarrass themselves at the touch of my on-demand button. They are, in fact, real people out there bringing shame to their family name by blacking out, crapping their pants, and hooking up with inappropriate partners on national television. Now, instead of just sliding into the orifices DMs of former castmates of their own show *cough* Colton *cough*, many reality stars are branching out and swapping STDs with cast members of other reality shows. It's like a Grey's Anatomy/Private Practice crossover episode, except no one here is smart enough to be a doctor. If this is modern love, you can just send me straight to hell right now.
This all came to my attention last week when Nick Viall's most suspiciously low-key Danielle, Danielle M, was cheated on by her boyfriend Paulie Calafiore from Big Brother with Cara Maria from The Challenge. Mind. Blown. We'll get back to them in a minute. This relationship inspired me to take a look at what other reality stars are crossing the boundaries of their own shows and have hooked up with your favorite reality stars from other shows. This is a tangled web they're all weaving, so settle in while I make a sad attempt to unravel this jumble of abandoned DNA and lies.

Danielle M/Paulie Calafiore/Cara Maria
First, I'd be remiss if I did not mention the multitude of adult men on reality TV named Pauly/ie. I'm now suspicious of grown men with this name. I'm not saying that means they are all going to be immature man-babies, but I'm not not saying that, you know?
So apparently this Paulie is from Big Brother, which I have never seen. I have enough of a reminder that big brother is watching me every single day when my deepest darkest thoughts that I've never confessed to a soul appear as an ad on my Instagram feed. But, I do know Paulie from the absolute dumpster fire that is Ex On The Beach, where it was revealed that he previously cheated on his girlfriend Lexi. What a charmer. Apparently Paulie has been dating Danielle M since January, and then was cast on The Challenge: The Final Reckoning, where he met Cara Maria and immediately lost all sense of human decency. He recently went on a Twitter rant claiming "For now I can't be monogamous to one person, I've tried and it doesn't work, I love women, I have a lot of female friends and sometimes I fall for multiple at a time for different reasons whether it's the sex or the energy shared between the two of us. I try to be faithful but I can't." Paulie. You're fucking canceled. 

Cory Wharton From The Challenge And Multiple Ladies Of Are You The One?
In this big, scary world that's always changing, there is one thing we can always count on: if it walks and it talks, Cory Wharton will stick his dick in it. Not only has Cory hooked up with many ladies on his own show, The Challenge, but now he's working his way through the castmates of Are You The One? like he'll get a free T-shirt if he bones them all. I hope they have his size left when he's done!
When Cory appeared on The Challenge: Vendettas last season, he brought along his new girlfriend, Alicia from Are You The One?. This all happened after Cory revealed that he had a baby, Ryder, with Cheyenne Floyd, also from Are You The One?. Cory's Instagram is private because he's safer about social media than he is about sex, so unfortunately we don't have many pictures of him being a great dad. Sad!
But wait, the plot thickens. Cory showed up on Ex On The Beach, revealing that he and Alicia broke up—but don't fret, because he quickly found comfort in Taylor's vagina. When I last watched Ex On The Beach, Cory was debating going back to Alicia, and I guess we'll never know what happens because I deleted that trash show from my DVR when I realized I was not a prisoner of war and didn't actually have to be subjected to torture. If you're still subjecting yourself to the on-screen version of waterboarding, hit me up in the comments and let me know how this one turns out for Cory.  
Shep Rose/Stacy London/Jaclyn Shuman
Do you all watch Southern Charm? I recently discovered how great it is after years of endlessly mocking the friend that one time had the gall to say I should try it. Sorry for damaging your emotional wellbeing for no reason, Nita! Send me a bill for your therapy sessions, and I will gladly take a look at it before I throw it in the trash. Anyway, Southern Charm is great. There's gorgeous real estate, convicted felons who think they should run for national office, and Patricia, Queen of the South. And, of course, there is the real life Peter Pan without tights, Shep Rose. I've only watched the first two seasons, but boy do I have a crush on Shep circa 2016. If he has a girlfriend now, keep your damn mouth shut and let me have my dream.
Our boy Shep has had a few inter-show relationships, including one with Stacy London from What Not To Wear, aka my own personal Jesus. Cameran Eubanks claimed that Shep and Stacy made out in a bathroom, and while I may not support the location of this hookup because of germs, I fully support this duo. Stacy knows how to dress for her body, and she should go out there and get it. If only this relationship had lasted, I would maybe be willing to let go of my beloved Shep. But ONLY for Stacy.
Shep has also apparently hooked up with Jaclyn Shuman, a second-tier castmate on the poor man's Vanderpump Rules, Summer House. All I really remember about Jaclyn is that she was a "fit model" which basically means her face isn't weird enough to be an actual model but she's starved herself to a point where they've rewarded her with a job. Next time at least save it for a Wirkus twin, Sheppie. They get top billing.
Well, that was exhausting and I'm just writing about these hookups. I can only imagine how tiring it all is for Cory. If you all know any other reality star relationships that I can stalk during work hours on my lunch break, do tell!
Images: Giphy (2); @relationshep/instagram
Stassi Made Crazy Allegations Against Faith & Now She's Getting Sued
Happy Monday, everyone! Stassi Schroeder of Vanderpump Rules is may be getting sued for some shit she said on a podcast—and no, not the time she referred to the #MeToo movement as a "male witch hunt." Or the time she said she was "tired" of people of color talking about race. Against the advice of everyone with a grasp on logic and a desire to see Stassi succeed, Stassi went on another podcast, The Bitch Bible, and proceeded to fuck herself over yet again. This time, she accused ex-VPR cast member Faith Stowers of stealing "over $300,000 worth of stuff," and also maybe Jax's car. I'm not sure who Stassi's publicists are, but I wonder why they continue to let her appear on podcasts, including her own. This story is fucking crazy, so pop an Adderall (but stay away from the tequila) and let's get into the details of what she said.
Stassi & Kristen's "Investigation"
Stassi made a ton of claims during this podcast episode—it was honestly kind of hard to keep up. First, she says that Kristen's friend texted her saying "do you know Faith Stowers? She was out and stole my credit card." If you're thinking this sounds less than rock-solid, don't worry—the text continued to say "I know because her friend came to me and admitted it." Maybe I'm being jaded here, but I feel like it's rare for someone to walk up to you and tell you the first and last name of the person who just stole your wallet. Must be an LA thing.
Kristen, because she's Kristen, obviously goes batshit with this information. She finds a Daily Mail article covering an investigation of a woman who allegedly drugs and robs men in LA night clubs, and decides that woman is "100% Faith." All she has to go off is some grainy surveillance footage that, I guess, could be Faith, but could also be a ton of other people. Kristen and Stassi then do a bunch of psycho shit like screen shotting surveillance footage, comparing it to Faith's tagged Instagrams, and seeing if tattoo placement lines up.
hey tweeties, doesn't this ex #pumprules thief look familiar?

someone put her on mtv & gave her a platform for press. I didn't wanna go there but I'm going there. https://t.co/4682a7jyzG

— kristen doute ???? (@kristendoute) April 26, 2018
After consulting with DJ James Kennedy, they further allege that Faith (or rather, the unnamed woman in the surveillance footage they've been obsessing over who they think is Faith) is wearing Logan's jacket in the video. (Logan is James' ex-friend/spurned lover, in case you've forgotten. God, this cast is messy.)
and she's wearing Logan's jacket!

PS it was his favesies and he would really like it back. https://t.co/SnxmJdcHIo

— kristen doute ???? (@kristendoute) April 26, 2018
Once JacketGate breaks, Stassi and Kristen go full Law & Order and call the authorities. The police tells them in no uncertain terms that they don't give a shit and are not convinced, which seems like as good a time as any to stop telling people about your "findings." Or, you know, go on a podcast six months later, up to you Stass!
Listen to Benson, sweetie, she's better at this than you.

Don't Worry, There's More
Stassi, whose Adderall appears to be furiously kicking in at this point in the podcast, drops a few more bombs. She talks about how Faith was "homeless" while shooting VPR, and says that while Faith was couch surfing, Lala Kent would "plant things in her apartment to see if Faith stole it." A statement that really exclusively makes Lala look bad, but ok. Stassi then goes on to mention Jax's car being stolen the night that the Jax/Faith hookup is revealed. Again, for unknown reasons, she decides this must be Faith too.

As a parting shot, Stassi warns Faith that she has "video cameras all up in house" and "everyone is going to know it's you." First of all, unless Faith stole the car and then stashed it in Stassi's apartment, I'm not really clear on what kind of damning footage she'd have. Also, WHY do you have video cameras all over your house?? Do you watch old footage of yourself on a regular basis? Is it a sex thing? Please explain. (Actually, don't.)
Faith's Response
Unsurprisingly, Faith has a different version of events. On Wednesday, Faith went on The Tomorrow Show and announced that she's suing Stassi, supposedly using Lisa Vanderpump's legal team. On the car-stealing accusation, Faith seems just as bewildered as I am on how Stassi got from "missing car" to "Faith took it." As Faith puts it, "Jax Taylor's car magically went missing and I had to be the person that stole it." As for the other accusations, she recounts Stassi seeing the Daily Mail article, and adds that the woman pictured "was a black woman who looks nothing like me." Hmm. "I don't know if Stassi's been around a lot of black women in her life," Faith continues. "I'm guessing probably not."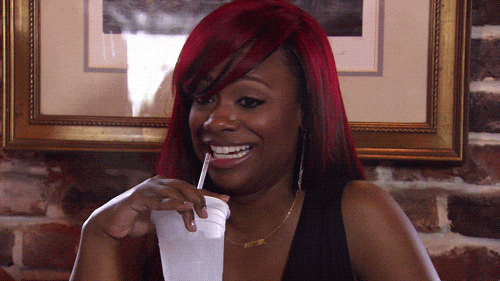 Judging from the general diversity level of VPR's cast, I'd say that's a safe assumption. Faith adds that she was "really shocked" that Stassi would associate her with the woman in the article. But notably, she refuses to label Stassi as a racist outright. "I don't want to put the 'r' word out there and say that she's racist because that can really stick with somebody," Faith says. (Despite the fact that Stassi wasn't particularly concerned about the possibility of false criminal charges sticking with Faith.) As a further insult, Faith reveals MTV "had to do a background check" because of the things Stassi said (for her new show, Ex on the Beach.) V impressed with your restraint, Faith. And good for you for getting off the toxic mess that is VPR (for the not-at-all toxic show that basically Bachelor in Paradise, but with everyone's exes). Also, I kinda think reality shows should be doing background checks in general (Chad Johnson, anyone?), but whatever.
Faith concludes by stating that she doesn't want money from this lawsuit. (I take it with a grain of salt whenever a reality star says in a TV interview that they're not doing something for the money.) She says she just wants Stassi to retract her statements, and more generally, to understand the power of her voice. "You have a reach ma'am," she says of Stassi's VPR fame, "and because you have that reach, you have a responsibility so when you say things…you make a check and you make sure they're true." As for why Stassi might be making these accusations? "Maybe she still likes Jax" is Faith's theory. Truly, the burn Stassi deserves.
Images: Twitter (2); Giphy (3)