The 5 Biggest Takeaways From 'Euphoria's Special Episode
This might sound dramatic, but there's nothing more frustrating than waiting forever for your favorite show to come back. Even for shows that stick to a strict annual schedule, the off-season can be a lonely time, and sadly, the pandemic has really messed with TV calendars. When Euphoria's first season concluded in August of 2019, we assumed that it would be a while before the second season rolled around, but we had no idea just how long the wait would be. With no premiere date set for season 2, luckily HBO came through in a major way, and decided to give us two special episodes of Euphoria to bridge the gap between the seasons. The first special, "Trouble Don't Last Always," dropped over the weekend, and it shows us what's happening with Rue shortly after the conclusion of the first season.
If you haven't watched yet, there will be spoilers ahead, but it's no big secret that this isn't like a normal episode of Euphoria. We only see Rue, Ali, and Jules (briefly), and the majority of the episode is one long conversation at a diner. It's deep and emotional, and while it may not have all the bells and whistles that you expect from Euphoria, it's an impressive character study that we wouldn't get in an episode with 20 other subplots happening. Keep reading for the five biggest takeaway from the first special episode.
1. Rue Is Not In A Good Place

In the season 1 finale, we saw Rue relapse after being left by Jules on the train platform. After a sort of dream sequence of her perfect life with Jules, the special finds Rue at the diner with Ali, and she's in really bad shape. Ali quickly sees through her unconvincing act of having her sh*t together, and he spends the next hour getting real with her about a wide range of topics relating to addiction. I don't know about you, but I was barely keeping it together for most of the episode, and I f*cking lost it when Rue said she didn't plan on being around much longer. By the end, it seems like Ali may have finally gotten through to her, but as we know, addiction isn't a problem you just solve right away. But as they drive off in the rain, it does seem like there is hope that our main character will find her way out of this dark time.
2. Rue Is An Unreliable Narrator
In season 1, Rue literally told us that she can be an unreliable narrator, but at the time we didn't know if that detail applied to what we were watching. But after taking Rue's relationship with Jules at face value last year, the special reveals that some of that sh*t never happened. The big reveal here is that Rue and Jules never actually got the lip tattoos we saw them getting in season 1—they just talked about doing it. In the grand scheme of everything that's happened on this show, it's a small detail, but it could open the floodgates in terms of what little lies Rue has told the audience.
We also see that for the first time, Rue is confronted with the realization that she and Jules were never officially in a relationship. We've all been there, and it sucks, but Rue had to figure it out sooner or later. You always have to DTR!! This wasn't necessarily new information to us, but during season 1 it was definitely tempting to see things from Rue's perspective. As much as I love Rue, Jules didn't actually cheat on her, and honestly, she should probably just focus on herself for a while.
3. Jules Is Next
Now that we've gotten a deeper look at the aftermath of the season 1 finale for Rue, it only seems fair to get Jules' side of the story. HBO has confirmed that "Rue" is the first of two special episodes, and while we don't have a premiere date for the second one yet, it should be coming soon, considering that Zendaya referred to the two specials as "the Christmas episodes." As for the content of special #2, it appears that it'll show us what's going on with Jules. In the "Enter Euphoria" featurette for the special, series creator Sam Levinson discusses the limitations of Rue's perspective, saying "it leaves open the other side of the story, which is… Jules' side."

So basically, we're getting a Jules special, is really exciting for a couple reasons. Up until now, the entire show has been more or less told through Rue. Her narration guided season 1, and as we just discussed, she's not always the most accurate. It's going to be a whole different experience to hear Jules telling her own story, and this opens up a lot of possibilities for future storytelling methods and character development. Also, we have no idea what happens with Jules after she gets on that train! In her special, we could meet new characters, or encounter other characters we already know, or who knows, it could literally be Jules talking to herself for an hour. The possibilities are endless!
4. Are We Getting A Spin-Off?
This is less of a takeaway and more of a vague conspiracy theory. Season 2 of Euphoria was originally supposed to begin production in March of this year, and was put on indefinite hold just days before as everything shut down. Sam Levinson quickly pivoted his focus, and we found out over the summer that he had secretly made a movie during quarantine starring Zendaya and John David Washington. The movie, Malcolm & Marie, is coming to Netflix in February. So, you ask, what does this have to do with Euphoria? Well, in the special episode, we find out that Ali has a daughter named Marie (!!!) who resents him for his past.
This could be a total coincidence, but considering that both stories were written by the same person, it's fun to imagine that the stories could be somehow connected. We're going to be waiting a while for season 2 of Euphoria, so maybe we can pretend that Malcolm & Marie is another special episode. Either way, I'm excited for it.
5. What About Season 2?
So yeah, about season 2. While I loved the special episode, it was nothing like a normal episode, and I won't pretend that I didn't miss all my favorite characters, like Maddy and Cassie and Lexie and Kat and Ethan and okay I really just love all of them except Nate. The special gave us some insight about what's ahead for Rue (hopefully getting sober again), but the other storylines are still completely up in the air.

As for a timeline of when we can expect to see the second season, don't hold your breath. Filming won't start until early 2021, and the cast has frequently discussed how long and complex the Euphoria shooting process is. In a new interview with Cultured, Alexa Demie said "there is a possibility that it's out next year," so I definitely wouldn't expect a premiere date until later in the year. Either way, season 2 is definitely happening, so let's hope it's worth the wait.
Don't miss out on any pop culture or entertainment news. Subscribe to our weekly newsletter here. 
Images: HBO; Giphy
What's Going On With 'Euphoria' Season 2?
After the massively underwhelming second season of Big Little Lies, which may as well have been called "The One Where Meryl Streep Calls Reese Witherspoon Short," it was nice to tune into Euphoria, a show whose drama is actually riveting. I've never used that word non-sarcastically, so this is a big moment. The season finale gave us so much, including world's most beautiful sociopath, Jacob Elordi, throwing a temper tantrum; Zendaya performing a very morbid musical number; Barbie Ferreira making a case for dominatrix fashion; and Hunter Schafer confirming that Avril Lavigne's black streaks are still very much not a good look. But I'm greedy and I need more, which leads me to my first of many questions: Will there be a Euphoria season 2?
Francesca Orsi, Senior Vice President of Drama Series at HBO, told Entertainment Weekly, "We are so grateful that chose HBO as the home for this groundbreaking series. We look forward to following these complex characters as their journeys continue through the challenging world they inhabit." Yay! Then Zendaya retweeted HBO's announcement and said, "Literally just got the call. Can't say thank you enough for the support we've seen, wow." She types with the same enthusiasm level as my dad, who responds to all of my good and/or exciting news with a resounding "yea." Anyway, this is amazing news and I am f*cking happy about it, as is the rest of the world. Look, even though exactly zero of my season one finale predictions came true, I'm still in the game of guessing the future, so keep reading for my Euphoria season 2 predictions!
Jules Will Go M.I.A.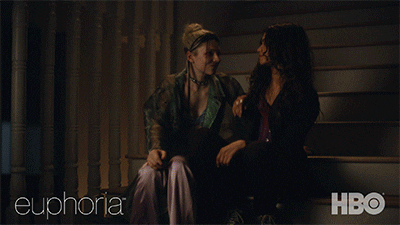 This is model-turned-insanely-talented-actress Hunter Schafer's first acting gig ever, which is shocking considering I'd nominate her for a f*cking Oscar if the Academy would let me. Back to my theory: the finale ended with Rue and Jules boarding a train for an unspecified place, but right before the train left the station, Rue started to have very responsible second thoughts. I'm proud of her for thinking of someone other than herself (her mom and sister), but also disappointed because this love story gave me all the life I'll ever need and I don't want it to end. So being the badass b*tch she is, Jules still boards the train! Will she come back? Honestly, probably, because I can't imagine this show getting the exceedingly high ratings that it did without her, but also because she is such a fan favorite. 
I think she will be living in the Rue's memory for the first episode or two via flashbacks and then she'll just reappear with some gorgeous pastel hair color and make everyone (me) really happy. I am getting Serena going to boarding school after f*cking Nate vibes from her right now, and I'm not mad about it. 
Rue Will Relapse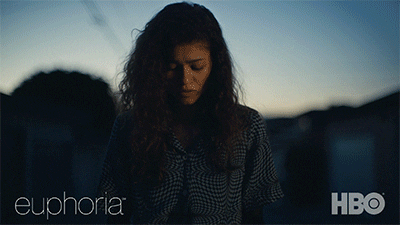 Real talk: addiction is a disease, and many addicts relapse at some point on their roads to recovery. Rue admitted in the pilot that even after rehab, she had no intention of staying clean, which is sad because she was in a drug-induced coma for four days and nearly died. As we know, she meets Jules, and Jules' beautiful existence on this earth is enough to convince Rue that life is worth living. I think, though, that with Jules taking her amazing eye makeup game to a different city, Rue will fall back into old habits and start using again. I've cried so many times watching this show and I know that Rue battling with whether or not she should swipe a pill in season two will def bring me to tears. I'm not prepared for this, y'all. 
Am I devastated to watch Rue undo all of her progress? Yes. Is this a drama about a teen drug addict? Yes. My point is Rue is 17 and is addicted to pills, so the chances of her staying off drugs are slim to none. So sad, but so inevitable.
Nate Will Come Out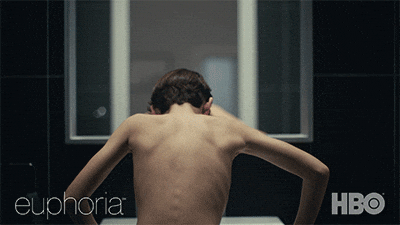 But not in the way most people do. He's definitely going to sexually assault a guy he thinks is cute and then go home and think, "What a good time! Should I blackmail text him? Or is it too soon?" I'm not a psychologist, but I do have working eyes and have observed that every time anyone insinuates that Nate may not be 100% straight (is anyone, though?), he gets more violent and spirals out of control. I mean, I literally had to close my eyes when he was having a Lottie in A Little Princess moment in his room because it was so terrifying. His very real internal battle will definitely start to come out. Pun fully intended. 
This may be far-fetched, but I think he will take after his dad and prefer the company of wildly inappropriate sexual partners and it will all explode in his face. Hoping that also happens to his dad because he is a disgusting child abuser who needs therapy/jail time pronto. 
Fez Will Have More Lines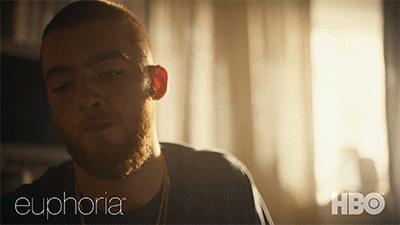 Minus that time he attacked and robbed a rich man in front of said man's young son who will probably be traumatized for life, Fez has been the unsung hero of this show. Not going to lie, I didn't understand his character when the show first started and for a hot second, I thought he may be Nate's long lost brother since he has two and we've only met one, but now I am really happy that they aren't related. Fez was kind of a wildcard because I hated him for enabling Rue all these years, but at the same time, dude's gotta eat! For real, though, Fez has a big heart and I'm happy he cut Rue off because he seems to genuinely care about her and she him. Unlike a few important people in her life, Fez has seen and helped Rue when she was at her lowest points, so hats off to you, Fez. We love you. 
I think Rue will lean on Fez in Jules' absence and he will become much more of a central character in the show. I also think Mouse, that terrifying dude rocking a few face tats, will give him trouble for the raid and Rue, as always, will accidentally be present when sh*t goes down and ruin everything. Of course, Fez will save her and we will fall further in love with him. 
Think I'm completely wrong about one or all of my predictions for season two? Let me know, but make sure that if you come for me in the comments, you have facts to prove me wrong. Do you have any predictions for Euphoria season 2? 
Images: Giphy (4)