The Best Amazon Self-Care Essentials To Have On-Deck For Chill Days
Self-care is quite a hot topic lately. And, it should be, right? If you're not taking proper care of yourself, you can't do the same for those around you. And let's be honest, everyone has a lot of sh*t going on. Whether you're dealing with a micro-managing boss who won't let you catch a grip, or you're dealing with a breakup that's been way too hard to get over, self-care is essential. And self-care also isn't selfish. Yes, it goes a lot deeper than the material things like getting monthly massages or signing up for yoga, but there are some staples you can add to your everyday routine to amp up your self-care game. Here, 10 self-care products from Amazon to shop right now.
Betches may receive a portion of revenue if you click a link and purchase a product or service. The links are independently placed and do not influence editorial content.
Essential Oil Diffuser
Essential oils can be used for aromatherapy, skincare, and other health benefits. Some popular essential oils for relaxation and stress relief include lavender, peppermint, and eucalyptus. Just pop 'em into a diffuser to get them into your space. Breathe in. Breathe out. 

Shop It: Miserwe Remote-Controlled Essential Oil Diffuser, $18.99, Amazon
Jade Roller
A jade roller is a facial massage tool that helps reduce puffiness (aka hide that hangover), increase circulation, and promote relaxation. It's an easy way to chill the f*ck out in just a few seconds.

Shop It: Baimei Jade Roller & Gua Sha Kit, $9.99, Amazon
Yoga Mat
Yoga might not be for everyone, but if you're curious you can try doing some 'ol stretches right at home with a cute yoga mat. Plus, a good quality yoga mat can provide comfort and stability while trying to relieve stress and improve overall well-being.

Shop It: Retrospec Solana Yoga Mat, $36, Amazon
Water Bottle
Staying hydrated is important for both physical and mental health, but sipping h2O throughout the day isn't always such a breeze. A reusable water bottle can help you stay on top of your hydration goals throughout the day and hold you accountable.

Shop It: Hydroflask Wide Mouth Bottle, $49.95, Amazon
Calming Face Mask
A face mask is a great way to pamper yourself and give your skin some extra TLC. There are many different types of face masks, but a sheet mask is easy to use, targets your skin concerns, and has no face washing involved. Look out for one with calming ingredients, like this one from Dr. Jart+ infused with tiger grass.

Shop It: Dr. Jart+ Cicapair Tiger Grass Calming Mask, $15.99, Amazon
Scented Candles
Light up your space with the calming aroma of sweet lavender as you unwind from sending emails all day. It's like walking into a warm hug while setting a super cozy vibe.

Shop It: Sweet Water Decor, Relax, Girl Candle, $19.95, Amazon
Bath Bombs
Bath bombs are a fun and luxe way to unwind after a long day. They come in a variety of scents and can provide a spa-like experience in the comfort of your own home. Get yourself a pack like this to find your new fave.

Shop It: Naked Reverie Bath Bomb Set, $31.99, Amazon
Foam Roller
Stretching and muscle recovery is a huge part of self-care and a foam roller is an easy way to do both. It can help relieve tension and soreness in your muscles, making it a great addition to your post-workout routine.

Shop It: TriggerPoint Grid Foam Massage Roller, $30, Amazon
Journal
Journaling can be a great way to reflect on your thoughts and feelings, and help you manage stress and anxiety. A good quality journal can help you stay organized and focused on your goals. This journal has five-minute props ready for you to fill out, which is especially helpful on those days where you're not sure where to start.

Shop It: The Five Minute Journal, $24.99, Amazon
Sleep Mask
Getting enough sleep seems to get harder with age—yikes. Whether it's work stress or your personal life, some factors cause you to need some extra help catching some Zzz's. This viral NodPod one is like a weighted blanket for your eyes and can help target anxiety.

Yoga Shouldn't Be About Achieving 'Hotness': A Beginner's Guide To Spiritual Yoga
Do you hate spin class, CrossFit, and workouts that involve people with conventionally "perfect" bodies yelling at you? Are you a millennial having an existential crisis? If you answered yes to both or either of these questions, I highly recommend spiritual yoga. 
When I hear the term "yoga," I automatically think of girls with perky butts doing the splits. The truth is, though, yoga was never meant to turn into what it is now. Many people forget, or just flat-out don't know, that yoga was around looooong before Lululemon started charging $125 for stretchy fabric. Yoga originated in India all the way back in 3,000 BCE (Boomers hadn't even been born yet). Its original purpose was to serve as a practice to help people achieve Samadhi, a state of pure awareness. Since its creation, yoga has branched off into a ton of different forms. They all maintained the common goal of connecting the mind and the body, just in different ways. 
The thing is that the kind of fitness yoga that is so popular now tends to take the mind out of the equation and focuses on just the body. Basically, Americans did what we do best: we commercialized something meaningful and rebranded it into a way to achieve "hotness." A spiritual yoga class probably won't get you much closer to achieving Michelle Obama's toned arms or Rihanna's phenomenal ~cake~ but that's kind of the whole point. It hangs on to the dangling thread of the mind-body connection. One of the best things you can do going into a spiritual yoga class is drop the CorePower Yoga mindset of "I'm paying $150 a month for this, so I better look bomb in a bikini." If anything, just don't overthink the experience. That being said though, here are some things I probably should've thought about before my first spiritual yoga class.  
Finding A Spiritual Yoga Class
"Yoga" has turned into such a broad term that it can be hard to know exactly what you're getting into when you sign up for a yoga class. Here are a few signs that a class involves fitness yoga: the class uses the words "burn" or "sculpt" in its name, your friend suggests you take the class as a way to get over a hangover, or the studio the class is held in has floor-to-ceiling windows so the public can watch you like some sort of zoo animal in spandex. Spiritual yoga classes will usually reference specific types of yoga in their names/descriptions. The type of class I did involved hatha yoga. Some other common types of spiritual yoga include ashtanga and vinyasa yoga. The website YogiApproved offers a quiz to help you decide which form of spiritual yoga best fits you. So, take a break from BuzzFeed quizzes on what type of cheese matches your zodiac sign and try it out.

Once you've figured out what type of spiritual yoga you're interested in, the obvious next step is to turn to the almighty Google. Include the name of the specific type of spiritual yoga you are looking for in your area, and, depending on where you live, you should find a decent amount of studios that offer these classes. Keep in mind that just by typing in the word "yoga" your search page will also include some of the big-name yoga studios like CorePower or YogaWorks. The likelihood of you finding traditional spiritual yoga classes at one of these studios is slim to none. Your best bet is to stick to the smaller studios. Think of the big-name studios as Olive Garden, and the smaller studios as a family owned Italian restaurant. While Olive Garden can offer you a great deal on an endless amount of breadsticks and salads, you can't go in there expecting nonna in the back cooking her baked ziti recipe that's been passed down in the family for generations. 
Attire
It's okay if you don't own a $200 matching spandex outfit. In my opinion, nobody should. For spiritual yoga, throw on your $30 leggings, and I guarantee you'll feel a little money saver's high when you tell the woman who pulled up to class in a Range Rover that they're from Target. Do NOT wear a loose T-shirt, though. It will expose your boobs during a majority of the positions, and you might feel the urge to say "oopsies" each time you pull it back down. Also, keep in mind that the people in these classes are usually the type who own multiple shirts that have different plays on the phrase "namaste" written on them. So, avoid wearing tops that say things like "I swear to drunk I'm not God" (totally random example…I didn't definitely do this).
Essential Oils
Before the class begins, you might be offered the opportunity to choose from essential oils with names that sound more like titles of Enya songs than actual fragrances. The scents are supposed to evoke different emotions/states of mind. Lavender is meant to calm you, peppermint helps with focus, tea tree makes you flashback to drinking too much vodka then throwing up in a Pizza Hut, etc. So, if you're unsure of what emotion "myrrh" is supposed to bring out, just ask the instructor. When you pick one, remember that these oils are not poppers. Do not stick the vile directly under your nose and huff it like you are in a bathroom stall at a night club. Just rub one on the inside of your wrists and pretend that "sandalwood" doesn't actually smell like a cedar closet that someone has been chain-smoking in.  
The Poses

One thing that really separates spiritual yoga from your typical fitness yoga is that the poses go beyond butt sculpting. Each of the poses have a different story and meaning behind them. My personal favorite pose was the "corpse pose" which consists of one of my biggest passions, lying on the ground. The corpse pose has a pretty literal meaning—you're mimicking death in order to prepare yourself for it, which is actually very millennial for an ancient practice.
The "warrior pose" is a deep lunge accompanied by what essentially looks like pointing a finger gun in the air. This pose symbolizes the God, Shiva, who created a warrior, Virabhadra when she got pissed and ripped out another God's hair (not in a Jersey Shore way, but in a dignified way). I respect the hell out of Shiva, and I suggest you look her up if you're in need of some "I am woman, hear me roar" energy. The overall meaning behind the warrior pose is to overcome our ego and ignorance, and, if social media has shown us anything, it's that most people are stupid and full of themselves.
The "tree pose" has to do with an epic poem (epic meaning a type of poem, not how people described skateboard tricks in the mid-2000s) about a woman named Sita who waited out in the woods for her exiled husband to return. Sita isn't waiting for her man in the toxic Disney princess kind of way. She is using waiting for him as a time to practice patience, and this pose is your chance to practice this very important life skill for dealing with people's BS. The tree pose is basically standing as firmly as you can with your arms by your side.
Some of you might be thinking that these poses sound nothing like the type of workout positions that will make you feel sore the next day. Once again, remember that you are not there for abs. You are there for something way more meaningful than 300 likes on a bikini pic. This is only a brief rundown on a few of the poses. Take some time to learn about the stories and meanings behind the poses you can expect during a spiritual yoga class. You will get so much more out of it. 
Farts
At one point, the instructor was helping me get into a position that I'm pretty sure I saw a Russian gymnast do during the Olympics, and… how can I put this delicately… I "ripped ass." I braced myself for the middle school moment when the earth stops turning, and everyone in class turns around so they can really punch in the humiliation. But, something amazing happened. The teacher patted me on the shoulder like the kind of mother I've always wanted and said, "Goooood. Let it out." I was receiving praise for performing a bodily function, which is the kind of energy I've been searching for my entire life. This is what true self-acceptance must feel like. So, if you find yourself in this situation, don't be alarmed. That's just the sound of your unhealthy lifestyle leaving your body. 
The Singing Bowl

No, that is not a pill crusher your instructor just whipped out. It's a "singing bowl." 
The singing bowl started in ancient Tibet. It's basically a metal bowl that emits a sound when you circle the top of it with a mallet. This is not like when people wet their fingers and play "Viva La Vida" on wine glasses. The sounds that the bowl produces are frequencies that target different mind vibrations. Before you start rolling your eyes, hear me out. I won't go deep into the science behind it because I'm the type of person who hears "beta" and thinks of a fraternity, not the brainwaves. Essentially, the sound frequencies stabilize different parts of your brain, which results in a calming effect. When the instructor first started using the singing bowl, I started peeking around to see if everyone else was buying into this. They were. Even Range Rover Lady seemed at a higher level of peace. So, I accepted that, as a person who could receive a medal for excellence in paranoid thinking, I'm not above giving vibrations a try. It felt like three years of therapy within five minutes. So, GIVE IN TO THE VIBRATIONS! Give in to every part of the spiritual yoga experience. 
If you're living in an area that doesn't offer any in-person spiritual yoga classes, or you're trying to be COVID-conscious, online classes are a superb option. YouTube has taught us about everything from the electoral college, to algebra, to making guacamole, to perfecting the smokey eye, etc. So, why shouldn't we give it a shot to teach us spiritual yoga? There are soooo many classes on YouTube that can offer you an authentic experience for whatever type of spiritual yoga you are interested in. There are also yoga-specific websites that offer online spiritual yoga classes. These sites usually require you to pay for classes or for a subscription, but they are great for keeping you on a schedule. Whatever type or way you choose to practice spiritual yoga, I encourage you to give in to the full experience. If you do, you WILL thank me and feel free to send me an Edible Arrangement. Namaste, Betches!
Images: Dane Wetton / Unsplash; Giphy (3)
Nick Viall Wants To Clear Up Misconceptions About Essential Oils
What do you do after becoming the Bachelor? For most alumni, it's hawking fit teas and watches on their Instagram. But some of them have legit businesses, Nick Viall being one of them. The two-time Bachelorette contestant and one-time Bachelor decided to team up with his sister and start his own business, Natural Habits essential oils. Naturally, we were curious, so we sat down with Nick to discuss his new venture. Nick talks all things essential oils, including his personal experiences with oils, the inception of Natural Habits, and how his oils are different from the ones your aunt's friend keeps messaging you about on Facebook.
Read on to learn more about the beneficial ways you could be incorporating essential oils into your daily routine.

How did you learn about essential oils?
I've been using essential oils for going on six years now. I got into it because, like a lot of people, I get anxiety, and that anxiety would lead to me grinding my teeth, and subsequently, I'd get headaches. My sister, who's a holistic nutritionist, is always looking for alternative forms of self-care and improvement, and so she turned me onto them and suggested I try them. I understand that when it comes to anxiety and headaches sometimes you have to medicate, but if you can try to do other things before you get to that stage it's always beneficial, so I wanted to avoid relying on medication for anxiety.
Did you have any doubts about using essential oils at first?
I reluctantly started using essential oils. It honestly sounded kind of hocus-pocus-y to me. And the two biggest companies and players in the space are doTERRA and Young Living, who are, as a lot of people know, multi-level marketing (MLM) companies. And there are some red flags with that concept. But there's other, smaller brands out there so I started using those, and to my surprise, they really helped with me sleeping, relaxing, and anxiety, and then especially also with headaches.
Why did you decide to start your own essential oils company?
It was a bit cumbersome for me because you can have individual essential oils, like peppermint oil is really popular for headaches, but when you blend essential oils together you can maximize the medicinal benefits. That's kind of time-consuming for the average person. I just wanted to use them as a way to make myself feel better. I also found it surprisingly interesting that it was a challenge for me to find essential oils that were USDA Organic Certified. So that's kind of how Natural Habits started, with two ideas in mind: first, being able to offer an organic oil that was certified by the USDA, and then we specialize in blends.
What does it mean that your oils are USDA Organic Certified?
So I can only speak in the essential oils space, I don't know the qualifications for shampoo or whatever, but it's just making sure there's no contamination, there are no chemicals, especially when it comes on the farms. Like, we have to make sure there's no runoff that comes into the soil, no chemicals are added, no adulterants are in there, and a lot has to do with the farming. And the fact that it is a third party, it's the USDA that we have no relationship with other than the fact that they're approving our oils so we can legally fly that symbol. There's a lot of companies that would call themselves organic. Anyone can say they're organic, but they can't say they're verified by the USDA.

What sets Natural Habits apart from other essential oil companies?
We're not the only ones who do blends, but we specialize in those blends, and we've taken time to create the blends. And we try to keep it simple and safe. So the combination of us being USDA Organic, the fact that we're simple. Right now, we only have four blends. We're going to keep those for a while, the same four blends will be in our diffuser line. Eventually, I'm sure we'll have more, but these are the four blends that I've used for the past five years that have really helped me, and honestly, if you use these on a regular basis, they will help your emotional, physical, and mental well-being. We try to make it simple for the average user, not over complicate it. I've seen the memes like, "What's the essential oil for bae not calling me?" But it's almost a little out of control, and I think some of the companies make it more confusing than it needs to be.
Which essential oil is best for getting people to stop talking to you

— Stephen Lee ?? (@shopkins776) November 30, 2018
What products do you currently offer?
Our roll-ons are out of the box, ready to go. You roll them on just like you would a perfume, anywhere your blood flows, on your temples and like that. We created four blends, Rise, Protect, Center, and Release, with very specific ideas. The idea being that these are habit forming, to get you through the day. Rise to wake up, get your energy boost. Protect for an overall immunity boost, and anything in terms of keeping your immunity up. Center is great for headaches, so if you are prone to headaches it'll help reduce the headache that you have, but more importantly, it helps make sure you're not getting that headache in the first place. And then Release is perfect for sleep and anxiety.
Why is diffusing essential oils better than burning candles?
Candles aren't good for you. Basically, the fragrances and the chemicals they put in to make them burn longer and last longer, to smell the way they do, are all things that you're literally putting on fire, and by putting them on fire you're breathing in toxins. Think about how much beneficial using a diffuser : You can control how much or how little is going into the air, as opposed to setting your place on fire.
What is the mission of your company?
You know for me, obviously with my platform, I reach a lot of women, but gender neutral. I use essential oils, guys have anxiety and headaches too, and everyone can benefit from what they can do. I think we're just trying to get the message out about essential oils and how they're beneficial, and kind of fighting against some preconceived notions of essential oils. 
Do you have a favorite blend or oil that you go to?
Mine is the Release, I use that a lot. I mean, that's the one that's designed for sleep and anxiety, and that's really what got me into it, and so that blend with peppermint, clary sage, lavender, and grapefruit is the one I use the most. I use it every day when I go to sleep, and I use it throughout the day if I ever go to yoga or do meditation, which I don't do as much as I should. Thankfully, I get less and less headaches now, but the Center's been really helpful for that. I find that my second favorite one is probably the Protect because I like the way it smells, and when I'm traveling I put it on and it helps with the immune system. I hate getting sick, and I always try to avoid it, so I'm using it every day for that extra boost.

How do you incorporate essential oils into your daily routine?
That's how we came up with the name Natural Habits. should be habit forming, it should be something you do on a regular basis to maintain that healthy lifestyle. It's like when you want to get in shape, you don't just hit the gym and eat donuts, you look at a holistic approach to having a healthy lifestyle. Essential oils have been a big part of , and they've really helped me.
I'm sold! If you're officially drinking the essential oils kool-aid too, check out Natural Habits' current line of roll-on oil blends, and the diffuser line, available now. And for a limited time, Natural Habits is offering Betches readers a discount on their purchase. Use code BETCHES for 20% off your purchase on Natural Habits. 
Images: Natural Habits
5 Natural Ways To Fall Asleep That Have Nothing To Do With Melatonin
If you have a sense of humor and working eyes, you will agree that all of Sgt. Olivia Betchson's articles are hilarious. However, I didn't laugh very much at one of them (even though the jokes were spot-on) because I could relate to it a little too hard. I once had the exact same problem she is currently experiencing—insomnia—and, as all Fight Club fans know, insomnia is no f*cking joke. In fact, it's horrible, and I don't wish it on my worst enemies. Luckily, my bout of no sleep happened during my college years when I only had to use my brain for a few hours a day, and could spend the rest of my time drinking and editing Instagrams of me pretending that everything is going great! Spoiler alert: everything was not going great.
Insomnia affects everyone slightly differently, and it affected me the way dementia affects your grandma. For those of you who are about to tell me that was an insensitive joke, it wasn't a joke! I participated in a sleep study, which officially ruled that my brain had been in a dementia-like state since the insomnia started, just six months before. And unfortunately for everyone who knew me at the time, I was in that terrifying state for another eight months. Ugh, so nostalgic for my fun and carefree college days! Because my Sergeant already went into detail re: how awful insomnia is, I'm just going to say "seconded on all counts" and talk about happier things, like natural ways to fall asleep that don't involve counting sheep, aight? Full disclosure: these methods work for me now, four years after I countered the problem with both medication prescribed by my doctor and a tightly packed joint. I don't still have insomnia (bless up), but I get really nervous that it's coming back on nights when I can't sleep, and on those days, I practice the below natural ways to fall asleep. You're welcome, fam.
Read A Boring Book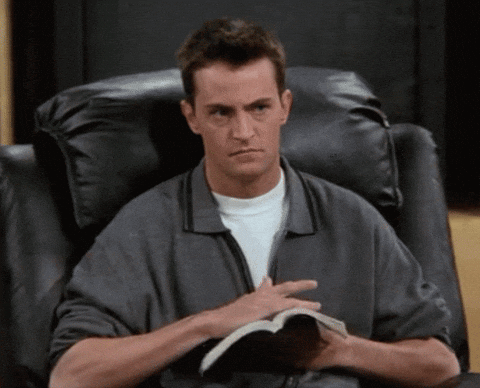 I was an English major and legit enjoy reading. You aren't allowed to be an English major if you don't. So I got in the habit of turning off my laptop and putting my phone face down (after setting my alarm, of course) once I decided it was time for my bedtime story. FYI, I still do this every night and I will never not refer to it as my bedtime story. Cute or creepy, LMK in the comments! Anyway, when I first started doing this, I was reading Lolita, which is like the absolute worst book to read if you don't want to be up all night thinking about a full-grown adult man who's planning a cute little scheme to kidnap his wife's adolescent daughter so he could bang her whenever he so pleases. Don't get me wrong, Lolita is an incredible book and everyone should read it, but if you're using it as a sleep aid, you may as well just sip an espresso or pop an Addy while you read because this book will not let you doze for one second. It will haunt you until the day you die.
If you're going the book route, read something slightly less "active," as my 10th grade English Literature teacher referred to it. My weapon of choice? Little Women. It is long af, which just inherently makes it incredibly boring, and the plot moves slower than your IBS on a bad day. Another boring af option? Pamela, an epistolary novel written in 1740 about a 15-year-old maidservant named Pamela Andrews, whose employer, Mr. B, makes unwanted and inappropriate advances towards her. Wow, I guess times really haven't changed at all!
Get An Aromatherapy Diffuser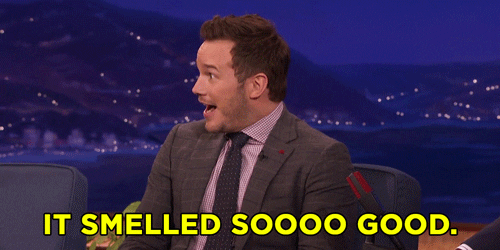 Guys, this is the best purchase I have ever made and I got it from my favorite place in the world: Bed, Bath and f*cking Beyond. Coincidence? Nope! So every aromatherapy machine is different, but they all kind of do the same thing, which is release a cute little puff of steam that's infused with essential oils. Mine is by a brand called Ellia and it's really pretty, which doesn't really matter, but it sits on my window sill where everyone can see it, so it actually matters a lot. They are so simple and easy to use, and pretty affordable. There's a little vessel where you pour a certain amount of water and a few drops of your fave essential oil, which lasts literally forever. I've been on the same vial of lavender oil for two years now and still have a f*ck ton left. You can use whichever oil you prefer, but if you're using the aromatherapy diffuser to help you sleep, I'd stay away from citrus scents and opt for more of a lavender or chamomile situation, since those are proven relaxers. Turning on the diffuser a good hour or so before bed will def do the trick when you get sleepless night vibes. Some of them (mine, at least) even have music settings built in so you can either connect it with your Spotify or choose one of the diffuser's playlists, which are all soothing water sounds. I just convinced myself to buy another one.
Try Breathing Techniques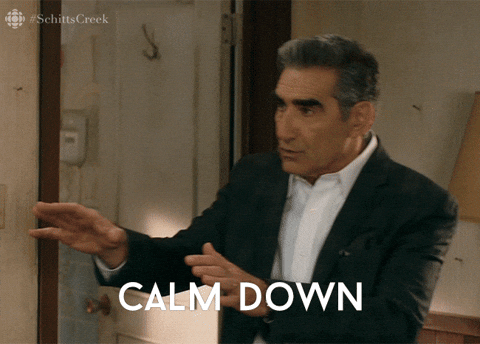 Before you roll your eyes, hear me out. I learned the importance of paying attention to your breath in hot yoga, where breathing is like, actually kind of difficult. Breathing techniques work for two reasons. One, focusing on your breath helps you both control and slow it down, which, in turn, slows your heart rate down, which, in turn, will help ease you into sleep. Secondly, focusing on nothing but air going in and out of your lungs is boring af and should put you to sleep, like, ASAP. I don't f*ck around with that stupid, in through your nose, hold it for ten seconds, then out through one of your nostrils then inhale for two seconds, hold for five then release again through, like, your eyes sh*t. Those kind of techniques are too complicated and stress me out. I keep it simple with breathing in through my nose slowly and releasing it through my mouth slowly. Easy. I learned this technique when I was on the track team in high school (MVP, obv) so that I could get through the 800 without having a stroke. And it worked! Your breath is obviously connected to a lot of systems in your body (and mind), so making sure it's in a good place is integral to a good night's sleep. That's all!
Don't Eat Right Before Bed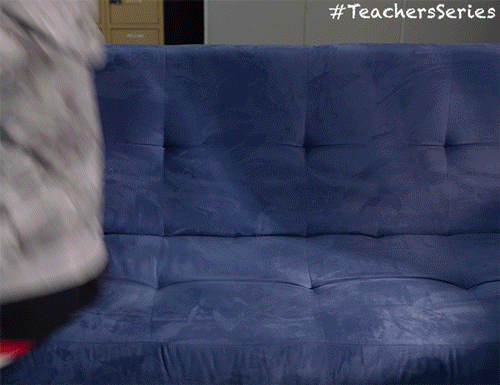 Look, I live in New York, home of eating dinner at 9pm, but having a full meal right before bed is not the move. I've been told that it's more about what you eat than when, but since I have a very strict diet of pizza and cheeseburgers, I've been instructed to just not eat if I'm going to bed shortly after. If you are a functioning adult, having a light and nutrient-packed snack before bed is actually good. For you weirdos who eat salads and sh*t for lunch, low-energy food before bed can help keep your blood sugar levels in check, which, for some unfortunate souls out there, drop at night, and that is why these people wake up wanting to go on a homicide spree out of hanger come the morning! A lot of foods are low-key energy-boosting, but not in like a "Let's go for a run" kind of way. All they do is make you feel tired, but they won't let you sleep, kind of like my friends at parties.
Ok, so this next part is tricky, so pay attention. Having a small carb-y snack like warm milk, fruit, or crackers can actually help you fall asleep, because the sugars make nice with the serotonin in your brain, but having actual sugar like candy or cookies will have the opposite affect and you will be up all night, and not in a good way. The most important thing to remember is to not eat mindlessly before bed. Like, until I knew this, I physically couldn't watch Netflix without a bag of pretzels in my hand, but that kind of habit may have kick-started my bad sleeping habits to begin with! F*ck you, pretzels!
Light A Candle

Try this at your own risk, but I've found that making my tiny closet of a bedroom feel like a spa in any way that I can has proven really helpful for my sleepiness. If it were up to me, I'd hire an interior designer to turn my apartment into Anthropologie, but sadly, my bank account is not down for that. Sad. I am not a regular at five-star spas, but I've been to a few, and I've noticed that they all have candles on every surface for ~relaxation~ purposes. And they nailed, it because I've fallen asleep in every spa I've ever visited. I have no shame in admitting that I have not one, not two, but eight candles in my room (all in cute containers, obv) and I love them all dearly. They are all really light and clean, which means I can light them all at the same time and the scents won't be gross when mingling in the air! If my mom is reading this, my apartment is still standing, so relax. Lighting them all at once sans artificial light in the room serves some serious spa vibes and I am here for it. I usually fall asleep with all of them lit (#lit) and then wake up a few hours later to blow them out and then subsequently pass the f*ck back out. Candles are a must, people, and they are such an easy investment. All I ask is that you buy all-natural beeswax candles so you aren't falling asleep to the heavenly scent of toxic fumes.
Obviously, everyone falls asleep differently, so I can't guarantee that these sleep techniques will work for you. But I can guarantee that doing these things will help you feel more relaxed, and relaxed people usually sleep better. It's like, science. Hopefully you'll figure out what works for you so you can kick insomnia's ass. Let me know in the comments if you have other methods that have worked for you!
Images: Unsplash; Giphy (5)
What Is Toner, Why Do You Need It, & Which One Do You Need?
Let me start off by saying that I am not a skincare expert. I am just a 24-year-old human woman. One who discovered six months ago that my college skin care routine ("washing most nights, probably") was no longer going to cut it. I'm lucky enough not to deal with serious acne. But all the "minor" concerns (dullness, dryness, redness, inexplicable bumpiness)? You bet. SO, I did what all good shopaholics journalists do best: research. I went into a very deep, surprisingly Korean internet blackhole, and emerged with a four-step skincare routine. Cleanser, toner, serum, moisturizer. Duh. Of all these steps, toner was the one I resisted most—and the one I still find most confusing. Since I'm sure I'm not alone in this, I've written up my findings on this v important topic. What is toner, why do we all apparently need it, and which one is best? Please enjoy.
What Is Toner?
First and foremost, toner is very different than it used to be. The toner I remember from high school was glorified rubbing alcohol prescribed by particularly vindictive dermatologists. But today's toners are so much more. A good toner can help you even out texture and tone (duh), shrink the appearance of pores, and leave your skin super soft and glowing.  To get technical, one skin care specialist describes toner as a way to "complete the cleansing of your skin." Apparently, cleansers "can leave a film on your face" that toner strips off. Which really makes me question why I'm using cleanser in the first place, but k.
If you want a buzzier description of what toner does, Allure describes it as "a fast-penetrating liquid that delivers skin a quick hit of hydration and helps remove some dead cells off the surface of the skin." (Seriously, are cleansers removing anything?) And in case I have any toner nerds in the comments, I'll also mention toner's effects on pH level. Apparently, a good toner functions by resetting your skin's natural acidic pH. You can read more here, or just trust me that it means you'll look good and resist more bacteria. Two equally sexy goals, am I right?
Finally, what is toner actually made of? The general answer is water, plus some combination of acids, glycerin, essential oils, plant extracts, and more. Kewl. Some toners still contain alcohol, but it's not recommended unless oil is your main problem.
TL;DR: Toners are a water-based product will give you a more thorough cleanse, prep your skin to absorb your moisturizing products, and overall improve skin's appearance and texture over time.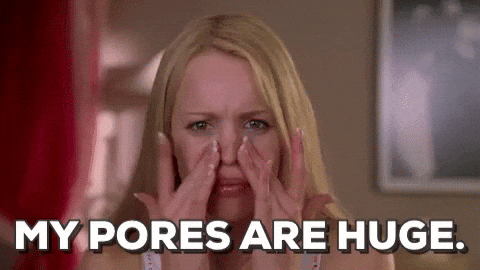 How Do I Use It?
You should think of toner as a chaser for your cleanser and a primer for your serum/moisturizer. If you're particularly anal, you should apply toner no more than 60 seconds after cleansing. Apparently, that's when your skin will absorb it best. After, you apply any serums/moisturizers/eye creams. My favorite explanation for how this works is given by Charlotte Cho, co-founder of Soko Glam. "Your skin is like a dried-up sponge," she says (adds up). "If you put thick cream on a brittle dry sponge, it won't accept it." If this doesn't make you spiral into self-doubt about every time you've put $70 moisturizer on your bone-dry face, congratulations. Can't say the same.
As for like, how do you literally put it on your face—you have two options. You can read the instructions on the bottle (some recommend cotton pads while others say to use your fingers).  Or you can really make a day of it and attempt to follow the K-beauty "7 Skin Method." I'd make a joke here about "who has the time for that," but I watched a full season of American's Next Top Model last weekend. I have the time for that.
Okay, What Kind Of Toner Should I Buy?
Now you're asking the important questions. The answer, of course, depends on your skin type. Generally speaking, Korean brands like Soko Glam will have great options, because their toner never went through the gross alcohol phase that American toners did. But beyond that, you should figure out your skin's needs (or see a dermatologist to find out) and pick ingredients based off that.
For sensitive skin, chamomile, aloe vera, and amino acids all help calm/soothe. Some good picks include Mizon Intensive Skin Barrier Emulsion and Exuviance Soothing Toning Lotion. For oily skin, alcohol will help kill oil and shine, but so does witch hazel—and the latter is less drying. Belif Witch Hazel Herbal Extract Toner is my personal fave, and Pixi by Petra Glow Tonic is another beloved one on the market. For dry skin, glycerin, essential oils, and rosewater are all key hydrating ingredients. Try the Klairs Supple Preparation Facial Toner or Caudalie Beauty Elixir. For dull, uneven skin, try Son & Park Beauty Water, which has both exfoliating and hydrating properties.
Oh, and whatever you do, stop buying Neutrogena toner. I usually love Neutrogena, but their crazy-drying alcoholic toners (yes, even and especially the "Alcohol-Free" toner) are the reason it took me so long to come around to real toner. I used that shit for two weeks and I may as well have been washing my face in Svedka. If you need any further convincing, take a look at their spokesperson. I rest my case.

That's all the wisdom I have today! But my recent skincare tear is showing no signs of stopping, so stay tuned for upcoming reviews of dermarolling, Hanacure, and how to file for bankruptcy when you've spent all your money on Korean beauty products.
Images: Giphy (2); sarah_glow / Instagram
Betches may receive a portion of revenue if you click a link in this article and buy a product or service. The links are independently placed and do not influence editorial content.