What Happened When I Ditched My Complicated Skin Care Routine
I first started hearing the words "skin care diet" back in January, when everyone was trying out their favorite wellness hack in honor of the new year. The premise was simple: after ODing on expensive skin care products and indulging in complicated, ten-step routines, some consumers were now deciding to scale back the time and money spent on skin care. Ironically enough, the skin care diet trend (or "minimalist skin care routine") is also a K-Beauty trick—specifically, one invented to "decrease irritation" caused by overly complicated, multi-step routines. By paring back down to the bare minimum, the theory goes, you'll slowly coach your skin back to life.
Of course, this wouldn't be a trend at all if everyone's 10-step routines were going perfectly. Vice interviewed a number of people embarking on their own skin care diets, and all affirmed that, ultimately, the fancy, active ingredient-laden products they had been so excited to buy only made things worse. For several of these skin care dieters, they only realized there was an issue after seeing a dermatologist—others realized after a change in environment, where they were temporarily separated from their skin care products, made them realize that layering on serums wasn't the best way to control their skin.
me: skincare!
my other organs: please help us .

— sam (@smeezi) July 26, 2017
For the dermatologists Vice spoke with, this is an increasingly common occurrence. Rachael Cayce, a board-certified dermatologist in Los Angeles, said she'll have patients come in who list arsenals of 15+ products they're using—daily. Cayce invariably tells them to cut back: "I see 30 patients a day and I'm having this conversation with 15 of them," she says. "Usually what I'm doing is just decreasing their products." KraveBeauty founder Liah Yoo agrees that this decrease is necessary. "People have been piling on so many different products that they've developed redness, sensitivity, and even worse—contact dermatitis," she shares. That's why she's now recommending a simple routine of cleanser, moisturizer, and SPF. The key? No "harsh active ingredients."
I had my own come-to-Jesus moment a few months back, when my skin—for lack of a better term—shut down. All my special toners, moisturizers, and anti-redness gels, so lovingly applied, sat on top of my skin: refusing to sink in, and (I imagine) laughing at me. I had many theories about why this was happening, and like a devoted skin care student, I ran right to my dermatologist. This is the first and only time I'll dermatologist bash (maybe she was having an off day!) but essentially, she told me it was all hormonal, that oil production increases as you get older (rude!), and that I should (I'm paraphrasing) chill out. Then she gave me some moisturizer samples (score) and sent me on my way.
My derm to me:
do a face mask and move on

— ?? (@romanrochelle) January 16, 2017
As anyone who's read my articles on mental health will know, "chilling out" is not something I engage in lightly. Instead, I remembered the accounts of skin care diets that I'd read back in January (this Byrdie one and this Very Good Light one I both find a little excessive, but solid). While the accounts I read still included products like serums and essences in their scaled-back routines, I stuck with the bare-bones approach recommended by Yoo: cleanser, moisturizer, and SPF. My only addition was twice-daily Finacea, a dermatologist-prescribed rosacea treatment I didn't care to live without. Yoo also recommends that you don't wash your face at all for a full week to "reset" your skin before starting. But in the interest of not losing my job, I opted out of that step too. Finally, most of the skin care diet plans I read about recommend not washing your face in the morning—just using a swipe of toner or micellar water.
me w/ scars,acne, oil: cleanser, toner, gel, moisturizer, topical cream
person w/ smooth clear skin: i use water sometimes soap pic.twitter.com/8KYumMwPNd

— have analis's kids (@AK1NNA) April 4, 2017
The results? I bet you wish I had pictures, but to be honest, the biggest change wasn't something that would show up on camera. After about a week, my face finally felt smooth to the touch again. Not sticky with stubborn moisturizer residue, not greasy with excess oil production, and not that super-pleasant roughness I'll sometimes get in dry patches on my cheeks. In the end, I wasn't using so many excess products I needed to cut out: I wistfully stopped using my amazing-smelling toner, I stopped cleansing and moisturizing in the morning (but still applied SPF!), and I chilled out on the drugstore masks I'd been applying three times a week.
To be honest, I was shocked that this actually made a difference—I'd been thinking of the toner as my saving grace all winter. Maybe my dermatologist was (partly) right and I'd had a hormone shift, or maybe the warmer weather was making my skin react different. Either way, I spend less time on skin care than I have in years, and tragically, it did the trick. My skin's not suddenly a luminous, pore-less version of itself (I'm still convinced I would need Kylie-level money and a team of professionals to achieve that): but the stubborn texture problems I was having finally went away.
the first person to exfoliate their face had 2 have done it accidentally right, like tripped and face planted in the sand- wow feels smooth!

— pw (@petewentz) September 13, 2017
Like I said before: no one would be doing this if they were already reaping the benefits of a rich and full skin care routine. All the people who wrote skin care diet accounts were dealing with inflammation, flare ups, and acne that none of their products could fix—and that's when they opted for a reset. So if you're happy with your skin care products, please don't throw out $400 worth of moisturizer after reading this. (Send it to me instead, for when I decide to switch things up again in a month.) If you've been cycling in new serums for as long as you can remember, and are still struggling with flare ups, though, a skin care diet could be exactly what you need.
Images: @smeezi ; @AK1NNA ; @romanrochelle ; @petewentz / Twitter
I Actually Believe In Day And Night Creams Now—Here's Why
As someone who reads and writes about skincare on a daily basis, I find myself hitting something I call "skincare fatigue." Just when I'd mastered toner (kind of), I start hearing about serums, retinol creams, and whatever the f*ck an "essence" is. Thankfully, the concept of day cream vs. night cream isn't new to me—but actually using a different moisturizer for morning and evening is. I'd always kind of figured that "needing" two different moisturizers was just a way for companies to sell you more products. But three weeks in to my new regime, I'm sold. Here's why.
Night Cream Needs Time To Sink In
The purchase that kicked off this whole venture is Tatcha's Dewy Skin Cream, a moisturizer I feel confident in calling pure magic. From the moment I got my hands on all that silky lavender goodness, I loved it so much I wanted to take a bath in it. This moisturizer has brought my skin back to life after a night out, scared burgeoning pimples back into hiding, and—praise be—NOT activated my rosacea, which just about every other celeb-approved moisturizer does. (Looking at you, La Mer. I wanted so badly to love you.)

Now that my shameless Tatcha evangelizing is out of the way, on to the real point. Because I was so excited about this moisturizer, I was using it morning and night—and quickly realized my mistake. I have a four-step routine I stick to: cleanser, toner, treatment, moisturizer. Because the sun exists, and because my skin is so dry that sunscreen alone does not moisturize it, I have to follow up that four-step routine with an SPF cream in the morning—all before adding any makeup.
Now, anyone who's tried to quickly apply five different face products and then add foundation on top will immediately see the problem here. My beloved Tatcha moisturizer is on the thicker side, which is perfect for my dry skin—but it takes a solid 15-20 minutes to be completely absorbed. That would be fine if it were my only morning skincare step, but I also have to give my toner and treatment steps 5-10 minutes each to sink in. That gets us up to 30 minutes on pre-make-up skincare, minimum. In my week of trying to use the Dewy Skin Cream as a day cream, I don't think I managed to put foundation on once. Since I never had enough time to let the moisturizer sink in all the way, even my sunscreen was barely getting absorbed—which means I was going out looking like a greasy, white-tinged mess.
Note: Dewy Skin Cream isn't advertised specifically as a night cream—there's a different night cream from that product line—but that's how it works best for me. As a rule, night creams will be thicker than day creams, and are formulated to moisturize while you sleep.
Me, waking up post-Tatcha moisturizer: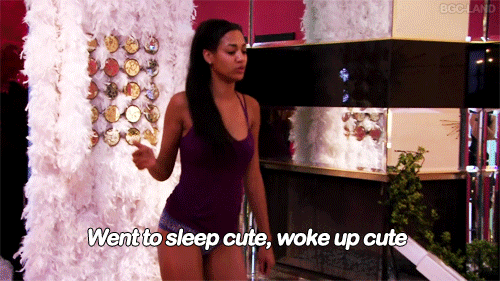 Day Cream Protects; Night Cream Repairs
Day cream, I learned, has one major job: to protect your face from the sun, so basically to contain as much SPF as you can stand. (For reference, I use SPF 46—do not come at me with your SPF 15 liquid foundation). Like I said before, I have a special breed of lizard skin that requires me to pair said SPF 46 lotion with a second day cream—but if you have the option of combining these steps, I strongly recommend you do. I love this one from Origins (so brightening), or this SPF 50 IT Cosmetics CC cream. (No, I don't know what a CC cream is, and my head will explode if I research further.) I own this cream, and would refer to it as somewhere between light coverage foundation and tinted moisturizer.

Scott Disick knows what's up, a sentence I never thought I'd utter.
If you are like me, and SPF products aren't moisturizing enough on their own, I recommend a super lightweight cream that sinks in quickly. My personal fave for this is Cerave, which makes both a day cream and a night cream.
While day cream bears the brunt of sun protection, your night cream can and should have active ingredients too. We've already discussed the benefit of adding retinol to your daily routine, and 2019 is heading toward being the year of glycolic acid. These ingredients are both great, because they help speed up cell turnover, AKA get rid of the dead skin and bring in the new, better skin. Very scientific, I know. However, both of these ingredients also make your skin more sensitive to the sun. I can personally attest to this—this past December, I used a retinol oil and then went out for a day of skiing. Within 24 hours, I developed dark, rough patches of sunburn on my face like I'd never seen before, and they lasted well through New Year's Eve. Happy 2019 to me!
So, while retinol and AHAs are a good addition to night creams, they should absolutely be avoided in your day creams. On the flip side, you're welcome to put on SPF at night—but unless you're sleeping at a campsite, I'm not sure why you would.
Ultimately, you could just say f*ck it and use the same lightweight moisturizer with zero active ingredients for both day and night (plus sunscreen, obv). But if you have skin that's on the dryer side, I highly recommend investing in a thicker night cream—and not making the mistake I did of piling it on in the morning, too.
Images: Tatcha; Giphy (2)
What Is Toner, Why Do You Need It, & Which One Do You Need?
Let me start off by saying that I am not a skincare expert. I am just a 24-year-old human woman. One who discovered six months ago that my college skin care routine ("washing most nights, probably") was no longer going to cut it. I'm lucky enough not to deal with serious acne. But all the "minor" concerns (dullness, dryness, redness, inexplicable bumpiness)? You bet. SO, I did what all good shopaholics journalists do best: research. I went into a very deep, surprisingly Korean internet blackhole, and emerged with a four-step skincare routine. Cleanser, toner, serum, moisturizer. Duh. Of all these steps, toner was the one I resisted most—and the one I still find most confusing. Since I'm sure I'm not alone in this, I've written up my findings on this v important topic. What is toner, why do we all apparently need it, and which one is best? Please enjoy.
What Is Toner?
First and foremost, toner is very different than it used to be. The toner I remember from high school was glorified rubbing alcohol prescribed by particularly vindictive dermatologists. But today's toners are so much more. A good toner can help you even out texture and tone (duh), shrink the appearance of pores, and leave your skin super soft and glowing.  To get technical, one skin care specialist describes toner as a way to "complete the cleansing of your skin." Apparently, cleansers "can leave a film on your face" that toner strips off. Which really makes me question why I'm using cleanser in the first place, but k.
If you want a buzzier description of what toner does, Allure describes it as "a fast-penetrating liquid that delivers skin a quick hit of hydration and helps remove some dead cells off the surface of the skin." (Seriously, are cleansers removing anything?) And in case I have any toner nerds in the comments, I'll also mention toner's effects on pH level. Apparently, a good toner functions by resetting your skin's natural acidic pH. You can read more here, or just trust me that it means you'll look good and resist more bacteria. Two equally sexy goals, am I right?
Finally, what is toner actually made of? The general answer is water, plus some combination of acids, glycerin, essential oils, plant extracts, and more. Kewl. Some toners still contain alcohol, but it's not recommended unless oil is your main problem.
TL;DR: Toners are a water-based product will give you a more thorough cleanse, prep your skin to absorb your moisturizing products, and overall improve skin's appearance and texture over time.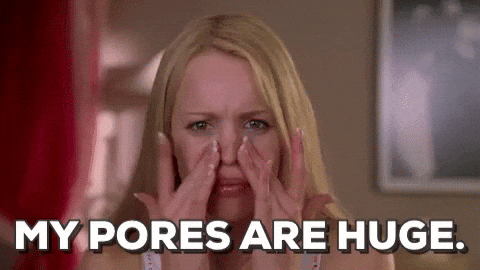 How Do I Use It?
You should think of toner as a chaser for your cleanser and a primer for your serum/moisturizer. If you're particularly anal, you should apply toner no more than 60 seconds after cleansing. Apparently, that's when your skin will absorb it best. After, you apply any serums/moisturizers/eye creams. My favorite explanation for how this works is given by Charlotte Cho, co-founder of Soko Glam. "Your skin is like a dried-up sponge," she says (adds up). "If you put thick cream on a brittle dry sponge, it won't accept it." If this doesn't make you spiral into self-doubt about every time you've put $70 moisturizer on your bone-dry face, congratulations. Can't say the same.
As for like, how do you literally put it on your face—you have two options. You can read the instructions on the bottle (some recommend cotton pads while others say to use your fingers).  Or you can really make a day of it and attempt to follow the K-beauty "7 Skin Method." I'd make a joke here about "who has the time for that," but I watched a full season of American's Next Top Model last weekend. I have the time for that.
Okay, What Kind Of Toner Should I Buy?
Now you're asking the important questions. The answer, of course, depends on your skin type. Generally speaking, Korean brands like Soko Glam will have great options, because their toner never went through the gross alcohol phase that American toners did. But beyond that, you should figure out your skin's needs (or see a dermatologist to find out) and pick ingredients based off that.
For sensitive skin, chamomile, aloe vera, and amino acids all help calm/soothe. Some good picks include Mizon Intensive Skin Barrier Emulsion and Exuviance Soothing Toning Lotion. For oily skin, alcohol will help kill oil and shine, but so does witch hazel—and the latter is less drying. Belif Witch Hazel Herbal Extract Toner is my personal fave, and Pixi by Petra Glow Tonic is another beloved one on the market. For dry skin, glycerin, essential oils, and rosewater are all key hydrating ingredients. Try the Klairs Supple Preparation Facial Toner or Caudalie Beauty Elixir. For dull, uneven skin, try Son & Park Beauty Water, which has both exfoliating and hydrating properties.
Oh, and whatever you do, stop buying Neutrogena toner. I usually love Neutrogena, but their crazy-drying alcoholic toners (yes, even and especially the "Alcohol-Free" toner) are the reason it took me so long to come around to real toner. I used that shit for two weeks and I may as well have been washing my face in Svedka. If you need any further convincing, take a look at their spokesperson. I rest my case.

That's all the wisdom I have today! But my recent skincare tear is showing no signs of stopping, so stay tuned for upcoming reviews of dermarolling, Hanacure, and how to file for bankruptcy when you've spent all your money on Korean beauty products.
Images: Giphy (2); sarah_glow / Instagram
Betches may receive a portion of revenue if you click a link in this article and buy a product or service. The links are independently placed and do not influence editorial content.