7 Questions To Stop Asking Newly Engaged Couples
'Tis the season to get engaged, amiright? Just about two weeks ago, my fiancé (still feels weird typing that) proposed to me and I've been over the moon ever since. I've had more people reach out to me in this short time period than I have in my entire life combined, and while most of the interactions are super fun and positive, there are some repeated questions popping up that are simply getting on my nerves. While most of these questions are asked innocently, they've gotten old quickly, so here's the 101 on questions to *please* stop asking newly engaged couples.
1. When And Where Is The Wedding?

Don't get me wrong, I am excited about the wedding too. I've been dreaming about this sh*t since I was a little girl. That being said, it's almost mind-boggling how many people have asked me WHEN the wedding is. Ma'am, I got engaged one week ago. If you think in seven days' time I toured multiple venues, picked the venue and booked it, you're buggin. What's even more fun is when I say "I'm not sure yet" and it's followed up with a, "well you should really get on that because weddings are likeeee booking into 2022". Thank you, I know. Your added stress is not necessary, especially when you're just stating the painfully obvious. Sorry if this sounds cold, but on behalf of all the newly engaged people out there, it had to be said.
2. Are You Stressed About COVID-19 Impacting Your Wedding?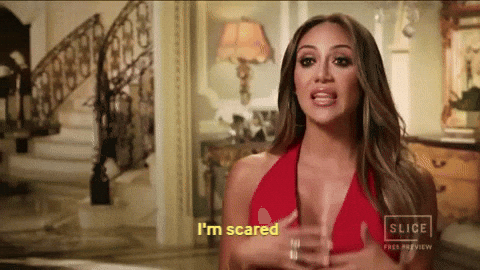 Short answer, DUH. Given the uncertainty of the virus, I'm absolutely nervous about COVID-19 impacting my wedding. That being said, I find this question oddly irritating. As someone who had the virus myself, there are so many more important things to worry about being impacted by COVID-19 than a giant party. I'm nervous for my family, my friends, my loved ones, our world as a whole. While I'm less worried about the virus impacting my wedding day and more overwhelmed that it will result in me getting married two to three years from now, it feels like a slightly obnoxious inquiry. If COVID-19 doesn't make you stressed, you scare me.
3. Who Is in Your Bridal Party?


There are two parts to this question. It typically starts with, "So, who's going to be your Maid of Honor???" followed by, "Actually, who is in your bridal party in general?" When my family asks me this question, I'm cool with it. They've watched me grow up, they know my friends well, and they are genuinely curious. The problem is when *others* ask. If I haven't asked my bridesmaids yet, why would I tell YOU who they're going to be? Half the people asking are subtly hoping to be in the bridal party and the other half are asking just to be nosy and get the scoop. This question makes me super uncomfortable because I'd never want someone to feel left out, but at the end of the day, it's my business and my business only.
4. Are You Going on a Diet? Are You Getting a Personal Trainer?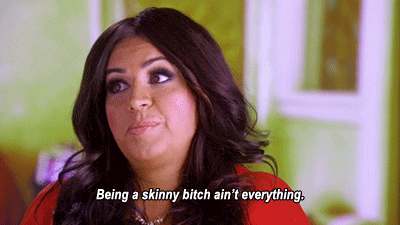 This is perhaps my LEAST favorite question of all because it's just genuinely rude. I've been a bit taken aback by the amount of people who have asked me this, because I just can't wrap my head around thinking it's appropriate. To be honest, I don't know the answer. If I decide that I want to tone my arms for my dream dress, maybe I will. If I decide I want to change the way I eat for health and wellness purposes, maybe I will. That being said, it will most certainly not be influenced by anyone else trying to pressure me to do so. This question is tacky and unnecessary and I know my fellow fiancé(e)s out there will agree.
5. So Like, How Much Was Your Ring?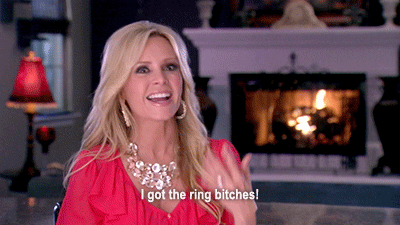 On the theme of tacky… this question is just beyond me. There is a zero percent chance someone has good intent when asking this question. You're either asking because you think it looks expensive and you want the tea, or because you think it looks cheap and… you want the tea. If you hit me with the "DiD hE sPeNd ThReE mOnThS sAlArY" please go away. I'm in love with my ring and that is the only thing that matters to me. That being said, if you've complimented my ring without asking about the cost, I appreciate you. I'd be lying if I said I wasn't basking in glory from any/all positive feedback so… KEEP IT COMING!!!!! (Put that under the category under things you should say to a newly engaged person. Accolades are always allowed.)
6. Am I Invited?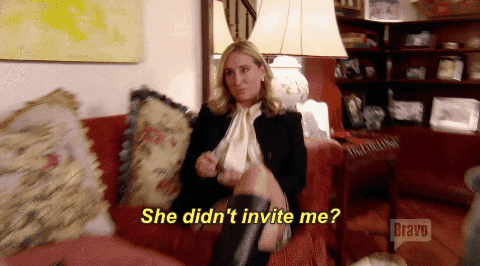 If you have to ask, it's probably a no. Weddings are expensive. Like… really expensive. Would you treat me to a $200 dinner? No? Then I probably won't do the same for you. Half kidding, but I personally am not trying to recreate My Big Fat Greek Wedding, so chances are my list will be narrowed down to the real ones. This question falls under the category of super uncomfortable because I hate leaving anyone out and, despite my evil sarcastic tone throughout this article, I actually love to make people feel warm and welcome, so by default I'll feel guilty about those who don't make the cut. Long story long, please don't ask me this question, because it WILL keep me up at night.
7. Can I Give You Some Advice?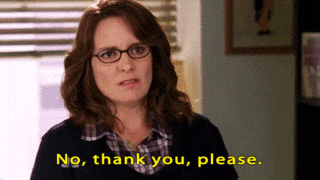 This question is super circumstantial, because some people offer fantastic advice and it's extremely appreciated. Advice about how to conquer visiting multiple venues and what to look out for? Yes please. Advice about how to budget and what is and isn't worth splurging on? I'm all ears. The problem is, people typically offer advice that is opinion-based rather than fact-based, and that's where it gets hairy. I don't want your advice on things personal to me, because it's my wedding. When it's your special day, you call the shots. When it's mine, let me enjoy. (LMK if this is giving bridezilla vibes so I can stop before I start.)
Bonus: Questions I Enjoy

In order to redeem myself for all the spiciness above, I want to include some questions that I enjoy getting. Those exist too, I swear. I'm happy to answer questions about the engagement because quite honestly, I still get butterflies. How did he ask? Easy, I have a response saved in my notes that I can send along to anyone and everyone who wants to know. Were you surprised? Excited? Nervous? Yes, all of the above. What kind of style is your ring? More than happy to answer this (mine is emerald) and I'm also happy to answer personal questions about the ring if they are productive and helpful for my fellow future brides (or friends looking to get engaged soon). What is your dream dress? Oh, I'm glad you asked… let me show you my Pinterest board. You get the point.
If you take away one thing from this piece, it's to be respectful of others privacy and to know what questions are appropriate vs. uncomfortable. Pre-engagement I likely asked half of the above questions myself, so we're all learning here. The more you know!
Images: Scott Broome / Unsplash; Giphy (9)
WTF To Do For A Year After Postponing Your Wedding
We know you probably never want to hear the words "coronavirus," "quarantine," and "unprecedented times" again, but unfortunately The Rona is still among us. Corona brides across the world are lost when it comes to what to do now that their wedding has been postponed or canceled. The days of saying "I do" in front of friends and family and taking shots with your bridesmaids at the open bar seem so distant, but we're hopeful that the investment towards celebrating this new chapter in your life is worth the wait. For those of you that have officially made the decision to share your vows with your S.O. in 2021, you're probably wondering WTF to do with all of your plans now? Don't freak out, because we've gone ahead and asked the experts to share their thoughts on what couples can be doing in the meantime to ensure that all t's are crossed and i's are dotted before the big day.
Get Organized

Yes, you probably had everything planned out perfectly, right down to your personalized stationery before the virus happened, but now that your plans have changed, there's some tricky re-thinking to do. "It goes without saying that trying to navigate the postponement of a wedding is mind-boggling, and it can be hard to know where to start, or better yet, figure out an organized way to keep track of your progress and your remaining to-dos," says Lisa Bowser, Founder of Brite Lite, a company that makes LED neon signs. "Lists on lists on lists can be quite boring to look at, yes?" Um, yes! Bowser recommends the acrylic dry-erase Goals Calendar to eliminate your wedding stress. Bonus: you can still use it in your home after your wedding planning process is (finally) over.
Read Your Contracts
I know we're all programmed to click "accept terms and conditions" without a second thought, but with circumstances constantly changing as our world adapts to the virus, it's essential that you and your future spouse have your contingency plans up-to-date. As AJ Williams, Founder and Creative Director at Boston-based event planning company AJ Events, recommends, "When reading your contracts, make sure you have your planner and vendors develop a rescheduling contract or addendum, and to change the Force Majeure to include pandemics and decreased capacity due to government mandates." This way, you won't have to scramble to make things work any more than you've already had to.
See What Safety Precautions Your Vendors Are Taking
When you do end up walking down the aisle, you want to be sure all possible measures are put in place to ensure that your guests stay happy and healthy. AJ Williams reports that for all future events, his company "will require cleaning/sanitation measures from our vendors and venues working on our events and add sanitation efforts plus add supplies at attendee check-in to protect the safety of our work environment and your attendees while allowing us to continue to service our clients." He adds, "We have created branded plexi walls on our bar and catering stations, adorable customized face masks with your favorite quote or funny message or emoji icon to include your signature style. Get creative while keeping safe." So make sure you check with your vendors to see how they're adapting to these (my brain: don't say it don't say it don't say it) unprecedented times.
Enjoy Your Engagement
Though you've (understandably) been mentally designing your reception place cards since the moment you got a ring on your finger, take this unique opportunity to sit back, relax, and enjoy this extra time of being engaged to the love of your life. Of course, says Taylor Waxman of L.A.-based event design and production company  KED & Co., "Changing your wedding date can be emotionally draining. Managing your friends and family travel plans, rescheduling your vendors to make sure everyone is available on the same day and overall reimagining a new date in a new year—you've been through it."
When adjusting your wedding planning timeline, though, staying sane is essential. "Don't over plan," advises Waxman. "It's very easy to focus on your wedding during this time, but our biggest advice is: don't. Once you have your vendors and location rescheduled and all guests are alerted of the new date, take a step back to enjoy your engagement. Spend quality time with your partner, schedule outdoor picnics or Zoom dinners with family and friends, take this time to reconnect and appreciate what is around you."
Make The Process Fun
Now that you've got some extra time to plan things out, you and your partner can hone in on achieving the wedding of your dreams. Sarah Kuhlberg, Creative Director at Colette's Catering and Events, suggests that you "Cast aside what might be typical wedding traditions, and do what YOU really, truly want for your wedding. Explore bright colors, beautiful seasonal menus, wine flown in from your favorite winery, book a unique outdoor venue, mix and match your linen pattern choices, custom built backdrops from local artists, neon signage, etc. Now you have the time to really customize!"
While it's easy to get overwhelmed with pressing health concerns on top of your color scheme choices, "Making the difficult decision to postpone your wedding should be the hardest part. Once you've done that, try to make the rest of the process fun," advises Matt Ramirez, Senior VP of Marketing at Generation Tux. "Look at new wedding trends, new seasonal colors, and opportunities to update your wedding plans! Everyone in the wedding industry knows this is a tough time for couples, and we're here to work with you. Take this time with your husband to design the look of your wedding suit or tux again, order some free swatches, and get a free home try-on delivered to the groom."
If you want to get creative without overloading your plate, Taylor Waxman suggests designing your own thank you notes online, finding custom postage for your wedding invitations, registering for gifts, working on your wedding website, finalizing your guest list, and choosing meaningful songs to be played during your ceremony. She also suggested pulling inspiration images (as if you needed an excuse to add to the wedding Pinterest board you've had since college.). "Focus on your style and look, try not to go too deep in detail," she recommends. "Keep this light and fun."
Can't Wait? Go For It!
As Nike says, "Just Do It." If you and your S.O. are itching to get married ASAP, Sarah Kuhlberg suggests having a mini wedding and eloping in your backyard, and then scheduling a reception for a year later so you can celebrate your first anniversary with friends and family. Don't be afraid to think outside of the box and feel free to "Create your dream celebration and know that this new wedding style is something we are all getting used to."
Images: Natasha Fernandez / Pexels; Britelitetribe.com; @betchesbrides / Instagram
Don't miss out on more wedding tips from us, Subscribe to our weekly 'Say Yes to the Betch' newsletter here.
It's Time To Stop Shedding For The Wedding
Ever since I got engaged nine months ago, I've noticed a strange trend. I mean besides the constant "It's raining on my wedding day" nightmares that keep me up at night and the ever-present fear that by the time I'm hitched I'll have less than $10 in my bank account. I'm talking about the constant messaging telling me I need to start "shredding" or "shedding for the wedding". Every day I see a new article about pre-wedding juice cleanses and wedding diet plans, and I've pretty much had it. The idea that women need to hit a certain weight or look a certain way on their wedding day in order for it to be "the best day ever" is an outdated concept rooted in sexism. Here's why I'm 100% OVER shedding for the wedding, and why you should be too. 
It Feels Like Society's Beauty Expectations Of Women, On Steroids
Women have been held to unrealistic beauty expectations since the beginning of time, but since getting engaged, I've found that this expectation of having the perfect body (whatever that means) is on a whole other level. Whenever my friends got engaged they would all say, "My wedding diet starts now". They were literally getting engaged one day and counting calories the next. I didn't quite understand their reaction, but now, I totally get it. I'm constantly inundated with wedding content about workout regiments, foods to avoid and skincare routines (apparently I'm months behind on this). It doesn't matter whether or not you're engaged, if you're a human woman who goes online, you're no stranger to the expectations society has for us. The only difference is that when you've got a ring on your finger, there's an impending deadline to achieve the aforementioned perfect body, and it's your wedding date. 
It Feels Like A Prerequisite For Getting Married
Look, I understand wanting to look and feel your best on your wedding day, I know I do, but that means different things to different people. You may have a goal weight you've been trying to hit and the wedding day is a good motivator, or you may feel perfectly comfortable in your own body and not feel the need to do anything (more power to you). But whatever your situation is, losing weight shouldn't feel like a prerequisite to getting married. Content about what you should and shouldn't be eating before your wedding and articles that claim the hardest part of wedding planning is your fitness routine (has this person ever made a seating chart?) might make you question if something's wrong with you if you're not dieting or amping up your workout (myself included). If you find yourself thinking like that, try to block out all the social media noise and focus on doing what makes YOU feel like your best self. I know it's easier said than done, but maybe unfollow the #weddingworkout hashtag for a while. Don't worry, you can still get a marriage license even if you're not going to bridal boot camp. 
Designers Are Becoming More Size-Inclusive
You shouldn't have to feel like you need to drop weight in order to fit in a wedding dress. Cookie cutter dresses are a thing of the past, and bridal designers today are making wedding dresses for all body types and sizes, not just the stick-thin models who debut them on the runway. Supermodel Ashley Graham recently teamed up with Pronovias to launch her own size-inclusive collection, while Fame and Partners launched a capsule collection for the modern woman with David's Bridal and new wedding dress company Floravere has gowns up to size 26, ensuring women of all sizes they'll be able to find something that makes them feel like a million bucks. If you're worried you'll have to lose weight to find a gown that fits you, you can kick that fear to the curb, because it's become much easier in recent years to find the perfect gown, no matter your body type. 
Grooms Are Held To Different Standards
After being inundated with ideas of ways to change the way my body looks in time for my wedding, I asked my fiancé if he noticed anything similar. He hadn't. I can't say I'm surprised that there's not this insane pressure on men to look a certain way for their wedding day, but it was disappointing to hear nonetheless. I wanted to see if there was any content out there aimed at the groom's physical appearance on the wedding day. Come to find out, there is, but it's scarce. I found a list of things grooms should do leading up to the wedding, and the only appearance-related tip was for them to get a haircut. And on their 12-month checklist? Apparently all they need to do is whiten their teeth. No gyms advertising groom boot camp or weight loss tips for men before they go tux shopping. Sure, not all men care as much about their appearance as Tom Sandoval, but why are only the brides being told they need to shed for the wedding in order to "look our best"? I'm exhausted just thinking about all of the things I'm supposed to be doing to my body to get it "wedding ready", meanwhile my fiancé's downing fried chicken and playing video games not worrying about what the f*ck he'll look like six months from now. Ugh, to be a man. 
It's Time To End The Madness
Look, I'm not saying that dieting and exercising before your wedding day is a negative thing, but I'm tired of reading articles that imply feeling your best on your wedding day means you have to be working out and dieting beforehand. Shouldn't you feel your best on your wedding day because you're marrying the love of your life? Or because you're about to attend the best party of all time? Why is weight loss so intrinsically tied to how we feel about ourselves, and why is that link only reserved for women? Your physical appearance might be a part of your wedding day journey, but it shouldn't hijack what the day is really all about. So, let's shatter the notion that those surface-level things are in any way the key to having a happy and joyful wedding day. It's time to say f*ck it and halt to a stop on our never-ending journey towards unattainable beauty standards. The best way to get "wedding day ready" is to be 100% you.
Say Yes to the Betch & subscribe to our weekly Betches Brides newsletter here.
Images: Jason Briscoe / Unsplash
Where To Have Your Bridal Celebration In NYC
If you're watching this season of Vanderpump Rules, you know engagement parties and bridal showers are a big ordeal. These types of bridal celebrations were not always so common, but nowadays, they're a definite "to-do". The problem? Bridal celebrations, like engagement parties and showers, can be expensive af. Jax even joked about having to bartend his own party just to afford it, lol. Fortunately, if you live in the NYC area, there are some great places for hosting your party that don't require a $300 mashed potato bar. A lot of spaces offer the event services as part of a package deal, so you won't be stuck figuring out all the minute details on your own. Cause like, you know you have enough stress to deal with when it comes to planning the rest of the wedding. Parties are supposed to be fun! So to help you avoid any additional stress, here are some beautiful NYC spaces to host your engagement party, bridal shower, or other bridal celebration at.
The prime advantage of this place is that, unlike a lot of others, you don't pay per person. Instead, you pay one overall rental fee for the time needed in the space. They'll provide the services, such as coat check, barware, serving platters, plus five staff members. Your only job? Bring the food and the alcohol. Easy enough. There are several themed rooms, all of which have a vintage speakeasy feel with original decor, aka endless great Instagram opportunities. (Don't act like you weren't already thinking about that.) So basically, you can utilize the already decorated space to make the party's vibe as extravagant or as simple as you want!
This space is LAVISH, and therefore requires you to pay per person. But the space is stunning, so it's super worth it. The rooftop has elevated garden greenery and ivy decor, with a direct view of the Empire State building. And you can throw your bridal celebration here no matter the season—the rooftop is retractable, so you'll be able to get an incredible rooftop vibe year-round. Oh, and if you realllly want to impress your cultured friends, the space even has artwork by Damien Hirst and Andy Warhol. Talk about fancy! The space can accommodate up to 120 guests for a seated dinner, or up to 250 for a cocktail reception.
The Hudson Mercantile has three unique clean and modern spaces: the Gallery, the Studio, and Rooftop. It's centrally located, just walking distance from the Javits Center and near the Hudson Yards. The Gallery has a modern industrial look, with a space large enough for big events. The Studio has an elegant rustic atmosphere, with high ceilings and tons of natural light. The Rooftop space is all about the amazing #views. The Rooftop space is one of the largest in Manhattan, and can be used al fresco or fully enclosed. Essentially, the Hudson Mercantile provides incredible options for a venue space, so the majority of the party planning is up to you. So, if you're a Type-A control freak, such as myself, they'll provide the space and you'll provide the party.
The Grey Lady offers several private back rooms to accommodate any potential party size for your celebration. The restaurant has a "distinctive coastal atmosphere" to set an amazing vibe for the perfect wedding-related celebration. The food options are primarily seafood, but the specific menu can be determined between you and the restaurant. All in all, whichever room you reserve here will provide a beautiful, by-the-ocean-inspired space, plus delicious food. I mean, what more could you want?
With tons of different rooms that can be rented individually or combined, The Park is a great place to host your bridal celebration. They will work with you to customize the event, and all the spaces have a sultry rustic feel. The Garden, Red Room, and Penthouse can all be utilized for either a cocktail reception format or seated dinner situation, so it's totally up to you. And if you just can't figure out how to cut down your guest list, you can even rent out the whole restaurant. 
Haven's Kitchen is a cooking school, cafe, and private event space all in one. The space has a warm home-y vibe, with clean white walls and soft decor. You could even turn your engagement party or bridal shower into a cooking class, and kill two birds with one stone. You know, learn how to make something besides avocado toast, while also hosting an awesome party. Celebrate love while bettering yourself simultaneously, who can beat that?
All of these spaces provide the ideal foundation for your bridal celebration, so you can't go wrong. And, at the end of the day, a beautiful space plus food and booze are all you really need. So now that I've done this favor for you, please do everyone else a favor and stop f*cking stressing about it! These suggestions should ease your bridezilla tendencies, at least for another few months until your future husband's cousin asks for a plus one for the girl he met on Tinder. 
Images: Shutterstock; @38parlor, @gramercyterrace, @hudsonmercantile, @greyladynyc, @theparknyc, @havenskitchen / Instagram
Understanding The 4 Cs Of Diamond Engagement Rings
After living in the world's most jaded city for a few years, I momentarily forgot that love is still a thing people do. But a few days ago, I was reminded of its existence in the most obvious way possible: I witnessed a marriage proposal. That's right, the girl who wears T-shirts with holes in them on first dates accidentally stumbled upon an engagement (in Central f*cking Park, no less). To my future husband, if you exist, please do better. Anyway, in all seriousness, the engagement was beautiful and my faith in true love (and curiosity in engagement rings) has been temporarily reactivated.
After she said yes, the lucky onlookers (hi) cheered, and then everyone except me just carried on with their lives. I, however, was full of questions: how long did it take him to write that speech? When did he realize he wanted to marry her? How did he decide tonight, a random Thursday, would be the night he'd ask the most important question of his life? How did she not notice that giant engagement ring box in his pocket? Speaking of the ring, I got a quick glance and it was truly stunning. That giant, glistening cushion-cut got me thinking: how on earth did this man wearing a navy suit with salmon-colored socks pick out such a beautiful marvel of an engagement ring? He was def no jewelry savant (he was wearing a gold class ring on his pinky—gag), but he did his homework, and for that, I give him an A+. Here's the thing: a person proposing to another person is essentially asking him/her to wear something every day for the rest of his/her life upon seeing it once for like, a second. Can you say yes to the proposal but hell no to the ring? Is that allowed? How is the fiancé supposed to just guess? Enter, Stephanie Gottlieb, jeweler to the stars. Gottlieb has been designing timeless pieces of jewelry that have garnered her some serious attention on Instagram, and we are here for it. If you've ever seen that episode of Sex and the City where Aidan's choice of engagement ring literally sends Carrie into a violent vomit fest, rest assured, your SO can't f*ck up like that after reading Gottlieb's valuable lessons.
Just Because You Like A Ring In Concept Doesn't Mean You'll Like It On Your Hand
Have you ever ordered a midi dress online just because it looked so damn good on the model, but when you try it on, it's a floor-length trash bag? Same. Hate to break it to you, but models have different bodies than we normal folk do, so what's fierce on them can be less so on us. Engagement rings are the same way. You can't base your entire decision on a photo you see online, or even on another person for that matter. Gottlieb says, "I think it helps to start looking online, and Instagram and Pinterest are both really great resources. Instagram can help you find a jeweler whose style and aesthetic aligns with yours, and then Pinterest can help you create a vision board for different styles you like." I've never heard truer words in my life. I always thought I wanted a 2-carat (currently on the hunt for a fiancé with family money), but one day while walking around New York's diamond district, I tried one on, ya know, for sh*ts and gigs, and it actually didn't look very good. Disclaimer: my hands are huge and my fingers are really long and skinny, so a 2-carat stone weighed down my ring finger and made me look like a sickly and distressed Mrs. Havisham. One of the great things about Instagram, aside from providing an outlet for thirst traps and food pics, is that it can help you find a jeweler who will actually work with you to figure out your taste in engagement rings and design the perfect one. And unlike name brands that basically steal your money with absurd price hikes, smaller jewelers don't use blood diamonds to create your dream ring, so you'll be able to sleep at night knowing you got a bigger and better stone that didn't cost a human soul. Sign me up!
The Four Cs Are Important
The four Cs of diamond engagement rings are carat, cut, color, and clarity. If you're an ill-informed peasant, you probably only care about carat and cut (AKA the size and shape of the diamond), but the other two c's are just as important, people! "In the step-cut stones (asscher and emerald), clarity will be more important than color since these shapes are very 'windowy' and allow you to see into the center of the stone easily," Gottlieb says. So what does this mean? It means imperfections would be more easily detected in a step-cut than in a brilliant cut (round, cushion, oval, pear, marquise, radiant, and heart). So in the brilliant cuts, color will be more important, since, like my high-rise Levi's, these cuts do a very good job at hiding imperfections in their faceting. Unless you and your judgey friends are diamond aficionados, the carat weight will likely be your biggest concern, because you'd rather have a big-ass rock with microscopic imperfections than a smaller one that's technically perfect. I care way more about how it looks on my hand than I do about the color grade and clarity. To me, a diamond is a diamond and I just want a big one. Sue me. That said, you do you and get whichever engagement ring makes you feel your most sparkly.
To Go Trendy Or To Go Timeless?
As with any facet of your wedding, deciding what style is best for you is a personal decision, but there are a lot of options to consider thanks to Instagram offering fashion-forward lewks to the masses. Gottlieb says, "Instagram provides access to more unique designs than the classics you'll find in any jewelry store." Good, because if I have to see one more three-stone ring with a circular center diamond, I will chop off my ring fingers in protest. The Stephanie Gottlieb brand doesn't just give the people what they want, though. No, her brand has a very niche style that appeals to a specific group of people. "Most of my clients are coming to me instead of their local jewelers because our engagement rings are more interesting and the aesthetic is super dainty, feminine and fashion-forward." That's her style, and the fashion gals are here for it. Her signature trend? The "band and a half," which Gottlieb and her team of designers are creating in all different renditions, with different colored stones, combinations of metals and setting styles." Ok, I'm getting myself one, brb. However, if you're a classic betch, going timeless isn't a bad idea. Gottlieb says, "Round and emerald cuts are the most timeless shapes. What I love about them is that they can feel very traditional in a more classic setting, like a three-stone or solitaire, and they can also feel very trendy in our more fashion-forward settings, like a split-shank or double-band." Luckily, you aren't really limited here. If you can't decide between trendy and cool or a classic and timeless, por qué no los dos? Do both.
Metal Type Is A Game-Changer
It's hard not to forget about about the setting, which is almost as important as the diamond. I, for instance, only wear yellow gold jewelry, but because yellow gold is considered a softer metal that bends easily, I'm thinking that may not be the best way to go for an engagement ring I'm supposed to wear forever. So how are you supposed to know which type of metal to get? Does it actually make a difference? Obviously! Gottlieb's specialty is rose gold. It's subtle, it's glamorous, it's girly, it's the metal of the moment. Once the type of metal is decided, it's time to move onto the setting. Gottlieb says, "Any jeweler can execute a pave diamond setting, but if you line up four jewelers' pave settings, they will all look fairly different." Fair enough. Every jeweler has their signature style, so make sure that style aligns with your own before making a final decision. The thing is, some women have woes about mixing metals, which they think can help guide them in their decision when it comes to the engagement ring. IMHO, engagement rings don't count, and it is allowed to be different from the rest of your jewelry. If you only wear yellow gold, but want a platinum setting, get the platinum setting. This is a big decision, so it's worth it to get exactly what you want. 
Of course, looking at engagement rings is a major moment in your life, so it's important to consider every aspect when choosing. There's a different ring out there for everyone, so don't feel pressured into picking something just because it's popular. Do you have other questions for Stephanie Gottlieb? What's at the top of your engagement ring checklist? Let us know in the comments!
Images: Stephanie Gottlieb; @stephaniegottlieb / Instagram (4)
6 Steps For A Perfect Proposal
Today is National Proposal Day (yes, there really is a holiday for everything) so we partnered with James Ambler, owner of Paparazzi Proposals, to help you pop the question. Paparazzi Proposals helps people plan, execute and photograph their Insta picture-perfect engagement proposal in 26 cities. They've been featured on Shark Tank, The Today Show, The Insider, Pix 11 Morning News, CBS Sunday Mornings, and more, and they've helped out with over three thousand proposals.
Regardless of who you are, wherever you are in the world, or whatever generation you belong to (millennials, this includes you), no one is immune to falling in love. So, you've finally found the one? The good news is, you've accomplished the hardest part. Although I would not call it bad news, the work is still not over. Before getting them to say "I do," they have to say "Yes!" first. There is no set formula to executing the "perfect" proposal, but the goal should be to make it as special and meaningful as possible. Planning and capturing hundreds of proposals has taught me that each one is different but specific elements remain the same. Here are a few important things to keep in mind when planning a proposal.
1. Budget

Yes, this might not be the most romantic topic to discuss, but it's important to consider and prepare for. An engagement is definitely an investment in your partner, but it should not become a financial burden. (That's what the wedding is for… kidding, mostly.) There is this misconception that romance is synonymous with luxury and expensive. It's not! The ring is only the beginning of the expenses to come, so I always try explaining to clients that there is no pressure to max out a credit card in order to make it special. Some of the most incredible proposals I've witness have been the most simple. The best things in life really are free, and your partner is going to be blown away the moment you get down on one knee. Everything else is extra.
2. Location
Deciding where to propose is probably one of the most difficult decisions when it comes to planning a proposal. You really have to remove yourself from the equation for this one and think: What does your partner love? Nature? Skyline views? An intimate dinner at home? Have they been dying to go on a weekend vacation? I've noticed that it's easy for people to sometimes project how they would personally like to be proposed to. This moment belongs to both of you, but it's important to choose something that will speak to your partner. The place should let them know just how well you know them.
3. Keep It Simple

This applies different to each person. I am not advocating to be lazy with the engagement (please, do not be lazy with your engagement!) but don't go in over your head. People often want to plan these elaborate schemes and feel a need that it has to be complicated for their partner to know how much effort they put into it. You don't have to send them on a scavenger hunt around the city or fly in their family from all over the world for this moment, unless these are things that would come easy to you. A recent proposal I've captured was just a couple taking a stroll on the Brooklyn Bridge, and the guy stopped midway to get down on one knee. It was beautiful and picture-perfect and something that was special to both of them.
4. You Are Not Alone
You are not the only person who wants to make this moment amazing. Your family and friends are all rooting for you. We're all rooting for you! Don't be shy to ask for help. Whether it's parents, siblings or your BFF, find someone you can confide in. Another trick (if you trust they can keep the secret) is getting someone close to your partner involved in the proposal. The stress is significantly reduced when you have an extra set of hands, especially if you need to get your partner to a specific location or you want to coordinate a party to surprise them with after. Don't overwhelm yourself thinking you have to do everything alone.
5. Enjoy The Moment

Ok, so this seems obvious, but I don't just mean the big kneeling moment. Enjoy every moment. Planning a proposal is work, but it shouldn't feel like homework. They might be the one getting the ring, but you are the one putting it on. It's a big day for both of you, and you have every reason to be excited. After all, it's once-in-a-lifetime experience (fingers crossed), so don't forget to take a step back and take it all in. You are getting engaged!
6. Hire A Photographer
If pictures are important to you (or them), arranging to have the proposal captured might be one of the best surprises you can give them. Social media has taken over, and there is an obsession with having every occasion captured to post online. But your engagement is not just another moment, and the last thing you want your partner worrying about is taking pictures. Hiring a photographer lets you fully be present with the assurance that you will be able to relive it later on in life and share it with family and friends. Also, you avoid possibly ruining a friendship because your friend captured a blurry iPhone photo. And, if you coordinate with your photographer for an impromptu engagement portrait session after, you kill two birds with one camera.
Images: Giphy (6)
Which Celebrity Couple Will Get Engaged Next? Our Predictions
Between that tiny sunglasses trend to *insert laundry list of Trump's antics here* to these poorly thought-out celebrity engagements, being f*cking stupid seems to be very en vogue this 2018. If commitment-phobes like Justin Bieber and Jax Taylor can magically become loyal (LOL), why can't the rest of Hollywood, which is basically the Land of Misfit F*ckboys? Which celebs are getting engaged next? We're here to tell you! Here are our v serious predictions.
Kris Jenner and Corey Gamble
Dude, Kris Jenner has really been through it in terms of marriage. Her first husband defended OJ and her second husband aired her out in a tell-all book. Since Kris is Regina George's mom come to life, of course she dates a guy that one of her daughters probably rejected at 1OAK. Is the age difference a little inappropriate? Yes. But Kris Jenner capitalized off of her daughter's leaked sex tape, let her 16-year-old kid get lip injections, and possibly has an illegitimate daughter with OJ Simpson, so I don't think "age-appropriate" is really in her vocabulary. And besides, Kris Jenner is Big D*ck Energy. She DGAF about what's appropriate and what isn't. She deserves holy matrimony with Corey. There, I said it. This is the only couple on this list I really want marriage for.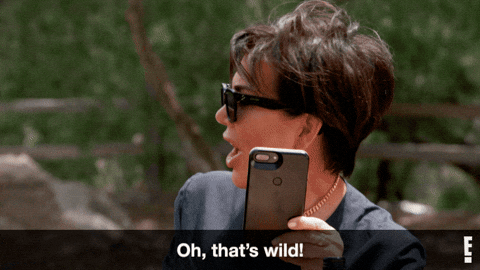 Bella Thorne and Mod Son
Much like showering, I really didn't think holy matrimony was in the cards for Bella Thorne and Mod Son. But now that there's an influx of dumb engagements, maybe I'm wrong (probably not about the shower thing, though). Bella Thorne is what happens when you don't stop drinking double vodka Red Bulls and listening to TECH N9NE past the age of 19. And Mod Son is what happens when that rapper Sweet Dee dated on It's Always Sunny gets addicted to DMT. So given their shared love of terrible hygiene and giving us the heebie-jeebies on social media, their love may be as long-lasting as their terrible tattoos. And should they get pregnant, it'll be interesting to see what they name their children since they named their dog TAMPON. Maybe they were so high they thought that naming their dog after a personal hygiene product would automatically make them hygienic. IDK, just my theory.
Suki Waterhouse and Rob Pattinson
They announced they were dating last week, so it's high time these two get engaged already! I mean, Travis Scott and Kylie had a baby, and Travis doesn't even know the names of all Kylie's dogs. Why get to know the person before embarking on a wedding engagement when you can do that AFTER you agree to spend the rest of your lives together?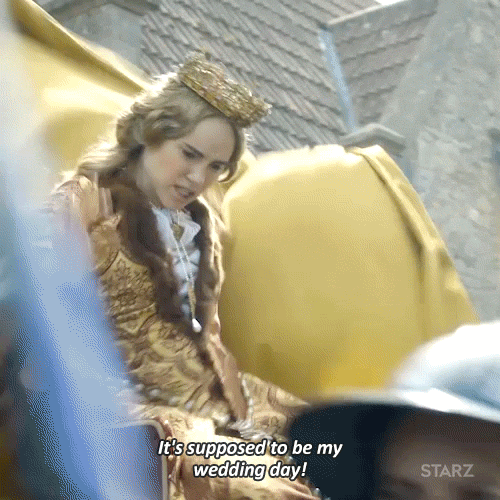 Dane Cook and His 18-Year-Old GF
If Katherine McPhee can get engaged to David Foster, who says Dane Cook won't continue the trend of marrying your much younger sugar baby? We always knew Dane Cook would be destined to marry a trashy hot girl with an intentionally misspelled name with an "i" at the end, but we're a little surprised that he could land one who's 18. Dane Cook is like that creepy third-tier frat bro who peaked at whatever commuter college he went to and is a fixture at Dave and Buster's happy hour. And Kelsi, his girlfriend, is like the naive hostess who gave in to his advances because he bought her a few black raspberry margaritas so she wouldn't get carded. How romantic. Based on the comments Dane leaves on her Instagram, he seems to be really smitten by her. How sweet! Maybe she's mature for her age and that's why they….k, nvm.
Corinne Olympios and Jonathan Cheban
Corinne and Jonathan have been trying to have us guessing if they've been dating for months now. And literally, no one cared. So what's the best way to get everyone to give a sh*t? Get engaged. Corinne could totally get married in that famous white wedding bikini from her first Bachelor episode. You know, the challenge where she took her top off because she wasn't getting enough attention? And then they can bond over how much they hate me because I pissed Corinne off when I asked her about her Juicy J music video, and I pissed Jonathan Cheban off when I wrote that deep dive article about all the people he blocked on social media. Anyway, me making everything about myself aside, a wedding would be the only way for these two to finally (kind of) get our attention.

Images: Giphy (3)
Why Rushed Engagement Is The Newest Celebrity Trend
It's been a weird summer. Trump keeps interrupting The Bachelorette, the heat wave broke everyone's spirits, and all our least fave baby celeb couples are getting engaged. And by "baby," I mean that both the celebs themselves and the actual relationships are very, very young. First we had Ariana Grande (25) and Pete Davidson (24), and now we have Justin Bieber (24), and Hailey Baldwin (21). Yes, TWENTY-ONE. I too spat out my coffee upon reading that. Doesn't that just seem awfully young to ruin your life in such a permanent way make such a long-term decision? While Justin and Hailey have had an on-off thing for years, neither couple was publicly together earlier than, say, May. All of which begs the question: why the rush? Is this a hot new celeb trend we'll all hate for a year and then emulate forever? WTF is really going on? Here are some theories.
They're Being Massive Trolls
This is one of my preferred theories, though probably unlikely. After decades of the media zooming in on left hands and perceived "bumps," it'd be really fun if these couples were just trolling the shit out of all of us. If nothing else, it would explain why they keep describing the news as "lit." I think it's fair to say that if there's even a small chance your wedding vows will contain that word, you're too young to get married. So, there's a small chance this is a wildly self-aware and meta interpretation of what the media expects of today's just-past-teen celeb. Then again, "Justin Bieber" and "self-aware" aren't used in the same sentence much. Which brings me to my next theory…
They Wanted To Change The Conversation
At this point, I feel we should address that in both couples there is a More Famous and Less Famous party. I bet you anything that Google searches for "who is Pete Davidson" and "who is Hailey Baldwin" have both skyrocketed this June. Not that either party is actually unknown, mind you—just less of a household name. Justin and Ariana, the slightly more famous, are both pop stars who the public has some trouble taking seriously. Ariana because she profited off a "sexy baby" aesthetic for some time, Justin for…darker reasons. I don't need to remind you. However, the public is also consistently obsessed with their music, so they have a ton of star power. It's possible that these engagements just came about as mutually beneficial arrangements. The Less Famous parties get a boost in name recognition, and the More Famous parties get an image boost by linking themselves to someone the public doesn't yet openly mock.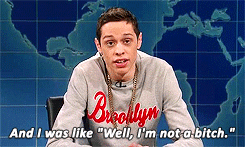 They're Working With An Apocalypse Mentality
You know how you feel when you open your email and we're on the verge of war with North Korea? Or Roe v. Wade is about to be overturned? Or children are being held in cages? You know, the gut-wrenching feeling you've been getting every day for months on end? Well, if celebs are indeed #justlikeus, maybe they aren't quite so immune to that, either. The general "the world could end at any moment so let's go all-out now" feeling. If I were a twentysomething celebrity, I'd be buying million-dollar diamonds and holding my loved ones close too. Seriously though, uncertain times do breed a lot of sudden-onset heavy relationships. Think back to your senior spring: how many couples you'd expected to last a week suddenly pledged their undying loyalty to each other? When the outside world is frightening, it helps to have a constant.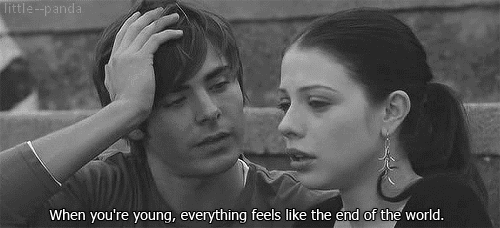 They're Really Just In Love
Yeah, this is totally possible. I'm not saying they AREN'T in love, I'm just saying that alone isn't quite enough to explain the hastiness of these decisions. Jupiter has also been in retrograde since March, which I'm low-key convinced played a major role. But you don't see me going around calling it the ONLY reason.
Justin Would Dump Hailey In A Second If Selena Called
Does this have anything to do with theories about too-soon engagements? Nope, it's just one of my more firmly held beliefs and I have nowhere else to put it. When it comes to Biebs, nothing will convince me he did this for any other reason than to post an IG story of Hailey's ring and obsessively check his phone to see if Selena watched it. Selena JUST released a song called "Back to You," guys. Somehow, somewhere, these two will run towards each other in the rain while this song plays.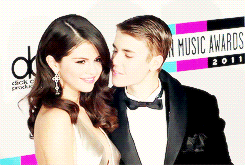 So yeah, these celebrity couples aren't the first to get married after a short period of time. But they're too young, too insanely quick, and too close together not to note. Who knows, maybe Ariana just opened the floodgates and we'll be seeing a continuing wave of 24-year-olds tying this knot to people they met at the club last week. Honestly, I can think of worse things.
Images: Giphy (3)