Summer Pieces You Can Buy Now And Wear Into Fall
Summer 2020 is basically over and, if I'm being honest, I'm not too sad about it. With this summer being such a flop, you may not have even realized that fall is here like, now (uh news flash, we're halfway through September). We're now at that awkward in-between season where you feel like you shouldn't be buying summer stuff when you can also be getting a pumpkin spice latte but, at the same time, we still have another few weeks of relatively warmer weather. So what are you supposed to do, not engage in retail therapy? Lol, no. In order to accommodate this weird transitional season, here are some summer pieces you can still buy now that will also translate for fall. 
1. Trendy Tennis Skirt

Princess Polly Lona Mini Skirt, $46
If you follow any fashion bloggers on Instagram, then you already know the tennis skirt has been a huge summer trend. Of course, a short sporty tennis skirt may initially seem like an exclusively summer or spring piece, but it can also work great for fall. Pick one in a traditional print like this '90s plaid which can be styled tons of ways. For example, pair it with an oversized sweater or fitted turtleneck and add tall boots or short booties and tights for a stylish fall outfit. 
2. Versatile Button Down

Thirty20 Long Sleeve Button Down Shirt, $65
Button downs are a closet staple of mine because they can be worn so many different ways. You can wear it as we transition to fall, either buttoned and front-tucked, or even tied into a crop top with the sleeves rolled. This one in particular is perfect for transitioning from season to season with its neutral brown tie-dye print. You could wear it into fall layered over a graphic tee, a fitted long sleeve, or even just tied around your waist. 
3. Simple Slip Dress

Local Heroes Grey Satin Slip On Mini Dress, $80
The slip dress seemed like one of those here today, gone tomorrow type of trends when it first surfaced a few years ago. But, it's fully stuck around, which is great considering it can so easily transition from season to season. For example, you can obviously wear it now with strappy sandals or dad sneakers for an end-of-summer look. As it gets chillier, you can also wear it layered over a graphic tee or fitted long sleeve, or even layered with a cardigan or denim jacket.
4. Basic Bodysuit

Mistress Rocks 'Deviate' Black Silky Jersey Low Back Bodysuit, $51
You can't go wrong with a basic bodysuit—whether you wear it casually with jeans or dressed up with a mini skirt, it's obviously a versatile piece. And, being that it is so inherently versatile, it's definitely a piece to buy now for transitioning from summer to fall. Bodysuits are perfect for wearing under jackets, flannels, and cardigans all throughout the fall season.
5. Midi Skirt

UO Kelly Tulip Wrap Midi Skirt, $59
A midi skirt can easily be worn all year long. Wear one now with a cute fitted crop top or into the fall with either an oversized off-the-shoulder sweater or T-shirt-and-jacket-combo. It looks great paired with chunky sneakers in the fall or even slouchy boots as we move into winter.
6. High-Quality Black Crop Top

When it comes to basic essential pieces, it's worth spending the money on high-quality staples so that they'll actually last you from season to season. Sure, it may seem expensive for a crop top, but unlike the $10 one from Forever21, this one won't fall apart after one season. 
7. Flowy Pants

Charley Madelyn Polished in Black Paperbag Pant, $22
There's nothing better than a flowy pant in the summer, especially on those days you don't feel like squeezing into denim shorts. I don't know about you, but I haven't put on bottoms with a fly in months. Fortunately, flowy pants are a chic boho alternative to shorts during the summer months, and they also transition perfectly for fall. Pair them now with a crop top or in the fall with either a cropped or oversized slouchy sweater.
8. Fitted Mini Dress

White Fox Play It Loud Drawstring Mini Dress Dusty Khaki, $49.99
A fitted mini dress is obviously a summer wardrobe must-have. It can be dressed up with a pair of heeled sandals or down with a cool pair of chunky sneakers. However, it can also be a fall wardrobe staple with some styled layering pieces. Wear your fitted mini dress into the fall by layering it with an oversized cardigan and boots for a versatile fall fit.
9. Loose Knit Cardigan

Free People Sweet Talker Cardi, $168
A good open knit cardigan is worth investing in. It's obviously ideal during the transitional months of spring and fall as an easy layering piece for when the weather is, like Katy Perry, hot and cold. It's ideal for an end-of-summer look to wear over a tank and shorts, or even as a stylish beach cover-up. Then, as we head into fall, it's perfect for an extra layer of warmth that also adds an additional element of style.
10. Strapless Top

House of CB Juana White Shaped Top Boned Corset, $89
Strapless tops can easily be worn into the chillier months with a cool jacket or oversized cardigan. You can even get more creative with it by layering it over a fitted tee or turtleneck for a cool-girl layered look. Pick a structured corset one for a trendy and flattering season-to-season piece.
11. Sleeveless Jumpsuit

Etica Cami Jumpsuit Coffee, $165
This jumpsuit is an ideal example of something you can wear now with a sandal, and then into the fall over a mock neck long sleeve and ankle boots. The color has a hint of peach keeping it summery, while it's also neutral enough to still be appropriate for fall. You can even just throw a jacket over your shoulders with it for the start of fall during those weeks when the weather is still so unpredictable. 
12. T-Shirt Dress

Superdown Ciara Tee Dress, $58
T-shirt dresses are another summery item I wear every month, because they can be styled so many different ways. You can wear it now while it's hot out for a simple and comfortable outfit that looks cute with sneakers. Then, as we move into fall, you can easily pair it with boots and a jacket, or layered over leather leggings for an edgier look.
If you haven't caught on to my point by now, it's that a lot of your summer pieces can transition to fall through different layering and styling techniques. So instead of buying just either swimsuits or sweaters, spend your money on these more versatile pieces that you can actually wear throughout the year.
Betches may receive a portion of revenue if you click a link and purchase a product or service. The links are independently placed and do not influence editorial content.
Images: @byfoul/ Unsplash; Princess Polly; Thirty20; Local Heroes; Mistress Rocks; Urban Outfitters; Nookie; Montce; White Fox; Free People; House of CB; Etica; Revolve
What To Wear For The Perfect Labor Day Insta
Well, the time has come and we've (somehow) made it through another summer of blacking out more times than we can count from too much frosé and vodka sodas. The nights are getting colder, as are your hearts, since you know you'll probs never hear from your summer fling again. Well, maybe just one more random "U up?" text. Although summer has its perks, I'm like, so over feeling repulsive every goddamn day from being in a jam-packed subway with millions of sweating New Yorkers. IDC what you say, winter has arrived in Westeros I'm rejoicing in fall's arrival. So with Labor Day weekend approaching, aka the last unofficial weekend of summer, it's only natural to celebrate with too much alcohol and calorie-loaded drunchies in one hell of an outfit that leaves a lasting impression. Whether you're *trying* to stay away from hot dogs at a family BBQ, bar-hopping (if you don't die at the pregame), or chugging sipping on some wine in the Hamptons, here are all the essentials you need to really honor the fact that you're a hardly hard-working contributing member of society.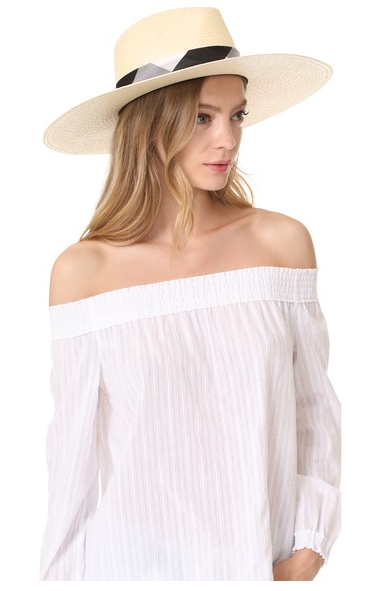 Just one last time, wear an obnoxious sun hat to feel like a classy judgmental betch. This may be the last time you step foot on a beach until next summer so this crisp neutral hat is pretty close to being the next best thing. It even has a gingham band which is like, so fall so you'll look really trendy and can def get away with wearing it again next year.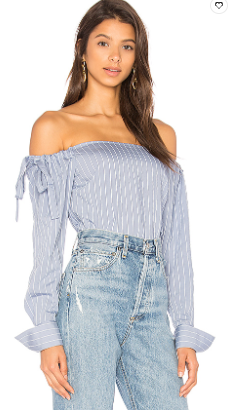 Every person literally has this shirt or some version of it, but even if you don't, you were def planning on buying it anyway. Kinda basic, I know, but it's so versatile and playful that you can really dress up the work vibes it has with your hottest stilettos and fave jeans that hide your muffin top. The off the shoulder look is v flattering on everyone, especially because it'll show off your summer tan (fake or real, you decide). Plus it has blue and white, which is fitting for a 'Merica look so you can look a little patriotic for your judgy fam who posts too much shit on Facebook.

Wearing white alone is pretty risky. Wearing white pants and getting away with it is reserved for the true queens. It's LDW though, so YOLO. Even though no one, except maybe your grandma, follows the "no white after Labor Day" rule, be bold and wear white this weekend if it's gonna be your last time for a while. (Whatever, those rules aren't even real.) Opt for a pair of white pants that make you look like a Insta model, aka tall and skinny. These are cropped just above the ankle with frayed hems so your legs will look five miles long.

Long live the block heel. These are the perf transition from work to weekend festivities, with the 3-inch heel making it easier to stumble walk around in. The neutral brown goes with any of the 20 outfits you'll try on before deciding, and it's the best color to ring in the new season. Like you needed an excuse to buy more shoes, though. Since they're open-toed, you'll have another chance to show off the last of your summer pedi.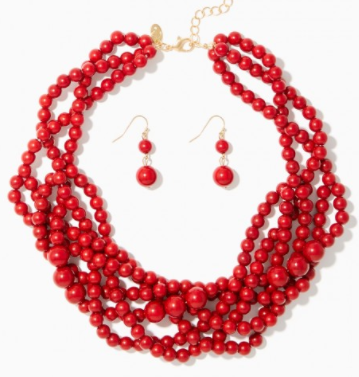 I'm honestly so over chokers rn, so I'm gonna advise you to wear a statement necklace because those are just timeless—at least the ones that don't look like your mother's. If you plan on wearing an off the shoulder top (which you should because I said so) or even a high neck style, opt for a chunky necklace to really elevate your look with a bright pop of color. In this case, red is probs best because again, 'Merica. You can adjust the length of the piece for your liking, but it'll sit right on your collar so if anything, it kinda feels like the choker you're used to but without it being a choker. Same thing.
The Fall Accessory Trends You Need To Stock Up On Now
Well, it's officially August which means we're headed into the dog days of summer—a time when we cram as much day drinking and rooftop bar hopping as possible into the next 4 weeks. Once September hits, we become recluses that live our best lives on the couch and Instagram eat everything that comes in pumpkin. We'll immediately put away the sandals and bring out our over-the-knee boots, and fold away our shorts in hopes that last year's skinny jeans still fit even though we drank our weight in alcohol and didn't go to a gym once this summer. The good part is that a season's beginning = new trends aka more shopping, so you'll handle change the only way you know how: retail therapy, obviously. Whether you're prepping for weekly blackouts at frat parties or planning to be productive (for once) at work, shop these transitional accessories to take your mind from summertime sadness to Uggs, pumpkin spice, and everything BWG (basic white girl, DUH).


Expensive white gold hoops were summer's thing this year (it was so sad) but now that summer is almost over, that shit is (thankfully) being put to a halt. Fall will be about big bold earrings that take up the entire side of your face so opt for a dainty long pair that takes away the attention from your double chin facial imperfections and can be worn down or dressed up to impress.

Burberry and scarves are two things a betch will never leave her house without next season. Since it'll be too warm for cashmere, find a lightweight silk scarf to dress up your blazer with. This one features color block triangles with neutral tones and the bright pop of red we'll be seeing 24/7 soon. If choking yourself wearing scarves isn't your thing, use it as a headband because boho chic isn't over yet, or tie it on your bag, I guess. A for effort!!!

Since colder temps hit the east coast like a fucking brick wall, you probs won't be that try-hard who's still wearing plunging bodysuits come September. Unless you're trying to call into work sick already, that is. Chokers were fun and all but similar to how much basic bitches love "Closer", it's overplayed and I'm sick of seeing them. Swap out shorter styles for long pendant-like necklaces that will go perf with any fall dress or plain button up shirt.

You can still collect stackable rings and look super trendy by wearing multiples, but go for a style that's both semi-elegant and edgy. I like this one because when I'm dealing with one of my bouts of homicidal urges, I can just look at the pointy edges and contemplate the many ways I could inflict bodily harm on my enemies using just the ring on my finger. Just me?

Fall is the best excuse for a new bag to hold all your shit and hide the flask you may need to get you through the day. This large neutral tote has enough room for your laptop, meaningless papers, and everything else you carry with you at all times, but without sideswiping everyone you walk by. It'll go with any outfit and put you in the all-work-no-play mood you wish you could maintain for more than like, two consecutive minutes.

You won't have to hide your v cute pedicure immediately with booties that easily transition your look from summer to autumn vibes. I'm honestly obsessed with these because they're both block heel and open toe like my fave summer heels I ruined stumbling around every weekend. You can never have too many booties, IDC what anyone says. I need them in every color, so this pair is perfect for pairing with the T-shirt dress you're not ready to give up or dark jeans come darker nights.
How To Manipulate Your Summer Fling Into A Winter Cuff
Yes, sadly, we're more than halfway through summer. I know, I know, that's a fucking bummer to think about. The impending end to Summer '17 isn't all you need to be mulling over right now. In fact, you probably have a summer fling, hook up, smang buddy, etc. that you need to decide if you should keep around past August. If you've already decided that Jake or Ryan or Matt or Nick or whoever will look good in a ski outfit and could probably impress your parents at Christmas, then you have decided to get moving on the cuff. Because if you're going to commit yourself it needs to last at least six months, really. So what next? How to you turn the best non-committal sex of your life into the best actually-committed kind? Like all important decisions involving another person, don't just come out and say it. Gross. Manipulate the situation so sneakily that he doesn't even see it coming.
Drop Hints.
You need to make sure that he's actually down so you don't embarrass yourself when it comes time to DTR. If he's said a million times he doesn't want a girlfriend, guess what bitch, he probably doesn't want a girlfriend. Unlike us, men are simple creatures and often just blurt out what they're really feeling. So if he's not actively telling you it isn't going to happen, drop a few hints that you could see yourself dating him past the summer. Mention activities you'd like to do in the fall. Talk about seeing a football game together. Ask how he feels about corn mazes. That kind of shit. If he's down to make plans with you for Halloween, he's probably down to keep whatever you two have going.

Put Him In Situations Where He Has To Introduce You.
OK this might seem like a stretch, but try to get him in situations where introductions are necessary. You could avoid the DTR altogether if he starts introducing you to his friends as his girlfriend. Crisis adverted. The whole goal of this is to get him to think your relationship is his idea. Dudes love when they come up with shit on their own. Also, this can work the other way. If you introduce him to someone, don't give him a title, just say his name and kind of trail off. See if he jumps in with the "I'm her boyfriend" comment.
Don't Bring Up The Fact Summer Is Ending.
If you've been hanging out with a dude all summer and things are going well, but you don't want to rock the boat with just how great things are going, maybe just don't mention your desire to get wifed-up by September. Ya know, sometimes you should just let sleeping dogs lie, or, in this case, let him think you're the most chill and not going to pressure him. I'm pretty sure everyone hates being nagged at or pressured, so if you like what you have going and don't care about the label, just let it be. If it's really meant to be, it'll be. Likewise, if you're thirsty for a boyfriend and he doesn't want to be your boyfriend, you should seriously move on to someone who deserves does. Duh.

DTR.
If all else fails, and you're not down with the casual transition from FWBs to full on dating, I guess you should probably define that mother-fuckin relationship. Like, in order to not embarrass yourself, make sure you're like 99% sure he's also down to keep things rolling past summer fling status. Then, I guess you need to just bite the bullet and ask, "Hey, what are we?" OR, if you're real ambition, you could just tell him he's your boyfriend. You know, like that pirate guy in Captain Phillips, but instead of "I am the captain now" it's like, "I am your girlfriend now." Totally no chance of that ever backfiring.