Galantis Reveals The Surprising Meaning Behind Their Hit Song 'Emoji'
Galantis is probably one of those names you're seeing everywhere nowadays. Between 150 live shows a year, numerous festival appearances, and two new hits, to say they have a lot going on is an understatement. Thankfully, they made the time to sit down with us at Shaky Beats festival in Atlanta over the weekend to talk about what it's like touring together, how the duo Galantis formed, and a few of their new songs. Check out the interview below.
What did you guys do yesterday?
Show, at Syracuse.
What did you think?
It was a good show! Really good energy.
How are college crowds versus music festival crowds?
I didn't know it was going to be such a great crowd. We actually talked about that, we should do it more. 100% of the crowd went haywire. They were happy we were there.
So you guys tour together a lot.
150 shows a year.
How do you keep up the energy to do that many shows?
It's like, you press a button, you know, you've got to reset. And then you have to be as off as you can between the shows, but once you go onstage it's like a switch in your head, and it just goes.
What was the moment that you were like, 'I'm going to link up with this guy and we're going to make music, and we're going to do this?'
I actually know where I was in Stockholm when I called you that time. It was Old Town. Just so you know… I remember I was walking from a lunch or something and I had the idea. I started to think of names for the band before I actually joined.
What were some of the other names?
Well, we had some of the worst names ever. I'm not gonna say them, but it took a very long time to find the right name, actually. And when we found it, someone else gave it to us.
What is the significance of it to you?
The name now? I don't know. Then it was the perfect mirror for the music we did, but now it's life, you know? And now we figure it's too late to change it.
You recently came out with "Emoji". What was the idea behind the song?
I think a lot of people didn't realize that there are a lot of deep, serious thoughts behind it, and thought it was kind of lightweight but it's not. It's kind of like, sad in one way, that you do start to only communicate through emojis, but also something beautiful with it, depends on what it is. Like, we're away from family all the time, and you don't even have words anymore sometimes, you just send a heart, you know, and that's useful. I think we all know those words, but you sending that emoji means something either way.
And that kind of started the thought, how something simple like an emoji can change how people have a conversation. Because putting an emoji, words, it's not the same thing. It actually added to the way you can communicate. So that's where it came from, the idea.
Do you guys have a favorite emoji?
The heart!
I like the crying laughing one.
That's very good actually! You can't put that into words either!
How did your new song "Bones" with One Republic happen?
It's kind of a long and wacky story. There was like a seed of this original that came across us, and then we wanted to work on it, and then it was already taken by OneRepublic. And I kinda knew Ryan Tedder from the past, so I found out where he lives and I went to his place. And said, "you don't have the correct idea, I have it." No, I didn't say that, but I did say I think we can do an amazing version together, how about that. And I think he liked the way we came really strong, and said that we could take this song somewhere great for both. And I think, yeah, it was such an easy quick thing after that. We were thinking the same thing about the song, and they already started a lot of cool stuff on it, so we took it from there and made it what it is today. But I think they're great, I think Ryan Tedder is one of the best songwriters, I think his vocals are amazing, unbelievable.
So, what do you guys have in the works music-wise? You just released a new song, are we getting a new album?
We got a lot of music really close to coming out. It's kind of a race which one will come out first. 
Images: Jimmy Fontaine
Taylor Swift Is Coming For Kim Kardashian's Empire With Her Latest Venture
If there's anything we know about the new Taylor Swift, it's that she shares the old Taylor's (RIP) love of putting her face on every goddamn thing that she can get her hands on. These days, Taylor Swift has her own DirecTV channel and, for some fucking reason, is the official face of UPS. (If anyone has any info on how or why that happened, please slide into my DMs ASAP because I have questions.) Now, Taylor will add to her narcissim media empire by launching her own "digital entertainment project"—aka an app—called The Swift Life. Never before have I both despised and desired an app so completely.
The Swift Life will, according to the press release, be a "deeply social environment" where certifiable psychopaths Taylor Swift fans will get access to exclusive content, photos, and, most interestingly, be granted "direct engagement with Swift." Apparently, Taylor's intern will be directly interacting with fans via the app, so if you've ever wanted to pay money to have Taylor Swift like a comment you wrote, this app is for you.

Oh, and if you didn't think this app would come with Taylor's very own Kimoji rip-off called "Taymojis" then you don't know shit about Taylor Swift. I wonder how many of said "Taymojis" will be snakes. 100? 200? All of them? My vote is for all of them.

The Swift Life is set to launch in beta sometime in 2017, which doesn't leave very much time, so keep an eye out for her starting some random-ass drama with a Kardashian sometime in the near future to get her name in the press.
The Best Emojis For Expressing Emotion Even Though You're Dead Inside
Being dead inside is an art. And sure, you've been perfecting it basically since the day you were born. I mean, who doesn't remember the first time they put on an all black ensemble and thought, "Yes. This is me now." But what should you do on the rare occasion when you want to express emotion? Like, one minute you're going through your day, giving zero fucks and being devoid of all feelings, and then suddenly your friend tags you in a meme that makes you feel…dare I say…alive? For the rare moments that make your grinch heart grow three sizes, here are the emojis you should use to convey your momentary experience of human emotion.
Laughing/Crying Face

Use this emoji when you want to convey a level of laughter beyond "haha" and "lol." Like, sure, you could just say "crying," but will your friend really get the visual without tears streaming out of the eyes of your cartoon avatar? Save this one for when your run across a fire meme, or when a friend hits you with some amazing gossip that actually made you almost display emotion on your face while you were reading it. Not that you would ever actually do such a thing. WARNING: Some people overdo this emoji and end up looking like a psycho. Keep it to 1-3 of these little guys in a row to avoid seeming like the type of person who thinks everything is funny, and not the modern-day Wednesday Addams that you are.

Heart Eye Face

Every once in a while, someone will send you something that actually makes your cold, black heart start to beat again. 9/10 this will be a photo of a dog, preferably wearing some kind of an outfit. In these instances, the heart eye emoji is not only appropriate, but necessary. How else will your fuckboy know that the gif he sent you of a Corgi doing pilates worked and he has permission to ask you to come over later?
Screaming Face

One of the dangers of using the internet is that you will often encounter something so horrifying that even you, a woman who watches 10 dark AF Netflix documentaries a day and feels nothing, will be moved to say "omg." In these instances, the screaming emoji is 100% appropriate. Remember though, only use this for really horrifying stuff, like that photo that's been going around of a colon full of 3 years worth of poop, or literally anything Trump does.

Smiling Devil Baby

Every once in a while —and I mean once in a while—you'll find yourself in a very particular mood and actually want to spend time with people, usually with the aid of copious amounts of alcohol. Usually this will happen on a random summer night when your allergies aren't keeping you indoors, or a day where you wake up with great skin and want everyone in the world to know. It's one of those days where you wake up win the morning and immediately think, "I'm gonna get fucked up tonight." In order to properly convey this mood in your group chat, send a little smiling devil emoji with a "Who's going out tonight?" attached. Your friends will immediately know that tonight will be one for the history books and start faking a cough in front of their boss so they can call out sick tomorrow.
Clapping Hands

Let's face it, even you can get heated sometimes. Like when when you thought Bachelor in Paradise wasn't happening, or some old man in the Senate is trying to make your birth control mad expensive. Sure, you could use a series of all caps tweets to convey that you are, in fact, yelling, but what if you want people to know that you are both yelling and clapping? If you're actually being moved to emotion, you know that you're choosing your words carefully. So why not emphasize them by placing a clapping hand after every.single.word?

Praying Hands

You spend most of your life in a daze of not giving a fuck, rolling your eyes, and feeling vaguely sleepy. Chill. But what happens when you like, actually want something to happen? Like for the custom swimsuit you ordered to arrive in time for your Hamptons trip, or for there to be food at the party you're going to later? In these cases, it's time to invoke the help of the Lord by using the prayer hands emoji. It's literally the same as actually praying. I think. I honestly haven't been to church in years.
The Best Emoji For Flirting & To Get You Laid
When beginning a text relationship with a potential new bae, your choice of emojis can either make or break the interaction. A correctly placed winking cat face can make you look like a cute fun millennial who also may or may not be a cat, but just a few too many laughing-crying faces in a row and you look like a legit psycho who needs to stop LOLing and start getting your life in check. But with so many new iOS updates and new emoji being invented (thank you, middle finger emoji), it can be really hard to keep up with what's acceptable to use and what's going to make you take more Ls than Nicki Minaj in her current beef with Remy Ma. Luckily, the Betches are here to help with a fairly comprehensive guide to emojis. Unfortunately, we can't tell you exactly what to type to the guy you're hooking up with but not yet dating but maybe hopefully will date in the future, so just take our advice and try not to fuck it up. 
Check out our video below. After we get you laid/wifed up you may send us your thanks in the form of popcorn baskets or mini wine bottles.
The 6 Emoji You Should Never Use For Sexting & 6 That Will Get You Laid
When beginning a text relationship with a new potential bae, your choice of emojis can either make or break the interaction. A correctly placed winking cat face can make you look like a cute fun millennial who also may or may not be a cat, but just a few too many laughing-crying faces in a row and you look like a legit psycho who needs to stop LOLing and start getting your life in check.
So which are the best and worst emojis for text-based flirting? We've sorted them out for you. Follow our advice and you'll be getting a "U UP?" in no time. Fail to heed our warnings and don't be surprised to see your shit screenshot and roasted in his fantasy league's group text. 
THE BEST
The Eggplant

The eggplant is the king of all flirt-mojis for a very simple reason: it looks like a dick. If you want to see someone's dick, you can send them this emoji and they'll understand what you want. Given that men don't need much prompting to send their junk to strangers, only send this emoji if you're prepared for the dick pics to follow.
Heart Eye Emoji Face

Short, sweet, and to the point. Your eyes are hearts, and your hearts are for bae. It's not subtle, but it'll send the message to whomever you're texting that their flirting is having the desired effect. Can be used interchangeably with the cat heart eye emoji, which means the exact same thing except also you like cats. However, if you are going to use the cat heart eye emoji, you must remain vigilant that you're not swapping out all applicable emojis for their cat-faced counterparts, or you risk looking like a crazy cat lady in training.
Smiling Devil Emoji

What better way to let someone you just met at a bar know you're down for a little trouble than the smiling devil emoji? The smiling devil is cute (like you) but also not to be trusted (also like you), leaving the person on the other end of your text wanting to know more. Why is the devil smiling? What kind of trouble does this little guy want to get into? Is it sex? I bet it's sex…
Fire Emoji

No better way to let someone know they're hot than to send them a picture of literal flames. The fire emoji is versatile, subtle, and can be used to indicate you think the fuckboy you just met at the bar is muy caliente, or can be used for emphasis when you roast him after he inevitably wrongs you.
The Red Woman

She's dancing. She's independent. She's wearing a red maxi dress. She's the modern woman. She's everything the object of your affection wants in a woman. When sending a flirty text, make sure to include this woman as a symbol for yourself. You want to be associated with her in his mind. TBH, you want to be associated with her in life.
The Flying Money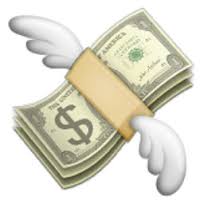 Use this money to convey to any potential hookups a very simple message: "I am not a gold digger. In fact, I have so much money my cash is sprouting wings and flying around and I don't even care. So do you wanna hook up or…?" All that and more is conveyed with this emoji. Using it makes you look like Rihanna (idk if Rihanna actually uses this emoji but I bet she does).
THE WORST
The Winking Tongue Man

Oh no. No thank you. Steer clear of this man. Just imagine, for a moment, someone making this face at you in real life. One eye open wide as possible, the other closed, full length of the tongue exposed. It's not a good look. Not only should you not to respond to any flirty texts that contain this emoji, but anyone who uses it should be immediately blocked. You don't need this kind of negative energy in your life.
The Poop

I'm sorry, but the poop emoji is over. It was over once everyone and their mom started using it, and it was wayyyy over when my 6-year-old cousin got a pillow version of it for Christmas. All this emoji conveys is that you are unoriginal and stuck in a world that was like, seven IOS updates ago. You wouldn't go back to using an iPhone 4, so don't use this emoji. It's dead. RIP.
Horrible Clown

This emoji is new and terrible. Who tf wanted this clown emoji? We're all out here begging for a selfie-taking emoji (how tf is there not a selfie-taking emoji??) and all we get is this nasty-ass clown. I've never seen anyone use this emoji, but if a potential mate ever sends this to you, call the police. That person is a psychopath.
Monster Face

Similar to the clown, this little guy has no place in the bedroom. Apart from the fact that his nose kind of looks like a penis. His ears also kind of look like penises….and all of his teeth….
Yeah, okay, it's gonna be a hard pass on this penis monster. No thank you.
Graph

This is a graph. Unless this is graphing a rise in horniness since the two of you started sexting, there's really no useful application for this emoji in a flirting context. Actually, there is not much use for this emoji in any context. You're telling me we can get a graph of nothing but can't get a middle finger? Come on.
Jazz Hands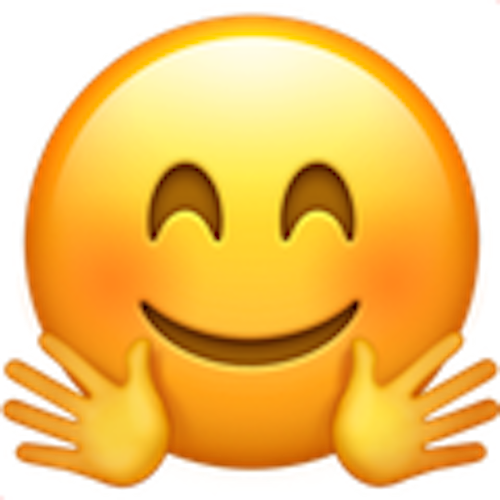 This may actually be a hugging emoji, but who TF knows. Honestly, the fact that we don't even know WTF it is should be your first clue to avoid this thing. Like, what's going on here? Why is this thing smiling so big its eyes are closed? Why are its hands outstretched—is it trying to hug you, do jazz hands, give you a high-ten…? Furthermore, why doesn't it have arms? I honestly cannot think of a single circumstance that would warrant the use of this emoji. Fuck a hug—this emoji says "I want to molest you." I'm seriously questioning Apple over the fact that someone deemed this creeper necessary and it took like, six updates and four online petitions to get a damn taco.
HONORABLE MENTION:
The Peach

Much like the eggplant, the peach looks like a butt. A big juicy butt. If you want to send, or receive, pics of a big juicy butt, or to convey that you are currently in possession of a big juicy butt, this is the emoji for you. If you're trying to suggest you and your boo leave the bar and go eat a peach, maybe just use a different emoji because this one looks like a big juicy butt.