Is The Elliptical Worth It? An Investigation
If you go to the gym with any regularity (ok, stop bragging), you likely have a love-hate relationship with the elliptical. On the one hand, it's literally the easiest machine there. On the other hand, you kind of feel like a fake piece of sh*t because pop culture consistently references the elliptical as a non-workout. But as we've learned in 2019, the workout you're seeing all over Instagram is not necessarily the right one for you—and types of cardio you'd written off as a waste of time could actually be valuable (hello, walking on the treadmill!). So, is the elliptical actually worth it? Here are the results of my investigation.
Sidenote: Women of Twitter, please stop bragging about using the squat rack over the elliptical. You are giving the worst men in the world so much ammunition. Just use whatever machines make you happy.
I'm literally the only girl who uses the squat rack at snap… And the only one who isn't always on a freaking elliptical.

— Bailey Bowlin (@baileybowlin) April 30, 2013
If you're a girl and go to the squat rack instead of the elliptical you become 100x more attractive

— Nick Marquart (@NickMarquart) June 22, 2014
The Elliptical Feels Easier, But It's Not
The short answer is yes, the elliptical is worth it! Don't believe me? Good, I'm not a licensed professional! Y'all are learning. ISSA-certified fitness nutrition specialist and trainer Adam Rosante weighed in on this for Cosmo, and his ~professional~ opinion is that "all movement is good movement." The myth that elliptical machines are somehow worse for you than other cardio, he says, comes from the fact that it puts less pressure on your joints than running outside or using a treadmill. So the workout may feel less intense, but it's not—provided, of course, that you're putting in a good amount of effort.
Science Says It's As Good As A Treadmill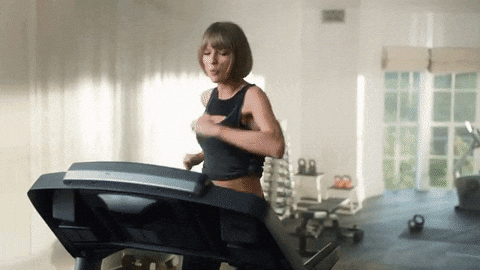 A 2010 study in The Journal of Strength & Conditioning Research (sounds like a great read) tested a group of people's oxygen consumption, energy expenditure, and heart rate while performing 15-minute exercise tests on a treadmill and elliptical. The study found that there was no difference in oxygen consumption or energy expenditure for treadmill vs. elliptical, and that heart rates were slightly higher across the board on the elliptical. The study concluded that for "cross training or noncompetition-specific exercise an elliptical device is an acceptable alternative to a treadmill." I'd pretty confidently describe all my exercising as noncompetition-specific, so I personally find this to be great news.
This Doctor Says It's Better Than A Treadmill
Next up, board-certified sports medicine specialist Dr. Edward Laskowski weighs in. He confirms that you can get an "effective aerobic workout" from either a treadmill or an elliptical machine, and suggests you let your personal fitness goals dictate which one you choose. For example, if you're training for a race, you will probably want to stick to running-based cardio. If you're not a masochist, though, the elliptical offers several distinct advantages. As Adam Rosante pointed out, it puts less pressure on your joints—which means it's a good choice if you suffer from pain in your knees, hips, or back. Your elliptical workout can also be customized to work different parts of your body, Dr. Laskowski points out: pedaling in reverse will activate your calves and hamstrings, while using the handles will activate your upper body.
Basically: on both machines you're getting out what you put in, but if you're not a professional runner and actually looking for a full-body workout (hello), the elliptical could be a good choice. Or, y'know, this:
Like just about any other exercise known to man, how you complete the exercise is the important thing. And when it comes to the elliptical, that means making sure your form is correct, adding an appropriate amount of resistance, and working in some interval training. The treadmill can also be totally useless if you don't push yourself on it—so can the rower, the squat rack, and even that $40 SoulCycle class. TBH, I think the elliptical has largely gotten such a bad rap due to the self-fulfilling prophecy: you don't think it's a hard workout, so you don't try hard on it. So tomorrow, I invite you to stride into the gym and go absolutely apesh*t on the nearest elliptical. If you still don't think it's an effective cardio workout, then I give you permission to sound off below.
Images: Giphy (1); @dylanhafer / Instagram; @NickMarquart, @baileybowlin / Twitter
The Best Workouts If You Only Have 15, 30, & 45 Minutes At The Gym
Working out is such a dilemma. On the one hand, betches need to work out to counteract our weekly blackouts and keep up our naturally fast metabolisms, but on the other hand, who seriously has the time? I mean, if you wake up on a Sunday and spend three hours at the gym while I'm dragging my ass to brunch in last night's makeup, I salute you, but I also fucking hate you. Betches don't always have over an hour to work out, so we've planned out the most efficient ways to spend your time at the gym when you're in a rush. Whether you have 15 minutes or 45 minutes, you can def get in a legit workout without cancelling all your plans for the day. Here's the plan:
If You Only Have 15 Minutes Or Less
First of all, never judge the betch who only spends 15 minutes at the gym. This extremely limiting time crunch usually means she either has much more important shit to do, or literally has only 15 minutes to spare before work and has a Cinderella-esque transformation in the Equinox locker room before heading to her job at some waspy law firm. This betch means business, and she'll be finished working out by the time you found the best selfie lighting in the weight room.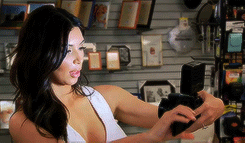 If you only have about 15 minutes, the key is sticking to floor work and ditching any machines. Honestly, you'll waste a good ten minutes by the time you choose a treadmill that's comfortably far enough from other people but close enough to the TV. Lay out a mat and work HARD (we know) for fifteen minutes straight without any breaks, choosing compound movements that incorporate strength work while getting your heart rate up. We know you just read that sentence three times to figure out WTF we mean, so some good moves include burpees, jumping lunges, jump squats, mountain climbers, and plank jacks. Try to pick a few moves and do each one for about 45 seconds each, then repeat as many times as possible until you have to bounce/collapse. Stretch in the shower.
If You Only Have 25-30 Minutes
If you have less than half an hour to spare at the gym, it's time to get your ass to work. Half an hour might seem like a solid amount of time to get in a workout, but time flies when you're fixing your ponytail for 20 minutes in the mirror while laying out your towel like you're on Miami Beach. You can get in a good workout in less than 30 minutes, but don't fuck around.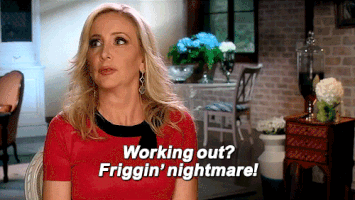 The most efficient way to spend 25-30 minutes at the gym is to break it up 50/50 into cardio and strength. First, pick a cardio machine that you're ready to kill it on for 12-15 minutes. Elliptical or treadmill are ideal if you're basic AF and have a playlist ready. The erg rowing machine is more intense because it works your whole body. Stairmaster wins if you hate yourself. After going moderately hard for half your workout, make your way onto the floor for some strength work. Try to isolate one area of your body per day to get the most out of your gym time. For example, spend one day doing lower-body moves (like squats and lunges), and another day doing upper body (like bicep curls, tricep extensions, and planks), rather than being that dumb girl who does 10 crunches, three squats and a push-up and wonders why she's still flabby.
If You Only Have 40-45 Minutes
If you have up to 45 minutes to spend at the gym, you can def get in a quality full-body workout, but you have to make sure you go in with some sort of plan. Don't be that girl who walks on the treadmill for 45 minutes while refreshing Snapchat stories. She can brag all day that she spent her morning at the gym, but she prob burned like 30 calories total and we're still talking about her, so she's literally wasted everyone's time.

Spend your first 5-10 minutes warming up your muscles and getting your heart rate up. Think light bodyweight exercises, like jumping jacks, air squats, high knees, and push-ups. Oh, and get off your knees. Then, move onto some real strength work, because news flash: if you're not lifting yet, you're doing it wrong. A super efficient way to create a little circuit for yourself is through an AMRAP, which means "as many rounds as possible." The idea is to pick a few moves that involve dumbbells or kettlebells, set a 15-20 minute timer for yourself, and complete those moves as many times as possible until the timer goes off. Then, move onto some HIIT work, whether you're into burpees and plyometric moves on the floor, or 20-second inclined sprints on the treadmill. Either way, you should be sweating your ass off (and cursing loudly) after about 10 minutes, so you can spend the last couple minutes stretching the muscles you just abused. You're welcome.
Stop Doing The Same Old Sh*t: 6 Changes To Make To Your Fitness Routine
With Groundhog Day coming up, we're slowly being reminded that winter is almost over and it might be time to switch up our fitness routines. I mean, don't get me wrong. Betches are all about routine. Like, we literally have a written list of all the shit we like doing. But as much as we love sticking to our favorite workouts and eating the same Sweetgreen salad four times a week, it can also be good to switch it up sometimes to keep shit from getting repetitive. Why do you think Bieber dyes his hair every three months? He gets bored, like the rest of us. Here are some swaps you should be making in your routine this month:
If You Always Go For The Elliptical Or Treadmill…

Try lifting weights. I mean, we're not judging you for blasting Spotify's Rap Caviar playlist while lightly jogging for thirty minutes, but if you're bored of your light cardio routine and you're wondering why you're not toned AF yet, consider strength training. Most girls don't realize that by weight-lifting, your body continues to burn calories even after the gym, and putting some muscle on will actually allow you to burn more calories at rest, like even on days where you're lying on the couch watching This is Us.
If You Always Order The Salad…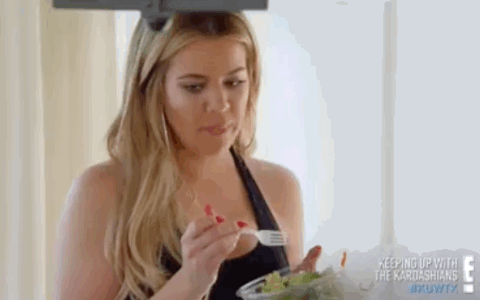 Try a complex carb, or dare I suggest some healthy fats. You can only pretend you enjoy that spinach/tomato/low-fat Balsamic combo for so long before you start gagging at the thought of mixed greens. Salad is obviously healthy AF, but there are usually other healthy options on the menu too, and it's okay to eat carbs and fat sources. Try ordering a whole wheat wrap or avocado toast on Ezekiel bread. It has a shit ton of fiber and lots of antioxidants, which will keep you full without making you fat. Is butter a carb?
If You Always Tap It Back….

Try doing bodyweight HIIT cardio instead. We love SoulCycle more than the blonde botoxed Long Island mom on the bike next to us, but sometimes you don't need a 45-minute cycling class to get in your cardio fix. HIIT is all about getting your heart rate up and burning a ton of calories in a short amount of time, so you don't even need to leave your house to get in a sick workout. Try spending fifteen minutes alternating cardio moves, like jump squats, burpees, and plyo lunges. You'll surprised how sweaty you'll get when you're working in shorter intervals, and you don't even need to pay an extra three dollars for water. Win-win.
If You Always Work Out At Night…

Try waking up early. No betch is naturally an early riser, but sometimes you need to push yourself to get shit done. Wake up, take an espresso shot, and haul your ass to the gym. Morning workouts will give you extra energy throughout the day and will give you more time to do your own thing after work instead of worrying about getting to the gym. Happy hour will feel so much more rewarding knowing you already worked out like, ten hours earlier. Who knew life existed before 10am?
If You Always Go To Yoga Or Barre…

Try a Pilates class on The Reformer. Yoga is great for flexibility and barre movements will elongate your muscles, but pilates will take your bodyweight planks to the next level and tone almost every muscle in your body. The Reformer machine will strengthen the muscles you don't usually hit with yoga poses or barre moves, and it's easy enough on your joints to prevent injuries. You'll end up shaking and sweating more in the first few minutes than you do in your 90 minute heated Vinyasa. Get on the machine.
If You Always Hit Up The Sauna Afterwards…

Try Cryotherapy. Sweating it out in the sauna after a workout feels amazing, but that's yesterday's news. The Cryotherapy method is the newest fitness recovery trend and it basically entails standing in a deep-freezing tank for less than five minutes. The shock of the freezing air on your body is supposed to help you lose weight, reduce muscle soreness, and even help you sleep better. Celebs like Yolanda Hadid and Derek Hough swear by their Cryotherapy sessions, and it's literally taking over Hollywood faster than the La La Land soundtrack. Book a session.
The Betches' Guide To Keeping A New Year's Resolution
The new year is well under way and I bet—like, I'd literally bet $1 million on it—that you've already broken at least one of your New Year's resolutions. You've probably been grumpy and had a bun in your hair on your way to work since you got back, and I highly doubt you've seen the inside of the gym more than once in the past 11 days. Plus, like, we all know you haven't cooked a meal since before December started. But no worries betch, I feel you. I'm here to make you feel a tiny bit better about what a failure you are. Here's how to keep a new year's resolution like a betch.
Instead of resolving to go to the gym every day…Resolve to walk home from work three times a week (weather permitting). This way you get some exercise and it's fucking cheaper than the $100 a month Equinox charges you. Going to the gym is great, but when you set a goal and are too lazy to actually go do it, you feel shitty about yourself and end up binge drinking wine/eating everything in sight, claiming that you'll be better tomorrow. You won't. Just accept that this is who you are.

Instead of resolving to stop drinking…Resolve to only drink on the weekends. You have a full-time job/are a full-time student and as stressful as doing work is, alcohol has a shit ton of calories that you literally just don't need. However, it's unreasonable to think that at this young age you're going to stop drinking altogether. Unwind on the weekends like you're supposed to and your tolerance will go down, you'll need less to feel drunk, and the amount of calories you're consuming won't be as steep. You can stop drinking when you're dead.
Instead of resolving to eat clean…Resolve to stop eating pasta more than once a week. Carbs, as amazing as they are, are fucking terrible for you. But, again, you're young; just stop boiling pasta every night for dinner because it's easy and buy a fucking bag of lettuce every once in awhile. You can cave when you're PMSing but only then because honestly, there are other things to eat in your cabinet whether you'd like to admit that or not. Just like, watch out for expiration dates because we know you haven't looked in your pantry since you moved in and your mom took you to Trader Joe's to stock up on healthy options.

In conclusion, stop resolving to change every single thing about yourself and just accept that you hate the elliptical and you love vodka sodas and carbs. Just like, stop loving these things every single day and you'll automatically be better than you are. May the rest of 2017 be in your favor.