I Donated My Eggs Twice: Here's What You Need to Know
There I was, legs elevated in metal stirrups, counting backward from ten, losing consciousness by the second. Why? For $7K… duh. 
There's not much I won't consider doing for money. As a kid, I worked a lemonade stand, sold snacks at yard sales, and scammed grown-ups with bets like $20 for throwing an inflated football through a tire. I've had an array of jobs since I was 16 and almost never just one at a time. I was even offered $200 in high school to take a guy's virginity. I didn't, but does that matter? 
Donating your eggs is not easy money, but that is the illusion.
Just the lengthy application alone can weed out the weary. Then you have to get over the fear of stabbing yourself with needles, followed by the realization that you might release children into the world. It's enough to make anyone think twice.
Obviously, money is a primary motivator when it comes to a procedure like this. A study published in the U.S. National Library of Medicine notes that 81% of egg donors "indicated that the offer of payment was significant to their decision." Yet, I found that the end result was way more rewarding than the cash, and that's why I donated my eggs not once, but twice. The money is long gone. After Uncle Sam reached between my legs for a quarter of it, I used the rest to leave a job I hated, pay off debt, and buy myself some boobs. But when I look back on my donation process, it's not the money I remember. 
First, it's important to clear up a common misconception: Donating doesn't affect your egg count. According to the Cleveland Clinic, women are born with approximately one million eggs. Even prior to puberty, these eggs die each month. So the eggs you donate would naturally die in your next menstrual cycle. 
Thrust into living alone after my boyfriend broke up with me unexpectedly, my credit card became a crutch. I couldn't get through the week without dipping into unpromised money. A friend of mine introduced me to Shady Grove Fertility, an organization dedicated to infertility treatments. She had considered donating her eggs but was daunted by the application process due to her family medical history. Less than 40% of applicants pass the initial screening, a statistic specific to SGF provided to me upon completion. I answered the preliminary application, which consisted of a few essential questions used to easily disqualify any red flags—one of which I held. I had traveled to the Caribbean with my ex (eye roll) just five months prior and ZIKA was a major concern. I was asked to apply again in another month, since six months was the threshold for exposure. 
After re-applying, I was accepted and provided a link for the comprehensive application. Holy Moly. Now, I'm a writer and fully enjoy talking about myself, but this was on another level. I provided personal statements and short essays about everything down to my musical ability and every detail about my family including the color of my dead paternal grandfather's eyes. The application actually serves as a profile for a donor when they are being selected by hopeful recipients. I uploaded pictures of myself as a child and an adult—the latter is not required but increases the probability and rate of being chosen. 
I was then invited to begin the medical screening portion. Based on when I had started my most recent pack of birth control, an ultrasound and bloodwork appointment were scheduled. They also performed genetic screening which tested for 105 conditions. At this point, it had been about three months since I first reached out. I received $150 through an application promotion and $50 for approved lab work. 
*calls produce manager of whole foods* hi yes i'm interested in donating my eggs

— you thoughtttttttttttttttttttttttt (@youonebigyike) September 1, 2019
I took a brief online course that provided an overview of the procedure and then was scheduled for "Donor Day," which requires a day off from work when current donors meet at the office with a nurse for in-person training and screening. After screening, we took a 150 question multiple choice personality test, learned about the procedure, ate pizza, and practiced our first injection. We practiced mixing solution, dialing the pen to the correct dosage, and finally pinching some stomach fat and stabbing ourselves. I bled, which never happened again, but I had my first "what have I done?" moment. The day earned me $450.
Then, I signed consent forms and met with a social worker. Basically, it was a therapy session to ensure my sanity and comfort with the process, especially the fact that this would likely result in real live children running around with my DNA. I was and am completely comfortable with this fact. Once cleared, my profile went live for recipients to view. I was selected within a week. They switched my birth control in order to sync with my recipient's and I received fertility medication to my home. 
No more drinking, sex, drugs, tattoos, piercings, smoking, etc. Over the next two weeks, I injected hormones into my stomach at the same time each night and went into the office for bloodwork and an ultrasound about three times a week. The one shot, which I administered through an insulin pen, didn't bother me. But the second shot, which required mixing a powder and liquid, burned as I pressed the plunger releasing the solution under my skin. You get used to it, but I always dreaded the second shot. The medication grows the egg follicles, and the ultrasound measures that growth process. With a lubed-up wand between my legs, I watched my uterus morph into a crop field on a blurry screen, and it was fascinating. My monitoring visits increased with my follicle size. Eventually, I added a third shot to my daily routine. The nurses followed my progress and emailed me with specific dosing instructions as they changed. 
All of the coordinators, nurses, and doctors I worked with throughout the process were incredibly helpful. They answered my questions, wrote me a note to freeze my gym membership, and even worked around the travel required for my job, scheduling me at locations that were convenient to my home, office, and wherever I was traveling. And yes, I did this while working for an event production company (one of my bosses had actually used a donor herself). I brought my medication in a cooler and took strategic breaks so that I could shuttle to an offsite condo where I'd disappear into the bathroom with my needles. 
I actually relished the time that preceded the retrieval procedure. My body felt productive, like a factory. I was preparing for this really important gift while still working full time and living my life. Around three days out, I could actually feel my ovaries sloshing beneath my pelvis. The hormones swell each ovary from the size of a ping-pong ball to that of an orange. 
After about two weeks, monitoring took place every day and they watched my progress closely to determine the exact date and time of retrieval. My mom was on standby to come stay and drive me to and from surgery. Once a date was defined (about two days out) I was instructed to take my trigger shot at a very specific time two nights before retrieval. I also took an antibiotic the night before with no food or water following. 
My mom and I woke at 4am and drove to the surgery center 45 minutes away. I started to cramp. The building was immaculate. I felt very safe and comfortable. The staff was warm and attentive and kept thanking me for my "gift". They also handed me a check for $6,500. 
I dressed in some fabulous surgery attire (booties, gown, hair net) and received an IV. The cramping started to increase minutes away from surgery. I received anesthesia through my IV. Aside from having my wisdom teeth extracted, this was my first surgery. I walked with my IV tree and a nurse to the procedure room. I laid on a table and lifted my legs into metal stirrups. For the first time, I suddenly felt incredibly exposed. The anesthesiologist placed a gas mask over my nose and mouth and before I knew it, I was asleep. While I was out, a long needle-like vacuum was inserted into my vagina and pierced the vaginal wall on each side to essentially suck out the eggs from each of my ovaries. They retrieved 13 mature eggs. The actual retrieval only took about 20 minutes. 
The drive back to Baltimore was rough. I wanted to sleep, but the bumpy roads aggravated the cramping. Plus, my ovaries were still enlarged. I slept when I got home and watched Fixer Upper for the rest of the day. The doctor gave me a prescription for pain that I ended up not needing. By that night, I felt back to normal. I stayed home from work the next day because why not, ya know? I returned for a follow-up visit about a week later and I was on my way! I had sex the following weekend even though I shouldn't have. But I missed alcohol and d*ck. TG for Plan B. 
SGF reached out to me about three months later encouraging me to donate again. Although hesitant at first, I excitedly agreed. Since I was already vetted, the process proceeded much quicker—only about two months. They completed an initial screening before reactivating my donor profile. Unlike the first time, my profile was selected by three families instead of just one and my retrieval was split amongst them. 
Things went even smoother the second time around. And not just because I knew the ropes, but because my body did too. I hardly experienced any cramping before and after surgery. They retrieved 22 mature eggs the second time and I received a total of $7,500. 
I haven't donated a third time (worth $8k) for a few reasons. Honestly, I'm nervous to jinx myself. The last thing I want is for something to hinder my ability to have my own children in the future. Another reason, which I only thought of more recently, is that I plan to stay in the Baltimore area as I have my own kids. This sounds like the plot to a titillating beach read, but my future kids could very well meet and date my donor children. One reason women aren't allowed to donate more than six times with one organization is for this very reason. 
Moral of the story: egg donation is incredibly involved, but it's an extraordinary way to help a fellow human. If you made it to the end of this whirlwind article and are still interested in donating, do as much research as you can, especially as it pertains to the options in your area. Really consider the possibility of a child seeking you out in the future. Although the information is private, we all see the leaps and bounds DNA technology have already made. If you have more questions about my experience, feel free to DM me. Although I don't plan to continue donating, I'd love to facilitate that opportunity for others. 
Images: Kara Kinnamon (2); Nikola Radojcic / Unsplash; SGFertility, youonebigyike / Twitter
5 'Unhealthy' Foods That Are Not Actually Bad For You
Some food myths were made up decades ago, and yet we still can't seem to shake them. Like, sometimes we'll take any tips we can get, but we don't stop to realize this advice was literally created during the same time that women were advised not to exercise because it would make them less feminine. It's 2018, and we're *starting* to know better. I mean, if we can order bottles of tequila on an app and convince our boyfriends to go to a Rihanna-themed spin class on a Saturday, we can do anything. It's time to stop giving up healthy foods just because someone once told us they're unhealthy. Here are six formerly unhealthy foods we can start with.
1. Regular Potatoes
So many "healthy people" will devour sweet potatoes by the bowl, but would never touch a regular potato. These people are straight-up misinformed. Honestly, sweet potatoes have a little more fiber than regular potatoes and they're a little lower in calories, but the difference isn't that dramatic, so you can stop crying when your By Chloe waiter brings you regular fries when you ordered sweet potato. Regular potatoes have a terrible rep, and while they are a starchy carb, they're really not that bad for you. They have more vitamin C than sweet potatoes do, and also have more protein and less sodium. Game changer.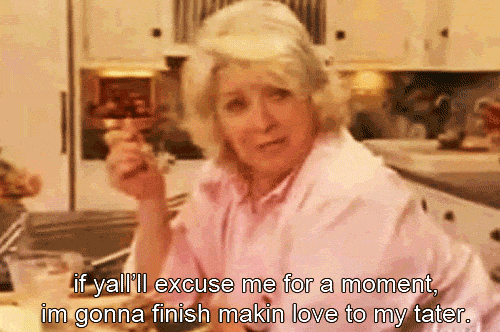 2. Gluten
The gluten-free diet has taken on a life of its own, and honestly we need to backtrack a bit. Once upon a time, people had (and still have) legit Celiac disease, a medical intolerance to gluten. These people were told by their doctors to cut out gluten, and suddenly they looked and felt much better. Ever since then, half of society thinks they need to follow the same advice when they don't even have a gluten intolerance. Obviously eating enough bread and crackers every day won't do your body any favors, but you're not going to sabotage your lifestyle just by having gluten in your diet. Let's put it this way: If you can't explain what gluten is, you shouldn't be gluten-free.
3. Egg Yolks
Egg yolks are one of those things that people shunned in the 70's and the myth never really recovered, even though our science has majorly advanced. While the egg white is the part of the egg with no fat and a few grams of protein, the yolk carries a ton of important vitamins, like vitamin B12, D, A, B-6, zinc, and iron. It has a few grams of fat, but it's healthy fat that will just help keep you more full after your meal. Also, for anyone who told you yolks are high in cholesterol, it's actually not the same cholesterol that's bad for your body. Basically, we gotta let go of the yolk myth. I mean, the people who decided the yolks are bad for you are the same people who smoked cigarettes while pregnant. Let that sink in for a sec, then order the omelet with regular eggs.

4. Feta Cheese
A lot of people think getting cheese added to your salad is unhealthy, but those are also the people who enjoy the taste of kale and think Balsamic vinegar is a suitable dressing. No on all accounts. Feta cheese isn't bad for you. First of all, it's lower in calories than most other cheeses, and it's also packed with vitamins that are so good for you, like Vitamin D, B12, calcium, and iron. Cheeses like mozzarella and cheddar don't have half as many health benefits as feta. It's pretty high in sodium, so I wouldn't go ham, but adding some here and there is actually fine for you.
5. Packaged Bars
Protein bars and energy bars get a bad rap for being glorified candy bars, but honestly it depends what brand you're buying. So many of these bars are filled with shit that you wouldn't feed to your friend's dog, but some of them are actually pretty good when it comes to their ingredients. Products like RX Bars, Square Bars, Lara Bars, and Go Macro bars all have super clean ingredients and minimal added sugars. Any nutritionist will tell you that whole foods and fresh produce are better than processed bars, but if you're starving at 4pm and just need a bar so you don't keel over or reach for the candy bowl on the receptionist's desk, they're really not bad for you. It just depends if you're picking up the bar with four ingredients or the one that sounds like the warning label on a pharmaceutical prescription.

6. Frappuccinos
I'm obviously kidding. These are fucking terrible for you. Order a cold brew like everyone else.
Images: Eaters Collective / Unsplash; Giphy (3)
6 Fat Burning Foods You'll Want To Add To Your Diet Right Away
It's pretty damn tempting to buy every skinny tea and diet plan you see on Instagram, but honestly there's no real trick to fat burning unless you're eating a balanced diet and working out regularly. It took us a while to accept this tragic reality, but after trying every diet on social media and experiencing continual disappointment, it might be the hard truth. With that being said, there are definitely some foods that have certain compounds and nutrients that could help you burn fat more easily—fat burning foods, if you will. We did some research to find the superfoods that have been proven to help with weight loss, and we're currently ordering each one in bulk. Here are the fat burning foods you to add to your diet.
1. Cayenne Pepper
Pepper has a compound in it called capsaicin, which has been proven to spike your metabolism and boost your body's ability to convert food into energy instead of storing it as fat. Spicy foods also tend to suppress your appetite, which is one of the reasons why you may be super full after eating something spicy for lunch. According to the American Journal of Clinical Nutrition, you just need to add a pinch of cayenne pepper to your meal and it'll help your body burn fat after you eat. So like, pass the pepper.

2. Black Beans
Just in case you needed that extra push to order Mexican for dinner tonight, black beans may be one of the coveted fat burning foods, although that burrito might not be. If you ask me, black beans should be trendier than they are, because they're low-key magical. In fact, some researchers say they're equivalent to a fat-burning pill, but like, much more legal (some disagree, but over all, adding beans to your diet as part of a healthy weight loss regimen can help you lose weight). Black beans are filled with slow-digesting fiber that feeds the bacteria in your gut and trigger a chemical called butyrate, which basically helps your body burn fat more efficiently.

3. Grapefruit
It may be time to stalk up on grapefruits ASAP. In a 2006 study, scientists realized how magical grapefruits are when they asked a group of participants to drink apple juice everyday and another group to drink grapefruit juice everyday. It turned out the grapefruit people lost more weight and their bodies' metabolic rate sped up dramatically, and the apple juice people went home in shame (I paraphrase). Not only are grapefruits rich in bioactive compounds that help break down body fat and regulate your blood sugar, but they also lower your body's insulin and speed up your metabolism. Game changer. Just don't douse it in sugar, duh, because that defeats the purpose of fat burning foods.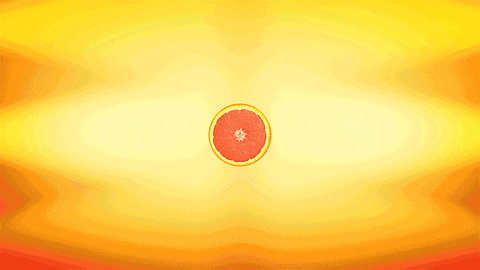 4. Bone Broth
You may have seen your favorite health bloggers sipping on homemade bone broth recently, but this trend actually has a ton of scientific proof behind it. Bone broth is filled with vitamins and collagen, and its nutrients can also help reduce inflammation in the gut, which often leads to weight loss. By healing the gut and filling our bodies with good bacteria, bone broth can make you less bloated, be better protected against sickness, and promote fat loss in the body.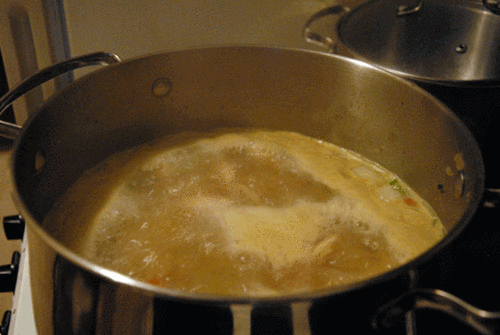 5. Eggs
People used to think the cholesterol in egg yolks would make you fat, but actually the opposite may be true. The egg yolk myth started decades ago, but it turns out we were wrong back then and we're like, much smarter nowadays (cue the video of people eating Tide pods in 2018). Eggs are packed with protein and vitamins, and the cholesterol in the yolk has no real impact on cholesterol metabolism in your body. Some evidence even shows that eggs may raise levels of HDL cholesterol in your body, which helps prevent heart disease. The protein and healthy fat combination in eggs will keep you full for longer and have been linked to fat loss, so like, it may not help you burn fat as expressly as some of these other fat burning foods, but eggs may help you lose weight overall. Bottom line, you can stop pretending you like egg whites.

6. Anything Fermented
Fermented foods, like sauerkraut, Kombucha, kimchi, kefir, tempeh, and miso are all foods that could majorly help your body burn fat. This comes back to the whole idea of the good bacteria in your gut. By improving your gut health, you help your digestion work better and boost your body's immunity. Nobody's promising that if you start drinking Kombrewcha you'll lose three pounds overnight, but these foods are super healthy for you and they just get your system working better, which could very likely help you lose fat, as long as you're not like, eating the sauerkraut on a hot dog. You're on your own in that case.

Images: Trang Doan / Pexels; Elle Hughes, Charisse Kenion, / Unsplash; Tiburi, Edwina MC / Pixabay;  Giphy (2)