What Is Optical Allyship? How To Go Beyond IG Posts
After Blackout Tuesday, you may have seen the term "optical allyship" making the rounds on social media, along with the phrase "it's a movement, not a moment." While it's great that Black Lives Matter is finally being accepted in the mainstream and talked about on a global scale, and showing solidarity (especially on social media) is important, it shouldn't be your only step toward working to be anti-racist. If you are committed to practicing allyship continually, it's important to learn what optical allyship is, why it's counterproductive, and how you can make sure you're going beyond the optics with your support.
So, What is Optical Allyship?
the internal work – interrogating, re-arranging, and re-educating our psyches and hearts – that's the hard work. that's the work nobody will hold you accountable for. do that too. do that most.

— kendra (@kendramorous) June 2, 2020
Latham Thomas, author of Own Your Glow, coined the term optical allyship, which she defines as "allyship that only serves at the surface level to platform the 'ally.'" She explains, "It makes a statement but doesn't go beneath the surface and is not aimed at breaking away from the systems of power that oppress." Basically, optical allyship is performative, serving the ally and not really digging deeper into understanding the systems of oppression so they can be dismantled. Optical allyship is mostly talk, when true allyship is about actions. As Roxane Gay explains in her article On Making Black Lives Matter, "The problem with allyship is that good intentions are not enough. Allyship offers a safe haven from harsh realities and the dirty work of creating change. It offers a comfortable distance that can be terribly unproductive." Separating yourself from optical allyship means not just posting a black square or Martin Luther King Jr. quote and calling it a day, it means taking on the struggle and fight as if it's your own and committing to doing the work—not just this week, but beyond. That is where the real allyship begins.
Optical Allyship In Action
One of the obvious examples of optical allyship is the influencers who use the protests and Black Lives Matter movement to up their IG aesthetics. While (I hope) we all know right off the bat why it's wrong to show up to a protest, take one picture, and then bounce, posting a protest thirst trap isn't the beginning and end of optical allyship.
Odds are that the majority of us have either posted an Instagram story or retweeted an image or statement recently in efforts to spread awareness and show support for the movement. If you are not also donating to causes supporting Black Lives Matter, supporting Black-owned businesses, reading up on Black history, and/or calling your representatives, then that Instagram story or retweet falls under optical allyship. In an Instagram post, Thomas explains, "True allyship is about building trust, being consistent, standing up, speaking up, recognizing the struggle and carrying some of the weight, it's using your God-given sense to figure some of this stuff out and not waiting for folks to tell you." 
I get it for those of you out there that want to support the movement but aren't sure how or what to do. I can also see how one might think that posting a black square is a contribution to the cause because you're showing solidarity, but in reality, ask yourself what is it really doing and who is it really serving? It is not enough to just post a quote or an image without any context or link out to reliable resources. That is when your allyship becomes performative and fails to break through to deeper levels in order to invoke real conversation and change. Really, it's time to put your money where your black square is. As Roxane Gay puts it, "We need people to use common sense to figure out how to participate in social justice." 
How To Be An Authentic Ally
So, how do you make the leap from optical allyship to being an authentic ally? Well for starters, just listen without feeling the need to insert yourself into the dialogue. As Thomas writes in her Instagram caption, "just because you're new to the work, doesn't mean it's new. Know that folks have been working all along and you're stepping into something already in play…get in where you fit in, take notes, bring resources, and acknowledge you have work to do." Especially as white people, one of the best things we can do (and it's so easy) is actually just shut up and listen. 
That doesn't mean you should never post on social media about Black Lives Matter—it just means be intentional about what you do post. Instead of just posting a square, see if you can post resources. Share organizations, educational materials, and places to donate. Share artwork by BIPOC illustrators and designers to amplify their voices.
View this post on Instagram
Systemic racism wasn't built in a day, and abolishing it won't happen in a few weeks, either. Continued ally support is essential in the battle against racism. Black lives matter today, they matter tomorrow, and they will continue to matter long after the protests subside. Being an ally is an ongoing commitment. I understand that this learning and these conversations can be uncomfortable, and change can be too, but when people are losing their lives, then it's time to get uncomfortable.
Yes, take action by educating yourself. Read books, watch documentaries—do that. Then go a step further by implementing your newfound knowledge into your everyday life, and by having discussions with people in your life about what you learned. This doesn't mean that you have to blow up and check your conservative aunt with soap opera-level dramatics at every family gathering, but you can still discourage and shut down any racist remarks, and help educate those who make them. Conversations lead to change, so they're worth having—comfortable or not. Amélie Lamont writes in The Guide To Allyship, "As an ally, you need to be willing to own your mistakes and be proactive in your education." Not to be cheesy, but every day is a new opportunity to do better. You can also continue your practice by following accounts that reinforce these ideologies, like Mireille Harper, who released a 10-step guide to achieving non-optical allyship. The resources are all there, so use them. Seriously, if you can take the time to learn how to bake sourdough bread, then you can take the time to learn how to be an ally.
How To Make Allyship Your Lifelong Priority
There's another level of allyship that goes beyond sharing resources, spending money, and having hard conversations with family members and friends. You may have heard the saying, "when you're accustomed to privilege, equality feels like oppression." This refers to how the actions that are necessary to truly dismantle systemic racism might appear to mean putting yourself or your white peers at a seeming disadvantage in some parts of your life.
The difference between these types of opportunities for allyship, versus what we've been witnessing happening on social media over the past few weeks, is that we don't always get to choose when these opportunities arise for us, and they may appear as harder choices than simply choosing to buy from a Black-owned brand. But recognizing these opportunities to stand up and speak up, and then doing it, is what makes allyship authentic vs. performative.
For example, let's say you're a parent at a school district meeting. Pretend it's a great school district, the type where parents will pay higher property taxes to give their children the chance to attend. Now pretend that the racial or socioeconomic makeup is one that doesn't allow for a lot of diversity. Back to the hypothetical school board meeting: the issue at hand is trying to more actively integrate the school district, and that might be coded as "adding more multi-family homes to the district" aka zoning apartments. If you grew up in certain elitist suburbs, you know that there will be individuals who resist these changes, chalking it up to things like "property values" and the "school district ranking." In this scenario, focusing on these latter things would indicate that someone prioritizes maintaining one's own advantages (building wealth, premium education for their children) rather than allowing children of color to access these advantages as well. A commitment to being anti-racist can sometimes mean dismantling those types of perceived "disadvantages" for the sake of the greater good.
This is just one of the thousands of examples of systemic racism that persist in our society in ways that white people can choose to ignore and uphold. They're also not the types of choices that we're faced with every day, and perhaps these types of choices have previously been consciously uncoupled from race in the minds of most white people. The goal is to be able to see what issues in society have been insidiously shaped by racist policies, so that when we're presented with an opportunity to actually do something about them, we've been educated and are committed enough to make the right choice, even if they might take away some of the advantages we've enjoyed in the past.
Images: Life Matters / Pexels; Kendra Austin / Instagram; Off Campus / Instagram; Shana Hezavehi / Instagram
What Your Major Says About You
Whether you're a bright-eyed freshman, have switched your major three times so far this semester, or you're a junior and somehow still not quite sure what you want to study, let me assure you that the major you pick will impact your entire life in a pretty big way. Freshmen especially, listen up: your major also plays a big part in who your friends will be, what your college experience will feel like, and how other students perceive you. Will it matter after you graduate in terms of getting jobs? Not one bit. But it will affect your social life, which is the most important part of college, obviously.
Your major is also extremely important because if you're gonna be hungover in your 8am, you might as well enjoy the other 200 people in the lecture and have some interest in the class material you're so desperately trying to retain. For those of us not sitting in that lecture hall (we stop making that mistake after one semester), and eager freshmen alike, here's what your major says about you. 
Accounting And/Or Finance 
I hooked up with a guy with this major who freaked out at me when I asked what made his major so hard. Apparently asking him how entering numbers into a spreadsheet qualified as a legitimate course of study wasn't the most supportive thing to do in that moment, but whatever. 
If you're majoring in Accounting or Finance, you're probably super ambitious and a douchebag on the side. Honestly, I don't doubt you're better at money management than me, so please hit me up if you want to teach me how to save money or if you know what the f*ck a 401(k) is. 
Looking into the future, you're probably super pumped for the Wall Street summer internship your sister's boyfriend promised to score for you, but spoiler alert: you're really doing coffee runs and won't see any daylight, so have fun with that, sweetheart! You're likely planning on being the betchy version of Jordan Belfort (you know, without all those legal issues and hopefully no quaaludes) but in reality, you're looking at a sh*t ton of time spent networking with your dad's friends. 
Basically, if you're delving into a business school major, be prepared to both work and schmooze your ass off each year to get ahead of the rest of your class. Unless of course, you quit after freshman year to become a comm major. No shade.
Economics 
View this post on Instagram
It's bizarre to me that econ majors and business majors have beef. Guess what? You're all smart, you're all annoying as hell, and you're all equally as likely to either fail miserably or become the next Bill Gates!! You watch Bloomberg and read The Wall Street Journal while scrolling through that weird stock app I can't delete from my iPhone. Obviously, you can also recite the entirety of The Big Short from memory. 
I wouldn't call myself an econ expert, so I'm not really positive how people actually apply their economics degree post-grad. You're probably planning on going to even more school and becoming a professor or one of those try-hard ~cool~ high school econ teachers or something. 
Political Science 
Due to the interesting state of America today, these students are multiplying overnight. Poli-sci students tend to fall on opposite ends of the ideological spectrum. Whether sporting MAGA hats with no shame or constantly skipping classes to protest whatever dumb sh*t came out of the White House this week, poli-sci wins as the most entertaining spectator sport. 
If you have absolutely zero chill, did Speech and Debate in high school, and enjoy starting sh*t with your friends, this is the perfect major for you! You get a thrill from causing fights after four vodka sodas, especially when the bartender tries charging you $9 for the fifth. Just remember, "God Brad, don't you realize you're contributing to capitalist oppression!?" isn't as good of an argument as you think when you're slurring your words… especially when the bartender's name is actually Ryan. 
If this is your major, you're probably planning on going to law school and becoming the next Liz Warren or RBG (good luck). Just remember, we can't all be Elle Woods, but it doesn't hurt to try. 
Communication
Comm classes are the 21st century version of Noah's f*cking Ark. Seriously, where else can you find a clueless fifth-year senior, a hungover VSCO girl, and a future Pulitzer Prize winner learning the same thing? 
If you're a comm major, you're either constantly asking your friend which filter matches your Insta feed aesthetic or talking about the depressing state of journalism today. Comm majors are constantly posting on social media, remain the go-to friend for caption ideas, and daydream of comparisons to Walter Cronkite as you host your own MSNBC (or Fox News) show. 
In any case, your parents are paying a sh*t-ton for you to spend four years lazily plagiarizing Wikipedia articles about famous journalists to graduate with a fairly limited amount of hard skills. Congrats.  
Philosophy
View this post on Instagram
If you're uptight, a stoner, and have a bit of a superiority complex, philosophy is the perfect major for you. 
When you come home for the holidays and your family asks about school, some of them shake their heads in disappointment, some of them have no further questions, and there's a good chance your uncle will start an argument with you about Descartes' theory of the self. 
I'm minoring in philosophy and TBH I'm not even really sure what else there is to do with a philosophy degree aside from becoming a professor or marrying rich. 
Theatre 
literally no one:

musical theater kids: https://t.co/PwPukUbzt5

— sadie (@sadieoleary) November 27, 2018
These are the students you hear belting everything from Phantom of the Opera to Wicked to Mean Girls in the communal bathroom. Theatre kids are basically real-life versions of the cast of Glee (during those awkward seasons that followed them to college). 
If you're overdramatic, kind of narcissistic, and not completely tone-deaf, a theatre major will feel like home. You probably continued taking dance classes and doing community theatre loooong after your friends outgrew their second-grade tutus. 
When you aren't loudly singing in your dorm during midterms (please quiet the f*ck down, practice rooms exist for a reason), you're inviting your entire Facebook friends list to the event for your upcoming class performance of Guys and Dolls. You'll most likely move to New York or LA after graduation and spend the foreseeable future in endless auditions. Good luck with that—the whole world's your stage, betch! 
Engineering/Architecture
I know, I know, these majors are actually really different, but they both, like, do math and build a lot of stuff so they're grouped together in my mind.
The only real interaction I've had with an architecture student is the time I wasn't watching where I was walking and almost knocked their model building over. Architecture and engineering both seem really challenging, and since I've never met either type of student, I can only assume they spend even more time studying than pre-med students. 
If you're studying one of these subjects, you probably played with Legos until you were 17 and did really well in subjects like geometry and physics. Since so much of your time is spent studying and building stuff, you'd better hope you can at least tolerate your classmates. From what I've heard, engineering and architecture students "like, basically live in lab/studio," so you have to be cool with becoming a hermit. 
Everything I know about architecture is based on Ted Mosby (so I wouldn't exactly call myself the most credible source on this one), but maybe you're aspiring to design a skyscraper in NYC one day! We love #betchesinSTEM.  
Pre-Med 
While this isn't technically an actual major, it might as well be. I'm not quite sure what pre-med students even learn about or how they do it, but anyone who has enough motivation to make it through a semester (or two) of organic chem is a better person than me. 
You probably picked your major after binging Grey's Anatomy for the first time. If you're in pre-med, you have to be very patient (lol). You can expect to spend countless hours in labs and in the library. When you finally surface from the black hole of studying to go out, you'll get stuck with whoever ends up puking, because "med school." Your friends will probably treat you like f*cking WebMD any time they have a weird sneezing fit and tell you vivid details of alllll of their symptoms when they think they have a UTI. 
Pre-med students should look forward to pretty much spending the rest of their young lives in school and residencies before finally starting to make enough money to pull themselves out of student debt. 
Nursing 
If you're just as smart as your pre-med friends (but with more people skills) and aren't into the idea of a decade of school and a ton of student debt, you should consider nursing! You get to take a bunch of science classes, learn all about medicines and the minor difference between them, and in my experience, nurses are a hell of a lot more fun to be around and they get cooler scrubs. Then when you graduate, you get to do a bunch of the same stuff doctors do, only you get way less credit, are paid less, and treated worse! Exciting!
Psychology 
Spoiler Alert: Getting a 5 on your AP psych class does NOT mean you'll automatically be good at college psych, trust me. 
If you're majoring in psychology, you're probably not into letting your friend use Mercury in Retrograde as a reason to justify hooking up with their ex. It's more likely that you'll end up psychoanalyzing how their repressed experiences cause low self-esteem (which is such a buzzkill). 
While some people who graduate with a psych major end up doing something totally unrelated, a lot of psych majors are truly doing the Lord's work and making bank for it. Who else is willing to listen to the problems of bougie millennials and suburban moms whose kids have left for college? 
Education 
What's good, future Ms. Frizzle? Education majors often get a bad rap, but we all know that teaching is literally one of the most important professions ever. 
Education programs are home to washed-up camp counselors, patient saints, and future trophy wives alike. If you can tolerate anyone from children to pretentious sorority girls, like coloring, and basically own stock in Michael's and OfficeMax for all the money you spend on school supplies, this is the field for you. 
Who knows, you might go on to be a kick-ass teacher and change some lives, Dead Poets Society style. If so, try reeeeally hard not to be one of those assholes who takes a full school year to grade papers because if it's not abundantly clear by the 15 emails you've gotten asking for an update, students hate that sh*t. 
There are literally hundreds of majors (and minors) you can choose to study, and this list just scratches the surface. If you've somehow gone through the whole course catalog and still don't vibe with any of the options, your next steps will probably be to either create an individualized major or re-evaluate if college is actually right for you. 
No matter what you decide to do with the next four-plus years of your youth, be prepared to spend at least half of that time pushing your body to its absolute limits in every way: hygiene (yes bitch, you do smell after spending three straight nights in the library), coffee intake ("is six espresso shots too many? I have a final tomorrow"), and stress levels, because you're in for a wild ride. Good luck.
Images: kaboompics/Pixabay; off campus / Instagram (2); sadieoleary / Twitter
6 Sex Terms You've Probably Never Heard Before, Defined
The internet has given us many gifts. From memes to comment sections on articles, it is a trash heap treasure trove where virtual strangers can exchange ideas and express their creativity freely. One amusing manifestation of this is the ever-changing landscape of sex terms. Admittedly, it can be hard to stay updated on the lingo, so I've compiled a list of sex terms I've come across online that I had to look up. It's tough admitting that I don't, in fact, know everything, but admission is the first step toward recovery. My name is Betchina George and I'm a vanilla.
1. Skoliosexual

A skoliosexual is defined as someone who is "primarily sexually, romantically, and/or aesthetically attracted to genderqueer, transgender, and/or non-binary people." It's important to clarify that someone identifying as a skoliosexual is not necessarily attracted to the same set or subset of people as another skoliosexual. And some people exhibiting skoliosexual tendencies may not prefer to be labeled as such.
2. Shrimping

Not your New England uncle's favorite pastime (or maybe it is, I don't know your uncle), shrimping is described by our friends at Urban Dictionary as the sexual act of sucking on another person's toes. In other words, a typical Tuesday night for Jax Taylor. And with that, my biennial voyage to Red Lobster for Endless Shrimp™ will never be the same again.
3. Cucking

Cucking (short for cuckholding), is an offshoot of swinging most commonly thought of as a kink whereby one partner gets off on watching the other engage in sexual acts with another person. However, this is just one iteration of cucking. In some cases, the cuck (the partner not engaging in sex or other acts with a third party) may not actually be in the room when things go down. Instead, the cuck may prefer that their partner describe to them later in detail what happened with the other party, which the cuck finds arousing.
4. Frottage

Apparently not a sweet nickname for Harry and Meghan's new digs. Despite the sophisticated sounding name, the meaning is far more juvenile in that it is something I was more likely to do in college middle or high school than now: dry humping. Do adult humans who are old enough to drink in the United States and not on their periods actually choose to do this? I'm genuinely curious. No judgment though, whatever rubs you the right way. Sorry, I had to.
5. Incel

OK, so this isn't technically a sex term per se, but it's used frequently enough that I thought it merited inclusion on this list. An incel (short for "involuntary celibate") is defined via Urban Dictionary as "a person (usually male) who has a horrible personality and treats women like sexual objects and thinks his lack of a sex life comes from being 'ugly' when its really just his blatant sexism and terrible attitude." In other words, the entitled jerk on your apps who calls you an "ugly bitch" right after you ignore and/or reject his gross attempt at an opening line. Hard pass.
6. Queening

To put it simply, queening (which can also be known as kinging) is the act of sitting on someone's face to facilitate oral (or in some cases anal) sex. Because, let's face it, we're all busy people and sometimes it's best to just get right to the point. Do, however, make sure that your partner is on board with such literal in-your-face behavior. Consent, like cash, is king queen.
Hopefully, you have come away from this article learning something new (and feel free to add "queening" and "frottage" to your dating app bio). If not, and you already knew all of these, 1. bragging isn't cute and 2. please bless us with your knowledge of other sex terms in the comments.
Images: Hop Design / Unsplash; Giphy (5)
Blac Chyna Is Going To Harvard
Now that we've all had time to process the news that Kim Kardashian is going to be a lawyer, it's time to keep the focus on education going. This time, the news is about one of my favorite former members of the Kardashian circle, Blac Chyna. It was just a few short years ago that Rob's relationship with Blac Chyna fell apart, and her future has been kind of uncertain since then. There have been lawsuits, a custody battle, and more FashionNova #spon than I can wrap my head around, but Blac Chyna is finally turning a corner. This week, she announced that she's going to Harvard. Okay, like, kind of.
Earlier this week, Blac Chyna was accepted to a Business Analytics course at Harvard Business School, which basically means she's the next Elle Woods. In reality, the class is a lot less legit than it sounds. It's an online course, so Chyna will be able to take her tests from the comfort of her own home, in between sponcon photoshoots. The class lasts eight weeks, and it's apparently a total workload of 40 hours which is…like nothing? TMZ is trying to say that it's a "substantial time investment," but I'm not buying it. 40 hours over two months is only five hours a week, which is honestly less time than I spend trying to think of excuses to call out of work.
According to the official course description, here's what Blac Chyna can expect to learn through the grueling class:
-Recognize trends, detect outliers, and summarize data sets.
-Analyze relationships between variables. Develop and test hypotheses.
-Craft sound survey questions and draw conclusions from population samples.
-Implement regression analysis and other analytical techniques in Excel.
Blac Chyna when she's asked to memorize Excel formulas:

I can't wait to see Chyna put her survey-crafting skills to use with the new Insta Story quizzes! Basically, this class sounds like an extremely general intro to statistics, but really, "analyze relationships between variables" could mean pretty much anything. Blac Chyna told TMZ that "School is going to help take things up a couple of notches," and I'm excited to see her make a chart of what those "couple of notches" look like.
After receiving the news about her (online) Harvard acceptance, Blac Chyna posted the following message to Instagram:
I totally get where Blac Chyna is coming from when she talks about the hate she's received in the media over the past few years. Being in the public eye isn't easy, and she's been through a lot. But she lost me at "Looking Back at A lot of my actions, I'm reflecting and realizing that confusion is a serious thing." Um…what? This sounds like an extremely word-salady way of not taking responsibility for your actions. I just…ugh.
Really though, my least favorite part of this notes app manifesto is the whole "Blac Chyna doesn't define Angela White" bullsh*t. There's nothing more annoying than when famous people act like their alter egos are separate humans. Girl, you ARE Blac Chyna. I'm all about the positive energy, but this is too damn much.
In case you haven't been keeping up with the latest news in the Blac Chyna Angela White Cinematic Universe, things haven't been all great lately. Even though she and Rob finally settled their custody issues, Chyna is still facing some other legal problems. Just last week, she was sued by her former landlord, who says that she left the house five months before the end of her lease, and just stopped paying rent. She allegedly owes almost $50,000 in rent and fees, but I'm glad she's using that money for an online class about surveys instead.
While writing this, I've been reintroduced to the thotty wonderland that is Blac Chyna's Instagram, and boy is it a treat. Basically, 80% of her posts are FashionNova ads that look like they were taken in a warehouse, then put through 47 filters. But really, the best part is the nonsensical captions.
Act as if it was, and it will be!!! Besides the fact that this statement is inherently false, I really love it when Insta-thots put motivational captions on their thirst traps. Like, sure talk about chasing dreams while you're squatting in a blazer-dress, sure. Here's another one of my recent favorites:
Much like Blac Chyna, I also wish common sense was more common. Deep!
Blac Chyna's Harvard class starts at the end of May, so I'm sure we can look forward to her incorporating business analytics into her Instagram thirst traps in new and exciting ways. Like, maybe she'll be analyzing a spreadsheet while she sits on a swing, or something like that. Think this, but more technical:
This is the content I live for. I'm also really hoping that after Kim passes the bar (fingers crossed) she and Blac Chyna get a show together where they just wander around an office not knowing what to do. It's what we deserve.
Images: Shutterstock; Giphy; @blacchyna / Instagram (4)
The College Admissions Scandal Isn't Funny, It's Infuriating
By now we are all far too familiar with the college admissions scandal involving Desperate Housewive's Felicity Huffman and Full House's Lori Loughlin (aka Aunt Becky). The two celebs were brutally and rightfully roasted, shots were fired, memes were made, and the trash fire that is the internet blazed on (though perhaps with one less YouTuber.)
Just as a quick recap: the FBI (yes, that one) recently indicted 40 people in a huge college admissions scam, where parents were doing things like paying to bolster their children's SAT scores. You know, just some casual fraud. And while the whole story blew up due to celebrity involvement and some absolutely clickworthy details (like how photos were edited to make it look like these kids were on sports teams that they were not lololol), the entire mess is actually less scandalous than it is inevitable. How? Great Q. Because what happened here is one of the many outcomes of a broken education system in the US, where those with privilege and money are able to create opportunities for themselves that others aren't. It's a system that rewards people with money and leaves behind people who dare to be born without it. And yes, what happened in this "scandal" is hella illegal, but the most disturbing part about it is that it's not that far off from how the legal system works. Moreover, the fact that these people thought in their right minds that they could use their money to get their kids into colleges over other hardworking students makes sense when you look at how we have built the college admission process.
did any one else just assume that celebrities paid to get their kids into college and are shocked that it's actually illegal

— jaboukie (@jaboukie) March 12, 2019
So let's take a deeper look at just how fucked up this system (take a shot every time I say system) is, shall we? From the moment parents enter their children into school, privilege already plays a major role. Areas where people with higher incomes live have more money to fund their schools, and therefore better education systems. Race comes into play here as well, as many non-white neighborhoods lack the resources to build up their schools.In just one recent example of how this works, the New York Times ran an exposé on NYC's "elite" high schools (think Gossip Girl) and found that of nearly 900 students admitted to Stuyvesant High School this year, only seven of those students were black. Seven. So, from day one, being white and being wealthy will put you ahead. That is lé fucked.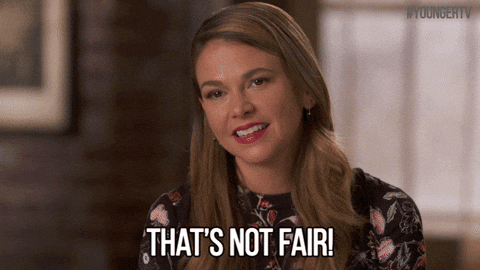 By the time kids get to a college application, the system has already made the playing field uneven. Those who could afford to live in a district with good schools are more ready to move on to college. And then there's college tuition. As you may have heard from Bernie Sanders and/or me at the bar the day my loan payment is due, college tuition is BULLSH*T. The tuition is too damn high! And aside from college costing an insurmountable amount of money for most families, it also creates a situation where people who come from lower income families cannot attend college. And if you're thinking, "Well they can just get a scholarship! or financial aid!" think again. Scholarships and financial aid are not things you can just *get.* You have to work really damn hard for them and neither are guaranteed, so this again creates a system where those who are less fortunate literally have to work harder to get the things that rich or well off people get while making YouTube videos in their dorm. Again, that is…loco.

And now we arrive at the topic of filthy rich parents using their money to get their kids into schools they wouldn't be able to otherwise attend. It's no secret that certain families that hold legacies at Ivy League schools often make large donations, and because of that the schools let their kids in, even when they are not smart enough. *cough George W. Bush cough*  Yet again, wealth and privilege are two of the requirements when it comes to easily getting into good colleges. And where there's wealth and privilege, there's racial injustice as well. And that's not to say that people of color are never wealthy (of course that is not true), it's just the reality that white people created a system where we are on top, and because of that it's much easier for us to obtain/maintain privilege.
When you take all of this into account, it actually isn't that wild that these celebrities assumed they could pay their kids' ways into college. That's how the whole system works; if you have money, you have power, and you have the right to get what you want. I mean, what they did was completely heinous and illegal, and the photoshopping part is objectively hilarious, but it's really not that far off from what is legally allowed. In the end, what's the difference between paying $500k to a fake SAT proctor and paying $500k to put your name on a building if the result is the same? You get your C-student into an Ivy, while hardworking, exceptional students struggle to afford their safety school. America's education system is broken, just like the criminal justice system, and just like many others in this country. They need reworking and revolutionizing, and the time is now. Wow, am I…running for president?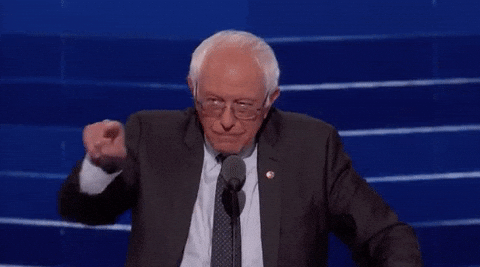 Heads up, you need to keep up with the news. It's not cute anymore. That's why we've created a 5x weekly newsletter called The 'Sup that will explain all the news of the week in a hilarious af way. Because if we weren't laughing, we'd be crying. Sign up for The 'Sup now!
Images: Giphy (3), Twitter (2)
All The Dumbest Quotes From Betsy DeVos' Embarrassing '60 Minutes' Interview
If you're looking for some quality comedic content, I suggest watching the 60 Minutes interview with Betsy DeVos. She looks legit terrified the entire time. Like, it looks as though she is internally screaming, "OH GOD, I HOPE SHE DOESN'T ASK ME ANYTHING ABOUT SCHOOLS." Unfortunately for DeVos, she does get asked about schools. And as the Secretary of Education, she doesn't seem to know how schools work. Word.
In case you don't have time to watch Betsy DeVos not know how to answer basic questions about education, we have picked out the dumbest quotes from the interview. Talking shit, it's what we do best. Once you're done laughing at how dumb DeVos sounds in this interview, remember that children's lives are in her hands and her complete incompetence has real and devastating effects. Sorry, the truth hurts.
MAGA people are rushing to defend Betsy DeVos, who was ambushed by unfair gotcha questions like "Have you ever been in a cafeteria" and "What do you think schools do"

— Patrick Monahan (@pattymo) March 12, 2018
"We need to be investing in students, not in school buildings."
Is her plan to hand out cash to the students individually? No more renovations for these school buildings, let's get these kids some cash! What did school buildings ever to do DeVos? Does she realize the students that she wants to invest in need the buildings in order to go to school? Does she know what a school building is? These are the Q's that I have.
"There are certainly lots of pockets where schools are doing well."
Ah yes, the pockets. Love a good pocket. Love visiting a pocket and being like, "hey, schools seem to be doing well here." As long as there are pockets where schools are doing well, DeVos has clearly done her job. Lol jk she sucks.
Sec. of Education Betsy DeVos struggles to answer fairly basic questions on school performance on 60 Minutes pic.twitter.com/lFVq3USwUW

— Axios (@axios) March 12, 2018
"I hesitate to talk about schools in general because schools are made up of individual students attending them."
Why talk about schools as a whole when there are real live, individual students attending them? Sure, the entire education system seems to be failing. But tbh Jimmy, a student, is thriving. He made varsity and got his braces off. Things are going really great for him. Let's talk about Jimmy. In all honesty though, the Secretary of Education said that she doesn't want to talk about schools in general. Cool, cool, cool. Great answer.
"I have not — I have not — I  have not intentionally visited schools that are underperforming."
Is this a remix? Is Betsy DeVos having a stroke? Has she visited underperforming schools on accident? Wtf is happening here?
This entire mess of an answer about institutional racism:
Will Secretary DeVos scrap Obama-era "guidance on how to identify, avoid, and remedy discriminatory discipline"? "We're studying it carefully," the secretary tells 60 Minutes. pic.twitter.com/RiQKyenMQB

— 60 Minutes (@60Minutes) March 11, 2018
I just. I can't.
"I don't know."
This one was used as an answer throughout the entire interview. Very reassuring. The best was when she was being asked about sexual assault on campuses, and if she believed there were as many false accusations as there are actual rapes. DeVos did not know if the numbers were the same. That's cool, because there are literally peer reviewed studies on this subject available online. It's your job to know, Betsy. Read a fucking article.
Heads up, you need to keep up with the news. It's not cute anymore. That's why we've created a 5x weekly newsletter called The 'Sup that will explain all the news of the week in a hilarious af way. Because if we weren't laughing, we'd be crying. Sign up for The 'Sup now!
Rihanna Just Struck A Deal With France Because There's Nothing She Can't Do
Rihanna is a living goddess, sent down from the heavens to bestow unto us the gifts of Fenty Beauty and an endless supply of straight bangers (if your inner middle school self doesn't still get hype over "Pon de Replay," you're wrong). In addition to making us fully support a completely see-through curtain of diamonds as an acceptable outfit choice, she also spends her free time being a major advocate for important causes. Truly, we are unworthy.

Our noble Barbadian queen just made the world a better place again by striking a deal with France to fund education for girls in underprivileged countries. Rihanna is an ambassador of the Global Partnership for Education, and took her passionate work work work work work ethic to their Financing Conference in Dakar earlier this month. There, she was spotted hugging French President Emmanuel Macron because what person in their right mind would pass up getting to touch Rihanna's gorgeous, talented, (presumably) silky smooth skin?!

Actual footage of Macron seeing Rihanna in person
JK, the real reason for their hug was Macron's agreement to Ri's personal request that France would contribute $250 million to the GPE's efforts to ensure that every child receives a basic education – especially those living in the poorest conditions and in countries plagued by conflict and tragedy. Rihanna tweeted her thanks at Macron, who responded, "When I commit, I deliver. @Rihanna, France will always side with those fighting for a better education. #FundEducation" Honestly, I feel you, Macron. If RiRi @-ed me on Twitter I would literally empty my pockets at her feet and beg her to take my next 10 paychecks, my rent, and my first-born child.

Rihanna ended her conference visit with a speech, saying, "We've made tremendous progress today, but of course, our work is never done. We have a long way to go. This is a fight we're never gonna stop fighting until every boy and every girl has access to education." Pop a quick drum beat and a feature from Drake under that and we have our next Top 40 single.
Seriously though, if the same woman who has been nominated for 33 Grammys can get entire foreign nations to hand her money for noble causes, we might have to reevaluate where we need her most and use this power for even more good. You heard it here first…#Rihanna2020

Heads up, you need to keep up with the news. It's not cute anymore. That's why we've created a 5x weekly newsletter called The 'Sup that will explain all the news of the week in a hilarious af way. Because if we weren't laughing, we'd be crying. Sign up for The 'Sup now!