The Betches' Bachelorette Guide To Boston
Presented by Moxy Hotels
Planning sucks, and bachelorette parties are a ton of work. So we're taking all the guesswork out of planning a bachelorette party by breaking down top bachelorette destinations. Our guides will tell you where to stay, eat, party, how to get around, and give you a sample itinerary that you can follow. You're welcome.
Bahstan really comes alive in the fall, and so will you, on an all-out bachelorette trip to B-Town. If you reside in Mass, are from the East Coast, or just looking to party it up on the cheap(er) side and not travel far, Beantown is a solid destination. It's an easy year-round quick getaway. It's a walkable metropolis packed with quality hotels, restaurants, bars, and adorable cobblestone streets made for impromptu photoshoots. Believe it or not, you can actually have a pretty epic girls trip in the "City of Champions".
Boston's really been stepping up their hospitality, culinary, and nightlife game, and they even have a Vegas-style club where you can order bottle service, dance on tables, and act like girls gone wild until you're kicked out it's time to go home. If you can avoid behaving like a total Masshole, or getting into any fights with the ones who live there, kudos to you. You're not trying to get arrested on your last fling before the ring and have to dip into the wedding fund for bail money. With that being said, here's our ultimate bachelorette guide to Boston.
How To Get There
Good news: Boston is a major city, so it's not terribly hard to get to. The main airport is Logan if you happen to be flying from the South or the West Coast, but if you're on the East Coast, you can also drive, train, or a take a boozy limo because it's your bach and you do what you want! From NYC you're looking at a 4+ hour drive and honestly around the same number of hours if you take Amtrak, but then you can pregame, so there's that. Flying will get you to Beantown in closer to 2 hours from NYC, or approximately 5.5 hours from LA. Boston is wicked cheap to get to, though. Flights from the East Coast can be found for as low as $180 (or $130 from NYC), but pro tip—book on a Sunday. It's the new Tuesday for bookings.
How To Get Around
Boston is a walking city, but obviously Uber, Lyft, and cabs work when your heels don't. Another way to get around is the good ol' T. The T isn't as gross as the subway in NYC and for some places you go to, can take shorter than driving. Another option we love? Safr, which is ridesharing for women, by women. So if you don't feel like dealing with some aggro Uber driver canceling on you when you're just trying to find him when you're blackout drunk, go with a local Boston lady who will probably compliment you on your outfit and give your squad tips on where to party all weekend. They're friendly like that.
Where To Stay
The Moxy: The Moxy Boston Downtown just opened recently, and it's already the place to stay if you want to take advantage of everything Boston has to offer. The location could not be more central, but tbh, you might not even want to leave the hotel. Between the industrial chic design and theatrical decor, the space is a perfect backdrop for your insta. There's even a  food-truck themed photo booth (because, why not?) if your phone is a dinosaur like mine. This is obviously ideal, because you know you'll hate the pics you drunkenly decided would be so cute at the club after a few too many. Like all Moxy Hotels, the party starts as soon as you step into the lobby, with a video wall, games, and a free cocktail when you check-in.
The Moxy's bar, appropriately named Bar Moxy, is the perfect spot to kick off your night with their signature "Got Moxy" cocktail. By the time you're ready to hit the town, the hotel's location is walking distance from all of the best food and drink in Downtown Boston. And the Moxy also has you covered when you come back at the end of the night, with 24-hour grab and go food inside the hotel. They even have a special "Curtain Call" menu, filled with dunchie delights, because the Moxy gets it. God bless. Combined with brand-new rooms with amazing floor-to-ceiling views, your bach group is going to be very happy with this hotel choice.
Hotel Commonwealth: This popular hotel is basically on top of Fenway Stadium, so it's prime turf for taking in games and being in close proximity to all the Kenmore Square bars. It has a craft cocktail bar onsite, The Hawthorne, where you'll start and end your nights. Two in-house restaurants (Eastern Standard and Island Creek Oyster Bar) also round out the list of perks, because when you're hungover you need to be as close as humanly possible to mimosas and eggs Benedict. As for the digs, their posh 245 guest rooms, suites, and signature suites are spacious AF.
XV Beacon: The tone at XV Beacon Hotel is swankkky, so if you and your crew are some fancy betches, this is where you wanna check in. Important info to note: they allow pets for any four-legged friends looking to jump on the party bandwagon; they have a chic little roof where popping bottles of bubbly is a must; and in-house restaurant, Mooo, is next-level for group dinners. 
The Godfrey Hotel Boston: The Godfrey is super cute and all, but let's be serious—we check in here for the Bloody Mary bar cart that comes to your room at the press of a button. You can even request meeting rooms like the Blake and Amory as "get-ready" rooms, to blast single lady anthems and discuss life important outfit decisions before you hit the town. For dinner, there's RUKA Restobar downstairs, which is a Peruvian-Japanese option that brings Nikkei cuisine to the forefront in Boston. 
Where To Eat
Real talk: Bach'ing in Boston isn't like bach'ing in the Hamptons, Miami, or on some tropical island where you have to be in a swimsuit 24/7, so get ready to eat. A lot.
Fox & The Knife: James Beard award-winning chef Karen Akunowicz of Myers+Chang fame just opened her first solo venture, and it's pretty badass. It's been named one of 2019's Best New Restaurants by Food & Wine and Eater, so reserve in advance, if you want any shot in hell of getting in. As for the eats, there's this cheese-stuffed focaccia situation on the menu that will make your life complete and pastas so good, you run the risk of getting into a fight with the bride over the last bite.
Uni: If you've ever wanted to nom on crazy good sushi while listening to old-school rap, go here. It doesn't get any better than Uni in Boston, and they offer a private dining room so you can be as debaucherous as you want. JK, keep it together—you want to be semi-sober to enjoy this. P.S. There's late-night ramen on the menu, so keep that knowledge in your back pocket when the munchies strike.
Peregrine: Peregrine is the new kid on the block—the Beacon Hill block, to be exact—in The Whitney Hotel. It's basically a love letter to the Italian islands of Sardinia and Sicily and their ever-changing seasonal menu highlights include: pappardelle with braised chicken, steak with addictive rosemary garlic potatoes, and Catalonian tomato bread—just like nonna used to make. Oh, and you'll want to get dressed up.
Myers+Chang: This upscale Chinese, Taiwanese, Korean, Asian-ish restaurant is uberrrrr famous and has a million dim sum-y things on the menu that you'll dream about long after you crawl back home in a post-bender state. Word to the wise, though: maybe save this one for last and wear stretchy pants unless you want to be in a food coma after.
Bistro du Midi: The posh 10-year-old French bistro overlooks the Boston Public Gardens and has Le Bernardin alum chef Robert Sisca manning the kitchen, so you know it's legit. Go for a ladies who boozy brunch moment when you want to #roséallday and devour platters of charcuterie, flatbread, and pommes frites. I mean, a bachelorette party is technically a food tour, right?
Committee Ouzeri + Bar: Nestled in the middle of the Seaport district is Committee, a modern Greek ouzeria GEM that's become a go-to hang in the past few years. It's spacious (aka good for groups), has delish mezze, and some of the most insane craft cocktails in the city. Evidence below.
Toro Boston: This big deal Boston tapas restaurant brings the Barcelona vibes HARD, thanks to celeb chefs Ken Oringer and Jamie Biss. And seriously, what's better than bonding over a massive pan of paella? Not a whole lot TBH.
SRV: Come for the cicchetti (Venetian-style) bar snacks; stay for the $45 tasting menu that's one of the best in the city. You'll feel like you're in Italy, only you're in Boston, most likely on your 4th glass of vino, licking your plate clean.
Barking Crab: This place is an institution in Boston, parked below The Envoy Hotel, smack dab on the waterfront. An "urban seafood shack", if you will. Slam a few oyster shooters, then order the New England-style clambake, plus all the lobster rolls, chowdah, and fried fish sandwiches that will fit on the table.
Where To Party
Boston loves themselves some moody, brooding, speakeasy lairs. Among the winners are Wink & Nod, Yvonne's, and Lion's Tail, so be sure to allow yourself plenty of time to hit them all before passing out. Then there are the other tried-and-true fan favorites and one very Vegas-y club.
Alibi at The Liberty Hotel: Any bar that looks like a jail cell, is housed in a former prison, and has mug shots of Lindsay Lohan and Frank Sinatra hanging on the walls is our kind of place.
The Pour House: The Pour House is literally the greatest place on earth—when you're in Boston. In fact, Rihanna visited THREE f-ing times on her last trip to Boston! The Po Ho is as neighborhood watering hole as it gets, but in that special "I can't wait to go back" kind of way.
Lookout Rooftop and Bar: Their catch phrase says it all: Today's forecast: 100% chance of cocktails. The best rooftop views in Boston, a cool kids kinda crowd, and heated igloos (in the winter) made for imbibing, while getting that high-performing content for the 'gram. Need we say more?
Yvonne's: You can't go to Boston and not go to Yvonne's. It's a rite of passage. Located in the former Locke-Ober space, this sexy supper club flows from dinner, to drinks, to lounging and their menu is all about the sharable plates. Prepare to spend all night here and LOVE IT.
The Hawthorne: The Hawthorne's curated cocktail menu is filled with wild concoctions, thanks to mixologist wizard Jackson Cannon. So getting the bride toasted from off-the-cuff libations and rare cognacs, mezcals, and well-aged rums is par for the course. Be sure to hit up Swizzle Sundays or Sunday Sips, depending on the season. It gets lit.
The Grand: The Grand is Boston's version of a Vegas nightclub. Drawing international DJ talent and names like Tiësto, Aoki, Hardwell, R3HAB, Marshmello, etc., it's worth a stop on your bach weekend. Grab your girls and get yourself a table because once the bottle service starts following, you're going to want to keep partying all night. Or at least until 2am. when the bars shut down. COME ON, BOSTON.
Friday, Day 1
Pro Tip: Make Friday your city day for shopping, doing touristy stuff, etc. You ain't got time for that on Sat.
Swing by the hotel, drop your stuff off, and hit the bar at the Moxy for the first of many rounds of the weekend. Pro tip: Bar Moxy's "French Spritz" is super tasty and light enough to fend off any mini-hangovers in the afternoon.

Make your way over to the Newbs (Newbury Street)/Boylston St. for shopping with a side of lunch. Top spots include: Parish Cafe, Stephanie's On Newbury, Pour House DUH (Rih loves the wings), and Lolita Back Bay.
Get the bride toasted at lunch, then go drive an amphibious vehicle through the water. No really, this is a thing here. Boston Duck Tours are land-meets-water historical tours of Boston in replica World War II vehicles that look (sorta) like ducks. And they're basically asking for wasted bachelorette groups to be on board, since all you do is scream QUACK QUACK at innocent people the whole time.
Chill at the hotel, try to nap, then pop bottles and let the glam begin.
Work the Seaport circuit via dinner/drinks at Committee and Lookout Rooftop.
Party at Grand like it's your job, then collapse in your bed.
Saturday, Day 2
Pro Tip: Grab coffee to go from your hotel (and maybe chug a mimosa or three), then head over to Charles St., the cutest street in all of Boston, for group pics on The Hill before you spend the rest of the day getting schwasty-faced.
Brunch on Charles at The Paramount (if your crew is small) or at Scampo at The Liberty Hotel, or back over by the park at Bistro du Midi.
Proceed to eat and drink all the things.
If your squad is the spa type, book afternoon treatments at Exhale Boston in Back Bay or Battery Wharf.
Or book the Bridal Dash Boston scavenger hunt where you'll try not to go mad have a good time because you're a good friend, damnit.
Another option for later: Keep drinking on a booze cruise around the harbor. The Boatonian has DJs, dancing, and all the cape codders you can handle (without vom'ing) for $30 per person (NOT including the cost of drinks, ugh). Country Saturdays features the best live country bands in New England—if you're into that sort of thing—and they start boarding at 8:30pm and shove off at 9pm sharp. Contact Matt at (617) 306-3347 for the group discount hookup.
Do a late dinner (Fox & The Knife, Toro Boston, Uni, Yvonne's), then hit the speakeasies for a few, before ending at the Boylston bars for last call.
Sunday, Day 3
Pro Tip: Ask for a late check-out in advance (some hotels let you pay more) so you can capitalize on Sunday Funday.
Wake up, raid the mini bar for all the water in the room (and maybe more champagne), pop some Tylenol and get ready for brunch! It's a marathon, not a sprint!
Go out with a bang at Dim Sum Brunch at Meyers+Chang.
Pass out on your flight, bus, train, car ride home—unless you're the driver. Don't do that.
Until next time, Boston!
Images: todd kent / Unsplash; hotelcommonwealth (2), xvbeaconhotel, godfreyboston, foxandknife, uni_boston, whitneyhotelboston, myersandchang, bistrodumidi, committeeboston, toroboston, srvboston, barkingcrab, alibiboston, thepourhouseboston, lookoutrooftop, yvonnesboston, bar500a, thegrandboston / Instagram
F*ck Your Diet: I Used To Be A Food Addict, Here's How I Healed Part 4
Annnnnd we're back for the fourth and final installment of F*ck Your Diet. This series is for you if you identify as a food addict, a binge eater, someone who feels stress over what you eat, or if you're constantly trying to lose weight and going from diet to diet. Here is my disclaimer: if you feel happy and content with your relationship to food and weight, you have my full blessing to keep doing whatever you're doing. I'm not trying to napalm the part of your life that makes you feel good. If you like your diet, simply don't f*ck your diet. That's my general rule of thumb: If you're happy, I'm not trying to get you to do anything. But! If you feel like something is off in the way you relate to food, this is definitely for you.
I spent the first three installments explaining how food deprivation and restriction actually cause and/or perpetuate food fixation and many experiences of food addiction. I also explain how I went from a food-obsessed childhood binge-eater, to teenage chronic yo-yo dieter, to a weight-obsessed faux-intuitive eater. Dieting was my religion and sugar was the devil I was trying to purify myself from. And strangely, it all became a self-fulfilling prophecy, because the more I restricted food and sugar, the more and more out of control and "addicted to it" I felt when I inevitably "slipped up" and drove to CVS at 11pm in my parents' car to buy sugar-free protein bars that I pretended were candy bars. But still, if you haven't read the first three installments, I recommend you go ahead and do that, because you may not understand what the hell I'm talking about in this installment if you don't. Part 1. Part 2. And, Part 3.
It was almost eight years ago now that I woke up from my decade-long diet hell. Which means I've been eating whatever I want for eight years. And even though in the beginning I was very hungry and spent a few months eating a lot and making up for lost time, I didn't actually end up spinning into years of chaos like we all worry we will if we stop dieting. The chaos is temporary. The extreme hunger is temporary. I didn't eat the whole world. And today, even though I have zero (ZERO!) rules around food, I do not eat a steady diet of donuts and McDonald's and Snickers, because… I don't want to (anymore). In fact, at this point, I probably eat "better" than I ever did on a diet, because I can actually hear what the hell my body is asking for, and the drama around food is gone.
 So, what I'd like to do in this last piece in this series, is address some common fears that come up when people consider "F*cking Their Diet" or "Being on The F*ck It Diet" (which is actually what my site, Instagram, and book are named) or are even just flirting with the idea of not dieting.
"Anytime I try to stop dieting, I eat way more than anyone should."
You are not alone! In fact, this is one of the big reasons that most people are convinced they can't give up dieting. But, eating a lot of food is actually a really normal response to dieting or restricting food. We think it's our bodies proving to us they're broken or food addicted, but really it's just survival. It's just the body trying to make up for a famine scare. 
We also tend to think that we should be eating way less food than we actually need. Did you know that in the 1940s, there was an experiment where men were put on a semi-starvation diet of 1,600-1,800 calories a day for six months, and it made them extremely emaciated and obsessed with food, and it made lots of them anxious and depressed, and normal amounts of food didn't help them to recover at all? Instead it took them 5,000-11,000 calories a day for months to rehabilitate their bodies and their minds? Yeah. That happened.
So if that's any indication, 1,600-1,800 calories is something lots of people think they should be striving for. Also, 1,200-1,400 calories is how much they recommend you feed your 2-year-old, so, you need a lot more, ok? No wonder we all feel so out of control with food. Most of us don't even realize we are constantly trying to under-eat, and then we beat ourselves up for eating more than our too-low daily calorie amounts, and then we force ourselves to repent the next day by eating even less. What do you think that's doing to our bodies and relationship with food?! We just need to f*cking eat consistently, and stop putting ourselves on cleanses, ok??!
"I honestly can't trust my body or cravings, all I want to eat is cake and cookies and pizza. I'm positive that is all I would eat"
Craving only high-calorie dessert and "junk food" is also a really normal response to dieting. (And I promise it is just a phase before your cravings diversify and calm down.) If your body has been getting intermittent access to calories (like going back and forth dieting and binging and dieting again), or you've been trying to eat less food than your body wants for a few months (or a few years), you're going to crave the densest food that you can find, because that will counteract the state you're in the fastest. That's why we crave cake and cookies and pizza and candy and grilled cheese and everything we think we shouldn't have. Your body just wants dense and easy-to-assimilate calories for a while, because that is what will get your body out of a low-metabolic state the fastest, and back to a normal and more easy relationship with food, with more normal cravings.
The other thing is that when we make any food off-limits, that food is going to have wayyyy more allure psychologically than if you were allowed to eat it. (I used to misinterpret this and think: Ok, if I allow brownies then I won't WANT brownies. And then I'd be mad at myself that I still wanted brownies. But you can't play that paradox! You have to actually allow yourself to eat the brownies!)
View this post on Instagram
"I have to diet! I'm an emotional eater!"
Dieting and restriction can actually make emotional eating worse. I know, what? First of all, many of us actually use dieting as a way to try and distract from our emotions, too. Not only does it bring the promise of beauty, glowing health, and praise, but it also gives us a high on stress hormones. But at the same time, the more we diet, the more chemically rewarding food and eating becomes, and the more food can give us a "high". So, not only is dieting its own version of avoiding our emotions, but in a way, it actually makes eating a more effective "drug". And often, people go back and forth between the two "addictions" in a never-ending yo-yo. In order to make food a less effective drug, we need to stop dieting and restricting. Another paradox, I know. 
Having other coping mechanisms and emotional support is definitely an important piece of the emotional eating puzzle. I'm not saying that ice cream should be your therapist. But, just beware that going on a diet to heal emotional eating is like trying to put out a brush fire by blowing on it. 
"I have to diet! When I don't diet, I gain weight!"
Ahhhh, yes. Weight gain and cultural fatphobia. This is no small subject. It's actually at the heart of this whole thing. It's a core reason why we are all dieting in the first place. And it's also a subject that makes the villagers take up arms like they're in their very own mob led by Gaston, and they storm into the comments to rage about the obesity epidemic. Because people feel very, very strongly about weight gain and health, and want to concern troll allll over the health of people they don't know. 
First of all, gaining weight after dieting is also another normal phenomenon. That's what the body does. It loses some weight at the beginning of dieting, and then it insists you put it back on. It will literally slow down your metabolism and raise your hunger hormones in order to force you to gain back weight. It's normal. It's also survival. And we assume it's the worst thing that could ever happen to us, but our bodies are doing it on purpose. We evolved this way, and it's actually protective against withering away. Because, no matter what our culture tells us, becoming a nation of teeny tiny little string bean people isn't actually what makes our bodies feel safest. Having a super low body fat percentage isn't good for us and can wreak havoc on our hormones.
But we live in a very thin-obsessed and fatphobic society. We just do. And the thing that makes it so hard to even begin to have a conversation about not dieting is that there is a lot of moralizing over health that helps to justify people's judgement over weight and the way people eat. People feel very strongly about weight and weight loss. Just go to the comments of these articles, you'll see. But what that means is that being afraid to gain weight, even a little, even weight that your body definitely needs and wants to gain, is understandable. We constantly see how much better people are treated when they are smaller or fitter or leaner, and how much judgment (and concern) comes along with gaining weight. We are praised nonstop when we lose weight. We assume that weight loss is always healthy and impressive, when, hey, lots of people are losing weight because of eating disorders, illness, anxiety, etc. Weight loss is not always healthy, and on the flip side, weight gain is not always unhealthy. But we live in a society where obsessing over food and weight, and developing disordered eating habits, are praised, and even encouraged, and that makes it really hard to tell if what we are doing is healthy or if it's going too far. 
"So you're saying that I just have to accept my body as it is?! What are you? A monster trying to destroy the American people from the inside out?? HOW is that healthy?!?!"
One of the things that really shook me and woke me up out of my diet and weight loss obsession was learning that what I believed about weight and health was based on misinformation and cultural bias. Because I cared about health. I still do, actually! Believe it or not!
We think we can fully blame people for their weight, and assume that they just aren't trying hard enough. But, I mean, you've heard, right? Dieting backfires. This has been relatively mainstream public health info since 1992. But… we have a hard time hearing it. There is a cognitive dissonance. I used to hear that "diets don't work" and think, "No no no noo, those scientists clearly aren't studying the right diet." But really, weight loss diets backfire long-term. It's not because we are lazy, it's in our biological blueprint. Initial weight loss on a diet happens all the time, but our bodies will eventually adjust to try and get our weight back into a range where it feels safe. And the idea that we just need to keep eating less and less and less to try and keep up with our body fighting back is not healthy. That's not health! That's focusing on weight at the expense of health. 
Get this: a two-year study was done with two different groups of women categorized with an obese BMI, and the group that didn't diet or focus on weight loss, but instead made subtle healthy lifestyle changes—joyful movement that they actually liked doing, eating in an intuitive, nourishing way that wasn't focused on weight loss, stress reduction and shame reduction, and being kinder to themselves and their bodies. And at the end of two years, they ended up with improved overall health (blood pressure, blood lipids, mental health symptoms), even though that group didn't end up losing weight. And the group of women who focused on standard weight loss protocol (good old fashioned monitored, guided diet and exercise, prescribed by a diet) lost weight initially, but gained it all back and then some, and ended up with worse physical and mental health markers that they started with by the end of two years, even when lots of them were still sticking to the doctor-prescribed diet. So what that means is that joy and self-compassion was good for their health, and earnest and doctor-monitored weight loss backfired big time. 
I know! I know! Nobody wants to hear this! But in the very least, it's important information if we want to understand what the HELL is going on when we put ourselves on a diet. And it also matters if what we really care about is our overall health. 
So, back to the question: am I trying to ruin the health of our nation? No, I'm just trying to explain that obsessing over our weight and food and exercise isn't good for our health. A hyper-focus on weight and weight loss and perfect eating actually ends up being a distraction from truly taking care of ourselves. The truth is, when people stop dieting, some people eventually lose weight, but some people need to gain weight, and some people stay the same. Either way, forcing it tends to backfire in more than one way.
 I definitely understand why it scares people. It sounds extremely irresponsible, because people still assume that not dieting means eating donuts for breakfast and lunch and then eating mac n' cheese and Burger King for dinner every night. And then eating an entire cake in bed. Which is actually the kind of thing I was more likely to do when I was constantly forcing myself to diet.
These days, food isn't the drama that it used to be. I eat a varied diet and I eat until I am full. I crave healthy foods, I crave dense foods, I crave vegetables and fruit. I crave pizza. I'll eat one (or, y'know, sometimes even two!) pieces of cake instead of finishing off the cake at 1am while standing in front of the refrigerator. I eat dessert. I eat pancakes. I eat the bread on the table at restaurants. I eat grains and meat and eggs and lots and lots of cheese. Sometimes people ask me what I like to eat, and I usually can't even remember because that is how little I think about food now. It's food. I like it! I like it a lot! I want to feel good, I want to feel fed, I want to feel alive, and I want to go live my life and pet my dog and go get happy hour.
In conclusion: I think sweet potatoes and green juice are healthy, and I like them, and I eat/drink them! But being afraid of nachos was ultimately very bad for me. Maybe that applies to you, too?
It's been so great to get to share my story and experience with Betches readers. I know some of you hate me now, but that's just the name of the game when you talk about diets. People get cagey. People are very devoted to their diets, and in some ways, diets are the new religion of the 21st century. If you read this series and you're like, "this is… interesting to me, but I'm not convinced," my book The F*ck It Diet goes wayyyy more in depth. You can also start researching weight stigma and Health at Every Size, and start reading all of the things that helped open up my eyes to the dark side of dieting. You can also follow me on Instagram at @thefuckitdiet. (I post a lot of instagram stories of my bernedoodle if you're into that sort of thing.)
And remember, if you're having a great time dieting, or doing whatever you're doing, I really don't care if you diet or not. I promise. Everybody should do what works for them. Don't F*ck Your Diet on my account. BUT, if you're stressed out over food and weight and have been in a dysfunctional cycle with dieting, I invite you to come join us over here on the other side of diet culture. There are snacks! There are cheese boards with dried fruit and sourdough bread! You can take naps! You're allowed to buy clothes that actually fit you! Nobody will ever force you to wake up at 4:30am to go to the gym! And there are no diets.
Images: @dietstartstomorrow/Instagram; @thefuckitdiet/Instagram
F*ck Your Diet: I Used To Be A Food Addict. Here's How I Healed.
It's not a secret that many women, and many Betches readers and Diet Starts Tomorrow listeners, struggle with the cycle of dieting. That's why we tapped Caroline Dooner, author of The F*ck It Diet and a recovering "food addict", to share her journey with Betches. From yo-yo dieting to intuitive eating, from self-loathing to acceptance, she will be chronicling her decades-long struggle with food and how she overcame it over the course of this four-part series. New installments of F*ck Your Diet will drop on Mondays, so follow along, and follow Caroline at @thefuckitdiet.
I was one of those kids who went over to friends' houses with a singular focus on eating as many of their snacks as possible. Screw the almond butter and apple slices at my house. This was my element. I couldn't wait to finally have the resources to focus on my passion: cool snacks. Sugar and food dye. Powdery sugar. Sugary cereal. Sugar in any form, really. The best households were the ones where the kids had free rein in the kitchen. Their mom was in the other room, doing whatever people did before the internet, and we were allowed to just…get whatever we wanted. This was living. After sitting down and inhaling a pack of fruit Gushers, my friend would be ready to get back to playing some weird game where we pretended to be Simba and Nala. She was somehow satisfied by one little bag of Gushers, and I would pause as if I was thinking really hard and then say, "What if we had another snack first?" 
We'd get another snack, and then I would repeat that pattern a few times until I got some form of pushback from my friend ("But… we just had 6 snacks…?") and I would finally let us go and play our Lion King game. From these interactions alone, it was clear that I was obsessed with snacks, and they were not.
Another friend of mine had an Easy Bake Oven. The luxury! The excitement! I couldn't believe that just sitting there in her family room were little packets of powder that would make tiny doll-size cakes. I don't even remember having the patience to wait for them to bake. I just remember ripping open bag after bag and eating the powder. What a life.
But because of all this, I grew up believing that I was a food addict. Actually, to be fair, I don't think I knew what an "addict" was, especially back then. But it was very clear to me that I was obsessed with food—way more obsessed with food than anyone I knew. It didn't concern me, it was just a fact. The only thing that concerned me was how to get more cool snacks. But I was actually very lucky, because so many young kids are put on diets and forced to focus on their weight at such a painfully young age (looking at you, Kurbo!). Body size is generally…luck. I ate more than ANYONE I KNEW and was the smallest of them all. I was able to avoid focusing on weight while I was a kid, because I was just a skinny little girl obsessed with pancakes. My humongous appetite and laser focus on sugar all seemed like more of a novelty than a concern to people because of my low weight. I have lots and lots of thoughts on this, how it affected me, and how this double standard affects us in general and as a culture, that I will elaborate on later in this series.
But the most fascinating thing (and the thing that I am eventually going to be elaborating on later in this series), is that my friends whose kitchens were stocked with all of the "junk" we never had in our house, didn't care about snacks. They ate one, or two, and then wanted to get back to doing other things. They could take it or leave it. And that's because (and this would take me twenty years to learn) food addiction doesn't really exist. In fact… feeling food addicted, and addiction-like behaviors (which definitely DO exist, I was exhibit A) have only really been seen when there is "intermittent access" to food or sugar. What that means is restriction, and even perceived restriction, can wire us to fixate on, and act addicted to, food. Much much more on this later.
Because of my childhood skinniness, my early life was mostly just a lighthearted snack-gorging montage until I started gaining weight in puberty. My ability to eat three full-sized Snickers in a row in 20 minutes flat didn't feel comical to me anymore. It felt more like, omg…oh no oh no… Is this why a food addiction is NOT fun or funny? 
All of a sudden, I didn't feel comfortable. The boobs I had literally prayed about for years ("Please god let me look like a teenager!") were here, and they were humongous. I didn't even fit into Victoria's Secret bras. This was a code red. An adult body happened, and I was NOT having fun anymore. How do I go back!?!?
I have to think that if I hadn't lived in a culture that encouraged women to look like pre-teens forever, and actually normalized puberty weight gain, it may have been easier, but it's hard to say. 
On top of all of this, after a hormonal test and an ultrasound, my doctor diagnosed me with PCOS, which is a hormonal disorder that is associated with acne, weight gain, infertility, diabetes, and way more. They casually told me I should diet and exercise and to "make sure I didn't gain weight". And all I could think was… Oh no. I did this. I caused this with my gorging on cookies. I think I caused this with my eating!?!?!
Based on everything I read online from Dr. Google, it seemed like food and weight were the underlying problem with this condition. So, it made sense to me that because I had been binging on snacks my entire life, that I had caused this problem, instead of understanding that it's actually genetic, environmental, and very, very exacerbated by stress. But I figured that if I could eat less (or no) carbs, lose weight, and look like a J.Crew catalogue model in her tiny chino shorts, I could be healed. I would simply reverse my condition with a steady diet of steak, cauliflower, and almonds. Easy.
What that means is that I spent the next 10 years trying to be on a diet. And I tried them all. Atkins, South Beach, French Women Don't Get Fat…all of them. If there was a new trendy, doctor-endorsed diet, I was on it. 
I would follow the diet religiously for a few months, and I'd lose a significant amount of weight and feel high on life and praise ("Wow Caroline you look WONDERful!" Omg thank you so much! I pretty much only eat rolled up turkey slices and bell peppers and pickles and Cool Whip Free. I'm finally living my best life, being MY BEST SELF.) But below the surface, I was fighting a constant battle with food. After the zeal and adrenaline high of the first few months (or weeks) of dieting wore off, I would be gravitationally pulled to the kitchen. I started binging on the foods I was allowed to eat on the diet, and then I'd repent the next few days by being even more strict on my South Beach Diet. But soon I'd be gorging on foods that were not allowed at all. This was what solidified my belief that I was a food addict. There was something wrong with me. I couldn't even stick to an extremely low-carb diet for four months? Was I a monster? All I did was think about food. It was clear to me: I had a problem.
There was one fall in high school when I didn't go trick or treating, because, first of all, I'm basically an adult. And second of all, I've lost my taste for candy, because I am currently a reformed food addict. But you'd better believe the next week I was sneaking into my brother's room to eat tiny piece of candy after tiny piece of candy. By the end of the day, I'd eaten most of his candy. And by the next week, I had gained back all of the weight I lost, before I put myself on another, better diet.
This happened over and over and over again, for a decade. I would start off following a diet perfectly, losing some weight, but soon I was sitting in a pile of wrappers with chocolate all over my face, furious at myself, wondering what the f*ck was wrong with me. It was actually really scary, because I had so little control. I believed I had a real food addiction, and not only was this addiction making my eating and weight erratic, but it was also apparently the reason I had hormonal problems and cystic acne and a hormonal syndrome that would probably only get worse and worse. I truly believed that if I didn't get it under control, like any addiction, it would also just get worse and worse for the rest of my life. And my constant dieting was my attempt to get it under control. Impulse control! Will power! This was what I had to do. But no matter how much I tried, no matter how important it was to me, and no matter how well I would follow a diet for the first few months, I kept losing control. 
I am not a food addict anymore, because again, food addiction isn't real—or at least, it isn't like other addictions. In fact, I am now one of those people who sometimes even forgets to eat lunch (not that that's better, it's just extremely different). I assumed that my relationship with food would be a lifelong battle, but thank the f*cking lord, I was wrong. And the cure wasn't the perfect diet, it wasn't detoxing my body of carbs, it wasn't Adderall or an exercise addiction or a very chic and French cigarette habit, or anything else I used to think would be the thing that could save me from myself. The cure was actually stopping dieting, and stepping out of the scarcity mentality once and for all. You can't treat food like a drug addiction, because we actually need food, so any sort of scarcity actually makes your body more addicted and fixated. 
The cure for my "food addiction" was actually… food.
I'll be back next week to explain what finally woke me up, and what my healing process looked like. Stay tuned! In the meantime, I'll be eating.
Caroline is the author of The F*ck It Diet, a book for chronic dieters. She loves TV, her dog, and doing the least amount possible. Find her on Instagram and Twitter.
Images: thefuckitdiet / Instagram
I Tried This Weird Diet From The 1900s & It Kind Of Worked
Hey, it's me. The girl who tries terrible fad diets and writes about them. You may remember me from the time I ate Halo Top ice cream and nothing else for a week. Or the time I accidentally set off a war in the Whole30 community. Or you don't understand either of those references and are just here today to learn about the confusing and scientifically unfounded lifestyle that is Food Combining. Regardless, welcome.
A few weeks ago I found myself at a happy hour discussing, what else, fad diets. Usually once people hear that this is something I do willingly, they start throwing out wild suggestions that only lead me to believe that they are hoping I die in the process of attempting. May I present to you, a shortlist of diets that have been suggested to me by friends and strangers alike:
The Potato Diet in which you eat, you guessed it, plain cooked potatoes and nothing else
That insane Vogue diet that circulated Twitter and allows you an entire bottle of wine, three hardboiled eggs, and one steak a day (still not off the table tbh)
The sushi and Jamba Juice diet, which is less a fad diet and more the very real eating habits of my suburban Californian high school self
"Just like…eggs?" – a man who wasn't even involved in the conversation but had to stop and offer his two cents
"Vegan!!" – any Vegan in a two mile radius
But this particular happy hour was different, because a woman there offered up a viable and interesting option that I actually hadn't heard of before: Food Combining. In its essence, Food Combining is driven by the principle that the less energy your body exerts on digestion, the better. To achieve that, the goal is to eat food in a certain order or in certain combinations to aid digestion and promote weight loss, better nutrient abruption, increased energy levels, and various other benefits.
While the origins of Food Combining are a little cloudy, like most modern wellness trends it can be traced back to the Ayurvedic medicine practices of ancient India. Shout out to the ancient Indians for providing 90% of my subject matter. I can never thank you enough for the Golden Milk.
Food Combining reemerged into public consciousness in the mid-1800s and then again later in the early 1900s, rebranded at those times as Tropology and the Hay diet, respectively. But no matter what you call it, the sentiment is the same: different foods should be combined in different ways for optimal digestion.
It became immediately clear in my initial research that scientists do not agree with the logic behind Food Combining. The theory is this: different enzymes in your intestines digest different food groups, so by eating those groups separately you are creating the most optimal digestive environment. If you were to combine those groups, the digestive process would take longer, giving the food in your stomach time to rot or ferment, which leads to bloating. It's not the most insane thing I've ever heard, but that probably shouldn't be the litmus for effective diet practices.
It turns out digestion is an incredibly complicated scientific process that can't just be hacked by eating foods in certain orders. In fact, digestion starts in the mouth, which kind of negates the entire idea that all the food you eat is sitting wholly untouched in your gut waiting to turn you into Violet Beauregarde if those enzymes don't get working ASAP.

All that being said, just because Food Combining's principles may not be entirely based in scientific reason doesn't make the diet unhealthy by nature. In fact, I found it to be helpful for kickstarting a cleanse that I've been trying, and failing, to get after for weeks now. At its heart, Food Combining is just a process that promotes clean eating and mindfulness, because you have to think exceptionally hard before you eat anything. It wasn't so much that I found myself unable to eat things I wanted, just that I had to plan when I could do so effectively. In fact, I had to create an Excel sheet just so I could plan out my meals, which, tragically, is my most efficient use of Excel to date.
I would like to make it clear that even after 10 days, I am not an expert here. In fact, I think I merely scratched the surface of what I believe to be the Titanic-sized iceberg that is Food Combining. If you are someone who follows it religiously or, better yet, grasps anything beyond the basics, you're probably going to be annoyed from here on out. My sincerest apologies.
There are many nuanced rules to this diet that, to be completely honest, I do not understand. While there are many articles about why Food Combining doesn't actually make sense, there are very few that offer hard and stringent rules to follow. I am but a simple girl looking for a Buzzfeed list of recipes to follow, but no such thing existed, apparently. So without any official (reputable) source to go off of, I found myself cobbling together bits and pieces from various blogs, one poorly designed website, and information shared with me by the woman who turned me onto Food Combining in the first place. This, combined with a general sense of disregard for anything that would complicate my life more than necessary, led to 10 fairly regimented days of vegetable-laden salads with varying bits of protein, because previous fad diet endeavors have left me with what I now believe to be a pathological fear of ingesting carbs.
The first thing you need to understand about Food Combining is the food groups, which are broken out as follows:
Protein – any meat (red or otherwise), dairy, or eggs
Starches/Carbohydrates – any kind of grain, bread, legume, pasta, or starchy vegetable like potatoes, squash, and corn
Neutral Vegetables – pretty much any vegetable that isn't a starch
Fresh fruit – self-explanatory perhaps, but this encompasses all fruits
There is much dissent amongst the Food Combining community about where certain foods belong—the one with the greatest effect on my daily life being avocados. After much deliberation and a little bit of self-interested research, I decided avocados were neutral. It was a controversial move, but I stand by it, because a vegetable sandwich without any kind of dairy or avocado attached to it is a sad site to behold.
From there, you have one cardinal rule that you must follow: you cannot mix protein (meat, eggs, dairy) with carbs (all the things you love). Ever. There are about 100 other limitations or regulations stemming from that, but this mantra is the foundation upon which your new life is built.
View this post on Instagram
After ample research, I landed on a few other rules that I thought gave me an authentic enough experience for the sake of this experiment. So for the past week and a half, these are the guidelines that have dictated my life:
No combining carbs/starches and proteins: This is the single phrase you will find yourself repeating ad nauseam to friends, family, and coworkers when they inevitably ask what half-cocked diet you've decided to take up this time.
Fruit on an empty stomach only: Fruit takes the least amount of time to digest and thus should be eaten first, lest you fall victim to bloating.
You must wait three hours between meals when switching food groups: No one offered any real logic here, so I'm going to go ahead and assume it's because the enzymes are tired.
But if you do get hungry between meals, eat neutral vegetables: Apparently the enzymes are never too tired to digest a leafy green composed of nearly 70% water.
Drink lots of water, but not while you're actually eating: Hydration is a pillar of most diets, but what's wild about Food Combining is you're not actually allowed to drink anything during meals. The idea is that doing so will dilute the enzymes and stall digestion. So guess what happens when you eat something exceptionally spicy at the beginning of a meal?? You suffer.
No nuts/legumes in the first week: Both of these groups have long digestive periods, so most followers of Food Combining recommend forgoing them during your first week as your body adapts to its new lifestyle.
Start every meal with some kind of raw vegetable/leafy green: This supposedly kickstarts the enzymes and/or wakes them up from their nap. Idk.
No added sugar: The digestive period of sugar was never mentioned, but I think this aligns more to the general idea of eating healthy than anything else.
A couple of blogs also recommended that you pair your regimen with Intermittent Fasting, something that I attempted with varying degrees of success throughout the 10 days. Sometimes you're on top of your sh*t, and sometimes you go to a work dinner and the entrees don't even arrive until 9:00pm. Sue me.
View this post on Instagram
Days 1 – 3
The only way I can describe the onset of this experience was overwhelming. If you were to have come across me while I was researching this diet, you'd probably have thought I was studying for a test. I had notebooks out. Word docs up. More tabs than I'm comfortable with open on my computer. I was manically highlighting things without reason. It was like finals week all over again, but without the Adderall or sense of impending doom. But once I took a step back and really thought about it, I realized that Food Combining was less a diet and more of a lifestyle. That sentence in itself makes my skin crawl, but bear with me here.

Food Combining isn't meant to restrict what you can eat, rather it's just there to make you think about what you're eating. By slowing down and actually recognizing each individual ingredient, I found I was able make better decisions than if I had just ordered something at a restaurant and assumed it was all healthy. It was tedious, but….rewarding? I don't even know who I am anymore.
Day 4 – 7
The enlightened wisdom of days 1–3 slowly waned as I realized that I hated salads without cheese. Food Combining isn't a fan of premade dressing and highly recommends a combo of olive oil and lemon juice, which while light and refreshing, isn't exactly packed with flavor. But then it was like God heard my cries for help and threw down a single olive branch in the form of this list that I found online of neutral cheeses.
Listen, I know this website looks like it was created on a word processor in 1998. I know that some of the info on it directly contradicts rules that I'd already established for myself above. And I know that you shouldn't blindly trust things you read on the internet, but none of that mattered. Suddenly I could have feta on my salads and ricotta on my avocado toast, and I was a woman renewed.
Day 8 – 10
After my first week, the routine of Food Combining was so completely ingrained in me that I didn't even realize I was still following it. I had abandoned the Excel spreadsheet long ago, and no longer eagerly counted down the seconds until noon when Intermittent Fasting allowed me my first meal. The sight of the rampant baked goods in my office didn't send a painful jolt through my chest like they had a mere few days ago. I was drinking water without setting reminders for myself to do so. In short, I was behaving in the ways that I think a functional human being might, and it felt good.
But then, on the eve of my last night, disaster struck in the form of a fancy work dinner at a fancy Italian restaurant full of fancy pasta and fancy desserts and the social expectation that you eat those things to avoid looking like an asshole.
Food Combining is a proponent of moderation, and so I thought, why not? I've worked hard, I've been diligent, what's the issue with one little bowl of pasta, even though I had a meat entrée on the way? What could one tiny dessert hurt, after already having combined the cursed carbs and protein? What could possibly happen to me and my pristine, temple-like body at this point?
Uh, everything could happen, it turns out. I learned this on the drive home, at which point my stomach expanded to what I can only describe as a second trimester level of bloat. I waddled into my apartment and threw myself onto my bed, immediately passing out from what I'm assuming was the over-exertion of my sad stomach enzymes. I woke the next morning to find myself still in terrible shape, and dug out the loosest possible outfit to wear to work. I continued to feel like sh*t for the rest of the day, eventually going to bed without dinner because the thought of eating anything at all made me nauseous.
While I'd been lulled into a false sense of security by the serenity of my new routine, in the end Food Combining ended up being like every other lifestyle/diet I've tried thus far. Sure, you feel great in the moment, but one misstep sends you on a downward spiral of shame and despair that leaves you feeling slightly betrayed and with a lingering sense of guilt.

Over the 10 days I tried Food Combining, I lost about five pounds. Over the course of a single Italian dinner, I gained two of them back. Nearly half my progress, erased by a moment of weakness. This isn't an experience exclusive to Food Combining, but indicative of the fallout of any drastic lifestyle diet. You feel invincible during the highs, but you have to remember that there will be lows. The honest truth is that most of these regimens are not sustainable. You know what is? A healthy lifestyle of moderation and exercise. That's it. That's the secret.
Eat healthy. Be active. Treat yourself on occasion. Don't rely on scientific hacks to fool your body into weight loss. Your enzymes know what they're doing without your help, I promise. But most importantly, be kind to your body. It endures all the stupid sh*t you inflict upon it on a daily basis, the least you can do is put up with a little weight fluctuation here and there.
Have any fad diet ideas that eclipse the stunning suggestions above? Leave them in the comments section and maybe I'll find myself feeling brave enough to try them out in the future.
Images: Giphy (2); Amy Shamblen / Unsplash; dietstartstomorrow / Instagram
How I Won My Battle With Emotional Eating
If you and I met today, you might think I was naturally lean. Born with a high metabolism. Able to eat whatever I want without gaining a pound. Not going to lie, that would be amazing. But the truth is, growing up, I was always the big kid.
By the time I was 13 years old, I weighed over 200 pounds and struggled with losing weight, emotional eating, and diets that didn't work. While most kids dreamed of becoming movie stars or famous athletes, my early inspirations were the knowledgeable dietitians I met every summer at fat camp. I was never normal. I was never small. The pediatrician's office constantly told my parents, "She's obese. She's over the 100th percentile, she's not even on the chart!"
At eight years old, I was sent to "fat camp." Can you imagine how that felt? But the truth is, I loved it. I made lots of friends. I was surrounded by people who didn't judge me. I lost 30 pounds. It was amazing. Then I came back to school…and gained it all back. This yo-yo-ing went on for years. Every summer, I'd lose 30 pounds. Every school year, I'd gain it all back—and more—until I peaked at 215 pounds (my highest weight) and a size 20, going on size 22—which meant I couldn't even fit into Gap or Old Navy's extended sizes, forcing me to shop in plus-size only stores. This was a particularly difficult thing to accept given that my friends were still shopping for single-digit sizes.

I loved myself, but I hated by body, and I had to finally realize that one was not separate from the other. If I was having a good, confident day, but then tried something on, my whole mood would dampen. And if I were having a bad day, my weight would only make me feel worse. I was the "fat," "chubby" girl for as long as I could remember. I hated doctor visits, because my pediatrician would show me a graph of how much I kept gaining. I hated sleepovers, because my friends would share clothes and talk about the boys that flirt with them, and I couldn't participate. I hated shopping and getting dressed, because nothing ever fit or looked the way it was supposed to. It was all so hard and such a drag. I was officially worn out from my weight. 
I finally had the epiphany: "Ilana, you only have this one body, you might as well make it rock!"
I had to get real. I had to understand that just because some people stay thin ordering pizza and fries didn't mean I could. These were the same people who could also eat one cookie, be satisfied, and stop, and I didn't have that in me just yet. One cookie felt like permission to have more, and more, and more. I like to eat a lot, so I had to figure out a way to fill up and lose weight at the same time. I also couldn't tell myself not to eat any dessert or junk foods, because that would only ever last a few days before I found myself eating them again. I grew up hearing about every diet because my parents tried them all and time and time again, but I knew there was a missing element. 
I needed a more positive approach that felt more fun than force. By that time, I had taken over 100 hours of nutrition courses from dietitians at weight loss camp so I knew what to eat, I just needed to connect it to how I would get myself to want to eat it. I brought in forms of accountability that kept me aware and kept me learning what was working and what wasn't. 
At weight loss camp, food was restricted, so you couldn't eat even if you wanted to. But at home, I had access to whatever I wanted, so I needed to understand how to eat well within a real lifestyle. I realized that I could microwave two frozen blocks of Birdseye broccoli with butter spray and salt and eat it in front of the tv like I used to eat popcorn, and the scale would still drop. I realized that if I made whole eggs in a pan, I would be tempted to soak up the yolk with a slice of bread, but if I made egg whites, I was more in control. I realized fruit wasn't unlimited, so I had to figure out where fruit fit in. I realized I could actually weave in some desserts, and later, cocktails, and still see that scale drop.
View this post on Instagram
Through college, I also joined a sorority and had to figure out how to lose weight and keep it off with all the drinking, partying and late-night eating, so I took the challenge and found more creative ways to make the most of it. I would skip the sugary mixers and stick to the straight stuff, and when everyone came back to pizza and bagels, I would raid the salad bar for artichokes and hearts of palm, and dip them in sesame miso dressing (you should try it!). I had to figure out how I could eat at Chipotle, Noodles & Company, and Jimmy John's with my friends, but still fill up and lose weight.I never skimped out on flavor or portion, but I had to get smarter about swaps and better control techniques throughout the day to set myself up for success. 
Sure, it would get annoying when I felt like I was putting in more effort than my skinnier friends, but rather than get jealous, I would always choose to be inspired and see what other things they were doing, besides their gene pool, that were helping them out. Any time I'd discover another helpful tool or tip, I'd add it to my system and I'd lose more weight happily. I had discovered the formula that worked for me. It wasn't a new diet—it was a new mindset. And once I embraced it, I kept on losing weight.
I never fell for any quick-fix suggestions that seemed unsustainable. I suffered with being uncomfortable and morbidly obese for long enough to realize I never wanted to rebound and go back to that place again. So, if it weren't something I felt like I could live with and enjoy a positive life with, I wouldn't do it or recommend it to others. For instance, I have still been able to enjoy cocktails, sweets, eating take-out, traveling, socializing, loving food, and living. I never let losing weight interfere with that, as long as I kept my simple and sensible principles in place and at the forefront of my mindset. 
Eventually, I got down to 145 pounds. Finally, for the first time ever, I felt strong and confident enough to post a photo like this:

I was so happy at 145 pounds. I was a size 8—the lowest size I'd been since I was literally eight years old. My first summer without "chub rub" (irritation between my thighs) felt like a dream come true! I used to have to use baby powder in between my legs to control the pain and redness, and once I realized I was wearing shorts on a really hot day and my thighs weren't burning, I felt like I had made it! And the best part was that I was able to maintain that weight, without denying myself or telling myself "no" all the time.
Intrigued, amped, and motivated by the success and maintenance of my results, I began to further develop my own customized weight-loss program and mindset. I took my interest in this to the next level, studying Nutrition and Dietetics in college, and earning a Bachelor of Science degree in the field. My studies quickly turned into my passion, and I became a registered dietitian. Soon after, I earned a Masters of Science degree in Applied Nutrition from Northeastern University (the highest standard in the field of nutrition) to apply evidence-based practices for weight loss into my own personal plan.
Pregnancy for me was wild. For years, I was in such control of my body. Then suddenly it took a whole different shape. But instead of fighting, I let the pregnancy be what it wanted to be. Until the third trimester, it was like a switch flipped in my head. It was time to get back to my weight-loss mindset to lose the baby weight. So, I refocused and thought about the hundreds of clients I'd helped and the principles that had worked not just for them, but for me as well.
After I delivered my beautiful daughter Olivia, I got right to work. I wasn't just ready, I was excited. I had a new purpose now—my daughter. And I wanted to be the best I could possibly be.

Although I dreaded taking these "before" pics in tight clothes, I had to do it. Because, as I got ready to use all the weight-loss tactics I'd collected over my lifetime, I wanted a detailed record of this journey so I'd know exactly what worked and what didn't in real time. And the good news is, it worked better than I could have ever imagined. I not only got back to my 145 mark, I kept going. I went from post-baby body all the way down to 120 pounds—and maintained the same weight for over two years and even did it again with my son, Julian.
You know what might be the most amazing part? It was a lot easier than I thought it would be. I always felt full and satisfied. I never deprived myself. And I never missed a meal. I just relied on a few simple principles that allowed me to lose weight while still living my life. Because that's everyone's ultimate goal, right? To be happy. That's still my goal as a registered dietitian nutritionist. That's why I took the principles that worked for me and used them for my hundreds of clients, combining them into a convenient, healthy, and practical approach, which gets rid of all the calorie counting, point tracking, and cutting out whole food groups (because who really has the time these days?!). It just became second nature, and I called it the 2B mindset. I'm proud to say it didn't only help me lose over 100 pounds and continues to help me maintain my best self, but it has helped THOUSANDS of people!
I'm so grateful that now people can experience positive weight loss with the 2B mindset and the results have been groundbreaking. Thousands of people have lost 10-50 pounds and a handful of people have lost over 100 pounds the same program! But of course, there is always a need for personalization, and I love meeting with clients one-on-one and in group settings to understand their personal story and help them best succeed. I recently launched my Mind & Body Reset Retreats that are truly life-changing. In these private settings with 20 women (hosted at resorts that are pure luxury), I am able to get to the core of the person and create a specific action plan for her. What has been getting in her way? What are her work hours and romantic life like? What medications is she on and what does she have coming up in her calendar?  
Every change brings on a new obstacle that we must overcome because life doesn't get easier, we need to get stronger. You can do this! We all can! 
Join Ilana Muhlstein at her next Mind & Body Reset Retreat September 19-22 in Carefree, AZ. Spots are limited.
Ilana Muhlstein M.S., R.D.N. is a Registered Dietitian Nutritionist, Wellness Enthusiast and Educator, and has become one of the most sought-after weight loss experts and influencers around. She's the author of You Can Drop It!: How I Dropped 100 Pounds Enjoying Carbs, Cocktails & Chocolate – and You Can Too! She leads the Bruin Health Improvement Program at UCLA and also heads up her own private practice in Los Angeles. Ilana is the creator of the popular 2B Mindset™ weight loss program and also sits on the prestigious Executive Leadership Board for the American Heart Association, Go Red for Women campaign. Ilana has consulted for several prominent companies on nutrition, including Beachbody, Whole Foods Market, Curves Gyms, PIMCO, Zevia, BFree, and The Wonderful Company.  She is also a renowned public speaker and delivers nutrition seminars, cooking demonstrations and most recently started luxury Mind & Body Reset Retreats which she conducts throughout the year all over the country.
Facebook: @ilanamuhlstein
Instagram: @ilanamuhlsteinrd
Twitter: @ilanamuhlstein
YouTube
Website: www.IlanaMuhlstein.com
3 Signs That Weight Loss Isn't The Answer To Your Problems
When it comes to weight loss and dieting, we've all heard and believed a lot of lies. The Kardashians get their figures by sipping on Fit Tea! Gluten-free is always better! This is how many calories you should eat! No, this! Frankly, it's exhausting. The most damaging of these lies, in my opinion, is "nothing tastes as good as skinny feels." (To those of you doubting me, I lost 7 pounds with a stomach bug last summer. The taste of mac 'n' cheese kicks that feeling's *ss every time.) Not only is this saying wrong because it was coined by someone who has never tasted food (hi Kate Moss! Big fan), it's wrong because it promotes the idea that—no matter what else is going on—you would feel better if you were skinnier.
On that note, I'm sadly confident that every day of my life so far I would've agreed with the statement "my life would be better if I weighed ten pounds less." Even (and especially!) in moments with much, much more pressing issues directly affecting my well-being. So as we all embark on our respective, crazed self-improvement Januarys, here are some warning signs that your weight is not the real issue. In other words, signs that no matter how much you diet, or how much weight you do manage to lose, it's not going to address what's really bothering you. It won't, ultimately, make you all that much happier. And isn't that really the point?
You Constantly Compare Yourself To Others
Comparing yourself to others is a sure way to "fail" any diet plan. As countless trainers have told me when I whip out an inspo picture of Kendall Jenner, no amount of food restriction or exercise can make your body look like someone else's. You can look like a version of yourself with more muscles, or less fat, or with more or less of a noticeable stomach (I'm told—I've never experienced this myself). And that's it! Those are all your options. So if your desire for weight loss is specifically sparked by seeing a certain body type, I'm afraid to say that dieting will not get you where you want to go.
It's a long, boring process to become okay with what you're born with. (And it's one that the wealthier members of our society forgo for plastic surgery.) Whether the boost you need to get more okay with yourself is retail weekly therapy, daily affirmations, or just better bathroom lighting (I cannot recommend this one strongly enough), I can promise you that happiness is not five pounds away. So stop looking at the scale; the answer is somewhere else.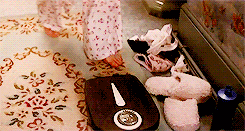 You're Way Too Obsessed With Your Diet
No, this isn't just a fun way to call out vegans and Paleo people. (Though truly, the amount y'all talk about your diets is insane.) One major sign that you're offloading other concerns into one specific area ("I need to lose weight") is when you become incapable of talking or thinking about anything else. When you become so fixated on what you can and can't eat, and when you can expect to see results, and whether or not anything feels different or bad or good all day—it places a huge, untenable amount of pressure on that part of your life. It puts you in a place where you're not able to find happiness from any other aspects of your life (AKA your friends, leaving the house for non-work reasons), and it convinces you even further that the only thing that will make you happy is losing weight.
We're all guilty of going a little overboard with a new venture we're excited about, and I don't want to shame anyone who's put in hard work on a diet. (I did the keto diet for two weeks, and the amount of math involved at every meal almost killed me.) But feeling like you're so obsessed that it's all you can think about means you need to step back. If you're finding that the only joy you get comes from seeing a number on a scale, it's not going to be quite so easy to just jump back into normal life once you're at the weight you think will make you happy. You need to address (right now! at the weight you currently are!) why other aspects of your life aren't fulfilling to you, and work on that at least as much as your diet.

Your Eating Is Mostly Emotional
Late-night shame binging, stuffing your face with apps at a family event, refilling your plate for the third time when your stomach still hurts from the second. Am I just describing my holiday break, or do I have a larger point? Both! What all those eating incidents have in common, beyond the fact that I am a monster, is that they had nothing to do with how hungry I was, or what I really wanted to be in my body. At many points in my life (#growingupfat), I've used food as a distraction—a quick hit of endorphins in the form of chocolate or cheese that took me away from the present moment. Whether that moment was stressful, sad, or just plain boring, eating made it better.
But as it turns out, eating every time you're not 100% okay with your surroundings does not actually feel better in the long run. And every time my emotional eating ticks up, and my weight inevitably changes along with it, I address it in the worst way. I am So Fat! I tell myself. Better go on an all-out diet, starting with green juice at 8 AM. But here's the thing! I was not gaining weight because my breakfasts were bad for me. In fact, I ate pretty healthily, within the context of normal meals. And making those normal meals more restrictive (under the I Am Fat & Therefore Must Diet regime) just exacerbated my emotional eating. Hungry people are weak people, and saying no to a midnight pint of ice cream only got harder when I'd subsisted on lettuce all day.
So, if you're like me and a lot of your "bad eating" tends to happen in these types of settings—where the food has nothing to do with its role as food, and everything to do with your mood—no diet in the world, sadly, will fix it. You have to figure out a peace for yourself in moments that typically have you reaching for food. Because even though there may be unwanted weight involved, it's not the weight that's the problem—it's the way you're using food to control your emotions. (And if you solve that problem, any remaining weight loss goals you have will be so much easier.)
See this? This is a picture of me on Sunday night not a well-adjusted human.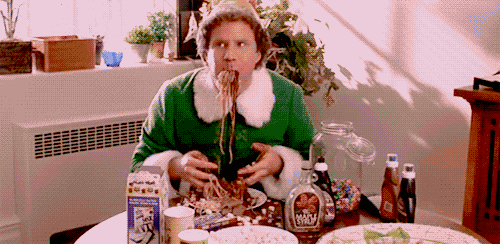 As you can probably tell, I'm guilty of all three of these behaviors. It sucks to feel obsessed with your weight, and it's easy to feel like the whole world encourages that kind of thinking. But the lie that they're selling is that weight loss is everything because weight loss will make you happy. Don't forget that happiness—YOUR happiness—is what you're actually after, and don't be fooled into thinking that weight loss will always, definitely get you there. There are other ways to be happy, and honestly, most of them make me way f*cking happier than going on a diet.
Images: Giphy (3); Unsplash / i yunmai
Little Things To Cut Out Of Your Diet To Get Healthy
So you're looking for an easy way to shed those extra pounds. Unfortunately, there's no shortcut to transform from a solid five out of ten (hi) into an Instagram model overnight. On the bright side, there are certain things you can do and small ways to change your diet to de-bloat, drop some pounds, and improve your health at the same time. Here are five little (BIG) things to cut out of your diet if you're looking to feel better and maybe lose a few pounds.
1. Dairy
Dairy is inflammatory. Like, it's literally cow breast milk that's meant to bulk up baby calves. Yes, cheese is f*cking delicious and so is a gigantic ice cream sundae with whipped cream and a cherry on top, but that disgusting, heavy feeling you get after eating a quesadilla or pint of Ben & Jerry's is real. Cut out any milk-based products in exchange for dairy-free options like almond, coconut, cashew, or oat milk instead.
2. Artificial Sugars & Sweeteners
Natural sugars, like those found in fruit, are okay because they're natural (duh). Artificial sugar, on the other hand, is basically the devil. Sugar alternatives like stevia are hyped up to be low-calorie and "better" for you, but that's not exactly the case. Consuming artificial sugars can actually make you crave more sweet foods, a fact I'm sure you already know but bears repeating. Avoid eating candy and snacks with fake sugars, sweeteners, aspartame, and high-fructose corn syrups whenever possible.
3. Carbonated Drinks
Sure, carbonated drinks like soda, seltzer, and beer taste great. However, those sweet, sweet bubbles aren't worth the calories, sugars, indigestion, bloating, or burps. Substitute all of these drinks for water or tea and watch the pounds melt off (if you don't believe me, my ex-boyfriend lost 15 pounds after he quit drinking soda).
4. Whites
Allow me to elaborate. White foods are bleached and are not good for you. Swap out all white ingredients in your diet and replace them with brown ones, including bread, rice, flour, sugar, and pasta. These complex carbs are way more natural, easier to digest, and kinder to your stomach.
5. Processed Foods
Frozen meals are quick and easy to make—there's no argument there. What I will argue, though, is that processed foods aren't worth the convenience. Pre-packaged bags of produce are one thing, but microwavable rice side dishes, dumplings, and canned soups are trash. Quit being lazy, stop eating sh*tty TV dinners, and start cooking meals at home with fresh ingredients. There are more fresh food delivery/meal prep services than I could even name off the top of my head, there's literally no excuse anymore.
Be an adult. You love ramen noodles and Taco Bell cheesy gordita crunches because they're cheap and delicious… I get it. All of the things on this list taste pretty good, but they're also super unhealthy and easily replaceable. Just by following these simple rules and removing some toxic foods from your diet, you'll be on your way to better health, a smaller waistline, and maybe even a couple more Instagram followers too.
We Asked An Expert How To Stop Binge Eating Once And For All
Dr. Glenn Livingston recently guest starred on our Diet Starts Tomorrow podcast to talk about his book, Never Binge Again. He's a veteran psychologist who had a very serious problem with binge eating for many years. It wasn't an issue when he was young and working out for a few hours each day, but when he got older, got married, and became a psychologist, he no longer had the time to work out. He did, however, continue to eat whatever the hell he wanted. And he couldn't stop. Hitting close to home yet?
Dr. Livingston began to look into why he couldn't stop himself from giving in to his food desires. He funded a large survey in which he found there were emotional patterns associated with particular foods. He dug deeper, and discovered that in today's society with all these luxuries at our fingertips (cough Seamless cough) we "definitely are being overstimulated with pleasure that evolution didn't prepare us for." Damn.
Glenn calls these "pleasure buttons" that we're constantly giving into. He realized he had to find a way to recognize these buttons so he could ignore them. And he did. Cue Never Binge Again.
What are the main theories you espouse in the book?
It's less of a theory and really more just a way to clear all the misinformation and noise which prevents people from eating well today. The research suggests addiction is not a disease, even though that's the prevailing notion. We can choose what does and doesn't go in our mouth. And while whole, natural foods tend to work much better to create permanently thin people, most of us don't have to give things up entirely either. If we take the time to think through the dangerous triggers for us in terms of particular foods, situations, and thoughts, we can decide beforehand what we want to do about them.
I advocate for identifying your triggers, defining clear rules for how you want to behave when they come up. Then listening carefully for that crazy inner voice that tells you to break those rules. When you recognize it, you can ignore it.
Why did you choose to nickname your lizard brain the "inner pig"?
I did this to differentiate it from my human identity. Also, so that I wouldn't think of it as something I was supposed to love and nurture, like an inner wounded child. You need to dominate your lizard brain in the same way an alpha wolf dominates a challenger for leadership. The appropriate attitude is "step out of line and I'll kill you!" As a side note, even though you can't, and shouldn't try to, excise your lizard brain from your anatomy.
How do you actually go about creating a food plan? Are there certain rules you recommend to include or avoid for different types of struggles?
It's very individual. I suggest people break it into four categories, though—things you will never do again, things you will always do, things you will do in certain conditions, and things you can do in an unrestricted manner. I offer a set of food plan templates in the free reader bonus section on my website. There are multiple examples to get you started, regardless of the type of diet you're on.
What are some of the pitfalls of this method? Where have people gotten derailed in the past?
Most people are very frightened of the words "never" and "always". The thing is, our lizard brains act like 2-year-olds. So we present our food plans as if they are set in stone, even though it would be ludicrous to assume that we're never going to change them. We can change them, but only with serious forethought and consideration. I recommend at least a half hour's journaling process followed by a 24 to 48-hour delay before allowing the change to take effect. This moves the food decisions into your higher brain and prevents you from acting on impulse. You can still eat anything you want—nobody is restricting you—it's a matter of what you consider healthy and what consequences and tradeoffs you are willing to make.
How do people overcome the challenges associated with this process?
When you make a mistake, you need to learn how to forgive yourself with dignity and start again quickly. Don't let five cupcakes turn into 15 (or 50). You need to figure out the specific loophole in your food rules that your Pig took advantage of… or the Squeal (irrational lie) it used to get you to break your best plans. Then, you can fix those loopholes and disempower the Squeals by identifying the illogical element of them.
What kind of outcomes have you seen with your patients, people you've coached, and people who have read 'Never Binge Again'?
Almost miraculous when people stick with it. Not just weight loss, but it's the mental freedom which brings people the most happiness. Their life is no longer all about obsessing about food because they've identified and disempowered the dangerous triggers. Now they can think about other things, be more present, enjoy their loved ones, and get back to living their lives and pursuing their goals.
For more on Dr. Livingston's advice about binge eating, check out his new book Never Binge Again, and for more real af diet talk you won't hear anywhere else, follow Diet Starts Tomorrow.
Images: Brooke Lark / Unsplash