How I Lost 50+ Pounds On "The Fast Metabolism Diet"
For as long as I can remember, I've had a difficult relationship with food. I don't mean that as just something people say—the whole "as long as I can remember" thing. I literally recall being five years old, looking in the mirror, and thinking, "I'm fat." Pretty brutal for basically an infant to think about herself, but as the years went on, those critical thoughts only grew and evolved. I hated my thighs, the ones that smushed together when I sat, and I hated my wide hips, the ones that pushed me into the juniors section long before my third grade classmates joined me there.
It wasn't just puberty and the appearance of my childbearing hips that made living in my body feel unbearable. It was my addiction to food that caused the never-ending battle. One I didn't even realize I was fighting until I was fifteen. Until I started skipping meals, tracking calories, and eventually, throwing up everything I ate.
As a recovered-ish binge-eating-anorexic-bulimic with severe food anxiety (doesn't that sound like something straight out of a bullsh*t movie starring Emma Roberts?), diets have been my foundation since I started trading my lunch for a Diet Coke in 5th grade. As someone who was always just overweight enough to warrant comments from family members about her "plump" figure and "chubby" frame (*cough* assholes *cough*), I'm no stranger to viewing the scale as the enemy. Eating in moderation does not come naturally to me, and the sporadic "treat yo' self" meal can cause a spiral that results in a 10 pound weight gain in the blink of an eye.

So, naturally, I've done all of the diets. ALL of them. I've done all of the teatoxes. I've tried all of the bullsh*t shakes and supplements that girls from my high school who got knocked up and stayed in our hometown sold via Facebook messenger. I am that cliche. From Keto to Whole30 to The South Beach Diet and to my own special diet called "eat everything in your pantry in one sitting and hope your body won't transform it into fat"—I've tried them all. Most I've had some success on because when you cut out having cake after dinner and pizza four times a week, odds are you'll drop a few pounds.
The tricky part of my diet and health journey, however, has always been restriction and control. As someone with a LONG history of eating disorders, any doctor can tell you, diets are pretty precarious. It can take one slipup, one day of being too lax or too strict to completely relapse. So, sure, I can have success with these diets, but when they involve cutting carbs for months or foregoing fruit for weeks, it really f*cks with my head.
When a friend of mine told me about a diet where you're literally eating nonstop, not expected to work out like a crazy person, and don't have to give up carbs, I was intrigued. I was staying at her house for a weekend and she came into the kitchen, blurry-eyed, and said she needed to eat breakfast right then. She made a piece of toast, topped it with some turkey bacon and an egg, grabbed some carrots and a carton of raspberries, and went back to her room. When she emerged an hour later, bright-eyed and showered, and I asked her what that was about, she told me about the diet. The diet that requires you to eat within 30 minutes of waking up. That forces you to eat TONS of food. The diet she had been on for a week and already lost five pounds on. The diet that would quickly change my life.
Enter: The Fast Metabolism Diet (and by "diet" the author coined the phrase "Did I Eat Today?").
From the excerpt on Amazon, this pretty much sums up the whole eating plan:
"On this plan, you're going to eat a lot. You're going to eat three full meals and at least two snacks a day – and you're still going to lose weight. What you're not going to do is count a single calorie or fat gram. You're going not to ban entire food groups. You're not going to go carb-free or vegan or go cold turkey on the foods you love. Instead, you're going to rotate what you're eating throughout each week according to a simple and proven plan carefully designed to induce precise physiological changes that will set your metabolism on fire."
Created by celebrity nutritionist and best-selling author Haylie Pomroy, this is the first and only actually healthy diet I've ever been on. It encourages resting the body, not overworking it with tons of exercise, and eating delicious, wholesome meals. And before you think this is an ad, it's not. If Haylie wants to pay me, that's cool (my DMs are open, girl), but the truth is this plan just really f*cking works. Don't believe me? Take a peek. I was on and off the diet for a little over a year, and here are the results:


I lost 51 pounds on The Fast Metabolism Diet over the course of a casual 15 months. That was including indulging over the holidays, drinking at parties, and taking breaks in between months of being steadfastly healthy. I could have lost it faster if I did the month-long diet back-to-back, but that's just not how I function. I'm like, really popular, and giving up drinking (yup, you have to give up alcohol) for multiple months at a time was a no-go for me. While I did gain a decent portion of it back post-wedding (that's what going to Italy for a month will do to you), so now I fall somewhere between those two photos, I'm officially back at it. In the 12 days that I've been on the FMD, I've lost just over 10 pounds. And that's from eating a sh*tton, doing very light (if any, tbh) exercise, and messing up a few times when I forgot to go to the grocery store.
So, how does it work? Let's break it down:
Phase 1 (which happens every Monday and Tuesday) is all about healthy carbs and sugars. So, your meals are full of fruits and rice and pasta and sandwiches. Sure, you have to have sprouted grain everything, but honestly? Any diet where I can have quinoa and bread without shame is one for me. As for exercise, you need to do one day of cardio (which I skip a lot, tbh).
Phase 2 (which happens every Wednesday and Thursday) however, is where things get tricky. This is the only 2 days of the week I dread because honestly they're lame and they low-key kinda suck. Basically, you're restricted to meat and veggies these two days. That's it. But if you're on a strict diet and only 2 of the 7 days kinda suck, then I'll take it. Exercise? With all the protein, this is the time for strength training. You're required to do one day of weights or something similar (again, an activity I keep "accidentally" missing).
Phase 3 (which happens, you guessed it, Friday, Saturday, and Sunday) is a mix of both of the above phases, plus you get to add in healthy fats like oil, nuts, and avocado! Easily the best of the phases, this is where your meals are full of lots of colors and lots of variety. You can make almost any meal you love fit into this phase (one of my favorites is making a mock Chipotle bowl. WITH guac, of course). If you thought this was great, the exercise portion of this phase is even better. You're required to do something light that promotes blood flow like stretching, yoga, or getting a massage. Seriously. It says it in the book. GETTING A MASSAGE COUNTS AS EXERCISE IN THIS DIET. HAVE WE DIED AND GONE TO HEAVEN?!

What does a day on each phase look like? Glad you asked. Here's an idea of what I eat:
Phase 1:
Breakfast: Fruit smoothie and 10 brown rice crackers
Snack: Apple
Lunch: Open-face turkey sandwich on sprouted grain bread with carrots and berries on the side
Snack: Bowl of cherries
Dinner: Turkey chili
Phase 2:
Breakfast: Turkey bacon and egg white scramble with veggies mixed in
Snack: Deli turkey slices
Lunch: Salad with chicken with balsamic dressing
Snack: Turkey bacon wrapped asparagus
Dinner: Steak and asparagus or celery
Phase 3:
Breakfast: Sprouted grain toast with an egg and turkey bacon plus celery and berries on the side
Snack: Carrots and hummus
Lunch: Chicken curry
Snack: Nuts
Dinner: Steak, veggies, guac, and salsa wrapped up in a sprouted grain tortilla with some extra carrots on the side.
The pros: You get to eat a ton, you don't cut out full food groups, and you really will lose weight without feeling like you're totally restricting yourself. Plus, as someone who can backslide into disordered eating easily, there are no points, no counting calories, and no tracking grams of fat. You just eat the foods you're supposed to eat at the times you're supposed to eat them and you lose weight.
The cons: Like most diets, it's hard to go out to eat/have a normal social life. While, sure, you *can* manage it, it's easier just to make your own food. Which brings me to another con. You have to make A LOT of food. Plenty of it you can cook in bulk and freeze for later phases but ultimately, it takes a lot of cooking and prep (and pricey grocery runs) to pull this one off. And the worst part? No alcohol and NO caffeine. None. Nada. During later months when I was already losing lots of weight, I added a cup of coffee back into my life, but until then waking up without that jolt took a longggggg time to get used to.

Ultimately, despite the cooking and the lack of coffee and cocktails, I've never met an eating plan that I've loved as much as the FMD. And because Hayle (and her PR team) sum it up much better than I ever could:
"This is the silver bullet for the chronic dieter who has tried every fad diet and failed, the first time dieter attempting to kick her metabolism into gear, and anyone who wants to naturally and safely eat her way to a skinnier, healthier self."
A-f*cking-men. Follow along with me as I continue along with this plan or join the metaphorical club and start with me. The best part? When you finally drink again, your tolerance is so low you'll get schwasted on like, one glass of champs (which will save you time AND money). If that isn't the best reason to diet, idk what is.
Images: Gardie Design & Social Media Marketing / Unsplash; Rachel Varina (4); Giphy (1) 
7 Hacks To Help You Stay Healthy At The Beach
Summer seems like the most fun time of year almost by default, but it can be tricky to navigate for the people who are trying to stick to healthy habits. Temptation is everywhere: there are drinks constantly being poured, fried food, ice cream, and your skinny friend who orders whatever the f*ck she wants because she has that gene you weren't blessed with that allows her to eat literally anything without gaining a single pound. While all this swarms you, there also exists the perpetual thought looming over your head of most of your body being exposed when you want to lay out in the sun or go for a swim. It seems almost impossible, but surviving a beach weekend really doesn't have to be so difficult if you keep some healthy hacks in mind that will trick yourself into feeling like you're actually indulging, which we talked about on the latest Diet Starts Tomorrow podcast episode. Here are some of the best ways you can skip both the food FOMO and the diet-breaking regret.
1. Bring Frozen Fruit To The Beach

Eating frozen grapes, mangos, or pineapples is basically like eating nature's version of an ice pop. Freezing these fruits not only turns them into healthy and delicious snacks, it also makes them stay cold and fresh for longer when it's hot out and slows down your eating to add a little extra control. If I went and ordered ice cream and then my friend whipped out some frozen mango I would feel like an unhealthy piece of sh*t who is jealous of her tasty-looking frozen mango.
2. Start Your Day With A Walk Or Bike Ride

It's scarily easy to spend an entire weekend at the beach lying on a lounge chair and barely moving a muscle. If you decide to start your day with a nice walk, though, you will feel good about taking in the summer air and being somewhat productive, which will set the tone for a healthy rest of the day. You can also post an early morning Insta story to show everyone that going out the night before didn't stop you from being the epitome of wellness and serenity that you obviously are.
3. Don't Fall Prey To High Calorie Drinks

Squeeze half a grapefruit into a vodka on the rocks and you have yourself a nice, refreshing summer drink that will get you good and f*cked up without the calories of rosé or a margarita. Plus, grapefruit is great for your metabolism. You could also soak berries in vodka if you feel like supplementing your alcohol with some antioxidants, or if you want to go the extra mile, you can even put seltzer in a wine glass and then just use your imagination.
4. Do Not Skip Any Meals

Skipping breakfast or lunch during a beach weekend seems like an easy way to cut out calories but it ends up working in the opposite way. You'll be so hungry that you'll want to eat like a pig later, and you'll feel like you deserve it because you didn't eat before.  It may seem annoying to stay on top of your usual eating schedule when you're trying to enjoy and relax at the beach, but your body will thank you for it later.
5. Bring Sporty Games To The Beach

If you bring fun activities to the beach, you'll get in a workout without even realizing it. Bring a volleyball to play with or a football to throw around so you get your body in motion. The best way to do a workout in disguise, though, is by playing paddleball. Passing a tiny ball between wooden paddles is all fun and games, but when the little f*cker gets caught in the wind and you have to chase after it through the sand, you get some serious cardio in. You could also take advantage of the body of water in front of you and actually go for a swim. Fighting the current takes some exertion and makes you do more than just snore under the sun.
6. Bring Healthy Crackers Instead Of Chips

All the delicious crunch and none (or at least not as much) of the fat. If you must snack, eating fiber-filled crackers instead of chips will satisfy you AND keep you full. Keep the Lays out of sight and out of mind so you can stay on track like the healthful goddess that you are. I believe in you.
7. STAY HYDRATED.

This seems like an obvious one, but for some reason, it is truly so hard to remember to drink water. If you're out in the sun all day and especially if you're drinking, your body literally needs you to stay hydrated. Also, drinking water will keep you full so you won't feel like you have to snack as much. So just do it! Drink water and while you're at it put on some sunscreen so you can make the most out of your beach weekend as YOUR! BEST! SELF!
For more healthy eating hacks that will save you this summer, listen to the full episode of Diet Starts Tomorrow below.
Images: Giphy (7); Vitaly Sacred / Unsplash
7 Fake Healthy Foods That Aren't Doing Your Body Any Favors
Dr. Mona Vand is a Certified Pharmacist, author (Food For Skin), and entrepreneur who loves to share her tips for leading a healthy lifestyle. She educates her audience through YouTube videos, a blog, and Instagram on maximizing health by taking care of both their bodies and minds through nutritional food recipes, clean beauty, and fitness tips focusing on natural solutions. Based in LA, Dr. Mona has been featured on NBC, The Telegraph, The Doctors and more.
One of the most frustrating things about the food industry is that it tricks people into thinking that they're eating something healthy, natural, or clean when really, they're not. After six years of pharmacy school, eight years of working as a pharmacist, and 10 years of personal experience in health, fitness, and wellness, I have researched and learned about how to look out for fake healthy foods. But I'm not here to tell you what to do—I hope that by sharing this information, you'll be more aware of what you're eating, and then you can make your own choice about whether or not you want to eat it!
1. Peanut Butter Powder (PB2)

For those of you who aren't familiar with PB2, it's basically a powdered peanut butter made by extracting natural oils out of the peanut and dehydrating what's left, yielding a powder in which 90% of the fat is removed from the peanut. The nutritional profile of PB2 is, at first glance, amazing. For 2 TBSP, it's got 45 calories, 1.5 grams of fat, 5 grams of carbs, 2 grams of fiber, 1 gram of sugar, and 5 grams of protein. But from a general overlook of the product, it's not really healthy. First of all, it's not organic, which is an issue here because peanuts are one of the most heavily sprayed crops. Basically, the amount of toxic pesticides that could be in the powder could cause toxins to build up in your body. Also, let's just talk about peanut butter in general. Did you know that most products that include peanuts as an ingredient do not disclose the fact that there is mold present in the peanuts they use? In general, peanuts are highly susceptible to mold! Jungle peanuts are one of the only peanuts I know of that don't produce toxins, but in other peanuts (including the ones used in PB2), there is mold that creates a carcinogen called aflatoxin. In the US, the FDA allows a certain amount of aflatoxin in our food system, but even though it's approved in small doses, the fact that this powder could contain something that is a known carcinogen is enough to mark it as fake healthy.
Healthy substitute: raw almond or walnut butter! You're still getting healthy fats, protein, and energy. Just without the toxins and mold.
2. "Light" Whole Wheat Bread

It can feel like it's almost impossible to buy a loaf of bread at the store that's actually healthy. I've gone up and down the bread section, and I always see added sugars, artificial colors, GMOs, dough conditioners (like azodicarbonamide, which is literally used as a cleaning chemical), and more. Do not buy a loaf of bread like Pepperidge Farm's Light Style Whole Wheat bread and go home thinking it's healthy, just because it's 45 calories and only 9 carbs per slice. It is FILLED with unhealthy ingredients and is 100% fake healthy!  Instead, go for something like Ezekiel Bread. I promise you, the quality of this bread—even though it's higher in calories and carbs—will help you keep weight off better than the processed stuff! Whenever you choose clean ingredients, your body will react better and help you stay leaner (no chemicals, no additives, no bullsh*t).
3. Veggie Chips

Veggie chips are one of the biggest marketing tricks, and it actually kind of kills me when I see people eating these and thinking that they're making a "smart" choice. I don't mean to sound dramatic or patronizing, but it frustrates me when I see people who are making an effort to eat healthy getting fooled by fake healthy foods. So to break it down for you, a veggie chip is usually not much different than a regular potato chip. There are two ways brands can get around this: they can take a regular chip (a fried, oily, greasy chip), and then add just a smidge of beet powder, and voilà–it's a veggie chip. The other way to get around this is by using sweet potatoes. Sweet potatoes are, by definition, a vegetable. So are white potatoes! They're just starchy vegetables. So next time you're snacking on veggie chips, read the ingredients on the back. Most of the time you're still eating potatoes processed and fried in oils, so you're still getting just as much fat and sodium as you would in a regular chip.
The better choice: Instead, I recommend finding true veggie chips. These are often in the healthier aisle of the grocery store (sometimes in the "raw" aisle). Look at the ingredients and make sure that they're actually vegetables (green beans, beets, carrots, yams, etc).
4. Oatmeal

Don't get me wrong—oatmeal can be great for you. It's heart-healthy—oats are a great source of both healthy carbs and fiber, they're rich in antioxidants known to lower blood pressure, and they're filled with other beneficial micronutrients. The tricky thing is knowing which kind of oatmeal does all of the above, and which is the kind that's just fake healthy. The packaged oatmeal that comes pre-flavored is the culprit here, which is frustrating because when you go to a grocery store and look at the selection of oatmeal, the brand packaging and labeling makes it so difficult to map out which ones are clean and which aren't. What you need to look out for are the ingredients on the back of the box (this is always what you should look out for on any food). So even if the box says "natural" or looks super clean, look for things like cane sugar, maple sugar, or natural flavors. The problem with these additives is you don't know where they are sourced from. So something like "natural cinnamon flavor" is most likely not just cinnamon.  There is a very easy solution to this—just buy PLAIN, unsweetened oatmeal. It can be a big sized package or the individual ones (the individual ones do come in handy for breakfast at work, etc.). Then, you can feel free to add healthy, natural sweeteners or spices yourself! That way,  you're in control of the amount and quality of ingredients you're eating. This makes a huge difference! Using a little organic maple syrup or coconut nectar in your oatmeal is much, much, much better than eating packaged oatmeal with cane sugar and "nature maple flavor." I personally like to get plain oats, then add cinnamon, nutmeg, stevia, and a little raw cacao. Then top with almond milk. It's SO GOOD.
5. Most Packaged Juices/Smoothies

One of the easiest mistakes to make is thinking that you're having a healthy, nutrient-filled juice or smoothie when really you're basically drinking processed, sugary juice. Almost every single store-bought smoothie (even the freshly made ones) are filled with added sugar.
The one that REALLY gets me is the Naked Juice "Green Machine."  When you read this, you assume you're drinking a green smoothie/green juice. But if you look at the ingredients, there is a LOT of fruit juice and "natural flavors." Here are the ingredients: apple juice, mango puree, pineapple juice, banana puree, kiwi puree, spirulina, natural flavors, alfalfa, broccoli, spinach, barley grass, wheatgrass, ginger root, parsley, kale, odorless garlic. At first glance, these ingredients may seem harmless, but there's literally 53g of sugar in this "green machine." The American Heart Association recommends no more than 25 grams of added sugar a day for women and 38 grams for men. So in this "healthy" green juice, you've gotten double your daily amount. Yikes. As a healthy alternative, have a piece of fruit and/or an organic, cold-pressed green juice.
While we're at it, let me mention one more. A while ago I was drinking a juice from BluePrint. I specifically sought out this exact juice because it's organic, and there are only greens in the juice (I prefer all greens in my juice, and fruit + greens in my smoothies). So I bought like four of them to hold me over for a few days, and when I got home, I looked on the back and noticed the ingredients: organic cucumber juice, water, organic kale juice, organic celery juice, organic lemon juice, organic spinach juice, organic watercress juice, natural peppermint flavor. 74% juice. Here's the thing—if you're going to drink a green juice, drink an actual pure, organic, natural green juice. Don't drink one that's watered down and that has flavor added! The whole point of drinking green juice is to get the amazing health benefits from greens. Either go all in, or don't bother. Even brands that are organic and cold-pressed find ways to trick you so they can make more money. They water down their juice and then add peppermint flavor so you won't taste the difference. Also, I personally think the peppermint flavor is overbearing. I'd prefer fresh mint leaves, please.
Healthy option: aside from blending the drink yourself, go to a juice shop or smoothie shop where they make it in front of you. More importantly—learn to look beyond (far beyond) the label, font, and claims on the front of a juice. Just look at the ingredients on the back, and choose one that has nothing but the organic fruits and greens you want.
6. "Healthy" Nut Butters

If you follow me on Instagram or YouTube, you know I love nut butters. However, nut butters become fake healthy when brands add a bunch of unnecessary ingredients that will cause bloating and unwanted weight gain. Let's take the brand Earth Balance, for example. The label on the front says "natural peanut butter and flaxseed." That sounds amazing. But then you flip it over, and all of a sudden you see ingredients like "peanut oil, agave syrup, palm fruit oil, and salt." I mean, peanuts are already filled with natural oils, so why do they feel the need to add peanut oil and palm fruit oil? Always look for nut butters that have no added sugar—there is literally no need to add agave to peanut butter. (Agave also has more fructose than high fructose corn syrup, and heads straight to the liver. It's just as bad as cane sugar. More on that in the following section.) 
Better option: raw, unroasted, unsalted nut butters. I recommend raw, because when you roast almonds, walnuts, or any nut, they lose some of their nutrients. Raw is easier to digest and better for you.  I personally love Artisana and MaraNatha. Still, check the label, as these brands often make different variations (some MaraNatha products are not raw, while others are).
7. Agave

In the past couple years, there have been so many new sugar alternatives. We have coconut sugar, stevia, monk fruit, agave, and many more. But the one I want to single out is agave. Sugar, in general, should be avoided (and I think most of us know that), but I have a problem with agave companies that try to brand their product as a "healthy" and "all-natural" sugar alternative, when the heating process of turning an agave plant into a syrup actually destroys any nutritional benefits, and we're left with a glorified sugar syrup that has more fructose than high fructose corn syrup. When a product, like agave, is high in fructose, that means it's high in a sugar that our body is not able to properly process. Because we can't process it, it ends up being metabolized to fat (which is why it can cause weight gain, high blood pressure, and can even contribute to Type-II Diabetes). Agave companies have labeled and branded themselves so well that most people would pick agave up at the store and think they're making a healthy choice, but this is just another fake healthy food that everyone should be aware of! Agave is no better than regular old sugar. If you want a cleaner option, use coconut nectar or stevia drops—a little goes a long way with them, and they will not spike your blood sugar levels or be stored as fat.
Images: Amazon (5); Shutterstock (3)
7 Exercise Mistakes That Are Sabotaging Your Workout
Going to the gym f*cking blows. Half the time I don't know what I'm doing, so I just resort to hopping on the elliptical for 30 minutes before calling it a day. Not to mention, it's sweaty, painful, annoying, and honestly, I'd rather be on my couch watching SVU reruns. That's why nine times out of ten, I'll fork over the $40+ and just sign up for a bougie workout class where I can have an instructor tell me what to do, use the studio's freebie dry shampoo and face wash, post proof I was there on my Insta story, and continue avoiding an actual gym like the plague. And that's coming from me, a Pilates instructor, who yes, can also hate working out just as much as you do. If you're like me and want to make sure you're getting your money's worth of your fancy workout class, don't make these exercise mistakes after you sign up, because you're going to end up sabotaging yourself.
1. You're Not Properly Fueling Before Class

Never go to class on an empty stomach. You'll be groggy, irritated, and maybe even a little hangry. You can't expect your body to push through your workout and give it your all if you're operating on zero fuel. Grab a banana and some peanut butter—any food that will give you quick carbs for a boost of energy—and eat 30 minutes to an hour before your class to give your body what it needs.
2. You Won't Get Off Your Phone

Yes, Twitter is funny as sh*t, but pull yourself away from your tech for the entire duration of a class. If you need to take a quick selfie or snap a pic for some ~content~ that's fine, but do it before class or as soon as it's over. It's super rude to your instructor and other class attendees, and if you can't pull yourself away from your iPhone for an hour you won't be able to focus on your workout and will miss out on reps. And I promise you that your ex does not give a sh*t you made it to your fourth Barry's class in the past week… if he's still watching your story.
3. You're Wearing The Wrong Clothes

You don't need to show up wearing a sports bra, but wear clothes you feel confident in and that are at least semi-fitted. If your clothes are too baggy, your instructor won't be able to check your form, you'll lose out on maximizing your reps, and it can even lead to injuries. Avoid your college sorority T-shirts and think of it as an excuse to hit up Lululemon for some quality workout gear.
4. You Don't Tell Your Instructor You're Injured

First of all, kudos to you for even getting to class in the first place. But don't be so badass that you avoid telling your instructor you have something going on. Even if you don't think it's anything, letting your instructor know something doesn't feel right—or if you have a legit injury that's been checked by your doctor—is always the move. Your instructor should be able to modify any exercises for you, and can even give you a few pointers on how to rehab your injuries.
5. You Won't STFU

If you're hitting up a class with a friend, great. But stop talking sh*t/gossiping/stalking your Ship matches together as soon as class starts. If you really need to catch up, grab green juice after class and chat there. Or if you know that you won't be able to shut up when you're together, take the class on your own and make plans with them later.
6. You Arrive Late Or Leave Early

Yes, the MTA is a bitch and a half and will probably make you late at one time or another, but don't let make you late to your workout class. Not only could you lose your class credit or be charged by the studio (ugh, annoying), but it can also jeopardize your safety. 99 percent of classes start and end with a warm up and cool down and yeah, you should absolutely do them. They are crucial to helping your body prepare for exercises later in class, and they'll help relieve any soreness or tightness after your workout. IMO, not stretching after a spin class should be a felony.
7. You're Not Eating After Class

After you're done hitting a high-impact class, the first thing you should do is eat a good meal with protein. Avoid a sugary smoothie (yes, even it's made with mostly fruit) and try a good salad topped with tofu, beans, or another lean protein, or a sandwich you can take on the go. Yes, working out can help you lose weight, but only proper nutrition can make you fit and help you reach your goals. Don't let the past 45 minutes you spent sweating out last night's vodka sodas be in vain!
Images: bruce mars / Unsplash; Giphy (7)
Why Max Lugavere Doesn't Believe In The '5 Meals A Day' Diet Strategy
Living a healthy lifestyle during the holidays should honestly count as an Olympic sport. For many people, Thanksgiving is the beginning of the end, diet-wise. You feel like there's basically no hope after you've eaten an entire bird, your body weight in stuffing, and pumpkin pie is seeping out of your pores. That's why we had nutrition expert Max Lugavere on our Diet Starts Tomorrow podcast to give us some tips on getting through the holidays without wreaking havoc on your body. Here are some of our highlights from our chat with Lugavere, but to get all his advice, listen to our podcast linked below.
How our food has become less nutritious overtime
You're more likely to be hangry and overeat when you chose to eat processed foods
The optimal amount of protein to consume is probably double the recommended amount
You can burn calories by eating protein
Why rats in New York City are becoming type two diabetic
Why Lugavere does not believe in the "five small meals a day" method
Lugavere lives by the motto that "Your next meal is another opportunity to turn it all around." So yeah, diet really does start tomorrow if you want it to
How to stretch your stomach to fit more food on Thanksgiving
Remind yourself as Lugavere does, it's about progress, not perfection
Hear the full Diet Starts Tomorrow episode above. To connect with Max Lugavere, check out his Instagram, podcast, and best selling book.
Images: Yakynina Anastasia / Unsplash
This Is What Kourtney Kardashian Eats In A Day
It is a truth universally acknowledged by anyone with eyes that Kourtney Kardashian is a 38-year-old mother of three with a BANGING body. It's equal parts inspiring and rage-inducing to know that this woman looks better in her late thirties than I did in my prime college years before the alcohol abuse and limitless access to carbs took their toll. RIP 21-year-old body. I hardly knew, ye.
Luckily for us commoners, Kourtney released her daily meal plan on her app and, as per usual, we have a lot to say. First of all, the woman loves a tasteless pudding. But she also loves bikinis and looking like a damn snack, so I guess the two go hand in hand.
We broke the diet down for you in case you decide to eat like a Kardashian for a day. Pro-tip: if it's excessively expensive and tastes like raw sewage, it will keep you young forever.
First thing in the morning: "Every morning, when I wake up, I take collagen supplements on an empty stomach. About 20 minutes after the collagen, I usually drink one tablespoon of organic apple cider vinegar mixed into a glass of water. Both of these habits have a ton of health benefits that affect everything from your skin to the way your body processes nutrients."
From my brief experience with prenatal vitamins in high school, I can tell you with the utmost certainty that supplements on an empty stomach are a terrible idea. But if it means I look like Kourtney at 38, I guess it's something I'd be willing to try.

The tablespoon of apple cider vinegar sounds gross but my mother and her iron immune system swear by it, which basically makes me a distant Kardashian relative I guess.
Before Breakfast: "Before breakfast, I take a vegan probiotic shot. Then, almost every morning, I eat freshly made avocado pudding with E3Live blue-green algae, bone broth protein powder and MCT oil. It only takes a few minutes to make and it provides healthy fats to give me energy before a workout."
I can't even fathom what a vegan probiotic shot tastes like, but I would be willing to bet it's something akin to frothy, grassy, garbage. I'm sure I can buy one at my local New Seasons for the low, low cost of $9 and a painful morning spent in the shared office bathroom.
The avocado pudding concoction sounds like Kourtney threw a couple darts at a board covered in health food buzzwords and then poured them all in her Vitamix. I'm sure it tastes like saw dust and makes her skin glow like a newborn baby. But just for fun, let's break it down:
First you have the obligatory avocado, which as well know is God's gift to millennials and packed with healthy monosaturated fatty acids.
A quick Google search tells me that other than being found in lakes and reservoirs, blue-green algae is also a superfood that is high in protein, B-vitamins, and iron which is supposedly beneficial for a whole slew of ailments, ranging from ADHD, stress, PMS, and generally just attempting to live your life in 2018.
MCT oil is harvested from coconuts and is familiar to me because it's one of the magical ingredients in the legal heroin that is Bulletproof Coffee. 100% Betch Ivy Carter approved. Moving on.
Bone broth protein powder is exactly what it sounds like: protein powder made from both broth, which is essentially a 2018 rebrand of the regular broth you use to make soup. Except, you know, good for you and shit.
Altogether, this sounds like an incredibly expensive, tasteless pudding and I'm going out tomorrow to buy all the ingredients for it because have you SEEN Kourtney? The woman knows what she's doing.
Breakfast: "After exercising—which I try to do 5-6 times a week in the morning—I usually have a bowl of whole grain oatmeal made on the stove (instant isn't as good for you!). I'll add fruits, sprinkle seeds or bee pollen, or drizzle honey on top to mix it up."
Kourtney Kardashian eats oatmeal. I repeat, Kourtney Kardashian eats OATMEAL. Sure, she puts bougie ingredients on it, but it's still oatmeal. There may, in fact, be hope for the rest of us yet. I'll just ignore the 5-6 days of exercise a week and pretend like we're on the same level here.
Lunch: "I love salads, so I usually have one for lunch every day with some type of protein added, like chicken or salmon. Whenever possible, I try to make my own simple balsamic or ginger dressing since store-bought dressings have lots of unnecessary sugar and preservatives."
We've already put ample research time into what exactly is up with the Kardashians' go-to salads and, spoiler alert, they're just salads. Not even a nice seared ahi story. It's a chef salad.
Afternoon Snack: "If I'm hungry in the afternoon, I'll have fresh vegetables with avocado hummus, raw almonds or a bit of fresh fruit. I also usually drink hot green tea right after lunch."
When I'm hungry in the afternoon I have to physically restrain myself from diving face first into a bag of Flaming Hot Cheetos, but to each their own.

Pre-Dinner Snack: "In the evening, before dinner, I do another round of apple cider vinegar mixed with water, then another probiotic shot."
This isn't a snack, Kourtney. A glass of vinegar water and a probiotic shot can range anywhere from a cleanse to an actual punishment (same thing tbh), but not a snack.
Dinner: "I love fresh, simple soups made with asparagus, sweet potatoes or beets. I also make turkey chili when it's cold outside. I usually try to make soups and chili on a Sunday, so I have the extras in the fridge when I'm busy during the week."
I have a sneaking suspicion that the six bowls of chili doused in cheese and sour cream that I'll be consuming at this weekend's Super Bowl party will vary slightly from the turkey chili Kourtney makes on brisk Sunday nights. At the very least, I know that mine will have 100% less blue-green algae in it.
Sweet Snack: "Even though I eat healthy most of the time, I think it's really important to have something sweet—especially when it's worth it, like Chef K's matcha chia seed pudding."
I bet Chef K's matcha chia seed pudding is decadent compared to Kourtney's morning concoction, but I doubt it would land anywhere in the realm of dessert where the rest of us are concerned. Then again, no part of Kourtney's daily routine would register anywhere near normal for the rest of us, so this shouldn't be all that much of a surprise.
TL;DR: you are not Kourtney Kardashian. Don't bother.

I Tried A Juice Cleanse To Lose Weight & Here's What You Need To Know
The week between Christmas and New Years is literally the dead time: no one knows what day it is, restaurants can't figure out if they should be open, and rich white people go skiing. So what's a girl with no plans and a desire to look hot on New Years to do? Go on a cleanse, obviously.
I am definitely not a proponent of fad diets or even diets in general. In fact, I'm perfectly happy with my healthy-ish eating habits that mostly focus around the question, "Did I work out enough to eat this bagel?" and usually end with me eating a bagel. But my boyfriend is into intermittent fasting (I think Yom Kippur was his favorite holiday as a kid), I needed an activity, and if we did it together I could turn it into a competition.
The Cleanse
We went for a three day smoothie/juice combo package where we were given a six-drink variety pack made fresh each day. All together our daily intake came out to around 800-1,000 calories of vegetables, fruits, and some nut protein—so we weren't completely starving ourselves. And we drank coffee in the morning, because we still had to live with each other. P.S. This shit was expensive and anything with kale in it, no matter what other ingredients you add, tastes like fucking kale.

So what happened? I hope you're interested in a play-by-play, because not eating leaves you with a lot of fucking free time. And I took notes.
Day One
1:00pm: This isn't so bad. Or maybe I'm just still full from Jewish-Christmas Chinese food?
4:00pm: I don't think I actually believe in the philosophy of a cleanse. I'm just in it for the competition, and fuck it's seriously hard to justify the self-torture when I don't believe in the purpose. It's like I'm a mercenary—and I could never be a mercenary.
7:00pm: Throwing up in the bathroom while a guy from Taskrabbit builds our new couch. A new low, I think.
9:00pm: Boyfriend and I argue over whose reaction is more like that of a heroin addict going through withdrawal. His, definitely his.

Day Two
9:30am: Slept 10 hours last night—glad this is "no one gives a shit if you work" week. Extra glad the office was empty yesterday so I could have the bathroom to myself for "cleansing" purposes.
3:00pm: Shopping was a good distraction and I really think everything is fitting better than usual. Great, I'm already skinny—I can stop cleansing.
5:00pm:
Boyfriend: What should we do tonight?

Me: Go to a movie?

Boyfriend: But what will we DO in the movie if we can't eat Sour Patch Kids?

Me: Fine, let's just sit on the couch and talk about how our tummies hurt.
7:00pm: Ohhh, this one is a nice pink color! Maybe it will taste like a Jamba Juice Razzmatazz smoothie. Nope, fucking beets.
8:15pm: Is it too early to go to sleep?

Day Three
11:00am: This is my life now; I think I have forgotten how to chew. Also, my teeth are very angry with me. It's like they're screaming for something to do.
4:00pm: Oh, looks like we do have enough energy for sex.
6:30pm: I think I'll pour #5 and #6 down the drain and end on a fast. Really excited for my bagel tomorrow morning.
9:00pm: My face hurts. I don't want to be touched. I just kicked my boyfriend out of the living room so I could watch Peaky Blinders alone. Has hanger taken on a new form or am I just a bitch now?
11:00pm – 12:00am: An in-depth discussion around where we should eat dinner the following night. Suggestions included: tapas, sushi, and an all-you-can-eat steakhouse. We landed on steakhouse.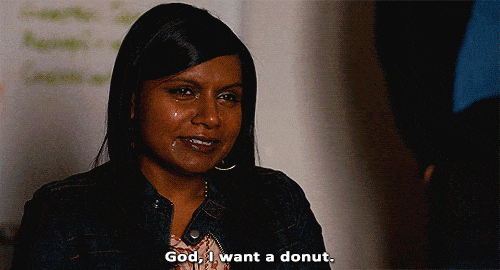 Conclusion
At the end of three days, I lost four pounds, proved to myself (and my boyfriend) that I am stronger than my hunger, and digested a month's worth of vegetables. I also wanted a salad as my first real meal, so that probably means something. But overall it felt like I was punishing my body for a crime it didn't commit, and I did not appreciate the hermit-like lifestyle it imposed upon me. Like actually, what to do you do with friends if you aren't eating food or drinking alcohol?
Anyway, I don't feel particularly "cleansed." Next time I want to pull a Regina George and lose three pounds, I'll just eat less and SoulCycle more. Now, excuse me while I feed myself.

Images: The Office / Netflix; Giphy (5)
The Weirdest Health & Fitness Trends Of 2018
In case you've been living under a McDonald's-sponsored rock, the predictions for 2018's top health trends were just released and I've been doing an intense investigation into WTF these things are. I've already told you which ones sound somewhat doable, but now I'm gonna talk about the weirdest ones on the list, because there are a lot to choose from. Like, if this shit becomes the new norm, I'm done. I thought the charcoal lemonade at Juice Generation was the weirdest thing for society to accept, but I guess I was wrong. Here are the top 5 most bizarre health trends you'll see in the new year:
1. Eating Weird Shit Like "Moringa"
The health and wellness industry has already convinced people they should be taking ginger shots and drinking turmeric lattes for anti-inflammatory purposes, but now they're springing this new "moringa" product on us. Apparently moringa is some super-green natural supplement found in trees in India, and scientists are trying to convince everyone it's the new kale. Honestly if anyone can try this and get back to me with some real proof I might consider it, but right now I'm okay with all the other supplements I've been convinced to buy over the years. Can we just make up our minds and stick to something?

2. Using Science To "Hack" Our Bodies
I know science is more advanced than ever, but why on earth do we need to start biohacking our bodies? This trend is all about using science to change the things we've been doing that are already healthy, like adding adaptogenic plants to our coffee or using live bacteria to "hack" our skin's microbiome. I understand there are amazing new innovations in the science world, but I don't really get why it has to be a health trend. Like, don't you think we've gone a little too far? Let's let biology do its thing and keep the science out of our cosmetic bags. This trend is bizarre.
3. Making Our Apartments Healthy
Don't get me wrong—I literally swear by my horoscope and I watch Long Island Medium at least twice a week. But like, who actually believes in all these magical crystals and plants to give your home healthy vibes?! It's one thing to invest in a pretty succulent to have on your coffee table, but it's another thing to deck your apartment in Himalayan salt lamps and 50-pound crystals hoping they'll spread positive energy. These things are glorified dream catchers, and I'm not buying it. Save the sketchy incense and essential oils for your yoga class and that stay-at-home mom on your Facebook feed who's clearly involved in an MLM. It's getting weird.

4. At-Home Spin Bikes
Now that you can buy a FlyWheel or Peloton bike for your living room, this trend is blowing up, and frankly I don't really get it. Unless you live in a random town in Bumblefuck, Delaware where there's no SoulCycle within a 50-mile radius, why would you want a spin bike at home?! Aside from the fact that it takes up SO much room and would just end up being used as a towel rack, it's weird. Like, you're gonna have people over for a pregame and just ignore the fact that there's a spin bike in the middle of the room? There's also no chance your workout is as good at home as it is when you have an instructor yelling at you to raise your torque IRL. Just saying.
5. No-WiFi Mental Health Vacations
This trend is actually baffling to me, and I had to reread it about four times to make sure I wasn't hallucinating. People WANT to travel to places without internet? WHY? And please don't give me some crap about being in the moment and enjoying face-to-face company. We've all been on family vacations. Your phone battery usually dies by noon. Like, apparently "super cool phone-free social clubs" are a thing, and hotels are offering digital wellness escapes where you can "disconnect to reconnect." These hotels make you leave your phone at the front desk upon checking in, and allow you to do horrible shit like relax in a tech-free environment and experience the great outdoors. Even the Mandarin in Las Vegas is getting in on this trend. Like, you're really gonna go phoneless in Vegas??? If this is really what people want, I'm genuinely concerned for the direction of society. I thought we were moving in a good direction with in-flight WiFi and internet service in the subway. All these psycho mindfulness-preaching health bloggers are literally ruining it for the rest of us.

Images: Toa Heftiba / Unsplash; Giphy (3)