An Easy Tomato & Basil Sauce Recipe From Stuff You Have In Your Kitchen
With social distancing guidelines and shelter in place laws in effect at least through the end of the month, it's time to start taking this seriously and not leaving your house unless it's absolutely necessary. Part of that means not going to the grocery store for one loaf of bread or because you ran out of LaCroix, and instead, learning to get creative with the items you already have in your kitchen.
When the instructions for social distancing and self-isolation came from Governor Newsom here in California, one thing I didn't have to worry about was being able to eat from my pantry. It's not that I'm a canned food fan. In fact, I much prefer the type of foods that live in the refrigerator: fresh vegetables, juicy fruits and select organic proteins. It's more that I'm a fundamentally lazy person. Yes, I may have written a 500-hundred page cookbook, BUT if given the choice to go into my car and drive in L.A. traffic to go to the supermarket, where I then have to find parking before grocery shopping, versus sit on my couch and watch an episode of Silicon Valley until I fall into an hour-long slumber, I choose the latter. I really love a good nap.
So, because I am lazy, at times, I find myself hungry without fresh food in the house. I don't like ordering in, and so it is in these moments that I get the most creative in my kitchen. Fueled by hunger for a proper meal, I play with the ingredients I find buried in my pantry, a skill that's become especially useful now that we are supposed to be limiting trips to the supermarket.
Since everyone is making pasta like never before, I thought I'd start off with a simple sauce recipe that even the laziest of us can accomplish.
Recommendation: Read through recipes outside the kitchen, like on the couch or even when you're in bed. Get a feel for how each one works. That way if you're missing some ingredients, you can come up with alternatives before you find yourself in the throes of cooking. For example, if you read through this recipe thinking "I don't have red pepper flakes for the sauce," take an inventory of your pantry to see what else you might have—maybe you've got some cayenne sitting around. Or maybe you'll think, "I have a jalapeño I can chop up." The point is to not go running out for spices or other ingredients, and figure out how to make do with what you've got. And by the way, if you have none of those heat-adding touches on hand, just make it without the spiciness (it will still taste fine, I promise). The purpose is to use these recipes as a template for you to get creative in your pantry, which is a lesson that will serve you well past the end of quarantining.
So without further ado, let's make a simple tomato and basil sauce from the ingredients that have probably been sitting in your pantry for months.
Simple Tomato and Basil Sauce
I like canned tomatoes for certain sauces, because they're just as good in the winter as they are in the summer—unlike fresh tomatoes, which are only good in summer—and they lend themselves to a richer sauce, with very little work.
This sauce doesn't have many ingredients. It's the opposite of Emeril Lagasse's "BAM, BAM BAM!" explosions of flavor. This sauce is about harmony, about letting the garlic and whole basil leaves gently infuse their flavors into the tomatoes. The carrots add sweetness to the tomatoes naturally, without sugar, and lend a mildly earthy flavor.
Ingredients
⭐︎ 1 (28-ounce) can whole peeled tomatoes
⭐︎ ¼ cup extra-virgin olive oil
⭐︎ 3 large garlic cloves
⭐︎ ½ teaspoon red pepper flakes
⭐︎ 1 to 2 carrots, cut into matchstick pieces
⭐︎ 1 to 1 ½ teaspoons kosher salt
⭐︎ 10 to 15 fresh basil leaves, left on stems
Makes: 2 cups sauce for a box or a box and half of pasta
Place a medium heavy pan over a medium flame for a couple minutes.

Add the tomatoes and their juices to a food processor or blender and pulse into a thick pulp.  You can also squeeze the tomatoes by hand, but be careful of the splattering!

Add the olive oil to the hot pan, followed by the garlic, red pepper flakes, and carrots. Watch as the bubbles emanate from garlic; that is the garlic infusing its flavor into the oil. Don't let the garlic burn or even brown—you want it to stay translucent.

After several minutes, add the tomato

purée

. You will see olive oil coming up on the sides of the tomatoes; this is ok, the olive oil helps to transform the flavor of the tomatoes.  

Add a good sprinkling of salt, about 1 teaspoon, and a large handful of basil leaves. Stir occasionally. It will be done when it is no longer watery and the sauce has thickened, 20 to 25 minutes, 

Taste for salt and add more if necessary. If you aren't sure if there is enough salt, there isn't. Add more.

Remove the carrots and use them as a side dish for another meal (see Variation).  It's up to you if you want to remove the garlic and basil leaves or keep them in for a rustic feel.
Variation: If you'd like a sweeter, more nutritious sauce, remove the garlic and basil and puree the tomato sauce with about half of the carrots in a blender or food processor. It will be delicious (and a good way to hide vegetables from your kids).
Enjoy with a box and a half of your favorite pasta (now you finally know how much to make).
Born to parents who defrosted, Elana Horwich began cooking as a young child because the kitchen was the only place in the house her mother couldn't find her. In her 20s she had an epiphany which took her to Italy for 5 years. There, she worked in bars, fell in and out of love, ate her way through the peninsula, and garnered life experiences that she would one day write about. While devouring every aspect of the local culture, she learned to cook from an Italian mamma in a Tuscan villa.
In 2010, back in her hometown of Los Angeles, Elana founded the Meal and a Spiel cooking school out of her parents' kitchen, and now travels the country teaching people how to make phenomenal food, easily.
Elana holds a B.A. from Brown University and a M.A. from Middlebury College in Florence, both in Italian Studies. She has written and performed stand-up comedy to Los Angeles audiences, spent 4 years teaching high school World History and has led experiential culinary vacations throughout the boot of Italy.
Elana has appeared on Good Day LA, KCAL, KNBC, and KTLA  as an expert on healthy holiday cooking. She is a regular contributing writer for the Jewish Journal and her recipes have appeared in the Huffington Post, Tablet Magazine, The Daily Meal, and in newspapers throughout the country. She is the consulting chef for the UCLA Women's Cardiovascular Center.
Her ultimate dream is to live in a world where everyone shares love with one another through cooking.
For a limited time only, you can now order a signed copy of MEAL AND A SPIEL from www.elanahorwich.com to receive an additional 20% off!  Just enter the code KITCHENBADASS20 at checkout. 
Bring One Of These Easy & Cheap Dishes To Friendsgiving
Friendsgiving is the best parts of Thanksgiving without having to spend time with your weird extended relatives. Doing fake Thanksgiving aka Friendsgiving with just friends means you can eat, drink, and have no one berate you about not being married yet. Unless your friends are terrible, in which case, stop inviting them. The only part of Friendsgiving that sucks is that you and your friends are responsible for paying for this elaborate meal and you have to cook it all yourselves. So what can you bring to Friendsgiving that won't cost you a fortune, won't take 7 hours to prepare, and is edible? We did some research on recipes that will make you look domestic af.
Upgraded Comfort Side
Hopefully the friend who offered to host Friendsgiving will provide the turkey, leaving the rest of you to provide the best part of any Thanksgiving feast: the sides. If you're short on time, you can totally do a quick vegetable dish, but everyone knows the backbone of Thanksgiving is the comfort food. Since the host will be super busy, provide a staple side dish like stuffing, potatoes, or mac and cheese. None of these are expensive or time consuming to make and will be heavily appreciated by everyone. Instead of doing the most generic box mix you can find, upgrade it a little bit so you seem like this badass chef. Do a baked mac and cheese with bread crumbs, or funeral potatoes (only called that because in the South, they're comfort food you bring to someone's house after a death in the family. Don't make it weird).
Easy Dessert
If you're really short on time, pick up a few pies from a bakery and call it a day. Or, if you know the host will be providing those, make your favorite cookies or cinnamon rolls. You can never have enough dessert at these events. My favorite cookies in the world are butter cake cookies. They are always a crowd-pleaser. I almost killed my lactose-intolerant coworker because I unknowingly made him a batch for covering a few shifts for me. He ate them all in one sitting. He still claims it was worth it. I call them fat cookies because they are horrible for you and I will eat all of them if I make them at home so I save them for special events only. If you want to make a homemade pie, go ahead, but at least buy the crust because that sh*t is annoying to make from scratch.

Fall-Themed Cocktail
Much like dessert, there is never enough booze at an event with my friends. Most people will bring a bottle of wine, so if you don't really feel like cooking, liquor up the masses by making a boozy hot cider or a fall themed sangria. You can even do apple cider mimosas, hot toddies, or pumpkin pie martinis. If you really want to be Pinterest-worthy, hollow out apples as your cups and put in a little cinnamon stick as a garnish. They are so cute and clean up is just as easy as if you were using solo cups.
Appetizers
If there is one thing I know about Thanksgiving, it's that the food is never, ever ready on time. Uggghhh. There is little that can turn me from bubbly ex-sorority girl to Beelzebub in heels faster than expecting to eat and having it delayed. Appetizers are always an afterthought at group events, so if you want to do something quick, pick up cheese, crackers, and fig jam and make a cute little platter. You can also make dinner rolls, cheesy pull-apart bread, goat cheese dip, pigs in a blanket, or a vegetable tray. Your host will be so grateful that hangry guests (me) aren't breathing down her neck.

Images: element 5 digital / Unsplash; giphy (2)
3 Easy Dishes To Bring To Friendsgiving That Will Trick People Into Thinking You Can Cook
There's no easy way to say this, so here it goes: Baking and cooking for Thanksgiving sucks ass. First off, it requires real, actual work on your part, which, like isn't it the holidays? Isn't this Jesus' gift to us all—the gift of some goddamn peace, quiet, and relaxation? Secondly, there's the horror that goes with baking or cooking something and people not liking it or judging you for making it in general.
I appreciate being judged and judging others when it's something related to how great my hair looks or my general amazing fashion sense. But I get real upset and put off when someone doesn't like the massaged kale salad or ginger pumpkin spice bars I made. Fuck you! This was a labor of me being drunk and fucking up love.
Save yourself the heartache and make one of these three v easy dishes for your annual Friendsgiving or real Thanksgiving this year. Impress people. Make them think you care.
1. Sparkling Pomegranate Punch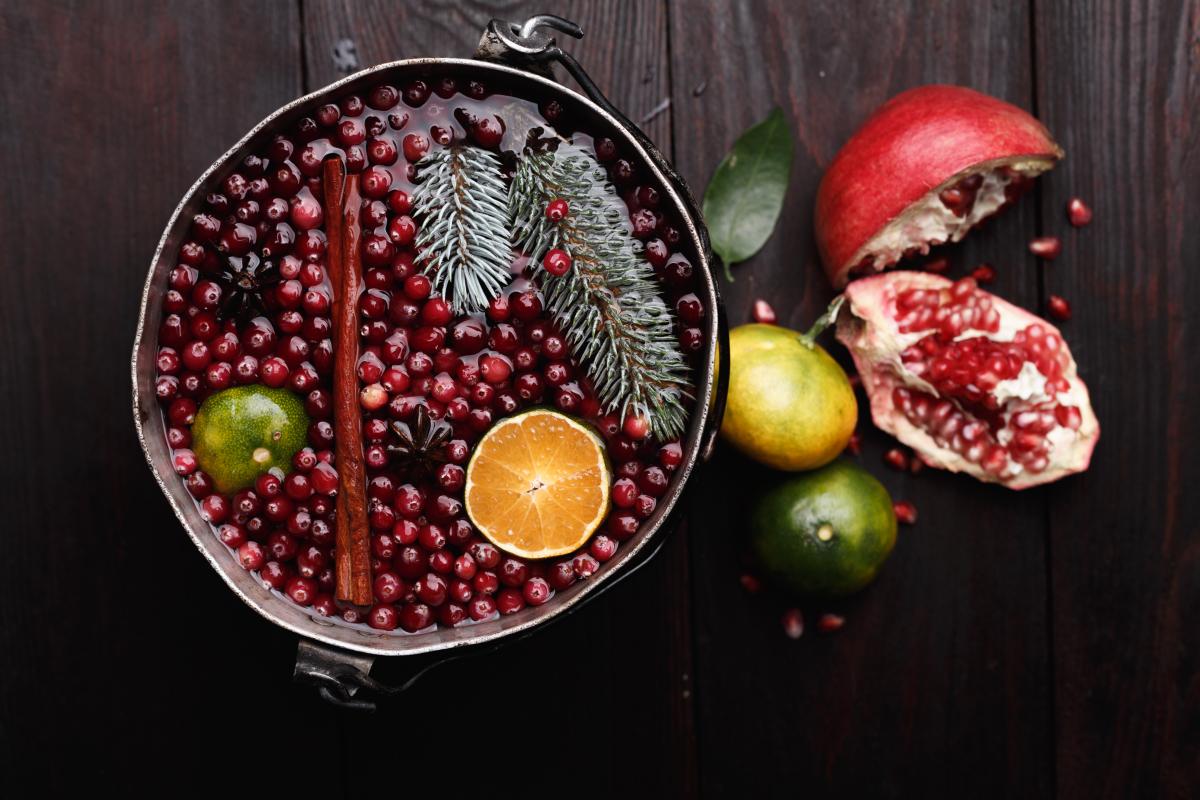 Hey guess what—if your guests are drunk, they're less likely to notice shitty or nonexistent food. Tis the season for classic holiday punch in a big bowl that gets everyone fucked upppppppppp. Thanks, Food & Wine, for letting us add more alcohol to this recipe.
· 3 tbsps white sugar
· 1 cup pomegranate juice
· Two 750mL bottles sparkling wine, chilled
· 1 cup Riesling wine
· 2 oranges, thinly sliced crosswise
· 1 cup diced fresh pineapple
·¼ cup pomegranate seeds
Grab that giant punch bowl your mom keeps trying to get you to use and dissolve the sugar with the pomegranate juice in the bottom. Add the sparkling wine and Riesling, then add all the many fruits, including the pomegranate seeds. Serve over ice.
2. Classic Mac N Cheese

If you're determined to have a casserole-type dish on the table with everyone else's but don't want to tackle a turkey (same), make a classic mac n cheese (we adapted our shit from Southern Bite so you know it's good). Everyone will love it and probably love you for making that shit. You can't fuck it up by adding more cheese… JUST SAYING.
· 2 cups whole milk
· 2 tbsp butter
· 2 tbsp all-purpose flour
· Salt and pepper
· 2 ½ cups shredded cheese (honestly an assortment of cheddar, jack, and gruyere would be bitchin)
· 16 oz package elbow macaroni, cooked
Preheat the oven to 400F and microwave the milk on HIGH for 1 ½ minutes. Meanwhile, melt the butter in a large skillet over medium low heat and then whisk in the flour until it's smooth. Cook, whisking CONSTANTLY, for one minute without burning that shit. (You can do it; I have faith in you.)
Gradually whisk in the warm milk and keep fucking whisking for like, five minutes or until everything is thick. Whisk in some salt and pepper plus about 1 ½ cups of the cheese until everything is smooooooooth. Add in the cooked pasta, then spoon/pour that mixture into a lightly greased 2 quart baking dish and throw the remaining cheese over top. Bake in the preheated oven for 20 minutes or until golden. DONE.
3. Rustic Cranberry Relish

You know what ISN'T impressive? Sliding a glob of cranberry Jell-O out of a can to be sliced into jelly pieces and smeared on Thanksgiving dinner. Your friends will be SUPER impressed if you make a rustic orange cranberry relish via the New York Times, though, and they also will think you actually like, spent time on it.
· 1 bag fresh cranberries
· 1 whole navel orange, skin included, washed and cut into chunks
· ½ cups chopped pecans
· 1/3 cup honey
Grab a food processor and throw all these ingredients in. Blend until a finely chopped mixture with a crunchy texture emerges. Chill until you're ready to impress people with it. THAT'S LITERALLY IT OMFG.

An Easy Summer Salad Recipe That You'll Actually Enjoy Eating
Is it Fall yet? Every time July/August hits we all become destined to repeat how much we miss sweaters and blankets and pumpkin spice lattes and scarves. We also greatly miss things like cheese, carbs, and hearty-ass shit that we can eat and get away with since layers are in. However, during summer, salads with lemon spiked drinks and like, a lot of alcohol are par for the course, so we say make a meal that you'll actually enjoy eating. While eating a salad can sometimes feel like literal torture, we guarantee that this summer salad does not fall into the usual this-tastes-like-dirt-but-I-need-to-power-through vibe that most salads give off. Plus, it's packed with so many toppings it'll feel like you're being bad without actually being bad and gaining 10 lbs. When we combine arugula with citrus and skrimps, we feel better than everyone else. We adapted this recipe from the NY Times,but made it easier for those of you who fucking suck at cooking or just like, don't have time to pay attention to food and shit.
Ingredients:
·        2 lbs raw shrimp, peeled and deveined
·        1 tsp garlic, finely chopped
·        Red pepper
·        1 tsp smoked paprika
·        2 tbsps olive oil
·        2 tbsps plus 2 tsps fresh lemon juice
·        Salt and pepper
·        Mint leaves from one bunch
·        Basil leaves
·        Arugula

Instructions:
Preheat the broiler in your oven and move the rack as close as possible to the heat on top. Grab a big oven proof skillet and put it on the stove. Turn the heat to looooow. Grab your skrimps and combine them with the garlic, red pepper (honestly, however much you want or don't want), paprika, salt and pepper to taste, 2 tbsps of the olive oil, and 2 tspsof the lemon juice.
Stir that shit until it's all combined. Turn the heat on the skillet to high, and when it starts kind of smoking (SCARY), throw in the shrimp. Shake the pan a few times so all the shrimp get some attention, then put the skillet in the oven. The shrimp will be done in about 3-4 minutes, so keep an eye out unless you want some chewy sea-spiked bullshit.
While that shit cooks, chop up about a third of the mint and about half of the basil and set it aside. Tear up the remaining leaves and throw them into a bowl with the arugula where they can get to know each other. Grab another bowl and mix together the rest of the olive oil and lemon juice.
When the shrimps are done, use a slotted spoon to put them on a plate. In a bowl, add whatever juice is at the bottom of the shrimp skillet to the lemon juice and olive oil mixture and stir. Drizzle over the arugula and herb mix and toss. Arrange the shrimp on top and garnish with any leftover herbs.