Everything You Need To Know About Kanye's Coachella Sunday Service
Well folks, we finally made it through Coachella. After two grueling weekends of Instagram models shaking their bare asses in the desert, we can let Coachella slip from our consciousness for 11 months. But before we forget about 'Chella 2019, there's one more thing we desperately need to talk about: Kanye West's Sunday Service. I'm sure you saw it on Instagram, but you probably have a lot of questions about what it actually is, and why every creature of Instagram showed up in their Sunday best to a random field in Palm Springs.
To start, let's go back to January of this year. After Coachella announced this year's headliners, the drama began. Reports quickly surfaced that Kanye West was supposed to be this year's Sunday headliner, but there were last-minute issues. Specifically, he demanded that the festival build him a giant dome for his performance. They told him it wasn't possible, and the contract negotiations fell apart from there. Luckily, Ariana Grande was available, so she became the headliner instead.
We'll get back to Coachella in a minute, but now let's focus on Kanye. Since January, he's been hosting a weekly Sunday Service, a mysterious gathering where a giant gospel choir sings arrangements of Kanye West songs. It's still unclear whether there's a specific religious connotation to the Sunday Service, but it's definitely meant to promote the image that Kanye is basically the next Jesus. Or the next God? Idk, I haven't been to church in a long time. Since the Sunday Service started in January, it's become a big event, and lots of famous people have made appearances. Attendees include Kid Cudi, Katy Perry, Orlando Bloom, Courtney Love, and all the Kardashian-Jenners (of course). Kanye might be crazy, but his Sunday Service is still one of the most exclusive invites in town.
Then, a few weeks ago, it was announced that Kanye was bringing his Sunday Service to Coachella. He didn't get the dome he was hoping for, but this performance made just as much of a statement. It was Easter Sunday at 9am, and the who's who of Coachella trekked to a grassy mound, where dozens of singers were in purple robes. Kanye led the choir, and at one point broke down in tears, either because he was so moved by his own work or because it was really f*cking hot out there. We'll never know. Luckily, Kendall posted this series of videos, which look like footage straight out of Wild Wild Country. Is Kanye…The Bhagwan??
While the actual Sunday Service part is a little too cult-y for me, I loved seeing who showed up, and what kind of lewks they turned out for the Easter to end all Easters. Coming in hot was Kylie Jenner, who rocked a long-ass braid, adorned with seashells and crosses. Because nothing says "He is risen" like clipping some puka shells into your fake hair, and not going to church in favor of getting f*cked up in a field. At least, that's what I would tell my pastor growing up.
I'm also really enjoying this picture of Kim and Kendall, who look like they went outside to see the solar eclipse, and are thoroughly unimpressed. I'm mostly confused by the bracelets (?) that Kim is wearing, which look more like the weights my pilates instructor yells at me to use. Big ups to Penelope, who is obviously too cool for all of this.
My favorite detail of the whole thing is the merch. Actually, they were calling the merch "Church Clothes," which is actually incredible. Sweatshirts started at $165, but you could also get socks for $50. A steal of a deal! I mean, I'm just obsessed with "Church Clothes." It's so good.
In terms of the music at the Sunday Service, Kanye debuted a new song called "Water," and guest performers included Kid Cudi, Ty Dolla $ign, and Chance the Rapper, who came out to premiere the song. As much as I'm rolling my eyes at the entire Sunday Service concept, it still sounds like an amazing f*cking concert. Also, people think he might be about to release his new album, YANDHI. Oh yeah, if you didn't already know, Kanye's next album is named after Gandhi. He's always been a humble guy!
It's unclear what's coming next for Kanye and the Sunday Service, but I have a feeling we haven't seen the last of Kanye pretending to be God. I mean, that's kind of his whole thing at this point.
Images: Getty Images; @kendalljenner, @kyliejenner, @Penelope.scotlanddisick / Instagram
The 10-Minute Full Body Workout That Will Kick Your Ass
Whether you spent the past week indulging in your grandmother's kugel or eating enough Peeps and chocolate Easter eggs to give you a three-month sugar high, I think we can all agree we could use a quick high-intensity sweat session to burn some of that shit off. In case you've been under a rock or on your couch for the past year, high intensity interval training, or HIIT is basically where you do short intervals of intense exercise where you feel like you might die followed by a brief recovery period. HIIT, so hot right now. Anyway, this workout is only 10 minutes, so you literally have no excuse not to get it done and go as hard as you can during every interval. The idea is to do each of these five moves for 45 seconds with 15 seconds of rest in between them, and then repeat all five one more time. You'll probably be panting on the floor by the end, but you'll thank us when your shorts from last summer still fit. Here's the workout:.
1. Mountain Climbers
Mountain climbers are a great move if you're doing them right, because they work your abs, shoulders, and legs while giving you a cardio workout. Place your hands on the floor with your shoulders over your wrist and your legs straight back in a plank position. Then, climb your knees into your chest one at a time while engaging your core. The faster you go, the higher you'll get your heart rate and the more calories you'll burn.

2. Jump Squats
Your legs burn the most calories out of all the muscles in your body, so doing jumping exercises while combining squats or lunges is super effective. It's also really hard, so pace yourself. Start in a squat position, making sure your knees are behind your feet so you don't hurt yourself. Get super low, and then jump up explosively while straightening out your legs and arms. Keep going until the 45 seconds are up, or until you literally can't feel your ass anymore. Either one works.

3. Froggers
Froggers sound cute and innocent, but as soon as you start, you'll notice they're fucking brutal. Stand with your feet spread about shoulder width apart and bend at your knees with your palms on the ground slightly in front of you. Keep your palms on the ground the whole time while you straighten your legs out behind you by jumping your feet backward, and then jump them inward close to your hands. This move is similar to a squat thrust, but you're staying low close to the ground the entire time without standing all the way up. If you're doing it right, you should feel the burn in your arms, legs, and butt.

4. Tuck Jumps
If the idea of tucking your knees to your chest while jumping sounds like you'd rather take a Xanax and pass out on the couch, pay attention. Tuck jumps are a plyometric move that shoots your heart rate up in seconds, so you'll burn a ton of calories and look like an idiot while doing it. Starting in a normal standing position, jump up, bringing your knees as high as you can, ideally tucking them into your chest. 45 seconds will be tough, but the trick is to keep jumping without resting in between so you don't have to overthink it.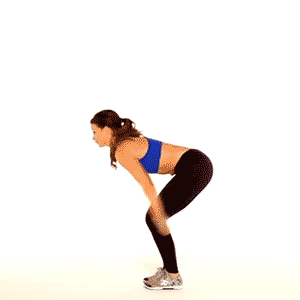 5. Burpees
Burpees are the ultimate hell when it comes to HIIT workouts, but let's just say, if it's not intense, it's not doing much for you. Burpees are the exercise we all know and hate, and we've written about them in almost every single workout article, but in case you're not getting the hint: START DOING BURPEES. Start by standing with your feet shoulder-width apart and your arms at your sides. Then, lower your body into a squat and place your hands on the floor in front of you, jumping your feet back so that you're in a plank position. Once your body is in a straight line, lower your chest to the floor and then bring it back up as quickly as you can. Then, jump your feet forward, outside of your hands, and jump up with your arms in the air. This is a full-body move, so make sure you follow the movements without just slamming your body down to the ground in the sloppiest way possible.

Easter Beauty Dos & Don'ts So You Don't Offend Your Grandma Or Jesus
We've already established that Easter is pretty lit as far as holidays go. I mean how can you not love a holiday that's based around brunch, chocolate appetizers, and talking about the dudes in your life who sacrifice things for you? TBH it's what I was planning to do on Sunday anyway.
Easter is also the one holiday in which a lonely boy from Brooklyn gets to dress like an Upper East Sider and no one can talk shit about it. Seriously it's like Easter is low-key sponsored by Lily Pulitzer and the guy who went to formal with me one year who tried to bring back visors.

And because people think they can live above their station and embrace their inner Gossip Girl, they try and get bold with their beauty looks. Whether it's to personally offend their grandmothers at church or to show their ex-boyfriend from high school that they're still hot AF (I'm going with the latter) the extras of the world will be doing the most this Sunday so brace yourselves. If you're reading this right now and questioning if you too are a little extra then you probably are and I will be judging you. But it doesn't have to be that way! Here are some dos and don'ts for looking extra on Easter:
DO: Go For The Subtle, Natural Face Makeup
The goal of Easter is to look virginal and innocent and not like the orange juice in your hand rn is 90% Champagne. This is so Jesus and your mother can rest easy knowing that they didn't sacrifice everything for the type of person who likes to black out on Thursdays and only uses the term "Jesus Christ" when they wake up in a hideous stranger's bed. And nothing says "I didn't give it up my first week of college" than a fresh-faced look. Stick to concealer and a light foundation for your face makeup and use cream blushes in warm peaches or pinks to give your skin that subtly flushed look. Top off the look with neutral eye shadows to give off some I-woke-up-like-this vibes.

DON'T: Show Up With A Full-On Contoured Face
The last thing I want to fucking see at 9am mass is your contoured face while I'm trying not to look hungover AF in front of my grandmother. It's not what I want and it's not what Jesus would have wanted either. Keep that shit for your Instagram story where it belongs.

DO: Make A Statement With Your Sunglasses
If there was ever a time to have an Olsen twins moment it's Easter fucking Sunday. Not only do statement sunglasses hide your disdain for your ex's new girlfriend and her tacky-ass floral dress, but they'll also make you look chic and put together.

DON'T: Show Up In A Floppy Fucking Hat
Outside of the beach or your travel Instagram account, floppy hats are not fucking okay to wear. First of all, it's impractical. Unlike your sunnies, which will block out the sun and all the haters, floppy hats don't block shit and only accentuate your RBF. Which is great for intimidating new members at the sisterhood beach retreat, but on Easter will probs have your mom threatening to take away your extra data plan.

Secondly, wearing a floppy hat is just fucking rude. As someone who barely gets above five feet wearing four-inch heels I already can't see shit in a group sitting setting. Throw in a floppy hat and you're just telling me to go fuck myself because I'm now going to spend the next 60 minutes staring at the back of your fucking hat instead of making eyes with the cute guy in the pew a few rows over. It's sabotage and it's going in my personal burn book.

DO: Wear A Bold Lip
If you're feeling the urge to piss off your mother be bold with your look then my advice is to channel your inner Blair Waldorf and get bold with your lip game. While the dark, vampy lip color we know and love is usually our go-to, stick to the pinks and reds for Easter. It's classic and because it's on the pink/red color wheel your mom can't say shit about it. Blessings.

DON'T: Get Bold With Your Eye Makeup
Now is not the time to try out a makeup trend that will have your priest questioning if you have conjunctivitis. This just screams "I'm an attention whore" and not in a cute way. Seriously, mass is only 60 minutes long. I need that time to thank Jesus for his sacrifices and also get his thoughts on this guy I've been seeing who "doesn't like labels." I don't need to spend those precious moments trying not to go into a rage blackout.

5 Easter Fashion Tips To Avoid Looking Like A Human Peep
As far as religious holidays go, Easter is pretty lit. It's basically brunch, but with some chocolates shaped like adorable animals and Jesus talk thrown in. Because betches love to complain, I do have one serious problem with the holiday, and that's its extremely nice girlish use of colors. Typically, I only wear black, and for some reason, every time Easter rolls around people expect you to wear as much pastel as a frat that just had a Vineyard Vines outlet open up nearby. Like, I get that Easter is basically the opposite of a funeral given the whole Jesus coming back from the dead thing, but I highly doubt the disciples were rocking searsucker for the occasion. But if you, like most people, have a grandmother who would lose her shit if you rolled up to Easter Mass in a black trenchcoat and shades, here are a few tips for dressing for Easter without looking like a cadbury egg.
1. Prove You're A Bad Betch With A Strong Silhouette.
Close your eyes and picture a pale pink tank top with ruffles on it. Fugly, right? Okay, well, maybe not always. This tank is really more of a muscle tee than a tank, so it's actually cool despite the fact that it perfectly matches an Easter aesthetic. It manages to be girly and appropriate while also signaling to all of your mom's church friends that you have absolutely 0 interest in reconnecting with their son from church camp.

Wilfred Adela T-Shirt, Aritzia
2. Wear Denim.
Your mom will probably be pissed if you show up to celebrate Easter in jeans ("JESUS DIDN'T DIE ON THE CROSS FOR YOU TO BE CASUAL!"), but there are lots of tasteful denim options that can double as an Easter look. Also, denim is one of the easiest ways to make it look like you're wearing color when you're really not, so it's the best option for people who are violently opposed to anything even resembling church attire. Channel your inner dating-Justin-Timberlake era Britney Spears and try a denim dress. That way, you're appropriately dressed for church without letting anybody make the mistake of thinking you're still that sweet little girl from bible study.

​
3. Stay Trendy AF.
Okay, this is probably the most obvious style tip ever, but don't dress like an Easter egg just because you think you have to. Look for pieces that incorporate trends you're currently into and would wear to blackout with your friends, but are slightly more appropriate for a daytime family function. This lace-up tunic style dress is reminiscent of the slutty bodysuit that literally every girl on Earth wore to the club last weekend, but it's peach with a lace trim and doesn't show any cleavage, so you won't feel uncomfortable when your mom makes you say whaddup to the priest.
​
Ulla Johnson Marcelle Lace-Up Dress, Madewell
4. Wear neutrals
In our daily lives, neutral tones are basically the only acceptable wardrobe shades apart from grey and our beloved black. Neutral tones also have the added bonus that they can kind of look like pastels with the right Instagram filter, so nudes, beiges and champagnes are more than acceptable Easter attire. In fact, in every picture I've seen of Jesus he's been wearing some version of beige, so if anybody side eyes you for your look, please casually remind them that you're actually just paying tribute to the real fashion trends of the year zero.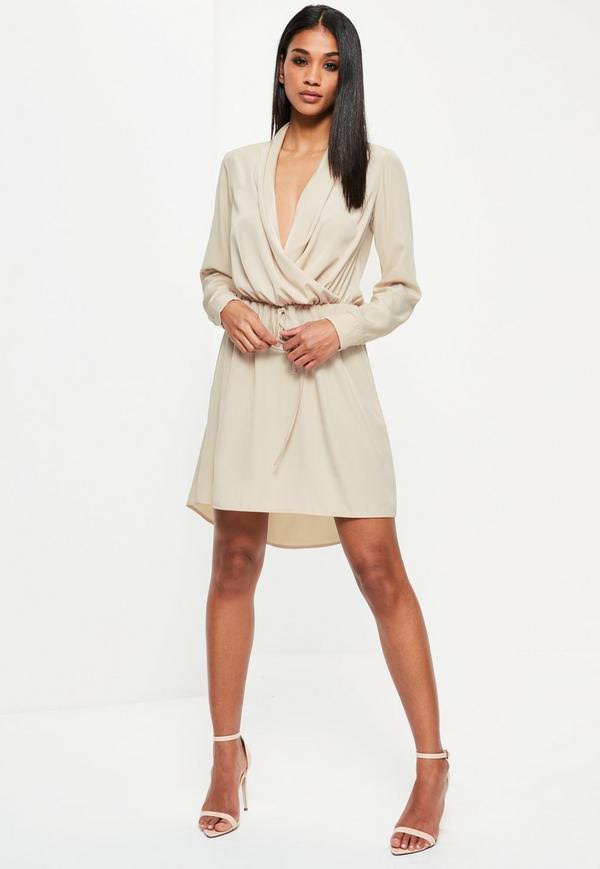 Nude Waisted Cuff Dress, Missguided
5. Wear Pastel Shoes.
If you really must wear black (and honestly, you must) pastel shoes are a very good way to avoid your uncle with enough bad jokes to write every Tinder bio in the tri-state area hitting you with a "whose funeral?" as soon as you walk through the door. When your closet is pretty much just one color, a floral heel can actually be really versatile. Just put on a pair of these ankle strap block heels and just dare your freaky homeschooled second cousin to say that you're not festive enough for Christ. I fucking dare you, Margaret.

How To Dress For Passover & Easter When The Weather Is Being Psycho
Honestly, spring is the absolute worst season to dress for. For some reason, everyone expects you to wear gross stuff like colors and floral prints, despite the fact that black is, and always will be, the only acceptable color. Plus, the weather is as unpredictable as the answer you'll give your roommate when she invites you to drink on a Tuesday (you never know whether or not your desire to sleep or your desire to drink will be stronger on any given day). Because none of us are meteorologists or Karen Smith, we have no idea what the weather will be like during all of the spring holidays. Like, yeah sure there's literally an app on your phone that tells you the weather every day, but who remembers to check it? In case it's freezing, or you end up at the home of a menopausal relative who cranks the AC no matter what season it is, here's what to wear in spring so you dont have to be that one person who is always complaining about how cold they are.
1. A Non-Wintery Sweater
Obviously, when it's cold, all you want to do is wear a giant sweater and avoid talking to people. Unfortunately, you can probably only get away with one of those things on Easter and Passover. To avoid looking the exact same as you did in all of your drunk winter holiday Snapchats, go for a sweater that's definitely warm and cozy, but with a spring-ish silhouette, like this off-the-shoulder sweater from Aritzia.

2. A Jumpsuit
Jumpsuits are like, the ultimate power betch outfit because they show that you're the kind of person who is confident enough to get completely naked everytime you have to go to the bathroom. A velvet jumpsuit is the ideal thing to wear for one of the last cold occasions of the season because it's not like, so wintery that you'll look like you shouldn't be allowed to dress yourself, but it'll probably be one of the last times you can wear it. Think of it like you're hooking up with your college boyfriend during alumni weekend. Like, he's not the worst, but you're pretty much a grown-up now and this is the last acceptable time to do it, so you're kind of obliged to.

3. Printed Pants
I know I literally just said floral prints are disgusting, but every rule (besides thou shalt not Instagram two selfies in a row) has a few exceptions. These black cigarette pants won't make it look like the Lilly Pulitzer agenda you bought but never wrote anything down in came back to haunt you. You can pair the right printed pant with plenty of warm layers, like a black turtleneck, and still look like you're vaguely aware of the fact that it's April.