'KUWTK' Ended Not With A Bang, But With A Creaky Whine
My plans for Thursday night were set in stone and secret. My roommate was out for the night, and I had the place to myself. I was to pour some red wine, turn down the lights, wrap myself in my Pete Davidson blanket, and sob to the finale of Keeping Up With The Kardashians. No one would know. How would they know?  
My phone buzzed, and to my horror, it was my editor. In my most vulnerable state, she asked, "Do you have any thoughts on the end of 'Keeping Up With The Kardashians'?" I knew what I had to do. I've poked fun at Demi Lovato, David Dobrik, Chet Hanks, and Piers Morgan, and now my greatest challenge was ahead of me. The time has come for me to make fun of the Kardashians. 
 I've watched Keeping Up since Kim had her old nose, Scott dressed like a rich Republican, and Kylie's preteen body matched mine—absolutely unimaginable today. I'd love to dismiss the famous family and shout "eat the rich," but it's the dolls we have to thank for oversized salads, athleisure, and vocal fry. Since 2007, they've taught us how to lie about our BBLs, snack without using our lips, and create Oreo centerpieces.  
We have so many beautiful memories together. Remember when Kris slipped viagra in Caitlyn's martini, but Rob drank it? Remember when Kim leaked Kourtney's underage nudes and called the FBI? Remember when Kourtney pulled her baby out of her own vagina? Remember 'Kim Kardashian Hollywood' the game? 
The Kardashians redefined culture, sparking conversations around the influencer economy and inspiring semester-long collegiate courses, but in the last few years, Keeping Up has lost its steam. Family feuds and cheating scandals aside, the Kardashians have become increasingly tight-lipped and selective about what they share on the show. As a result, the last few years of content have had all of us shouting, "go on, girl, give us nothing." 
It's hard to say precisely where the enchantment wore off. It could be when they seemingly gave Kanye creative control, and all the confessionals turned beige. It could be when Kourtney and Scott broke up for good, giving him the green light to publicly date college freshmen. It could be when Khloé became the spokesperson for a migraine medication. It could have been last week, when the family of billionaires thanked Vrbo for sponsoring their Tahoe vacation. In the wake of the series finale, I'm most thankful to Vrbo for getting the f*ck out and letting me mourn in peace.
 Admittedly, not everything borne of the Kardashian influence has made us better. We can thank the famous sisters for the newest iteration of the body image warfare we face today, waist trainer-induced asthma, and the exploitation of Black women's aesthetics. I patiently await the impending collegiate study on American speech patterns before and after the Kardashian reign. 
I'll miss my guilty pleasure, but more importantly, I'll miss the tea. Since the start, the Kardashians have used the show to speak on subjects that they usually wouldn't in the media. It was on the show that we saw honest conversations about the Jordyn Woods cheating scandal, Kim's near-death robbery experience in Paris, and Scott's recent outing at a rehab facility. Last year, when the world watched Kanye melt down during his run for president, fans shamelessly hoped to watch the drama unfold on E! Kim's decision not to discuss in detail the breakdown of her marriage on the show coupled with Kourtney's growing privacy concerns meant the end of an era for pop culture. Khloé Kardashian, the world's original favorite, can't carry the show with just her photoshop scandals and tendency to be cheated on for sport. 
 As E! closes the book on our Royal Family, I can admit that my relationship with the show has had legitimate effects on my perception of reality. I once pinned a photo of Kim's engagement ring to my secret Pinterest board, as if the ring that fueled a five-person armed robbery would ever sit on my finger. (Don't ever speak of the Pinterest board again.) I once saw the annual Christmas Eve party photos and took note of their event planner's name as I sat in my fifth-floor walk-up apartment I shared with a mouse. (Her name is Mindy Weiss.) I've purchased Kylie Lip Kits, Skims underwear, and fake Yeezy sweatshirts. I've given the dolls fourteen years of my life, and last night I said farewell and "ABCDEFG."
After a decade and a half, here's where we left the sisters. (Of course, you won't miss them too much. By the end of this article, your social algorithm will surely send a Kardashian to the top of your feed.)
Kim learned that she failed her second attempt at the baby bar—granted, she did take the hours-long exam with a case of COVID and a failing marriage. Her new goal? Finding her happiness and a partner who can stand to live in the same state as her. 
Kourtney and Scott will continue their co-parenting journey, pretending to eye-roll when people suggest they hook up. Immediately following shooting, Kourtney slipped into her fishnets and tattooed "poosh" onto Travis Barker's shaft.
Khloé is building a house in Boston, where she will live with Tristan and True when the family is not in LA. Her and True's pharmaceutical ad aired during the commercial break, and after a long and winding road, she ended up where she started: brunette. 
Keeping Up With The Kardashians ushered in a new era of reality television. The family changed the face of pop culture forever, giving many of us weekly routines, careers, and reasons to live. So, with heavy hearts and improved self-esteem, we close with scripture. 
"Maybe if you HAD a fucking business that you were passionate about, then you would know what it takes to run a fucking business, but you DON'T." – KKW 15:1
Image: Frazer Harrison/Getty Images
Scott Disick Is Coming For Chip & Joanna Gaines' Empire
It's been a very busy month for the Kardashian Krew (I say as if Kris Jenner doesn't make damn well sure it wouldn't be any other way). But while we were all out here paying attention to Kanye's Sunday service or Kim becoming the next Elle Woods or even Khloe's latest photo edit abomination, we missed a very big moment for another member of the fam: Scott Disick. I'll be honest, I haven't been paying much attention to The Lord lately. It's like ever since he adopted Sofia Richie as an honorary fourth Disick child, he's been re-focusing his priorities. Now he's more of a family man, and less of a drunken f*ckup shoving $100 bills down innocent waiters' throats. Boooooo. But we're about to see a lot more from our boy Scottie because, this just in, he has a new real estate reality show coming to E! called Flip it Like Disick. Hold on to your empire, Chip and Joanna, you've got some real competition now!
According to E! News, the show is like Fixer Upper but for the stars, and it will showcase Scott Disick's "passion for luxury real estate and house flipping." That's right, the man who once said "I'm a big star, I don't need to be dealing with you peasants" is essentially going to take on the role of the help and fix up his famous friends' houses. K.

And for those of you who thought Scott Disick's talents were more in the realm of riding on the coattails of his ex-girlfriend's fame and drinking on private planes than flipping houses, then you're not wrong shame on you! Apparently The Lord has been dabbling in property development for years. And let's not forget his brief stint as a handy man on KUWTK after Kourtney asked for more romance in their sex life, so Scott pretended to be Noah from The Notebook and almost destroyed the roof of her house.

Do we think they'll include this scene in the series trailer?
But of course, Scott won't be taking on this new business venture alone. He's assembled a crack team to help him flip the homes of Kris's least favorite famous friends. In addition to a man who refers to himself as the second coming of Jesus Christ Scott, the Flip It Like Disick team will also consist of Scott's BFF Benny Luciano, contractor Miki Moor, veteran assistant Lindsay Diamond, and former pop singer-turned-interior designer Willa Ford. I'm going to save you all the Google search and let you know that none of these people are of any importance, save for Willa Ford, whose iconic song "I Wanna Be Bad" was featured in the Amanda Bynes classic What A Girl Wants, and was also the song 10-year-old me sang in the shower every damn day, much to my mother's growing horror. This is the comeback we need in 2019. Just saying.
Not only will Scott and his team be taking on celebrity projects, but I'm told they'll also be taking on the highly classified and v intense job of re-decorating his children's playhouse! Tbh I love where he sets his bar. I mean, why make the stakes high for your first job when you can make the stakes somewhere around just being judged by children—and ones who are genetically obligated to praise you no less! I applaud your shamelessness, Scott. Bravo. 
While, on the one hand, I'm happy Scott will finally be getting out of the Kardashian-Jenner shadow, this sudden career move does make me wonder if Scott and Kourtney have somehow fallen on hard times? Do we think, like, they actually need the money from this show or something? I, mean, Kourt only makes a casual $35 million a year, and Scott makes whatever ends up in the tip jar after his club promotions. And we all know Poosh was a real Hail Mary for her to begin with! Scott, Kourt, anything you want to tell us??
All jokes aside, I'm thrilled we'll be seeing more from the Lord Scott Disick. The memes I've been sending in my group chat were getting a little bit stale anyways. Flip It Like Disick will premiere sometime this summer, and will consist of 8 hour-long episodes, so feel free to mark your calendars, like, right f*cking now.
Images: Giphy (2); @letthelordbewithyou / Instagram
DASH Is Closing, So We Found The 10 Most Heinous Items Ever Sold
Remember when Kim's voice was five octaves higher, Kourtney was hooking up with girls in Miami, and you dreamed of working as a DASH Doll? The Kardashian empire has come a long way, and as much as Kris Jenner would deny it, DASH has been outdated for a while now. The boutique used to be this exclusive and trendy brand, but now it's just an old hobby that Kylie's older sisters did before they all had nose jobs kids. The sisters just announced that all DASH stores are officially closing, so we thought we'd do one more dive through the website to see some of the weird shit that was being sold. Here are some of the worst things we found.

Because everyone wants a giant shiny DASH on their car keys. Subtle.

Is it a necklace? A bra? A choker? An S&M toy? Yes to all the above. Also, probably a choking hazard.

Is it just me or is Wildfox getting less and less relatable as time goes on? Regardless, I'd like to find the Kardashian that approved this sweatshirt for the store.

Just when you thought Kris Jenner was milking every ounce of her kids' talents for fame, she suddenly shows up with her own cookbook and gets it in her daughters' store. Also, like, *as if* she cooks.

I think the only thing worse than wearing a bedazzled bandeau is wearing a bedazzled bandeau that says FIRE across your boobs in a weird Old English font. I'm concerned.

To commemorate that one episode where Khloé goes to Morocco.

"I'm looking for a confusing and highly uncomfortable white lace bra that literally goes with nothing."

I can't imagine a single time when this top would be appropriate. As if the pine green color isn't bad enough, this is like, a fancy work top that happens to expose your nipples. Should I call HR?

*Kourtney wears plaid once.*

Unless you worked at the store or bought this as a joke, there is no excuse for wearing this in public. I'm done.
Images: DASH (10)
Kristin Cavallari Is Disgracing The Good Name Of 'The Hills'
In case you thought Botched was the most cringeworthy show on E! right now, Kristin Cavallari's new show, Very Cavallari, is premiering this summer, and it literally makes Lauren Conrad's Teen Vogue internship look real. Let's discuss. 
Look, don't get me wrong. I'm not one of those people who turns on Real Housewives on a JetBlue flight and pretends to suffer through an episode of reality TV. I love reality TV. I can explain the Kardashian family tree better than my own, and I still hesitate before making plans on Monday nights even after Bachelor season is over. I just genuinely think Very Cavallari is gonna suck.
I mean, let's talk about the promo. We see a few shots of Kristin being a *regular person* who lives a normal married life in Nashville, and we're supposed to be impressed that she's building her own "lifestyle brand" while being a cool mom. Yawn. That just described the daily goings-on of pretty much every mom on Instagram with more than 300 followers.
Kristin starts the trailer by saying, "It has been SEVEN YEARS since I've stopped shooting The Hills."
Umm, yeah, and there's a reason it stopped airing. We were team Lauren back then, and we don't give a shit about your fake drama anymore. Like, Kristin heroically returning to reality TV is the equivalent to me going back to the nail salon after I screwed up my manicure because it wasn't dry yet. No one asked for this revisit. Also, there's a reason shows like The Hills don't exist anymore. The characters are dated. Like, I used to think Lauren was the most relatable person on the show, but nowadays I relate much closer to Spencer's batshit breakdowns and financially irresponsible crystal collection. Just saying.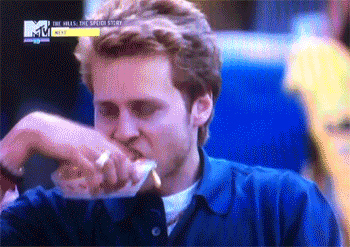 Then Kristin starts spewing random shit about her "business team", like, "I have the craziest staff. Of course there's gonna be drama. Of course there's gonna be hookups…. It's gonna be a wild ride."
First of all, "of course there's gonna be hookups"? What kind of workplace environment are you in? It sounds like a sexual harassment lawsuit waiting to happen. And I'm sorry, what is this show even about?! So far it sounds like one of those shows where a secret HR rep is watching a corporate disaster from some hidden camera in a nearby van and has to step in when Kristin hooks up with an intern or shows up to Casual Friday in a bikini. I actually think I'd watch that, though.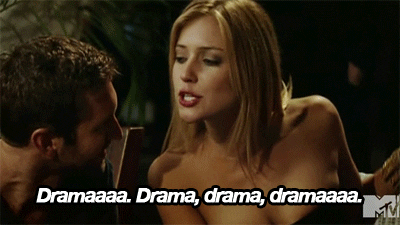 The drama on this show makes the plot lines on Laguna Beach seem plausible. Unless you give Brody Jenner at least one guest appearance, I'm sticking with the Jersey Shore reboot for now. But like, on the bright side, I guess we've finally solved the debate over how Cavallari is pronounced. VERY helpful, Kristin.
Images: E! News (1), Giphy (4)
The 7 Best New TV Shows To Binge Watch During This Insane Blizzard
It's no secret that I love television. I'm named after a reality TV legend, for fuck's sake. It's also no secret that the spring TV schedule usually kinda sucks. During the fall, all our favorites come back and Shonda Rhimes usually has at least one new show with a strong, sexually aware female lead that turns our world upside down. By spring, we're left with Dancing with the Stars and world's worst most boring season of The Bachelor. But this year there's a handful of new shows mixing shit up and taking over our lives. I mean, who needs to go to the gym and work on their summer body anyway? So to make sure you're not spending your TV time watching The Office reruns on Netflix, here are our seven fave new shows that you need to be watching rn or you can't sit with us.
1. 'Big Little Lies'
If you haven't watched this yet, you're probably already being excluded from some TV talk sessions with your work besties and you just don't know it yet. HBO got the the rights to the book and are fucking slaying so hard with the mini-series that even book snobs can't say shit about "the book being so much better" (vom). It's about some rich AF moms and their families who have Gretchen Weiners' hair of secrets and hate each other, but somehow get tied up in a murder at a PTA fundraiser—you know, typical mom shit. It also stars a bunch of betchy actresses like Reese Witherspoon, Nicole Kidman and Zoe Kravitz, so that never hurts. The whole thing is pretty much life goals minus the abuse and homicide. The only downside of this show is you have to deal with Shailene Woodley being around a bunch, but that's just life in 2017, I guess. 

2. 'The Arrangement'
Ah… An E! scripted series. Who knew they could actually create real TV shows? First they gave us The Royals, and their newest show is more of the same shit: juicy, kind of ridiculous at times, wealthy-famous-people drama. The premise of The Arrangement is that a pretty actress is offered a contract marriage with one of the hottest stars in Hollywood. Seems pretty standard, whatever. Where it gets good is that it's supposedly based on Tom Cruise and Katie Holmes' insane relationship that had him jumping on Oprah's couch like a goddamn lunatic and how the whole thing was arranged by The Church of Scientology. I love a conspiracy theory, but one reenacted by the geniuses that brought us the Kardashians? Sign me right tf up.

3. 'Z: The Beginning of Everything'
For those of you who read Cliffsnotes for The Great Gatsby in high school and remember thinking "I'd fucks with this life," then this show is for you. The show tells the tale of Zelda Fitzgerald, the flapper betch who had her husband, F Scott Fitzgerald (ya know, the Gatsby dude) wrapped around her finger. She raised hell and didn't give a fuck who knew it. And instead of focusing on her famous husband, Z: The Beginning of Everything puts the badass woman who inspired one of the world's most iconic stories in the spotlight where she belongs. It takes place in the 1920s so there's lots of glitz and sex and illegal behavior and who doesn't love that shit? Also, Zelda is played by two enormous eyes that people keep telling me are a human woman named Christina Ricci, and they're doing a great job. 

4. Imposters
You didn't think I was going to do this whole thing without mention of a Bravo show did you? Lol it's like y'all don't know me at all. But for real, this show is fire. Is it exactly like The Catch on ABC? Sure. But it's better, and don't any of you argue with me on this because you're wrong and I'm right. Fucking duh. It's better because the main girl is the con artist who takes guys for everything they're worth instead of another asshole dude fucking over a bunch of girls. So yeah, #Feminism. The Bravo version also has Uma Thurman going all Kill Bill and fucking up anyone who messes with the con. Again, #feminism.

5. 'Riverdale'
I know, I know… The CW gets some love? What's next? Freeform? But you can't hate too much because The CW brought us Gossip Girl (RIP). And this show is fucking legit, okay? It's got all the elements to make a binge-able show. Teen drama, love triangles, a gay best friend, an average person getting all hot and shit over the summer, a teacher-student affair, fucking murder. I mean, what else can you ask for? It's the Archie comics but like, not lame AF and missing half the pages because your camp friend stored it under her mattress all summer. 

6. 'Feud: Bette and Joan'
Tale as old as time, song as old as rhyme, two gorgeous famous betches who fucking hate each other. Isn't that how it goes? No? Weird. We love this FX series for a ton of reasons. 1) Ryan Murphy created it and he's pretty much a male, slightly more twisted version of Shonda Rhimes in the sense that everything he touches is fucking gold; 2) It's the story of two legendary actresses who wanted to kill each other on the scene of a movie they filmed; 3) One of those legendary actresses is Joan Crawford, aka the "NO MORE WIRE HANGERS EVER" lady, and 3) Jessica Lange and Susan Sarandon are literal perfection. If that's not enough for you, then idk what else to say. 

7. 'Twin Peaks'
Tbh, I never saw the original because I was born in the 90s and I was way too young for this shit when it first came out, also my ex wouldn't shut the fuck up about it so I vowed never to watch. Sorry. But now literally everyone is wigging about the remake and it's on Showtime so it can't be bad. When you try and look up the plot, everything is super vague because they're trying to build the suspense, which I can appreciate, so all I can tell you is that it's about murder and shit and I love a crime series, especially one with a cult following—even if that cult includes my ex, who fucking sucks. 

E! Definitely Lied About The 'KUWTK' Being "On Hold Indefinitely" After Kim's Robbery
Since October, we've not heard much from Kim Kardashian, which is odd considering her literal job is to gain attention. Typically, she'd post two or three times a day on any one of her various social media feeds, but after her robbery took place in Paris last fall, her Instagram has been incredibly silent. Everyone from Kris to Kylie has commented on how Kim's doing post the incident, but Kim herself has yet to come out with a statement. Until now that is, and honestly, it's the most Kardashian thing to happen in 2017.
In a promo for the new season of Keeping Up With The Kardashians, Kim is sitting on a couch with Kourtney and Khloé crying and talking about how scared she was when the robbers threatened to shoot her in the back, and feeling like she had no way out of her situation. Definitely some scary stuff. Hard to make a joke at her expense for that. However, I will comment on the big deal E! made out of stopping filming for the reality series. They clearly didn't actually do that or there would be no promo…Why you always lyin' E! News? Hmmmohmygod, stop fucking lying.

The video also touches on Kim's reaction to Kanye's mental breakdown at the end of last year. Clearly this season's going to be fucking dope. Get your popcorn ready.