The Best Dry Shampoo For Every Hair Type
Coffee and dry shampoo is literally the only two things I need to get through the day. We all love dry shampoo and practically owe it our lives for the amount of time it has saved in our daily routines… and saved our asses from getting tardy warnings. While we can obsess over the volume and body it provides our hair with, we also know that depending on dry shampoo just a little too much can be equally as toxic. So if you still plan on using it (and you will), it's important to figure out what exactly the best kind is based on your hair type. Who knew there were so many kinds besides Not Your Mother's and Batiste? From thin to blonde to curly hair, here are the best dry shampoos for every hair type.
For Thin Hair
This super lightweight powder absorbs oil and provides the right amount of volume without weighing your hair down. The added charcoal serves as a better and healthier alternative for a talc-free powder that still uplifts your hair and keeps it smelling fab.

Redken Dry Shampoo Powder with Charcoal
For Oily Hair
Anything by Living Proof is seriously amazing for your hair. This differs from other dry shampoos on the market in the sense that it doesn't just sit on top of your hair, adding to already existing build-up. This formula removes all unnecessary oil, sweat, and odor, leaves it smelling clean, and easily washes off in the shower.


Living Proof Perfect Hair Day Dry Shampoo
For Thick Hair
Ouai is also a god sent brand that carries tons of splurge-worthy products. This dry shampoo foam works well with thick hair because it can easily be massaged through layers and thick strands from the roots to the ends.

For Curly Hair
Ideal for wavy to curly hair, this conditioning spray cleans and refreshes unwashed hair while adding texture and shine to natural curls.

DevaCurl No-Poo Quick Cleanser
For Dry Hair
Even dry hair needs dry shampoo to soak up nasty impurities. However, this volumizing spray keeps your natural oils in for hydration and adds enough bounce to keep your locks feeling strong, fresh, and luscious.

Dove Refresh + Care Dry Shampoo
For Light To Blonde Hair
This gentle dry shampoo cleanses day-old hair without stripping any color. For those with blonde to white hair, this spray has a formula that specifically blends in with light hair colors while adding texture and volume.

Verb Dry Shampoo for Light Hair
For Brunettes
For dark colored hair, this cleansing spray leaves a clean, fresh look, feel, and smell while maintaining the rich color of dark shades. The argan oil-infused formula absorbs excess oil and protects against UV rays without leaving a faded, dull look.

Moroccanoil Dry Shampoo Dark Tones
For Color Treated Hair
For those of you who may have recently dyed your hair or want to prolong your highlights, you'll want a color-safe formula like this one. This dry shampoo extends the color, keeps your hair clean and healthy with infused keratin, and soaks up grime.

Suave Professionals Keratin Infusion Color Care Dry Shampoo
Photos: Element5 Digital / Unsplash; Redken; Ulta; Walmart; Amazon (2); Sephora (3)
Betches may receive a portion of revenue if you click a link and purchase a product or service. The links are independently placed and do not influence editorial content.
Here's How Often You Should Really Wash Your Hair
I know it's a pain to wash your hair and tbh, same. The struggle and amount of time it takes to dry and style it is way more than most of us are mentally (and physically) capable of in the mornings. However, unless you want an oily, smelly, itchy scalp or worse (like, hair loss), washing your hair every now and then is actually a necessity. How often you need to wash it is based on your scalp, hair type and what you do throughout the day. So before you join the "no-poo" movement (gross), here's how often you really need to wash your hair so you don't end up as hairless as a naked mole rat.
If You Have An Oily Scalp
According to the American Academy of Dermatology, how often you wash your hair should be based on how much oil your scalp produces. I know what you're thinking: fucking duh, but it's true. All of the dry shampoo in the world can't cure a naturally oily scalp. Thus, those unlucky ones with greasy scalps may need to wash their hair as often as once a day.
If you were unfortunate enough to inherit an oily scalp, this means that your roots produce more sebum than the average person—if this is the case and you do need to wash your hair once a day, try reaching for a lightweight purifying shampoo like Christophe Robin's Purifying Shampoo with Jujube Bark Extract. This way the shampoo works to soothe the scalp, reduce oil, and eliminate dandruff, but is light enough to cleanse your hair everyday and won't cause buildup.

If You Have Thin Hair
Another group of people that may need to wash their hair pretty often are those with thin hair—especially the more active thin-haired people. If you have fine, straight hair and workout every day, suffice it to say you'll probs have to cleanse your locks every day. The thinner your hair, the quicker it gets visibly dirty.
If You Have Thick Hair
The thicker, coarser your hair, the longer you'll be able to get away without washing it. We're talking like, once a week if you're lucky. According to the geniuses at Columbia University, people with coarse, tightly coiled hair may only need to wash their hair once a week. One thing I do have to say to you lucky thick-haired betches is to grab a dry conditioner to keep your strands moisturized on those no-wash days.
If You Have Color-Treated Hair
For the betches that color their hair, you'll only want to wash your hair 2-3 times a week to prevent fading. No matter how thick or fine your hair is, if you color your hair you should reach for a shampoo designed for color treated hair, like R+Co's Gemstone Color Shampoo to help preserve and prolong the life of your shade.

If You're Active
It may seem unfair that betches who take the time out of their schedule to work out also get double the punishment because they have to wash their hair more often, but it's just the way it works. Every other day is the recommendation for people who work out every day, as excess sweat, oils and dry shampoo can cause major buildup.
Related: How To Get Away With Not Showering After A Workout
The Takeaway
In general, a good rule of thumb is that you can probably get away with washing your hair every 2-3 days unless you're one of the unfortunate souls that has super oily and thin hair, OR you're a psycho that works out everyday.
---
Betches may receive a portion of revenue if you click a link in this article and buy a product or service. The links are independently placed and do not influence editorial content.
If You're Obsessed With Dry Shampoo, You Need To Start Using Dry Conditioner
If you're one of those people that avoids washing their hair at all costs and dry shampoo is your bff, meet dry conditioner, the product that will soon become your soulmate. You know that third-day hair when, while it may not be greasy thanks to dry shampoo, it's definitely dry, brittle, and dull looking? Yeah, that's what dry conditioner is for: to enhance shine, moisturize, reduce frizz and soften your unwashed strands and bring them back to life. To put it simply, if your favorite hair serum and your favorite dry shampoo hooked up and had a lovechild, they would give birth to a dry conditioner. Another product to save you time in the morning and to help you preserve your overpriced blowout? We're here for it.
So if you're over that matted, dry, tangled look that you try to pass off as JBF hair but instead you just end up looking homeless, we rounded up five of the best dry conditioners you need to add to your routine ASAP.

If you're obsessed with smelling like a coconut even when you're not at the beach, Marc Anthony's offering should be your go-to. The dry conditioner goes on clear, gets rid of frizz, and helps to put definition back into second- and third-day hair, all while making you smell like you've spent the day lathered in sunscreen. In the best way possible, obvi.

Your favorite blowout spot knows a thing or two about preserving your styled hair, so expect only the best from Drybar. The dry conditioner spray is packed with argan oil to hydrate and get rid of frizz, mango butter to restore softness, and tiare flower to detangle and leave hair polished. The best part? It smells like jasmine, sandalwood, and vanilla, aka Drybar's signature scent.

We'll spare you the word play on girls with "knotty" hair and tell you that Eva NYC's dry conditioner is perfect for those with manes that are full of tangles. Its main component is Vitamin B5, which softens and strengthens so you can actually get a brush through your hair. What's more, Eva's Forget Me Knot also gets rid of that annoying wintertime static so that you don't look like you just got electrocuted.

Amika's products are made for literally every hair texture on the planet, so you can imagine that their products also aim to do a little bit of everything—and that's definitely the case with their dry conditioner. Its B5 component works to strengthen, protect against breakage, reduce split ends, and smooth the strands in addition to adding moisture, shine, and eliminating flyaways. So if you have fine, fragile hair, get you some Amika.

There's something about using an Oribe product that makes you feel instantly cooler (yet more sophisticated), and that is definitely the case with the Soft Dry Conditioner Spray. Spraying the dry conditioner on is kind of like when you spray fabric softener on your clothes—your strands become instantly softer, better smelling, and all-around better looking, not to mention free of tangles to preserve your style for yet another day.
Image: Averie Woodward / Unsplash
Betches may receive a portion of revenue if you click a link in this article and buy a product or service. The links are independently placed and do not influence editorial content.
10 Everyday Habits That Are Destroying Your Hair
Hair health is for reals. You may think it doesn't take a genius to get good, long, healthy hair, but you could be wrong. Like, did you know that 90% of your normal routine is probably leading to breakage and the actual opposite of shampoo commercial hair? It's sad, but it's true. Since we only hang out with people who have nice clothes and hair, we figured it was our godly duty to inform you of the everyday shit you're def doing that's fucking up your potentially shiny, amazing hair. So say goodbye to things like cotton pillowcases, towels, and hot water. SAD.
1. Hot Water
I love washing away the stench of failure a day at the office as much as the next betch, but it's important to know that turning that dial all the way up to HOT can lead to breakage and frizz because you're washing out all the natural oils in your hair. You can still take a hot shower, just don't, like, overdo it.
2. Wrapping Your Hair In A Towel
Because towels aren't, by nature, that soft, using one to wrap around your head turban-style can actually lead to more breakage. Rubbing and trying to dry hair with a towel is even worse. Using something like a jersey material is actually WAY better and more absorbent.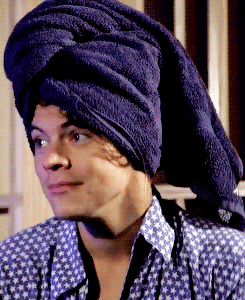 3. Sleeping On A Cotton Pillowcase
YAS QUEEN. Stop sleeping on that plebeian material and invest in a silk or satin pillowcase (like this one from SLIP that we swear by). Not only is it gentler on your skin and less likely to give you wrinkles (bless), but it also won't play host to as much friction as cotton, which can lead to hair breakage.
4. Dry Shampoo
Alright, well, I guess I'll just go fuck myself. APPARENTLY using too much dry shampoo can block your scalp's pores and make your hair super dull. It can even lead to literal pimples on your head. I've never felt so betrayed.

Get your 99% Dry Shampoo beanie here
5. Putting Your Hair In A Top Knot
I KNOW. According to Doris Day, an important historical figure NYC dermatologist, tight hairstyles put strain on hair follicles, damaging them and creating scars that can, in turn, destroy the follicle forever. So, like, go ahead and wear the topknot, but not every day and not hella tight.
6. Skipping Milk And Red Meat
Sooooo the juice cleanse you're on may have you feeling super in touch with your inner zen, but it isn't doing jack shit for your hair. Turns out you need protein and calcium to provide keratin, which helps protect hair from the inside out. The more you know.

7. Not Cleaning Your Brushes
We all have one—don't deny it. Dirty brushes can actually irritate your scalp and result in clogged pores, equaling not so shiny tresses.
8. Skipping Breakfast
Ughhhhh. So apparently, hair needs nutrients just like the rest of your body, and not eating can fuck that shit up. Like, not chugging some OJ and stuffing a granola bar in your face at 7am can actually lead to shedding and slower growth of your hair. So, like, eat.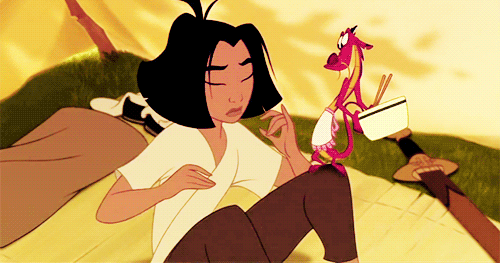 9. Going To Bed With Wet Hair
Although moms everywhere will attest that going to bed with a wet head will def result in pneumonia/AIDS/death, it actually is super bad for your hair—not so much your health. Putting wet hair in a ponytail and going to bed can lead to breakage since the hair is in a not-so-strong state.
10. Skipping The Hairdresser
If you're trying to grow out your hair, a trip to the salon seems out of the question. But not going could actually be worse for your long tress quest. As your hair grows, you're obv going to have split ends. If you don't cut 'em off, and keep growing everything out, those splits are going to travel upward. So, like, go to the hairdresser—ask for a "dusting" or to JUST remove split ends. It'll be okay.

5 Ways Dry Shampoo Is Sabotaging Your Hair
I would try to beat around the bush with this one, but given what the headline is, there's really no dodging it. I'm about to ruin your day, your week, your month, and even your year. On the bright side, this isn't another article about Trump's latest fuckups controversial tweet. Instead, it's about the godawful ways dry shampoo is a scum-sucking road whore. It basically ruins your hair's life, aka your life as well, each time you use it. I love dry shampoo as much as you, and in fact, I love my dry shampoo'd hair more than what my hair looks like out of the shower. I think we can agree that the volume, bounce, and texture dry shampoo provides is incomparable, not to mention the fact that it allows our lazy asses to skip a long and tedious hair wash routine. However, since nothing ever, ever, *ever* works in our favor, it turns out this shit is bad for you. I know, like, wtf did we do to deserve this? You don't have to toss out your Batiste or Not Your Mother's just yet, but I would think twice before using three days in a row.
I don't think any of us ever questioned just exactly what causes our hair to look so fab after using dry shampoo. As long as we woke up breathing with hair on our heads, it's fine. But, dry shampoo is actually made of chemicals that aren't really all that great for our hair. Whether you use it excessively or encounter it for the first time, you could basically develop dermatitis after use. You fucking guessed it—anything that ends with "itis" is a bigger red flag than a "U up?" text. This is a severe allergic reaction that causes intense irritation, which may result in drastic hair loss in the long-term. You're not, like, guaranteed to lose all your hair if you abuse dry shampoo, but if your hair is already on the thinner side, be wary.

If you really think about it, dry shampoo is just a spray we leave on all day and don't think about. Naturally. Since it's just a product sitting on our scalp for hours on end, it's seriously clogging up our pores. Just fuck me up, honestly. It continues to build up oils, dirt, and bacteria, which then = scalpne (scalp + acne), and since this is your head we're talking about, the build-up can trail down to your upper forehead where it may wreak havoc as well. *Screams internally*

Before the damage gets to your hair, it starts with your scalp. Since dry shampoo comes into contact with the scalp first, it can cause a v uncomfortable irritation. Overusing dry shampoo by leaving it on for more than a day or using multiple times in a row causes a buildup of grime—even after washing! This leads to a super inflamed, itchy, and flaky scalp. Talk about gross, and talk about hella dandruff. Pass.

As we've already covered, dry shampoo is essentially a temporary plug for oiliness. As a result, I've already told you like, a million times, that the constant use and buildup of oil and grime leads to clogged up pores. When this happens too often, your hair follicles are basically suffocating and blocked from growing any further. If it gets too severe, your hair will not only begin to thin or fall out, but it will eventually stunt your hair's growth, and you'll probs look like a British man. IDK maybe that's just a theory, but either way, that's the shit we don't like.

Contrary to popular belief, if used too often, dry shampoo can actually make your hair way more greasy than it was to begin with. Although it's supposed to absorb the oil, it continues to absorb the natural kind that our hair actually *needs* and does so while sitting on top of existing grease. After some time, your hair ends up producing more oil than it naturally does to make up for the lack of moisture. End result? Looking like a greaseball more often than not.

6 Habits You're Guilty Of That Are Making Your Hair Greasy
If there's anything that's disgusting, embarrassing, and a telltale sign that you've run out of fucks to give, it's greasy hair. I get it, though. Showering, especially on hair wash days, is v time consuming. Sure, the amount of energy it takes to actually walk and get in the shower is a lot, but once you're in there, you're basically never leaving. Nothing amps up your mood for the rest of the week like freshly washed hair on a Sunday night, when it's voluptuous, bouncy, and full of life for once. But there's also nothing more frustrating than waking up the next morning to a fucking grease ball. Like, why bother having hair to begin with? YOU TRIED, DAMN IT. Unfortunately for you, it's the little things you're doing on a daily basis that are contributing to the oiliness. Stop doing this shit and maybe for once, you'll be able to go *three* days without washing (and having it look obvious). You're welcome.
1. You're Touching Your Hair Too Much
Similar to what we do to our face, we touch our hair too much. IDK why we do things that we know are really fucking bad for us (like say, IDK weekly binge-drinking?), but we need to stop. Like, yesterday. More often than not, our hands are gross, dirty, and full of so much grime, it's making me vom. If you're constantly touching your hair, you're obvs putting all of that nasty shit onto your hair. This including constantly fixing your part, twirling your hair, or tucking it behind your ears. If you can't refrain, make sure to wash your hands at the very least beforehand.

2. Overusing Dry Shampoo
Find a happy medium with how often you use your dry shampoo. I know, it's the best thing ever and since we're all lazy af, we couldn't imagine our lives without it, but unfortunately, too much of it works the exact opposite. Overusing dry shampoo leads to gross buildup since it absorbs both excess and natural oils and ruins our hair's balance to keep it healthy. If you must, use only once a week max (WASH YOUR HAIR, PEOPLE) and use a spray that has little to no residue, like Klorane Dry Shampoo with Oat Milk.

3. You're Washing Too Often
On top of making sure you're washing your hair correctly, you can't *over wash* your hair either. Washing too much ends up ridding your hair of all its natural oil (even the good kind), which in result makes your hair produce twice as much. FML. Reduce to washing it only every other day, or if you're some sort of magical creature, 3-4 times a week.

4. Using Products That Promise "Shiny Hair"
First of all, why? Second of all, no. If you already suffer from greasy hair all the time, then steer clear from shit that promises shiny hair. Fucking duh. Shiny hair shit is only acceptable if your hair is super dry and probs never ever greasy, in which case, you probably have no need to read this article. These products usually contain an abnormal amount of silicones, which are really fucking bad for your hair and make it 10 times more oily. Instead, use a clarifying shampoo once a week like Bumble and Bumble Bb. Sunday Shampoo, or literally anything else.

5. Brushing Your Hair Too Much And Forgetting To Clean Your Brush
As much as we try to ensure our hair doesn't end up looking like a rat's nest by the end of the day, overly brushing your hair can cause your hair to produce more oil than necessary since you're constantly stripping it of its natural oils. If you can barely remember to wash your makeup brushes, you def can't remember to clean your hairbrush. If you can't put time aside to hand-wash your hairbrush as often (and I don't blame you), be sure to remove all of the nasty, dirty hair that's piled up. If you don't, you're just putting that back on your head every time you brush. Fucking gross, dude.

e
6. Over-Conditioning
We all love conditioner. We love it more than shampoo, which is why we probs always run out of it first. However, like too much of anything, too much conditioner is like, really bad for your hair. An excessive amount adds an extra layer of oil and product buildup so your hair is ultimately lame, limp, and lifeless like your Bumble fuckboy. While it's good to leave conditioner in for a tiny bit more, make sure to rinse it out just after a minute. Instead of conditioning your whole head, because it's honestly so unnecessary, only condition the ends.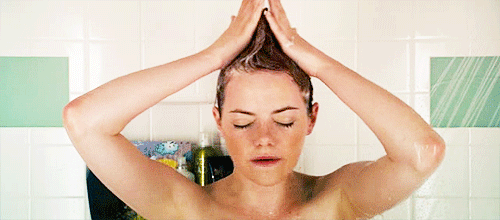 Images: freestocks.org / Unsplash; Giphy ( 6 )
8 Drugstore Beauty Products That Are Better Than The Ones At Sephora
We all know that feeling. When it's 8am and you're already late and probs gonna have to take the late train with every other psychopath commuter living in New York City and you realize it's the end of the line for, like, every beauty product you own so you have to pull an Alicia Keys and tell everyone at work that your no makeup look is a political statement and not an act of karma for sleeping with that fuckboy last weekend? Oh, that was just my morning? K. But seriously, buying beauty products is the fucking worst. It's time-consuming, emotionally draining, and if I have to see that sales lady at Sephora give me one more smug look at the checkout counter while I mentally calculate how much money I just spent, I will lose my goddamn mind. I did not sign up for this shit. But lucky for us that's why drugstores were invented because someone somewhere realized that this betch literally needs someone to take her credit card away from her. Seriously. I cannot be trusted. So whether you're a betch on a budget or just don't want to give the check out lady at Sephora the satisfaction here are the 8 best drugstore beauty products that won't have you breaking the bank.
Tyra Banks has been repping this product for the last 12 million seasons of America's Next Top Model, which means it has the potential to make you look like a D-list model on a CW reality show, which is all I can really ask for in this life. #Blessings. Plus I trust any and all products endorsed by a woman who told me to "make hoe fashion."


If you're anything like me, then you know you're nothing without your eyeliner. It's the key element to my RBF game and also in discouraging people from asking me for directions on the subway. And while I want my eyeliner to look good I also want it to be easy enough for a toddler to use because tbh my tolerance for learning new things is really fucking low. Like, right down there with my standards for men (just trying to make you proud, mom!). So thank God for Revlon because this eyeliner is perfect for lazy betches like myself. Not only does it look good on every eye shape but it's also long-lasting.

If you're one of those who wakes up every morning and whispers to your reflection "WTF am I doing with eye makeup RN" then this eye shadow is about to become a staple in your morning makeup routine. It's a soft, blendable eye shadow that leaves a major impact with minimal effort. Plus this rose gold shade is V popular right now and looks high-end AF even though it's barely $10. And they say you can't have it all.

Supposedly it's spring and my mother people are trying to tell me that it's time to retire my dark vampy lip color in favor of lighter, more neutral shades; to which I'd just like to say:

As if this much pretty is designated to one fucking season. BYE. And there's no lipstick I love more than Nyx Soft Matte Lip Cream. First of all, it costs less than a shot of (bottom shelf) vodka so you know that's a fucking steal. And second of all, this shit could outlast an apocalypse. Seriously. It could outlast me getting drunk on my couch after work watching morons make love connections fuck up on Are You The One: Second Chances or me tossing back vodka sodas like my life depends on it at the free corporate happy hour. So blessed. So moved. So grateful. Can't believe this is my life.

Finding the perfect highlighter is like trying to find a boyfriend on a dating app, which is to say, good fucking luck. But unlike on a first date when someone thinks that asking you to "split the bill" will actually get them laid (see, girls? Prince Charming really is only one swipe away!), being cheap when buying a highlighter can actually pay off. At under $5, Jordana Glow N' Go is creamy, long-lasting, and subtle enough to make people think maybe you're born with it.

Normally, I'm not crazy about concealer sticks but this is the creamiest, most-natural looking concealer I've used. It may or may not also be the only reason why people at work think I "stay home" and "act responsible" after 5pm because this shit is key to hiding hangovers from the attendance Nazis in HR. It's the hydrating core that erases those four vodka sodas from the night before because no one, especially not that snitch Sharon, needs to know your fucking business.

I've said it before, but dry shampoo save lives and L'Oreal Paris' new clay dry shampoo is next fucking level. It uses clay to help absorb excess oil and is the reason I get up in the morning. Literally. It helps me to know that I can put off showering another day for a few extra minutes of sleep. It's really the little things.

Ugh. As if I needed one more reason to give Essie all my money, they just released a gel couture top coat and I am all about it. It gives your nails some extra shine while also extending the life of your at-home (probably shitty) manicure. But like, if you're actually good at nails then this product is about to save you tons of money and from any awkward AF small talk with your nail technician.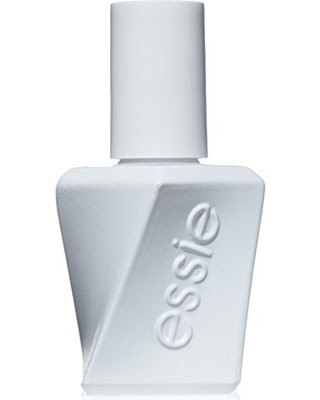 Read: The 5 Best Long-Lasting Lipsticks

The Best Dry Shampoo For You Based On Your Life Choices
If you're like me, then your morning routine usually consists of you staring into a mirror and watching your face and hair battle it out for your attention. Usually my face is saying something like "omg you're like really pretty" but my hair is saying "it's been 3 days of working 9-5 and drinking from 5 to blackout and for the love of God would you please fucking wash me." But because I will do anything for a few extra minutes of sleep, and not because I am a lazy piece of shit, I usually just say fuck it go to town with my favorite dry shampoo and hope I can get another day out of my last actual wash. If this is your narrative too then listen up because I'm about to break down the best dry shampoo products for your betchy lifestyle.
Because every betch deserves to get away with 3-day hair, here's a list of the best dry shampoos for every betch:
If You're A High Maintenance Betch
Then you should invest in Klorane Gentle Dry Shampoo.

Odds are if you're buying this product then you drop more money on your hair than I do on my Friday bar tab. The product itself isn't too pricey—if you consider spending $20 on a bottle the length of my hand pricey—but it has been known to extend the life of a blowout by a few days and that in itself is worth the extra money. Plus if you're a dark haired betch this product won't leave any of that weird powdery residue behind. So blessed. So moved. So grateful. Can't believe this is my life. 

If You're A Bandwagon Betch
You know that girl in your friend group who's only in for the Instagram? The one who probs owns a flower crown or plans a trip to the Hamptons to take "candids" on a blow-up slice of pizza or just generally does shit to test your sanity patience? If you're this girl then you will lose your shit over R+Co Badland's Dry Shampoo Paste. Not only is it trendy AF but it looks like it was made for your Instagram story.

Seriously, doesn't this bottle look like something Coachella would take out ad space for?? I'm not going to say that Susi, my German hair stylist, didn't get me drunk and then pitch this hair product to me but I'm also not going to say that didn't happen. For someone like me who has naturally fine, straight hair that holds volume about as well as the Olsen Twins, this product will work literal miracles for you. Because it's a paste and not an aerosol spray, it doesn't weigh down your hair as much. Plus it can double as a styling product so it's like two products for the price of half my paycheck. *sobs into my empty bank account*

If You're A Betch On A Budget
You're the girl who Venmos your friend $3 for their share of the Uber they blacked out in last weekend and actually feels justified putting that little of an amount into a request. You know who you are and you know I hate you for this. You may have coupon-clipped yourself to the top of my shit list, but that doesn't mean I'll prevent you from knowing the beauty products of your dollar store dreams. That would just be, like, against the rules of feminism. If you're on a budget, you can forgo all the fancy shit and instead try Herbal Essences Naked Dry Shampoo.

It barely breaks the bank at $5 a bottle, and it gets the job done while also smelling amazing. Cheap, clean, and kind of satisfying aka the exact words I used to describe my last boyfriend. And they say you can't find true love on Tinder at a drugstore. 

If You're A Hippie Betch
You're the girl I can't go to brunch with because you're constantly talking about how you're off gluten or food-shaming me for eating bacon. Luckily, that is why alcohol was invented so I can tune out all of your good intentions bullshit. That being said, Tart's Vegan Dry Shampoo is going to be your go-to product.

Not only is it eco-friendly—you're welcome—but the hair formula features natural thickeners and conditioners that contain ingredients like cellulose and rice bran wax to add volume, lift, and hold at the root. But you better move faster than the rate at which I'm chugging this mimosa rn, because it's only available for a limited time in Tarte's athleisure collection. 

If You're A DGAF Betch
You probs have better things to with your time than fuck with hair products, like hitting up after-work happy hours or perfecting your Bumble messages. So for the girl who doesn't know what the fuck she's doing with her hair, Ouai Foaming Dry Shampoo is def the product for you.

Normally, I'm skeptical of anything with the word "foam" in it—I'm not a freshman, I won't fall for that one again—but this product is low-key amazing. The diatomaceous earth and panthenol loaded formula (try saying that at a party to sound smart) works to neutralize product buildup without you having to shower. But the best part is it's great for legit any hair type so even if you haven't looked in a mirror don't know wtf your hair type is this product will do all the work for you. And isn't that the sign of a true betch product?

If You're A Broke Betch
You're the girl who is thrilled when she sees $20 in her bank account and then promptly spends it on cheap margaritas and chips and guac. Which, tbh, I can't fault you for. I admire the commitment. But since you're spending your literal last dime on alcohol and chips you obvi are in need of Jesus a cheaper hair solution. I can't believe I'm suggesting this but baking soda usually costs less than $2 and is actually a decent ratchet replacement for dry shampoo. Shampoo strips your hair of all its natural oils and fucks with your pH levels, which is why it gets oily and tries to sabotage your life. Baking soda can replace those PH levels.

Sprinkle a little at your roots and you should see some volume ASAP. But, like, be careful because using baking soda as a hair product is opening yourself up to the full scale of my judgmental gaze.