6 Drugstore Moisturizers That Are Gentle Yet Effective
We hardly even had a good fall season, and it's already starting to feel like winter. I hope all you people who kept saying "I can't wait for it to get cold so I can wear my sweaters and scarves!" over the summer are happy now. Me, not so much. The cold is a major buzzkill to my outfits, pregame routine, and my literal face. Walking in New York has started to feel like you're walking through a wind tunnel, so by the time I get to my office, my face looks cracked. In order for me to avoid looking like the Sahara Desert, I need a life-changing moisturizer. And since I'm also trying not to kill my credit card bill, these have to be budget-friendly and easily accessible—aka cost no more than my favorite wine and also be stocked at my nearest CVS. Here are the 6 best drugstore moisturizers to combat dry skin.
This is one of my favorite drugstore moisturizers and one I use on a daily basis. And thank god it exists, because I would be looking like an ashy corpse otherwise. Cetaphil is honestly ah-maze for those with sensitive skin types (hi) because the moisturizer is quickly absorbed into the skin and feels v gentle when applied.

My friend swears by this and obviously, I don't question her choices—or at least her sober ones. I used it for the first time recently and it literally felt like I just washed my face, except with just a facial gel. It dries in seconds and leaves your face feeling hydrated and ready for makeup.

Aveeno's products are all really great, TBH. They're super gentle on skin and make your face feel instantly hydrated. So it should come as no surprise that their moisturizers are also bomb. This one is oil-free, hypoallergenic, and provides sun protection because even when it's not summer, you should still be using SPF, okay?

Simple's line is full of hidden gems, this hydrating gel cream being one of them. It fills your skin with refreshing hydration and helps keep your skin free of any tightness so you can still move it by the time you walk out the door.

Burt's Bees is the sh*t. There isn't anything I'm not obsessed with from their line. This super soothing moisturizer is full of aloe extract and other natural ingredients to keep your face feeling soft AF without making it red, greasy, or irritated.

This lightweight moisturizer makes you forget you're wearing anything on your face. It instantly absorbs into your skin, making it hydrated and smooth without any sticky feeling. It also leaves a matte finish that's perfect for makeup prep.

Photos: Humphrey Muleba/Unsplash; Ulta (2); Target (3); Walgreens
Betches may receive a portion of revenue if you click a link and purchase a product or service. The links are independently placed and do not influence editorial content.

8 Drugstore Eye Creams Under $25 That Work
Ugh, aging. It's great that we're slowing easing out of the acne phase. It blows that we're running headfirst into the wrinkles phase. But, if you catch on early, you can help prevent having your eyes look like wrinkly old sacks on your face. The best time to start using an eye cream is actually now—like, in your 20s and 30s—if you want to prevent the look of lines and bags and dark circles later. Just add it to your already 18-step routine. It'll be fine. The good thing is that when it comes to eye cream, you don't need to empty your life savings to get good sh*t. There are tons of drugstore brands that'll get the job done since we're like, v poor right now. Look for creams and serums that'll help de-puff, smooth, moisturize, and plump, depending what your issue is. Here are a few drugstore eye creams we like that are literally under $25.
Aloe is my fav when the sun has done me wrong (v rude), and it works well on your eyes, too. Typical of Burt's Bees, this eye cream has natural extracts that will make you feel one with nature. It's also hypoallergenic, so it probably won't bother your precious eyes.

Nicole Kidman keeps telling me that Olay is amazing, and I'll be damned if I won't listen to that eternally 30-year-old betch (like, I'm sure they don't just keep putting soft lenses on her so she appears younger, right?). Sorcery or not, Olay is a formula that's been worshipped for decades, and its eye cream stands up to the best of the department store brands. The cream actually has a teeeeny tiny bit of concealer in it along with vitamins and niacinamide, which help with circles over time. So, count this one in as the daytime eye savior.

CeraVe is one of the only drugstore brands I could find when I was in Le France, so, therefore, everything CeraVe does is très amazing. The formula is made with CeraVe's combo of ceramides and hyaluronic acid with some other cool stuff I can't pronounce. The best part? It doesn't have any fragrances and is non-comedogenic so it's perfect if you have sensitive skin.

Throw this sh*t in the fridge and apply when you watch something sad or are dealing with a late season allergy that's f*cking your life up and now your eyes are puffy and omg I feel like Rocky after battling Apollo Creed. Anyway, this Garnier roller ball acts like a teeny massage for your eye and the gel, which has caffeine in it, can de-puff in a few minutes.

Using retinol, a known fighter of wrinkles, this eye cream combats sagging. It also contains hyaluronic acid, so you'll be fighting crow's feet from two angles.

I hate Jennifer Aniston, but I love Aveeno, which makes me feel all sorts of conflicted. Anyway, blackberry and dill extract plus a few other natural ingredients make the Aveeno eye cream a great choice to help strengthen the elastin around your eye before it gets droopy and gross.

The Yes To line is great for hippie girls who don't shower yet still somehow have amazing skin (wtf, teach me your ways). The grapefruit line helps a lot with dark circles, thanks to fruit acids that will brighten your skin in a natural highlighter sort of way.

Neutrogena rules, and this gel cream is pumped full of hyaluronic acid, which I promise is not as scary as it sounds. Basically, it's a gel formula that sinks into your skin and hydrates your eyes without it feeling like you just rubbed Vaseline into your corneas. Praise be.

Images: Remy_Loz, Unsplash; Giphy (1); Amazon (8)
Betches may receive a portion of revenue if you click a link and purchase a product or service. The links are independently placed and do not influence editorial content.

8 Drugstore Moisturizers That Will Fix Your Dry Winter Skin
Colder weather brings a lot of shitty things, one of them being dry af skin. I swear, I try my best to not look or act thirsty, but my own fucking skin betrays me, looking more cracked and dry than the Sahara desert. The solution: moisturizer. The worst part about writing this is trying to spell moisturizer. Aside from my inability to sound out the letters, moisturizer doesn't have to be complicated. If you WANT a drawn-out trip to the makeup section of the department store, then by all means. Like, yes, there are some legit brands there that'll probably make you look 20 years younger and erase all fine lines, wrinkles, dark spots, improve your relationship, allow you to drop 15 pounds while eating pizza, etc. But unless you're super into throwing down upwards of $85 on a 3 oz. glass jar of the shit, heading to CVS or Walgreens is perfectly acceptable. These are the best drugstore moisturizers to fix your gross, scaly winter skin.
It isn't sticky, it's a nighttime formula (so naturally thicker and more of a treat for your skin), it's gentle, and has hyaluronic acid for extra hydration. it's literally great for all skin types, so whether you're dry and crusty or greasy like a pizza, CeraVe remains a trusted ally.

Although I hate Jennifer Aniston with the fiery power of a thousand burning red hot suns (CHANGE YOUR FUCKING HAIR CUT. IT ISN'T 1998), I cannot deny the power of Aveeno. This shit has an SPF 30 built in, leaves your skin with a subtle glow, and absorbs super fast. I still hate Jennifer Aniston, but I will buy this product.

This sounds French and fancy, so I'm not surprised it's listed on like, every roundup of fucking amazing moisturizers. if there's one thing the French know, it's looking better than all of us fat fuck Americans without trying. This little Parisian miracle contains thermal spring water (of course if does) and goes on like a fine French custard. So buy this if you're into rubbing dessert on your face.

Kristen Bell told me to use this, so I did. This whipped gel contains hyaluronic acid, so it's like adding water to your skin without the shine or like, wetness. You can wear it under A LOT of makeup, so this is perfect for looking not crusty and dry when you're needing extra foundation.

Your grandmother definitely slathered this on, since this brand has been around for literally ever. It works really well if your skin is a pussy sensitive, and also helps your skin be much smoother overall.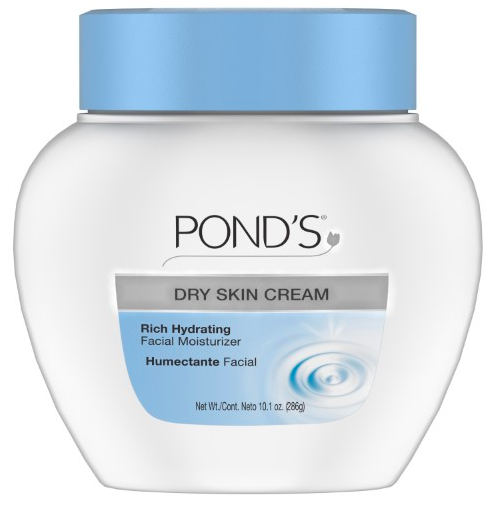 B vitamins, more hyaluronic acid, and other v important ingredients help this magical concoction lift and hydrate your skin to help with not only dryness, but wrinkles that are like, right around the corner for most of us.

For like $6, you can grab this little jar of magic. You can use it on your face and body, and it's great for sensitive skin. It's incredibly gentle, too, which is good if you're prone to shitty, dry winter skin.

It's got sunscreen. It's lightweight. Your mom probably used it. It contains a shit ton of vitamins. There's a reason Olay has been a go-to for decades.