Yes, These Drugstore Anti-Wrinkle Products Actually Work
Betches may receive a portion of revenue if you click a link and purchase a product or service. The links are independently placed and do not influence editorial content.
Everyone's been there—you wake up one morning and just notice creases and fine lines that weren't noticeable before. Suddenly, you're on a Google quest to learn more about Botox, filler, and all the wrinkle-fighting ingredients you could imagine. But, what if you didn't have to dish out serious cash to get your anti-aging routine on? Behold, the drugstore skincare duo that could rival the powers of the most expensive creams and retinol products, and all without leaving your bank account gasping for air.
Picture this: Instead of strolling into the bathroom and letting out a gasp of fear as you catch a glimpse of your reflection, you're glad to see a youthful, glowing complexion staring back at you. Is it a magic potion? A fairy godmother's touch? Nah, it's just this incredible anti-wrinkle skincare duo.
Our hero, the RoC Retinol Value Set Duo, consists of two mighty soldiers in the fight against aging. First up, we have the eye cream, which boasts a powerful blend of age-defying ingredients supercharged by retinol. It's like a superhero cape for your under-eye bags, fighting off the evil forces of time. With each drop, the cream targets fine lines, wrinkles, and crow's feet, leaving you looking fresher than a daisy.
Now, the duo wouldn't be complete without its trusty sidekick, the deep wrinkle night cream. Together, this dynamic retinol-infused duo takes on the battle against aging with unrivaled vigor. The cream nourishes and hydrates your skin, creating a protective shield that keeps those wrinkles at bay. With each application, it'll feel like time is merely a suggestion, and youthful skin is the norm.
Here's the twist that sets these products apart from the rest. While most quests for eternal youth come with a hefty price tag for skincare enthusiasts, this duo is surprisingly affordable. Forget dropping hundreds on expensive creams and retinol products that leave your wallet whimpering. This duo offers a budget-friendly solution to your anti-aging needs, allowing you to save your pennies for something truly worth it—like that dream vacation you've been dreaming of.
So, there you have it, this drugstore duo helps defy the laws of aging, all without making your credit card scream for mercy. Are you ready to embark on your own journey to wrinkle-free skin? Head over to Amazon, click that "add to cart" button, and let the transformation begin. Say goodbye to wrinkles and hello to a youthful, radiant complexion.

8 Drugstore Moisturizers That Will Fix Your Dry Winter Skin
Colder weather brings a lot of shitty things, one of them being dry af skin. I swear, I try my best to not look or act thirsty, but my own fucking skin betrays me, looking more cracked and dry than the Sahara desert. The solution: moisturizer. The worst part about writing this is trying to spell moisturizer. Aside from my inability to sound out the letters, moisturizer doesn't have to be complicated. If you WANT a drawn-out trip to the makeup section of the department store, then by all means. Like, yes, there are some legit brands there that'll probably make you look 20 years younger and erase all fine lines, wrinkles, dark spots, improve your relationship, allow you to drop 15 pounds while eating pizza, etc. But unless you're super into throwing down upwards of $85 on a 3 oz. glass jar of the shit, heading to CVS or Walgreens is perfectly acceptable. These are the best drugstore moisturizers to fix your gross, scaly winter skin.
It isn't sticky, it's a nighttime formula (so naturally thicker and more of a treat for your skin), it's gentle, and has hyaluronic acid for extra hydration. it's literally great for all skin types, so whether you're dry and crusty or greasy like a pizza, CeraVe remains a trusted ally.

Although I hate Jennifer Aniston with the fiery power of a thousand burning red hot suns (CHANGE YOUR FUCKING HAIR CUT. IT ISN'T 1998), I cannot deny the power of Aveeno. This shit has an SPF 30 built in, leaves your skin with a subtle glow, and absorbs super fast. I still hate Jennifer Aniston, but I will buy this product.

This sounds French and fancy, so I'm not surprised it's listed on like, every roundup of fucking amazing moisturizers. if there's one thing the French know, it's looking better than all of us fat fuck Americans without trying. This little Parisian miracle contains thermal spring water (of course if does) and goes on like a fine French custard. So buy this if you're into rubbing dessert on your face.

Kristen Bell told me to use this, so I did. This whipped gel contains hyaluronic acid, so it's like adding water to your skin without the shine or like, wetness. You can wear it under A LOT of makeup, so this is perfect for looking not crusty and dry when you're needing extra foundation.

Your grandmother definitely slathered this on, since this brand has been around for literally ever. It works really well if your skin is a pussy sensitive, and also helps your skin be much smoother overall.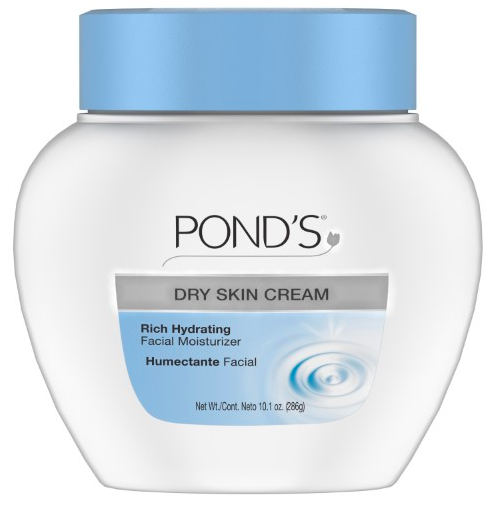 B vitamins, more hyaluronic acid, and other v important ingredients help this magical concoction lift and hydrate your skin to help with not only dryness, but wrinkles that are like, right around the corner for most of us.

For like $6, you can grab this little jar of magic. You can use it on your face and body, and it's great for sensitive skin. It's incredibly gentle, too, which is good if you're prone to shitty, dry winter skin.

It's got sunscreen. It's lightweight. Your mom probably used it. It contains a shit ton of vitamins. There's a reason Olay has been a go-to for decades.