6 Outdoor Spots You Have To Visit Before Summer Ends
Labor Day has passed, but summer is still here until September 22, whether you like it or not. TBH, I'm pretty over the heat, but for those of you who would like to take advantage of the final days of summer, here are some Brunch Boys approved spots to add to your end of summer bucket list. I'll just be here with my AC in my face until it's officially fall.
City Vineyard
City Vineyard is a restaurant and wine bar located at pier 26 on the Hudson River with three different bars and two levels of fun. The ground floor is more of a traditional table service restaurant area, while the upstairs deck is more suitable for snacking. It's perfect for a nice meal out or just for having casual drinks. I'd recommend trying some of their house wines—it is a wine bar after all, and they have a few options on tap. The wines pair nicely with a charcuterie board or an oyster platter. In addition to having good food and drinks, City Vineyard has an awesome atmosphere. Look right, you'll see the Freedom Tower; look left, you'll see the most gorgeous sunset (if you go on a Monday, you can enjoy a free sunset movie screening). Since Bryant Park's films are finished for the season, City Vineyard is a nice spot to relocate.
View this post on Instagram
North River Lobster Company
If you're looking for another activity to do on the pier, check out North River Lobster Company on pier 81. It's a three-story boat that actually leaves the dock every 45 minutes for a joyride up and down the Hudson. It costs 10 dollars to board the boat, but you can stay on as long as you want aka unlimited river rides. Although there are definitely options to sit inside, you are essentially on the water, away from the shade any skyscrapers or trees would normally provide, making this the ultimate spot to optimize your tan and vitamin D intake (always wear SPF, duh). The boat has plenty of picnic tables and benches where you and your friends can order food while sunbathing, snacking on lobster rolls and chugging drinking whatever your heart desires. They also have deep fried mac and cheese lobster cubes…need I say more?
Pig Beach
Smokey, saucy, savory and satisfying. There's never a bad time for a BBQ, but summertime especially makes me crave burgers and beer. Pig Beach is a huge outdoor BBQ pit on the Gowanus Canal in Brooklyn. This spot has tons of options from both the smoker and the grill. They've got ribs, brisket, pork shoulder, hotdogs, burgers, I could go on and on. Definitely order a side or two to cool off your mouth from the spice: housemade pickles are always a good option. They also have a special mac and cheese with—get this—toasted goldfish crackers *drool*. Aside from having bomb BBQ, Pig Beach has fun outdoor games that give it a chill, tailgate-y vibe. The best part, though? It's dog-friendly. Bring your pup to the picnic. Insider tip: If you're craving Pig Beach during the colder times of the year, check out the pop-up location in the Village. You won't get the full outdoor experience, but your tummy will thank you.
Tacocina @ Domino Park
If you haven't been to Domino Park in Williamsburg yet, you should definitely take a stroll. Domino Park opened this past June just north of the Williamsburg Bridge, right on the East River. Like Pig Beach, Domino Park is dog-friendly and even has its very own dog park. My favorite part, of course, is Tacocina. Danny Meyer, one of the prolific restaurateurs of Union Square Hospitality Group, also famous for starting Shake Shack, opened Tacocina. What Shake Shack is to Madison Square Park, Tacocina is to Domino Park. There's first come, first serve outdoor seating available in the designated area of the park. They have a daily happy hour from 4-6 on the weekdays and are open from 11am-10pm (11pm Friday and Saturday). It's the ideal waterfront snacking spot to get your chip and guac on. My top three drinks to order are the Michelada, which for those of you who don't know, is sort of a bloody Mary made with beer; the Paloma; and the Mezcal Negroni. While Tacocina is open year round, now is the time to go in order to enjoy longer, sunnier, days.
DUMBO House
Although we are in the middle of the concrete jungle, there are tons of places where you can cool off, poolside. Some pool passes can be a little pricey, but for a whole days' entertainment, it's worth it. I suggest befriending a SOHO House Member to score an invite to the newest location in DUMBO. DUMBO House opened its doors (but more importantly, its rooftop) earlier this year. This chic club is members only, so you'll need the hookup. Once you've made it onto the list and are finally poolside, you will find, hands down, the most spectacular view of lower Manhattan and the Brooklyn Bridge. My favorite drink is their house tequila special: picante de la casa. As for food, they have plenty to pick from, including small snacks and larger entrees. They also have quite the selection of vegan options, since it's in Brooklyn and it's 2018. Although you may have seen this rooftop pool all over Instagram, taking photos is highly discouraged, so be discreet if you wanna tweet.
View this post on Instagram
For more drool-worthy brunch recommendations, follow Brunch Boys on Instagram and satisfy all your food porn cravings.
Images: Jonathan Gallegos / Unsplash; Instagram / @montiankari, @pigbeachnyc, @dumbohousebrooklyn
5 Cocktails That Won't Give You A Bad Hangover
Hooray for cocktails! Honestly, we feel v classy while sitting and sippin' on something colorful and cute. It's like, who we are as people. But we don't feel cute come the splitting headache, irritability (more than usual), general feeling that we're dying, and potential for barfing in our eggs benedict at brunch the next morning. Yes, drinking is fun, but hangovers are the worst. It's a real Sophie's Choice we grapple with every day. Since the beginning of time (I assume), people have been looking for how to drink without getting hungover. In general, to avoid a hangover, stick with vodka and gin, plain and simple. Additionally, the higher shelf the liquor is, the better, since the filtration processes are going to remove more unwanted shit. So, when given the choice between Grey Goose and Dubra (FLASHBACK FLASHBACK HELP), go ahead and splurge on the Grey Goose.
Secondly, your mixer should be natural and/or sugar-free. So, carbonated water, unflavored soda, and pure fruit choices are going to be the best choices if you want a weekend that doesn't require you to inhale a pizza to feel better. Don't want to do any brain work and figure out a cocktail using the above tips? I did it for you. These cocktails will help you along your journey of figuring outhow to drink without getting hungover, Or like, more accurately, how to drink without getting *as* hungover. Don't chug twice as many vodka waters as you normally would and @ me. That's not how this works.
1. Vodka Soda
YAS QUEEN YAS. No one should be surprised that the reigning queen of betchy drinks, the low-calorie vodka soda, can do no wrong in terms of hangovers, either. Since vodka has almost no congeners, which is a fancy name for added shit, it doesn't contribute as badly to the Sunday morning regrets (in terms of your body … not who you texted). Add in soda water, which has no sugar, and you're well on your way to having a headache-free morning. Praise be.
2. Sea Breeze
Since this cocktail sounds like the given name of a 1980s cruise ship, you probably aren't too familiar with it. SURPRISE, SURPRISE—it's our old friend, vodka, with grapefruit and cranberry juice, coming in HOT for a hangover-free weekend. As we know from extensive research, vodka is the best choice in liquor for avoiding a hangover. Add in some real cranberry juice (not cranberry juice cocktail) and fresh squeezed grapefruit juice for a refreshing combo that 1985 would be proud of. Break out the shoulder pads.

3. Tom Collins
You know a cocktail's gonna be good when it sounds like a fancy British man. The Tom Collins combines gin, lemon juice, sugar, and carbonated water. Gin is a clear liquor (or like, blue), so it's a good option that won't make you as hungover. Lemon juice has pretty much no sugar—same goes for carbonated water, so we're in the clear there. The sugar can pose a bit of a problem, but if you're making the cocktail yourself, just chill on the sweet shit and you should be fine. This is like the adult's answer to lemonade.
4. Martini
Wanna pretend you're on Mad Men and lacking in basic human rights? Time to pound a martini! The classic gin martini (vodka martinis are delicious but they are for trash people … although that probs won't give you a hangover either) is essentially a splash of dry vermouth (not enough to even matter) with gin and an olive or lemon peel. No sugar here. I mean, this is literally a glorified shot in a bigger glass.

5. Gin & Tonic
Remember: If you drink gin and tonics you may be a psycho, but you probably won't get that hungover. Tonic has a fuckton of sodium, so you may bloat, but the lack of sugar in the gin or the tonic means you're pretty well on your way to not throwing up at brunch again.
Images: Kaizen Nguyen / Unsplash; Giphy (2)
Two Kombucha Cocktail Recipes For Your Next Hair Of The Dog
With America turning another year older, we needed a fucking patriotic cocktail. Actually, scratch that—we needed two. But like, instead of the usual alcohol + fruit/mixer = drunk, we decided to add in our good friend kombucha, who always seems to come through for us in times of hangover tough shit. You may think the fermented tea tastes a little weird, but this is America, where we experiment with weird vinegar-flavored things and see what alcohol we can add to make it better.
If you shop hard enough, you'll find plenty of flavored kombuchas which give you the health benefits plus not-gross flavor. So you can get your July 4th party on knowing that you're like, better than everyone else. And that's really what's it's all about.
Blueberry Mojito

– 1 cup blueberries
– 6 oz. white rum
– A bunch of fresh mint
– 2 tsp. sugar
– Juice from 2 limes or like, some bottled stuff if you're povo
– 6 oz. kombucha — we used LIVE Soda Pomtastic Blueberry because it's like, blueberry flavored and doesn't taste like vinegar and feet but still has kombucha goodness
Got all your patriotic shit? Good. Blend or otherwise smash your blueberries, mint, and sugar together until everything is like, relatively smooth. Stir in the lime and rum until everything is niiiiice and mixed. Divide the mixture between two glasses and top the rest with the kombucha. Add some ice and fuck yes, America.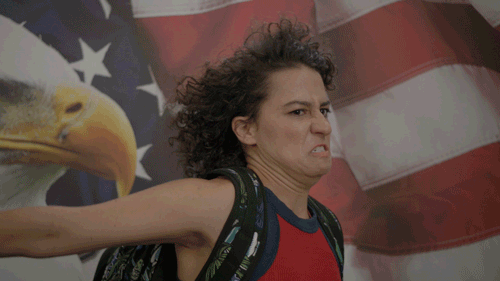 Kombucha Mimosa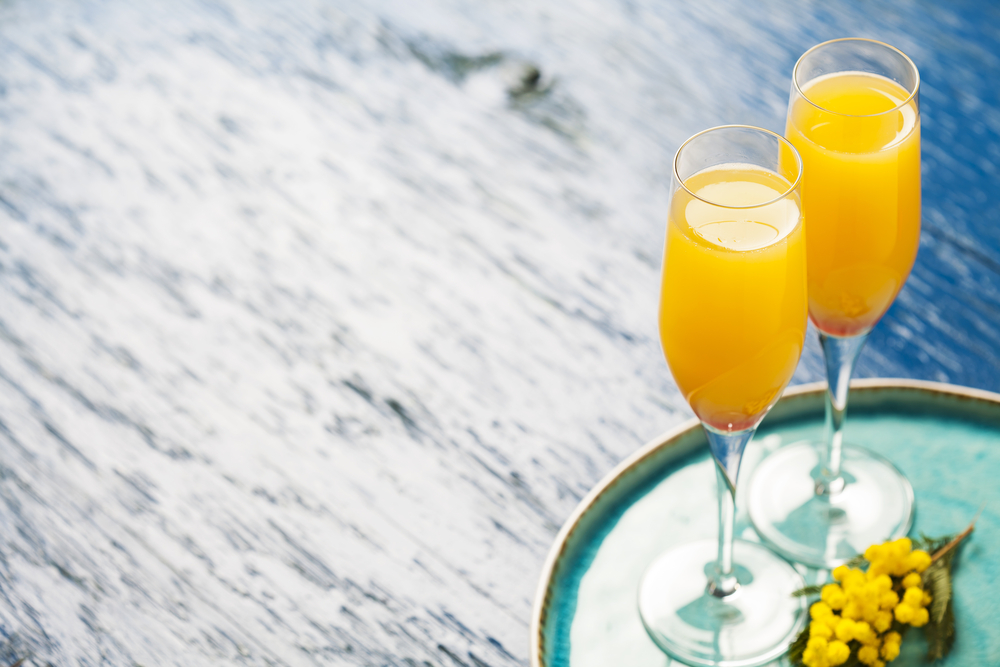 – 1 bottle Champagne or prosecco (as you do)
– 2 bottles berry-flavored kombucha — we used LIVE Refreshing Rhuberry
– 1 ½ cups orange juice
Have you made a mimosa before? Cause like if you haven't idk why you're on the site. Probably as a dare. Or you're a Russian spy. Anywho, grab a big pitcher and combine the Champagne, kombucha, and juice. Stir to combine, pour into glasses, and garnish with berries. Like honestly I shouldn't have to explain this to you. There's nothing like a mimosa to kick off a day of explosions and hot dogs for America.
A Cosmopolitan: The Perfect Valentine's Day Cocktail To Drown Your Sorrows
OBVIOUSLY you'll need a drink come Valentine's Day. Whether you're single, listening to your friend's relationship problems, or dropping hints to your significant other over this shit holiday, alcohol should probs be involved.
We look to none other than the classic Cosmopolitan cocktail. Supposedly created in the 30s out of gin, Cointreau, lemon juice, and raspberry syrup, we honestly can't think of a better drink to celebrate this pink-drenched holiday. We know Sex and the City sorta ruined it for everyone, but a classic is a classic, like black on black and Chanel.

Ingredients
1 ½ oz vodka
¾ oz triple sec
½ oz cranberry juice
Freshly squeezed lime juice
Ice
Chill your cocktail glass in the freezer for a few minutes so that you have a chic, cold glass. While it's chilling, break out your cocktail shaker and combine the vodka, triple sec, cranberry juice, and a splash of the lime juice—then fill halfway with ice. That's it—the hard part is over. 
Shake for like, awhile, until the shaker is sorta icy and uncomfortable—like your heart. Strain into your chilled glass, and drink like, three of these.