What To Wear To A Summer Wedding Based On The Dress Code
Betches may earn a portion of revenue if you click a link and purchase a product or service. The links are independently placed and do not influence editorial content.
Welcome to wedding season: where the hangovers are real, the dress codes are confusing, and we're all sweating. As if the uptick in vaguely specific dress code attire hasn't made finding a wedding guest outfit hard enough, summer weddings also require finding something that's dress code appropriate while also seasonally appropriate. There's a lot of "vibe interpreting" required for all these confusing wedding dress codes that, frankly, most of us just aren't cut out for. So to help guide you on your seemingly treacherous wedding guest outfit search, here are some options based on the different dress codes.
White-Tie
Clearly I need to reevaluate my entire circle of friends because I've never attended nor have I even been invited to a white-tie wedding. White-tie dress code is the most formal of them all, requiring floor-length gowns, no exceptions. Your gown should be paired with your most elegant clutch and accessories and, if I were you, I'd take full advantage of the occasion and even add some trendy elbow-length gloves. You can make your gown more seasonally appropriate by choosing summery colors and fabrics.

Off Shoulder Drape Neck Pleated Dress

ASOS Design

V-Neck Crepe Ballgown

MAC DUGGAL
Black-Tie
Personally, this is my favorite wedding dress code out of the ones I've attended because I love an excuse to dress up. Black-tie dress code means you can wear a formal gown or elevated jumpsuit, either of which paired back to elegant accessories. Basically, think prom-adjacent attire minus the over-the-top tackiness and vodka-filled water bottles. Similarly as with white-tie, you can make your black-tie ensemble more summer- appropriate with light and bright colors, airy fabrics, and more breathable silhouettes.

Unstoppable Cross Over Halter Neck Maxi Dress

Club L London

Milena Jersey Corset Maxi Dress

House of CB
Formal or Black-Tie Optional
This dress code can be confusing and definitely requires some of that "vibe interpreting" that I mentioned earlier. Black-tie optional is pretty much equivalent to formal and  just means slightly less formal than black-tie. The biggest difference for women's attire is that a full-length gown isn't required, but something of the same dressiness "vibe" is still recommended. Basically, if you want to get wild and show your ankles then you have permission to do so but I'd avoid going above the knee for your hemline. Add a summer-feel to your formal look with vibrant summer colors or a lightweight mesh fabric.

Colette Satin Cutout Midi Dress

ASTR

Cecilia Bodycon Midi Dress

Beginning Boutique

All That Strapless Ruched Midi Dress

Mistress Rocks
Cocktail
Cocktail attire means that women can wear shorter hemlines but still need to look dressy. Long story short, it would be inappropriate to wear a gown but also inappropriate to wear a sundress. I realize that leaves quite a large gamut, but basically just think a specialty mini dress, elevated midi dress, or eloquent jumpsuit. Overall, this dress code does imply a bit more of a flirty and playful vibe, so have fun with it but still look classy. Keep it summer appropriate with shorter hemlines, seasonal colors, or even an elevated floral print.

Uma Sheer Mesh Sleeve Crepe Corset Dress

Miss Circle

Corset Satin Slip Midi Dress

Heiress

Mesh Ruched Puff Sleeve Mini Dress

Missguided
Semi-Formal or Dressy Casual
Semi-formal or dressy casual might be the most vague of all the dress codes because there are no "hard lines" beyond no sweatpants. Rather, you really have to feel into the vibe of the wedding, so maybe just grab a crystal and the invitation and mediate on it? On second thought, maybe just text a fellow wedding attendee to see what they're wearing and go from there. At the end of the day, err on the side of being over-dressed rather than under-dressed.  Remember, it's about special event elegance without crossing the line of "fancy." Vague, I know, so best of luck.

Santorini Floral One Shoulder Midi Dress

ASTR

Jackie Wide Ruffle Hem Pinafore Dress

Selfie Leslie
Beach Formal
As someone who recently attended a beach formal wedding, my biggest piece of advice is DO NOT underestimate the heat. As someone who also attended said wedding in a long sleeve bridesmaid dress, I'm going to suggest you steer clear of sleeves and any material that could potentially show sweat. Instead, opt for lightweight summery fabrics like linen or gauze. And, if you're really someone who sweats easily, go for an airy printed maxi to help disguise any possible sweat stains. Oh, and bring a handheld fan, you'll thank me later.
Daytime or Casual
Covid has made the backyard wedding quite a trend, and given how expensive weddings can get, I definitely see the appeal. Backyard or daytime weddings are usually more casual which means they're perfect for a breezy sundress, pretty mini dress, or sophisticated set. The only "don't" here is going too casual or too dressy. Just avoid dressier fabrics, overly casual fabrics, stiletto heels, sneakers…and you should be good to go from there.

Ruffled Tiered Mini Dress

Nocturne

One Shoulder Smocked Waist Tiered Mini Dress

WAYF
Images: Omar Lopez / Unsplash 
Dresses For Winter Weddings You Can Find On Rent The Runway
Sponored by Rent The Runway
Look, I know you think I should be honored and #blessed to be invited to your wedding, but in all reality here, given how much money I have to spend on your wedding, I'm pretty sure it's actually the other way around. So like, you're welcome for gracing you with my presence. Given how much money you're forced to spend on the hotel, gift, etc., it's nice to know that there's a way to avoid spending half your paycheck on a dress you're only going to wear once (because we all know that once an outfit has been on the 'gram it gets banished to the back of your closet for the rest of eternity.) 
Instead of shelling out money to actually buy a gown, you can just rent one of the amazing dress options from Rent The Runway. The cost of renting it is wayyy less than what your gown would retain for, and some dresses start as low as $30. This way, you can still look amazing and wear a $1,200 designer dress without spending anywhere near that. Here are some of the best dress options on Rent The Runway right now that will be perfect for attending any fall wedding.
$575 retail / 4 day rental $70-85

This yellow dress is similar to the iconic dress Kate Hudson wore in How To Lose A Guy In 10 Days, and I'm totally here for it. I mean, anything reminiscent of Kate Hudson implies an effortless beauty, which is something we're all constantly striving for. Now, I know yellow may seem like an odd choice for fall, but hear me out. This yellow is a deep and rich enough tone that it doesn't scream "summer," and when paired with a cool cropped leather jacket or faux fur shawl, you'll be perfectly stylish and seasonally-appropriate!
$680 retail / 4 day rental $90-105

This lacy dress is chic and sophisticated, while also subtly sexy. The intricate details of the red lace against the nude fabric elevate this midi dress from other, more basic lace dresses. Not to mention, the red color combined with the lace gives it a flirty, feminine vibe. This is the kind of dress that demands attention and makes a statement, which is the ideal kind of dress to rent rather than buy. 
$650 retail / $65 to buy

This tiered gown is EVERYTHING. I'm obsessed with the perfectly fall rich navy color in the baroque-adjacent lace pattern. The whole vibe of the gown is very gothic princess, but like, in the most elegant way possible. What I love about this gown is how unique it is and how it's pretty much guaranteed to flatter all body types. You'll legit look and feel like a princess, and who doesn't want that?
$1,595 retail / 4 day rental $270-280

I know this may come as a shock to you all but, as a 26-year-old Communications major who just moved out of her parents' house, I can't afford a Christian Siriano dress. However, I CAN afford to rent one (well barely, but that's a personal problem). This dress is classy and conservative, making it the ideal dress for attending a wedding when it might end up being like, freezing. 
$389 retail / 4 day rental for $70

So this is the type of glitzy gown I would have dreamed of my mom letting me get for prom, but of course there's no way in hell she would have let me buy a $400 dress. Which like, fair, she had to use her Macy's coupons. But now I can finally live out my prom fantasy of wearing such a gorgeous dress, just now as a wedding guest instead. And I can even do so without actually having to buy the dress! With the sequins and the silhouette, this dress is beautiful and classy, making it the ideal dress for an elevated bougie Black-tie wedding. You know, the kind with an open bar that's fully stocked with top-shelf alcohol.
$198 retail / 4 day rental $30-35

Honestly, the name of this dress embodies it perfectly. It's the type of dress you wear to a wedding where you don't mention that you went to a Big 10 school and once did a beer bong on the roof of a frat house. This is the dress you wear to attend the formal wedding of your boyfriend's fancy lawyer friends. Like, where you know the other women will already be judging you regardless, so you come in looking like a class act. It's all around very Amal Clooney vibes. Plus, pleating is very in for fall, and this dress has just the right amount without being over-the-top trendy. 
$128 retail / 4 day rental for $30

For a cocktail attire wedding, this dress is beyond perfect. The bronze color paired with long sleeves make it perfect for fall, while the metallic sheen elevates the dress and gives it a touch of trendiness. At a retail price of $128, this may seem like the type of dress you'd just blindly buy right out. But a wiser woman than you would recognize that a dress this cute is sure to be remembered, which means it's highly unlikely you'll wear it again. Hence, the more fiscally responsible thing to do here would be to rent it rather than buy it.
$649 retail / $65 to buy

This gown is stunning, and even better, it's pretty much guaranteed to flatter everyone. The keyhole cutout and fitted silhouette give it a touch of sex appeal without being over-the-top. But the best part is probably the fluttery off-the-shoulder sleeves, which always give the illusion of perfect arms without even having to strike the "skinny arm" pose. The midnight color plus minimal mock turtleneck give it just the right amount of fall-appropriate vibes.
When the rental price of your RTR gown costs a fraction of the retail value, you're guaranteed to look incredible while also making a smart financial decision. Even though you would usually justify buying the dress by claiming you'll wear it again, we all know that's a lie. And realistically, you're probs too lazy to even attempt to resell it. So save yourself the buyer's remorse and utilize Rent The Runway's amazing selection of wedding guest dresses. Plus, you can even get 30% off everything on Rent The Runway (including their monthly subscription to Unlimited and Update memberships too) if you use code: RTRXBETCHES.
30% Off Everything on Rent the Runway (that includes Unlimited and Update memberships too!) use code: RTRXBETCHES
Images: Naku Mayo / Unsplash; Rent The Runway (8)
5 Wedding Dress Shopping Tips That Are Total B.S.
Thanks to #SYYTD, the wedding dress shopping experience has become a full blown circus. From custom t-shirts and coolers of champagne, to bringing everyone you've ever known to your dress appointment, brides forget what they're actually doing there. As a former bridal shop consultant, I've heard first-hand the crazy tips brides think they should follow, and I'm calling B.S.
Bullshit Lie #1: Bring Your Bridesmaids
On TLC's Say Yes to the Dress, you often see the bride with her entire bridal party in tow (and her grandma, her future MIL, her third cousin twice removed). Sure, they might seem like a nice reprieve from mom's nagging opinions, but in my experience, bridesmaids have a hard time putting their personal opinions aside. Comments like "that doesn't work for your venue" or "that's not that flattering" happen more often than you'd think. I once had a bride who went from excitement in the dressing room to total distress because of a bridesmaid's bitchy comments. I'm not saying all of your friends would be assholes, but wedding dress opinions are subjective, so the most important thing is trusting your gut over their opinion. If you must bring your squad along, set some guidelines beforehand and tell them that they should just be there for moral support, not to go all Simon Cowell circa American Idol. 
Bullshit Lie #2: Pinterest Is Your Friend
I love Pinterest just as much as the next basic bitch but TBH, going on a pin binge right before you dress shop is NOT helpful. Sure, you might find things you like, but unless you're sure the store you're going to has that dress in stock, you'll likely be disappointed. Showing a stylist your pin board is helpful if you have a general vibe in mind (classic, formal), but if you want something extremely specific that you pinned, that's a bit tougher depending on the salon's inventory. Also, gowns look completely different on you than they do on Pinterest. Often times, those pictures are from models with completely different body types than yours (unless you're a model, in which case, none of this applies to you). I've had a number of brides come into the store with a vision they'd created from hours of pinning, only to find out that a flowy, boho vibe did not live up to their expectations. Having a general idea of what you like is better than coming in with a highly specific vision. 
Bullshit Lie #3: You Need To Shop At Multiple Stores
This lie is one that really pisses off stylists. Not just because they're more likely to lose a sale to this notion, but because it's simply not true. Yes, this dress is once in a lifetime, but that doesn't mean you have to have an over-the-top emotional moment where you and your mom sob and hug each other like you just overcame some terrible illness. Feeling kick-ass and loving the way you look in the dress is more than enough of a reason to say yes to it, crying is optional. Brides who go to multiple stores also might do so because the first store they found something that wasn't what they expected. That happens more often than not, so don't be alarmed. It's OK to have a change of heart, especially when it comes to wedding gowns, because they're totally different once you put them on. Be confident in your decision when it feels right, tears or no tears. 
Bullshit Lie #4: Champagne Required
Celebrating is V important. Boozy brunch is V important. However, a drunk bride and her entourage is NOT. Too many times I've dealt with a sloppy appointment when the bride stumbles in, can't get two feet into her dress and nobody in her peanut gallery has self-awareness. When it gets to this point, the squad should have just stayed at brunch. Save the celebrating for after, and don't show up with a chambong ready to get wild at the salon. A lot of salons either don't have champagne or they save it until a final decision is made. Wedding dress shopping is a classy affair, so sure, have a few glasses after saying yes, but save the sloppiness for the bachelorette party. 
It sounds ridiculous, but putting wedding dresses on is actually a very tiring process. Oftentimes you're getting in and out of up to 10 dresses in one appointment, times that by three appointments and you'll have tried on nearly 30 dresses in one day. Not only are you exhausted by your last appointment, everything will start to blend together. There's no reason you need to turn dress shopping into the Hunger Games of your wedding. Visiting one store in a day is plenty, especially since the appointments are usually 90 minutes. Don't go to more than two in one day and plan a break in between so you have time to regroup both mentally and physically.
10 Black Dresses For A Black Tie Wedding
If you're lucky enough to get an invite to a black tie wedding, you've got some classy-ass friends. You know that when you get there, there's going to be fantastic food, an open bar, and a real good time. But before you get to enjoy said party, you've got to get the right dress for the occasion. When it comes to black tie, most people automatically assume this means you HAVE to wear black. But let's not be so literal. I mean, if everyone wore black, the party would look like a group of high-class cater waiters or an orchestra group about to play a symphony (drunk of course.) But, as all betches know, black is the best color. So in case you do want to go literal and wear black to a black tie wedding, here are ten non-basic black dresses that are perfect.

This dress is simple, elegant, and black tie perfection. The sweetheart neckline is feminine while the slit gives it an elevated sex appeal. It IS strapless, so just make sure your girls are secure before you start breaking it down on the dance floor. We all know a nip slip will take you from classy to trashy realllll quick—just ask Janet Jackson. 

This dress is simply sexy. And look, I get it, it's not one of the cheapest dresses on this list for something so simple, but that's the beauty of it. This classic dress will never go out of style, and can be dressed up multiple different ways for different events and occasions. If that's not enough reason for you to justify splurging, think about how good its resale value will be because of the fact that it is such a timeless style. Not to mention how thankful you'll be that, because it's black, you won't have to worry about your spray tan sweating off and potentially ruining your expensive dress!

Business in the front, party in the back. This dress is elegant and flattering, but still shows some skin. It's also a great price, so like, that gives you a little extra money to spend on the happy couple's gift!!! Or, more likely, a little extra money towards the alcohol for the wedding pregame, so maybe you can actually treat yourself to some Titos (instead of something that comes in a plastic handle).

This dress is sophisticated, chic, and super classy. Just like, don't do an updo with this dress or you'll look like a straight-up narc. Keep it glam with loose wavy curls or a chic slick pony. You want to look hot, not like the chaperone for prom.

This dress is stylish AND cheap. So, if you're anything like me, and sick of blowing all this money on everyone else's "eternal love", this dress is a great option. Because it's black, it automatically won't look cheap, even though it actually is. Dress it up with elevated accessories and no one will have any idea that it actually only costs as much as your weekly Starbucks run.

This one-shoulder dress is stunning, and perfect for a black tie wedding. With the Angelina Jolie-adjacent leg slit and goddess-like one strap top, it's the ideal dress for the occasion. It's also simple enough that it could be dressed down for a less-fancy occasion, even after you wear it for the wedding. To quote the iconic Hannah Montana, "you get the best of both worlds."

Does this dress look familiar? Well, if it does, it's probs because you're a Bachelor fan. This is the same dress Hannah B., aka our newest Bachelorette, wore on her last date with America's most eligible virgin bachelor, Colton Underwood. *Sheds inauthentic tear.* You may not want to wear a dress Hannah B. got dumped in, and look, I get it, but hey, look at her now! She's the Bachelorette! Oh, yeah, I forgot…her men suck. But then again, this one's a classy black, rather than Hannah's tacky metallic pink, so maybe it will still bring you better luck than her after all.

No one ever wants to look like a try-hard, that's why the goal is always to look subtly sexy. Especially, ya know, if you're bringing that f*ckboy (who you've been trying to actually lock down as your official boyfriend) as your date. This dress is innocent-hot, and lets him know you're gf material, but like, you're also a hot commodity. So like, sh*t or get off the pot. Or at least stop booty-calling me..

If you're going to a black tie wedding where the bride and groom are more conservative, a dress like this is a great option. It's conservative while still being stylish, so you'll still look good af. It's also a timeless style, so you'll ideally end up wearing it more than just this one time. Ideally, of course.

This one strap maxi has a touch of edgy flare with its one-shoulder detail. It's cool and fashionable, but in a classy black tie appropriate way. Sassy and sophisticated, just like you, right?!?!
Whether you decide to play it safe and go with one of these black options, or spice it up with some color, just make sure you're wearing some type of gown so you're dressed appropriately. I mean, it won't guarantee that you'll also act appropriately, but that one will be more so determined by your relationship with the bartender at the open bar.
Images: @kiraikonnikova / Unsplash; Revolve (6); Missguided (2); Nordstrom (2)
Betches may receive a portion of revenue if you click a link and purchase a product or service. The links are independently placed and do not influence editorial content.
5 Dresses For Your Rehearsal Dinner Under $200
Look, I know weddings are expensive. Like, unreasonably expensive. So after worrying about paying for your extravagant fairytale Insta-worthy wedding for months on end, the last thing you're going to want to worry about is figuring out what you're going to wear for your rehearsal dinner. And, you definitely won't want to pay a fortune for it, either. So, in my neverending quest to help make your life easier (at least in the fashion department) here are five dresses perfect for your rehearsal dinner that are all under $200. So now you can get back to obsessing over the important stuff, like whether the flowers you picked for the centerpieces (that cost way more than you'll ever admit to your soon-to-be husband) will even photograph well.

Simple, classic, and perfect for your rehearsal dinner, this strapless dress is everything you want and need in your dress for your pre-wedding affair. It's elegant and beautiful, and the ruffle adds a stunning elevated detail. Plus, at a mere $59, you could even afford to allow your annoying af cousin to bring his plus-one. Er, maybe not considering last time he brought someone to a family event it was a random girl who got so blacked out she couldn't even walk. Either way, with how affordable this dress is you at least have the option to do so. I mean, at least if he does bring her then he'd be so busy taking care of her that he wouldn't have time to annoy all your other guests. So that's a plus.

This dress is the epitome of a classy bride. Like, the bride showing up to her rehearsal dinner in this timeless dress totally has her sh*t together. It's simple, yet fashionable and practical. It's effortlessly beautiful and vvv Amal Clooney vibes. And I mean, she's the woman who locked down America's most eligible bachelor of all time. So if it's good enough for Amal, it's good enough for you.

I'm obsessed with the feminine, delicate look of this white slip dress. It's cheap, and you could easily wear it again, but it's also still totally perfect for this specific occasion. Again, it's effortlessly stylish and gives the illusion that you're a cool, chill bride. Ya know, it totally disguises the fact that you're a Type-A Bridezilla who should probably be caged for the safety of everyone else around you.

Unlike the last dress, this dress lets your guests know that you're a high-maintenance bride who takes this whole wedding thing v seriously. And for how much it's costing you, understandably so. It's supes stylish and has dramatic detailing and like, the design is kinda extra…but I mean, your whole wedding is extra, so respect for staying true to your brand.

Playful, flirty, yet totally classy, this dress says "Yeah, I may get a lil drunk at the rehearsal dinner, but the only person who will know about it is my soon-to-be husband." It's cute and simple, and does the job. Kinda like your niece as the flower girl, who better not dare upstage you on your big day. Just drop the flowers, and fall in line, sweetie.
Overall, your dress should represent you and the overall vibe of your wedding. Like, if you're having a huge glamorous wedding, it would be weird and confusing to wear a casual white maxi to the rehearsal dinner. You want to use the rehearsal dinner to set the tone for the whole wedding, so don't go too casual if it's a black tie wedding or else you risk your guests thinking it's way more lax than it actually is. And the last thing you need is your guests showing up too casual and ruining all your photos. Like, you're going to be TB-ing those pics on Insta for years to come, so your guests better f*cking get it right. No need for you to contribute to their incompetencies.
Images: Melody Jacob / Unsplash; Lulus; Revolve (3); Urban Outfitters
Betches may receive a portion of revenue if you click a link and purchase a product or service. The links are independently placed and do not influence editorial content.
5 Office Holiday Party Outfits Your Work Crush Will Def Notice
I don't mean to sound like the Grinch, but office holiday parties are the absolute worst. You have to work all day with these people, have three mental breakdowns in the bathroom (that may or may not be caused by these same coworkers), and then have to socialize with them? You have literally nothing in common with Karen from HR and you know she won't shut up about her kids. Throw alcohol into the mix, and you're playing a dangerous game. How do you drink just enough to tolerate Karen, but not so much that you'll end up blurting out that nobody cares about little Jimmy's baseball game? Not to mention, your invitation says "dress festively." What the f*ck does that even mean? More importantly, how can you slut it up to catch the eye of the office hottie without getting reprimanded by your higher-ups? Not to worry, I have plenty of office holiday party outfits for you so that once when Karen stops yapping about how smart her 2-year-old is (doubt it) you can add in how inexpensive your dress is and how you plan on sleeping with Brett in accounting. Just kidding, maybe don't mention that last part out loud to anyone except Brett in accounting.
3 Unexpected Ways Show Off Your Butt
You and I both know you haven't been paying for $30 SoulCycle classes because you "just love the way exercise makes you feel." You've been working hard to look good, and now it's time to show off your butt that you've been working so hard for. Sure, you could rock those high-waisted shorts with the hemline that's literally at your ass cheeks, but that might not work in all occasions, like work and family gatherings. Or like, maybe it's cold outside, IDK. So you want to make your butt look round and toned without actually exposing it. Life is hard. Keep in mind as you shop for your own butt-flattering ensemble that there are a few key outfit components that will help draw attention to your derriere. I've styled three occasion-specific outfits that will best show off your butt. And don't worry if you're ass is basically nonexistent—these outfits will work for flat and bubble butt girls alike. There is a god.
For Being Out & About Running Errands…
You probably already know what I'm going to say here. Yup, YOGA PANTS. Ask any guy on a college campus (or like, in existence) and he'll tell you the wonders of yoga pants and the magic they do for a girl's ass. To up the ante even further, wear your Lulus with a crop top to show off your midriff and really accentuate your waist. This will draw attention to the contrast in size between your tiny waist and now-looking-extra-fat ass.

From left: Brandy Melville Serena rainbow top; Lulu Lemon Wunder Under hi-rise tight full-on Luon 28″
For When You're Daytime Casual
Daytime casual can pretty much mean anything from shopping with your friends to dinner with your boyfriend's family. These are the outfits you wear when you want to look like a put-together classy lady and not like your true trash bag self headed to 1Oak. This is the instance when you'll most likely reach for your jeans, so let's discuss what to look for in your denim specifically.
When shopping for denim to accentuate your ass, look for styles that will contour your butt. I know it sounds ridic, but then again what don't we contour these days? You want to look for jeans that have strategically placed sanding—basically, envision your best Mudd jeans from middle school. Remember how the butt was a lighter shade than the rest of the pants? There was a reason for that. That's the same kind of style you'll need now in order to perfectly flaunt the shape of your butt. Lighter washes of denim in general will help draw additional attention to your ass, so get yourself a pair of Levis which are vvvv trendy right now.
Another thing to look for when choosing your jeans is back pocket details. Details, such as pocket flaps and zippers, add volume to your butt and draw more attention to it. But be careful, because huge pockets will make your butt look smaller, so look for smaller pockets. You should also always look for high rise styles to, again, highlight the contrast between your butt and waist. Pair your high waisted denim with a peplum top which automatically accentuates curves.

From left: Ale by Allesandra x Revolve Caridad top; AGOLDE Jamie high rise
For When You're Out On The Town…
Head to your local Body Central or Wet Seal (if that still exists) because the only thing you'll need to show off your ass is a bodycon dress! If you want to look *slightly* more classy, pick one with a high neck and long sleeves. This style will make you look hot without looking like you're trying to look hot, even though you are trying to look hot. I know, being a girl is hard. Anyway, a solid colored style of dress will look chic as hell and show off your ass without distracting away from it.

Cue "Anaconda" by Nicki Minaj 'cause you're ready to show off that ass whatever the occasion!
Images: Brandy Melville; Lululemon; Revolve (2); Free People
New Year's Eve Dresses That Aren't Extra
There's truly a lot to take away from the excitement of New Year's Eve. Planning your midnight festivities is always a bitch, the chances of getting a cliché midnight kiss are slim to none, and the pressure to look your best on the first night of the new year is enough to make me want to boycott the holiday forever. Essentially, NYE is always a goddamn hassle. When it comes to scoring the perfect dress, it seems as though every store has puked glitter, sequins, and a fuck ton of sparkles on everything. Uh, unless you want to look like a walking disco ball, this shit is getting absurd. Like, glitter is fun and all, but only in small increments. Some of us want to blackout sans sequin scratches and itchy cleavage. I'm literally only wearing the dress once, so all the extraness is as unnecessary as Taylor Swift's comeback album. Believe it or not, some of us prefer to ring in the new year with a low-key dress that still makes us look skinny, glam, and gorg. On that note, here are five NYE dresses that aren't extra af.
This is definitely the cutest effing dress I've ever seen. Besides totally loving the flirty blush hue, I'm obsessed with the bead-accentuated sleeves. The balance between its revealing off-the-shoulder neckline and thinning bodycon fit makes it a chic, yet edgy option for 2018.

When in doubt, black out in black. This sophisticated style comes off as bad and boujee, but also low-key says you'll be blacked out by 9am. It has a frisky front with intricate detailing, so with fab highlighter and sexy tousled waves, you'll most def have a midnight kiss with something (or someone?) other than a champagne bottle.

Obviously, a turtleneck on anything is usually always a major no-no, but what the latest fashion trends call for, we follow. Stay with a classy style like this high-neck velvet bodycon that mixes a holiday Merlot red and our BFF, black. With the long sleeves and thick velved material, you'll probs be the only sane one staying warm when it's freezing af this January.

In case you haven't heard from like, scrolling through Twitter, the color of this year has been declared as Ultra Violet. This comes from a company called Pantone that I know nothing about, but I'm not questioning their sixth sense. It could mean we have a year of royalty, mystery, or complete and utter disaster ahead of us, so cheers to that alone as we see if 2018 could possibly treat us any worse than 2017 did. Put forth good vibes by wearing the color nice and early with this dramatic-sleeved bodycon style. The bottom comes with a hiking slit for that touch of slut we absolutely can't resist, obvs.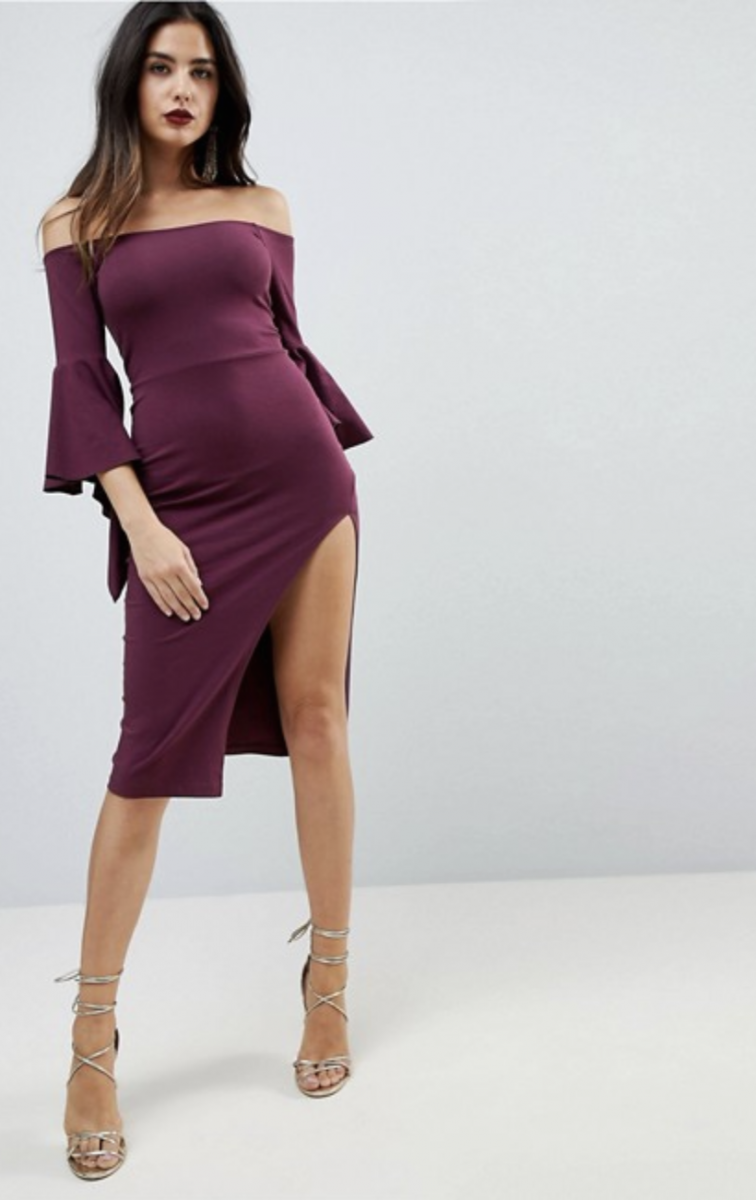 Whether you actually give a shit about keeping our earth clean or not, Reformation is a new brand that prides itself on making v cute clothes out of materials that happen to be good for the planet and all the little birdies and the little monkeys that inhabit it. Amazing. This bestselling holiday dress falls down to your ankles (SRY to everyone who's five feet tall, like myself), and comes with a high slit and deep V neckline. The all-over formal navy velvet makes the dress a prime option for NYE if you pair with strappy stilettos and dainty Y-necklace. You'll def slay in your "new year, same me" Insta with this one.