Here's How You Can Help Australia During Devastating Bushfires
I know there's a lot going on (a potential war with Iran, the impeachment, J Lo's giant bow dress from the Golden Globes), but it's important to remember that through all of this, the world is also currently on fire, metaphorically speaking, but also literally speaking.
There are 136 fires burning across New South Wales, Australia, taking lives, destroying homes and infrastructure, and devastating wildlife. At least 24 people have been killed, with dozen more missing. As of January 6, over 15 million acres have burned, more than 1,300 homes have been destroyed, 100,000 people are displaced, and 500 million animals have died. That's half a billion animals.
And fire season isn't over. But tell me again how climate change isn't real.
The news is so insane rn that an entire continent is on fire & it's a B story.

— Lindsay Theisen (@lindsaytheis) January 5, 2020
How to fix climate change is still a question our current leaders are refusing to answer. On a list of 57 countries ranked by action on climate change, Australia ranked… 57th.
But there is a way you can help the situation in Australia: donating money. Money is crucial in these situations and helping fund organizations that help communities in need during these kinds of tragedies is the best way to give a helping hand. If you are able, please consider donating to one/some/all of these organizations. Australia and the koalas will thank you.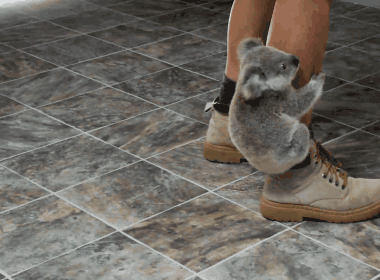 Here you can support the local firefighting efforts in New South Wales.
Here you can donate to protect the pets and keep livestock safe during the fires.
Here you can donate directly to Victoria's rural firefighting service.
Here you can help support staff that is standing by at evacuation centers to help provide support needed in communities and to first responders who are on the front lines.
Here you can donate money to victims of the fires who have been evacuated and/or lost their homes and/or family members as a result.
The Naked Philanthropist
Here's a fun one. A sex worker has set up an amazing system online, where people can donate to a list of charities and organizations that will help people and wildlife affected by the fires, and in exchange, she will send them a nude. You have to donate directly to the organization of your choosing, and then send proof of a receipt to her. In the end, ass will save the world. I've been saying this for years.
I'm sending nudes to every person who donates atleast $10 to any one of these fundraisers for the wildfires in Australia. Every $10 you donate = one nude picture from me to your DM. You must send me confirmation that you donated.
Please RT #AustraliaOnFire #AustraliaFires pic.twitter.com/VIgzCUy6Wf

— THE NAKED PHILANTHROPIST (@lilearthangelk) January 4, 2020
Want to keep up with the news without crying into your sad desk salad? Subscribe to the Betches Sup newsletter for a lunchtime briefing to make you laugh, instead of cry, about the news. 
The Cast Of 'Mean Girls' Is Celebrating Mean Girls Day In The Most Amazing Way
As a wise woman once said: It's October 3rd. That means it is officially Mean Girls Day, and the cast is using this blessed occasion to push people into doing some good for the world by donating to their GoFundMe campaign aimed at raising money for the victims of the Las Vegas shooting. Breezing past the fact that we're at a place in our country where the cast of teen movies have to raise awareness about gun violence, this is obvs a great way to both celebrate your favorite movie, and do something good with your life for a change.
The idea was put together by none other than Jonathan Bennett (Aaron Samuels, asker of what day it is), Lacey Chabert (Gretchen Wieners, person whose hair is full of secrets), Amanda Seyfried (Karen Smith, has ESPN or something), and Daniel Franzese (Damian Leigh, too gay to function). It all started when Bennett posted a video announcing the GoFundMe with the caption "On #October3rd, he asked me to help." You see what he did there? Very clever, Aaron.
"On #October3rd, he asked me to help." #MeanGirls
Please help the victims of the tragedy in Las Vegas at https://t.co/YMwEV1SDsL pic.twitter.com/OhXNSMvCYC

— Jonathan Bennett (@JonathanBennett) October 3, 2017
Their goal is to hit $300,000 (approximately the same amount of money I have spent on Mean Girls related merchandise since the movie came out in 2004) for the National Compassion Fund, an organization that donates their proceeds directly to those affected by mass shootings. So wtf are you waiting for? The cast of Mean Girls has put out the call, and it's our duty as Mean Girls fans to answer. As the GoFundMe page states: "Let's hit this goal together. We might not make fetch happen, but we can make this happen."

Oh, and before you ask, no, Lindsay Lohan has not participated in the campaign, but in her defense, she probably has no fucking clue any of this is going on.
For news updates delivered straight to your inbox, sign up for The 'Sup!