This Handheld Device Will Save Your Couch From Your Pets
Contrary to some people's beliefs, I like to think that pet parents are real parents. (Well, my dog is just as messy as a toddler—so that counts, okay!?) As much as I love my little fur baby, he can wreak havoc on my couch—getting an all-white one was a *big* mistake—bed sheets, and literally any corner of my apartment. He sheds like crazy on some days, beats me to his bed before I can clean his paws on others, loves to leave trails of crumbs when he gets his good boy treats, or makes a mess in my car. And, let me tell you, cleaning up after a dog, no matter how big or small, is quite the trip.
I've tried so many different products, whether it's cleaning solutions like sprays, shedding brushes for grabbing excess hair, and of course, regular vacuums and mops. But, thanks to my Instagram feed and TikTok FYP, the Bissell Little Green Multi-Purpose Portable Carpet and Upholstery Cleaner caught my attention. Pet parents on both apps have filmed themselves cleaning even the toughest-looking stains in just a few minutes. It looked like a miracle device and I just knew I had to get my hands on it.
It's small, but mighty, and has a top handle that allows you to bring it along to clean pretty much everywhere. Unlike most portable vacuums, this one has a spray *and* suction feature, so you apply a cleaning solution to whatever surface you're targeting and it just scoops/sucks it right up. And its suction is powerful, like lift-carpet-stains-right-off powerful.
But, I have to say I was the most impressed with how well it cleaned the upholstery on my couch. As I mentioned before, my couch is white. My dog's fur, on the other hand, is dark and super noticeable. There have been days when he hops on there when I'm not looking, rolls around, and has a field day leaving spots and marks across the entire thing. Let's just say it's a less-than-ideal situation for a couch of this color that also wasn't cheap to begin with.
So to say I'm thankful for this Bissell is an understatement. And it's super easy to use. All you have to do is mix the cleaning solution with some water in the tank that comes attached to the device. Once that's settled, you click the spray button on the attached brush to disperse the product, turn on the Little Green, and then get to work. You'll instantly notice results, but it really works the more you pass the brush along the surface. Within minutes stains, spills, and debris are just completely gone.
Each device comes with a travel-sized option of the Bissell Spot & Stain solution, but you can purchase larger-sized bottles for the future on Amazon, too. And if you needed any more convincing, each purchase saves other fur babies through the Bissell Pet Foundation which helps rescue homeless pets. Now, that's a win-win situation.

Shop It: Bissell Little Green Multi-Purpose Portable Carpet and Upholstery Cleaner, $109.59, Amazon

Shop It: Bissell Pet Pro OXY Spot & Stain Formula, $12.98, Amazon
What We Learned About Stassi & Beau's Relationship From Stalking Their IG
Season 7 of Vanderpump Rules airs Monday at 9pm, an event I've been anticipating with a fervor my boyfriend some have described as "chilling." I can't help it. As a latecomer to the series, this was the first season I could spy on via the cast's Instagram. As such, there a lot of drama that I'm excited for. Brittany and Lala's engagements, the launch of Kristen's T-shirt line, and the 20-30 meltdowns I anticipate Ariana having over her still-unreleased cocktail book, to name a few. But most of all, I'm excited to watch Stassi Schroeder with her new boyfriend, Beau Clark. I've been stalking the living sh*t out of their relationship, and they are goals in every sense of the word. So you don't go into season 7 totally uninformed, I've compiled a list of what we know about Beau Clark. Let's dig in.
The Timeline
In a February episode of Straight Up with Stassi, Stassi revealed that she and Beau began dating in August 2017. They were introduced by Katie and Kristen, an opening that seems dicey until you realize the still-married Katie and Schwartz were introduced by Kristen too. Hey, maybe she has a career as a matchmaker if the T-shirt line doesn't take off. As a reminder, Stassi's breakup with professional sh*thead Patrick Meagher was also right around that time.
Broken up with on our anniversary after I planned a trip for us to Mexico. Call me Carrie Bradshaw. @rachaelnobrien you're coming w me now.

— Stassi Schroeder (@stassi) August 12, 2017
Don't we all miss Patrick, guys??? JK, and I'm psyched that Beau apparently made an appearance no more than two weeks later. As a little background on Beau himself: he works in commercial casting, lives in LA, and loves the Rams (it's a football team, I had to look it up), country music, and dogs. Here is his Instagram. On the podcast, Beau says he was reluctant to meet Stassi at first after looking through her Instagram. The bleach blonde, Botox, bottle service look was apparently not for him—but on their first meeting, they "closed down the Mondrian talking." He'd never "laughed as hard ever with anybody," and all around it sounds like a fairytale first date.
Flash forward six or so months and Stassi, understandably reluctant to put another relationship in the public eye, goes IG official with Beau. She posted a series of stories documenting the Valentine's Day he set up for her. As proof that the man knows who he's dating and how to make her happy, decorations included "dead people gloves," handcuffs, creepy clown posters, and plenty of images of hearts being stabbed with knives. Plus, a special Valentine's edition of their couple's OOTD. Anyone else's Valentine's Day suddenly feeling totally lame in comparison? Yeah, same.
Stassi's debut couples post:
Their Shared Life
Since then, it seems like it's been pretty smooth sailing for the couple. At the Vanderpump Dogs Gala this past week, Stassi and Beau gushed about how happy they were, admitting that marriage is "on their minds." While Beau had some initial reluctance to appearing on-screen for season 7 (he'd never seen VPR before he and Stassi started dating), it seems like filming went well. Notably, Beau has bonded hard with the whole Vanderpump crew, so much so that Stassi insisted they were no longer " best friends." "Now, they're our best friends," she shamelessly brags. If that isn't the f*cking dream (never putting up with any of your boyfriend's friends again because you both mutually agree on the 4-6 most fun people to hang out with), I don't know what is.
Here's their latest double date night (dogs in tow):
While I can't find any solid proof they live together, I'd largely assumed they do from her Instagram. It's pretty much a 24/7 reel of them eating Taco Bell, lounging on the couch with their two dogs, pulling elaborate pranks on each other and filming it, or getting ready for double dates with their friends. (Most often, actually, Brittany and Jax, which I find surprising.) Though I think the two dogs belong to Stassi, Beau appears to be a dedicated dog dad. And Stassi, for her part, now has plenty of personalized Rams gear and accompanies him to games. Seems like one of them is making the bigger sacrifice there, but he also basically became a Bravo star for her so it's fine.
Here's the Rams gear I mentioned:
And here's a peek at their freakin' cute home life:
Their Vacations
In addition to living a disgustingly adorable life at home, the couple has taken a few extremely sick European vacations. Here they are in Berlin and Paris this November:
Here they are being disgustingly cute in Italy in May:
And while these trips are enviable in their own right, they also seem to be an opportunity to hang out with Beau's sister, Georgia, who—from what I can tell—lives there. The couple has annoyingly only documented their hangouts on their stories (and her IG account is private), but from what I saw, Stassi fit right in with the fam. Also, they've been a fabulous opportunity for Beau to up his Instagram-boyfriend game:
BRB, forwarding this link to my boyfriend with the caption "take notes."
Ultimately, watching Beau and Stassi's relationship on social media has been an absolute joy. They seem to share each other's sense of humor, even while his laidback demeanor provides a slight contrast to the high-strung sh*t-stirring side of Stassi we all know and love. I'm no Us Weekly body language decoder, but they're positively radiating joy in every photo together. Plus, over the course of their relationship, Stassi has invented a holiday, come out with a Witches of WeHo Pinot Grigio, written a book, and risen to 1.4 million followers on Instagram. Not only are they (seemingly) gloriously happy, they're pushing each other to be the best versions of themselves. So, so happy for you Stassi—and can't wait to see this all unfold, starting MONDAY!!!
Images: Twitter; Instagram; Instagram
United Airlines Literally Killed A Puppy
United Airlines is officially back on their bullshit in the most spectacular way possible. After dropping their debut single, "Sexualizing A Young Girl For Wearing Leggings", and topping the charts with their hit "Dragging A Doctor Face-First Through The Aisles," it was hard to imagine how they'd top their previous work. But they've done it. Oh boy, have they done it. What I'm trying to say is – United Airlines killed a puppy.
The puppy in question, an 11-month-old French bulldog named Kokito (RIP), died after a United flight attendant forced his owner to put him in an overhead compartment, where he suffocated to death. So now we know what happens when you put a puppy in an overhead bin, not that anyone was asking.
The owners and other passengers say that they protested vigorously, telling the flight attendant that there was a living creature in the bag, but the flight attendant twirled their mustache, laughed manically, and screamed "WE ARE UNITED AIRLINES WHERE THE ONLY LAW IS DEATH!" insisted she put the dog overhead.
Oh, and do you think that's the worst part of the story? No. The worst part of the story is that  the puppy proceeded to bark and cry, but no one could go check on him because of heavy turbulence. By the end of the flight, the cries had stopped, and the family found their puppy was dead.
United has since responded saying the incident "should never have happend" (LOL YA THINK?!?) and that they "assume full responsibility for this tragedy." TBH, I'm excited to see where the company takes their reputation next. Will they follow this up by flushing a cat down the toilet? Strapping a baby to the wing? Making their leg room even smaller?
On the bright side, United flights are about to get hella cheap. Just don't bring anything you care about.
Heads up, you need to keep up with the news. It's not cute anymore. That's why we've created a 5x weekly newsletter called The 'Sup that will explain all the news of the week in a hilarious af way. Because if we weren't laughing, we'd be crying. Sign up for The 'Sup now!
We've Discovered An Island Where You Can Play With Puppies For Free
No matter what side of the aisle you're on, basically everyone can agree that living in America is stressful as fuck right now. In fact, we could all probably use a permanent vacation, a lifetime supply of vodka, and a giant pile of puppies just to make it through the stress that has been the year 2017. And luckily, at least two of those are possible. Potcake Place, a dog rescue charity based in Providencia, Turks & Caicos, lets visitors to the island "adopt" stray puppies for the day. So please excuse me while I tell my family I'm actually going to Turks & Caicos for Christmas. They'll understand.
By adopting a stray island puppy, you can help to socialize an uncivilized puppy (that makes them sound cuter IMHO), and the puppy can supervise an uncivilized you. It's a match made in heaven.
And if you're wondering wtf "potcake" means, potcakes are mixed-breed puppies native to several Caribbean islands. So basically, these puppies are exclusive island puppies you can only play with on vacay. I honestly didn't know I could love something so much.

All you have to do to make your beach puppy dreams come true is to stop by the shelter and ask about a beach trip. They'll arrange for you and your dream pup to take a walk down the beach and, obvs, will help you and your new potcake baby make it official once you inevitably fall in love and want to keep him forever. They'll set you up with a vet and help you bring the puppy home, so you can come back from vacation with something more than a few cheap shot glasses and an STD for once.
10 Boujee Instagram Dogs That Are More Fun To Follow Than People
When we say we genuinely envy the lives of Instagram's betchiest dogs, we're not even joking. They have intimidating squads, regularly get blowouts, summer in the Hamptons, wear cool outfits and generally weigh under ten pounds. It's extremely unfair TBH, and I don't care if they set unrealistic standards for women, I still aspire to be one someday. As we've discussed on this site many times, a betch's pet is called a petch, and Instagram is full of petches. These tiny furry creatures have the uncanny ability to make you go "awww!" and "omg!" even when you spend most of the day wearing black and being dead inside. While you may spend all day hating on people, most of us are physically incapable of hating dogs, especially impeccably groomed dogs being photographed in good lighting. Following these majestic creatures will increase your happiness level while scrolling through Instagram, instead of just side-eyeing all the THOTs you're still not sure why you follow. In all their glory, here are our favorite petches of Instagram:
Samson is a Goldendoodle and the unofficial leader of the Dogs of NYC (those other puppies are just his little workers.) Despite living in Brooklyn, practically every important canine event in Manhattan revolves around his schedule, which includes everything from pool parties to socializing at local bars. Whether he's out on the town or relaxing in his iconic robe, you'll want to keep an eye on him. Wherever Samson goes, other trendy dogs will follow.
Speaking of Samson, he's been known to lunch with Marnie the Dog, who has a casual 2.1 million Instagram followers. Marnie is slightly older at age 15, but that doesn't stop her from upholding her status as one of the top dogs on the Internet. According to her bio, "I walking & parties. H8 being alone. I'm a lady!" Does it get any betchier? I don't think so.
Ella Bean is a fellow NYC dog who, in typical fashion, recently decided to spend a summer in Paris. Like every study abroad girl, Ella has been posting photos non-stop of her eating French pastries and posing outside of the Louvre. She's truly living her best life, and how could she not be in those fabulous custom aviators?
Norbert is a West Coast petch who will easily put your sorority's philanthropy events and entire social media presence to shame. As a therapy dog who donates most of his time to volunteering at Children's Hospital LA, he knows the importance of giving back to the community. He also knows how to rack up the likes, because if you didn't post about it did you even volunteer?
Meet Agador, AKA Pooch of NYC, who has the best hair out of anyone ever I've seen, human or animal. Everything about his aesthetic is extremely on brand, from his bed,to his blowouts and the glass of wine that's never too far out of reach. If only he would respond to my DM's, *sigh*, I really think we could be great friends.
Perry calls himself a dog model, and for good reason. He's got a natural chemistry with the camera and tends to be more minimalist than some of the other dogs on this list (while still being extremely extra compared to any other normal animal). There are a lot of Pom's out there trying to make it big, but Perry's just got that "it" factor that makes him stand out from the rest.
The only thing better than one betchy dog is a pair of betchy dog siblings. The Morkies of NYC, Cleo and Jack, are a power duo currently taking the city by storm with their adventurous spirit and matching OOTD's. Catch their photos in the city or by the beach, just make sure you catch them somewhere. We heard the Olsen twins are extremely jealous.
No one has perfected the "I literally can't even," face quite like Sprout. Another seasoned New Yorker, Sprout takes bullshit from no one and has a jam-packed schedule filled with Equinox sessions, walks through Central Park and photo shoots in his living room. It's not easy but someone's gotta do it.
Doug the Pug is arguably one of the most important voices of our generation, and I find him more relatable than most people I know. Powered by iced coffee and social media attention, Doug brings a fresh look to some of the most basic of Instagram concepts to make them completely new again. Check out his 4th of July pics and thank us later.
Saving our personal favorite for last, we present to you Bruce Springsteen, the official petch of Betches. Whether he's keeping us company at the office or hanging by the pool, he's constantly serving up RBF and absolutely never TTH. His only request: stop trying to make fetch happen. Duh.
A Frozen Frisbee Treat Recipe To Show Your Doggo He's A Good Boy
Summer is a time when you and your furry friends are feeling the struggle. You want to enjoy the bitchin' weather, but Spot or Rover may get a lil too warm/drooly/fucking rancid if he or she stays outside more than 15 minutes in 85+ degree heat. Obviously, keeping your doggo cool is right up there with chugging frozen summer dranks and making sure you look hella skinny in your bathing suit. Why not let Fido enjoy his or her own special frozen pupper treat?
Yes, you can make special frozen desserts to please your doggo on the hottest summer days. So grab a beach chair, toss your pup this treat, and relax. He should be entertained with this shit we adapted from Rover.com for at least 5 minutes.

Ingredients:
– 1 cup peanut butter
– 1 cup water
– ¼ cup flax seeds
– ¼ cup frozen sliced strawberries
Grab a silicon bundt cake pan and spray with a bit of nonstick spray. In a blender, combine the peanut butter and water. Pour the mixture into the bundt pan, then sprinkle in the flax seeds and berries.
Freeze this shit for about 2 hours or until it's totally set. Remove from the bundt pan and throw to your doggo for minutes of fun. It depends how fast they eat it/when they ignore it/if it melts in the heat.
PSA: I Do Not F*cking Care That Your Dog Died
I've seen a disturbing trend on my timeline recently, and it's not just because I only became Facebook friends with my dad a few months ago: people posting Facebook eulogies about their dead dogs. I know it's 2017 and there are a lot more offensive things going on, especially on Facebook, than people posting about their dead dogs. But you know what? I don't care. Call the Special Victims Unit, because this social media crime is especially heinous.
Yeah, I'm that monster who doesn't care about your dead dog, and I don't care who knows it. I mean, I sort of care because I'm writing from a semi-anonymous pseudonym as opposed to my real name. But that's neither here nor there. I'm here to tell you why I don't give a shit about your dead dog, and I'm willing to bet nobody else does either.
First I would like to say that I am not a cat person, nor am I a soulless robot who has never felt joy. On the contrary—I have had three dogs in my lifetime thus far, two of whom are now dead. So yes, I understand your pain and I know what you're going through. But there are acceptable ways to express your grief and unacceptable ways. Uploading a photo of your deceased dog is fine. So is changing your profile picture to one of you and your late pup. Posting one—ONE—short status is also acceptable, with the key word being short. The world is certainly a darker place with one less dog in it, so it's fine to let us know. You know what's not fine? Posting a 1,000 word eulogy to your dog that sounds like it was actually written for a close family member, only for me to find out at the end after reading your entire essay that it was eulogizing your 17-year-old dog who's had cancer for the last 4 years of its life. Stop it. You're not a eugoogolizer. That shit is melodramatic. Dogs die. You knew going into it that your dog would age seven times faster than you. You can't really be surprised.

"Today I lost my companion, my best friend, someone who's been there for me through thick and thin for the past 11 years" — No I'm not copying and pasting from my timeline (I'm not that savage); I've just read so many of these and they all start the same fucking way. Like, first of all, your dog has not actually been "there for you." Your dog wasn't like, giving you advice and taking you out to the bars when your ex dumped you—they were just physically present. Also, and I'm not afraid to say it, if your parents took care of the dog while you were away at college and for most of your adult life and you hardly ever even walked this dog or picked up its shit, that hardly fucking counts. Like, you didn't even do any of the heavy lifting and now you want to reap the sympathy points? Nah. I see you. 
As if it weren't bad enough to put more thought into your dog's memorial than your grandma's, where this shit really gets extra is when you have the people who just won't fucking get over it. The people who are posting daily updates on their grief and flashback photos every chance they get. Your dog died two years ago AND you got a new puppy a week later, give it a rest, Catherine! You are allowed one sympathy post. ONE. After that, you're just fishing for attention and it's sad and annoying. Not to mention, where's your new dog in all of this? Why is Fluffers being neglected because Mr. Peanutbutter (may he rest in peace) passed away two years ago? We'd all much rather see photos of your new, alive dog.
And you can tell everyone else is sick of it too because the flood of "Thinking of you!" "Sorry for your loss!" comments and likes dwindle from a solid 100 to like, just your aunt Judy and the girl in your international relations class who's afraid you'll botch your half of the group project without constant reassurance. Dogs are like babies: I can guarantee you that nobody else thinks your dog was as cute or friendly or lovable as you did. 

To be clear, I'm not telling you that you can't be sad when your dog dies—just stop fucking posting about it. Honestly, just stop posting about most things. Is the common denominator me? Am I the problem? …Probably. On that note, I'll see myself out.
Science Says Dogs Are Better Friends Than People
Dogs are the purest beings in this world, and yes, I'm including Beyoncé so don't ask. They're our confidantes, our companions, and most importantly, they listen to all our problems without judgment because they don't have a very good grasp on English beyond "no," "stay," "seriously, no, I mean it," and "pizza." Every living being understands pizza.
So is it any wonder, I ask you, that kids have been scientifically proven to have better relationships with their pet than with their siblings? The correct answer is no. If you ask literally anyone on this planet if they'd rather hang out with their pet or another human being, they're obviously going to pick Colonel Fluffington.

In a study published in the Journal of Applied Developmental Psychology, researchers from the University of Cambridge surveyed 77 12-year-old children about their family relationships. Each household included at least one other child and a family pet. When researchers looked for trends in their results, they found that the kids reported stronger relationships with their pets than their siblings. Considering pets like to snuggle and/or purr while siblings like to punch each other in the stomach and/or steal each other's clothes, I think we can safely agree that science is on to something here.

Dogs apparently made the best pets; kids reported less conflict and more satisfaction with them than any other kind of pet. I repeat: Dogs are the purest beings in the universe. The study also found that compared to boys, girls had more tumultuous relationships with their pets, reporting both more companionship and more conflict. Maybe they're practicing for appearing on The Bachelor one day?

Anyway, the researchers were stoked about their findings because it shows that non-humans can serve as social support, and prior research says the same thing. One 2015 study even found that having a pet can help you make friends with actual humans, mostly because you wind up talking to all the people who want to pet your dog. It's a win-win, except for the part about having to talk to people.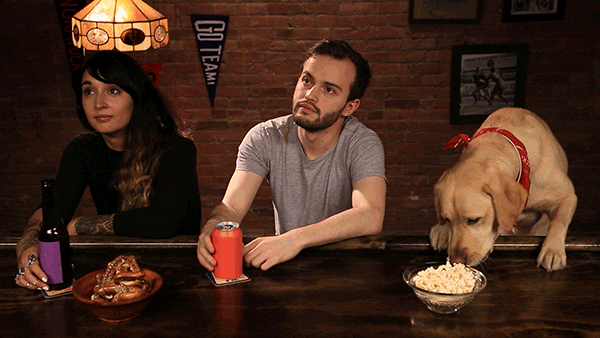 P.S. If you were wondering whether this entire article was an excuse for dog GIFs, you're absolutely right.