By Banking On Tia & Colton Drama On 'Paradise', ABC Did Us All A Disservice
Last week, we had the long-awaited return of the only Bachelor franchise worth saving: Bachelor in Paradise. Unfortunately, because the Bachelor franchise is obsessed with itself, we had to suffer through some drama we were already bored of on The Bachelorette: Tia and Colton. (TL;DR: Tia & Colton had a brief thing, Tia made Becca cut him after hometowns. If you need more details, try this.) Bachelorette fans have already jumped down Tia's throat for her behavior and Becca even responded asking people to chill TF out. But apparently the BiP cast didn't get the memo. Half of the episode is spent making fun of Tia for her big crush on Colton. The other half is spent roasting Colton for ignoring Tia when he (spoiler) arrives on night two.
According to ABC, the Tia and Colton story line is the most interesting thing happening this season. So why does it feel so boring?
 We Know Too Much
I'm new to the Reality Steve game, but I've come to realize this season that The Bachelor is only a surprise if you want it to be. In the case of Tia and Colton, even spoiler noobs like me were well aware that Tia and Colton had a reunion in Paradise. (Reality Steve had leaked pictures as early as June.) In addition to that, we all have social media. If there had been a serious falling out between Becca and Tia, we would have seen the unfollows. If Colton was seriously closing the Tia door, he would've deleted his heart-eye tweets about her on Arie's season. And Baby Bekah's been more than happy to keep us posted on her thoughts about all this, including speculation about their time in Paradise back when The Bachelorette was airing.
In other words, you would have had to try really, really hard to watch Paradise and not know that Colton and Tia were getting together. There's nothing organic or surprising; it's practically contractually obligated, and it's a real drag to watch.
This GIF says way too much about their whole dynamic.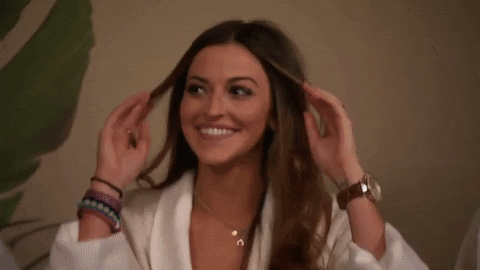 We've Seen Too Much
So, we knew it would happen. That alone shouldn't have made it so boring. In fact, confrontations you actively expect can be the most fun. Which brings us to the next point: Tia and Colton are just not that interesting. The fact is, Tia was not chosen to be the Bachelorette. And if I have any luck remaining on this earth, Colton will never be chosen as the Bachelor. Sure, Colton's got the celebrity exes and virginity, and Tia's got the knockoff Raven Southern charm. But beyond agreeing that they're both attractive people in a vaguely Friday Night Lights kind of way, I have limited interest in seeing where their stories go. I would rather watch Krystal, whose newfound sanity is already hanging by a thread, or Joe, who I sadly like less every time he opens his mouth, than continue with these two.
Paradise is a place for slightly unhinged people to gain new corporate sponsors make bad choices, not a pageant queen and Boy Scout to practice rounding second base. They're not crazy enough or tragic enough to make for really great entertainment. And I think it's safe to say that ABC has worn them out.
All of America watching this story line: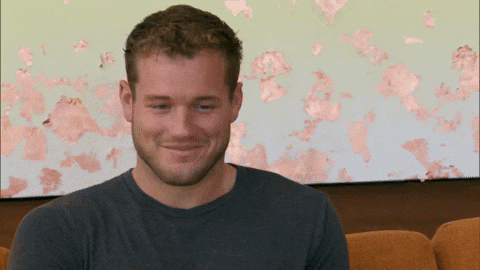 This Whole Situation Sucks
Finally: when Colton arrives on that STD-ridden Mexican beach, it's not a question of whether he'll be into her. It's a question of whether he'll cave to the public expectation that he MUST like Tia as much as she likes him, or risk his reputation going for someone else.
As a quick refresher on their relationship, Tia DM'ed Colton while he was in the casting process for The Bachelorette.  They started talking, then stopped talking when he found out he was going on the show. Their in-person time was limited to a single weekend in Los Angeles. If we're assuming worst-case scenario, Tia is walking the line between stalker fan and one-night stand. Best case, it was a short but intense fling that nonetheless, they cut off well over six months ago. And now Colton, fresh off a breakup of his own, is being asked to couple up with Tia or be hated by all of America.
As for Tia, who is understandably a ball of nerves, there's a lot more on the line than "does this guy still like me?" She's waiting to see if Colton's going to save her reputation by making this a love story, or publicly dump her. Because if Colton doesn't go for Tia, Tia just f*cked with Becca's journey for a guy who wasn't even into her. And that's hard to come back from—in Bachelor Nation, and just in life generally.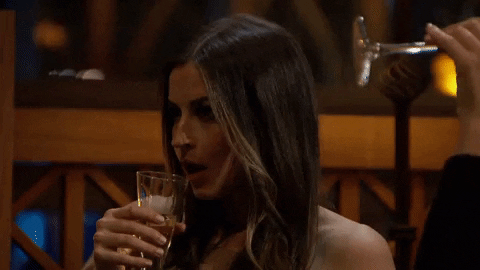 Same, Tia. Same.
Overall, I'd love to stop seeing these two faces on my TV. Colton has seemed in over his head for a while, and Tia has backed herself into a corner that will be very boring and painful to watch her get out of. For the sake of everyone's sanity, let Tia and Colton put this embarrassing chapter behind them and focus on footage like Jordan explaining American history or Bibiana punching people.
Images: Giphy (3)
6 Mistakes You're Making When Sliding Into His DMs
The brilliant Alex "Hitch" Hitchens once furiously blurted with a mouth full of a chubby dude's saliva, "YOU GO 90, AND I GO 10—YOU DON'T GO THE FULL 100." Since then, I chose to apply the "maybe don't go all the way" rule to every aspect of my life—hooking up with a stranger, finishing a bottle of wine by myself on a Tuesday, sliding into my friend's hot brother's DMs, everything. Why? Because things like successfully sliding into the DMs requires a complex set of skills not even Liam Neeson obtains, and going all in at first contact will only result in a lifetime of rejection, and I'm just assuming you don't have the funds for that kind of therapy.
Let's get one thing straight. When it comes to flirting, men are fucking clueless. They have the cranial capacity of burnt toast. But the main problem with sliding into DMs is that it usually never works (oh Jesus, wipe that dumb Taylor Swift surprised look off your face—you know this). A guy's inbox acts as a limited platform for a first and only impression. It's like one of those blind The Voice auditions. It's a real audition, and you need to be fully prepared if you plan on sliding into home. Actually, now that I think of it, they should call it plunging into DMs, because sliding refers to a graceful movement, and making a smooth landing into someone's inbox only exists in like, a Cameron Diaz RomCom. Anyway, as I said, this shit rarely works but like, never say never, and in the age of non-existent human interaction, cyber flirting is crucial to your duty of repopulating the earth, so take my advice in order to avoid a painful nose dive into his DMs followed by this landing:

1. Don't Go Straight For The Prize
Sliding into DMs should be the desperate final resort in reaching out to a guy person (civil rights, this is the '90s), and should only be done if you have no other way of contacting them. That said, I'm assuming you've barely said two words to this person, so going all in at first actual contact is like, pushing legal boundaries. If you actually have access to a phone number or idk, you're fluent in the English language and you still choose to DM, you're garbage. But what I'm saying here is that going straight for awkward introduction will result in failure. Remember those dumb arcade claw machines that stole all your money and also your will to live? Remember slamming the button down and thinking this was the money shot, only to be strapped for cash and some dignity? Exactly.
Instead, ease into it. To appear on his radar, start by swapping the automatic DM for a few likes and a follow. Even better if he's private, since he'll be forced to accept your request and probably creep on you in the process. Your follower count Rome wasn't built in a day, and neither should this sexual buildup be.

2. Don't Like All Their Posts
This should be the first idiot-proof rule of social media 101 that you learned in like 7th grade, so let me circle back around the whole "slowly easing in" thing. Nobody in their right mind has ever looked at some freak in their notifications who randomly liked 25 photos in a row and thought, "Aw, how sweet!" That's fucking weird and an automatic no from any normal human. Showing non-DM interest is important, but a "like" 37 weeks deep into the abyss just screams restraining order. This is literally how Blac Chyna snaked her way into the Kardashian circle, and look how that ended up. K I made that up, but you believed it for a sec, so keep it to a three like maximum, or forever hold your blocked status.

3. Don't Let Your Hoe Flag Fly Too Soon
Don't get me wrong—flirting is good. Leading someone on is healthy. These things are the gateway to a lifetime of probable divorce pure bliss, but being a straight-up thirst machine out the gate is a one-way ticket to "we should do this again sometime" territory, and FYI, that's the type of "we should do this again sometime" where you'll never do this again sometime. That means refrain from using cleavage, dirty talk and/or the eggplant emoji in the first few conversations. To back this statement up, I called upon my slutty friends conducted lot of research for this article, and asked one friend if the whore-yourself-out tactic actually works. Her response: "I mean, mine usually works when they want to slide into my V". I'm not even making this up. I told you: hard-hitting journalism. I realize that my friend just gave me useless advice, so moral of the story—expect to be one-night-stood (not a crime, btw) unless you save the sleaze for the third drink date.

4. Don't Be Basic (Fucking Duh)
Did you not learn anything when scoping out a semester-long lab partner to cheat off of in college? Your mutual friends and your shared hobbies are always your allies. DMing is basically the same thing. Initiating a conversation with "hey" will only generate one word back, unless you begin by mentioning your mutual friend they also follow that you haven't talked to since she held your hair back on spring break of '13. God I hate myself for saying that. But really—when someone hits you with a "Hi!", your initial response is, "Do I know you?" so now you've just come off as serial psycho, explaining that you saw him while you were deep into your cousin's best friend's sister's Instagram. But whatever, if all else fails, you can always use the "you look really familiar" cop-out.

5. Don't Keep Messaging If They Stop Responding
It starts off as any casual excuse: "Maybe he's just busy at work…" fucking spare me, it's 2017—nobody's actually working eight hours a day these days unless you're Harvey Weinstein's attorney. How else do you think I was able to get through my Vampire Diaries binge in two months? Look, there's no excuses here. Unless he died, there's no reason you should be double or triple messaging. That's just like, the rules of desperation feminism.

6. Don't Have Any Expectations
Girls who say they have no expectations and have "nothing to lose" ironically have all the expectations and somehow lose their shit once they realize that sliding into someone's DMs isn't exactly the road to a life filled with white picket fences and Saturday morning soccer games. I don't even need research to tell you that your only means of survival is to go into this with no expectations. Like, none. Like, the kind of expectations you had when you DMed Josh Duhamel now that he and Fergie are toast. The kind where your mom tells you that her friend's cousin's wannabe musician son would be perfect for you. Those kinds of expectations.

Anyway, I'm waiting on this guy to comment on my cleavage Snap, so I don't have time to babysit you anymore.