3 Black Female CEOs On Why We Need More Black Women In The Beauty Space
Before the social justice uprising that has taken place this year, could you name three Black-owned beauty brands off the top of your head? With little accessibility to brands that represent a range of darker skin tones and different hair textures, Black people are often left with limited options to achieve their desired looks. If we have learned anything this year, it is that representation matters. It should go without saying that Black consumers deserve to be acknowledged in the beauty industry. In honor of National Black Business month, we're turning our attention to three Black women CEOs who have taken the step to catering to Black women's needs and are making space for more melanin in the beauty industry.
"DRK Beauty is a digital community that supports and empowers women of color in all their diversity. Through curated content, programming, and community initiatives, DRK Beauty aims to truly empower those who identify as women of color and fix the flawed relationships between brands and women of color.
DRK Beauty Healing is one of our first community initiatives in response to COVID-19 and the BLM movement. When we first launched DRK Beauty Healing on May 15th of this year—before George Floyd's murder—we had only conceived the idea two weeks earlier as a response to the impending mental health fallout from COVID-19. Having never worked in the therapeutic space, our first step was to speak to therapists. We had back-to-back Zoom calls five days a week for the first month. We also spoke to mental health associations such as Mental Health America to learn more about the space and researched other initiatives in our community. We effectively educated ourselves as quickly as we could.
What we discovered is that there are precious few clinicians of color in the U.S. (Black/African psychologists make up only 5% of the total in the U.S.) and the free initiatives that are out there required prospective clients to fill out online forms and share their data and then wait to be approved to receive the free therapy. This added yet another barrier to entry, not to speak of the cultural stigma of therapy in the Black community. In addition, when you are depressed, traumatized, and/or paralyzed with anxiety, you don't have the mental bandwidth to fill out forms and wait for an answer. You need the help now! We felt that the need was urgent and we wanted to make the process as seamless as possible. Also, we wanted to make sure that we didn't breach any privacy rules. So my developers built an online directory and within two weeks we launched with a few hundred hours of therapy donated by clinicians we had spoken to. We asked them to share with their clinicians as well. So they continued to donate hours and within a month of launch, we had 1,000 hours of free therapy to give away. We've now raised over 2,000 hours of free therapy and we are now one of the leading platforms for free therapy for women of color in America, covering 27 states with approximately 100 clinicians."
"BEAUTYBEEZ was created to fill a gap in the retail industry. What many people outside of the African-American community do not realize is that ethnic hair care and beauty products are traditionally sold in small local retailers called beauty supply stores. Every Black woman has memories—both fond and unpleasant—of going to the local beauty supply store with our mothers and shopping for those nostalgic "Black girl hair" products. It was a space specifically for us! The larger retailers didn't (and still don't) carry these items. Due to various laws and regulations over the past several decades, ownership in ethnic beauty largely transferred to the Korean-American community. Traditionally, they own the stores, the products, the hair manufacturing, and the distribution. And, unfortunately, people of color are oftentimes discriminated against in all areas—most notably in the beauty supply stores. We are followed, harassed, and left to fend for ourselves.
BEAUTYBEEZ is a modern beauty retailer prioritizing beauty for women of color. I founded the brand after my own dissatisfaction shopping for beauty. As an entrepreneur creating success in a field where I'm the minority, I've had to be resilient, resourceful, and stand out. There were several challenges that came my way, and I faced them head on. I took the time to equip myself with the knowledge and skills necessary to thrive in an industry that capitalizes off of me. I used my experience as a consumer and infused it in all aspects of BEAUTYBEEZ—from the products and services we offer to the customer experience. My identity and experiences as a Black consumer have single-handedly been the most effective attribute I've brought to the business and enabled me to thrive in an industry that is dominated by people who do not look like me. 
BEAUTYBEEZ provides an inclusive beauty experience where women of color can shop, explore, and play in a world full of beauty. The brand was created because nothing like it exists and we wanted to be a complete departure from the typical beauty supply. Our mission is to celebrate Black beauty in every way possible—a curated collection of hair care, skin care, and beauty products; selling inclusive beauty brands; promoting minority owned brands; hiring diversity in our team members; tailored services for our unique needs; and most importantly, the creation of a community reflective of our brand's values and ideals. We've been able to successfully create this space because we possess a passion for and knowledge of our consumers and their needs—an approach many of our predecessors have neglected."
View this post on Instagram
"When I first entered the beauty industry, I didn't really have a clear understanding of all of the nuances and disparity that existed. I am a salon owner and do not do hair. I was primarily interested in the salon being a second stream of income. I started the salon geared towards extension work, and then transitioned into curly textured hair. As the business grew, so did my desire to become more known in the industry and be recognized as a salon of curl experts. That is when I discovered that salons and stylists of color are put in a box and not given the opportunity to shine on an international platform. Even more surprising, most salons that are recognized for specializing in curls are not Black-owned.
I initially tried to reach out to many of the well-known industry publications, but the feedback was pretty much non-existent. Typically, a handful of stylists of color are chosen to be representatives in the hair world, but new talent is not sought-after. I decided with the access we have to the internet and social media, I would create a lane for myself. I have created a global following for Maggie Rose, along with an educational platform called Texture University, and am in the process of launching a hair system for curls called Naturally Drenched. It has been a journey, but I have realized it is better to create your own platform versus depending on others."
Images: Cottonbro / Pexels; thisisdrkbeauty, beautybeezstore, maggierosesalon / Instagram
Is 'Diversity' Enough? The Problem With Tokenism In Influencer Marketing
Shanna is a Richmond, VA based blogger, TV style expert and freelance PR coordinator for Sarah Olivia Marketing. Follow her on Instagram @meeandminnie where she sometimes post outfits but mostly post IG stories of her cat. 
Merriam-Webster defines tokenism as "the policy or practice of making only a symbolic effort." When it comes to fashion, I see this "symbolic" effort made on the feeds of some of the biggest Instagram boutiques. Shops like @evereveoffical, @shopthemint, and @vicidolls will sprinkle in women of color (WOC) so sparingly that in some cases, if you scroll too fast, you may miss them. With many demanding more diversity in the influencer space over the past few years, including myself, I can't help but have a nagging suspicion that this sprinkling of WOC influencers is a way to slip under the "lack of diversity" radar. More and more brands are facing criticism from not having a drop of diversity at all, which is good, but the cynical part of me has to wonder: Are brands genuinely making an effort to be more diverse, or are they turning to "tokenism" in an attempt to avoid backlash?
A 2018 BBC article written by Cherry Wilson explores tokenism in fashion over the past year, with the explosion of black women gracing the covers of coveted September issues. It poses the question, "Black women on mags: A step forward or tokenism?"  The question is never really answered, since the practice of tokenism is something that can be very much in the eye of the beholder. DC-based style blogger Jen Jean Pierre-Maull says she doesn't think all brands do it, but admits, "I do believe many brands, in fear of being called out on social media, will add a splash of diversity on their feed or invite one or two bloggers of color to events in order to fit the quota." Blogger Ashleigh Reddy expresses she does feel she's been used as the token WOC, saying, "Sometimes at events they need to check the box for a WOC, or a black woman, whatever. I think I'm very 'safe' for brands, so there have been times that I've been the only one, and it's frustrating."  
Not every blogger feels this way. California-based blogger Vivian Rodriguez says, "I haven't had an experience of feeling like the brands are including one token WOC. The brands and events have been inclusive." She does, however, note she works with brands that are focused on diversity and value, choosing models that vary in ethnic background and size. 
According to a March 2019 eMarkter article, there are over 500,000 active influencers on Instagram, and while this number is not broken down by ethnic group, we know WOC influencers are included in this number. Logically, with plenty of WOC influencers to choose from, why aren't we seeing more? And why do so many of these brands use the same few over and over? Brittany Hennesy, best selling author of INFLUENCER: Building Your Personal Brand In The Age Of Social Media, co-founder & Chief Relationship Officer at CARBON AUGUST, and former Sr. Director of Influencer Strategy & Talent Partnerships at Hearst Magazines Digital Media says, "At the end of the day, casting is a job and you want to make your job as easy as possible. That means casting influencers you've already worked with, you already follow, or working with agents you already know." In addition, she says, "Most people follow influencers who look like them, so if the majority of the people casting are not WOC, the odds that they follow and/or will cast WOC are slim." 
But the problem of tokenism goes deeper than just laziness. Hennesy goes on to express that the problem is that many brands have a follower quota (often 100k or more) that influencers need to have in order to even be considered. The problem? "Many influencers of color do not have the crazy high follower counts brands have long desired," she says. "If you see at all," she says, "it's because the brand relaxed the follower count standard BECAUSE they wanted diversity. I have done this more times than I can count." Point taken.
In December of last year, Vicidolls was the latest brand caught up in a social media fury when an observer pointed out that a picture of a WOC was the only one the brand had posted for months. The Vicidolls owner took to the comments to defend her brand, stating that she does work with WOC influencers and was making plans to include more in the brand's feed account. She also urged anyone in the comments who was an influencer and interested in collaborating to send her an email. 
It was a challenge that I accepted. After a few ignored emails (thank heavens for read receipts), I sent the brand a DM to check on the status. After going into the qualifications of the person they look for, I was informed, "We have a new model starting January 1 that is a woman of color as well as dozens of new collabs with women of color. You will definitely be seeing more women of color! It's at the top of our to do list and we are getting it done." Now go take a look at their feed and tell me how long it takes for you to spot a WOC—I'll wait. I'm not saying she's not there, I am saying you will have to dig to find her. 
Nena Evans, a Virginia based style blogger who has worked with brands such as Neutrogena and LOFT, and is also currently a Vicidolls partner, bristles at the idea that she's simply being invited to participate to fill a quota. She says, "I want to address topics like this, but it's also frustrating because it minimizes my hard work and accomplishments in this space. No one wants to think of themselves as a token. I'm selective about brands I choose to work with. I pursue ongoing partnerships instead of temporary collaborations so that I can build relationships and ultimately be a thought partner. These opportunities did not happen by chance, but as a result of hard work, excellence, and support from other women."
"That being said," Evans says, "I don't want to be the only woman of color represented. There's a lack of diversity across the industry as a whole. Diversity and inclusion add real value, and the brands that make it a priority will remain relevant."  
In the continuing conversation about diversity, tokenism is much more different than a lack of diversity; it's a bigger slap in the face. It's a brand not throwing out a bone vs. throwing a bone out to watch a few WOC fight over it. For some, this practice is a backhanded compliment that brands are giving to us in order to save their own skin, and for others, it's a small step to make WOC a more thoughtful inclusion in their marketing. No matter which side of the fence you're on, we can all agree it happens and is another example of this space not being as inclusive as it should be. 
The bottom line is, tokenism can be hard to spot. It's never easy to know if it is being done out of malicious intent to be inclusive without REALLY being inclusive, or whether it's a brand's starting point to make a change, but to fix it is simple. Jen Jean Pierre-Maull suggests to brands, "Hire more POC on their team so they know when there is a true lack of representation and follow more POC so they will broaden the invite list". Brittany Hennesy adds, "Influencers need to break the cycle. I know influencers who have turned down brands because they don't feature WOC. But if WOC turn them down, how is the brand supposed to fix that? This is a cycle that will keep going until an influencer stops it. And it's not like it's charity work, you're going to get paid. Volunteer as tribute AND secure the bag."  
Shanna is a Richmond, VA based blogger, TV style expert and freelance PR coordinator for Sarah Olivia Marketing. Follow her on Instagram @meeandminnie where she sometimes post outfits but mostly post IG stories of her cat. 
Images: Marcus Santos / Unsplash; meeandminnie, vicidolls, jenjeanpierre / Instagram
Where Are The Women Of Color On Influencer Trips?
Shanna (AKA Shanna) is a Richmond, VA based blogger, TV style expert and freelance PR coordinator for Sarah Olivia Marketing. Follow her on Instagram @meeandminnie where she sometimes post outfits but mostly post IG stories of her cat. 
Brands not inviting a SINGLE woman of color influencer on press trips: a tale that's as old as the times we were told to not wear white after Labor Day, that black and blue don't match, mixing patterns is a no-no, and never be caught dead in a denim-on-denim ensemble. If these old and antiquated ideas about fashion have been put to rest, why not the idea of brands excluding influencers of color from their press trips or campaigns?
The issue surrounding a lack of diversity in the fashion influencer space is not a new one. It's been spoken about at length, with major publications from BOF to Forbes penning essays about the need for equal representation. Over the past few years, major brands have been called to the carpet for lacking diversity in their campaigns. Brands from Athelta to BooHoo, to Revolve and the whole #revolvesowhite issue—something they have yet to address—have been the subject of diversity consumer researched articles, personal op-eds, and the wrath of social media about their blatant disregard of the need for diversity.  
Obviously, this is a problem. I could go the "POC want to be able to see themselves" route with my "why diversity matters" argument; according to a recent Google survey, 75% percent of black millennials want to see more diversity in ads. But I'm going to do you one better, because that argument seems to be falling on deaf ears. No matter the color of the person who spends it, money is green, and I was under the assumption that brands wanted money, so why the hell would you not want to include my skin color in your marketing material? According to a 2019 University of Georgia study, minority markets spend a combined $3.9 trillion dollars on everything from beauty to fashion to health and wellness. Of that, Hispanic Americans take the lead with $1.5 trillion in spending, African Americans with $1.3 trillion, Asian Americans with $1 trillion, and Native Americans with $115 billion. Dat's a whole lotta green brands are missing out on if the aforementioned minorities decide to collectively not shop with brands who don't showcase diversity. Whew chile! 
And I don't want to downplay or make light of the feelings minority groups have when we're not included in campaigns. It's a painful reminder of the spaces we were once not welcome in, and in some cases, still aren't. It keeps a nagging question in the back of our minds: "are we good enough?" The answer is hell yes, but the question lingers anyway. As a blogger, I find myself sometimes modeling after my white counterparts because maybe it will make me more marketable and help me land campaigns. Spoiler alert: it doesn't! But when we express our disappointment at being excluded, we're told we are overreacting, we need to get over it, and (what's funny as sh*t to me) we are being racist! So I thought a lesson in consumer diversity was better illustrated on a financial level, since a human one seems to be going over some folks' heads. 
Last week, Alicia Tenise, a D.C. based fashion and travel blogger, gave a mini Ted Talk about the lack of diversity on press trips. She stated she'd been invited on just two trip so far this year (need I remind you, 2019 is more than halfway over), despite having over 22,000 followers. Alicia then screenshotted pictures of press trips she'd seen with zero influencers of color, shared those pictures via her Twitter account, and it racked up 13,000 likes.
Black influencers are rarely ever invited on influencer trips.

I've started screenshotting every press trip I've seen over the last month and the lack of diversity is so upsetting (but not surprising). pic.twitter.com/Zftn8ZBIhD

— Alicia (@AliciaTenise) June 20, 2019

Since then, Alicia's tweet has been the latest centerpiece of a number of articles discussing brand diversity over the past week. I'd sort of forgotten about Alicia's tweet until another blogger I follow shared a shout-out from a blogger who happened to be on one of the press trips Alicia called out, which no WOC had attended. I decided to head to the brand's account, @amaryllis_apparel, and leave a comment asking why no influencers of color were in attendance. No more than 10 minutes later did I find they deleted my comment…..the damn nerve, but not a surprising one.
Surely this was a slip of a finger, so I posted my comment again and sent them a DM with the same question. I then went on a mini IG Ted Talk of my own about the issue, again calling the brand out, and a few of my followers left comments of their own inquiring "Where the black gals at"????
Update: As of this article, @amaryllis_apparel has yet to respond to my comment or DM but had not deleted anything, so I guess that's progress. 

So you agree? You think this is really f*cked up?
HOW CAN YOU BE AN ALLY, YOU ASK? Yes, white women, I'm speaking to you! I was asked this question, and my answer is simple: ask where the influencers of color are. Oh, you thought I was going to suggest marching out into the streets and protesting, burning the clothes on social media, or threatening to boycott? I mean, you can do all that if you want, but a simple ask would do the trick. When brands start to see the women they market to (white women) take issue with the lack of color, they will listen. For influencers who are being invited on these trips, speak up! Let them know you're not comfortable working with a brand that doesn't work to showcase diversity. Ask them what they are doing to be more inclusive. If you know an influencer of color who would be great for a campaign or press trip, tell that to the brand. 
But, ultimately, it's up to the brands to decide that they want to listen to what their customers are telling them. Dear brands: diversity is not varying shades of tan on identical-looking white girls. Here are some ways to actually add diversity to your next press trip or campaign! 
It's hard to showcase diversity in front of the camera if there is none behind it, so hire more minorities. I happen to be the PR coordinator for a digital marketing agency, so if you need help, hit me up. Shameless plug, yes, but the help is far from it!  
Instagram has these things called hashtags that I'm told I need to widen my visibility so people can find me. The ones I use, #ootdblackgirl, #wocblogger, #youbelongnow, and #browngirlbloggers, have been helpful to me for finding other WOC influencers to follow, and I'm sure you can use them to find WOC influencers for your next campaign or press trip.
Did you know there are influencer marketing agencies that have been created just for WOC??? Brown Girl Bloggers, Black Girl Digital and SHADE are a few that come to mind, but I'm sure a quick Google search will yield more results.   
But if you have no desire to use any of my tips, do me a favor? When you knowingly make the decision to exclude influencers of color from press trips, campaigns, your Instagram feed, and website, KEEP THAT SAME ENERGY when you're called out for it! When the comments section of an IG post is lit, your DM's are bursting at the seams with questions, and you're the latest subject of articles discussing a lack of diversity, don't get silent, don't ignore, don't give us that tired-ass "We hear you, we value you and all our customers and will do better" bullsh*t. And for the love of God, don't delete comments (third jab's a charm @amaryllis_apparel)! The same energy you had choosing the influencers to invite on your trip is the same energy I want you to have doing damage control by sticking to that ignorance. It's okay to say out loud that you don't value me, because I already see it. 
I have no idea how long this latest round of  conversations calling for "more diversity" will be a hot topic, but just know, it should always be a hot topic until it's become reality. 
And to @amaryllis_apparel, thank you for showing me what your true colors are—or in this case, lack thereof—by deleting my comment, not responding to my concerns, or giving me the standard "We hear you, we value you and all our customers and will do better" mess. I appreciate knowing where you stand and I will happily take my money elsewhere. I mean, Target has cuter swimsuits anyway! 
Shanna (AKA Shanna) is a Richmond, VA based blogger, TV style expert and freelance PR coordinator for Sarah Olivia Marketing. Follow her on Instagram @meeandminnie where she sometimes post outfits but mostly post IG stories of her cat. 
Images: AliciaTenise / Twitter
A Victoria's Secret Model Is Being Dragged For Comparing Diversity To Highlights
Just when you thought fashion week couldn't get any more ridiculous, Victoria's Secret model Devon Windsor thought she could spice things up on behalf of all white women with fake blonde hair. On last Thursday's episode of E!'s New York Fashion Week docu-series, Model Squad, Windsor grew flustered when a conversation between models turned to diversity in the industry. In classic "ignored white girl at the party" style, Windsor was desperate to share her own struggles, adding that it isn't easy being blonde, because she has to "get a highlight every month." Damn, Devon.
The conversation, which was primarily between Windsor and Chinese-American model, Ping Hue, got heated when Hue told Windsor that it was "super hard to relate to" them in regards to discrimination. Windsor defended her own experience as a tortured natural brunette, adding "I literally went through hell," because she lived in "different countries every other month" for two years. Windsor clearly missed the memo that traveling Europe is supposed to be fun, explaining that this was a difficult time for her because she couldn't speak Italian or "Paris," and I guess had no interest in trying?
Then, as all blondes do when we're feeling attacked, she reminded everyone that she was blonde. "You know how hard it is to be blonde?" she asked, "I have to get a highlight every month!" Clearly she felt like her problems weren't being validated, but even if we break down this theory, highlighting hair every month to make it blonde means she isn't blonde, which means her blondness is a choice and discrimination based on race in one's field is not a choice. So…?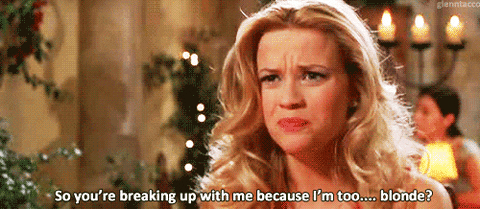 Windsor has since issued an apology via twitter, hopefully after she calmed down with a dose of Chardonnay and some basic human empathy. She tried to pass off her highlight trauma as a joke, writing, "If a peer of mine wanted to discuss such a serious subject about the struggles we face, I would never follow it with a joke." 
— devon windsor (@devwindsor) September 9, 2018
She also expressed that she has great respect for "all of those breaking barriers and working to forge a new and more inclusive community both in and outside of the modeling industry" whether they are women overcoming racism in the workplace or women sitting in a chair for an hour once a month while someone applies bleach to their hair.
You can check out the clip for yourself here:
Heads up, you need to keep up with the news. It's not cute anymore. That's why we've created a 5x weekly newsletter called The 'Sup that will explain all the news of the week in a hilarious af way. Because if we weren't laughing, we'd be crying. Sign up for The 'Sup now!