All The Best Stuff You Didn't Realize Is On Disney+
Today marks the long-awaited launch of Walt Disney's streaming service, Disney+. It's hot on the heels of Apple TV+, which launched less than two weeks ago, and Disney is already projecting that they could reach 101 million subscribers within a few years. The site has even been crashing this morning due to overwhelming traffic.
When it comes to entertainment, Disney+ is a big f*cking deal. In case you didn't realize, Disney owns most of the shows and movies you love to watch, and their streaming service basically has it all. They've got every Marvel movie (except for a few that are on Netflix until 2020), every Pixar movie, and every Star Wars movie. Those things are great, but that's not even close to everything on Disney+. I subscribed and went through the site to see what it has to offer, and here are some of the most important offerings that I feel like no one is talking about.
'Lizzie McGuire'

Truly, it has never been harder for me to get work done than it is right now, knowing that there are 65 episodes of Lizzie McGuire just sitting there, waiting for me to watch them. The Lizzie McGuire movie is on there too, and of course, we know that filming has already started for the reboot, which will also be on Disney+ next year. What a time to be alive. I would pay $6.99 a month solely for the ability to watch Lizzie McGuire, so it's safe to say I won't be canceling my membership anytime soon.
All The Other Disney Channel Shows

I'm definitely most excited about Lizzie McGuire, but pretty much every Disney Channel show from your childhood is available, too. I'm talking Hannah Montana. I'm talking Suite Life. Even Stevens? Absolutely. I haven't watched these shows in years, because most of them haven't really been available to stream. Disney knows exactly what they're doing, and it's working.
Disney Channel Original Movies

As if the list of Disney Channel shows wasn't enough, Disney+ also has all the DCOMs you could ever want. It's taking every ounce of willpower I have not to watch Cadet Kelly right now. You've now got instant access to all the Zenon movies, all the High School Musical movies, and, most importantly, Smart House. This content is the exact excuse you need to fire up the group text and have a full-blown sleepover.
Original Content

Like all the other major streaming services, Disney+ is investing major money into producing original content. There are many projects in the works, from the Lizzie McGuire reboot to a bunch of Marvel series, but there are a handful of things that are ready to stream right now. There's The Mandalorian, a Star Wars spin-off series; a live-action Lady and the Tramp movie; and a musical series about a production of High School Musical. So meta. There's also Noelle, a Christmas movie starring Anna Kendrick and Bill Hader, if you don't feel like going to the theatre to see Last Christmas.
Every Animated Movie Ever

Remember when you were a kid, and Disney would have those commercials where they warned that your favorite movie was going into the Disney Vault, so you would guilt your parents into buying you the VHS while you had the chance? Yeah, those days are over. All of the Disney animated movies that basically made your childhood are on Disney+, and there's even a dedicated section called Princesses Collection. If you're the kind of person who still low-key wants to be a Disney Princess when you grow up, you're going to thrive here.
Tons Of Nature Sh*t

If you love getting stoned and watching Planet Earth, Disney+ is gonna be an absolute vibe for you. There are two different National Geographic collections, as well as a whole section for Disney Nature. With titles like Monkey Kingdom, African Cats, and How Dogs Got Their Shape, you can spend entire weekends on the couch just watching animals do their thing. What could be better?
Basically, Disney+ has way more content than you could ever watch, but you better believe I'm gonna try to get through all of it. Tell me in the comments what you're most excited to watch!
Images: Shutterstock; Giphy (6)
Tyra Banks Is Starring In The 'Life Size' Sequel, But Where TF Is Lindsay Lohan?
Well, just when you thought the early 2000s renaissance had reached its peak, Tyra Banks confirmed today that in addition to returning as host of America's Next Top Model, she will be reprising her iconic role as 'Eve' in the Life Size sequel. Guess she's also found herself longing for the Bush era. Or she needs money. Either way, we all win.
The fIlm, which I imagine will sweep next year's Oscars, was greenlit by Freeform, Disney's red-headed stepchild, and will apparently run as part of their "25 Days of Christmas" programming month.
The movie will star Tyra (duh), who is also executive producer ($$$) but apparently nobody has reached out to Lindsay Lohan to reprise her role as Casey, which is a goddamn tragedy. Why wouldn't Disney want Lindsay involved in their wholesome Christmas project? I literally can't think of a single reason. Not one.
Life Size 2 will apparently focus on a "grown up" Eve who is "magically awoken to help a young woman learn to live and love again," so like…this time the doll comes to life and helps a grown woman? Why tf would a grown woman keep a doll around for this long? My mom threw all that shit away as soon as I got boobs. And it's…Christmas? Why? Also, what does a "grown up" Eve mean? Does it mean she's learned how to type on a computer?
For those of you who need a refresher, Life Size was the heartwarming tale of a little girl named Casey (aka Lindsay Lohan 100 mental breakdowns ago) who goes to a local bookstore to buy a book on magic so that she can bring her dead mom back to life, like ya do. Sadly, Casey fucks up the spell and brings her knock-off Barbie Doll, Eve, to life instead. Eve is beautiful, but also a fucking idiot, and the two teach each other lessons about how to be confident and never giving up and shit.
Eve is sad to learn that as a doll, she's not doing too great, and the fake Mattel company that makes her, Marathon, might discontinue her because girls don't like dolls anymore. God damn you, feminism! At the end of the movie, just when you think Eve is going to stay human and get with Casey's dad, Eve fully 180s and performs a reverse spell on herself so that she can turn back into a doll.
The movie is amazing for many reasons, most of which are Tyra Banks. Here is a literal quote from the Wikipedia summary of the movie, just to jog your memory about some of it's most iconic scenes:
"Over the next few days, Eve buys clothes at the local shopping mall, uses her police training to stop a truck that almost runs Casey over, smells and eats for the first time, tries to do secretarial work, sings her theme song, and almost sets the Stuarts' kitchen on fire. She also helps Casey cope with the loss of her mother."
Incredible. The movie also features some amazing 2000s era computer work, like this very reputable looking website Lindsay Lohan uses to learn about resurrecting the dead: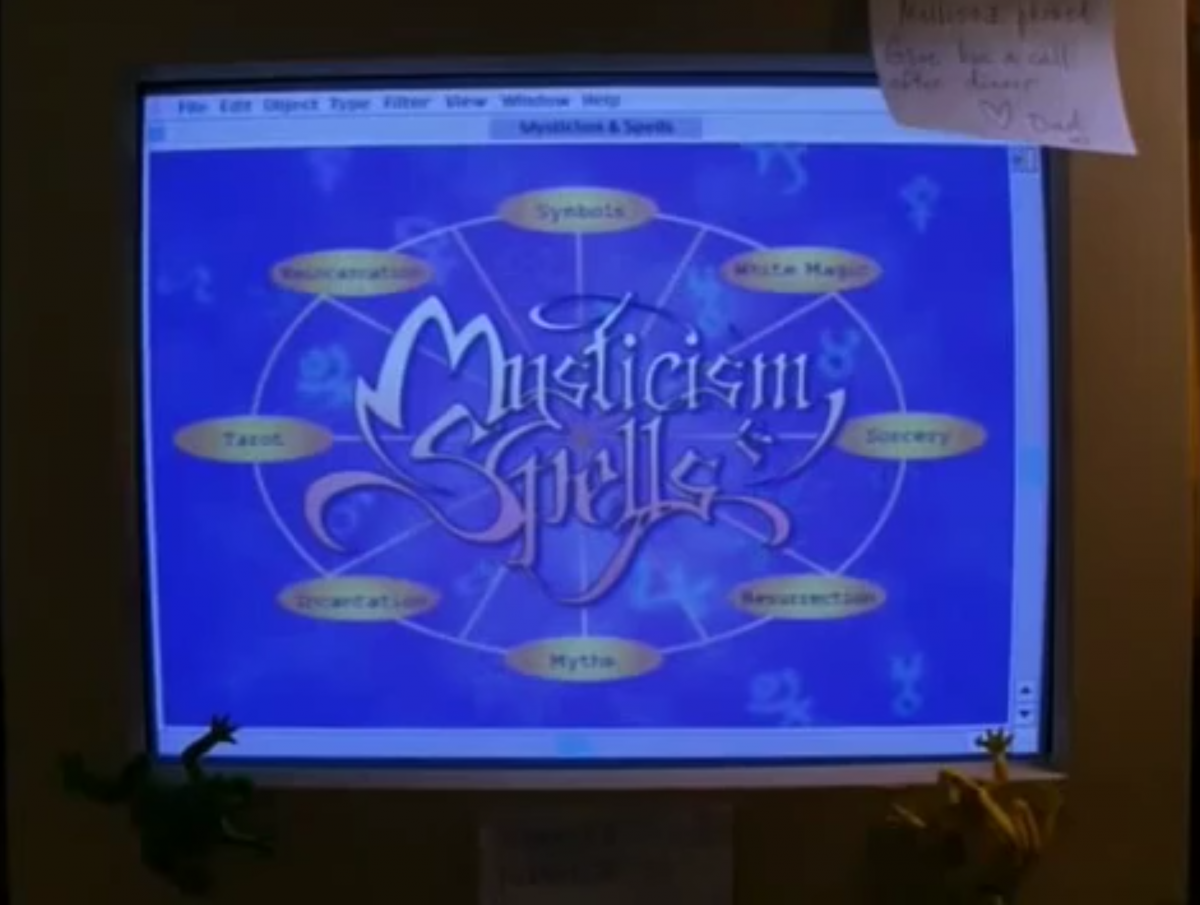 TBH, there's a lot of potential here for the Life Size sequel, but only if they do it right. I think I speak for everyone when i say that LiLo's involvement is crucial here. I mean, who could use the help of a doll role model come to life than Lindsay? Maybe Eve could help Lindsay reintegrate into normal society, first by helping her re-learn how to talk without a fake accent, and getting to the bottom of her whole "converting to Islam" thing. The movie could end with Tyra turning back into a doll, as Lindsay checks herself into a rehab facility in Malibu.
Oh, and like, it's Christmas or whatever.
Remember Your Favorite Disney Channel Crushes? This Is Them Now—Feel Old Yet?
Ever wonder what your Disney Channel crushes from back in the day are currently up to? Well you're in for a treat because we caught up with some of the biggest stars from the '90's/early '00s to see how they're doing in 2017. Some of them have made some fairly dramatic transformations, but they'll never forget their formative years at Disney and in our hearts.
Erik von Detten

We're not gonna lie, Erik von Detten is looking rough as hell these days. He's aged about 60 years since his role in Brink!, but that doesn't stop him from getting back on his skateboard every now and then. Even though he can only ride downhill in keeping with his life's trajectory, it's great to see Erik doing what he loves.
Chez Starbuck

Remember Chez Starbuck from The Thirteenth Year? If so you'll be relieved to know that our favorite young merman has recently transitioned into a beautiful beluga whale. He's settled with a wife and kids about five miles off the coast of Miami Beach, FL, and you might even see him going for a swim if you take a boat out around sunset.
Ryan Merriman

After playing the lead in the DCOM classic The Luck of the Irish, Ryan Merrimack was getting offered sponsorship deals for Irish brands left and right. We think he picked a good one, since he's now basically the most famous leprechaun in the world and gets free marshmallow cereal for the rest of his life.
Taylor Ball

Eddie's Million Dollar Cook-off was all about a young boy having to make a choice between his two loves: cooking and baseball. These days Taylor Ball is proving you really can have it all since he's got an amazing job as a waiter at The Cheesecake Factory and he also watches baseball games sometimes.
The Lawrence Brothers

There used to be three Lawrence brothers back in the day, and they often co-starred in Disney Channel movies and shows together. Sometime over the last few years they decided to all morph into a hotter, younger version of Joey, which is much better if you ask us.
Dylan and Cole Sprouse

Dylan and Cole Sprouse, the lovable twins from The Suite Life of Zack and Cody, were determined to continue working for the Disney brand after their debut series ended. They recently found a new role as twins—the adorable Chip and Dale—whom they dress up as seven days a week at Disneyland for minimum wage.
Ricky Ullman

Whether he was creating the next digital pop sensation in Pixel Perfect or messing around with gadgets in Phil of the Future, Ricky Ullman was always playing a tech nerd during his time at Disney. No wonder that in 2017 he's gone full geek and turned into an Alexa who can provide information on news, sports and entertainment all for the low, low cost of $200.
Steven Anthony Lawrence

The classic story of the "awkward" kid blossoming into a beauty: Steven Anthony Lawrence AKA "Beans" from Even Stevens is now the famous heartthrob Ryan Gosling. Bet you wish you didn't turn down all those date offers now, huh?
Corbin Bleu

Ever since the High School Musical franchise, Corbin Bleu has had an acting career that's been basically unstoppable. He most recently had a pivotal role in the Oscar award-winning film La La Land as a dancer in the first sequence, fifth car back in the first row.
Clayton Snyder

No one has seen Clayton Snyder, who played Ethan on Lizzie McGuire, since he walked off the set of the final episode in 2004. If you have any leads whatsoever, please let us know immediately.
Demi Lovato Used To Only Have Guy Friends Because "Girls Are Too Much Drama"
As we all know, Wannabe Guys' Girls are the enemy of betches everywhere. As soon as you hear a fellow female-identified person say they "Just get along better with guys" you know that girl is probably both shady and annoying AF. Like, I'm sorry, but if you are unable to maintain a postive relationship with a full 50% of the human population, the problem is on you. Like, what kind of fucked up thought process even goes into saying that, let alone saying it as if it's something that makes you seem cool and not psycho? Luckily for those of us who are still baffled by the WGG phenomenon (You seriously don't want anyone to help you pick up clothes and stalk your ex on Insta? Really?) Demi Lovato, who has low-key gone from being the annoying fake Selena Gomez in Camp Rock to a seemingly very chill celebrity with at few good songs and an insane body, has pulled back the curtain on the troubled psyche behind Wannabe Guys' Girls everywhere.
In discussing the method behind her portrayal of Smurfette in the upcoming movie Smurfs: Lost Village (let the ridiculousness of that sentence just wash over you), Demi revealed that she was, in fact, a guys' girl and it was for the exact reason we always suspected: jealousy. "In my work environment, I used to only surround myself with men," she said. "I only had guys in my band, and I toured with guys and my tour manager was a guy and this and that." Demi did not, however, confirm that her favorite quote is "If you can't handle me at my worst, you sure as hell don't deserve me at my best."
So there it is. As we've always suspected, Demi got trapped into the WGG mentality because she had trust issues and was worried that bringing other females around would mean having to compete with them for guys and shit—because everyone knows that's every woman's sole purpose for existing. Also, let's not forget that the "men" she surrounded herself with here are most likely The Jonas Brothers, which is pretty sad considering that they were both sober and celibate at that time. Can you imagine anything more boring than hanging out with a bunch of dudes who aren't even into getting drunk and hooking up, aka one of the main reasons for keeping men around in the first place? I truly cannot.

Demi then went on to bravely speak about her decision to leave the WGG lifestyle, in favor of hanging out with women and reaching her full potential. Guess she finally realized that having someone who is half-asleep and just grunts in approval while you talk shit is significantly inferior to a female bestie who will not only agree with all your shit talking, but add onto it with important gossip of her own. That is a service we all know men (gays excluded) simply cannot provide.
"Now I've made it a point to surround myself with strong women and it's really made a difference in my life," she said, which fully puts into perspective her recent shading of Taylor Swift's as a bad feminist. She was probably just so shocked to see Taylor not taking full advantage of all her female friendships, having seen how horrible life without them can be. It makes perfect sense. Also, and this cannot be overstated, Taylor Swift is fucking psycho.

Demi also went on to say "I really relate to Smurfette, because I was the only female for a little bit ," which is a fully absurd statement coming from a 24-year-old woman, and also implies that, much like Smurfette, all her male "friends" low-key wanted to fuck her. Another point we've made several times confirmed by Demi.
Demi finished out the interview by saying that she has done a complete 180 from her former guys' girl self, and has now surrounded herself with "role models and positive influences" which seems like a much better deal than spending your days comparing purity rings with Joe Jonas. Good call, Demi. Now just take the "Live, Laugh, Love" poster off your bedroom wall and you can come sit with us.