This Diet Followed By Jennifer Aniston & Kate Hudson Is A Total Scam
I have the benefit of sitting next door to a real, live dietitian—the kind that went to school for a million years and will probs pay off her student loans for the next several decades. Recently, she informed me that a diet followed by the likes of Gwyneth Paltrow, Jennifer Aniston, Kate Hudson, and other celebrities, is too good to be true. The diet in question is called the alkaline diet, and it is apparently 100% a scam for a multitude of reasons. I nearly spit out my iced coffee when I heard this. The internet has led me astray?! Say it isn't so.
So, before you set off on a journey to reset your body's pH levels, here's everything you need to know about the alkaline diet and why it's a waste of time and money.
What The Alkaline Diet Is
According to WebMD, my source for anxiety, the alkaline diet is a diet based on the theory that "some foods, like meat, wheat, refined sugar, and processed foods, cause your body to produce acid, which is bad for you." It also claims, "eating specific foods that make your body more alkaline can protect against those conditions as well as shed pounds." So that's the science behind this plan—eat healthier foods, avoid processed garbage, fix your pH levels, and SHED THOSE POUNDS.
As for why people ever subscribed to this in the first place? "The theory goes that consuming acid-inducing foods and drinks creates an unhealthy cellular environment and sends distress signals throughout the body, leading to colds, outbreaks and inflammation. It's suggested that continual acid-dumping via food can create chronic disease such as arthritis, osteoporosis, and cancer," says Greatist. Sounds like a conspiracy theory, but ok. So, again, the idea is that if I eat basic (IT'S A PH JOKE, EVERYONE) food and avoid acid, I'll live forever and be skinny. Yah, totally!


Why It Doesn't Work
So basically, and for those of us who didn't go to dietitian school, here's the bottom line: the only way you can change the pH in your body is by hypo or hyperventilating, which means adding more oxygen to or taking oxygen away from your blood. No amount or type of food is going to have an effect on that. PERIOD. END OF STORY.
According to WebMD, our bodies are slightly alkaline to begin with, with a pH of 7.35-7.45. Our stomachs are obviously acidic, with a pH of 3.5 or less. WebMD says, "nothing you eat is going to substantially change the pH of your blood. Your body works to keep that level constant." Thanks, WebMD, for the science lesson (NERDS!). But, yes, at the end of the day, a diet that claims to fix your body's acid levels—which are perfect as they are—is utter crap. That's what you get for following a diet peddled by self-proclaimed doctors like Gwyneth Paltrow and her Goop followers.


And, as a note, the guy who literally invented the alkaline diet, Robert Young, PhD, MAY BE GOING TO PRISON FOR PRACTICING MEDICINE WITHOUT A LICENSE. Yeah. He helped to write the book on this whole alkaline diet and the theory that all diseases are caused by too much or too little acid. According to Health.com, he was convicted of practicing medicine without a license. As an added bonus, "A jury was deadlocked on several other charges against him, including defrauding patients out of money." He allegedly convinced terminally ill cancer patients that they could be cured by dping some weird expensive baking-soda treatments "to flush dangerous acid out of the body." Yeah… This guy DEFINITELY sounds like someone who could make up a diet based around acid in your blood. What a jackass.
"But I Lost Weight, So You're Wrong"
Here's the thing: the alkaline diet may "work" in that you lose weight, but you're not losing weight because of any kind of radical pH changes or sorcery in your blood. You're losing weight on the alkaline diet because the cornerstones of said diet are to EAT HEALTHY. WHAT AN IMPRESSIVE CONCEPT.  By cutting out things like meat, refined sugar, and processed foods, you're most likely going to lose weight. Granted, this diet says you don't have to exercise—which, no, yes you do—but starting with eating better and cutting the crap is definitely going to give you a leg up. So fight me in the comments, and I'll teach you about why the diet industry is a billion-dollar system and you're a dope for getting duped by these shenanigans. Oh, and why you shouldn't follow a diet invented by a quack doctor so he can swim in his dollar bills.

I hope I ruined everyone's day. Bottom line: Diets in general don't work because you're applying a temporary fix to what should be a lifestyle change. Eat better, exercise more, and don't inhale pizza every meal, and you'll be healthier.
Images: Shutterstock; Giphy (3)
7 Pieces Of Advice You Need To Follow To Avoid Gaining The Freshman 15
Ah, freshman year. There's nothing like leaving home for the first time, living with a roommate you'll hang with until you join different sororities, and drunk-eating the entirety of the CVS snack aisle in the freshmen lounge at 3am. Basically, college is all fun and games until you get to Thanksgiving and you're like, five sizes too big for your tailgate tanks. You can blame your RA's weekly cookie meetings all you want, but gaining the Freshman 15 is NOT inevitable, and there's nothing worse than feeling fat at your first Semi-Formal. Or anywhere. Here's what you need to do to steer clear:
1. Ask Yourself What You'd Be Eating At Home
Your eating habits are obviously gonna change when you have to deal with dining hall food for a whole year, but that doesn't mean you have to go overboard on Mac & Cheese Wednesdays (or even participate at all). You might not have your favorite salad bar nearby or your mom's healthy food in the fridge, but try to eat as similarly as you can to the way you would at home. When you're choosing what to get from a buffet or what to eat before class in the morning, think about what you'd be eating in high school, and it'll help you stay on track without gaining 30 pounds from late night diner runs. We know grilled cheese and French fries taste amazing at 2am, but if you wouldn't eat it on a school night in high school, don't eat it now.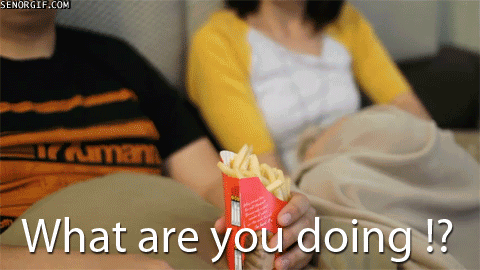 2. Keep Your Blackouts Simple
We've already established that we've been personally victimized by alcohol calories, but let's not make the situation worse than it already is. Alcohol has a ton of calories in it, so try to stay away from drinks that will sabotage you even more. Your best choice is to stick with clear shots (think vodka, tequila) and chase with a slice of lemon or Diet Coke. There's no need to order a margarita before a pregame and no need to chase with regular Peach Snapple either. Get your priorities straight and keep your blackouts as simple as possible.

3. Keep That Shit Out Of Your Room
You'll want to keep snacks in your dorm for when you get hungry while pretending to study, but be careful with what you're keeping around. We're not telling you to live off kale and tofu all year, but keeping unhealthy shit in your room is a recipe for disaster. By keeping healthy snacks around, you'll prevent yourself from eating hundreds of extra calories in between meals. Stock up on healthy protein bars with minimal ingredients, kale chips, Greek yogurt, fruit, and nuts—not the honey roasted ones. You're not kidding anyone with those.

4. Buy Food In Single Servings
This goes along with the snacks in your room, but it's extra important that you're not accidentally buying snack sizes meant for a family of seven. You might be saving a few dollars by buying the value size, but honestly you're saving a few pounds down the line so you can splurge a bit. Think about it. If you buy the giant Honey Bunches of Oats thinking you're being super healthy, you'll just end up eating like, five servings at once without realizing. The same goes for nuts, popcorn, crackers, or any other snacks that you think are healthy options. Like, multi-grain pita chips aren't that healthy when you find yourself scraping the crumbs at the bottom of the bag. Should've bought the single serving packs.

5. Find A Workout You're Actually Down For
Finding time to work out in college is the last thing you want to do, and you don't even know where the campus gym is. I mean, I went to NYU so I literally went to SoulCycle after class, but not everyone has that option when you're on a campus in bumblefuck wherever. The key to getting into a workout routine is finding one you actually like. Whether you're down for 10-minute online HIIT workouts you can do in your dorm room or going for a run around campus, just find the one activity that won't make you want to kill yourself. It may take a few tries, but at least you're burning calories while experimenting, right?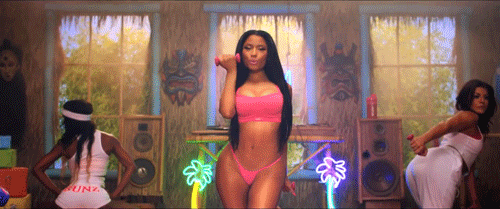 6. Make A Friend Who Will Suffer With You
Unless you have a military buff trainer yelling at you to get up and head to the gym, you're not gonna stick to your workout routine without a little motivation. Find a friend who will work out with you, or will at least encourage you to do it on the days where you're lazy. You can literally spend the rest of the day lying in bed, so find someone who is willing to get in some exercise for 30 minutes. It helps to find someone who's on the same hair washing schedule as you. Just a tip.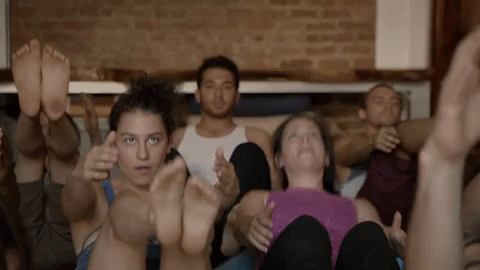 7. Save Your Pigging Out For Weekends
Depending on your class schedule, your weekend could literally start on a Thursday afternoon and end on Monday night. That's one of the great parts about college—having zero responsibilities and a shit ton of free time. While you might be down to black out five nights a week, be careful with how many nights you're ordering a pie of pizza to sober up on the floor of your friend's hallway. Drunk eating is super risky, and chances are you won't even remember the sleeve of Oreos you polished off for dessert. Try to limit your blackout indulgences to 1-2 nights per week, and you'll notice a huge difference. There's nothing like the regret that pours in when you wake up with an empty pizza box on your bed.

Ugh, I miss college.
How To Get Skinny By The Fourth Of July
We don't want to ruin your summer by making you give up your poolside chips and guac, but the Fourth of July is coming up in a few weeks and it's time to get your shit together. We all know what happens when you get a little too comfortable and totally give up your health kick (hi). I mean, that's probably how Rob Kardashian fell off the wagon in the first place. We can all agree we should take it up a notch before it's time to day drink in an American flag bikini, so here's how to get your body ready for the Instas.
1. Do Short HIIT Workouts
There's a reason high intensity interval training was at the top of the list for the best 2017 fitness trends, and it's not because we look hot doing it. HIIT training is effective and quick, so it's obviously the best way to burn fat when you have a deadline and you've been eating Pinkberry on the daily. The combination of the bursts of high intensity exercise with short rest periods has been proven to burst your metabolism and keep your body in the fat-burning zone after your workout has ended.
2. Do Some Snack Prep
There's nothing we hate more than long lines, waking up early, or people who walk slow, but doing any sort of advanced preparation tops anything on that list. No one wants to be a planner or think ahead, but sometimes when food is involved, it's a necessary evil. When you're hanging by the pool with friends or you're road tripping to the Hamptons, it's easy to rely on processed shit when you need a snack. By prepping some healthy snacks to carry around in advanced, you'll end up saving a million calories and feeling so much better. And as a bonus, you won't spend your hard-earned alcohol money on a spur-of-the-moment donut. Everybody wins.

3. Give Up The Sugar
We don't usually tell you to cut things out of your diet entirely, but if you know you eat a lot of sugar, giving it up for the next few weeks could completely change your body. Not only is sugar terrible for your teeth and your liver, but it also affects the hormones in your brain which control hunger signals, so you end up thinking you're more hungry than you actually are, which leads to overeating. Give up the Sour Patch Kids and the Skittles that are hanging around in your pantry. And don't even get us started on that S'mores frap you ordered yesterday. Have you heard of unsweetened cold brew?
4. Eat Before You Go Out
It wouldn't be fair or realistic for us to tell you not to go out during the month of June. I mean, it's finally nice out after you've spent all of winter blacking out solo in your apartment in order to get through a Bachelor episode with Nick involved. You're obviously going out a ton right now, but that's when the mistakes tend to happen. Try to eat healthy food before you go out, whether you're going to dinner, drinks, or even a pregame. If you show up ravenous and hangry, you'll eat anything in sight and probably hate yourself for it later. Be satisfied with healthy foods before you show up and you'll be less tempted to eat the entire cheese platter at the party.

5. Take More Steps
Walking isn't actually good exercise (sorry moms), but sometimes when you start paying attention to how many steps you take in a day, you actively decide to walk more, and all those steps add up eventually. Instead of driving or Ubering everywhere for the next few weeks, try to actually walk places. It's nice out anyway, so you have no excuse. You could burn up to like, 500 extra calories a day just by deciding to walk.
6. Incorporate Fats & Protein In Your Meals
A lot of people think that to eat healthier, you should just depend on a ton of fruits and vegetables throughout the day. Even though those foods are obv healthy for you, they're actually carbohydrates, so they won't fill you up as much as proteins or fats would, and you'll end up eating more calories by just eating salads and grapes all day. Instead, try eating eggs, nuts, avocados, and salmon to fill yourself up. They're a little more caloric, but you'll stay full for longer and feel less of a need to snack after meals.

How To Get Skinny By Memorial Day
Memorial Day weekend is in less than three weeks, and while some boring over-achievers have been dieting and hitting the gym since February, we've been busy like, eating cheese fries on 4/20 and slurping down margaritas on Cinco de Mayo. The point is, if your body is nowhere near summer ready, you've got just under three weeks to get your shit together before it's time to day drink in a bikini for three days in a row. Here's how to lose at least three pounds before Memorial Day:
1. Start Paying Attention
Whether you're still recovering from Coachella or regretting that Unicorn Frap you ordered "just to see how it tastes," you haven't been making the best decisions lately, and it's time to get your head on straight. You don't get a good body by mindlessly snacking while watching 13 Reasons Why or by eating Matzah pizza three weeks after Passover. You get it by paying attention to what the fuck you're eating, so start making good decisions.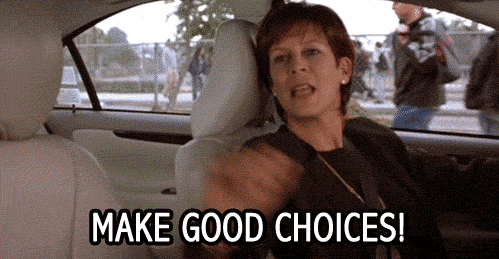 2. Choose Whole Foods
We're not talking about the grocery store, but I guess that works too. When you're trying to lose weight, whole foods are your best friend. It's not the 100-calorie snack pack or the sugar-free protein bar that promises to help you lose weight that will get the job done. You don't need to go on some insane diet, but try eating REAL food, like vegetables, fruit, chicken, and eggs. You know, shit that can be found naturally in nature. Crazy concept, we know.
3. Don't Buy Anything That Promises To Help
Here's a little confidence boost for you: YOU'RE the only help you need. Stop buying bullshit SkinnyTeas or online nutrition coaches to tell you what to eat. The health industry is an INDUSTRY, so they're trying to sell you shit. You probably know more than you think you do, so just listen to basic nutrition rules and try not to be a lazy shit. You don't need a $95 subscription to Khloé Kardashian's meal plan to get healthy.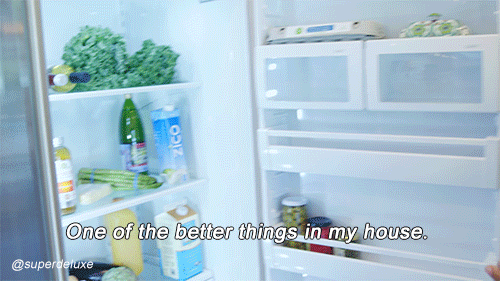 4. Do HIIT Training
If you haven't visited your gym since November and don't even remember how to book a SoulCycle bike anymore, it's fine. Everyone gets lazy and falls off the bike/wagon, but getting back on is the part that counts, so start now. HIIT, aka High Intensity Interval Training, is the fastest, most effective way to burn fat in a small period of time. Think like, 10 minute workouts—we conveniently already made one for you here. (We're like, such a good friend.) If you go hard enough during each interval, your body will actually continue to burn calories later in the day, so you'll basically be a fat-burning machine for the next few weeks.
5. Don't Eat Late At Night
It's hasn't actually been scientifically proven that you gain weight from eating later at night, but it's definitely not the healthiest thing for you. Going to bed feeling full AF will just make you wake up feeling bloated and not skinny, so eat earlier and have a little snack later if you must. Sorry if it makes you a loser for saying no to a late-night dinner at Catch, but nothing good can come of eating a spicy tuna crispy rice roll at 11pm.

6. Prioritize Breakfast
On the same theme of not eating late, you should actually be filling up on calories earlier in the day to prevent snacking and bad eating decisions later on. By having a legitimate breakfast in the morning, your body will fill up with enough fuel to get you through the day, so you're not starving yourself to binge later on. I mean, everyone knows that feeling of skipping a meal and then getting home and going HAM with whatever the fuck is in your pantry. Have a real breakfast. And just to be clear, coffee with a splash of milk isn't breakfast.
7. Choose Your Alcohol Wisely
We're not telling you not to drink for the next three weeks. I mean, we're not AA, nor do we live in the land of make believe. Alcohol is probably a staple in your week, so you don't have to completely cut it out. Like, no one wants to be at happy hour with that girl who can't order a drink because of her dietary restrictions. Drinking a couple times a week is fine, but make sure you order drinks that aren't going to kill you, or like, add 60 grams of sugar to your night. Skip anything with syrups or tons of sugar, and instead stick to a simple vodka soda or a classy glass of wine. #Health