8 Ingredients That Are Sabotaging Your Salad
Omg it's like, almost summer. Time for salads and smoothies until you can't see straight but you're like, super fit and skinny. But heading to the salad bar or opting for the fast food power salad isn't necessarily the best choice. We all have a tendency to overindulge, add too much shit, or not add enough good stuff. If you're going the salad route because your beach bod is more reminiscent of a Pillsbury mascot's than a fitness Instagrammer's, it may be time to take a hard, investigatory look at what you're putting in your salad and how you're sabotaging your bod.
1. Croutons, Wontons, And Tortilla Strips
I know a little handful of toasty, crunchy bread snacks doesn't seem that bad, but anytime you're adding on croutons, wontons, tortilla strips, or another deep fried (or even baked) bread snack, you're adding empty calories. They're literally just unhealthy carbs in every case, and they greatly up your caloric intake. Just say no to bread (unless it's pizza).
2. Dried Fruit
Sugar central. Dried fruit can be great when pooping isn't happening (much love, apricots and prunes), but topping your salad with shit like dried cranberries or raisins is raising the sugar levels. Just a ¼ cup of Craisins has 29 grams of sugar. Way harsh, Tai.
3. Creamy Dressing
No surprise here, but if you're layering on the ranch, creamy Italian, or really anything that isn't oil and vinegar, your salad just became hundreds of calories heavier. A lot of creamy dressings use mayo or cream as a base, which, isn't as healthy as say, lemon juice or balsamic vinegar. Try making your own with Greek yogurt or just sucking it up and not layering lettuce with blue cheese dressing, you unhealthy fuck.

4. Nuts And Seeds
Yes, adding a handful of walnuts or almonds boosts the healthy fats in your salad, but adding more than ¼ cup of nuts or seeds can sabotage your diet big time. Keep in mind that healthy fat is still fat, and a ½ cup of walnuts is like, 190 goddamn calories. Sunflower seeds? Just ¼ cup has 186 calories. Stay woke, fam.
5. Avocado
Like we said, healthy fats are still fats. Adding four to six slices of avocado to a salad may not seem like a lot, but it's almost half of an avocado, weighing in at about 115 calories. On the flip side, this is one of the healthiest toppings you can get for nachos, so it really just depends on your situation.
6. Iceberg Lettuce
If you eat Iceberg lettuce, you're trash. I'm not even sorry. Who goes out of their way to get this shit when you have the option of non-contaminated Romaine, beautiful artisan spring mix, kale, spinach, and our bestie, arugula? Garbage people do. This has no flavor, is mostly water, and, yeah, has like no calories, but it sucks in every way. Fuck you, iceberg lettuce. Stop ruining America's salads.
7. Cheese
Yo, I'm sorry. I shouldn't have had to add this, but I did. Yah, you'll get some extra calcium (strong bones AMIRITE), but half a cup of cheese is like, 250 calories and 20 grams of fat. That's gonna go right to your thighs, which are already causing some chub rub, aren't they?

8. Bacon
C'mon.
9. Getting The Biggest Bowl
Not a food item, but heading to the salad bar and grabbing the biggest bowl or plate you see and LOADING it with shit isn't going to help your arteries. Opt for a medium size or even a small bowl or plate, then go for seconds if you're really THAT hungry.
10. Eating Only Lettuce
If your goal is to be hungry in two and a half hours, grab a bowl and load it with only lettuce and cucumbers, then top it with straight vinegar. That isn't going to keep you full for very long (and probably tastes very sad). You can add some of the things on this list—like nuts and seeds and avocado—just in moderation. It'll keep you fuller longer, i.e. you'll borderline forget about the trash bag of popcorn in your desk or the gummy worms you found on the floor that still look okay.
Images: Giphy (7)
5 Diet Myths You Need To Stop Believing
Holy shit, it's June. We ignored all the signs and warnings. We threw caution to the wind as we ate that third (all right, fifth) slice of pizza. We didn't switch out our Diet Coke for LaCroix (LET ME LIVE). We promised ourselves that tomorrow would be the start of our diet. Bitches, tomorrow is here. But before you freak out and go on a 72-hour fat flush and laxative tea diet, we did some investigatory journalism about those diet myths you def have believed since age 12, when you saw your first issue of Vogue and wondered why your tummy had fat rolls. Stop believing these diet myths now that you are a grown-ass adult.
1. All Calories Are Created Equal
If a piece of pizza is 300 calories and a giant salad is also 300 calories, then, like logically, I should "cheat" and have the pizza cause I deserve it and also it's the same amount of calories and will sit upon my thighs the same way. Right? Fuckin' wrong. According to Eat This Not That, your body will store calories differently depending what they are.
If you eat something that's more difficult to digest, like corn, your body can't absorb as many of the calories and, therefore, you aren't as likely to gain weight from it. Protein is also great because a) it keeps you fuller longer and b) your body is more easily able to burn off the calories while it's digesting your salmon or steak. Cookies, on the other hand, get their calories from our friend sugar, which isn't as easily burned off. So veggies and protein good. Cookies and pizza, not so good.
2. All Sugar Is The Devil
Errrrrr, wrong. You can't equate the sugar found in a banana with the sugar found in a box of Jelly Belly (like my mom's now-defunct diet program tried to do in the early 2000s). It just isn't the same. According to Prevention, the sugar in fruits and veggies comes with fiber that helps slow down the absorption of said sugar. Jelly beans come with nothing but short-lived happiness, then a slow decline into cellulite, so there's that trade-off to consider. Don't be afraid of the naturally occurring sugars in your fruit. Be afraid of the naturally occurring sugars in cookies and pie.

3. Cut Out Every Single Carb
Carbs are evil: a mantra we've known since the dawn of about age 14. According to Prevention, you CAN have carbs, live your life, and not end up on an episode of My 600-lb Life anytime soon.
Just follow the USDA recommendation: half your plate should be veggies, one-quarter whole grains, and one-quarter protein. Plus, you can ditch shitty carbs like white bread and white potatoes and replace them with bougie carbs like farro, quinoa, and sweet potatoes. If you cut carbs altogether, you're more likely to crave them, order from Domino's at 11pm, inhale that three topping cheese-stuffed goodness, then cry yourself to sleep.
4. You Need To Do Juice Cleanses And Detoxes
Ok, first of all—you don't need to detox. That's what your liver and kidneys are for. It's fine to eat lighter or more healthfully the day after drinking a handle of vodka and eating a Little Cesar's Hot & Sweaty, but there's no need to starve yourself into a meditative plane and subsist on lemon juice and cayenne pepper because Beyoncé did it and I just do everything Beyoncé fuckin' does now. Plus, if you slash your calories to like, 800 per day for a week, you'll end up losing and then GAINING weight thanks to your body being too smart to fuck up your metabolism like that. Get it together and have a sandwich.

5. Don't Eat After 7pm
Sounds great and is based on nothing. According to Real Simple, "calories can't tell time," which is news to me and probably most of our great American nation. The idea is that if you stop eating after 7pm, your body has more time to digest before it goes into nappy sleep mode. That isn't true, since if you eat a bowl of oatmeal for whatever reason 15 minutes before bed then pass out, your body will just use those calories the next day. Now, this doesn't mean you should def continue your routine of eating a bowl of Breyer's before bed every night, but it also means you can have that piece of fruit or bit of cereal before hitting the sack without worrying about gaining 50 pounds.
Images: Jamie Street / Unsplash; Giphy (2)
6 "Healthy" Habits That Could Be Doing You More Harm Than Good
Why does everyone think they're like, the healthiest person in the world? If you did one spin class, stopped at Sweetgreen afterwards, and suddenly think you're worthy of starting some #fitspo Instagram account, you need to chill. People (not me) need to realize they're not qualified to be giving health advice online, and tbh most things people believe to be super healthy are just wrong. The internet is filled with a lot of bullshit wellness advice, so we're here to set the record straight, starting with these six habits that you need to get over.
1. Eating A Super Early Dinner
Someone once made up a lie that eating late at night makes you fat. I mean, if you're ordering Chinese Fast Wok at 11pm, you're probably not the face of health, but food timing doesn't actually matter. Some psychos people like eating early because they don't like going to bed feeling super full, but there are actually no proven health benefits to eating dinner at 6pm. Like, yeah it's the one time you'll get a Sugarfish reservation, but it's not actually making you lose weight. In fact, a lot of people eat an early dinner and then get hungry for a snack later on, so they end up eating more than they would have if they just waited a couple hours to eat in the first place.
2. Going On High-Fat, Low-Carb Diets
The newest fad seems to be these weird high-fat, low-carb diets. People swear by the Ketogenic lifestyle, which basically means eating no carbs and just pounding meat and avocados all day. I mean, it's not healthy. Just because Demi Moore lost a few pounds on the Atkins diet doesn't mean it's right for everyone's body. The theory behind these diets is that your body goes into ketosis (which sounds like a serious condition but what do I know), so your insulin levels lower and your body burns fat quicker. We're not here to question some scientists in a lab in Missouri, but you're better off skipping the extreme high-fat diets and just eating a balance of fats, protein, and carbs. Like, try eating a vegetable for once in your life.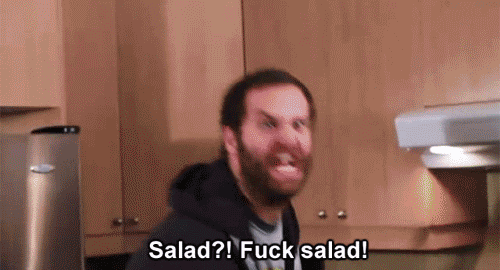 3. Doubling Up On Workouts
With ClassPass leading the nicegirl fitness community and your local SoulCycle front desk staff offering you free classes, people are doubling up on workouts, thinking they're being fucking heroes for staying on a spin bike for 90 minutes straight. I mean, we get the logic behind it: The more exercise you do, the more calories you burn, so the skinnier you get. However, your body isn't a calculator, and the extra workouts could just be depleting your metabolism completely. If you're doing an excessive amount of cardio, you could be overtraining your body and slowing down your metabolism, which will actually make you gain weight in the long run. Stick with one class. Like, how much free time do you have?
4. Eating A Ton Of Protein
Protein is another trend that has gotten v popular recently. All of a sudden, your grandmother is eating protein bars, 90-pound models are buying bodybuilding protein powders, and your favorite peanut butter brand is adding whey protein isolate to their products. Everyone thinks we need an excessive amount of protein to be healthy, and it's just not true. Obviously protein is good for us and we need it to survive, but you don't need to be adding in protein supplements to everything you eat. It's important if you're looking to put on some muscle, but if you're replacing fruits and veggies with Quest Bars, you're overdoing it. The average American eats way too much protein in the first place, which could, in the future, lead to issues like an increased risk for diabetes and kidney problems. Just saying, you probably don't need that protein powder in your smoothie anyway.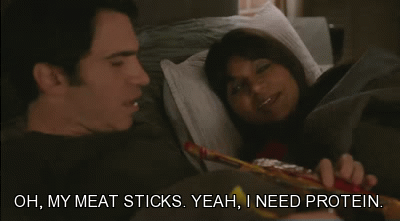 5. Avoiding Egg Yolks
People in the 80's started shunning egg yolks from healthy diets in fear of high cholesterol levels. Nowadays, that myth has been completely debunked, but people still seem to hate on egg yolks. While it's true that egg yolks have a tiny bit of fat in them and egg whites have none, there are a ton of health benefits to the yolks, like iron, folate, and a ton of essential vitamins. Eating the yolk isn't going to give you heart disease or make you fat, so stop stressing about only ordering egg white omelets if you don't even like them. Order the regular omelet.
6. Obsessing Over Superfoods
The whole superfood craze has become a little insane. We have nothing against some green juice and quinoa every now and then, but just because Gwyneth Paltrow swears by her daily goji berries, it doesn't mean we should start doing the same thing and think we're gonna look like her. We're not saying superfoods aren't good for you, but you shouldn't be loading up on açai bowls just because you heard they have antioxidants in them. Do you even know what an antioxidant is? Like, if you're literally sprinkling chia seeds on everything you eat just because you heard that Kourtney Kardashian's trainer told her to do that, you've gone too far.