5 BS Diet Pills You Shouldn't Waste Your Money On
It can be super tempting to head to your local Walgreens/CVS/witch doctor and grab a bottle of pills promising SUPER XXTREME WEIGHT LOSS or CRAZY ENERGY or YOU'LL LOOK LIKE KATE MOSS IN 1997. No one LIKES to get sweaty and gross at the gym, say no to that double chocolate chip cookie, or skip on the extra parmesan grated oh so nicely over your lasagna, so making a pill do the work seems like the most American way to lose those extra three pounds.
However, because of lots of loopholes in our system, almost any asshole can produce a bottle of pills, claim it does magical things, and use very little (if any) data to back it up. Yes, there are some supplements that "show in studies" that participants experienced some very modest weight loss, but the many of these pills have studies that a) are sponsored and, therefore, not v legit or b) gave rats and animals such high fucking doses of said pills that the caffeine and other shit naturally made them sweat off five pounds or whatever the rat equivalent is.
Here are some of the most bullsh*t diet pills that don't work. Grab an iced green tea and take a walk instead, because that will do more for you than these pills.
1. Raspberry Ketones
According to LiveScience, "Reliable research on the use of raspberry ketone for any health condition in humans is currently lacking. Further high-quality research is needed." This is not just my opinion, BTW—so says Catherine Ulbricht, senior pharmacist at Massachusetts General Hospital in Boston and co-founder of Natural Standard Research Collaboration, which reviews evidence on herbs and supplements. More importantly, literally none of the studies done to show weight loss from raspberry ketones WERE DONE IN HUMANS. So, yeah, maybe if you have the same fat problems and diabetes as a pale white lab rat (guilty), you could benefit from raspberry ketones the same way. But it's probably better to just go with diet and exercise.
2. Hydroxycut
I'm sorry to break it to you, but Kim K and Anna Nicole (RIP) lied to us. Hydroxycut has been around for-freaking-ever and is super popular, but that doesn't mean it isn't full of sh*t. Basically, this stuff claims to work the same as caffeine, making you all cracked out and jittery in exchange for losing a pound or two. Unfortunately, there's only one study on the supplement and no long-term data on how effective it is after, like, a week. So yeah, if you crush and snort Hydroxycut and chain smoke for a week, you're probably gonna lose the same amount of weight you would from drinking 10 cups of coffee and chain-smoking. Amazing!


3. Green Coffee Bean Extract
Ding ding ding! Industry sponsored studies do not an honest supplement make. According to Health Line, green coffee bean extract did help some people lose weight (like, five pounds more than a placebo over the course of a few weeks), but the studies were all pushed and paid for by the company. And, again, the weight loss in these "studies" is so modest that can it even really be counted? I can lose five pounds from eating nothing, too, but I'm not going to market that sh*t. Or maybe I should?
4. CLA
CLA stands for Conjugated Linoleic Acid, and has been popular for like, a while. Again, don't waste your money / I'm about to ruin your day. Basically, CLA claims to reduce your appetite and give your metabolism a needed push, but in a review of 18 studies, the weight loss was about 0.2 pounds per week with the potential for lots of side-effects. AGAIN, that's practically water weight I can pee out each morning. Why take the risk for like, oily diarrhea poos and the loss of one singular pound when you can trade a piece of pizza for a salad and feel better?


5. Forskolin
Forskolin is a compound found in the roots of a plant that's sort of like mint and has been used in herbal medicines for like, ever. Once Dr. Oz started singing songs of its glory, Americans were all about this stuff. The claim is that forskolin effects fat metabolism; however, a lot of the studies showed it had very little, if any, effect on body weight. Even more sketchy, there is INCREDIBLY limited data on side-effects. Probs best to avoid this stuff that I keep reading as "foreskin".
Images: Giphy (2)
5 Diet Myths You Need To Stop Believing
Holy shit, it's June. We ignored all the signs and warnings. We threw caution to the wind as we ate that third (all right, fifth) slice of pizza. We didn't switch out our Diet Coke for LaCroix (LET ME LIVE). We promised ourselves that tomorrow would be the start of our diet. Bitches, tomorrow is here. But before you freak out and go on a 72-hour fat flush and laxative tea diet, we did some investigatory journalism about those diet myths you def have believed since age 12, when you saw your first issue of Vogue and wondered why your tummy had fat rolls. Stop believing these diet myths now that you are a grown-ass adult.
1. All Calories Are Created Equal
If a piece of pizza is 300 calories and a giant salad is also 300 calories, then, like logically, I should "cheat" and have the pizza cause I deserve it and also it's the same amount of calories and will sit upon my thighs the same way. Right? Fuckin' wrong. According to Eat This Not That, your body will store calories differently depending what they are.
If you eat something that's more difficult to digest, like corn, your body can't absorb as many of the calories and, therefore, you aren't as likely to gain weight from it. Protein is also great because a) it keeps you fuller longer and b) your body is more easily able to burn off the calories while it's digesting your salmon or steak. Cookies, on the other hand, get their calories from our friend sugar, which isn't as easily burned off. So veggies and protein good. Cookies and pizza, not so good.
2. All Sugar Is The Devil
Errrrrr, wrong. You can't equate the sugar found in a banana with the sugar found in a box of Jelly Belly (like my mom's now-defunct diet program tried to do in the early 2000s). It just isn't the same. According to Prevention, the sugar in fruits and veggies comes with fiber that helps slow down the absorption of said sugar. Jelly beans come with nothing but short-lived happiness, then a slow decline into cellulite, so there's that trade-off to consider. Don't be afraid of the naturally occurring sugars in your fruit. Be afraid of the naturally occurring sugars in cookies and pie.

3. Cut Out Every Single Carb
Carbs are evil: a mantra we've known since the dawn of about age 14. According to Prevention, you CAN have carbs, live your life, and not end up on an episode of My 600-lb Life anytime soon.
Just follow the USDA recommendation: half your plate should be veggies, one-quarter whole grains, and one-quarter protein. Plus, you can ditch shitty carbs like white bread and white potatoes and replace them with bougie carbs like farro, quinoa, and sweet potatoes. If you cut carbs altogether, you're more likely to crave them, order from Domino's at 11pm, inhale that three topping cheese-stuffed goodness, then cry yourself to sleep.
4. You Need To Do Juice Cleanses And Detoxes
Ok, first of all—you don't need to detox. That's what your liver and kidneys are for. It's fine to eat lighter or more healthfully the day after drinking a handle of vodka and eating a Little Cesar's Hot & Sweaty, but there's no need to starve yourself into a meditative plane and subsist on lemon juice and cayenne pepper because Beyoncé did it and I just do everything Beyoncé fuckin' does now. Plus, if you slash your calories to like, 800 per day for a week, you'll end up losing and then GAINING weight thanks to your body being too smart to fuck up your metabolism like that. Get it together and have a sandwich.

5. Don't Eat After 7pm
Sounds great and is based on nothing. According to Real Simple, "calories can't tell time," which is news to me and probably most of our great American nation. The idea is that if you stop eating after 7pm, your body has more time to digest before it goes into nappy sleep mode. That isn't true, since if you eat a bowl of oatmeal for whatever reason 15 minutes before bed then pass out, your body will just use those calories the next day. Now, this doesn't mean you should def continue your routine of eating a bowl of Breyer's before bed every night, but it also means you can have that piece of fruit or bit of cereal before hitting the sack without worrying about gaining 50 pounds.
Images: Jamie Street / Unsplash; Giphy (2)
The 7 Psychotic Things Your Favorite Celebs Do To Stay Healthy
Look, I've tried a lot of bizarre diets and weird beauty hacks in my day. From Paleo, to Atkins, to low-carb to high-carb to Keto to vegan to juicing to brothing to counting calories and exercising, I've done it all, and most betches can say the same. Can you blame us? We're bored and practically willing to do anything to avoid regular exercise and a well-balanced diet. With that being said, there are certain lines we just won't cross. Like, sometimes you just know that a certain ingredient doesn't belong in your body or on your skin, and there are no further questions, no matter how many times Jennifer Aniston endorsed it. Celebrities are obviously insane, and some of them go to v dramatic lengths to stay healthy. Here's some of the craziest shit they do.
This news just came out, and it's honestly what prompted me to do more research on these weird celebrity health habits. Why the fuck would anyone put wheatgrass shots in their eyes, you may be wondering? Apparently it's supposed to hydrate your eyes, and Kate swears by it. "I wear contacts, and the wheatgrass really works," she said in an interview. "It basically hydrates your eyeballs. It's like flushing out your eye."
A couple years ago, Miley posted a pic on Instagram with the caption, "The avocado obsesh is mad real." I mean, we obviously agree with that statement (cue my 500 avocado toast orders), but like, not on our faces. The picture shows the avocado spread all over her face like guac, and it literally has chunks in it. I'm gonna vom. I really don't care if it makes your skin smooth or clear or whatever, it's gross. Can we stick with a mud mask next time?

I'm literally trying not to gag while thinking about this diet. Baby food is meant for babies, just like dog food is meant for dogs (although I wouldn't be surprised if that were a new weight loss trend at this point.) I mean, relatively speaking, I guess this isn't the most inedible diet ever, but baby food is just mushed up fruits and veggies, so why don't you just eat fruits and vegetables instead? Or like, a smoothie? Reese, you make no sense to me.
No, you didn't read that wrong. Queen of wellness and Goop guru Gwyneth sprays her airplane seat with literal silver before a flight. Apparently this spray is sold by naturopathic medicine brands, and it's made with potassium, distilled water, and actual silver. People say it fights off bacteria and viruses. IDK. Let's keep in mind this is done by the woman who gets her vagina steamed, so you do you, Gwyneth.

5. Kourtney Kardashian Drinks Avocado & Sugar For Breakfast
We've already talked about the health benefits of Kourtney Kardashian's daily lemon water, but I think it's time to talk about what the fuck this girl actually eats for breakfast, because it's alarming. Kourtney literally blends an avocado with sugar and drinks it as a smoothie, and like, sometimes eats with a spoon. Is this healthy? Is it good? Is anyone else getting hazing PTSD from the concoctions you had to drink as a pledge? So many questions, and I'd like some answers.
This situation actually sounds kind of relaxing, but it's also super weird. Madonna reportedly takes a basil bath on the reg, which literally consists of a bathtub filled with herbs. Basil is supposed to be an anti-inflammatory agent, so it can help combat stress and muscle pain and apparently make you look amazing. I mean, this sounds time-consuming and annoying, but if this is why Madonna looks so good at age 60, I can get down with a basil bath every now and then. But like, does the basil get stuck in the drain at the end? I need to know.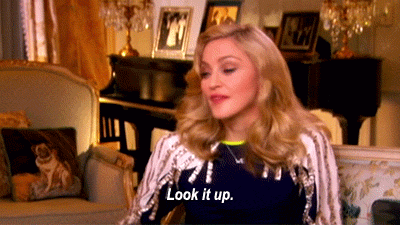 Um, was this cleared by a doctor?! January Jones once told reporters that she eats her own placenta in capsule form everyday. She claims "your placenta gets dehydrated and made into vitamins," which is still not a reason to eat it, if you ask me. She says she recommends it to all moms, but whether or not anyone wants to take her new mommy tip is questionable. I'm really not over this. Your own placenta?! Really? I can't. Whatever, I'm getting cheese fries.
Is Kombucha Really Good For You? We Investigate
It's Monday which means you either spent the last 48 hours in a desert dressed like a slutty homeless person, becoming one with the music or you just spent the last 48 hours crying over Snapchat watching other people party it up in the desert and wishing your were that slutty homeless person becoming one with the music. Either way I'm sure your body is like, one Chainsmokers song away from giving out completely. And like, it's hard work living your best Instagram life surviving festival season. We need to take care of ourselves, girls. And what better way to rejuvenate our bodies than by drinking more?? *breaks out into cold sweats*
Because I don't treat my body like a temple—if anything, more like a PF Chang's, or more accurately, the back alley behind a PF Chang's—I try and get my daily dose of health the only way I know how: through drinking the latest fad diet drinks. I've already told you about how I would gladly become a side-piece to the man who invented Dirty Lemon, aka the drink that lets you drink yourself pretty, but kombucha might be giving him a run for his money.
And if you're sitting there thinking, like, WTF is kombucha? I knew there would be at least one of you. Kombucha is a concoction of bacteria, tea, and sugar that we're supposed to pretend is V good for us when really we only love it because it looks good AF in our Instagram photos.
But people are always trying to bring me down by using "facts" and "science" as an argument for why I can't just reset my body by taking the easy way out. So because I love proving people wrong (Hi, Mom), I decided I would take it upon myself to get to the bottom of this kombucha discussion. Is it actually good for me or am I just drinking mold for nothing? Here's what we know:
THE BAD
Apparently aside from being trendy AF kombucha also has alcohol in it. Hmm I knew I tasted something I liked. After all, kombucha is a fermented drink and depending on how long it's fermented for it can contain between .5 and 3 percent of alcohol, which some are claiming can have long-term adverse side effects on your body. I'm convinced that the only reason people are saying this is a "bad thing" is because the Cady Herons of the world don't want us to have nice things and are trying to tarnish kombucha's good name.

Sure, Jan.
So what you're saying is that we can get low-grade fucked up in public and no one can say shit because we're technically drinking tea? And this is a bad thing because?? Tbh if you can't handle .5 to 3 percent of alcohol in your beverage then you shouldn't be sitting with us in the first place. That's, like, less than a shot and doesn't even come close to the amount of Bailey's that frequents my coffee most mornings. Grow the fuck up and drink like an adult.
THE GOOD
So moving on to the positives (though it's still unclear as to what the negatives were here…), the ingredients found in kombucha are actually super good for your skin. Through the natural fermentation process, it's naturally enriched with highly beneficial vitamins such as B1, B2, B3, and B12, as well as a ton of repairing acids. Beauty products with kombucha as their main ingredient have been proven to lighten, brighten, smooth, repair, plump, and protect skin. So if you're struggling with, say, uneven skin tone, dark spots, hyperpigmentation and/or sagging skin then it's either a really hard Monday or you just got back from Coachella. Either way kombucha enriched beauty products are literally designed to fix those issues. And they say we can't have it all.

FINAL VERDICT
So just to recap here, not only will this make me look healthy on my Instagram story, but kombucha will also make me, like, really pretty and I get to drink alcohol in the process? As if I needed one more reason to flirt with hipsters visit a Whole Foods.