How To Tone Your Whole Body Without Getting Off Your Couch
Unfortunately, unless you're sponsored by a sugar daddy, have won the lottery, or still live in mom's basement, you're probably working for a goddamn living. That translates to sitting for extended periods of time, being tempted by cupcakes, doughnuts, and questionable vending machine treats, and definitely gaining back those five pounds you lost last summer. We shall overcome, and by overcome we mean "beat office obesity by exercising right in your office/cubicle/desk chair." Yah, people may see you and think you're losing it, but can you put a price on a six-pack you got while sitting and trolling through Pinterest? Probs not. Your boss will be super proud of how productive you are.
1. Seat Squeezes
Sounds weird and kind of is—while sitting at your desk, squeeze your butt, hold for like 10 seconds, and release. Repeat this shit until your ass is numb and your butt is like, sculpted and lifted.
2. Leg Raises
It's not like you're actually doing work, so it's time to strengthen your core, bitch. While you're sitting, straighten both legs and raise them slowly. Hold for 10 seconds, then lower. Repeat this shit as many times as you can without noticeably sweating. You can even put a weight like a briefcase or your purse on top of your legs to up the ante.

3. Squats
Alright so they're not as insane as the real thing, but doing "squats" at your desk will help get your heart actually moving and help to stave off those years of obesity coming for you as a result of sitting 10+ hours per day. From your chair, stand up, sit back down, and repeat like 20 times until someone walks by and decides you're really fucking weird.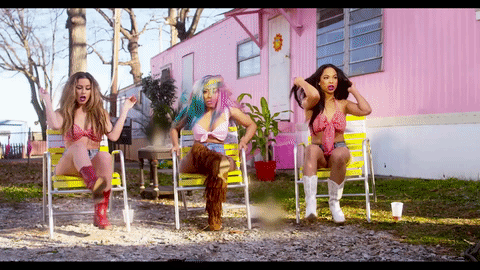 4. Shoulder Press
This will require finding something heavy, so get lookin'. Grab something that weighs like, 10-20 pounds (like your conscience, for instance) and hold it at shoulder length. Raise it over your head and back down for 12 reps three times or until your shoulders scream for mercy. Maybe save this one for when your coworkers are all on their lunch break so nobody calls the police.

5. Rolls
If you have a spinny rolly chair, congrats. Grab the edge of your desk with your hands, pull your feet off the floor, and pull yourself back and forth using your arms and core as many times as you can.
6. Raises
Since you aren't getting that 5% increase because of your attitude (WTF), try this raise instead (I kill myself with the jokes). Raise your legs up on to your chair in a cross-legged position. With your arms on the armrests, push up to raise your body off the seat. Stay that way for 20-30 seconds then release and rest. This is doubly hard in a spinny chair, so be fucking careful.

A Gym Routine That Even Unmotivated People Can Stick To
Everyone knows when it comes to going to the gym, getting there is the hardest part. Like, there are days when we genuinely feel we should be getting paid just for getting out of bed, so making it to the gym deserves an actual Nobel prize. As much as we complain, one of the reasons why going to the gym is so annoying is because you don't have a real plan that you're dedicated to, and so you don't have the motivation to get there. That's why we're gonna walk you through the process of creating a legit gym routine that will make you want to get to the gym and get shit done. Here's the plan:
1. Choose Your Days (Realistically)
Before you can map out your workouts, you'll have to decide how many days a week you'll actually be getting to the gym, and choose specific days that you're going. This can change over time obviously, but committing to exact days will help you actually get to the gym. For example, if you know you're going to work out on Mondays, Wednesdays, and Saturdays, you won't be deciding in your head all day on Tuesday if you should go to the gym after work, because you know that it's your day off and you're going tomorrow. It's kind of like making an appointment with yourself that you have to stick to, so mark your calendar and don't bail.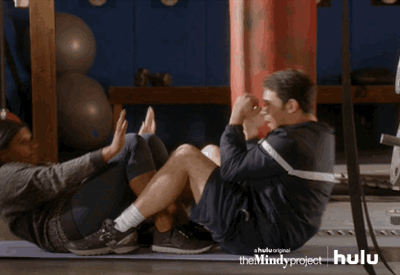 2. Decide On Your Workout Focus
There are a million online workouts that you can copy to a tee, but you're the only one that knows how you like to work out, and what machines and exercises will actually get you to the gym. It's totally fine to experiment with a few different types of workouts, but you should ultimately find the workouts you enjoy doing, and build your routine around that. For example, if you know you like doing HIIT cardio, ab toning, and leg workouts, break up your days into combos of each one. Trying new things is obv important, but if you're gonna dread going to the gym because you're making yourself do an exercise you don't like, it's not worth it.

3. Break Up Sessions By Body Part
Once you start working out throughout the week, you'll start to notice that it's harder to get to the gym after a few days because you're sore AF. I mean, it's understandable. If you're working hard enough and going to the gym consistently, your body will feel it, and that's not a bad thing. But even if you can't sit on the toilet without crying, it doesn't mean you need a day off—you just need to set your routine up accordingly. So, if you know you're going to do squats and lunges on Monday, you probably shouldn't plan on running on the treadmill on Tuesday, because your legs will be pretty shot and you'll end up half-assing your workout. Instead, plan to do upper body moves on that day or just some light yoga to keep your body active. Just don't be an idiot by hitting the same body parts one day after the other.

4. Make Playlists Beforehand
People undermine the importance of a bomb workout playlist. I mean, yeah working out is about your muscles and your body and your breathing and energy levels, but music low-key makes a huge difference, so take it seriously. Make your playlists at the beginning of the week so you have them ready for your workouts and you're not wasting gym time just shuffling through Spotify. By having good songs ready that you know will pump you up, your workout will be a thousand times better and you might actually look forward to the gym to listen to your sick playlist. It's kind of like the excitement you get before a SoulCycle Drake vs. Rihanna themed ride. You know you're about to die, but the playlist will be so good that it's worth it.

5. Only Focus On Yourself (As Always)
Once you get to the gym with your plan and your playlist ready, it can still be hard to get an effective workout if you get easily distracted by the other people around you. Like, stop thinking about the old man grunting in the corner, the girl next to you with amazing abs, or the relentless trainer offering you a personal session. Turn your music up and focus on your own workout, and you'll see a huge difference in your results. Also, just gonna throw this out there—your phone. You can literally scroll through Instagram and answer your texts all day, so now's not the time to ask your friends advice on a profile pic caption. Go on sleeping mode or airplane mode, or just put your phone away completely. The separation may be hard at first, but sooner or later you'll be the bitch judging the girl texting on the treadmill next to yours.

How To Get A Last-Minute Beach Body When You Procrastinated All Winter
In just a couple weeks, you'll be showing more skin than Rihanna on any red carpet, so you're obviously panicking over your lack of a beach bod. Maybe you saw a pic of Gigi at the Met Gala. Maybe the woman weighing your Sixteen Handles cup is starting to call you by your first name. Either way, you've procrastinated all winter and it's time to get shit done. Here are five tips to get your bod in shape in time for those inevitable Memorial Day Instagrams.
1. Cut Out Sugar
Throw away any fitness mag that's telling you to cut out carbs and fat. If you want to change your body, simply cut out white sugar. Eating sugar is literally just putting empty calories in your body that will trigger more hunger later on. Sugar is proven to mess with your blood pressure, your hormones, and obviously your body. Don't waste your time skipping breakfast or drinking green juice. Just put down the Sour Patch Kids.

2. Do Short HIIT Workouts
We don't all have time for hours of work at the gym. HIIT, which stands for High Intensity Interval Training, is perfect for betches who need to get shit done in a time crunch. It's super fast and super efficient. The best part is that you only need 20-30 minutes to get the workout done. That's like, one Broad City episode.
3. Load Up On Fiber
Adding fiber to your diet will keep your full longer, so you can avoid all the mindless snacking you thought no one would notice. Fiber helps improve your skin, your blood sugar, and has anti-bloating properties. Foods like avocados, raspberries, Brussels sprouts, oats, and chick peas are filled with fiber—so get snacking. Yes, we just gave you a reason to eat MORE avocado and hummus. There is a god.

4. Go The Fuck To Sleep
You're gonna need to stop going to sleep at 4am for the next couple days. Aside from helping your brain function better and avoiding bags under your eyes, sleep will help you make healthier choices before the summer. Going to sleep earlier prevents late night snacking, burns more calories, and avoids hanger during your 3pm crash the next day.
5. Do Some Prep
You may have been lazy all winter long (don't argue—we've seen your Netflix history), but it's time to step up your game. We can tell you what to do, but we can't do it for you. Make yourself some healthy food at the beginning of the week, write down a few realistic fitness goals for yourself, and get to it. If Khloé could put down the chicken fingers post-Lamar trauma, you can get yourself in shape for summer.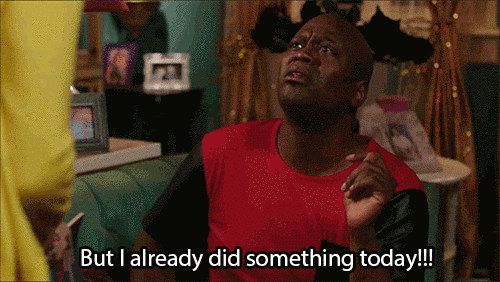 Want more tips on how to get skinny by Memorial Day? Click here!
GYST Sunday: 5 Ways To Get Skinny By Next Weekend
While this weekend has come and gone—everybody knows Sunday is not a real day of the week since you spend 90% of the day horizontal—there's always next weekend to make up for your mistakes. You may have ended the weekend face-down in a plate of nachos (shame on you), so now you have a full week to undo all the damage you did to your body over the past 48 hours so you can fit into that deep-V onesie you bought from Tobi. Read below for how to appear skinny in a time crunch.
1. Lose The Salt
If you feel bloated AF right now, eating anything with a ton of salt will only make that bloating worse. When your body takes in sodium, extra water gets stored in your stomach and face, and you'll feel puffier and grosser than usual. Do yourself a favor and skip the added salt this week. The soy sauce will still be there next week once people have already commented on how skinny your face looks.

2. Catch Up On Sleep
It's easy to stay up super late cracked out on Adderall good vibes, but even though the drugs vibes may suppress your appetite, the lack of sleep is making you (appear) fat. This week, try to get at least eight hours of sleep a night. What, like it's hard. It's been proven that more sleep is healthier for you. It boosts fat loss, encourages your body to crave healthier foods, and prevents late-night carb snacking. Get the fuck to bed—as if we really have to tell you twice.
3. Chug Water
All of that shit you've been eating has been making you bloated and has probably made you break out, so this week, make water your best friend. I don't care if you have to be known as that girl that walks around with a 1 Liter SmartWater all day. Drinking a ton of water will help de-bloat you, keep you full in between meals, and clear up your skin. If you're peeing every five minutes, you're doing something right.

4. Eat Small Meals Regularly
There's no real evidence that eating three big meals or six small meals is the better way to lose weight, but when it comes to portion control, eating smaller regular meals will be a game changer. For the next few days, try to eat a small snack or meal every few hours. This way, you won't be starving and eat the entire buffet when it's presented to you. Try to chew slowly and savor every bite, just because like, healthy people do that. And also because nobody wants to watch you gobble down chicken wings like you're Honey Boo Boo's mom.
5. Fucking Sweat
You can try every diet in the book, but nothing will make your body more ready for the weekend than a good sweat sesh. Sorry if you just got a blowout, but it's time to hit the gym and sweat out all that wine and cake. You've basically been eating like you're carboloading for a marathon anyway, so put the food to good use and sweat it out. I don't care if all the SoulCycle bikes in your city are booked. I don't care if your gym membership is expired. Outside is free, and you have legs. Use them.
7 Ways To Detox From A 3-Day Drinking Bender
So your Presidents Day Weekend was anything but presidential, and you basically spent the whole time alternating between being blackout drunk and violently hungover. I mean, Monday was obviously just another day to avoid the harsh realities of sober everyday life, so we get it, but now you're dealing with the consequences. After three days straight of living off vodka and the sugary syrup from your bottomless brunch mimosas (sorry, that drop of OJ doesn't count as fruit), you're in need for a major detox this week. Here's what you need to do:
1. Drink All The Water

You're probably sick of hearing us tell you to chug water every time you punish your body with fast food and alcohol, but that's because it fucking works. Water should be your best friend for the next few days, so drop the Diet Coke and the Gatorade, and start drinking water—three liters a day. Water will help you get your body back on track by detoxing your liver and your digestive system, and it'll even help clear up your skin. It's zero calories. Just drink it.
2. Add Turmeric To Your Food

If the extent of your kitchen's spice collection stops at a few Splenda packets, it's time to stock up on some big-girl ingredients, and your first one should be turmeric. Turmeric is an anti-inflammatory agent, so it will reduce bloating and any stomach discomfort you're dealing with right now. It's a game-changer when it comes to a post-drinking stomachache, so put down the Advil and add some healthy spice to your food. Not to sound like one of your highschool married friends on Facebook, but this shit really works.
3. Load Up On Watermelon, Cucumber, And Lemon

Fruit-infused waters aren't only meant for mommy Pinterest accounts and Martha Stewart photoshoots. There are real detoxification benefits in putting fruit in your water, and the major keys are watermelon, cucumber, and lemon. These fruits help ease your digestive system and detox your liver, and they honestly taste pretty good. Do some prep and fill water bottles with fruits before bed so you can take them to go with you in the morning. You weren't too lazy to take your eighth shot of tequila Saturday night, so don't be lazy now.
4. Take Ginger Shots

You might have only seen ginger shots on Instagram stories of healthy bloggers who photograph acai bowls three times a day, but there's a real reason every health food store sells these shots. It's because they're literally magical when it comes to detoxing your system. Ginger is a strong antioxidant and anti-inflammatory agent, so it helps relieve the bloating and stomach pain caused by your weekend of binge drinking. A 2-ounce shot alone will help break down the toxins in your liver and will also help prevent nausea, which is a plus for your brutal hangover. Add some cayenne pepper and lemon and you're basically Gwyneth Paltrow, minus the vagina rocks.
5. Eat Avocado

You probably don't need an excuse to order your basic avocado toast at brunch, but we're giving you one anyway. Avocados are high in fat, but betches got over that years ago once we heard how good they are for your skin and nails. It turns out that avocados are also amazing for your blood sugar levels and your liver, which is like, the best news ever. They're packed with glutathione, which is an antioxidant that protects your immune system and helps your liver function correctly. So, if you were worried that you may have permanently damaged your liver this weekend, stop researching shit on WebMD and start eating some avocado.
6. Start Sweating

Look, I know you didn't want things to come to this point, but we're sorry to tell you that in order to get your bod back on track, you're gonna have to sweat. You might hate yourself mid-workout, but starving yourself on the couch all day while watching The Affair is only going to make you hate yourself more. You've filled your body with the shitty toxins of alcohol and the late-night diner munchies that came afterward, so it's time to burn that shit off. Book a bike, get to the gym, run outside—do whatever the fuck you need to do to get moving again.
7. Chill On The Extremes

We realize that some of you may be feeling more guilty than others after your 3-day day-drinking fiasco, but shit happens, and you can't actually punish your body for it. Like, it was a three-day weekend. If you do something drastic now, how are you gonna survive after a blurry week of tequila and nachos post-spring break? This isn't the time to order a $300 juice cleanse or run for four hours with a photo of Gigi Hadid taped to your treadmill. Your body is capable of more than you think, so just take care of yourself for the next few days and you'll naturally start feeling better. Don't make this more dramatic than it needs to be. 
The Top 8 Foods You Think Are Healthy, But You're Wrong
When it comes to throwing shade, we're obv on board. Being able to secretly be a bitch or hate someone without them knowing is like, the rules of feminism. But when it comes to our food choices being shadily unhealthy and betraying our trust, it's not cute. So we're here to tell you which foods have been lying to you and masquerading as health foods when they're secretly junk food (or really, not-so-secretly since it's on the nutrition label).
1. Yogurts
"Not all yogurts!" you scream at your computer. Fine, bitch, but understand that pretty much almost all flavored yogurts (or the ones with those super cute flippy lids) are FULL OF SUGAR. Not just like "oh I'm cheating and having a jelly bean teehee!" amounts of sugar. We're talking full blown this-is-your-sugar-intake-limit-for-the-day amounts. You best be opting for full-fat unflavored Greek yogurt if you need a fix. Top it with whatever you want —shit, add 3 tablespoons of sugar to it and you'll essentially have one of those fucking Chobani flips.
2. Caesar Salad

A question we often ask ourselves: "If it contains bread and cheese, is it still a salad?" The answer is yes, but just because something fits a definition, it doesn't mean it belongs in and around your mouth. This ESPECIALLY applies to a Caesar fucking salad. On every menu literally everywhere and ALWAYS seemingly a safe choice, the average Caesar salad includes creamy dressing, a lot of cheese, and bread baked in a concoction of more cheese and oil. Look at the facts: The Caesar salad was created in Tijuana, tequila shot capitol of the world, because the kitchen ran out of normal shit and Mr. Caesar (literally his name) needed to serve some Hollywood bitches SOMETHING. Also, it was a finger food, which INSTANTLY ranks it on our list of unhealthy shit. Mozzarella sticks, chicken wings, pizza rolls—I think I've made my point. Aside from celery sticks, almost NOTHING you can hold and eat is under 500 calories. Next. 
3. Granola
Sprinkling granola on your Greek yogurt parfait makes you feel skinny and chic, but you wouldn't feel so adorable if you knew that most granolas are full of sugar and fat. How? Because that's literally how they're made. You take oats or some other fucking grain you find in bulk at whole foods, mix it with fair trade, organic, non-animal-endangering sugar, butter or honey, nuts, and bake it. Yeah. Let that sink in. That shit is practically candy. Same goes for granola bars, which require EVEN MORE sugar and sticky shit so they can be formed into the perfect rectangle. Don't buy into your hippie liberal douche friend's hype: Granola is not healthy.
4. Cereal

"Breakfast is the most important meal of the day"—not if you're scarfing down chocolate sugar puffs in a sea of fat-laden milk. Honestly, if you MUST have cereal, we require you either a) be hungover; b) are eating Cinnamon Toast Crunch —the only acceptable cereal; or c) are a child under the age of 9. None of those are health reasons, but unless you're eating GrapeNuts, you're popping calories like pills anyway. Slather some sad butter on your sad toast or squint at the sourness of a grapefruit and accept adulthood.
5. Potatoes

This shouldn't come as a fucking surprise, but potatoes suck. Honestly, how are they even considered a vegetable? Based on the US's ability to name pizza a vegetable and vote a literal human Cheeto into office, I guess we shouldn't be surprised, but still. Regular white potatoes have like, literally no health benefits. If you MUST partake in a potato, make it a sweet potato. At least you can pass off the carby starch mine with vitamin benefits.
6. Smoothies
You come to work sippin' on your green smoothie and, having just come from cycling class, you're officially allowed to look down on everyone else. Too bad, so sad—that shit is full of fat. Despite having a fuckload of fruit, those same fruit juices host tons of calories and sugar and no fucking fiber. Plus, your smoothie probably has DING DING DING YOGURT to help fill you up. Do us a favor: go buy a Vitamix and blend a smoothie made of spinach, avocado, and green grapes. Thin it with water. Then, you'll have a borderline healthy smoothie. Will it taste good? Um, no, but healthy shit usually doesn't.
7. Diet Soda

Feel free to crucify me in the comments, but if you're still drinking soda—diet or not—you'll probs get fat and/or cancer, we assume. IT ISN'T GOOD FOR YOU. Start drinking fizzy water instead. We know it's harder than weaning yourself off drugs (probably), but, really, your skin, thighs, and overall  health will thank you.
8. Dried Fruit
Whether you're trying to get un-hooked from jelly beans or need help pooping, dry fruit always seems like a healthy option. NOT FUCKING TRUE. A handful of dried banana chips or dried cranberries have the same amount of sugar as a lot of candy. So, like, you may as well just eat the jelly beans. Or, buy a dehydrator and make your own dried fruit, sans added sugars.
New Study Shows Your Paleo Diet Is Actually Bullshit
From Atkins to intermittent fasting to low-carb to high-fat to juice cleanses, betches have tried every diet on the market. I mean, yeah we could just eat clean, watch our portions, and exercise regularly, but like, what's the fun in that?
Any betch you pass in the Equinox steam room or the granola aisle of Whole Foods has tried the Paleo diet at least once. I mean, it seems to work for Nina Agdal and a ton of hardcore CrossFit bros, so why not?

If you're not familiar with the Paleo diet, it basically restricts all dairy, grains, soy, and anything else human beings didn't consume in ancient times. The idea is to eat like our ancestors and basically go to extremes to avoid the modern-day Western diet of French fries and churros.
If you're a die-hard Paleo fan, you might want to sit down for this news, and put down the zoodles. According to new research published in the journal of Proceedings of the National Academy of Sciences, you're doing Paleo all wrong.
It all started when some researchers found 780,000-year-old remains of edible fruits and seeds in the Northern Jordan Valley, which revealed a lot about what our ancestors actually ate, and it wasn't medium rare steak or spicy tuna tartar. Most people who follow the Paleo diet today focus mostly on meat and fish, thinking the lean protein is what makes you skinny. However, apparently our ancestors actually ate mostly vegetables, seeds, nuts, and fruit, which means meat and fish were more like the side dishes they barely touched. Looks like you can chill on all the protein for now. Should we go Vegan?