5 Diet & Exercise Mistakes Your Trainer Wishes You'd Stop Making
Nicole Nam has a Bachelors of Science in Public Health Nutrition Specialization and a Masters of Science in Kinesiology. She has a personal training certification from the American Council of Exercise, and has trained a variety of clients, including a contestant in this year's Miss Nevada competition. Follow her on Instagram here.
As a personal trainer, I see a lot of my clients struggle with information overload. So much contradicting information is thrown at you that you don't know wtf to believe. I always want my clients, and Betches readers, to approach every piece of information you read/hear/come across pertaining to fitness and wellness with a subjective mindset. No two bodies are the same—so what works for one person might not work for you for many reasons, whether it's biological makeup or cultural preferences. (Example: you won't find me on the keto diet—I'm Asian, I was raised on rice and noodles and carbs.) Fitness and achieving your dream body is about finding what works for you.
That said, I want to give you five general diet and exercise mistakes that I've seen hinder my clients' progress despite their age, their genetic makeup, and their lifestyle. Get ready for some harsh truths. Take from this article what you will, because maybe some of these mistakes are things you're doing and finding success with. If that's the case, IGNORE ME. Listen to your body first.
1. Doing Only Cardio, Or Only Weights
View this post on Instagram
A lot of my beginner clients were cardio addicts. They loved cardio because it's easy. It's one movement for an extended period of time—they don't have to mess with equipment, they don't have to come up with a routine, and they don't have to learn how to properly execute movements. But weights changed their lives. The thing is, cardio alone will not give you the muscle tone that you want. What it WILL do is make you lose weight. Whether that's good or bad is up to you. On the other hand, if you hop on social media you'll see fitness models praise the weights-only method. They don't do cardio, or they'll do 15 minutes max. They lift heavy weights only. From personal experience, doing weights ONLY (especially if you lift medium-heavy) can cause weight gain (due to increased muscle, but the same amount of fat) and a bulkier look. Again, whether that's good or bad is up to you. My clients want to lose fat and increase muscle simultaneously, so the best solution that I have found for myself AND my clients is to split it 50-50. If we have an hour to work, we do 30 minutes of cardio with 30 minutes of weights.
2. Not Drinking Water
Drink that sh*t. It helps your body to recover from physical activity, flushes out toxins, and it will also help you figure out REAL hunger—not hunger from thirst or hunger from boredom. Don't drink Vitamin Water, don't drink diet soda…WHY. Why do that to yourself? Your body doesn't need that. Your body needs clean, pure WATER.
3. Not Taking Days Off
How I work out:
-Run a mile or whatever
-Spend the next 2-3 days too sore to move
-Rest
-Repeat

— Betches (@betchesluvthis) February 11, 2019

Some of my clients are super ambitious and strong-willed, or they're working on a time crunch to be a certain size. They'll train a total of six days a week, and do the same body parts all six days a week. Then they'll complain to me about not seeing results. Well sweetie, that's because you've torn down your muscle fibers to shreds! You've not given the fibers time to repair themselves (which is where you see results). Regardless of their deadline, I require my clients to take two days off from training a week and take one day to do restorative low-impact exercises such as yoga or Pilates. The other four days, you have my permission to go balls to the walls with it.
4. Trying To Outrun A Bad Diet
I can't help you work off all the bullsh*t you eat if you're steadily eating bullsh*t. Just because we did a 90-minute session does not give you an excuse to eat whatever you want, especially if you're serious about your goals and ESPECIALLY if we're working with a four-week deadline for your wedding. Throw out all the crap in your house, and do not restock your cupboard with all that damn junk food just to torture yourself. What are you gonna do? Stare at it, until you give in and finally eat it anyway? That's not going to work. There's a reason they say "you can't outrun a bad diet".
The more you cook, the more you know what is going into your body. Try to find the joy in cooking, even if it's something that a 6-year-old could make like scrambled eggs. Keep eating out at restaurants to a minimum if you're trying to lose weight. That's because restaurants' main concerns are the taste of their food and their Yelp reviews—they could give a damn about your fitness goals. For example, restaurant scrambled eggs often have unnecessary sh*t like cream, cheese, or tons of butter that could turn your innocent scrambled eggs into a calorie bomb. Invest in a good nonstick pan, make your own scrambled eggs and spinach, and you've probably just cut the calories in half.
5. Not Taking Vitamins
When your body is deficient in a certain vitamin, it translates into a craving. Craving "fatty" foods like butter and cheese? Could be a lack of Omega-3's. Craving chocolate? Maybe your magnesium levels are low. Craving super salty or super sweet foods? A zinc supplement could help. Bottom line is, when your cells are hungry you will most likely be too. This is also the case for those that are cutting out whole food groups such as those on any low-carbohydrate or low-fat diets.
Now that you're aware of these common diet and exercise mistakes, you can stop falling into these traps and start achieving your fitness goals.
Images: betches (2), dietstartstomorrow, daddyissues_ / Instagram; betchesluvthis / Twitter
5 Diets That Are Actually Worth Sticking To
Here we are again on the eternal quest to lose three pounds and attain the bodies we had when we first thought we were fat at age, like, 13. Unfortunately, the world of weight loss can be a complicated one, what with pills, flashy commercials, fake news, and Instagram models telling us to chug laxative tea and work out 20 hours per day to attain our dream bods. Going on a fad diet won't work, but adopting a lifestyle change and actual diet that you don't go off of after four weeks will help you in the long run with weight loss, heart health, cholesterol, and more. Luckily, we found a few diets that work, and won't make you hungry all the time.
The main thing you'll notice about all of our top five best diets that work is that none of them cut out an entire food group, limit calories to ridiculous amounts, or tell you to continually eat one type of food group over and over again (I see you, grapefruit diet). Tbh, they're not really diets so much as they are lifestyle changes. They're all varied, allow you to splurge in places, and are something you can stick with through the best of times (like winter when sweaters cover our arms) and the worst of times (when Tinder bae ghosts you and ice cream becomes your bff).
These are the best diets—that aren't really diets in the way you're thinking—that are worth sticking to.
1. Mediterranean Diet
According to Pure Wow, the Mediterranean diet works because it aids in heart health, focuses on all the right food groups and allows you to splurge once in awhile. The "diet" is really just focusing your eating on veggies, fruit, whole grains, legumes, nuts, and mostly seafood as opposed to red meat. Plus, you're saying "nope" to butter and using olive oil in most recipes, so there isn't as much saturated fat sitting around waiting to f*ck your sh*t up. The best part is that, yes, you can have (and are encouraged to drink) wine with dinner, plus fruit-based desserts here and there. Note: This does not include drinking an entire bottle of red alone while nursing a pint of strawberry ice cream. Sorry
2. Nordic Diet
Eat lots of fish, berries, whole grains, and vegetables to live like the Vikings do, minus the raping and pillaging! According to Harvard Health, following the Nordic diet won't only help you live a healthier (and probs slimmer) lifestyle, it could also help lower the risk of stroke later on. Like the Mediterranean diet, the Nordic diet limits red meat in favor of fish, tells you to keep your hands out of the cookie jar (and maybe don't eat so much dessert in general), and advises against processed crap, so say adieu to the morning Danishes and late night pizza rolls.

3. Cooking Light Diet
If you're familiar with Cooking Light at all, you know that the whole aim is to eat the foods you want, prepared in a way that won't completely ruin your relationship with your scale or pants. Recipes are created to keep calories minimal but flavor to the max (sorry). The best part of this diet is that you still get to cook and be creative with your meals without adding in all the extra fat. You can go all in and, like, pay to do it (which includes a plan for you, diet tips, reminders to exercise, etc.) or you can just peruse the site for tons of recipes that are low in calories but still satisfying. It's a great lifestyle plan for those of us that hate being on an official restrictive diet, love to cook, and want to learn to make a healthier mac n cheese (CAN I LIVE).
4. Flexitarian Diet
You're basically becoming a flexible vegetarian with this one. The best part is that you can claim not to eat meat and pretend to be better than all of your friends when you're out. The even better part is that as soon as you get home, you can totally inhale a small chicken or plate of fish. Since you're limiting your meat intake, you're encouraged to eat more fruit, vegetables, nuts, and legumes, which are good for you anyway. According to Red Book Magazine, "vegetarian and vegan diets typically lead to weight loss … you'll see results from being a flexitarian, too. Studies show that those who are mostly vegetarian or vegan have a lower BMI than full-on meat-eaters."

5. DASH Diet
According to US News, "the DASH Diet, which stands for dietary approaches to stop hypertension, is promoted by the National Heart, Lung, and Blood Institute to do exactly that: stop (or prevent) hypertension, aka high blood pressure. It emphasizes the foods you've always been told to eat (fruit, veggies, whole grains, lean protein, and low-fat dairy), which are high in blood pressure-deflating nutrients like potassium, calcium, protein, and fiber." So, yeah, eat healthy and chill on the crappy food like cheese, ice cream, sleeves of Oreos, and triple smothered fried chicken, and you'll be well on your way to a newer, healthier you.
Images: Brooke Lark / Unsplash; Giphy (2)
5 Reasons You're Not Losing Weight Even Though You're Dieting
The ever-present desire to lose three pounds is like the quest for El Dorado—fleeting and seemingly always just out of reach. If you're one of the literally millions of betches trying to get in shape, lose a few pounds, and get healthier, we're here to help. But many of us have experienced the frustration of ramping up our exercise routines, cutting carbs and calories, and still not losing any significant weight.
There are lots of sneaky reasons why you're not losing weight and sweatpants are all that fits you right now, and being familiar with what may be sabotaging your health goals can help you overcome them and become the hottest betch at the gym.
1. You Are, But In A Weird Way
If you've upped the intensity of your workouts, are eating healthy, and sticking to your goals but either not losing weight or gaining, it could be that you're actually gaining muscle at the same time you're losing fat. "It is a good idea to use something other than the scale to gauge your progress," says Healthline. "For example, measure your waist circumference and get your body fat percentage measured once per month." So, yes, check the scale here and there, but keep in mind that weight can fluctuate by as much as five pounds and may be all over the place once you really start your new healthy lifestyle. Plus, if you're looking FLY in the mirror, use that as a push to keep going. Stop obsessing about the number on the scale.

2. You're Lying
Keeping a calorie diary seems extreme, but it may actually help you realize what you are and are not putting in your mouth. A lot of the trouble for those looking to lose weight is that they aren't fully aware of what they're eating. You may have forgotten about that chocolate bar you had at 2pm or the extra serving of salad with Caesar dressing you ate at dinner. "Total calories consumed matters when it comes to weight loss," says CNN. "People frequently forget about the little things during or between meals that add up calorically and can interfere significantly with weight loss." So, yes, track your calories for a week or two to get your spidey senses tingling, then see if you're still having the same issues.
3. Sunday Funday Is Your Undoing 
Yeaaaaaaah. So dieting during the week, when you're sticking to a strict 9 to 5 schedule, is pretty easy thanks to the same routine day in and day out. However, on weekends, you're likely drinking more and eating A LOT more. "Three days (Friday, Saturday, and Sunday) of more relaxed eating (and in many cases drinking) can easily erase four days of more perfect effort," says CNN. So, having a cheat day or days can really f*ck up all those days of logging calories and going for a run before work. Grab a glass of wine or two on Friday night, but don't follow it up with a calzone because you "earned it".

4. You're Skipping Meals
DING DING DING. Do you skip breakfast and only sip on coffee first thing in the morning? I know we've all heard it millions of times, but eating breakfast actually wakes up your metabolism. According to WebMD, "Research shows that breakfast skippers weigh more than breakfast eaters. There is a misconception that skipping breakfast—or any meal—saves calories. The truth is that most people who eat fewer than three meals usually end up eating more calories during the course of the day." So, skipping those meals is sabotaging you into reaching for those jelly beans without realizing it. Or polishing off that extra bag of popcorn because "I barely even ate today." Grab an egg, piece of whole wheat toast, and piece of fruit for breakfast, eat a filling salad for lunch, then try not to eat a million calories for dinner.
5. You Messed Up Your Metabolism, Fam
This one has always pissed me off more than anything else. Lemme break it down for you. When I went on a crash wedding diet (I KNOW, SO BAD), I was eating maybe 1,000 calories per day and I lost a LOT of weight. Obviously. However, once I tried to get back to healthy, normal levels of eating (like, 1,300-1,500 calories per day), I gained weight. So, naturally, I cut back again and … nope. Scale doesn't budge. According to NBC News, "when you really cut back on calories, your body thinks you're in trouble, urging it into starvation mode, and it slows down a lot of the necessary functions that are necessary to burn calories—including your thyroid, metabolism and blood pressure. What's more, as a woman, it can make your period irregular, which can affect your hormones and lead to weight gain." COOL, GUYS. So, congratulations, you played yourself. Skipping meals and starving yourself may cause you to lose 10 pounds, but once you break and go back to normal eating, you'll gain. Then if you try to crash diet again, it isn't going to work. Take it from me and do it the right way.

Images: Brooke Lark / Unsplash; Giphy (3)
This Diet Followed By Jennifer Aniston & Kate Hudson Is A Total Scam
I have the benefit of sitting next door to a real, live dietitian—the kind that went to school for a million years and will probs pay off her student loans for the next several decades. Recently, she informed me that a diet followed by the likes of Gwyneth Paltrow, Jennifer Aniston, Kate Hudson, and other celebrities, is too good to be true. The diet in question is called the alkaline diet, and it is apparently 100% a scam for a multitude of reasons. I nearly spit out my iced coffee when I heard this. The internet has led me astray?! Say it isn't so.
So, before you set off on a journey to reset your body's pH levels, here's everything you need to know about the alkaline diet and why it's a waste of time and money.
What The Alkaline Diet Is
According to WebMD, my source for anxiety, the alkaline diet is a diet based on the theory that "some foods, like meat, wheat, refined sugar, and processed foods, cause your body to produce acid, which is bad for you." It also claims, "eating specific foods that make your body more alkaline can protect against those conditions as well as shed pounds." So that's the science behind this plan—eat healthier foods, avoid processed garbage, fix your pH levels, and SHED THOSE POUNDS.
As for why people ever subscribed to this in the first place? "The theory goes that consuming acid-inducing foods and drinks creates an unhealthy cellular environment and sends distress signals throughout the body, leading to colds, outbreaks and inflammation. It's suggested that continual acid-dumping via food can create chronic disease such as arthritis, osteoporosis, and cancer," says Greatist. Sounds like a conspiracy theory, but ok. So, again, the idea is that if I eat basic (IT'S A PH JOKE, EVERYONE) food and avoid acid, I'll live forever and be skinny. Yah, totally!


Why It Doesn't Work
So basically, and for those of us who didn't go to dietitian school, here's the bottom line: the only way you can change the pH in your body is by hypo or hyperventilating, which means adding more oxygen to or taking oxygen away from your blood. No amount or type of food is going to have an effect on that. PERIOD. END OF STORY.
According to WebMD, our bodies are slightly alkaline to begin with, with a pH of 7.35-7.45. Our stomachs are obviously acidic, with a pH of 3.5 or less. WebMD says, "nothing you eat is going to substantially change the pH of your blood. Your body works to keep that level constant." Thanks, WebMD, for the science lesson (NERDS!). But, yes, at the end of the day, a diet that claims to fix your body's acid levels—which are perfect as they are—is utter crap. That's what you get for following a diet peddled by self-proclaimed doctors like Gwyneth Paltrow and her Goop followers.


And, as a note, the guy who literally invented the alkaline diet, Robert Young, PhD, MAY BE GOING TO PRISON FOR PRACTICING MEDICINE WITHOUT A LICENSE. Yeah. He helped to write the book on this whole alkaline diet and the theory that all diseases are caused by too much or too little acid. According to Health.com, he was convicted of practicing medicine without a license. As an added bonus, "A jury was deadlocked on several other charges against him, including defrauding patients out of money." He allegedly convinced terminally ill cancer patients that they could be cured by dping some weird expensive baking-soda treatments "to flush dangerous acid out of the body." Yeah… This guy DEFINITELY sounds like someone who could make up a diet based around acid in your blood. What a jackass.
"But I Lost Weight, So You're Wrong"
Here's the thing: the alkaline diet may "work" in that you lose weight, but you're not losing weight because of any kind of radical pH changes or sorcery in your blood. You're losing weight on the alkaline diet because the cornerstones of said diet are to EAT HEALTHY. WHAT AN IMPRESSIVE CONCEPT.  By cutting out things like meat, refined sugar, and processed foods, you're most likely going to lose weight. Granted, this diet says you don't have to exercise—which, no, yes you do—but starting with eating better and cutting the crap is definitely going to give you a leg up. So fight me in the comments, and I'll teach you about why the diet industry is a billion-dollar system and you're a dope for getting duped by these shenanigans. Oh, and why you shouldn't follow a diet invented by a quack doctor so he can swim in his dollar bills.

I hope I ruined everyone's day. Bottom line: Diets in general don't work because you're applying a temporary fix to what should be a lifestyle change. Eat better, exercise more, and don't inhale pizza every meal, and you'll be healthier.
Images: Shutterstock; Giphy (3)
How To Tone Your Whole Body Without Getting Off Your Couch
Unfortunately, unless you're sponsored by a sugar daddy, have won the lottery, or still live in mom's basement, you're probably working for a goddamn living. That translates to sitting for extended periods of time, being tempted by cupcakes, doughnuts, and questionable vending machine treats, and definitely gaining back those five pounds you lost last summer. We shall overcome, and by overcome we mean "beat office obesity by exercising right in your office/cubicle/desk chair." Yah, people may see you and think you're losing it, but can you put a price on a six-pack you got while sitting and trolling through Pinterest? Probs not. Your boss will be super proud of how productive you are.
1. Seat Squeezes
Sounds weird and kind of is—while sitting at your desk, squeeze your butt, hold for like 10 seconds, and release. Repeat this shit until your ass is numb and your butt is like, sculpted and lifted.
2. Leg Raises
It's not like you're actually doing work, so it's time to strengthen your core, bitch. While you're sitting, straighten both legs and raise them slowly. Hold for 10 seconds, then lower. Repeat this shit as many times as you can without noticeably sweating. You can even put a weight like a briefcase or your purse on top of your legs to up the ante.

3. Squats
Alright so they're not as insane as the real thing, but doing "squats" at your desk will help get your heart actually moving and help to stave off those years of obesity coming for you as a result of sitting 10+ hours per day. From your chair, stand up, sit back down, and repeat like 20 times until someone walks by and decides you're really fucking weird.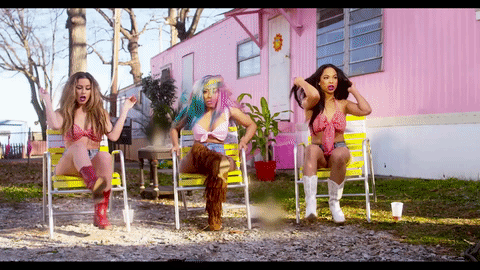 4. Shoulder Press
This will require finding something heavy, so get lookin'. Grab something that weighs like, 10-20 pounds (like your conscience, for instance) and hold it at shoulder length. Raise it over your head and back down for 12 reps three times or until your shoulders scream for mercy. Maybe save this one for when your coworkers are all on their lunch break so nobody calls the police.

5. Rolls
If you have a spinny rolly chair, congrats. Grab the edge of your desk with your hands, pull your feet off the floor, and pull yourself back and forth using your arms and core as many times as you can.
6. Raises
Since you aren't getting that 5% increase because of your attitude (WTF), try this raise instead (I kill myself with the jokes). Raise your legs up on to your chair in a cross-legged position. With your arms on the armrests, push up to raise your body off the seat. Stay that way for 20-30 seconds then release and rest. This is doubly hard in a spinny chair, so be fucking careful.

A Gym Routine That Even Unmotivated People Can Stick To
Everyone knows when it comes to going to the gym, getting there is the hardest part. Like, there are days when we genuinely feel we should be getting paid just for getting out of bed, so making it to the gym deserves an actual Nobel prize. As much as we complain, one of the reasons why going to the gym is so annoying is because you don't have a real plan that you're dedicated to, and so you don't have the motivation to get there. That's why we're gonna walk you through the process of creating a legit gym routine that will make you want to get to the gym and get shit done. Here's the plan:
1. Choose Your Days (Realistically)
Before you can map out your workouts, you'll have to decide how many days a week you'll actually be getting to the gym, and choose specific days that you're going. This can change over time obviously, but committing to exact days will help you actually get to the gym. For example, if you know you're going to work out on Mondays, Wednesdays, and Saturdays, you won't be deciding in your head all day on Tuesday if you should go to the gym after work, because you know that it's your day off and you're going tomorrow. It's kind of like making an appointment with yourself that you have to stick to, so mark your calendar and don't bail.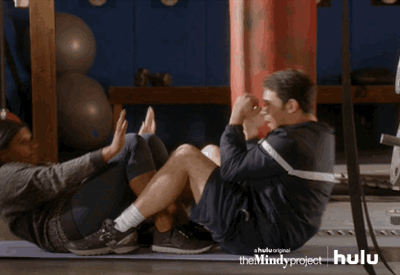 2. Decide On Your Workout Focus
There are a million online workouts that you can copy to a tee, but you're the only one that knows how you like to work out, and what machines and exercises will actually get you to the gym. It's totally fine to experiment with a few different types of workouts, but you should ultimately find the workouts you enjoy doing, and build your routine around that. For example, if you know you like doing HIIT cardio, ab toning, and leg workouts, break up your days into combos of each one. Trying new things is obv important, but if you're gonna dread going to the gym because you're making yourself do an exercise you don't like, it's not worth it.

3. Break Up Sessions By Body Part
Once you start working out throughout the week, you'll start to notice that it's harder to get to the gym after a few days because you're sore AF. I mean, it's understandable. If you're working hard enough and going to the gym consistently, your body will feel it, and that's not a bad thing. But even if you can't sit on the toilet without crying, it doesn't mean you need a day off—you just need to set your routine up accordingly. So, if you know you're going to do squats and lunges on Monday, you probably shouldn't plan on running on the treadmill on Tuesday, because your legs will be pretty shot and you'll end up half-assing your workout. Instead, plan to do upper body moves on that day or just some light yoga to keep your body active. Just don't be an idiot by hitting the same body parts one day after the other.

4. Make Playlists Beforehand
People undermine the importance of a bomb workout playlist. I mean, yeah working out is about your muscles and your body and your breathing and energy levels, but music low-key makes a huge difference, so take it seriously. Make your playlists at the beginning of the week so you have them ready for your workouts and you're not wasting gym time just shuffling through Spotify. By having good songs ready that you know will pump you up, your workout will be a thousand times better and you might actually look forward to the gym to listen to your sick playlist. It's kind of like the excitement you get before a SoulCycle Drake vs. Rihanna themed ride. You know you're about to die, but the playlist will be so good that it's worth it.

5. Only Focus On Yourself (As Always)
Once you get to the gym with your plan and your playlist ready, it can still be hard to get an effective workout if you get easily distracted by the other people around you. Like, stop thinking about the old man grunting in the corner, the girl next to you with amazing abs, or the relentless trainer offering you a personal session. Turn your music up and focus on your own workout, and you'll see a huge difference in your results. Also, just gonna throw this out there—your phone. You can literally scroll through Instagram and answer your texts all day, so now's not the time to ask your friends advice on a profile pic caption. Go on sleeping mode or airplane mode, or just put your phone away completely. The separation may be hard at first, but sooner or later you'll be the bitch judging the girl texting on the treadmill next to yours.

How To Get A Last-Minute Beach Body When You Procrastinated All Winter
In just a couple weeks, you'll be showing more skin than Rihanna on any red carpet, so you're obviously panicking over your lack of a beach bod. Maybe you saw a pic of Gigi at the Met Gala. Maybe the woman weighing your Sixteen Handles cup is starting to call you by your first name. Either way, you've procrastinated all winter and it's time to get shit done. Here are five tips to get your bod in shape in time for those inevitable Memorial Day Instagrams.
1. Cut Out Sugar
Throw away any fitness mag that's telling you to cut out carbs and fat. If you want to change your body, simply cut out white sugar. Eating sugar is literally just putting empty calories in your body that will trigger more hunger later on. Sugar is proven to mess with your blood pressure, your hormones, and obviously your body. Don't waste your time skipping breakfast or drinking green juice. Just put down the Sour Patch Kids.

2. Do Short HIIT Workouts
We don't all have time for hours of work at the gym. HIIT, which stands for High Intensity Interval Training, is perfect for betches who need to get shit done in a time crunch. It's super fast and super efficient. The best part is that you only need 20-30 minutes to get the workout done. That's like, one Broad City episode.
3. Load Up On Fiber
Adding fiber to your diet will keep your full longer, so you can avoid all the mindless snacking you thought no one would notice. Fiber helps improve your skin, your blood sugar, and has anti-bloating properties. Foods like avocados, raspberries, Brussels sprouts, oats, and chick peas are filled with fiber—so get snacking. Yes, we just gave you a reason to eat MORE avocado and hummus. There is a god.

4. Go The Fuck To Sleep
You're gonna need to stop going to sleep at 4am for the next couple days. Aside from helping your brain function better and avoiding bags under your eyes, sleep will help you make healthier choices before the summer. Going to sleep earlier prevents late night snacking, burns more calories, and avoids hanger during your 3pm crash the next day.
5. Do Some Prep
You may have been lazy all winter long (don't argue—we've seen your Netflix history), but it's time to step up your game. We can tell you what to do, but we can't do it for you. Make yourself some healthy food at the beginning of the week, write down a few realistic fitness goals for yourself, and get to it. If Khloé could put down the chicken fingers post-Lamar trauma, you can get yourself in shape for summer.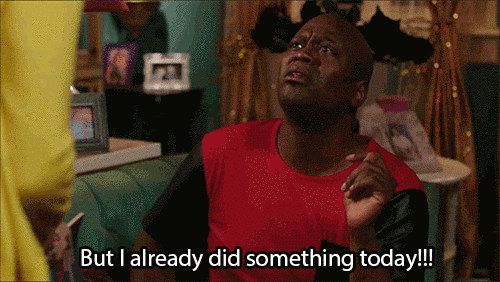 Want more tips on how to get skinny by Memorial Day? Click here!
GYST Sunday: 5 Ways To Get Skinny By Next Weekend
While this weekend has come and gone—everybody knows Sunday is not a real day of the week since you spend 90% of the day horizontal—there's always next weekend to make up for your mistakes. You may have ended the weekend face-down in a plate of nachos (shame on you), so now you have a full week to undo all the damage you did to your body over the past 48 hours so you can fit into that deep-V onesie you bought from Tobi. Read below for how to appear skinny in a time crunch.
1. Lose The Salt
If you feel bloated AF right now, eating anything with a ton of salt will only make that bloating worse. When your body takes in sodium, extra water gets stored in your stomach and face, and you'll feel puffier and grosser than usual. Do yourself a favor and skip the added salt this week. The soy sauce will still be there next week once people have already commented on how skinny your face looks.

2. Catch Up On Sleep
It's easy to stay up super late cracked out on Adderall good vibes, but even though the drugs vibes may suppress your appetite, the lack of sleep is making you (appear) fat. This week, try to get at least eight hours of sleep a night. What, like it's hard. It's been proven that more sleep is healthier for you. It boosts fat loss, encourages your body to crave healthier foods, and prevents late-night carb snacking. Get the fuck to bed—as if we really have to tell you twice.
3. Chug Water
All of that shit you've been eating has been making you bloated and has probably made you break out, so this week, make water your best friend. I don't care if you have to be known as that girl that walks around with a 1 Liter SmartWater all day. Drinking a ton of water will help de-bloat you, keep you full in between meals, and clear up your skin. If you're peeing every five minutes, you're doing something right.

4. Eat Small Meals Regularly
There's no real evidence that eating three big meals or six small meals is the better way to lose weight, but when it comes to portion control, eating smaller regular meals will be a game changer. For the next few days, try to eat a small snack or meal every few hours. This way, you won't be starving and eat the entire buffet when it's presented to you. Try to chew slowly and savor every bite, just because like, healthy people do that. And also because nobody wants to watch you gobble down chicken wings like you're Honey Boo Boo's mom.
5. Fucking Sweat
You can try every diet in the book, but nothing will make your body more ready for the weekend than a good sweat sesh. Sorry if you just got a blowout, but it's time to hit the gym and sweat out all that wine and cake. You've basically been eating like you're carboloading for a marathon anyway, so put the food to good use and sweat it out. I don't care if all the SoulCycle bikes in your city are booked. I don't care if your gym membership is expired. Outside is free, and you have legs. Use them.