How To Detox From Your Labor Day Weekend Bender
Did you have an awesome time over Labor Day? Did you eat awesome hot dogs and shotgun awesome beers and sit around and soak up all your betchy friends' awesomeness before dry heaving into someone's purse around a bonfire?
Sounds like you went all out over the three day weekend. We aren't judging, but your body probs definitely feels like it is. If the spins haven't stopped, you have the DADS (Day After Drinking Shits), and the mere thought of anything other than dry romaine leaves is making you gag, it may be time for a detox tea. And we promise it doesn't taste like asshole.
Ingredients
· 6 cups of water
· 1 5-inch knob of fresh ginger, peeled and diced
· 5 cinnamon sticks
· 2 tsps ground fresh turmeric
· 1 tsps cayenne pepper
· Fresh lemon juice
· 2 tbsps honey
In a large saucepan over high heat, combine the water and ginger—bring that shit to a boil, then reduce heat to low and simmer for about 10 minutes.
Add the cinnamon sticks, turmeric, and cayenne and continue simmering on low heat for another 10 minutes, stirring when you feel like it. Remove from the heat, strain into a pitcher, and cool.
Combine about 1/3 cup of the cooled mixture with ½ cup fresh lemon juice and the honey with 2/3 cup hot water. Stir to combine and chug until you feel like you're ready to destroy your body with alcohol and drugs once more. God bless America.
How To Recover From A Festival When Taking A Sick Day Is Not An Option
If you've scrolled through Instagram recently or walked through Penn Station wondering if there's an LF convention in town, you're well aware that festival season has begun. If you just got back from Gov Ball and you're wondering how to cope post-festival, we've got you covered. From the shitty alcohol you snuck in a Poland Spring bottle to the French fries stand you just had to stop by in between artists, you feel pretty shitty right now and we're here to help. Here's how to undo the damage from a music festival:
1. Get A Good Night Of Sleep
This should be obvious, but in case you somehow feel the need to rally and go out the night after a music festival because you literally can't stop won't stop, we're here to tell you that you should actually stop. At least for a couple days. By catching up on sleep and getting your body back on a normal sleep cycle, you'll find that you'll start feeling better without any crash diets or excessive amounts of coffee. Plus, it's been proven that more sleep prevents you from craving fattening foods, so you're basically dieting just by cancelling plans and going to sleep a bit earlier. You're welcome.

2. Eat Frequent Mini-Meals
If you're feeling bloated or nauseous from indulging in fast food or salty snacks after a festival, try eating small, frequent meals for a couple days afterwards. Instead of eating three meals a day, break up your meals into 5 or 6 different ones to keep your metabolism moving and help get your digestion back on track. Your metabolism speeds up when you consume mini-meals throughout the day, so you're helping your body recover naturally by keeping it as active as possible after you've been treating it like shit all weekend.
3. Go Do Cardio
No, really. Go. Not only does getting a good sweat feel amazing, but it actually helps you recover from all of the alcohol you've been consuming. When you do a spin class or go for a run after a weekend of drinking, not only is your body burning calories, but it's also literally sweating out the alcohol that's still in your body. So, if you start smelling vodka mid-SoulCycle, just try your best not to vom before arms and know that you're doing something right.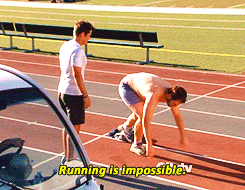 4. Take Biotin
There are few occasions where betches depend on supplements, but if your nails, hair, and skin need some serious TLC after a festival, biotin is literally your new best friend. Biotin is a natural supplement that helps strengthen your nails, fix your damaged hair, and help hydrate your skin, so after you've been outdoors being bounced around on the shoulders of some ratchet denim vest, you'll need some of this. Stock up and thank us later.
5. Eat Whole Foods
There's no detox in the world like REAL food, so skip the diet teas and the artificial 100-calorie packs, and eat real, whole foods. We're referring to anything along the lines of vegetables, whole grains, fruits, nuts, and lean proteins. Try to limit processed foods like cereals, bars, and packaged snacks for a few days, and you'll see a huge difference in your body, skin, and overall energy levels. People will start asking if you just got back from Gov Ball or from some spiritually cleansing exotic yoga retreat.

6. Aloe Vera & Cool Showers
One thing people tend to forget about music festivals is that they're outdoors in the brutal summer heat, meaning you will get sunburned. You might have ordered your flower crown online a month ago, bought your homeless-looking denim shorts two months ago, and stocked up on chasers all week, but you obviously neglected to wear sunscreen, and you're currently dealing with the painful consequences. The best things you can do right now are just to take cool showers, smother your body in aloe vera, and keep telling everyone how good you'll look when it fades into a tan.
7 Ways To Detox From A 3-Day Drinking Bender
So your Presidents Day Weekend was anything but presidential, and you basically spent the whole time alternating between being blackout drunk and violently hungover. I mean, Monday was obviously just another day to avoid the harsh realities of sober everyday life, so we get it, but now you're dealing with the consequences. After three days straight of living off vodka and the sugary syrup from your bottomless brunch mimosas (sorry, that drop of OJ doesn't count as fruit), you're in need for a major detox this week. Here's what you need to do:
1. Drink All The Water

You're probably sick of hearing us tell you to chug water every time you punish your body with fast food and alcohol, but that's because it fucking works. Water should be your best friend for the next few days, so drop the Diet Coke and the Gatorade, and start drinking water—three liters a day. Water will help you get your body back on track by detoxing your liver and your digestive system, and it'll even help clear up your skin. It's zero calories. Just drink it.
2. Add Turmeric To Your Food

If the extent of your kitchen's spice collection stops at a few Splenda packets, it's time to stock up on some big-girl ingredients, and your first one should be turmeric. Turmeric is an anti-inflammatory agent, so it will reduce bloating and any stomach discomfort you're dealing with right now. It's a game-changer when it comes to a post-drinking stomachache, so put down the Advil and add some healthy spice to your food. Not to sound like one of your highschool married friends on Facebook, but this shit really works.
3. Load Up On Watermelon, Cucumber, And Lemon

Fruit-infused waters aren't only meant for mommy Pinterest accounts and Martha Stewart photoshoots. There are real detoxification benefits in putting fruit in your water, and the major keys are watermelon, cucumber, and lemon. These fruits help ease your digestive system and detox your liver, and they honestly taste pretty good. Do some prep and fill water bottles with fruits before bed so you can take them to go with you in the morning. You weren't too lazy to take your eighth shot of tequila Saturday night, so don't be lazy now.
4. Take Ginger Shots

You might have only seen ginger shots on Instagram stories of healthy bloggers who photograph acai bowls three times a day, but there's a real reason every health food store sells these shots. It's because they're literally magical when it comes to detoxing your system. Ginger is a strong antioxidant and anti-inflammatory agent, so it helps relieve the bloating and stomach pain caused by your weekend of binge drinking. A 2-ounce shot alone will help break down the toxins in your liver and will also help prevent nausea, which is a plus for your brutal hangover. Add some cayenne pepper and lemon and you're basically Gwyneth Paltrow, minus the vagina rocks.
5. Eat Avocado

You probably don't need an excuse to order your basic avocado toast at brunch, but we're giving you one anyway. Avocados are high in fat, but betches got over that years ago once we heard how good they are for your skin and nails. It turns out that avocados are also amazing for your blood sugar levels and your liver, which is like, the best news ever. They're packed with glutathione, which is an antioxidant that protects your immune system and helps your liver function correctly. So, if you were worried that you may have permanently damaged your liver this weekend, stop researching shit on WebMD and start eating some avocado.
6. Start Sweating

Look, I know you didn't want things to come to this point, but we're sorry to tell you that in order to get your bod back on track, you're gonna have to sweat. You might hate yourself mid-workout, but starving yourself on the couch all day while watching The Affair is only going to make you hate yourself more. You've filled your body with the shitty toxins of alcohol and the late-night diner munchies that came afterward, so it's time to burn that shit off. Book a bike, get to the gym, run outside—do whatever the fuck you need to do to get moving again.
7. Chill On The Extremes

We realize that some of you may be feeling more guilty than others after your 3-day day-drinking fiasco, but shit happens, and you can't actually punish your body for it. Like, it was a three-day weekend. If you do something drastic now, how are you gonna survive after a blurry week of tequila and nachos post-spring break? This isn't the time to order a $300 juice cleanse or run for four hours with a photo of Gigi Hadid taped to your treadmill. Your body is capable of more than you think, so just take care of yourself for the next few days and you'll naturally start feeling better. Don't make this more dramatic than it needs to be.