How To Detox From Your Fourth Of July Hangover
Listen up, heathens. Whether you really give a shit about Independence Day or not, you and I both know you drank enough alcohol this weekend to put Lady Liberty under the table. But now the excuses for day drinking celebrations are over and it's time to drag your bloated, hungover body into work like an adult with bills to pay and a mouth to feed.
Unfortunately, you probably feel like you have absolutely destroyed all the work you put into achieving the summer body you were able to display this past weekend. Fortunately, you have a month or two to recover before the next big binge-drinking event that marks the end of summer—Labor Day parties. Seize this opportunity to cleanse and restore your body from all the shit you put it through this past weekend before you inevitably fuck it up again next weekend.
How, you ask? Follow the advice you found on the internet, obviously. Here are 7 ways to detox after all the burgers you ate and shots you took this July 4th.
1. Drink A Fuckton Of Water
Research shows that hangovers are caused at least in part by dehydration. While the very thought of chugging anything may make you want to vom right now, start sipping on some water ASAP.

2. Replenish Your Electrolytes
Again, you're probably super dehydrated right now, which means you need to replenish all the body salts you lost while participating in the great American tradition of getting blackout. Sports drinks and salty soups like miso soup are good sources of electrolytes, plus they make you look like you just did something athletic.

3. Eat A Banana
Apparently potassium is good for counterbalancing sodium, so it can reduce all that water making you swell to three times your size. If you don't like bananas for whatever reason (I get it—you can't transport them anywhere without them turning to mush, you can't eat them in public for fear that some perv will get the wrong idea), snack on other potassium-rich foods like sweet potatoes, yogurt, clams, etc. (That last one was a test—send me the names of anyone who can stomach clams when they're hungover and I'm calling the police on them.)

4. Go For A Walk
Studies have shown that going for a walk after eating helps lower your blood sugar and get your digestive system moving faster. I'm assuming you've already digested all the beer from yesterday, but go for a walk just in case—your body can use all the help it can get. It also puts you in a better mood, so you might manage to make it through the day without stabbing someone (Debra in accounting) in the eye with a ballpoint pen.

5. Make Some Asparagus
Asparagus is also known to help your hangover go away faster by up-regulating cell metabolisms. In other words, it helps you metabolize alcohol faster. Who knew?

6. Go For A Starbucks Run
Caffeine has been shown to reduce headaches caused by hangovers, so indulge in your Starbucks addiction today, assuming you haven't already. Just make sure to go back to #1 and drink water afterward, because caffeine causes dehydration.

7. Skip The Soda
Carbonated drinks have bubbles in them. Bubbles contain air. Gas and bloating are caused by air in your digestive system. You do the math—stay far, far away from carbonated stuff today, unless you want to continue looking and feeling like the angry marshmallow man from Ghostbusters.

Dirty Lemon Beauty Treatment Lets You Drink Yourself Pretty, Sign Us Up
Finally a beauty treatment that celebrates our strengths, like drinking flavored water and barely doing any work. Ladies, you can now drink yourself pretty (a motto I've always lived by) via Dirty Lemon, a new beauty treatment from a Brooklyn-based juice company that specializes in raw detox drinks. You're welcome.
Dirty Lemon has been on the rise for a while in super-secret millennial circles. The detox drink is meant to reset the body after too much pizza and rosé because there is a God and She is paying attention to my Instagram story.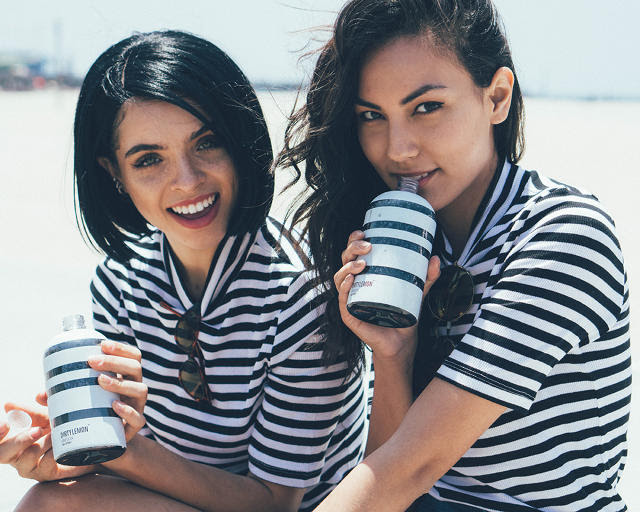 Made with cold-pressed lemon juice, dandelion extract, ginger root extract, activated charcoal, and filtered water, this shit tastes like a fucking dream—unlike that cayenne pepper and maple syrup mixture you've been forcing down your throat. Dirty Lemon Skin + Hair adds to the original recipe a fuck ton of Beyoncé's tears pharmaceutical-grade marine collagen, and other shit that's great for your hair and skin. In fact, it promises to give you better hair, skin, and nails in as little as two weeks. But so does Susi, my German hair stylist, every time she cons me into buying a $60 product on top of my haircut.

How Dirty Lemon Works
Drink one bottle a day on a full stomach, repeat. No lie, that's legit the only instructions. In fact—and this is verbatim—they suggest you ingest the drink "with a side of pancakes." Blessings.

Basically, instead of taking daily vitamins or supplements to stimulate the production of collagen you can now just take a bottle of it to the face. Not so different from what you'd be doing after work anyway but this is, like, good for you.
How To Buy It
You won't find this sleek as hell bottle of eternal youth Dirty Lemon in any stores. You can only order it in $65 quantities via text message because our world is going to shit. But feel blessed because all orders are shipped overnight and free of delivery charges (are you listening to this, Amazon??).

Final Verdict
So let me get this straight: This is a beauty treatment that lets me do nothing live my life, counteracts all the ways I fuck up my skin and body when I'm drunk, and encourages me to eat pancakes for, like, my health's sake? And it comes in a conveniently chic bottle that will look good AF on Instagram? So, like, does anyone know the founder of Dirty Lemon's number or? Asking for a friend…