The Best Steals Nordstrom Rack Has To Offer
If you're like me, the virus has put a hold on many things, but online shopping is certainly not one of them. In fact, every time boredom strikes, I can't help but browse all of the sales currently happening. Like, Tom Ford is literally 60% off Nordstrom Rack right now… how does one resist such an opportunity?
The answer: we don't. 
I'm justifying this spending by telling myself I would have spent this money going out to dinner on single meals, but instead now I'm investing in pieces that will last me a lifetime. Cost per wear, if you may. 
So, I'm going to give you a breakdown of my favorite sales at a little store called Nordstrom Rack, where designer items go when all else fails. Here are a few must haves so you can feel ~cool for the summer~ ….or whichever season we're finally allowed back in public again.
Accessories
As a little black dress is a staple in all wardrobes, a little (medium/large) tote should be as well. Black is on trend every day of every season, and that will never change. Marc Jacobs is having a super sale (50% sitewide), but Nordstrom is one-upping their sale with 60% or more off their Marc Jacobs inventory. 
There are a few choices for black totes, but The Tag 27 Leather Tote is my personal favorite. It differs from the basic tote (which is good, because you can also get that at Zara for $20) and still adds some zest to a classic look. It also comes in pink, which is less practical than the black, but do you. Both colors are currently retailing for $149.47 (originally $395) at a 62% discount. 

Marc Jacobs The Tag 27 Leather Tote
Neon had a moment last summer, and tie-dye is having its moment this summer. But, given the fact that 2020 has been put on hold thus far, a neon bag will hold its power for a second season and can still be considered a staple statement piece when paired with the correct outfit. 
I am loving the Atlas Neon Leather Shoulder Bag from Rag & Bone, which is currently retailing for $299.97, at a 52% discount. Brands like Gucci have released their color collections for summer, which retail around 2k, so this piece is a steal. The braided strap gives it an edgy touch, and can be paired with a leather jacket to complete the vibe or a classic monochromatic blazer/bike short outfit to add some spice and contrast. Either way, it's a worthy purchase in my book.  

Rag & Bone Atlas Neon Leather Shoulder Bag
I used to not give a sh*t about sunglasses, but then I moved to NYC and realized that $10 sunglasses from Forever 21 were social suicide. Of course, I'm not bashing anyone who doesn't want to splurge on sunglasses, but if you do seek designer shades, Nordstrom Rack has you covered. I literally can't narrow it down to a single recommendation, so I'll share a few of my current favorites.
If you've been on Instagram, you've seen the rising trend in monochromatic pastel sunglasses. This pair from Prada sticks out to me, because it's not the impractical tiny sunglasses we saw last summer, but it still brings the sunshine to your look. I'm drawn to the green, but if the pink brings out your inner Barbie, then so be it. Originally retailing for $258, you can now get this pair for $119.97, at 54% off, which is a rarity for Prada, so take advantage. 

Tom Ford sunglasses are a hit or miss for me (some of the styles are TOO ugly-chic) but when they're good, they're great. The Anna style are my absolute favorite because they literally look good on everyone. They're the perfect dose of subtle and sexy, and the gold accent makes everything better. Originally retailing at $430 (ouch), a 63% discount has allowed for us to purchase them at $159.97. If you know Tom Ford, you know this is a worthy STEAL.

Tom Ford Anna 49mm Modified Cat Eye Bar Sunglasses
Keeping the spirit of tie dye/pastels alive, these Gucci aviators are a chic seasonal way to take your look to the next level, and just looking at them makes me crave summer. I'm not even actually sure if we'll be able to socialize this summer, but that won't stop the sun from shining, and glasses are a long-term necessity. I like this pair because the style itself is simple, unlike some of Gucci's more, shall we say, unconventional pairs, but still gives you a flash. OG price was $390, and these cuties are 67% off (best deal yet) so you can grab them for $129.97. Worth it. 

Footwear
Shoes are hard because trends change with the wind, but there are a few styles that never expire. A strappy sandal, a white sneaker, and booties all have stood the test of time.
Unpopular opinion, but when it comes to sandals, I care less about the designer and more about the actual look. I've gotten more compliments on my Steve Madden basics than my Louboutins, and that sums it up in my book. The Sam Edelman Ariella Ankle Strap Sandal is the best kind of basic and comes in black and nude, the only two colors that ACTUALLY matter in a shoe. They're currently on sale for $31.98, originally retailing at $100, and are well worth it. 

Sam Edelman Ariella Ankle Strap Sandal
Sneakers have taken the fashion world by storm over the last few years, and can now be paired with a suit or dress and still make sense. To this day, my go-to combo remains an all white sneaker with a white tube sock. It's comfy, it's chic, and it's cool. I love the Arelle Exaggerated Sole Sneaker from Steve Madden (in white). They're only 40% off (rude) but currently an extra 20% (nice) and retailing at $47.98 instead of $100. Cute.

Steve Madden Arelle Exaggerated Sole Sneaker
I know the thought of purchasing booties in May is rather nauseating, but I promise it's worth it. Stuart Weitzman is 68% off at Nordstrom Rack, which I found rather shocking, but also thrilling. It's a bit jarring how many businesses are hurting, but I will humbly take the discounted booties in the meantime. The Quinn Block Heel Bootie was my choice purchase this time around, because a classic black bootie is always a safe, chic bet. These are still typically more than I'd spend on a bootie at $189.97… but, they were originally $595, so if there was ever a time to splurge on a shoe, it's now. 

Stuart Weitzman Quinn Block Heel Bootie
Clothing
The bulk of Nordstrom Rack deals fall in the clothing department, which has just about everything you can think of. Narrowing down 40,000+ choices to my top favorites—no problem. It's a tough job but someone's gotta do it, so please thank me in the form of DMing me with your favorite sales happening. I can shop more and you can save money, a win/win.
I'm starting with leggings, because that is the closest thing to a pant I've put on in two months. They're debatably the most important piece of clothing in and out of quarantine, and therefore, brand/quality matters. 90 Degree By Reflex has their Interlink Side Pocket High Waist Leggings on super sale right now, and once again I'm shocked because these are a hot commodity. They're a whopping 75% off and currently retailing for $19.97 (originally $78). These leggings have pockets, and I assume you're sold by that statement alone, so I'll move on. 

90 Degree By Reflex Interlink Side Pocket High Waist Leggings
All leggings need their partner-in-crime, a comfy sweatshirt. There are a million and one cute sweatshirts available, but my current favorite is the Champion Campus French Terry Cropped Crew Neck Pullover. I feel sort of like a hype kid for loving this (maybe I've been watching too much TikTok???) but IDC because it's cute. It's on sale for $36.97, which might crush your soul given that Champion used to be $5 at Walmart back in the day, but times are changing and it's better than its $55 original price tag. 

Champion Campus French Terry Cropped Crew Neck Pullover
As mentioned earlier, summer is still up in the air, but warm weather is not. So, you might as well be prepared in the event that we are allowed outside in the coming months with some cute pieces! Let's think positively. 
I have such a thing for modernized prairie dresses, and I think they bring sunshine to anyone's look. This is a staple for me starting May 1, and I essentially wear different versions of the same dress daily until it snows again (half kidding). REFORMATION has a great sale going on at Nordstrom Rack, and the Napa Wrap Midi Dress is on sale for $79.97—that's a 63% discount from the original $218 price tag. I firmly believe that all-purpose dresses are always worth the purchase because they work for work, happy hour, your best friend's baby shower, and your next vacation. 

Reformation Napa Wrap Midi Dress
If there is ONE item that actually has never gone out of style, it's the jean jacket. Like, there are photos of my 60-year-old parents rocking jean jackets throughout their lives, and it's still a closet staple now all these years later. One would assume that 90% of us have the classic denim jacket in our closets, and it's time to spruce things up. I am loving this Rag & Bone Snakeskin Print Crop Fray Denim Jacket because it's keeping the animal print spirit alive, but in a new form. No, I don't want to see your cheetah bodysuit or booties again this year, but YES, I do want to see your secretly snakeskin jean jacket. This one in particular is 68% off, previously $495, but now $157.48. A ssssssteal. 

Rag & Bone Snakeskin Print Crop Fray Denim Jacket
And there we have it. Wow. So many deals, so little time. Honestly, Nordstrom Rack is adding new cute stuff daily (I'm not being paid to say this, in fact I'm only losing money every time I am on their site) and helps me get the designer clothes I want at a price I can actually (almost) afford. So if and when you are ready to shop till you drop, you know where to find the best deals.
You know you love me, xoxo, quarantined girl.
Images: @socialcut / Unsplash; Nordstrom Rack
Betches may receive a portion of revenue if you click a link and purchase a product or service. The links are independently placed and do not influence editorial content.
This Is What Goes Into Making Those Iconic Met Gala Looks
Heads up, ladies, it's Anna Wintour's favorite time of the year! Set to take place on Monday, May 6th, the highly-anticipated 2019 Met Gala is fast approaching. This year's theme is Camp: Notes on Fashion. We're predicting over-exaggerated styles and over-the-top accessories. Hopefully, Pharell leaves his hat at home.
The Met Gala was established over 50 years ago, so needless to say there have been countless incredible fashion moments since then. Let's take a walk down memory lane before we see the insane costumes from this year's event and promptly forget all about the old ones. Read on as we review some of the most iconic Met Gala outfits and explore the designers behind the ~lewks~.
Rihanna and Guo Pei in 2015

Before Rihanna stepped onto the Met Gala red carpet wearing that iconic yellow omelet cape, Chinese designer Guo Pei had been creating couture for more than 30 years. In fact, this exact masterpiece had been designed for a 2012 show in China and it had been at in Guo's studio until it was snapped up by Rihanna for the big event.
Weighing about 55lbs with a 16ft train, this look wasn't an easy one to pull off—literally. In fact, when it was first presented in China, the model made it only halfway down the catwalk before the show had to be paused so she could remove the garment and head backstage. At least it probably counted as her cardio for the week?
Fitting for the China: Through The Looking Glass theme, the fur-trimmed cape featured over 50,000 hours' worth of hand embroidery and took two whole years to make. Let me repeat. Two. Whole. Years. Describing her inspiration behind the design, Pei said, "When I had this design in mind, I a woman that can carry weight on her arms. It's a dress she has to lift, like she can lift the whole world. I always have a woman like that in mind." Sooooo… Rihanna? Rihanna.
Blake Lively and Atelier Versace in 2018

Blake Lively's dress was so long that she literally had to take a party bus to the 2018 ball. First stop senior prom, next stop Met Gala?  Inspired by royalty and the renaissance to match the Heavenly Bodies: Fashion and the Catholic Imagination theme, Lively and her gown captivated audiences. Her long train was carefully embroidered, and her jeweled corset reportedly took 600 hours to create. I did the math, and you could watch all seven seasons of Game of Thrones 12 times in the time it took to make this corset. The look was complete with sheer panels on either side of her legs and a custom halo that featured 100 carats of champagne diamonds.
In case you didn't know that Blake Lively is better than you, this piece was custom made for her by Atelier Versace. In case you didn't know that Blake Lively is better than you part two, she wore $2 million worth of Lorraine Schwartz jewelry to complement her look—this included the custom headpiece, bangles, earrings, and her Lorraine Schwartz engagement ring. Schwartz's pieces are often worn by celebrities on the red carpet, and her jewels have been spotted on people like Beyoncé, Kim Kardashian, and Angelina Jolie. Very casual, no big deal or anything.
Kim Kardashian and Balmain in 2016

Manus X Machina: Fashion in an Age of Technology was the theme for the 2016 Met Gala, and Kim Kardashian didn't disappoint. Kim and Kanye rolled up to the red carpet in coordinating Balmain—Kim in a futuristic silver dress and Kanye sporting a silver jacket, icy blue contact lenses, and ripped jeans. The Balmain pieces were beautiful, but tbh I feel like the boldest fashion move might have been wearing jeans to the Met Gala.
Kim's garment was created by Olivier Rousteing, a French designer who became the youngest Creative Director of Balmain in 2011 at age 25. Since his takeover, he's brought a fresh eye (and some insane cheekbones) to the luxury brand.
As anyone who's seen KUWTK might expect, this look wasn't the only outfit that was considered. Speaking about the evening before the Gala, Kim said, "When I landed in New York at midnight, I immediately went to see Olivier for a 1am fitting, and we literally cut skirts in half, created tops from dresses, and stayed up until 4am to get the perfect option that we felt fit the theme." Who knew Kim K was such a DIY queen? I would say that's relatable, but I can barely turn a regular T-shirt into a crop top without f*cking up. Other potential looks included a gown with jeweled shoulders and sleeves and another that was embellished with pearls and a giant gem in the center of the bodice. In total, Kim received four custom-made dresses from Rousteing before the event.
Rihanna and Comme des Garçons in 2017

Rihanna is the queen of the Met Gala. This is a fact, and anyone who disagrees can fight me. The theme of the 2017 ball was Rei Kawakubo/Comme des Garçons, and in true Rihanna fashion (ha), the singer stepped out onto the red carpet in an attention-grabbing piece. She wore a textured garment that was cut from jacquard florals which made her dress three-dimensional. The piece was designed with an asymmetric hemline and cut-outs, and was first featured in the Comme des Garçons Fall 2016 collection.
It reportedly took Rihanna an hour to get into the strappy Dsquared2 red heels she wore to the gala, and I can't even imagine how long it took to get them off.  Her hair was styled into a top bun, and her makeup complemented the pink shades of the dress with rosy eyeshadow and blush that blended together. On anyone else, that makeup would've looked like a 5-year-old discovered their mom's blush and went to town, but it worked on her.
The 2017 gala was quite the tribute to Rei Kawakubo, who rarely agrees to shows or interviews. Goals, pretty much. She established Commes des Garçons in Tokyo in 1973 and has developed the brand into what it is today—an inventive and stand-out establishment.
Stay tuned for a recap of all the iconic looks we'll see this year! Until then, feel free to look at pictures of old Met Galas and feel poor.
Images: Karwai Tang/Getty Images; Shutterstock (3)
Top 5 Things You're Grossly Overpaying For
I don't have to tell you that your $350 Gucci belt isn't worth the steep price tag. You already know that. But, beyond your flashy Gucci belt—which, btw I want, so hmu if you're feeling generous—most retail items, particularly fashion pieces, are grossly marked up. As a girl who not only lovvvvves to shop but also lovvvvves a good brand name, discovering this inconvenient truth has been extremely tough. I mean, if you're buying something designer then you already know that you're overpaying in exchange for the designer name. Yes, the quality is often better, but not always to the extent that would validate such a severe markup.
At the end of the day, retailers marking up product is nothing new. In fact, it is an essential element of business that is probably never going to change. Regardless, by being more knowledgeable about which specific retail items tend to have the highest markup percentage, you can become a more informed and strategic consumer. (Whoa, who knew this fashion article would end up sounding so adult? Lol.)
1. Jeans
To my own surprise, denim is one of the top culprits of insane markup prices. I figured that, of all the categories, denim would be the most justified because it's genuinely made using more expensive, higher quality materials. (Hence my own justification for spending $200 on a pair of Citizens over a $50 pair from Topshop.) However, it's not just designer denim that is severely marked up, but all denim in general. Apparently, designer jeans can often be marked up around 250%, and even mid-level retailers will mark them up around 100%. Although, let's be clear that even though a mid-level retailer, such as Kohl's, "only" has a markup of 100% it's still not okay to shop there. Instead, try somewhere like Nordstrom Rack or TJ Maxx where you can still get high quality designer jeans but at a much more reasonable price. Or, try shopping the sale section of a high-end retailer, because there will probably be a few discounted pairs.

Joe's Jeans Charlie Ankle jeans ($179, $44.75)
2. Jewelry
You know all those times you've spent, say, $50 on a necklace just to have it break the first time you wore it? Yeah, that's because the necklace that you paid $40 for actually only cost the store $1 to purchase and $0.01 for the manufacturer to make. Ok, that's a bit dramatic, but it's just to get my point across. Pretty much all jewelry has a steep markup. Even worse, fine jewelry, especially diamonds, are aggressively marked up to an even greater extent. This is because jewelry sellers profit off of a buyer's lack of jewelry expertise. BUT, if my future husband is reading this rn, please don't take that as your go-ahead to cheap out on my ring. Like, I still want the biggest and most expensive diamond in the store, is that too much to ask??? Please and thank you! Anyway, similarly to the jeans, your best bet is to shop for jewelry that is either on sale or from a discounted luxury retailer.

Kate Spade Gold Knot Mini pendant necklace ($58, $27.99)
3. Glasses Frames
So, apparently, there's only a few big companies that own pretty much all of the smaller companies selling glasses frames. Who knew "big glasses" was a thing? HAH! You corporate America spectacle-selling dogs. Like, I apparently now can't even enjoy the "privilege" of vision without being aggressively ripped off??? Great. According to my investigative journalism, the biggest manufacturer, Luxottica, makes a gross profit of 62 cents on the dollar. And, Luxottica owns like, legit every brand. So good luck affording being able to see, people! Fortunately, in recent years direct-to-consumer brands, such as Warby Parker, have allowed for more reasonable yet still stylish glasses-buying options. So, if you want the gift of vision at a more affordable price, I would start there.

Warby Parker "Jane" eyeglasses ($95 WITH prescription lenses)
4. Shoes
Obvi, you realize that if you're splurging for a pair of Louboutins that your overpaying for a pair of shoes. But although designer shoes are the biggest culprit, shoes in general have a huge markup price. Most athletic shoes have a 100% markup, but shoes in general can have anywhere from 100-500%. All I ask here is that you're mindful of this information next time your waiting in line to purchase a pair of Yeezys.  Of course, I'm not here to tell you how to live your life. In fact, I'll probs be right there in line there with ya! But, at least now we can be educated enough to be aware of actually how stupid we're being.

Nike Flex 2017 running sneaker ($85, $64.97)
5. Designer Handbags
I know I'm not alone in my love for a good designer handbag. In fact, I genuinely believe that if you're going to splurge on something designer, it should be a handbag. Regardless of these beliefs, it's just fact that designer handbags are insanely marked up, often to 20 times their cost to make! The average markup amount on a designer handbag is around 100%. That being said, there are tons of ways to still get a designer handbag at the fraction of the price nowadays. For example, try shopping designer consignment shops or the "runway" section at TJ Maxx!

Moschino Leather Crossbody ($865, $499.99)
Sadly, insane retail markups are just an undeniable facet of the cruel world we live in. The good news is, you can no at least call yourself an educated  consumer, even if you are one who happens to be in Yeezys and Gucci logo tee.
Images: @crew / Unsplash; Nordstrom Rack (2); South Moon Under; Warby Parker; TJ Maxx
Betches may receive a portion of revenue if you click a link in this article and buy a product or service. The links are independently placed and do not influence editorial content.

What To Buy During Net A Porter's Black Friday & Cyber Monday Sales
Thanks to the internet, our country's obsession with consumer culture, and our ability to convince ourselves that buying a lot of things on sale is cheaper than buying less things not on sale, we now have online shopping deals that start before Thanksgiving and end like, after New Years. And there is truly no better way to wind down from Thanksgiving family small talk than to sit on your couch in your favorite sweats, grab your laptop, and buy everything you ever wanted without having to wait in any lines or talk to any humans.
This year, Net-a-Porter has jumped on the Black Friday month-long bandwagon with its half-yearly sale, offering up to 50% off designer shoes, clothing, and handbags. So if you are expecting a killer Christmas bonus (or not—because credit cards), head to Net-a-Porter's sale page and snag some killer looks for the rest of the holiday season. Need inspiration? Check out some of our top picks.
For when you want to look fancy, successful, and fly at your family's Christmas dinner…

For when you opt out of a white Christmas and head Mexico…


For when you bring that hot future-one-night stand from Bumble as your plus one to your company holiday party…

For when you get seated at the kids table…

For when it's cold AF but you still want to wear a mini-skirt…

For when it's New Years and you feelin' yourself…

For when you roll into work like a boss post-holiday break…

For when you just really need a kick-ass bomber…

5 Accessories You Should Literally Never Buy
It's no secret that most betches aren't like… amazing at budgeting their money. But like, who can really blame you? You suck at cooking, but pretend to be vaguely health conscious, so a lot of your money goes towards kind of expensive salads. (How much are salads even supposed to be? I genuinely have no idea, but every time I buy a salad, I'm like "Wait, that felt kind of overpriced.") Betches are a really interesting demographic financially, because like, you'll swipe your card for a $200 pair of jeans that make your butt look dope without blinking, but your Google search history includes things like "Will cheap alcohol make me drunk faster?" and "Does generic Plan B work?" What, you Googled that for your roommate? Right.
Anyway, I'm obviously not a financial expert or anything, but I'm a self-proclaimed shopping expert, so I feel like it's my duty to help you out here. Actually, I don't think I should even go as far as to say that I'm a self-proclaimed expert. I think I just like hearing myself talk. But yeah, there's tons of shit you just straight up shouldn't be buying and I'm here to save you from that. Here are five things you should literally never buy.
Steve Madden just released about a million pairs of shoes that are straight rip-offs of the Gucci Princetown Loafer Mule. At $80, these loafers are pretty much just a glorified knockoff, but they're produced by a brand you're familiar with so you don't have to go into some creepy stockroom on Canal Street to get them.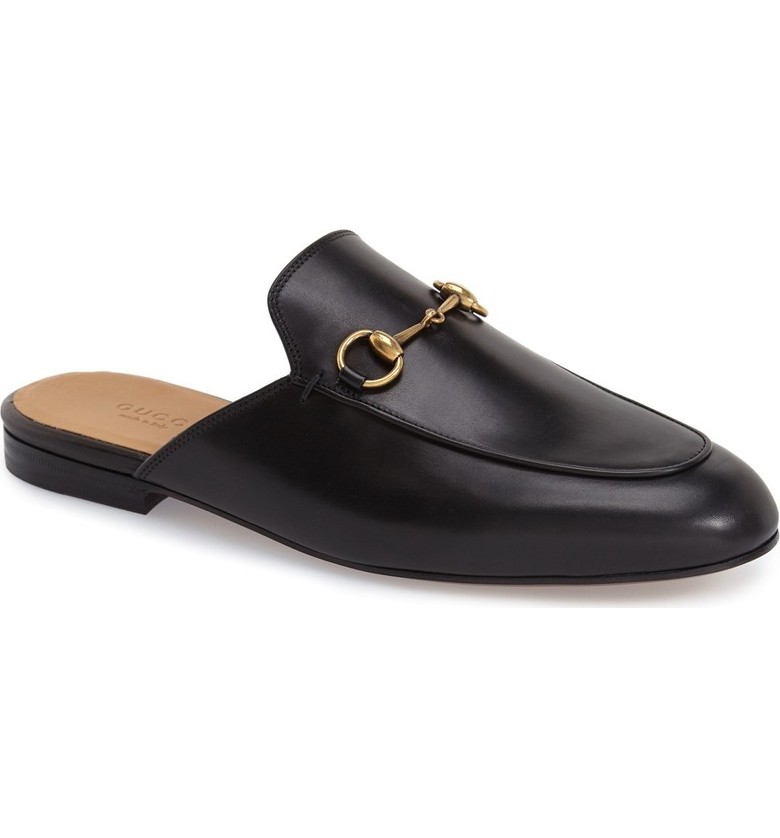 I'm not telling you to splurge on the $800 Gucci shoes and I'm definitely not bashing fast fashion. Stores like Zara and H&M are awesome for picking up inexpensive clothing that evokes a similar-looking vibe to high-end designs. However, the line between being inspired by luxury fashion and blatantly ripping it off is so fine, my Kat Von D liquid eyeliner couldn't draw it. These shoes are honestly such a scam, buying them is basically one step away from wiring money to the guy from Nigeria emailing you to send him money because his funds are tied up in Europe. There are so many other styles of inexpensive, non-tacky shoes in the world to choose from. You have literally no reason to purchase these, ever.
I have a lot of unpopular opinions regarding Lilly Pulitzer that I'll either keep to myself or save for a later date (quick preview: I think wearing boxy tunics covered in a neon seashell print is the dumbest shit you can do), but in regards to this list, do not buy Lilly Pulitzer, or any other designer ear buds. They're pretty much the crappy ear buds that came with your iPod touch a million years ago, but with a design that might make them easier to describe when you undeniably leave them at the gym in two weeks and ask the guy at the front desk if he's seen them.

Beats by Dr. Dre has $100 in-ear headphones that you should probably just spring for. Sure, they're $80 more and don't have a floral design (which seems like a plus to me, but no judgement), but by the time you've gone through a few pairs of shitty headphones, you'll have wished you just bought these instead.
You know how they say you should try to keep a plant alive before you get a dog? And that you should learn to take care of a pet before you have kids? Well, I say screw all of that and buy yourself a pair of expensive sunglasses if you want to know how responsible you really are. Plot spoiler: You're irresponsible AF and might as well just spent that $200 on Candy Crush lives because it'll last way longer.

You should definitely buy designer sunglasses if you like, HAVE to have a particular design or know that you'll be able to hold onto them for a while. For example, Ray Ban Wayfarers are a good idea, because they're a classic style and you can spot a knock-off from a mile away. However, if you're just looking for a pair of glasses that look like something you saw on Kylie Jenner's Snapchat, it's not really worth it to spend a lot. There's really no point in getting Illesteva glasses when you can get a pair that looks exactly like them literally anywhere else for less, because they're probably just a fad that you'll forget about when you watch Kylie's story tomorrow and she's wearing yet another pair. (And if it sounds like I'm contradicting myself on what I said about the faux Guccis, give it another read. The point is to find something similar, not a total knockoff.)
4. Tacky Phone Cases
I get it. You've been in line at Forever 21 for 15 long minutes and are trying to decide if the $6 choker you're about to get is even worth it. The bins by the counter, which are actually just strategically placed black holes, are starting to look appealing. You take a look through and find a glitter phone case, and it's less than $10 so you decide to get it.

Unless you want your life to be ruined, you should absolutely put that tacky phone case down. There's a 0% chance it'll save your phone during your next bender. All of the junky phone cases in the world aren't worth a scratch on the most valuable 4.7 inches of property you own (aka, your phone screen). The only thing more brutal than having a shattered phone screen is having to pay to get it fixed, so just be a decent human being and buy a legitimate phone case, like perhaps one from Shop Betches.
5. Cheap Watches
In case you haven't noticed, nobody really needs watches anymore because we're just always on our phones, which also tell the time if you didn't realize. Also, manually changing the time on something when Daylight Saving Time happens is such a buzzkill. Yes I know that doesn't happen very frequently, but of the watches I own, none of them have ever been changed with Daylight Saving Time. It's just like, too much work for my busy lifestyle.

Anyway, don't spend money on dumb cheap watches. They'll probably turn your wrist green, or break or something. Who needs a crappy watch to tell them what time it is when you have your Uber driver constantly calling you to tell you he's been waiting outside for five minutes and is about to dip out?
Shopbop Is Having A Huge Sale, So Get Your Credit Cards Ready For These 10 Must-Haves
Someone who is probably now dead or less famous than Angelina from Jersey Shore once said something about the fact that boredom doesn't exist because of creativity. IDK, I'm too lazy to Google the real quote. Anyway, it's irrelevant because that's not true. Boredom doesn't exist because of the invention of online shopping. Shopbop is currently having a huge sale where you get 20% off orders under $500 or 25% off orders of $500 or more. Obviously, this is super overwhelming, so here are a few suggestions.
FENTY x PUMA Creepers literally never go on sale. This is as historic as the invention of the sticky boob.

FENTY x PUMA Cracked Creeper Sneakers
​Thanks to Bieber and the Jenners, a Calvin Klein underwear set is a total necessity. If you don't already have one, I'm honestly shocked. If you do already have one, you might as well get it in another color.

You should probably invest in a few pairs of Quay sunglasses so you don't have to keep replacing them every time you lose them after a blackout in broad daylight at a darty.

Adulting sucks, so wear an expensive glorified onesie to feel like a kid again.

Black lipstick is dope in theory but questionable in real life. This Kendall + Kylie coin purse is perfect for (technically) pulling off black lips without looking like a poorly executed Jenny Humphrey Halloween costume.

Kendall + Kylie Gabriella Coin Purse
The perfect black one piece is nearly impossible to find. It's like, you're either going to look like Farrah from Teen Mom or an actual, real life mom. This one is perfect because it shows off just the right amount of sideboob.

Beach Riot x Stone Cold Fox Bridget One Piece
The good ol' "but they'll go with everything and were on sale" line you feed yourself every time you buy a pair of heels that you'll never wear actually wouldn't be a lie with these Alexander Wang sandals.

Alexander Wang Abby City Sandals
A LuMee case is technically buying Instagram likes because it makes your selfies so lit (sorry for the dad joke), but it's not really embarrassing if it's on sale.

Like mimosas at brunch or shots at a pregame, your attitude towards black crossbody bags should always be "well, I can have one more."

I'm not sure exactly when wearing jeans became as uncomfortable as opening a guy's Tinder bio to see that he has his height in it, but it has. Thanks to the invention of leggings as pants, I now wear jeans about as frequently as Adam wore shirts in the first season of Girls. Anyway, these AG jeans are basically leggings, so you should probably get them.