12 Common Sunscreen Myths Debunked
You've heard it from your mother, your dermatologist, your first-grade teacher, and even Baz Luhrmann: Wear sunscreen. With the wealth of knowledge we now have on sunscreen's ability to reduce our risk of skin cancer and to protect against sun damage like wrinkles, dark spots, and sagginess, it seems wild to think that some still skip this crucial step in their daily skin care routines. But in reality, the increasingly oversaturated sunscreen market and the onslaught of information, studies, and data surrounding it can often have a detrimental effect on consumers, leaving them unsure of what to believe and whom to trust. Over the years, certain myths about sunscreen have permeated our culture, and even the wisest of skin experts have fallen victim to them. With a scorching summer already upon us, it's more important than ever to not only debunk these misconceptions but also to understand why they're inaccurate.
Myth #1: Sunscreen Is Not Necessary Indoors, On Cloudy Days, Or Inside A Car
"False, false, false!" says Dr. Shereene Idriss, a board-certified dermatologist in New York City. "Yes, clouds do reduce some of the harmful UV rays, but they don't block them all, particularly in areas where the ozone layer is dramatically reduced." It's also important to realize that UV light is not alone in its ability to cause harm. Outdoors, UV light, in the forms of UVA and UVB, can impact skin aging and increase the risk of skin cancer. Some of that light can travel indoors through windows, but we're also exposed to other types of light indoors, including visible light and blue light, which can also impact the skin. For that reason, it's crucial that sunscreen be worn daily, and it should not be skipped just because you're inside.
Myth #2: One Application Of Sunscreen Will Last All Day
"If you have discovered the sunscreen that lasts up to 24 hours, please let us all in on that secret!" Dr. Idriss jokes. In fact, not only will one application of sunscreen not last all day, but it will last just a couple of hours. "Most sunscreens are tested for a specific amount of time, and that's on average two hours," explains Dr. Caroline Robinson, a Chicago-based board-certified dermatologist and founder of TONE Dermatology. "After two hours, the SPF protection goes down significantly, so you do need to reapply to maintain that initial level of protection." If you are in the sun, reapplication every two hours is imperative, but if you're mostly indoors, you can be slightly more lenient in reapplying so long as you apply before stepping outside again. "I tell people to bring a sunscreen brush, like ISDIN's, with them wherever they go and quickly apply that to their arms and face and any exposed skin before going back outside," Dr. Robinson notes.
Myth #3: The Higher The SPF, The Better The Protection
While this is not totally true, there is some logic behind the belief. "The SPF number does not reflect the duration of efficacy of the sunscreen; it indicates how long it would take for your skin to redden when using the product," Dr. Idriss says. "So, for example, if you are using an SPF of 30, it would take 30 times longer for you to burn while using the sunscreen versus if you didn't use it all." There is also proof that the higher the SPF, the more protected you will be—but only to a certain point. "SPF 15 blocks 93% of UVB, whereas SPF 30 blocks 97%, and SPF 50 blocks 98%," the New York dermatologist explains. "This may seem like a negligible gain in protection, but if you are prone to sunburns or skin cancers, that little gain can make a world of a difference."
Once you go above SPF 50, though, the difference in protection is quite small. Dr. Robinson says a nickel-sized amount of sunscreen is required to cover the whole face and about a shot-glass full is necessary to cover the whole body. "But if you know that you're not going to follow those recommended amounts—and most don't—then you can actually benefit from a higher SPF," she advises. "In doing so, you can get a similar protection to an SPF 30, which is what those measurements are based on, but you can get it with less than the nickel- and shot-glass-sized amounts." Essentially, it will be more thinly spread than the recommended amounts would, but because it's a higher SPF, it will be roughly as powerful.
Myth #4: People With Darker Skin Tones Don't Need To Wear Sunscreen
"This is a misconception I've been fighting for a very long time," says Dr. Robinson. "While people with darker skin tones are indeed less likely to burn, they aren't immune from sun damage, and oftentimes, it will develop in the form of hyperpigmentation—potentially even more dramatically than sun damage would manifest on lighter skin tones." Additionally, certain conditions, including post-inflammatory hyperpigmentation (dark spots that result from acne or irritation to the skin) and melasma, can be worsened by sun exposure, especially in people of color. So, even if your sun damage doesn't come in the form of the traditional sunburn or freckles, it's still important to wear sunscreen in order to protect your skin from other damage.
Myth #5: If You're Not Prone To Burning, You Don't Need To Wear Sunscreen
Much like the belief that those with darker skin tones don't need sunscreen, there's a misconception that if you don't burn, you similarly don't need SPF. "There's this idea that just because you tan, you're fine, but tanning can actually be a system of sun damage," Dr. Robinson explains. "You can have enough exposure to the point where you no longer burn; your skin just goes straight to tan, and that's not a good thing." Immediate tanning can be an indication that your skin has skipped the warning response of burning entirely, and that's actually a sign that your skin is damaged.
Myth #6: If You Wear Sunscreen, You Won't Get A Tan

Many refrain from wearing sunscreen because they claim it will keep them from achieving that oh-so-coveted sun-kissed glow. But, as Dr. Idriss says, this is once again false. "Sunscreen makes your skin slower to react to UV rays," she notes, "but it doesn't prevent it from reacting altogether." You can definitely still get a tan while safely protecting your skin with sunscreen.
Myth #7: Wearing Makeup That Has SPF In It Is Enough
Absolutely not! "Most makeups that include an SPF are not tested to the extent that sunscreens are, especially compared to the sunscreens that carry extra credentials, like an endorsement from the Skin Cancer Foundation, or anything like that," Dr. Robinson explains. In order to reap the full benefits of the SPF listed on your makeup, you would need to use a hefty amount, up to the size of a nickel, and unless you're a Kardashian, you're probably not equipped to wear that much makeup. You also likely won't be putting makeup on your ears, neck, chest, or any of the many regions of the body that are not the face but are equally susceptible to sun damage, and you won't be reapplying makeup every two hours as you would sunscreen.
Myth #8: Spray Or Powder Sunscreen Is Just As Effective As Lotion
As new agents of delivery have come to the sunscreen market over the years, they've often appeared to be solutions to the stickiness and getting-it-in-your-eye tendency of traditional lotion, and while that can be true, spray and powder sunscreens can also have their shortcomings. "They can definitely be as effective, but a lot more needs to be applied in order to reach the same level of effectiveness," says Dr. Idriss. Unlike lotion sunscreens, applying a spray or powder means that some of its contents will not land on the actual skin, so you'll need to as much as double the amount you're using.
Myth #9: Sunscreen Can Lead To Cancer Or Other Health Problems
While an alarmingly common belief, the idea that sunscreen can cause cancer or any other health issue is founded in no truth. "I wish this myth would go away because it's been disproven time and again," Dr. Robinson says. "Sunscreen does not cause cancer, and there have been so many studies to show that, but they sadly don't make the headlines as much." And if you're really worried, do as Dr. Idriss suggests and simply opt for a physical sunscreen instead of a chemical one.
Myth #10: There's No Real Difference Between Chemical And Mineral/Physical Sunscreens

Although both types of sunscreen achieve the same goal, scientifically, they work very differently. "Mineral and physical are interchangeable terms, and the most common ingredient in those sunscreens is either zinc oxide or titanium dioxide," explains Dr. Robinson. "Those are metals, and if you think about a sheet of metal, you know that it literally just reflects light; so, physical sunscreens sit on top of skin and reflect the UV rays and scatter light." Chemical sunscreens, on the other hand, absorb the UV light and put it through a chemical reaction (their namesake comes from this) that converts the light to heat. "Because the chemical sunscreens have to first absorb the light, they take a little longer to become active, so you can't apply them while you're outside or even right before," the Chicago dermatologist notes. "You have to allow at least a few minutes, which the bottle will tell you."
Some people can be more sensitive to the ingredients in chemical sunscreens, so for babies, children, and anyone with sensitive skin, a physical sunscreen is the way to go. Historically, some consumers have shied away from physical options because they can leave more of a white film, but some recent additions to the sunscreen market have gotten around that with advanced technologies. Dr. Robinson recommends SkinBetter's SunBetter Stick, a physical SPF 56 sunscreen which uses a new technology to uniquely shape the zinc particles so that they sit atop the skin without leaving the familiar white cast. She also loves Eryfotona Actinica from ISDIN, another physical option that uses DNA Repairsomes to repair DNA damage that can come from sun exposure, and Revision Skincare's IntelliShade TruPhysical, which has Vitamin C in it and effectively serves as two necessary products in one.
Myth #11: If You Didn't Wear Sunscreen When You Were Younger And Already Have Sun Damange, There's No Point In Wearing It Now
"Although most of the damage is actually accumulated while you're younger (typically before the age of 18), it doesn't make you immune to worsening damage," Dr. Idriss says. Indeed, sunscreen protects from the visible signs of aging caused by sun exposure, but it also reduces your risk of skin cancer, and that alone is reason to start or continue wearing it even if you've already suffered some sun damage. "I recommend you adopt a 'never give up' attitude," suggests Dr. Idriss. "You only have the skin you're in, and hopefully your life will be long, so you might as well protect and enjoy it every step of the way."
Myth #12: Sunscreen Never Expires
Of all the myths that exist about sunscreen, the notion that it doesn't expire might be the most outlandish. "Sunscreen is doing a lot of work, so when you're applying it, you want to be confident that you're getting the coverage you think you are," Dr. Robinson explains. Like everything in life, sunscreen has an expiration date, and you can find it by looking at the back or bottom of the bottle. As for any wiggle room when it comes to that expiration, like the "five-day rule" for milk, Dr. Robinson says, "we don't take chances with sunscreen."
Images: Retha Ferguson / Pexels; Maciej Serafinowicz / Unsplash; Antonio Gabola / Unsplash; Taylor Simpson / Unsplash
Why You're Breaking Out Like Crazy In Quarantine & What To Do About It
As we approach week 9 (58? 102??) of quarantine, many of us are noticing that our skin is reverting back to its acne-riddled high school days. Seriously, what the hell? We're not spending much time outside getting attacked by free radicals and pollutants, and we have more time than ever to do our involved skin care routines. So, what gives? Dr. Shari Marchbein, a New York-based dermatologist and Clinical Assistant Professor of Dermatology at the NYU Grossman School of Medicine, spoke with us about why our skin is still not behaving even when we're in quarantine, and what we can do about it.
Why Quarantine is Causing You to Break Out

According to Dr. Marchbein, hormones are a crucial reason our skin is breaking out rn. There's no way to pinpoint just one culprit, she says, since our sleep, work, and skin care routines are all out of whack from sheltering in place. The key ingredient in all of these, she says, is stress. 
When we think about hormones, our minds typically wander to testosterone, progesterone, and like, things that relate to the pill or middle school health class. However, Dr. Marchbein explains, the hormone causing our current skin woes is cortisol, "which increases in the blood at times of stress or with lack of sleep and can trigger acne breakouts by stimulating sebaceous glands to make more oil." Increased cortisol, she says, "can worsen other skin conditions such as eczema, acne and psoriasis, as well as cause an increased breakdown of collagen and hyaluronic acid, which is the good stuff that gives skin its glow and plumpness." Yeah, no thanks.
How to Prevent Stress-Related Flare-Ups
To avoid flare-ups in the first place, Dr. Marchbein recommends several ways to de-stress. "First and foremost, get plenty of sleep," she says. When our body is sleep-deprived, it makes more cortisol, causing inflammation and bodily stress. Staying active is also important, according to Dr. Marchbein. Her go-to ways to de-stress are meditating and taking a yoga class. To help reduce your cortisol and stress levels, you can also go for a socially distanced walk, if possible. 
And just like your mom's been telling you for years, "maintaining a healthy, well-balanced diet and drinking plenty of water are key." By following this advice, which tbh you should be doing anyway for your general health, you can be like that meme that's like, "my skin is clear, my crops are flourishing, my depression is gone" (but like, with actual, non-sarcastically clear skin).
How to Treat Acne Flare-Ups

If you've got a particularly aggressive breakout, don't freak out, because here are a number of treatment methods to try. Under normal circumstances (lol what are those), Dr. Marchbein would advise visiting your dermatologist for a steroid injection. These injections "reduce the pain and inflammation of cystic breakouts," she says, but at this point, "most medical visits are being done by telemedicine, and in-person visits should be for true emergencies only." So that's out.
Then what to do about the acne glaring back at you in your reflection? For starters, Dr. Marchbein recommends certain over-the-counter products to treat existing flare-ups. Retinoids are one useful treatment for acne breakouts—Differin 0.1% gel is the strongest non-prescription one available, she notes. Salicylic acid, a type of acid that can unclog pores, is also helpful. 
"I like St. Ives Blackhead Clearing Scrub with salicylic acid and green tea as a gentle scrub, and I use a St. Ives salicylic acid gel cleanser once daily," Dr. Marchbein says. She also recommends stronger 1-2% salicylic acid gel for spot treatment. Products with benzoyl peroxide, which is anti-inflammatory and anti-bacterial, can help calm irritated skin too. Dr. Marchbein likes 10% Panoxyl wash and 4% CeraVe wash. 
Finally, acne patches deliver active ingredients to a pimple. "By occluding the pimple, these active ingredients are able to penetrate the skin more deeply allowing them to potentially work better," she explains. Watch out if you have sensitive skin, though—acne patches might be too harsh for you and could make the situation worse. 
"Most importantly," Dr Marchbein warns, "do not pop or squeeze a pimple, as this will cause even more inflammation and can make a potentially bad situation even worse." I know Dr. Pimple Popper videos can be satisfying, but seriously, don't do this to yourself.
Skin Care Advice in the Time of Public Face Masks

As much as we've been staying indoors these days, we occasionally have to venture out into the real world to stock up on supplies or grab our curbside pick-up order of pad thai. For those of us responsibly following the CDC's recommendation to wear cloth face masks in public, our skin might be suffering. Dr. Rajani Katta, a dermatologist and clinical assistant professor at Baylor University, warns against using masks made of irritating materials like polyester that trap sweat, in a blog post for the Baylor College Of Medicine. She suggests masks made of absorbent materials like cotton, which can help absorb sweat and prevent breakouts. 
If you've got dry skin, Dr. Katta advises moisturizing before putting on your mask, but if you're particularly acne-prone, she recommends skipping greasy products like foundation. "These products can get trapped under the mask and possibly cause more skin issues," she explains. For healthcare workers on the front lines, Dr. Marchbein recommends avoiding retinoids and exfoliants. Wearing abrasive N95 masks daily, she says, "could cause further irritation and shearing of the skin."
If your quarantine = breakout central, all hope is not lost. There are plenty of products and habits that can help repair your skin and prevent further flare-ups. Plus, it's not like many people are seeing you these days. If you've got a particularly nasty zit, just turn off your video on Zoom.
Images: Andrea Piacquadio / Unsplash; Vera Davidova / Unsplash; Breakingpic / Pexels
Drinking White Wine Is F*cking Up Your Skin
Is it just me or are weeks where you have to go to work be a functioning human really fucking hard? Just me? K. We all have our vices for coping with work week stresses. Some people have over-priced exercise classes and the cat they bought to mask their loneliness. Other people take tequila shots and Snapchat their ex at 10pm on a Tuesday night. Nobody's perfect. I, for one, lean on wine to get me through the good and the bad times. Specifically, white wine, because apparently when I unwind watch Pretty Little Liars and judge the downfall of Alison Dilaurentis I need to feel like a real housewife of Orange County. Know yourself. But now I can't even have six glasses a glass of wine anymore because this just in: white wine is allegedly the culprit behind your newly formed skin disease, rosacea.
Once again, dermatologists are trying to sabotage our happiness. First they came for our margaritas by spouting some bullshit about our favorite darty beverage giving us skin rashes and now they're trying to take away my will to live white wine by spreading vicious rumors which I AM SURE are fake news. And if these rumors prove true then all I have to say is welcome to your tape, Journal of the American Academy of Dermatology.

If the panic hasn't set in yet it's probs because you have no clue what rosacea is, so buckle the fuck up because you're in for a rude awakening. Rosacea is not, in fact, an STI (don't lie, one of you was thinking it); but rather, a skin disease that "causes redness and flushing on the face and neck." Which didn't sound that bad until I typed rosacea into Google and discovered that it can also cause face swelling, "acne-like breakouts", bumpy skin, and swollen eyelids. And the hits just keep on coming.
The study that's trying to ruin my life proved a direct link between white wine consumption and rosacea. The data was collected from more than 82,000 female nurses and found that women who consumed one to three glasses of white wine a month had a 14% increase in the risk of developing the skin condition. And just in case you weren't already feeling personally victimized, they went on to say that those who drank five or more glasses a week upped this chance by 49%. *Internally screaming*
I'm sorry, what?? Let's think about this for a moment. Five glasses of wine A WEEK can up your chances of getting a skin disease by practically 50%?? That's like one relatively tame Saturday night or, conversely, my Tuesday night writing this article. And that's all it takes for me to ruin my skin?

Also what do we really know about these "nurses", hmmm? We all know that nurses are just a bunch of nicegirls who want us to "drink more water" and "exercise" and "take care of ourselves." I don't trust it.

So, let me get this straight, if I want to avoid developing a lifelong skin disease I either need to listen to facts given by medical professionals or the feeling in my heart? Now I know what Sophie must have felt when she made her choice.
And if you're thinking, "fuck, it's already too late because I drink enough white wine to rival a middle-aged carpool mom" then doctors recommend that you invest in some Rhofade, a new prescription cream that will make you look less like Bridget Jones during a life crisis and more like a CW star in her prime. The other alternative is to, like, give up Pinot Grigio but unless you want me to pull a "sick passenger" in all my daily obligations then that's a hard pass from me. Sorry.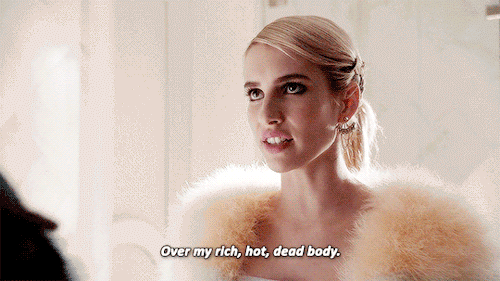 Can we all just blame the Journal of the American Academy of Dermatology for this one? Like enough is enough, people. You already took my margs and I really don't want to know how I'll cope without my Chardonnay. I for one would really like to be excluded from this narrative, please. Thx.
Read: Drinking Margaritas Could Give You This Type Of Rash
Day Drinking Margaritas Can Give You A Rash, Because We Can't Have Nice Things
Unless you didn't get on Instagram yesterday, you may have noticed that we had a casual blizzard in NYC. In MARCH. Because the streets are literal sabotage this morning, and not because I spent yesterday's snow day pounding red wine and binge-watching Riverdale, I fell multiple times on my commute this morning. After busting my ass three times on the sidewalk it's safe to say I'm so fucking over winter and am already counting down the days until I can live my best life summer. I mean, is there anything better than blacking out on a beach with a marg in your hand? Oh wait. We can't do that either because science just proved that margaritas can give you a skin rash. *Prays this is an alternative fact*
We're feeling personally victimized by the American Academy of Dermatology rn because they just announced that margaritas, aka our summer beverage of choice, are apparently causing skin rashes. This is not a drill, people, this is the real deal and it's already fucking up v important aspects of my life. Like brunch and that adult spring break I'm planning instead of answering emails at work. 

In a public service announcement the AAD warned people against phytophotodermatitis, a kind of skin irritation that results from a combination of citrus fruits and sun exposure. So basically if you're drinking anything super citrus-y in the sun (i.e. mimosas, margaritas, anything that brings you joy, etc.) you could break out in a rash.
Hold up, what? No, no, no, no. First, 2017 gives us a giant Cheeto for a president—which should be punishment enough—but then Brad Pitt goes and sends Jennifer Aniston a "u up?" text and I'm just like, okay, that's fucking enough. But now 2017 wants to take away our only coping mechanism to get us through this shitstorm of a year? Just fuck me up right now then.

To be clear, the skin irritation and resulting hyperpigmentation (aka dark spots—as if this couldn't get any fucking worse) isn't from sipping. THANK GOD. It's only a problem when the citrus juice gets spilled directly on your skin and then activated by the sun's ultraviolet rays. So basically, don't be like my sloppy friend Amy and spill your shit everywhere and you'll probs be fine. Side note: I am our sloppy friend, Amy.
So don't you dare let anyone use this announcement to try and take your will to live summer beverage away from you. As a preventative measure you should avoid directly handling lemons or lime—WAIT, does this mean tequila shots are off the table too?? It's like someone read my diary and all my deepest, darkest fears. Well played, 2017, well played. If you're like me and don't listen to medical professionals refuse to give up on something that brings you joy, The American Academy of Dermatology recommends washing your hands thoroughly after touching citrus. If you don't want to do that/are too lazy to go to the bathroom in between tequila shots, the organization did not come out and outright say to designate the ugliest person in your group as the citrus handler, but they basically implied as much. #Loophole
And if you do happen to notice a rash coming on, you'll need to apply a neutral healing ointment or a hydrocortisone cream. You'll also want to slather more sunscreen on your body than my pale AF friend Tina does when we go to the beach, as the rash is typically followed by post-inflammatory hyperpigmentation. Side note: I am also our pale friend Tina.

Great. If you need me, I'll just be internally screaming at my desk contemplating my will to live processing all this information. 
That Shitty Apricot Scrub We All Owned In The 90s Is Being Sued
PSA: St. Ives Apricot Scrub is even more nefarious than you thought it originally was when you found it in your mom's bathroom cabinet and decided to use it because you were desperate. Even though it was covered in mildew. And from 1994.

Apparently two losers with too much time on their hands consumers filed a class-action lawsuit against Unilever (who owns the St. Ives brand) claiming that the product is "unfit to be sold or used as a facial scrub" and "completely worthless."
If only you could sue other things (people) for being "completely worthless."
Here's the gist: Some dermatologists and exfoliant enthusiasts report that the walnut shell powder within the scrub actually tears holes in your skin and can lead to infection and, even worse than death, premature aging.

In response, St. Ives said, "We can say that for over 30 years, consumers have loved and trusted the St. Ives brand to refresh and revitalize their skin. We are proud to be America's top facial scrub brand and stand by our dermatologist tested formula."
Honestly, kind of sounds like they hired Donald Trump to write the statement and then just took out words like "SAD!" and "NICE!" and "TITS!"
In other news, someone alert Gigi Hadid.
Everything you need to know about the St. Ives lawsuit: https://t.co/FhKBhRUQkM pic.twitter.com/7ClSlf5HPd

— Glamour (@glamourmag) January 4, 2017