Anti-Aging Tips From Martha Stewart's Dermatologist
Skin care is incredibly tricky to figure out. It seems as if every minute there's a new product out there promising to give you skin that's softer than a baby's ass, because that's the goal, right? The "eternal beauty" overload has gotten so out of hand that our bathrooms have basically turned into our own personal Ultas, fully stocked with every serum, moisturizer, and anti-aging goop out there. But if anyone has discovered the true fountain of youth, hands down, it's Martha Stewart. You know exactly what I'm talking about: it was the poolside selfie seen around the world. Her smooth skin and smouldering smize sent shockwaves through the nation and had everyone frantically googling her skincare routine. Stewart's flawless thirst trap is proof that age is just a number, and that with the right skin care routine, you too can confidently take filter-free selfies by the pool. While there's no need to go off and start slathering your face with 10 different serums at once, there are certain skin care steps that can help us achieve Martha Stewart's smooth skin. To find out exactly what anti-aging tips we should all be following, I went straight to the source—Martha Stewart's Dermatologist.
Engaging With Anti-Aging
Let's kick this off with what everyone wants to know. How does Martha Stewart do it? According to Stewart's go-to skin guy, private practice Dermatologist Dr. Dhaval G. Bhanusali, MD FAAD at Hudson Dermatology and Laser Surgery, "She is the best!" No argument there. Besides great genetics, Dr. Bhanusali says, "She starts almost every morning with a CBD-based anti-inflammatory sheet mask that we custom made for her." Dr. Bhanusali continues, "For daily serum, we made something that combined hydrating ingredients with those that can stimulate and maintain collagen, as well as antioxidants to fight against the sun's UV rays." And to finish it off, "We created a richer, CBD-infused night cream that calms the skin and helps restore it." So apparently skin care can be as easy as ABC CBD. Additionally, Dr. Bhanusali says, "Throughout the day, we made her a hydrating calming mist to keep the skin looking dewy." Stewart is an absolute stunner, so it's great to hear that her skin care regimen is totally achievable with the right guidance. 
But at what age should you start getting serious about anti-aging? Dr. Bhanusali likes to think of it more as "skin optimization". He recommends that, "Once you're in your mid-twenties, I like to introduce a retinoid to help create the foundation of good collagen production. Into the 30s, I add in more antioxidants and maintenance lasering if needed." Not to give you a panic attack or anything, but you're older today than you were yesterday, that's just a fact, so it's not totally unbelievable to start thinking about preserving your skin. So where do you start? Dr. Bhanusali says, "I am super biased, but I can't stress how important it is to see a board-certified Dermatologist. It's no secret that there are lots of potions and devices out there that don't do much." You can actually end up saving yourself some money by seeing a specialist. Take facial rollers, for example: odds are the majority of you caved with the trend and invested in a jade roller or similar device. According to Dr. Bhanusali, they don't really do enough to justify the price. Instead he says, "My favorite derm hack is to put a spoon in the fridge at night. Each morning, remove it and lightly press it under each eye and gently massage upwards on the cheeks for 2-3 minutes." Costs nothing and depuffs just as well! Big spoon, little spoon, whatever your preference is, it's a lot cheaper than spending your money on a fancy facial roller.
A Wrinkle In Time
Age before beauty? How about we follow Martha Stewart's lead and blend the two. Beauty is timeless, and when you put as much love and care into your skin as you do when ordering a pizza at 3am, beautiful things can happen—like a large pizza and cheesy bread, or skin that's better than any Instagram filter. Aging is a natural progression of life, but that doesn't mean that we can't take measures to slow that process down. For instance, stop sleeping in your makeup. And if you don't think that statement applies to you, then please stop lying about sleeping in your makeup. We all do it. It may not be every night, but we've all gone to brunch with makeup that was leftover from the night before, it happens. So on a scale of 1-10, how bad is it to sleep in your makeup? Dr. Bhanusali rules that, "As a one-off, maybe 2-3 out of 10. If it's a habit, 10 out 10. It can lead to breakouts, oil buildup, and even collagen breakdown over time." Do yourself a favor and leave your makeup wipes somewhere easily accessible after a long day or night out so you can let your skin rest when you do. 
Moreso, if you take anything away from this, it should be that your mom was right about sunscreen. All those annoying times she made you cover up really were important. You should be constantly applying sunscreen, every day. As Dr. Bhanusali says, "Sunscreen should be the staple of the early years and beyond." To get the most out of your sunscreen, you should be using a minimum of SPF 30. Dr. Bhanusali emphasizes, "More than literally anything in the world, it's the simplest and most powerful intervention to not just protect against skin cancer, but also the appearance of fine lines and wrinkles." Just. F*cking. Use it.
The Skin Care Setlist
So, what is the secret to the fountain of youth? While routines will ultimately vary between skin types and individual needs, there is a solution for everyone. Dr. Bhanusali recommends using a "Moisturizer with SPF 30, two types of cleansers , an antioxidant , and retinoids or bakuchiol ." It's cool, we can pause here while you check your cabinets and update your shopping cart. All set? Let's continue. 
Now that you know what you need, it's time to figure out what the hell to do with it all, besides the obvious: put it on your face. Dr. Bhanusali breaks it down. "In the morning: first cleanse, then antioxidant, and finish with moisturizer with SPF. At night: first cleanse, then retinoid/bakuchiol, and finish with calming cream if needed." Dr. Bhanusali also adds that, "Throughout the day, I like hydrating mists or products with a touch of hyaluronic acid to keep skin feeling and looking fresh." 
Within our cleansing routine we should be alternating between gentle daily cleansers and exfoliators. You can't really mess up with gentle cleansers, but exfoliating can require a bit more strategy. Dr. Bhanusali tells us that, "Most people over do it and it's one of the more common causes of adult acne." Yikes. He continues, "I like exfoliation 1-2x a week for drier skin, 2-4x a week for combo skin, and 4-6x a week for oily skin." Choose your fighter and exfoliate with caution and care. 
Now that we have our routines nailed down, it is important to note that occasionally we can all be guilty of doing too much. Skin care is not the time to be extra. Dr. Bhanusali notes that we should, "1,000%" be letting our skin breathe sometimes. In figuring out what works best for your skin, you should first determine what it does and doesn't need. So yes, go for the once a week self-care day and do the clay mask, but like in any relationship, don't forget to also give your skin some space and time to breathe. When in doubt just ask yourself, "What would Martha Stewart do?" In fact, apply that thinking to every aspect of your life and you'll be set.
Images: Everett Collection / Shutterstock.com; marthastewart48 / Instagram
4 Dermatologist Recommended Products To Get Rid Of Pimples
We've all been there—you wake up, bright-eyed and bushy-tailed, ready to seize the day but…there it is, rearing its ugly head and taunting you, a huge-ass pimple. Okay, more like, you roll out of bed, check your phone, then look in the mirror just to face the same inevitable truth: a huge-ass pimple on your face. Your first urge is to pop it, but you know you shouldn't. Then you look at the five million products you've collected over the years and have to decide which one to use today. But will any of them even work?? They all claim to, but every f*ckboy I've ever dated has also claimed he would never hurt me. So, yeah. Men and acne medications are why I have trust issues.
To figure out the best practice for dealing with blemishes, I consulted with Dr. Jill C. Fichtel MD of Transformative Dermatology in Nashville. She told me how to deal with pimples (don't pop them) and what products actually work to treat or minimize them. She also shares her best tips for preventing them in the first place. These are her favorite over-the-counter products to treat acne.

This treatment was previously available only by prescription, but thankfully, is now sold as an over-the-counter product with the prescription-strength acne-fighting retinoid, Adapalene. According to Dr. Fichtel, "It prevents Comedonal acne—the kind that causes blackheads, whiteheads and bumpy skin rather than inflamed pimples—by normalizing pores so they don't clog." She adds that it also has anti-aging properties, which are an added bonus for anyone trying to keep fine lines and wrinkles at bay. Get you an acne treatment that does both.

This benzoyl peroxide wash also used to only be available by prescription. THANK GOD all these companies got with it enough to switch them to over-the-counter for all of us peasants who can't afford monthly dermatologist appointments. Dr. Fichtel said that, while benzoyl peroxide has been used as an antibacterial in acne treatments for many years, it remains an important acne fighter. She says, "This is because it fights acne-causing P. acnes bacteria but does not cause bacterial resistance, even with long-term use." Propionibacterium acnes bacteria (P. acnes) lives in hair follicles in our skin. According to Dr. Fichtel, "PanOxyl also includes anti-Comedone and anti-inflammatory properties and minimizes irritation in part because it is a wash-off product instead of one that you leave on."

Dr. Fichtel says, "This product uses Azelaic acid, the same ingredient used in higher concentrations in prescription products like Azelex and Finacea for acne and acne rosacea." She adds, "Its blend of Azelaic and salicylic acid has pore-normalizing effects that prevent whiteheads and blackheads, decreases the hyperpigmentation that acne marks leave behind." Because, not only do we have to worry about treating pimples, we also have to worry about the potential scarring they leave behind. F*ck you, pimples. Also note, Dr. Fichtel says this product is good for sensitive skin!

According to Dr. Fichtel, this product is a great preventative for acne-prone skin. She says, "It combines salicylic acid and sodium hypochlorite, which helps to eliminate clogged pores and kill acne-causing bacteria. It's also free of steroids, antibiotics, parabens and triclosan and is good for all skin types and ages, including tweens, teens and those with hormonal changes." So if you know any angsty teens out there with skin issues, let them know this is definitely a great option for them. But it's just as great for adults who never got acne in middle school and suddenly get huge pimples on a regular basis in their late 20s. Speaking hypothetically, of course.
5. Dr. Fichtel's Go-To Concoction
Lastly, Dr. Fichtel shared her own go-to treatment for pimples. She said, "Mix benzoyl peroxide-based Persa-Gel 10 Acne Medication with over-the-counter hydrocortisone, let it dry, and put an adhesive bandage over it." Alternatively, she recommends using a baking soda toothpaste with no color, flavor or mouthwash ingredients, again with a bandage.
Now, for preventing pimples in the first place, Dr. Fichtel shares six key tips:
Wash your face every morning and night.
Only use makeup, sunscreen and other skin care products that say "noncomedogenic" on the label. That means they don't cause blocked pores that lead to acne. If that is missing from the label, you're an acne magnet.
Clean your makeup brushes and sponges regularly. Otherwise, they will develop bacteria that you will be rubbing directly onto your face.

 

Don't use old makeup or skin care products. Once the preservatives that prevent the formation of bacteria and fungus break down, applying those products is like inviting a pimple invasion.

 

If you're doing everything right and you still have outbreaks, try using hormone-free milk and dairy products. The hormones in milk can cause acne.
Not all pimples can be prevented. If OTC products and good skin care still leave you struggling to keep your skin clear, speak to your dermatologist for prescription solutions.

 
So there you have it, straight from a dermatologist! Pimples suck, but fortunately there are methods to preventing them and products to treat them.
Images: Judeus Samson / Unsplash; Target (2); Dermstore; Amazon
Betches may receive a portion of revenue if you click a link and purchase a product or service. The links are independently placed and do not influence editorial content.
What Happened When I Ditched My Complicated Skin Care Routine
I first started hearing the words "skin care diet" back in January, when everyone was trying out their favorite wellness hack in honor of the new year. The premise was simple: after ODing on expensive skin care products and indulging in complicated, ten-step routines, some consumers were now deciding to scale back the time and money spent on skin care. Ironically enough, the skin care diet trend (or "minimalist skin care routine") is also a K-Beauty trick—specifically, one invented to "decrease irritation" caused by overly complicated, multi-step routines. By paring back down to the bare minimum, the theory goes, you'll slowly coach your skin back to life.
Of course, this wouldn't be a trend at all if everyone's 10-step routines were going perfectly. Vice interviewed a number of people embarking on their own skin care diets, and all affirmed that, ultimately, the fancy, active ingredient-laden products they had been so excited to buy only made things worse. For several of these skin care dieters, they only realized there was an issue after seeing a dermatologist—others realized after a change in environment, where they were temporarily separated from their skin care products, made them realize that layering on serums wasn't the best way to control their skin.
me: skincare!
my other organs: please help us .

— sam (@smeezi) July 26, 2017
For the dermatologists Vice spoke with, this is an increasingly common occurrence. Rachael Cayce, a board-certified dermatologist in Los Angeles, said she'll have patients come in who list arsenals of 15+ products they're using—daily. Cayce invariably tells them to cut back: "I see 30 patients a day and I'm having this conversation with 15 of them," she says. "Usually what I'm doing is just decreasing their products." KraveBeauty founder Liah Yoo agrees that this decrease is necessary. "People have been piling on so many different products that they've developed redness, sensitivity, and even worse—contact dermatitis," she shares. That's why she's now recommending a simple routine of cleanser, moisturizer, and SPF. The key? No "harsh active ingredients."
I had my own come-to-Jesus moment a few months back, when my skin—for lack of a better term—shut down. All my special toners, moisturizers, and anti-redness gels, so lovingly applied, sat on top of my skin: refusing to sink in, and (I imagine) laughing at me. I had many theories about why this was happening, and like a devoted skin care student, I ran right to my dermatologist. This is the first and only time I'll dermatologist bash (maybe she was having an off day!) but essentially, she told me it was all hormonal, that oil production increases as you get older (rude!), and that I should (I'm paraphrasing) chill out. Then she gave me some moisturizer samples (score) and sent me on my way.
My derm to me:
do a face mask and move on

— ?? (@romanrochelle) January 16, 2017
As anyone who's read my articles on mental health will know, "chilling out" is not something I engage in lightly. Instead, I remembered the accounts of skin care diets that I'd read back in January (this Byrdie one and this Very Good Light one I both find a little excessive, but solid). While the accounts I read still included products like serums and essences in their scaled-back routines, I stuck with the bare-bones approach recommended by Yoo: cleanser, moisturizer, and SPF. My only addition was twice-daily Finacea, a dermatologist-prescribed rosacea treatment I didn't care to live without. Yoo also recommends that you don't wash your face at all for a full week to "reset" your skin before starting. But in the interest of not losing my job, I opted out of that step too. Finally, most of the skin care diet plans I read about recommend not washing your face in the morning—just using a swipe of toner or micellar water.
me w/ scars,acne, oil: cleanser, toner, gel, moisturizer, topical cream
person w/ smooth clear skin: i use water sometimes soap pic.twitter.com/8KYumMwPNd

— have analis's kids (@AK1NNA) April 4, 2017
The results? I bet you wish I had pictures, but to be honest, the biggest change wasn't something that would show up on camera. After about a week, my face finally felt smooth to the touch again. Not sticky with stubborn moisturizer residue, not greasy with excess oil production, and not that super-pleasant roughness I'll sometimes get in dry patches on my cheeks. In the end, I wasn't using so many excess products I needed to cut out: I wistfully stopped using my amazing-smelling toner, I stopped cleansing and moisturizing in the morning (but still applied SPF!), and I chilled out on the drugstore masks I'd been applying three times a week.
To be honest, I was shocked that this actually made a difference—I'd been thinking of the toner as my saving grace all winter. Maybe my dermatologist was (partly) right and I'd had a hormone shift, or maybe the warmer weather was making my skin react different. Either way, I spend less time on skin care than I have in years, and tragically, it did the trick. My skin's not suddenly a luminous, pore-less version of itself (I'm still convinced I would need Kylie-level money and a team of professionals to achieve that): but the stubborn texture problems I was having finally went away.
the first person to exfoliate their face had 2 have done it accidentally right, like tripped and face planted in the sand- wow feels smooth!

— pw (@petewentz) September 13, 2017
Like I said before: no one would be doing this if they were already reaping the benefits of a rich and full skin care routine. All the people who wrote skin care diet accounts were dealing with inflammation, flare ups, and acne that none of their products could fix—and that's when they opted for a reset. So if you're happy with your skin care products, please don't throw out $400 worth of moisturizer after reading this. (Send it to me instead, for when I decide to switch things up again in a month.) If you've been cycling in new serums for as long as you can remember, and are still struggling with flare ups, though, a skin care diet could be exactly what you need.
Images: @smeezi ; @AK1NNA ; @romanrochelle ; @petewentz / Twitter
Are Selfies Actually Ruining Your Skin? We Asked An Expert
Yesterday, I woke up to a text from my mom. Was it an emergency? Of course not. Instead, she was sending me a story she heard about on the radio about how selfies are apparently "as damaging to skin as sunbathing." Naturally, she heard this story and automatically thought of me. How sweet! I really don't think I take a lot more selfies than the average millennial, but nonetheless, I don't want my skin to be ruined just because it takes me 50 pictures to find the right angle. I wear sunscreen every day, so should I be wearing selfie-screen too? I need answers!
First, let's go through what this new report actually says, because I'm a little skeptical. According to "nurse and beauty therapist" (idk what that means) Sara Cheeney, the electromagnetic rays emitted from our phones can accelerate aging at an "alarming" rate. Cheeney says that she "has noticed a sharp rise in the number of patients suffering from selfie-induced skin damage and claims 'the results are quite alarming. I get a lot of bloggers and patients who take selfies every day coming to me and complaining about the issue, and it's an issue which seems to be getting worse'".
First of all, I love the phrase "bloggers and patients," as if bloggers are some different form of humans who don't count as regular patients. Sounds about right. The original article also quotes dermatologist Zein Obagi, who says that he can tell which hand patients use to take selfies based on their skin damage. "You start to see dull, dirty looking texture that you cannot identify on one side of the face."

Excuse me? Are they trying to say that even with a seven-step skincare regimen, the selfies that you can take are making your skin look dirty? This just doesn't seem fair. Also, what makes taking selfies specifically so bad when we're all looking at our phone screens all day long anyway? Needless to say, I was left with some important questions.
In order to get a little more context, I reached out to Deanne Mraz Robinson, Assistant Clinical Professor of Dermatology at Yale New Haven Hospital. She broke things down for us:
"Electromagnetic radiation extends across a spectrum from high energy to low energy. High frequency (energy) radiation can penetrate our skin deeper than low frequency energy.  Cell phones emit blue light, which is also known as high energy visible (HEV) light. This is a form of high frequency and high energy light.  There is evidence that excessive HEV can damage our skin, break down collagen in addition to causing issues such as hyperpigmentation."
Essentially, she's saying that the initial report was more or less correct. The blue light emitted from your phone can damage your skin. But I think the most important thing to note, both from the original story and from Dr. Robinson, is that none of this is specific to taking selfies. Sure, it's more attention-grabbing to say that selfies are going to kill us all, but your phone is emitting blue light the entire time you're using it. Basically…we're fucked?

Dr. Robinson does recommend using protection against the blue light from your phone, and her recommended product for this is the ISDIN Mineral Brush 50, a facial sunscreen powder that "contains iron oxides that protect skin from photoaging and blue light." It's  new product that's not available in the US yet, but once it is, I'll definitely be giving it a try. We could probably all benefit from using our phones a little bit less, but products like this are a more realistic way to protect our skin.
So, should you stop taking selfies? Perhaps. But you're probably not going to, and it's okay, neither am I. But it's good to understand what potential side effects technology has on our bodies, and to make choices with these side effects in mind. That being said, don't ever let anyone tell you your skin looks dirty, because you are not the one.
Images: Vinicius Amano / Unsplash; ISDIN
I Actually Believe In Day And Night Creams Now—Here's Why
As someone who reads and writes about skincare on a daily basis, I find myself hitting something I call "skincare fatigue." Just when I'd mastered toner (kind of), I start hearing about serums, retinol creams, and whatever the f*ck an "essence" is. Thankfully, the concept of day cream vs. night cream isn't new to me—but actually using a different moisturizer for morning and evening is. I'd always kind of figured that "needing" two different moisturizers was just a way for companies to sell you more products. But three weeks in to my new regime, I'm sold. Here's why.
Night Cream Needs Time To Sink In
The purchase that kicked off this whole venture is Tatcha's Dewy Skin Cream, a moisturizer I feel confident in calling pure magic. From the moment I got my hands on all that silky lavender goodness, I loved it so much I wanted to take a bath in it. This moisturizer has brought my skin back to life after a night out, scared burgeoning pimples back into hiding, and—praise be—NOT activated my rosacea, which just about every other celeb-approved moisturizer does. (Looking at you, La Mer. I wanted so badly to love you.)

Now that my shameless Tatcha evangelizing is out of the way, on to the real point. Because I was so excited about this moisturizer, I was using it morning and night—and quickly realized my mistake. I have a four-step routine I stick to: cleanser, toner, treatment, moisturizer. Because the sun exists, and because my skin is so dry that sunscreen alone does not moisturize it, I have to follow up that four-step routine with an SPF cream in the morning—all before adding any makeup.
Now, anyone who's tried to quickly apply five different face products and then add foundation on top will immediately see the problem here. My beloved Tatcha moisturizer is on the thicker side, which is perfect for my dry skin—but it takes a solid 15-20 minutes to be completely absorbed. That would be fine if it were my only morning skincare step, but I also have to give my toner and treatment steps 5-10 minutes each to sink in. That gets us up to 30 minutes on pre-make-up skincare, minimum. In my week of trying to use the Dewy Skin Cream as a day cream, I don't think I managed to put foundation on once. Since I never had enough time to let the moisturizer sink in all the way, even my sunscreen was barely getting absorbed—which means I was going out looking like a greasy, white-tinged mess.
Note: Dewy Skin Cream isn't advertised specifically as a night cream—there's a different night cream from that product line—but that's how it works best for me. As a rule, night creams will be thicker than day creams, and are formulated to moisturize while you sleep.
Me, waking up post-Tatcha moisturizer: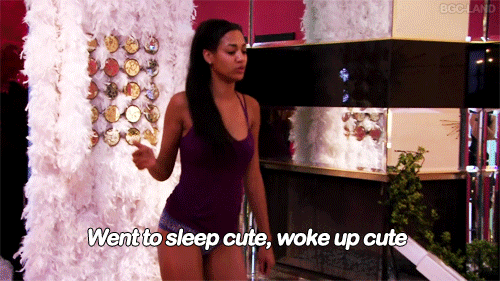 Day Cream Protects; Night Cream Repairs
Day cream, I learned, has one major job: to protect your face from the sun, so basically to contain as much SPF as you can stand. (For reference, I use SPF 46—do not come at me with your SPF 15 liquid foundation). Like I said before, I have a special breed of lizard skin that requires me to pair said SPF 46 lotion with a second day cream—but if you have the option of combining these steps, I strongly recommend you do. I love this one from Origins (so brightening), or this SPF 50 IT Cosmetics CC cream. (No, I don't know what a CC cream is, and my head will explode if I research further.) I own this cream, and would refer to it as somewhere between light coverage foundation and tinted moisturizer.

Scott Disick knows what's up, a sentence I never thought I'd utter.
If you are like me, and SPF products aren't moisturizing enough on their own, I recommend a super lightweight cream that sinks in quickly. My personal fave for this is Cerave, which makes both a day cream and a night cream.
While day cream bears the brunt of sun protection, your night cream can and should have active ingredients too. We've already discussed the benefit of adding retinol to your daily routine, and 2019 is heading toward being the year of glycolic acid. These ingredients are both great, because they help speed up cell turnover, AKA get rid of the dead skin and bring in the new, better skin. Very scientific, I know. However, both of these ingredients also make your skin more sensitive to the sun. I can personally attest to this—this past December, I used a retinol oil and then went out for a day of skiing. Within 24 hours, I developed dark, rough patches of sunburn on my face like I'd never seen before, and they lasted well through New Year's Eve. Happy 2019 to me!
So, while retinol and AHAs are a good addition to night creams, they should absolutely be avoided in your day creams. On the flip side, you're welcome to put on SPF at night—but unless you're sleeping at a campsite, I'm not sure why you would.
Ultimately, you could just say f*ck it and use the same lightweight moisturizer with zero active ingredients for both day and night (plus sunscreen, obv). But if you have skin that's on the dryer side, I highly recommend investing in a thicker night cream—and not making the mistake I did of piling it on in the morning, too.
Images: Tatcha; Giphy (2)
This Is The Best Order For Your Skincare Routine
Judging from all the "gifts to give yourself" guides out there this season, I gather I'm not alone in treating December as "spend yourself blind" month. (Also: go get the Skin Laundry facial that list recommends; it's amazing.) And what better way to spend a sh*t ton of money invest in yourself than by amping up your skincare routine? In the past two weeks, I've added a serum, a facial oil, and an "elixir" to my fairly basic four-step routine. But within twelve hours of my exciting new purchases, I realized I had no idea how to use them correctly. Skincare products all tend to list "apply daily to clean, dry skin," but that's about it. So, in an attempt to not waste my new goodies, I actually sat down and researched. Here's what I've learned about the best order for your skincare routine.
Step 1: Cleanser
All authorities I consulted concurred on this. The first step in any skincare routine should be cleaning your face. If this strikes you as surprising, then I have the perfect gift for you. Enjoy!
Step 2: Toner
Byrdie offers a little dissent here, suggesting that Step 2 should be exfoliator, not toner. However, my skincare-savvy readers will know well that not all skin types require and/or take well to regular use of an exfoliant. And very few exfoliants are suitable for anyone for daily use. (You can go shave your back now Byrdie!) Anyway, exfoliate if you need to, but consider it part of the cleansing step of your routine. Toner then clears away any remaining makeup/product, as well as doing whatever else the bottle promises (tightening pores, evening skin tone, giving you eternal life, etc.).
I've written more about toner types here, but Cosmo offers a key tip I'll include. If your toner contains an AHA (like glycolic acid or lactic acid) or BHA (like salicylic acid), you'll want to wait a "full five minutes" before moving on to your next step. Otherwise, you'll neutralize the acids, rendering the active ingredient useless. (Moment of silence for all the toner I've wasted on my face please.)
Me @ my toner:

Step 3: Serums/Eye Cream
Once again, all my sources voted to use a serum as step 3. Cosmo describes serums as "shots of extremely concentrated nutrients, hydrators, and antioxidants." Like with toner, you'll want to pick the specific one based on your skin's needs. The one I've recently invested in contains Vitamin C, a common dermatologist recommendation. But you can also use different serums in the morning and at night, in which case you could swap in a hydrating serum at night. Again, all depends on your skin.
Eye cream, which I've realized over the course of my research is still lacking in my skincare routine, is a slightly more conflicted issue. Cosmo says to apply after serum and before moisturizer, since eye cream "tends to be lighter and thinner," and can't "penetrate thicker products," AKA your moisturizer. Dermstore suggests using it before serums in the morning, but after serums at night. (And it stresses the importance of applying twice daily from a young age—good thing I have endless money and time, am I right??) For Dermstore, the key thing is to apply eye cream before your "treatments" (more on that in a minute), to "protect your eye area against potent ingredients." Both of these rules make logical sense to me, so if your serums has potentially irritating ingredients, do eye cream first. And def do it before moisturizer.
Side note: this research has also convinced me that I've been applying my new serums at the wrong time, in addition to neutralizing my toner.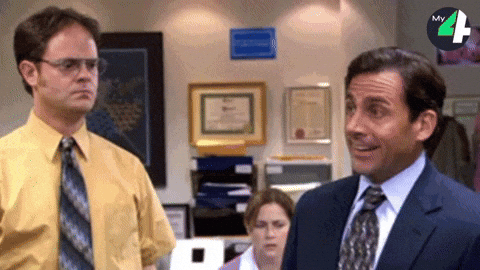 Step 4: Treatment
If you're thinking "treatment? what's that?" you either have perfect skin and I hate you, or you need to get to a dermatologist ASAP. "Treatment" can refer to a spot treatment (active ingredients will vary depending on whether you're treating acne scars or regular old pimples), or prescription treatments for acne or rosacea. (For example, I use my Finacea foam for rosacea during this step—though for the past two weeks I've been using it before my serum. Ugh.)
Dermstore again recommends different things for your night routine here. At night, they suggest you add any "mists, essences, beauty waters, or hydrating (hyaluronic acid) serums" to your toner step—applying "from thinnest to thickest." (I can't really begin to wrap my head around what those products are, but Dermstore sums them up as "skin care boosters" whose purpose is "mainly to hydrate." Cool.) Then, Dermstore recommends chasing your nightly eye cream with whatever treatment serum your skin needs that night. So, not just blindly slathering on every product you own (strike three for me).
Specifically, they advise against using an exfoliating treatment (AHA/BHA pads, peels) the same night as any prescription meds or retinol creams, since the potency can quickly become irritating. And they recommend using an exfoliating treatment no more than three times a week. In simpler terms, it sounds like alternating a prescription treatment or retinol with an exfoliating treatment is the best way to go.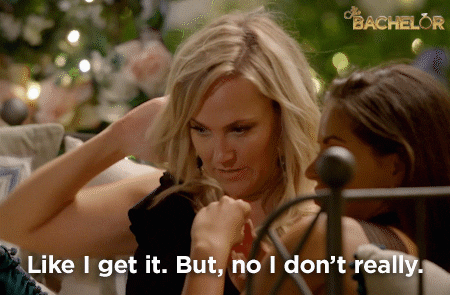 Step 5: Moisturizer/Face Oil
Once you've gotten to moisturizer, you know you're nearly there. (Good job! Now you just have a 16-step makeup routine to get through). For your nighttime routine, Dermstore recommends adding face oil before your moisturizer, with the warning note that "if you are using the right moisturizer…nothing is going to get through it." Cosmo, however, vehemently disagrees, stating "no products can penetrate an oil, which means they need to be applied last." Cosmo also recommends putting a retinol-based product between moisturizer and face oil, while Dermstore lumps in retinols with your pre-moisturizer treatments. One of my new products is a face oil that contains retinol, so no matter what I do I'll be f*cking up one of these rules.
My best advice here is to try it both ways (the order of your oil/moisturizer/retinol), and see what feels best to you. Since oils and moisturizers vary in thickness and active ingredients (and everyone's skin is different!), do whatever feels best for your face. In my case, I've found that mixing the face oil with moisturizer is most effective for absorbing both products.
Step 6: Sunscreen
This is a morning-only rule, obvs, but it's also one you need to follow every single day. Is it annoying? Yes. Does it feel like it will solve all your problems, like serums and essences do? It does not. But just do it, because otherwise you'll get dark spots and sun damage that only a laser can fix. And that's way more expensive than even the fanciest sunscreen option.
Hilary Duff may not be able to name babies, but she can still give good skincare advice!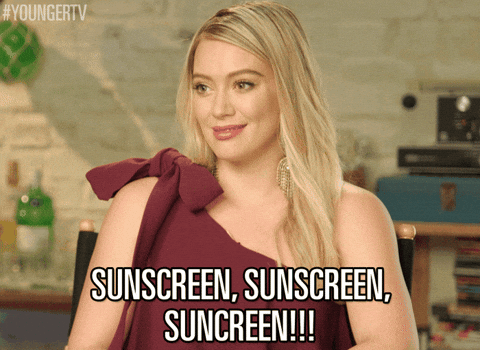 What have I learned from this article? Well, I've wasted at least $50 of skincare products in the past week, that's for sure. And my vague inkling that I was loading on too many products every day was validated. My final note here is that if any of this advice goes against what a dermatologist has told you—go with the dermatologist. My dermatologist gave me the simple outline of "cleanse, treat, moisturize, sunscreen," and actively warned me against incorporating anything else. It's only because I've followed her advice faithfully for six months that I feel comfortable building back in other products. So, listen to your doctor, listen to what your skin tells you, and if you have an eye cream you like, hit me up in the comments—I'll be spending the rest of my afternoon shopping.
Images: Shutterstock; Giphy (4)
I Got One Of Those Facials That Sucks All Of Your Toxins Into A Jar
I admittedly am not someone that loves to get facials. I think I've gotten maybe three at the most in my lifetime. Which is weird considering I've pretty much made a living off of testing and reviewing new hair, makeup, and skin care tools, products, and procedures. But for whatever reason, I've never been big on facials. That was until I saw the Dermalinfusion treatment pop up on my newsfeed. The facial is a 3-in-1 dermatological treatment that exfoliates, extracts, and infuses the skin with customized serums at the same damn time (*Future voice*). It is described as a safe and effective alternative to microdermabrasion. And, it's said to instantly hydrate and plump the skin in just one 20 minute treatment.
As soon as I saw the Dermalinfusion device working its magic, I knew I needed to try it out. The device, which is a pen-like tool with a diamond-shaped tip attached by tubes to a tiny machine filled with the customizable serums, essentially suctions, exfoliates, and vacuums away build-up on the skin. Then, it deposits it into a glass cylinder which the patient can then see. (I don't recommend that if you have a weak stomach, though.)
If we're being honest, the real reason I wanted to get this procedure done was because I'm a gross person. I wanted to be able to see the gook that came out of my face. Yup, I am that sicko that religiously tags and sends "Dr. Pimple Popper" videos to my friends and family members. I think I even made my mom throw up one time with a particularly bloody cystic pimple clip. So the idea of being able to see what was in my skin after it gets extracted was super appealing to me. The instant results were a nice added bonus.
The cool thing about the Dermalinfusion treatment (besides the fact that you can see what is extracted from your skin) is that it is extremely customizable. It can pretty much be used on any skin type to target each of your skin concern. The treatment can be used as an instant and long-term solution for improving issues like hyperpigmentation, dark spots, sun damage, inflammation, fine lines and wrinkles, dry skin, enlarged pores, oily, and congested skin. Depending on your skin concerns, the aesthetician will concoct your custom pro-infusion serum.
Before The Treatment
For my Dermalinfusion treatment, I visited the offices of Dr. Monica L. Halem on the Upper East Side in NYC for an appointment with Medical Aesthetician, Cynthia Rivas. Prior to taking a seat in the facial chair, I talked with Cynthia about my skin concerns. It include enlarged pores, hormonal acne, and blackheads. I also let her know that the tan on my face was in fact from self-tanner (Isle of Paradise's Purple Self Tanning Drops, to be specific) and not from the sun.
Cynthia then informed me that most of my bronze glow would likely come off during the treatment (and end up in the jar) because of the exfoliation, which I totally understood/was okay with. So for my specific serum, Cynthia mixed up a salicylic acid serum with a hyaluronic acid serum. The salicylic acid was added to clear my pores and then reduce their size, as well as to prevent and fight breakouts, and the hyaluronic acid serum was for hydrating and plumping my skin.
During The Treatment
I showed up to the appointment bare-faced without a stitch of makeup on (I'm so brave). Cynthia assured me, though, that if I had decided to wear makeup, that she would've taken it off before the treatment. So I hopped on to the facial chair and Cynthia went to work on my skin. The entire treatment only took about 20 minutes. Unlike a lot of other different types of facials, there was no pain, discomfort, or downtime.
As for the treatment itself, it basically felt like Cynthia was running a tiny vacuum hose along my face. In a weird way, it was kind of soothing. According to the aesthetician, my congested area is along my jawline. So that is the area that she really focused on throughout the treatment. Cynthia was done vacuuming my skin in a shorter amount of time than it takes for me to vacuum my small two bedroom apartment.
After The Treatment
Immediately following the treatment, my skin was just a tiny bit flushed but very plump and lifted. The minor redness was solely a result of the fact that I just spent 20 minutes having my face vacuumed, not because of any irritation. My complexion went back to its natural coloring within just a few minutes. As soon as I walked out of the derm's office, my formerly enlarged pores appeared to be a lot smaller. I actually looked like I swiped Snapchat's "pretty filter" across them.
And now for the good part: my glass cylinder of face gunk. The cylinder got filled with a lot of liquid, because there is so much serum that runs through the tubes during the procedure. Not all of it ends up getting infused into your skin. Since I had self-tanner on my face, I had a feeling that my cylinder would be filled with a bronze-like substance. And it definitely was. When Cynthia held the glass up to the light, you could see tiny blackheads, dirt, and impurities floating around in the brownish, yellowish fluid (that admittedly looks kind of like pee.)


The Takeaway
My face looked dewy, plump, and smoother as soon as I got up from the facial chair. But I didn't notice a drastic change in my skin after just one session. I think the Dermalinfusion treatment is great for when you want plumper skin and a quick glow almost instantly. However, it takes more than one treatment to really make a difference in the overall texture of your skin. According to Cynthia, she typically recommends a patient get three treatments about two weeks apart to really see maximum results.
Considering one Dermalinfusion appointment costs about $150 on average, I'd say that it's worth investing in more than one session to really arrive at the results that you want, versus shelling out $150 just for one session to get a quick, dewy glow, (there's plenty of serums and at-home face masks you can use for those kinds of quickies.)

Images: Kelsi Zimmerman; Giphy (1); Noah Buscher/Unsplash
Skin Care Diaries: My Four-Step Routine For Highly Sensitive Skin
As you can probably tell from the title, this skin care diary entry will be less sexy than others we've published. Welcome to the world of sensitive skin. I graduated college a little over two years ago, and it's been an absolute whirlwind watching my skin and metabolism compete over who can deteriorate faster. I've never suffered from serious acne (*knocks on every piece of wood in the tri-state area*), but my post-grad skin has offered up plenty of dullness, dryness, and increasingly visible pores. I also developed what I refer to as "my problem cheek," and my dermatologist refers to as "rosacea." Basically, one stubborn patch on my face is perpetually red with some bumps—not quite pimples but just not smooth.
Before I finally caved and saw a dermatologist about it, I was convinced I had chronically dry skin and was layering on fancy oil-based serums and thick moisturizers every night. I genuinely believed that the more I spent on a skin care product, the better it was for me. But here's the honest, tragic truth about my (highly sensitive) skin. Just about anything I do to it beyond doctor-recommended cleanser, treatment, and moisturizer only makes it worse. As my dermatologist explained, the rosacea means that my skin barrier is damaged. So any products I'm applying don't actually soak in. They just settle in the top layer, creating that fun bumpy texture I was describing.
Long story short, many of the fun, bougie skin care products I'd love to try are off-limits to me. All those "intensely moisturizing" products I used to swear by? They make my oil-prone areas worse, and ultimately clog my pores. Any physical exfoliants just activate my redness-prone rosacea patches. And forget about face makeup. Any time I go for a full face of foundation, or—God forbid—highlighter, which I seem to be allergic to in every brand, I accept that my skin's overall appearance will take a hit for the next three days. So, I've worked very hard to assemble a routine that keeps my sensitive AF skin smooth, even, and pimple-free. If your skin is more dramatic about a change in routine than you are when asked to attend a 9am meeting, read on. Here are the products I've found really work.
My sensitive skin every time I try to introduce a new product: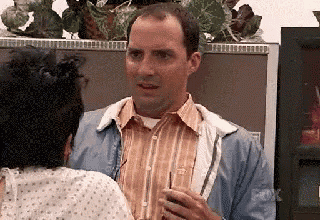 My Routine
Face Wash: I wash my face morning and night with CeraVe Hydrating Cleanser. My dermatologist recommended it, and it makes my face feel crazy soft. I'll double cleanse on days when I bothered to put on make-up, or if I skipped my routine the night before. And while I'm sure that a Clarisonic or the equivalent would make it even more effective, I frankly just do not have the time or patience to use one. Plus, I kind of hate reusable skin care accessories because I'm a germophobe and convinced they're growing bacteria. This is a problem I imagine could be alleviated by like, cleaning it, but once again I am lazy/perpetually short on time.
Toner: I follow (most) cleanses with Belif Witch Hazel Herbal Extract toner. In the words of my dermatologist, it's "not really doing anything," but she graciously invited me to finish the bottle I'd just purchased. Despite her (rude) commentary, I like the idea of an additional cleansing step while living in the cesspool of dirt known as New York City. Also, it smells refreshing and makes me feel fancy. As I mentioned before, most products that fit that description give me some kind of weird reaction, so I really appreciate the ones that don't.
Prescription: Once my doc determined that problem cheek = rosacea, I was given a prescription for an azelaic acid called Finacea Foam. It treats the redness and bumps caused by rosacea, and I use it twice a day after cleansing and before moisturizing. While it hasn't 100% cleared up the problem, I've gone from having bumps spread across both cheeks to one small patch (damn you, problem cheek!). The overall texture has also greatly improved, and what was once a weird blotchy redness now shows up as more of a flush after hot showers/working out. Highly recommend.
Spot Treatment: This is not dermatologist-approved behavior, but if I see a pimple coming on I'll dab some spot treatment with salicylic acid on the area before locking it all in with moisturizer. It's a little annoying because I have to wait for an additional layer to dry, but fully worth it if you can stop a burgeoning zit in its tracks. If I go a little too nuts and start using it daily I end up getting dry and triggering some redness, but in moderation I find this kind of product to work wonders. My two faves are Clean & Clear Advantage Acne Spot Treatment and Neutrogena Rapid Clear Acne Eliminating Spot Gel.
Sunscreen: I use EltaMD UV Clear Broad-Spectrum SPF 46 every morning, at my dear dermatologist's behest. Apparently rosacea can be triggered by sun exposure, so I guess this plays a role in calming it down. Honestly, I struggle to get excited about any product from which I don't see immediate effects, but I know it's good for me and I feel lightly smug for using it for that reason. Also, it sinks in quickly enough and replaces my moisturizer in the morning.
Moisturizer: I use CeraVe PM Facial Moisturizing Lotion every night and some mornings, depending on how dry my skin is feeling. I love it because it's lightweight, has the same silky feel as their cleanser, and doesn't sit on top of my skin like all those fancy jar moisturizers I was buying for years did. Does it make me feel rich and chic? No, but it also doesn't cost me $50 every six weeks, and my skin is way softer. I'll take it.
Serum: Eminence Facial Recovery Oil. My dermatologist all but begged me to throw this out (in her words, "I don't think more oil is what you need right now"). But I'll still dab a little on my forehead every now and then because I can't help myself. Nose, chin, and cheeks are off-limits for this riskier product, but I'll mix a little in with my moisturizer and apply to my forehead a few times a week. It smells amazing and my sister swears it's improved her fine lines.
Wednesday
Morning: Cleanser, toner, Finacea, sunscreen. I have a week-old pimple on my cheek, and last night I put on a bunch of spot treatment and extra Tretinoin on the area, plus Neosporin since I keep picking it open. (Don't @ me, it works.) The pimple is finally fading from view, but I see two to three more bumps lurking below the surface. Problem Cheek, will you ever set me free??? I've tried changing pillowcases, changing what side I sleep on, never holding my phone to that side of my face… nothing works. I take a few pictures in hopes of taking you on a visual journey, but I'm on week 7 of a 10-week shoot and the bags under my eyes/general lifeless demeanor are a little much to take.
Evening: Cleanser, Finacea, moisturizer. No spot cream or toner because I just worked 14 hours. Moisturizer I applied lying down maybe three seconds before passing out. I manage to apply more Neosporin to my cheek spot, though, because at this point I've been wrangling it for nearly 10 days and it's all I can think about. To anyone reading this: do not pick your face until it bleeds, no matter how fun and genuinely helpful it seems in the moment! I fall asleep praying it will heal overnight.
My poor, picked-at skin: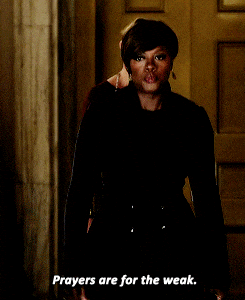 Thursday
Thursday morning I don't have to be at work until 9am. This would be better news if it didn't mean I'll be there until 11pm. However, the extra time in the morning means I can cleanse, tone, apply Finacea, and put on sunscreen all in the comfort of my home. I'm sad to admit I sometimes apply sunscreen on the subway, which I am aware makes me gross. I have a thing about layering products too quickly. I worry I'm just diluting one product with another if I don't give them time to dry. If I'm totally wrong on this, PLEASE call me out in the comments. I would love to stop putting on sunscreen with hands that just touched subway poles.
I'm not home until 11:40pm, as expected. As I dutifully cleanse, tone, Finacea, and moisturize, I realize something miraculous. Cheek pimple is, if not totally invisible, highly faded. Neosporin saves the day again. I stare at my nearly clear cheek and think about how I definitely would have skipped washing my face tonight if I weren't writing this diary. This makes me think I should start journaling my food, too. Then I eat four bite-size candy bars I stole from work and fall asleep.
Friday
Today is an exciting skincare day for you all! I'm working from home until 6:30, so I don't get out of bed until 11. I don't do anything to my face because I want to work out first, a dream it takes me two hours and 15 minutes of yoga to give up on. I wash my face in the shower, then put on Kiehl's Rare Earth Deep Pore Cleansing Masque. It's my go-to for all generalist, make-my-skin-look better needs. It's great for calming down redness and inflammation, improves overall tone, and just makes your skin look clear.
After, my skin is looking the best it has all week. The cheek pimple is totally gone, and those bumps I was complaining about on Wednesday seem to have died down too. I add toner, Finacea, and sunscreen. After sunscreen, I add my new favorite no-makeup makeup product: Smashbox Photo Finish Foundation Primer. This is the closest thing to foundation I can wear without triggering a breakout, and despite being sheer, I swear to God it visibly blurs away my flaws. Friday night, I cleanse/Finacea/maybe moisturize? I spent my evening getting high and watching Vanderpump Rules, so I honestly don't remember. I do remember eating a Twix bar at 1am and thinking the single greatest thing I could do for my health is cut down on sugar, so take that as you will.
Me: I should cut down on sugar!
Also me every time I go out: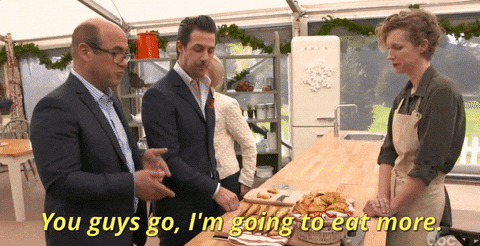 Saturday/Sunday
Saturday morning, I cleanse and tone, and get dressed in a rush waiting for toner to dry. Then I add Finacea and try to find my insurance card for a doctor's appointment for 10 minutes. Two hours later, I remember to moisturize—hope it still counts for something. No sunscreen today, oops. Saturday night I make a genuine attempt to go out. But I still end up asleep on the couch before midnight. At least I manage to wash my face before crashing. I tell myself I'll put on Finacea and moisturizer in bed. I don't.
Sunday morning I've slept for an annoyingly long time. I cleanse, tone, Finacea, and moisturize—no sunscreen. My skin's feeling dry since I fell asleep without moisturizing the night before, and I don't really plan on spending time outside anyway. I go to the movies, where I realize the junk food and half-hearted skin care Saturday has resulted in two new bumps rearing their heads on Problem Cheek. I tell myself I'll do a mask and spot treatments that night. Instead, I drink two margaritas at 5pm, and barely manage to cleanse/tone/Finacea/moisturize. I suck.
Monday
I wake up at 4:30am, regretting Sunday's margaritas with every bone in my body. I seriously consider quitting my job for five minutes, then get out of bed and cleanse, tone, Finacea, sunscreen. Monday night, I get home "early" (7pm), and treat myself to some salicylic acid spot treatment following my cleanse/Finacea/moisturizer routine. No toner because I'm already tired at the prospect of the spot treatment, but the bumps I saw at the movie theater Sunday don't seem to be going anywhere on their own.
Tuesday
Tuesday morning I cleanse, tone, Finacea, and liberally apply sunscreen to try and make up for the fact that I don't have time to apply moisturizer (and wait for it to dry). At work, I read a different skin care diary in which someone who clearly has more money and better skin than me also swears by salicylic acid for clearing breakouts. Even though the salicylic acid product is the only one in her routine I can remotely afford, I allow myself a brief moment of smugness. I also remind myself that fancy $100 skincare items have never done anything but made me break out.
Tuesday night, I cleanse/tone/Finacea, and add more spot gel (Clean & Clear) to those bumps on my cheek. I can't be sure if they're actually pimples or just rosacea bumps, but I feel hopeless if I can't even pretend I'm treating it. I tell myself I'll moisturize in bed, and as I'm sure you can guess, I do not. At 3am, I wake up, realize my mistake and moisturize. It's terrible.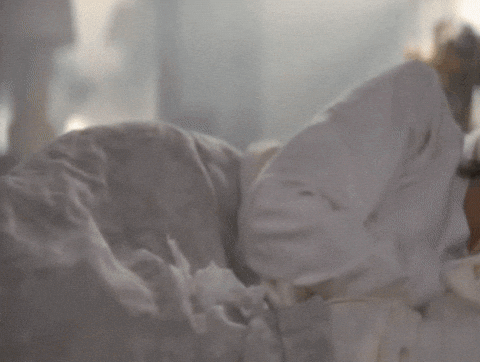 All in all, the moral of my not-so-exciting skin care routine is that I've (reluctantly) stopped chasing Instagram-perfect skin. And both my wallet and face are a lot happier for it. I don't use drugstore products because I'm low-maintenance and don't GAF. I use them because the alternative is spending $78 on a moisturizer that sits on top of my broken skin barrier and makes me break out. So if you have sensitive skin like me, remember that the #1 investment you can make is a dermatologist, and when you're rich, biannual microneedling and injections. Can't wait.
Images: Giphy (4)