Muting People Saved My Mental Health
For me, it all started with Myspace's Top 8. In case you're not in your mid to late twenties (b*tch), this was something we cave people were subjected to back in the early 2000s. On your Myspace page where you posted songs by the Black Eyed Peas and wrote your boyfriend's name with a whole bunch of "<333333″s, you also ranked your favorite people on the platform. In order. For everyone else to see.
Now, your Top 8 wasn't to be taken lightly. It was the space reserved for your BFF, your S.O., the popular girl you were trying to befriend, and your sibling who bullied you into putting them as number four. Got in a fight? Your frenemy got demoted or removed from the coveted section. Holding hands with someone new? They quickly got a spot on the leaderboard. It was the first big way to say "here's who I like, here's how popular I am, here's how I'm judging others", and we lapped that sh*t up.
When the Top 8 first started, it didn't make me feel bad, exactly — it was more like a game. Find ways to level up, get on other peoples' boards, gain virtual popularity. It wasn't until my first serious boyfriend moved "Anna" (a random girl from one of his classes) in front of me that social media made me feel like a failure for the first (and definitely not the last) time in my life.
Myspace's Top 8 was how I found out Tyler (name hasn't been changed — hi, Tyler) was cheating on me (again, for the first, but not the last time). It led me on my first ever stalking spree, where I stared at photos of Anna, comments from Anna, likes by Anna all night, trying to figure out what she had that I didn't (besides boobs). Trying to figure out why he wanted her when I was already in love with him. That night led me on a decade-plus long cycle of "feel inadequate, stalk, feel more inadequate, stalk." It's some sick, masochistic sh*t, and while I'd love to say that's all changed in the 10 (okay, 12) years since I sat on my twin bed, crying to P!nk… uh, no such luck.
Social media has absolutely obliterated my self-confidence, my happiness, and my mental health. And it's probably done some serious damage to yours as well.
Now, it's pretty much common knowledge that social media is basically the devil. It's addictive. It's dividing. It leads to depression, anxiety, and unrealistic perceptions of beauty. It gives you sh*tty posture. But, in case you didn't watch The Social Dilemma on Netflix like everyone else (which was probably suggested to you by a friend on, yup, social media), here's the deal. From the National Center for Health Research:
"25% of 18-25-year-olds report having some form of mental illness. Depression is particularly increasing among girls. Some researchers have suggested that this increase in mental illness is, at least in part, connected to the rise of social media use among adolescents and young adults."
Wait, there's more. From Child Mind Institute:
"Teenage and young adult users who spend the most time on Instagram, Facebook, and other platforms were shown to have a substantially (from 13 to 66%) higher rate of reported depression than those who spent the least time … A 2017 study of over half a million eighth through 12th graders found that the suicide rate for girls increased by 65%."
Last one for good measure, from McLean Hospital (affiliated with Harvard Medical School):
"In recent years, plastic surgeons have seen an uptick in requests from patients who want to look like their filtered Snapchat and Instagram photos."

So yeah, social media is super bad, which is something you — just like I — probably already knew. But, much like tequila or texting exes, that hasn't stopped any of us from continuing to pose, post, and peruse. And while once upon a time we had to log onto a computer and search for people to investigate, algorithms are now so smart, they decide who we stalk, when we scroll, and how long to keep us engaged.
It wasn't until my wedding in 2018 that I actually realized how bad Instagram made me feel. After waltzing down the aisle, I quickly found myself jealous of engaged friends — total hater sh*t, I know. But after spending so long planning my own event, the post-wedding blues hit hard, and I hated seeing other people post their ring selfies and bachelorette photos. I was sad, I was uninspired, and I was jealous. So on a whim, I muted every single one of my engaged friends. Every. Single. One of them.
I didn't want to unfollow or block them, because frankly, that felt too b*tchy, and besides, it's not like I didn't like them anymore. I just didn't like seeing them so blissfully happy. I felt empty after spending months DIYing and pinning and being the center of attention. It wasn't exactly rational, but their posts made me feel bad and instead of just continuing to feel bad, I decided to stop seeing their posts altogether. And just like that, my love of muting became a way of life.

After the engaged people came the girl in my friend group everyone else loved but I couldn't stand. Then competitors in my field who always seem to be outpacing me. Then the really hot people. Then some of my best friends whose posts just kinda… annoyed me. I used to think muting someone was the ultimate "f*ck you," but now I look at it as a means of self-preservation. I'm literally under no obligation to look at someone's over-filtered picture. And just because I muted someone, it doesn't mean I hate them IRL (unless, of course, I do). It just means their posts — at least at the moment — make me feel bad. So why not just stop looking at the thing that makes you feel like trash?
Nowadays I mute freely and without thought. Sometimes it'll be just for a brief period of time and then eventually I'll go back and unmute, and other times friends are muted for the long haul. It doesn't really matter, because the worst case is I forget and I never unmute someone. And like, not to quote Kourtney or anything but, "there's people that are dying" — not liking someone's weight loss picture isn't the end of the world. Ultimately, social media made me feel fat and lazy and untalented and jealous. Now, I've whittled down my timeline so it makes me feel, well, not good, but at least a little less horrible.
While it's not a cure-all — muting is an avoidance tactic, and you need to do internal work to figure out why what you're seeing makes you feel inadequate — it's definitely a way to not only make social media more enjoyable, but take back a little control over what you view. It's not a great idea to just stopping looking at things that make you feel uncomfortable altogether. It's important to see differing political views and perspectives to form rounded opinions. But social media doesn't have to be a way of life and if looking at your sorority sister's abs a month after giving birth makes you feel sad, then bon f*cking voyage. Mute away.
Granted, deleting your social media accounts would probably make you feel the best and free you from the toxic cycle, buuuuuut if completely nixing your handles feels off-brand, editing your timeline is the next best thing. The next time you look at someone's post and feel that pang of inadequacy, instead of spiraling down into a vat of self-pity, just mute them! Before long you'll probably find that your self-confidence has risen and your screen time report is slightly less embarrassing. Win-win.
Images: Kate Torline/Unsplash; Giphy (3)
Quarantining With Your S.O. Is Bad For Your Relationship, Study Finds
Quarantine has done a lot in the way of ruining lives. In addition to death and illness and loss of work and the production of new seasons of our favorite shows being put on hold and canceled weddings, it turns out, coronavirus is taking yet another perk of being human hostage: our sex lives. But don't just take my word for it: The Knot teamed up with Lasting (a marital app owned by The Knot Worldwide) to pull together a State of Relationships Report. This covers everything from marriage and engagement fulfillment, what people are fighting about, what people are doing to grow their relationships, and so on. There's a lot to take in from the April 2020 report, but what really stood out to me (and my vagina) were the sex stats. Basically? It seems a global pandemic is one hell of a turn-off.
So, Lasting is like a therapy app for couples. It's used as a tool for mental health pros and everyday couples to build and sustain healthy relationships. In light of everything going on, they took a look at their onboarding findings as well as the results of an email questionnaire sent out by The Knot. Over a thousand couples' data was crunched, and it turns out, this is a very weird time for relationships. Who would have guessed? According to the research, only 18% of couples are satisfied with their relationship communication and couples are 35% less likely to discuss conflicting issues in healthy ways than they were before. But wait! It gets worse!

As you can imagine, more and more couples are staying home and seeing each other more often. This means being exposed to things like their partner's weird work and snacking quirks, as well as just having to see their face ALL THE TIME. Close to half of the population is now spending 20+ more hours with their SO due to social distancing. Turns out, additional time together doesn't make for happier marriages. In fact, slight conflicts are getting a lot more attention. 29% of married couples have seen their relationships weaken since the start of COVID-19, and 4 out of 10 couples say they're fighting with their partners now more than ever. Uh-oh.
The most common thing they're fighting about? You betcha—it's sex! More specifically: how often they're having sex.
With additional financial stress, the lack of outside stimulus and excitement, plus a general sense of uncertainty and distress, it makes sense that people might be feeling less horny. Everyday stress causes low libido, so with a literal global pandemic, not feeling up to getting naked and banging checks out. Basically what happens when you're stressed is your body goes into fight or flight mode. Your heart rate, blood pressure, and breathing rate increases, and non-essential functions, like sex drive, are diminished. According to Verywell Mind (and like, Biology 1o1), "This response also triggers the release of hormones, such as cortisol and epinephrine, which in high levels can cause decreased sex drive … your interest in sex."

Back in 2018, roughly 18% of the population had an anxiety disorder, according to the Anxiety and Depression Association of America. That was before people weren't able to leave their homes, visit loved ones, and were in constant fear of spreading or catching a deadly virus. I may not be a scientist, but me thinks these rates have gone up (and according to Harvard, I'm like, so smart. Turns out, mental illness is on a rise).
For folks who already had depression or an anxiety disorder, this time is full of triggers you might not even realize. The odds of not wanting sex, being distracted during sex, and having a lower libido (which is a common trait of anxiety and depression) is frustrating yet painfully understandable.
How To Fix This
Time and time again, it's been reported that having sex once a week is the key to relationship bliss. In addition to it connecting a couple, orgasming literally has tons of health benefits like relieving stress, boosting your brain, and helping you sleep. Plus, it feels fan-f*cking-tastic. With people literally dying, however, getting naked and rolling around might feel weird, if not completely undesirable.
If your sex life sucks because of coronavirus, don't beat yourself up. In addition to reaching out to a mental health professional (lots of whom are virtual now and can help in regards to anxiety and depression), here are a few things to consider if you feel the need to spice up your coronavirus sex life.
Utilize apps: In response to all the hellish ish going on in the world, Lasting is giving five free sessions away to couples. You're already on your phone, so you might as well use it to strengthen your relationship. In addition to Lasting, Love Nudge, Kindu, Pillow, and UnderCovers are all high-rated and easy-to-use apps for working on your sex life and your general bond.
Date nights: Making sure you're keeping the fun in your connection alive is vital to both not wanting to kill each other and to also having a sex life. Plan a date that doesn't involve Netflix—whether it's a themed dinner and drinks, a college throwback with body shots and Ke$ha jams, or just some beers and a puzzle—to help you feel connected. No, it's not sex, but if you're not having fun with your clothes on, it makes sense why you're not with your clothes off.
Masturbate more: According to sex and relationship therapist Megan Fleming, PhD, "Masturbation can actually help keep your sexual pilot light on." In addition to just making you feel good, it can actually increase your sex drive, This could, in turn, help you get into the mood more often, especially during times of stress. You know, like, when the world feels like it's ending or something.

Prioritize sex: While it might seem unsexy to schedule sex, according to Psychology Today, it's actually great for getting out of droughts. It gives each partner time to prepare, removes additional "spontaneous" stress, and allows space for communication and negotiation.
Compromise and communicate: Maybe the thought of getting it in just sounds like a lot right now. Whatever your feelings around the subject, they're valid. But unless you clue your partner into what's going on, the frustration (and potentially, the fights) could grow. Tell them what you are and aren't up to doing during these stressful times and find a compromise that makes you both feel respected, supported, and satisfied. Whether it's scheduling sex, settling for mutual masturbation, or finding a different solution, the only wrong answer is not talking about it.
Cut yourself some slack: Ultimately, this is an unprecedented time, and there's no "right" way to feel or react. Instead of shaming yourself for not wanting sex, cut yourself some slack. The more pressure you put on the situation, the less likely you'll want to actually start bumping uglies. Instead, concentrate on taking care of yourself, connecting with your partner, and just feeling good about getting through the day.
While "Sex in the Time of Coronavirus" might seem like the title to a steamy, forbidden romance novel, in reality, it's actually a lot less hot than that. Go with the flow, take care of you, and remind your clitoris (and your partner) you love it, no matter how much time has passed.
Images: Shutterstock; Giphy (3)
Instagram Knows When You Zoom In On Pictures
You may think Gen Z is all bad dance moves and Fortnite, but Dr. Emily Weinstein, a Ph.D. research fellow at Harvard University, has the most positive view on today's kids. This week on our Diet Starts Tomorrow Podcast, we had Dr. Weinstein discusses with us the impacts social media can have on peoples' mental health, specifically kids grades 8-12. Unlike most doctors and old people, she actually has a lot of hope that social media, in fact, won't rot the youths' brains and subsequently make social interactions a thing of the past. Instead, social media has the power to connect kids to each other, communities they identify with, and social change movements. That being said, there's still a lot of bad sh*t going down, but you'll have to listen to find out. Here are some of the highlights from our conversation with Dr. Weinstein:
Social media does not automatically equal more depression, it's seriously not as clear-cut as you think
It's not about the amount of time you spend on social media, but what you're actually doing on it. Are you stalking your ex's new girlfriend or are you scrolling mindlessly through a Kar-Jenner kids fan page?
Instagram knows when you zoom in on photos to check if that pic was actually Facetuned
Instagram also knows when you linger way too long on that girl from your SoulCycle class's engagement pics
The more you engage with certain content on Instagram (even if you don't press like) the more Instagram will show you it, even if it makes you feel like sh*t
Weinstein has focused a lot of her research on understanding the value kids place on Snapchat streaks (spoiler alert: these are legit life-and-death matters)
Instagram bios are basically the new AIM away message
Boys who play Fortnite probably have PIU's (you'll have to listen to find out what this acronym stands for)
Social media can actually help kids who are feeling depressed or alone
Check out the full Diet Starts Tomorrow episode below to hear Dr. Weinstein's full segment.

Image: Lisa Fotios/Pexels
Your Friend Who Takes A Lot Of Selfies Might Be Depressed
Here's something we all know: Instagram is an emotional roller coaster. One minute you're looking at all your old selfies thinking about how pretty you are sharing memories with friends, the next you're sent into a rage spiral because your-man-who's-not-really-your-man commented the heart eye emoji on some thot's belfie and it reminded you that you haven't gone to the gym in three years weeks. So yeah, while the highs of a 100+ like beach pic are pretty high, the lows of a vulnerable selfie that never even hits the double digits are pretty fucking low. All of this is to say, Instagram can be depressing as fuck, and now we have the science to back that up. A new study from Harvard University (what, like it's hard?) found that your Instagram posts hold clues to your mental health, and I'm not just talking about how we all know you're fucking depressed when you post a picture of you looking longingly out a random window and caption it with some emo song lyrics from the early 2000s. But that too.
The actual study found that people who are depressed (aka you all winter), "tended to post photos that, on a pixel-by-pixel basis, were bluer, darker and grayer on average than healthy people." So basically, your grainy-ass black-and-white food pics aren't just fucking up the flow of my feed, they're actually revealing to the entire world (assuming your account is public) that you're depressed.
Researches came to this very obvious stunning conclusion by identifying participants as "depressed" or "healthy" based on whether they reported having been diagnosed with depression in the past.
Side note: Who are these healthy, non-depressed people? Where do they live? What is their secret?

Researchers then "used machine-learning tools to find a pattern in the photos and to create a model predicting depression by the posts," which is basically fancy science speak for "We taught a computer how to scroll through Instagram."

So what exactly in your posts reveals that you are depressed? Well, they found that depressed IG users tend to use "fewer filters," which supports my strongly held belief that people who post
#nofilter selfies are seriously disturbed. When they do use a filter, they tend to use Inkwell aka the fancy Instagram way of saying black-and-white, whereas healthy people use Valencia because…IDK. I guess the greenish hue brings people joy? Unclear.
Depressed participants were also more likely to post photos of just their face, which means that someone needs to drive to Brentwood and check on Kylie Jenner ASAP. I'm seriously concerned.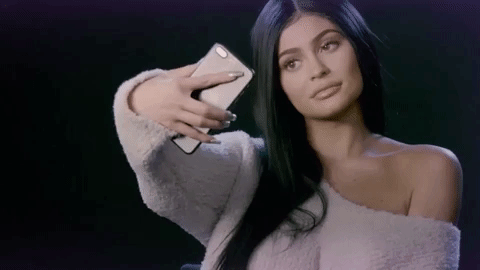 One thing these researchers found that I def could have told them myself is that depressed users tend to post more frequently. I mean, fucking duh. Anyone on Earth can tell whether or not I'm going through a breakup based off my daily post rate. Two or more selfies a day and you are fully justified in sending me a "U OK?" text. (I'm most definitely not okay.)
They also found that depressed people also tend to get more comments and less likes, which is really unfortunate because, as I previously stated, there's nothing better to get you out of a funk than a fire candid with 100+ likes. If they could find a way to turn that feeling into a pill, depression would be a thing of the past.

All in all, this study is, for lack of a better word, depressing. Mainly because all the things they said are signs of depression describe the social media use of literally every human person in my feed, including myself. That being said, I think the moral of this story is clear: Inkwell is just not an acceptable filter anymore and using Valencia is the same for your health as like, a really good cardio workout.