No Clue What Jacket To Wear In This Weather? Read This
The weather today is v nice but like, not to be pessimistic or anything, pretty sure it's going to snow again next week. I mean, I'm no Al Roker here, but it doesn't seem too hard to be a weather man these days. You currently have a 50/50 shot of predicting the weather and being right. That's because we're in that weird in-between time of the year where, with help from climate change #InconvenientTruth, the weather is more unpredictable than whether or not I'll be getting my period this month. And like, I'm on birth control so wtf, can we get some regularity??? But, just like my period likes to play hard to get, so does the current weather. So enough about me and my womanly issues, here are five transitional jackets under $150 that will help you stay comfortable and maintain some sanity during this inconveniently, unpredictable weather.

I bought this jacket the other day, and I think I've worn it every day since. It's a subtle snakeskin print, which is so trendy right now, and it's the perfect in-between lightweight coat for this crazy-ass weather. This jacket is thick enough that my headlights don't come on in my fitted tee, but it's not so warm that I'm dripping sweat, putting my natural deodorant to the test. It's the perfect jacket, and it's so f*cking cute, I highly recommend.

Corduroy is usually a material reserved for fall and winter. But in this gorgeous pale blue color, it totally works for this transitional time period. The material of the jacket will obviously provide a necessary level of warmth, but the color makes it totally work for spring. It's also cropped, so it makes this jacket that much less heavy than your average standard jacket.

This jacket is the ideal transitional piece for this time of year because it's a perfect neutral spring color without being an in-your-face Easter pastel. It's lightweight and stylish, with the balloon sleeves to make it a little less basic. It's polished enough that you could wear it to the office, but stylish enough you'll still want to wear it out on the weekends. Get you a jacket that can do both!!!

For the girl who's always cold, this is your ideal transitional jacket. It's a puffer jacket, so it will be able to actually keep you warm. But you also won't look like an overdramatic idiot wearing her best faux-fur puffer on a 60 degree day. It's plush and cozy without being a teddy jacket, so it's still weather-appropriate.

It's predictable, it's obvious, but it's the ideal transitional jacket for a reason, and you probs already have one in your closet: a denim jacket. A denim jacket works great for the in-between weather, particularly if you get an oversize one. An oversize denim jacket means you have room to layer underneath if need be, but it also looks great over a cute sleeveless crop top and shorts. You know, for when you're out day drinking and it's a bit breezy. It's very Hailey Baldwin vibes, and will even look cute just sitting on your shoulders without actually having to have it on. But then again, if you're day drinking, you should probs just keep it on, because otherwise it will fall off and with all those mimosas in your system, it's highly unlikely that you'll even notice it's gone.
Hopefully, for all of our well-beings, this weather will get its sh*t together sooner than later, and officially switch to spring. Look, if I can get my sh*t together enough to pass accounting my senior year of college, I think the weather can figure it out as well. And you know, if Mother Nature wants to just go ahead and skip spring and go right to summer, I'm totally cool with that option too. Until that happens, make your life easier with one of these transitional jackets.
Images: Jesus Santos / Unsplash; South Moon Under; Anthropologie; Urban Outfitters (2); Revolve
Betches may receive a portion of revenue if you click a link and purchase a product or service. The links are independently placed and do not influence editorial content.
How I Dress Like A Kardashian When I Don't Have Kardashian Money
Kim Kardashian recently won the CFDA award for Influencer Of The Year. Whether we want to admit it or not, the Kardashian Klan really is always ahead of the fashion game. Please note, I'm not talking about the Kardashian-Jenners here—I'm strictly referring to the OG Kardashian sisters. Each of them has a very different style and they have come a long way since their 2007 sequined dresses and platform Louboutins. This week, I took three Kardashian looks and recreated them for much less than what the Kardashians paid for.
5 Summer Trends You Need To Have By The End Of This Month
The weather is (finally) getting warmer and slightly stickier, baristas are losing their patience by 9am, and the trains seem to smell more like shit everyday. This is summer in New York, and I truly wouldn't trade it for the world—along with the ever-changing, yet always surprising fashion trends that come along with it. Every year there's always a handful of trends to keep up with, and this year is obviously no different. From denim pieces to boho hats to trendy mules, here are the summer trends your closet should have by the end of the month if you're trying to survive this summer in style.
1. Cute Jumpsuit
If you don't already have one, I'm assuming you live under a literal rock. A jumpsuit is absolutely necessary for surviving multiple social events this summer. Make it a black one and you'll have one you can slip into in the office on your way to happy hour on Friday. Pair it with heels and you'll have an outfit ready for an upcoming summer wedding.

2. Straw Hat
Surprisingly, there are styles of hats you can wear without looking like a total idiot. This versatile style can be worn to every music festival you plan on attending these next few months, or you can sport it to just a boozy brunch with the girls on Sunday.

3. Denim Jacket
I mean, this one is kind of a given. You'll need a lightweight jacket for all of those cool summer nights during which you'll be barhopping. Buy a trendy denim jacket you can wear with like, literally any outfit in your closet.

4. Culottes
Yes, there are
comfy af pants
that aren't leggings or sweats. And yes, you can wear these to work (no casual Fridays necessary) and to any bar, regardless of dress code. Praise fucking be. Culottes are a must-have this season, and if you get them in white, you'll have a long-lasting summer staple to get through next summer, too.

5. Mules
Ditch flats and lame-ass slip-ons for a style that comes with the block heel we've loved since last summer. The thick hella chic heel makes for a comfortable strut so you won't be the one complaining about how bad your feet hurt for once.

Urban Outfitters Wood Heel Mule
Images: Aral Tasher / Unsplash; Revolve; Shopbop; Boohoo; Asos; Urban Outfitters
Betches may receive a portion of revenue if you click a link in this article and buy a product or service. The links are independently placed and do not influence editorial content.
6 Denim Jackets That Will Save Any Boring Outfit
If there's one thing that literally every single person in the world should own, it's a good denim jacket. For the first time in my life, I'm not even exaggerating. Everyone looks good in a denim jacket, and when you're trying to find a last-minute outerwear option for an outfit that seems otherwise doomed, denim always saves the fucking day. But like, don't get carried away. You can't just throw on any denim jacket and expect to instantly turn into an off-duty 90s model. There are some seriously atrocious denim jackets in this world, so here are a few that don't suck.
Gap basically invented the denim jacket. Don't quote me on that, because it's probably not true, but you get where I'm going with this. You wore Gap denim jackets growing up. Your mom had Gap denim jackets. The cast of Friends probably had tons of Gap denim jackets. They're a classic staple.

Last year Aritzia had a longline denim jacket that I didn't buy, and to this day I still regret it almost as much as I regret the time I decided to get side bangs after a few hours of day drinking during my freshman year of college. Anyway, this thing is basically a giant denim robe, so you can hide any kind of lazy betch outfit underneath it when you need to make a last-minute dash into public.

If a denim robe isn't really your style but you still want to dabble in longline denim, go for this jacket from Topshop. It's a classic denim jacket that's long enough to cover your butt while you're wearing leggings, if you still care about that kind of thing. (Side note: It's 2017, I'm pretty sure you can show as much butt as you want these days, so maybe you don't need to stress about that anymore.)

Realistically, every denim jacket looks basically the same (unless it's a gross cheap one from Forever 21 with a pizza patch sewn on the sleeve), so if you want one that nobody else has, you're gonna have to go custom. Shop Betches teamed up with Unemployed Denim to give you the opportunity to have your own genius idea embroidered across the back of a vintage denim jacket. And yeah, it's actually vintage and not like "Urban Outfitters vintage inspired." You're welcs.

Madewell created this design to mimic the oversized relaxed fit of a perfectly worn-in jacket. It's basically a men's jacket but designed specifically for women. At least if we're not going to be paid as much as guys, we can be excited about having denim jacket equality, right?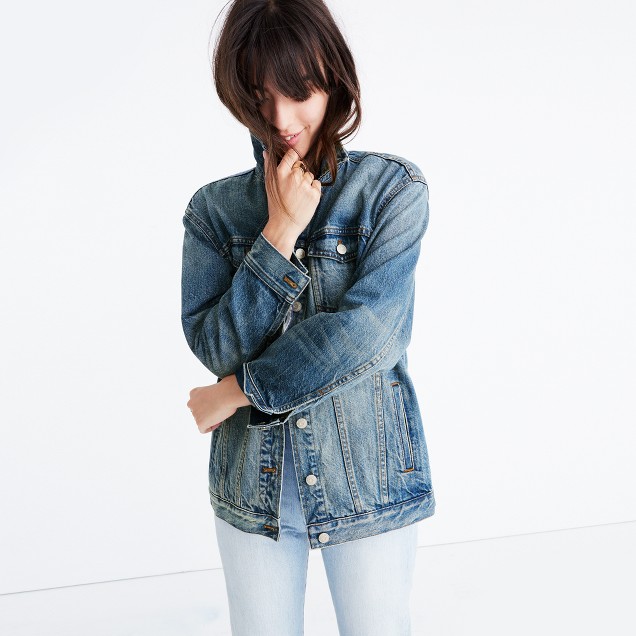 If you can look past the fact that this is called the "Trucker Jacket," this Levi's coat is actually super cute. It's another really timeless design, and the sherpa liner kinda makes it feel like you never really had to roll out of bed this morning.