The Senate Might Pass A Bill That Could Eliminate Your Internet Privacy
Here's something you may have missed as the world has continued to crumble around you: a bill that would take away your internet privacy has reached the Senate floor. Very cute of our lawmakers to sneak in these lil' easter eggs while we're all distracted by a global pandemic.
The  proposed bill is called the Eliminating Abusive and Rampant Neglect of Interactive Technologies Act, aka the EARN IT Act. You may be looking at this and thinking, "I mean, eliminating abuse and neglect sounds like a good thing?" That's true. This bill sounds nice. It markets itself as a bill that will help put an end to child pornography, which sounds awesome. But here's the thing: the bill uses the fear of sexual exploitation and abuse to pass a law that will completely infringe on people's privacy.
The bill was introduced by Sen. Lindsey Graham, which is honestly the first red flag. The EARN IT Act, in practice, would eliminate end-to-end encrypted services. K, wtf are end-to-end encrypted services? Valid question. End-to-end encryption (E2EE) is a method of secure communication that prevents third-parties from accessing data while it's transferred from one end system or device to another. In layman's terms, it's what keeps your conversations and data private and between you and the person you are communicating with online. Think of it this way: do you want the government to read through your DMs?
Decriminalize Sex Work, a national advocacy organization, made an animated short that breaks down why this bill is dangerous:
This isn't the first bill of its kind. In 2018, the Fight Online Sex Trafficking Act and the Stop Enabling Sex Traffickers Act, collectively known as FOSTA-SESTA, was passed under the guise of cracking down on sex trafficking. At face value, FOSTA-SESTA is meant to stop sex traffickers from using the internet to conduct their heinous crimes. However, when you look more closely, you'll see that it prohibits anyone from using the internet to advertise sexual services, including consenting adults who are trying to go about their business safely. 
Many consensual sex workers use the internet to find and screen clients before meeting them, as well as a way to form community and check in with each other about which clients are safe and which are not. So, taking this resource away removed a safety net from sex workers. Sex workers have been put in harm's way because of FOSTA-SESTA, and this could go even further with the EARN IT Act.
Think about it: if a sex worker's client knows they could be caught by the authorities because the government is allowed to look at their private messages, they're probably not going to be as willing to communicate with the sex worker prior to meeting and provide information to let them know they are safe and not a predator. Privacy violations like this leave sex workers without safety resources and push consensual sex work underground, making it much more dangerous.
But it's not just sex workers who will be affected by the EARN IT Act. There are plenty of communications that should be kept private, like those between lawyer and client, therapist and patient, doctor and patient, etc. So many of our interactions are online these days, especially with quarantine, and many of those private conversations should be kept that way. Also, I don't want people accessing my nudes for free!
Bills like this often pass unanimously because lawmakers don't want to look like they're easy on sex trafficking or child pornography. But the gag is that that's not what these bills are really about. They're about gaining access to private interactions so they can use them as proof to criminalize.
If you want to protect your privacy and the privacy of those whose livelihoods depend on it, call your senators and ask them to vote against this bill. And if you want to send them an email,  here is a link to help you easily do that!
The Argument For Decriminalizing Sex Work
Let's talk about sex (work), baby, let's talk about sex and work! If I'm being h with y'all, I think sex work is amazing. It's the oldest profession in the game, pretty much everyone likes to indulge in it in some way (porn, anyone?), and it's an industry that largely employs women and allows them to profit off of their sexuality. J'adore.
Just to clarify, when I say sex work, I am referring to the various jobs within the sex industry. This includes strippers, escorts, adult film actors, webcam models, street workers, and anyone who sells sexual services. It's an umbrella term that covers more than you may realize. If you've ever sold photos of your feet or a pair of panties, congrats, that was a sex work gig. Also, hell yeah, babe, get that money.
Some sex work is legal, like stripping, and some is not, like selling sex. Sex work that is illegal arguably receives more judgment and shaming than legal sex work — people have an annoying tendency to blindly equate legality with morality — but all in all, it's safe to say sex workers experience a lot of stigma for the work that they do.
Call me radical, but I think shaming someone for profiting off of their dope sexuality and literally just doing their job is, in technical terms, really fucking stupid.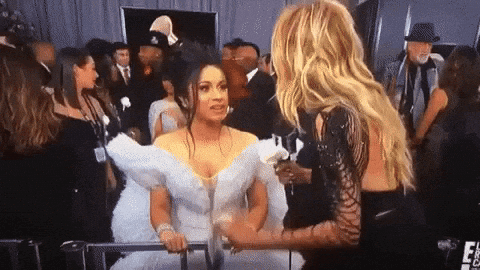 My face when someone says sex workers should "get a real job."
Don't Be a Captain Save-a-Hoe
But what really grinds my gears is when people speak out against sex work under the veil of wanting to protect sex workers. Let's start with the law: selling sex is illegal, and cops will likely tell you this is to protect people, mostly women, from entering a field that uses them, puts them in danger, and forces them to shamefully sell their bodies to survive. (Sidenote: sex work isn't selling your body, it's selling a service/experience. You go home with your body at the end of the day, as it is intrinsically yours and nobody can buy it.)
Sure, some people do sex work because they feel they have no other option (not all!), but last I checked throwing someone in jail and giving them a record did not help them thrive.
Also, many people do jobs they hate in order to survive, but the fact that sex workers are made to feel worse about what they do is only exacerbated by the narrative of "sex work is bad, sad, and dirty" that society keeps pushing. And this narrative is held up by the fact that a lot of sex work is illegal, because if it's against the law, it must be "bad," right?
And a lot of sex workers like their jobs. A job is a job and it can be hard and exhausting, but many, many sex workers do sex work because they want to. Stop being Captain Save-a-Hoe by trying to "stick up" for women who don't need your saving.
And if you're thinking, "but sex work exploits women!!!!" my argument to you would be that it's not sex work that exploits women, it's capitalism that exploits the working class, and the sex industry is no exception. If a woman doesn't want to use her sexuality as part of her job, she certainly shouldn't have to. In a capitalist society, many of us are forced to work jobs we don't want to in order to survive. But on the other hand, if a woman *does* want to monopolize on her sexuality and make a living selling sexual services, then she should be able to without fear of the law, police brutality, and societal ostracizing. Sex workers deserve the freedom to do their jobs in peace, just like an other worker. So, how could this be done? Decriminalization, baby.
if you think sex work is exploitative just wait til you hear about capitalism

— Irene Fagan Merrow (@_irenemerrow) January 29, 2020
Sex Work and Sex Trafficking Are Not the Same
The decriminalization of sex work is what it sounds like: removing criminal penalties for sex work, mainly the trade of sexual services. This doesn't mean it would be legal, it just means people wouldn't be charged with a crime for doing it. This, of course, would not apply to sex trafficking. Sex work and sex trafficking are two separate things and should be treated as such. Sex trafficking should obviously be punishable by law.
Sex trafficking is when victims are forced into selling sex and is obviously nonconsensual. Sex work is when a consenting adult sells a sexual service to another consenting adult. See the difference? Treating two separate things in the same way is not effective, and conflating the two is actually dangerous.
For example, FOSTA, the Fight Online Sex Trafficking Act, and SESTA, the Stop Enabling Sex Traffickers Act were implemented to stop sex traffickers from being able to conduct their business online. However, the laws also make it illegal for consenting sex workers to conduct their business online. A lot of sex workers used to use resources like the website Backpage, where they could pre-screen their clients and make sure they were safe. Online hubs also helped sex workers communicate with each other, so they could warn each other about bad clients or verify good clients for each other.  FOSTA-SESTA took this away, so sex workers have been forced back onto the street, often going into work situations blind and at risk. Treating consensual sex work like sex trafficking victimizes sex workers, it doesn't protect them.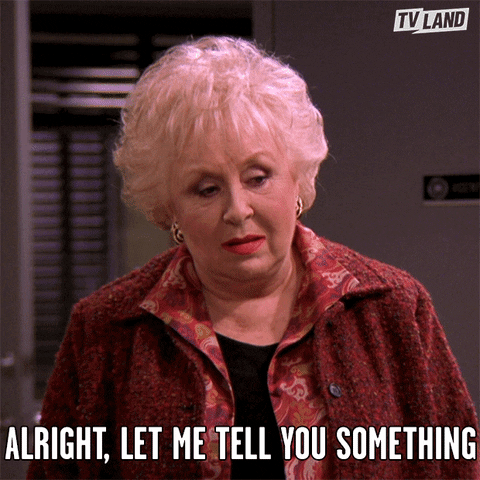 Cops Are Not Our Friends
The criminalization of sex work is supposedly meant to protect sex workers, but it actually leads to a lot of harm. I'm going to let you in on a lil' secret: the police are not sex workers' friends.
Go ahead and clutch your pearls, but it's true.
Sex workers are often harassed by cops, and far too often experience violence at the hands of them. According to the Human Rights Watch, police officers abuse their power in situations with sex workers by holding the penalties over their heads when they harass, abuse, and sometimes rape them. Some will even coerce them into giving free sexual services in exchange for no arrest. You know, like sexual assault.
Human Rights Watch also found research across various countries that showed criminalization makes sex workers unsafe because attackers acknowledge they are unlikely to go to the police, so they can get away with abusing them. Sex workers don't want to go to police because they are afraid of getting penalized for their work, and also are afraid of being abused by the police. Plus, sex workers are often forced to conduct their work in unsafe locations, as they are trying to avoid being seen or caught by law enforcement, and this makes them much more vulnerable to violence. As it turns out, making sex work punishable by law puts sex workers in danger, rather than protect them from it. The law fails to provide for a marginalized group of society again, truly who could have seen this coming?!
There are also health issues when it comes to criminalization. Some sex workers fear using condoms because they can be used as evidence that the illegal work is being done. In some strip clubs, dancers aren't allowed to carry purses because they don't want them to have condoms on them. Some clubs even check the strippers' purses for condoms before a shift, and make them throw them out if they find any. Cops treat street sex workers in the same way; they stop them, search them, find condoms and question them about them, and sometimes make them throw them away.
The "idea" here is that if the workers don't have the condoms, they won't engage in the sex work. Obviously that is not true, they will just do it without the condoms. Criminalization isn't stopping the work from happening, it's just making hard for sex workers to do their jobs safely.
The Nordic Model Doesn't Work, Babe
The decriminalization of sex work would allow sex workers to do their jobs more safely, as they wouldn't have to fear penalty of the law when it comes to where they conduct their work and if they feel the need to report being abused. It would also keep the cops from abusing their power over them. Some people advocate for the Equality Model — also known as the Nordic Model — which only criminalizes the buyer. This is nice in theory, but as made clear before, the cops are not sex workers' friends. Having them involved doesn't help. This model has been tried in Scandinavian countries and hasn't been proven to benefit sex workers. In fact, it often gives cops an excuse to harass sex workers, and identify undocumented sex workers and deport them. Additionally, it makes negotiating with a client very difficult, since they are risking criminalization and the worker is not.
At the end of the day, consenting adults should be able to have sex with other consenting adults on their terms. It's called bodily autonomy, Karen, look it up. The patriarchy is terrified of women realizing the power in their sexuality, and that's probably why it enforces laws to stop them from profiting off of that. You don't have to want to engage in sex work, but maybe don't judge others who do just because some of it is illegal and society has deemed it immoral. Society is famously wrong, and we as humans all deserve to be respected, no matter how we decide to survive. Support women, support sex workers, support decriminalization. Just a thought!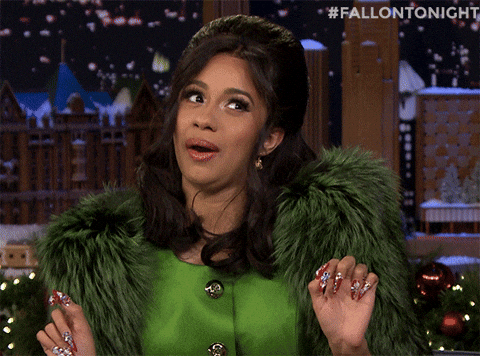 Want to keep up with the news without crying into your sad desk salad? Subscribe to the Betches Sup newsletter for a lunchtime briefing to make you laugh, instead of cry, about the news.
Images: Giphy (3)
New York Could Become the First State to Decriminalize Sex Work
First New York was the first place to champion a rat who could carry an entire slice of pizza (iconic), and now we just might be the first state to decriminalize sex work. Slay. Now, some of you may be thinking, "Decriminalize sex work? But how? And why?" Girl, I got you.
A bill called Stop Violence in the Sex Trades Act (SVSTA) was composed by progressive legislators and aims to repeal penalties for selling and buying sex.  The bill also proposes repealing "promotion charges" AKA "pimping" (which famously ain't easy), so that sex workers cannot be penalized for helping each other out. In short, this bill would allow sex workers to do their jobs without the fear of facing jail time. Imagine that.
The SVSTA also makes a point that sex trafficking and selling/buying sex from minors will remain 100 percent illegal because duh. People are often quick to dismiss the idea of decriminalizing or legalizing sex work because they assume this means sex trafficking will fall under that category and thus also become legal. Honey, no. Consensual sex work and sex trafficking are two completely separate, very different things, and failing to differentiate the two is dangerous for those who choose to work in the sex work industry. When we don't think of them separately, sex work becomes unsafe because laws meant to stop sex trafficking affect sex workers and make their work impossible and dangerous. They are forced to work underground and are vulnerable to police brutality and other types of violence. So, why not pass laws to protect the many women, men, and nonbinary folks who make a living as sex workers and simply want to be able to do so without getting harmed? That's what this bill is saying, dude!
Sex workers are stigmatized because we capitalize on male attention. Instead of enduring it, we revel in it. Then we have the audacity to profit from it.

— YE$ DADDY ? Rick's Chicago 6/8 ? (@fiercestripper) June 5, 2019
The bill will be introduced to the Senate by State Sen. Julia Salazar, who advocated for decriminalizing sex work during her campaign. It's also notable that the bill was crafted in collaboration with Decrim NY, a coalition that works to "decriminalize, decarcerate, and destigmatize" sex work in New York. So, the legislation comes from people who have a deep understanding of the field they are talking about and advocating for. Again, imagine that.
Presumably, the bill will face a lot of backlash. People, including Democrats, are uncomfortable with the topic of sex work. This legislation will, however, force lawmakers to begin conversations about decriminalizing sex work, and that's at least a start. Rumor has it that sometimes our government gets things done (been a while since I've seen some proof), so here's to hoping that is the case with SVSTA.
Image: Twitter: (@fiercestripper)