The Best Home Decor Sales To Shop Right Now
Now that we are trapped at home literally all of the time, you may notice some things about your place. Like, how your bedspread is getting pretty ratty. Or how your cat really did rip your couch to shreds. Or how you're pretty sure you'll f*cking die if you have to look at the mismatched table and chair set you bought from Ikea when you got your first apartment 10 years ago for one more second. I'm not dramatic, these are facts. Being home really makes you reevaluate your space and want to live in a cleaner, less cluttered, and new environment. Lucky for you, redecorating is something that you can totally do online. (My new bed frame comes Monday.) And you don't have to spend a ton of money to do it. Businesses are throwing out sales left and right to stay afloat, so I found some great sales on home decor so you can upgrade your place and not drain your savings!
God, I love Crate & Barrel. It's normally quite a bit out of my price range so I like to online window shop (which is the saddest thing ever, FYI) and pretend like I can afford it. However, they're having sales pretty regularly. Right now they have free furniture delivery and 40% off outdoor furniture, 20% off outdoor rugs, 20% off furniture/lighting/wall decor, and 20% off clearance rugs/bedding. The nice thing about buying from here is that the stuff is definitely good quality, so now is the time to upgrade your space with investment pieces at a discount. If you're lucky enough to have a yard, please get their gorgeous outdoor sets so I can live vicariously through you while I'm trapped in my tiny LA apartment this summer.

Villa Indoor/Outdoor Aqua Basket Weave Rug, $499 $249.97

Aaro Planters with Stands, $59.95 $47.96

Lanai Orange Mesh Lounge Chair, $219.00 $131.00
CB2 is super chic and definitely where real adults shop. Since I feel like a weird, fake baby-adult, I really appreciate when they have insane sales to make it more affordable. Right now, they have 40% off gifts, 30% off planters, and 30% off outdoor furniture. It seems like everyone's getting a yard makeover before we're out of quarantine. Must. Be. Nice. Anyway, I would definitely check out their gifts section, but like, for yourself, because these super luxe pieces are totally affordable and will make your apartment seem more adult and put together.

CB2 Florence Brass And Glass Vase, $24.95 $21.21

Tack Metallic Candle Hoarders, $24.95 $14.97

Grace Bone Inlay Mirror 32″,  $249.00  $199.00
Pottery Barn is having a 50% off furniture, bedding, and more sale right now AND has code "Summer" for free shipping. Were you thinking of investing in a gorgeous made-to-last new couch? Now it is the time to do it. All I can think about with Pottery Barn is that one episode of Friends and the apothecary table. Let me tell you, if you want to buy everything in the sample image to match the catalog, no one would blame you.

Jake Upholstered Wood Base Sofa, $3,399.00  $1,399.00

Belgian Flax Linen Handcrafted Quilt & Shams – Charcoal, $69.50  $48.00

Faux Succulent Wall, $199.00  $159.00
No list would be complete without Target, the Holy Grail of… well, everything. While Target is not running any specific home decor promotions right now (probably because everything is already pretty affordable), their sale section has a ton of deals on everything from rugs to storage to wall hangings and more.

Southwest Geo Square Throw Pillow, $19.99  $16.99

Abbyson Living Lexington 4 Tier Shelf Gold, $453.99 $363.19

Plano Square Storage Ottoman Blue Stripe, $89.99  $49.49
Wayfair is my go-to for cheap furniture and a variety of styles. My friend just bought the cutest dining set from them literally last week. All of my balcony furniture is from them because I needed benches and a patio table that had storage but could still fit on my small balcony. They are having sales of up to 85% off, and they have literally every style you could imagine. Even if you have a tiny patio, I definitely recommend upgrading it with their outdoor sale and creating a cute little place to have a drink and get some fresh air.

Hallsville 3 Piece Bar Set, $309.99

4 Artificial Cactus Succulent in Basket Set, $58.99 $47.99

Marietta 3 Piece Bar Set, $414.99 $349.99
West Elm is where my new bed is from, and I cannot wait because… it has storage! My secret to living in a small studio apartment is that literally everything has secret storage. And everything is on sale at West Elm now, with 40% off furniture, 50% off home decor, 60% off rugs, and 40% off bedding. Now is the perfect time to give your bedroom an upgrade. West Elm is much like Crate & Barrel, where the quality of furniture is great and worth investing in. Also. they have tons of couches, tables, etc. all with storage! Can you tell I really like storage? Say storage again. But like, think how much better you'll feel being able to shove away all your clutter into convenient hidden spaces!

Haven Storage Bed, $1,799.00 $1,199.40


Cotton Knit Throw, $79.00 $19.99
Have you been playing Home Makeover with your space, too? Where have you found the best deals lately? What are your storage tips for living in tiny spaces?
Images: Nathan Fertig / Unsplash; West Elm (3); Target (3); Wayfair (3); Pottery Barn (3); CB2 (3); Crate and Barrel (3)
Betches may receive a portion of revenue if you click a link and purchase a product or service. The links are independently placed and do not influence editorial content. Price and availability subject to change.
Affordable Apartment Decor That Looks Expensive
I'm moving into a new (v tiny) apartment and it's been my life's mission to make it look chic af. If I can't have the gorgeous mansion I clearly deserve, then at least my small studio apartment can look fabulous. Unfortunately, I'm also a betch on a budget, so I've been scouring Pinterest for ways to look like I have my life together via my apartment decor. Here are some cute accents you can get to upgrade your place.
Plants
Plants are a super easy way to make it look like you have your life together. They also clean the air, or whatever. Regardless of how tiny, dark, or sad your current place is, plants make everything look brighter and more open. The trick is you have to keep them alive. But like, if you can't follow basic instructions like "water it" or "sunlight", then get fake ones. Also, never reproduce. Vertical gardens are super trendy right now and you can use it as a super chic privacy wall (which I plan to do for my shared balcony at my new place). Succulents, cacti, snake plants, and spider plants are all great apartment options and all over Pinterest right now. And make sure you get some cute planters.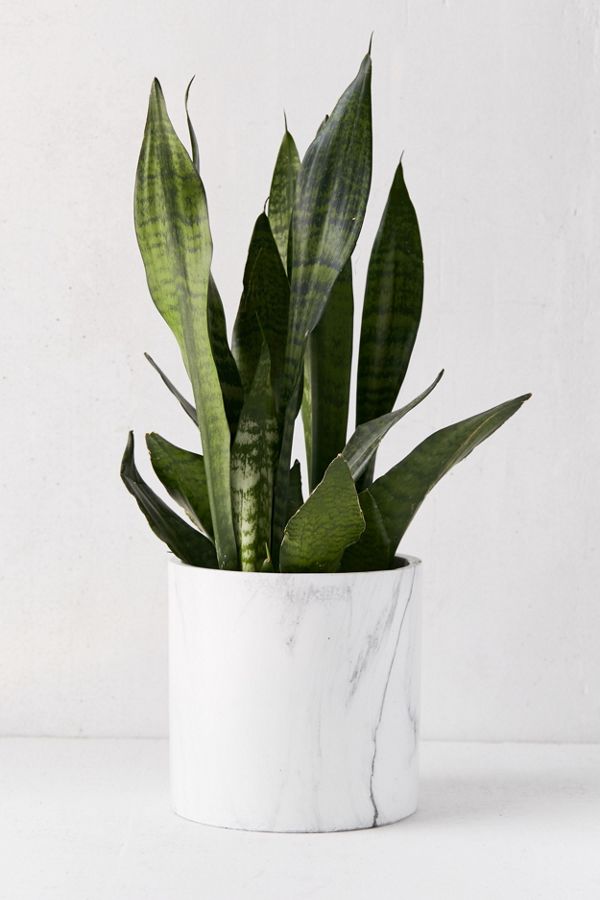 Urban Outfitters Marble 8″ Planter
Lights
Most apartments have terrible lighting, if they provide any at all. Instead of your sad floor lamp from college, get more lights by hanging fairy lights around your bedroom for a soft glow. You should also pick up some minimalist or industrial table lamps to scatter around the place. You can even get a cute neon sign if you want to look exactly like an Urban Outfitters ad, and look like a "fun" person. Just please do not get one that says Live OR Life OR Love and may God have mercy on your soul if you get one that says all three.

Frux Home and Yard Twinkling LED Fairy String Lights

Urban Outfitters Bulb Firefly Table Lamp

Urban Outfitters Ugh Neon Sign Table Lamp
Natural Wood
Having wooden furniture instead of all just the basic IKEA white makes your place look expensive, even if it isn't. It's also really trendy right now to mix materials and woods—meaning you shouldn't stick to all matchy-matchy dark wood just because your dresser is that color. Having natural items adds an airy, lighter feel to your space—which is better for small places as opposed to having huge, dark furniture. So get a couple pieces, like this super cool tree coffee table that looks almost identical to apartment design queen Viktoria Dahlberg's, and mix it in with your cheaper IKEA stuff.

World Market Wood Slice Coffee Table
Minimalist Art
Minimalistic ink (or watercolor) art is everywhere. It looks cool and doesn't weigh down or darken your already small space. You can overpay for it at Urban Outfitters, pay an artist a lot of money for it (hi), or get drunk, grab some pens, and scribble some out yourself. A lot of these pieces have wobbly lines or look like they were done in five minutes, so don't worry about making it perfect. Everything looks nice once it's framed.


Holly Does Art Moon Cycle Watercolor Art Print
Throw Pillows
Hide the fact that your couch is cheap or that you never make your bed with a bunch of cute throw pillows. Try to find some that are either super soft, flurry, or graphic. Don't get too many colors or anything too dark or obnoxious—again, the idea is chic, not "dorm room". Stick to mostly neutral colors and clean lines or a cute slogan for optimal coziness.

Brentwood 18-Inch Mangolian Faux Fur Pillow

Shop Betches Like Really Pretty Throw Pillow
Image: Mong Bui / Unsplash