Finally, An Alarm Clock That Won't Make You Feel Like Sh*t In The Morning
We all know the feeling—we wake up to our alarm blaring, startling us out of sleep. On top of that we feel groggy, have lines on our faces, and definitely some drool on our pillow. It's not a good look, and an even worse way to wake up. But I'm here to tell you that there's a way to wake up feeling refreshed and in a way that feels like you did it on your own without an obnoxious iPhone sound on repeat. Say hello to the JALL Wake Up Light Sunrise Alarm Clock from Amazon.
I know what you're thinking. "How can an alarm clock not be annoying?" Well, for starters, it replicates the effect of a natural sunrise. You can set it to start shining a light that brightens gradually 30 minutes before the alarm sound goes off, so you can pretend to be waking up with "nature." Another bonus? It doesn't use traditional sounds that like horns, sirens, or old-school clocks, which are super stressful IMO. You can choose different sound methods for waking up, like an FM radio setting that scans through stations, or natural sounds like ocean waves, birds chirping, streams…you know. Relaxing sh*t. As for the lighting, if you're not into the classic sun yellow, you can swap the colors for blue, indigo, purple, red, orange, or green. Plus, the brightness is totally adjustable.
If you're one of those people that rise early without an alarm clock, first of all we're jealous. But second of all, you can use this light/clock combo for so much more than your morning wake up call. It can work as a reading light for all you bookworms out there, a bedside lamp, or a night light if chilling in the dark truly isn't your thing. At night, the lamp can also replicate a sunset to help you wind down. We know we could use the help after scrolling TikTok for hours…and hearing so many trending sounds that can cause literal nightmares.
All this is great, of course, but what about the most important thing—the snooze button? Yes, it comes with one, but it's not your standard option. If you press the snooze button, you only get nine minutes of extra sleep before the real alarm actually starts. This thing really wants you to get the f*ck up and not feel like crap while doing so.
Listen, we get it, sleep is precious. But it's not always easy to reach cloud nine with so many other factors keeping us busy and on high-alert all of the time. The last thing any of us want is to miss a morning Zoom call, hit snooze one too many times, or just feel like overall sh*t by the time work starts. So, if you're not getting the best sleep of your life right now, why not try and start with this popular sunrise alarm clock? Get yours for under $40 at Amazon today.

The Best Home Decor Sales To Shop Right Now
Now that we are trapped at home literally all of the time, you may notice some things about your place. Like, how your bedspread is getting pretty ratty. Or how your cat really did rip your couch to shreds. Or how you're pretty sure you'll f*cking die if you have to look at the mismatched table and chair set you bought from Ikea when you got your first apartment 10 years ago for one more second. I'm not dramatic, these are facts. Being home really makes you reevaluate your space and want to live in a cleaner, less cluttered, and new environment. Lucky for you, redecorating is something that you can totally do online. (My new bed frame comes Monday.) And you don't have to spend a ton of money to do it. Businesses are throwing out sales left and right to stay afloat, so I found some great sales on home decor so you can upgrade your place and not drain your savings!
God, I love Crate & Barrel. It's normally quite a bit out of my price range so I like to online window shop (which is the saddest thing ever, FYI) and pretend like I can afford it. However, they're having sales pretty regularly. Right now they have free furniture delivery and 40% off outdoor furniture, 20% off outdoor rugs, 20% off furniture/lighting/wall decor, and 20% off clearance rugs/bedding. The nice thing about buying from here is that the stuff is definitely good quality, so now is the time to upgrade your space with investment pieces at a discount. If you're lucky enough to have a yard, please get their gorgeous outdoor sets so I can live vicariously through you while I'm trapped in my tiny LA apartment this summer.

Villa Indoor/Outdoor Aqua Basket Weave Rug, $499 $249.97

Aaro Planters with Stands, $59.95 $47.96

Lanai Orange Mesh Lounge Chair, $219.00 $131.00
CB2 is super chic and definitely where real adults shop. Since I feel like a weird, fake baby-adult, I really appreciate when they have insane sales to make it more affordable. Right now, they have 40% off gifts, 30% off planters, and 30% off outdoor furniture. It seems like everyone's getting a yard makeover before we're out of quarantine. Must. Be. Nice. Anyway, I would definitely check out their gifts section, but like, for yourself, because these super luxe pieces are totally affordable and will make your apartment seem more adult and put together.

CB2 Florence Brass And Glass Vase, $24.95 $21.21

Tack Metallic Candle Hoarders, $24.95 $14.97

Grace Bone Inlay Mirror 32″,  $249.00  $199.00
Pottery Barn is having a 50% off furniture, bedding, and more sale right now AND has code "Summer" for free shipping. Were you thinking of investing in a gorgeous made-to-last new couch? Now it is the time to do it. All I can think about with Pottery Barn is that one episode of Friends and the apothecary table. Let me tell you, if you want to buy everything in the sample image to match the catalog, no one would blame you.

Jake Upholstered Wood Base Sofa, $3,399.00  $1,399.00

Belgian Flax Linen Handcrafted Quilt & Shams – Charcoal, $69.50  $48.00

Faux Succulent Wall, $199.00  $159.00
No list would be complete without Target, the Holy Grail of… well, everything. While Target is not running any specific home decor promotions right now (probably because everything is already pretty affordable), their sale section has a ton of deals on everything from rugs to storage to wall hangings and more.

Southwest Geo Square Throw Pillow, $19.99  $16.99

Abbyson Living Lexington 4 Tier Shelf Gold, $453.99 $363.19

Plano Square Storage Ottoman Blue Stripe, $89.99  $49.49
Wayfair is my go-to for cheap furniture and a variety of styles. My friend just bought the cutest dining set from them literally last week. All of my balcony furniture is from them because I needed benches and a patio table that had storage but could still fit on my small balcony. They are having sales of up to 85% off, and they have literally every style you could imagine. Even if you have a tiny patio, I definitely recommend upgrading it with their outdoor sale and creating a cute little place to have a drink and get some fresh air.

Hallsville 3 Piece Bar Set, $309.99

4 Artificial Cactus Succulent in Basket Set, $58.99 $47.99

Marietta 3 Piece Bar Set, $414.99 $349.99
West Elm is where my new bed is from, and I cannot wait because… it has storage! My secret to living in a small studio apartment is that literally everything has secret storage. And everything is on sale at West Elm now, with 40% off furniture, 50% off home decor, 60% off rugs, and 40% off bedding. Now is the perfect time to give your bedroom an upgrade. West Elm is much like Crate & Barrel, where the quality of furniture is great and worth investing in. Also. they have tons of couches, tables, etc. all with storage! Can you tell I really like storage? Say storage again. But like, think how much better you'll feel being able to shove away all your clutter into convenient hidden spaces!

Haven Storage Bed, $1,799.00 $1,199.40


Cotton Knit Throw, $79.00 $19.99
Have you been playing Home Makeover with your space, too? Where have you found the best deals lately? What are your storage tips for living in tiny spaces?
Images: Nathan Fertig / Unsplash; West Elm (3); Target (3); Wayfair (3); Pottery Barn (3); CB2 (3); Crate and Barrel (3)
Betches may receive a portion of revenue if you click a link and purchase a product or service. The links are independently placed and do not influence editorial content. Price and availability subject to change.
Quarantine Essentials Under $40 That Make Being Stuck At Home Suck Less
Does anyone know what day of quarantine we're on? Day 12? Or 20? 832? Who f*cking knows anymore. The only thing I do know is that the end still seems to be nowhere in sight. You know, since we as a country can't seem to follow the extremely simple direction to STAY HOME. So since it's pretty much guaranteed that at this point we're going to be quarantined in our bunkers a bit longer (trying to be positive) now is the time to do a quick inventory to make sure you have all of the most pertinent quarantine essentials. Of course, by "essentials" I'm referring to #firstworldproblem necessities that my fellow millennials require for getting through this unimaginable quarantine season. 
1. Blue Light Glasses

The Book Club Twelve Hungry Bens Blue Light Glasses, $30
Blue light glasses are a quarantine essential for two main reasons: one, they protect your eyes from blue light while you're staring at screens all day, and two, You can utilize them to hide your face and get away with minimal makeup during the countless unnecessary video conference calls. Not to mention, glasses make everyone look like they have their sh*t together, it's just a fact of life. I personally have this pair and they're the perfect trendy yet sophisticated option to get you through quarantine.
2. Lap Desk

Creative Manufacturing LLC Lap Desk White Marble, $29.95
A more recent discovery that I feel compelled to share with the class during these quarantine times is a laptop desk. Now, I've had a laptop desk before that was the kind where it's an actual mini table with legs, and it was annoying af. It was a hassle every time I had to get up. However, this lap desk is a different story because it's a flat surface on one side with a soft bottom on the other. Meaning, it seamlessly lays on your lap and it doesn't have to become a whole process every time you get up to pee. Plus, it's even got a cup holder so you'll be ready to go come Zoom happy hour time.
3. Journal

Intelligent Chance Five-Minute Journal, $24.95
There's been a lot of concern around the state of people's mental well-being during this quarantine and it's for good reason. Most of us feel a lot of anxiety and fear around the uncertainties of our world right now, which can really start to take a toll on our mental health, and ultimately physical health. That's why I highly suggest you get yourself a journal to write out all that chatter in your head that's just swirling around and weighing you down. I like this journal specifically because it has guided prompts to help you get your thoughts to paper, especially if you're someone who hasn't journaled before.
4. Tumbler

Brumate Uncork'd Marble Wine Tumbler, $22.98
If you're like me and trying to avoid the countless trips to the kitchen in which you inevitably end up eating all your snacks which are supposed to last you for the next month, then get yourself a portable tumbler. You can use it to keep your beverages hot or cold so you don't have to keep going back and forth to the kitchen. It can do double duty, acting as a coffee mug in the morning and then a wine glass come 5 o'clock (or, if we're being honest, 12pm). Just make sure you thoroughly wash it in between uses.
5. Oil Diffuser

SERENE HOUSE Ranger Essential Oil Diffuser, $25
If you haven't already bought an oil diffuser, then now is the time to do so. Something about essential oils just makes you feel like the epitome of ~wellness~. Different oils have different scents for different purposes—whether it's to uplift your mood, help you relax, help you focus, you can find one you'll like. Just don't post on Facebook that you're looking for essential oils, or you'll get inundated by messages from girls who bullied you in high school.
6. Aromatherapy Hand Lotion

Eucalyptus Spearmint Hand Cream, $7.50
Staying on theme with aromatherapy here, I highly recommend some stress relief hand lotion. Not only is it great to utilize as a pick-me-up throughout the day, but Lord knows all of our dry, cracked hands could use the extra love right now. 
7. Robe

Reina Butterfly Sleeve Lace Robe, $26.52
First rule of quarantine is that you don't have to wear real clothes. So then instead of changing from one pair of pjs to another, why not just wear a super cute and cozy robe for part of your entire day? Get yourself a beautiful one like this so that you can feel bougie and luxe all day long, even as you do your far-from-glamorous work.
8. Fuzzy Socks

PJ Salvage Striped Fuzzy Socks, $7.99
Since quarantine season means we're also sans shoes, treat yourself to a cozy pair of fuzzy socks. I know it sounds silly, but it's these little things that you can do to pamper yourself daily during this period that are going to be key to your sanity. And, if there's one thing I've learned in my 26 years of life it's that nothing eases my anxiety and makes my day better than a pair of fuzzy socks.
9. Water Bottle

Hydro Flask 18 oz Standard Mouth Insulated Water Bottle, $29.95
Hydration is key. You've heard it before and I'm here to tell you again, staying hydrated is crucial to your health. So make sure you're drinking plenty of water by getting a water bottle that will keep your water cold, and also happens to be cute. I know I sound like every other health and fitness influencer on Instagram right now, but I'd even recommend adding some zest to your water by adding lemon, lime, or mint to ensure you're that much more likely to drink the necessary amount.
10. Loungewear

Knit Happens Sweater and Shorts Set, $30
Obviously we're all living in loungewear right now, so why not treat yourself to a new matching set? Look, I'm not telling you to go blow all your money on a Gucci tracksuit, but just treat yourself to a new cute set that costs as much as your delivery order and lasts way longer. 
11. Blanket

LOMAO Flannel Blanket with Pompom Fringe, $23.99
If you don't have a go-to cozy throw blanket then you're simply doing this whole quarantine thing wrong. Get a cute and trendy one like this that will look chic at the end of your bed for the rare times that you're actually not all snuggled up in it.
12. Face Masks

Peter Thomas Roth Mask-Erade, $19
Quarantine season is prime time for self-care (which we all know means skincare). Personally, I'm a huge fan of Peter Thomas Roth products and am particularly a HUGE fan of the cucumber gel mask.  I like this set because it consists of an assortment of different masks so that you can pick your daily quarantined skin needs.
13. Luxe Candle

Uncommon James Country Sandalwood, $27
I know this is basic, but I'm a sucker for a well-packaged, aesthetically pleasing candle. And leave it to Kristin Cavallari to create the cutest minimalistic glam candle ever. I've been lighting candles every day during quarantine since, for the first time in my life, I've been consistently home long enough to actually enjoy them. Plus, I'm also not having to obsess all day over whether I blew them out or not before I left the house.
14. Time Cube

The one thing everyone seems to forget when it comes to #WFHlife is that it requires MAJOR self-discipline. Especially when you can't even "work from home" at the local coffee shop, it's hard to stay focused in your own house. Since I tend to find myself wasting hours of my day watching 16-year-olds on TikTok, I'll definitely be ordering this time cube. The whole idea is that by time blocking you're more aware of your time and thus more productive. Sign me up.
15. Heating Pad

Huggable Hedgehog Cooling + Heating Pad, $27
Especially if you've been anxious and stressed, a heating pad provides a comforting relief to your tense muscles. And like, leave it to Urban Outfitters to have a kitschy hedgehog version of a heating pad…but low-key I'm kind of obsessed.
16. Back Cushion

If you're working from home, you're probably hunched over your computer, using whatever chair you have at home because it's not like you could bring your office chair home. Which means your back probably is killing you (which means we are getting old). In addition to their super comfy mattresses, Purple also makes cushions, including this back cushion that will give you all the lumbar support you could need (that's your lower back). It also comes with a travel case that clips onto the back of your chair so it stays put.
Hopefully these quarantine must-haves will help make your now-canceled spring at least slightly more enjoyable. I get it, it's a tough time, so anything we can do to make our experience more elevated and luxe I'm clearly here for. So treat yourself to some of these quarantine essentials for the sake of your mental health, doctor's orders.
Images: @belleam / Unsplash; South Moon Under (3); Barnes & Noble; Urban Outfitters (3); Bath & Body Works; Yandy; Hyrdro Flask; Nasty Gal; Amazon (2); Sephora; Uncommon James
Betches may receive a portion of revenue if you click a link and purchase a product or service. The links are independently placed and do not influence editorial content.
Affordable Apartment Decor That Looks Expensive
I'm moving into a new (v tiny) apartment and it's been my life's mission to make it look chic af. If I can't have the gorgeous mansion I clearly deserve, then at least my small studio apartment can look fabulous. Unfortunately, I'm also a betch on a budget, so I've been scouring Pinterest for ways to look like I have my life together via my apartment decor. Here are some cute accents you can get to upgrade your place.
Plants
Plants are a super easy way to make it look like you have your life together. They also clean the air, or whatever. Regardless of how tiny, dark, or sad your current place is, plants make everything look brighter and more open. The trick is you have to keep them alive. But like, if you can't follow basic instructions like "water it" or "sunlight", then get fake ones. Also, never reproduce. Vertical gardens are super trendy right now and you can use it as a super chic privacy wall (which I plan to do for my shared balcony at my new place). Succulents, cacti, snake plants, and spider plants are all great apartment options and all over Pinterest right now. And make sure you get some cute planters.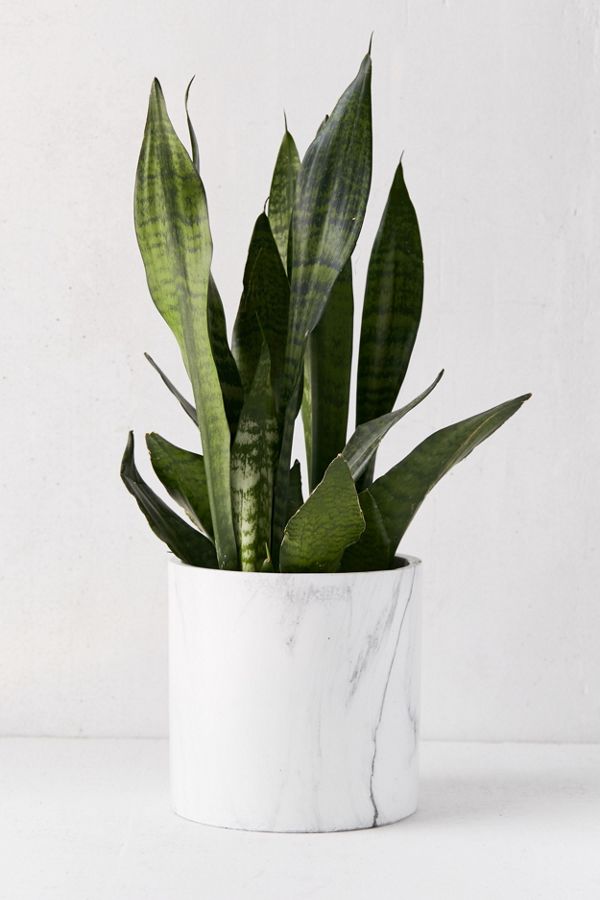 Urban Outfitters Marble 8″ Planter
Lights
Most apartments have terrible lighting, if they provide any at all. Instead of your sad floor lamp from college, get more lights by hanging fairy lights around your bedroom for a soft glow. You should also pick up some minimalist or industrial table lamps to scatter around the place. You can even get a cute neon sign if you want to look exactly like an Urban Outfitters ad, and look like a "fun" person. Just please do not get one that says Live OR Life OR Love and may God have mercy on your soul if you get one that says all three.

Frux Home and Yard Twinkling LED Fairy String Lights

Urban Outfitters Bulb Firefly Table Lamp

Urban Outfitters Ugh Neon Sign Table Lamp
Natural Wood
Having wooden furniture instead of all just the basic IKEA white makes your place look expensive, even if it isn't. It's also really trendy right now to mix materials and woods—meaning you shouldn't stick to all matchy-matchy dark wood just because your dresser is that color. Having natural items adds an airy, lighter feel to your space—which is better for small places as opposed to having huge, dark furniture. So get a couple pieces, like this super cool tree coffee table that looks almost identical to apartment design queen Viktoria Dahlberg's, and mix it in with your cheaper IKEA stuff.

World Market Wood Slice Coffee Table
Minimalist Art
Minimalistic ink (or watercolor) art is everywhere. It looks cool and doesn't weigh down or darken your already small space. You can overpay for it at Urban Outfitters, pay an artist a lot of money for it (hi), or get drunk, grab some pens, and scribble some out yourself. A lot of these pieces have wobbly lines or look like they were done in five minutes, so don't worry about making it perfect. Everything looks nice once it's framed.


Holly Does Art Moon Cycle Watercolor Art Print
Throw Pillows
Hide the fact that your couch is cheap or that you never make your bed with a bunch of cute throw pillows. Try to find some that are either super soft, flurry, or graphic. Don't get too many colors or anything too dark or obnoxious—again, the idea is chic, not "dorm room". Stick to mostly neutral colors and clean lines or a cute slogan for optimal coziness.

Brentwood 18-Inch Mangolian Faux Fur Pillow

Shop Betches Like Really Pretty Throw Pillow
Image: Mong Bui / Unsplash

Valentine's Day Gift Ideas For People Who Are Impossible To Shop For
Finding Valentine's Day gifts that aren't insanely tacky is almost as difficult as finding someone who doesn't seem like a potential serial killer on a dating app. Your options are basically that stupid Pandora princess ring or a box of Lindt chocolates. Ew. It's even worse if you're looking for a V-Day gift for yourself; browsing the CVS seasonal aisle alone is pretty effing depressing. Luckily, Shop Betches has a Valentine's Day collection, so you don't have to be overly mushy or borderline pathetic. You're welcome.

If your Valentine's Day plans consist of posting thirst trap mirror pics to your Snapchat story in the hope that someone else who's super single will see it and hit you with that "u up?" text, you might as well throw a dope phone case into the frame. Not included: a bottle of Windex. Nobody wants to see those little dots that accumulate from you popping zits like a fucking animal, so please wipe it down.

This card is definitely dual purpose. You can either give it to bae with a cheesy love note on the inside, or you can use it as like, an extremely culturally relevant way to break up with someone. Just write "I WANT MY PINK SHIRT BACK" on the inside, and hope they get the message.

Maybe your idea of the perfect V-Day is spending the night totally by yourself and watching JonBenet Ramsey conspiracy videos on YouTube. If that's the case, fill this mug up with black coffee and Baileys and avoid the love that's in the air like the flu. Katy Perry JonBenet would probably approve.

Whether you're bringing home a Hinge match or your boyfriend of what feels like 100 years, set the mood with this vanilla scented candle. It's like, way more romantic than the glow from your laptop while the Netflix "are you still watching?" screen waits for an answer.

It's 2018, which means that manspreading is 100% cancelled. Remind the love of your life of your status as a strong, independent betch with this pillow case set that sets some very obvious boundaries. Then, steal the entire duvet in the middle of the night.
Shop the entire Shop Betches Valentine's Day Collection.
7 Wedding Décor Ideas Nobody Wants To See Again, So Don't Even Try It
It's wedding season, and we here at Betches have expresse several strong opinions regarding trends in wedding themes, favors, and engagement photos that we believe should, for lack of a better word, die. Basically, we're running an internal competition to see how many comments we can get about how we're "ungrateful" for being invited to weddings and that "we shouldn't judge people" etc… from people who are clearly confused about the point of this site (being ungrateful and judging people). First of all, if you're having a giant wedding, you're BEGGING to be judged. You're literally putting your life and love on display for 300+ people, and you're damn right I'm going to judge it. Yah, I appreciate being invited but only if the food and music are good … if they're not, god help you.
Next on our list of unsolicited very good wedding advice is the décor, aka, "the reason Pinterest exists." Here's a list—not comprehensive because we could be here for days—of wedding décor I better never, ever see again. Some of it was cute and perfect five years ago, but its time has passed and we all need to move on for the good of the species.
1. Burlap
We've said it before, and we'll say it again. Burlap had its time in the wedding world—namely, right around when Pinterest started distracting us. But that time has passed. Come on, anything that can double (and was intended) for legitimate farm usage doesn't belong at your wedding. Not on your tables, not as a runner, not as a bow, and for fuck's sake, not on any person in the wedding party.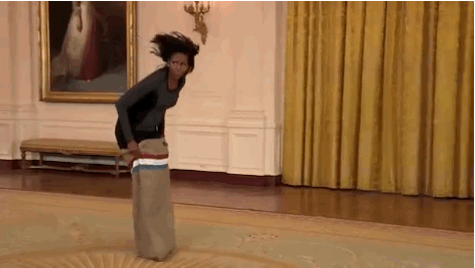 2. Mason Jars
Stop. Enough. Mason jars are used for canning and stacking cute desserts in, not to hold flowers/candles/sparklers/water lilies/pictures … what the fuck ever. Again, these had their time thanks to Pinterest, but they need to go the way of burlap and other rustic wedding shit and die.
3. Disco Balls
Sorry I even needed to type this one. Unfortunately, some DJs and bands bring décor, and if they bring a disco ball, hang on to your butts, cause this wedding is about to get real trashy real fast. Anything that came into existence in an era of ALL the cocaine, white tuxes, and enough hairspray to kill a puppy doesn't belong at your wedding.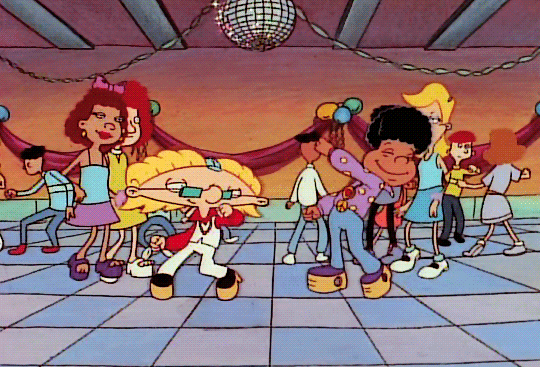 4. Large Framed Portraits Of Yourself
Stop it. This isn't your version of My Super Sweet 16; this is your wedding day. Have a little class. I understand that you spent top dollar on your engagement photos and want to show everyone that you def have a future in modeling if you don't get fat in the next month, but, honestly, relax. This isn't an exhibition.
5. Camo Anything
I'm upset that I even need to list this shit, but here we go. Once you go below the Mason-Dixon line or into the far realms of Pennsy-tucky, be prepared to see camo worked into weddings. I've seen it (via Pinterest … I wouldn't be caught dead at any wedding for human beings who believe integrating hunting attire into a celebration of love is okay) on cakes, on dresses, entwined on Mason jars, on hats resting upon groomsmen—the list goes on. Please, keep camo where it belongs: in the dark recesses of America where cable probs doesn't reach and on the backs of soldiers.

6. Fish
Yes. People use fish in fish bowls as fucking centerpieces. First of all, where did you get all the fish? Who set them up? And what happens when cousin Will gets drunk again and tries to get the fish drunk? Rude. Who takes the fish home? So, you see where I'm going with this. Please don't integrate living creatures into a celebration where 99% of people will be too drunk to care for even themselves.
7. Fake Flowers
Yikes. I understand that the real thing can be expensive, but if you have any money for décor, don't waste it on silk flowers. It's super rare that they can look realistic, let alone decent. Get creative with other shit like dried flowers, eucalyptus, etc. before you go trudging through Michael's aisles and aisles of silk nightmares.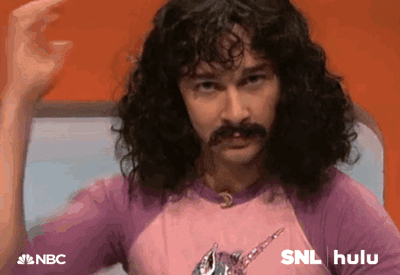 Don't make these mistakes. Or do. I guess it's your wedding. Just know I will subtweet the shit out of you if you do.
The Must-Have Dorm Room Decor Items That Will Save You From Looking Basic
I look forward to Back to School season for one reason, and one reason only: the shopping, obvi. IDC if it's because I'm buying markers, pens, colored pencils, and other boring shit that just collects dust. It still means I have to spend money and buy things for myself that I (debatably) need. It's the time of year where I buy another overpriced planner, simply because the design is cute and I like feeling as though I have my shit together. Oh, how a planner makes for a perfect disguise. *writes in it for syllabus week only* I then go out and buy an entire new bed set because my side of the room has to look the fucking best. You know, just in case MTV Cribs decides to come back and have a dorm special or something. Although I'm now ancient af a college alum, if there's one thing I learned, it's where to buy the hottest shit for your dorm room to make everyone 1) jealous and 2) come to you for all the pregames. Listen up, betches. Class is session.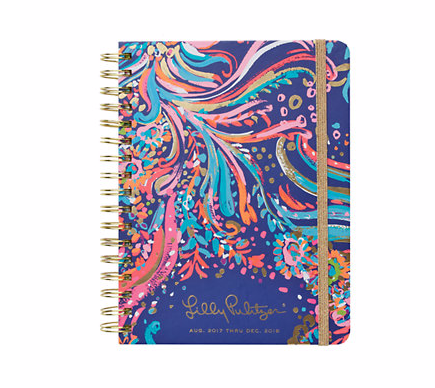 Nothing screams basic bitch or sorority girl more than owning a Lilly Pulitzer planner. The large size comes with more than enough pages and space to write down all of your parties important dates. Plus, it comes with stickers that resemble Lisa Frank but like, for adults in a festive print that's on your fave Lilly dress for this year's track season.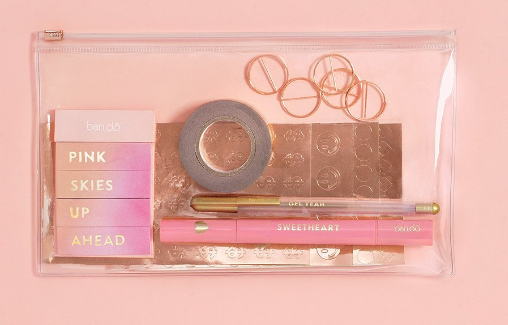 If you didn't already, you're probs getting a new big af bag to carry all your shit in to and from class. Although you'd like to look like you know wtf you're doing, all of your things def get thrown in like pocket change after the first day of school. Well, this little pouch kind of makes your life easier. According to its description, it comes with things you just "neeeed," like a marker stamp and gel pen—sounds about right. Since you lose pens like you lose bobby pins, you'll need this rose gold pouch to keep at least one aspect of your life organized.

Too much of a colorful floral comforter makes me think you're still a 5-year-old. You want one that's simple, yet classy (whatever that means) in a neutral color so your one night stands don't feel like they're sleeping in their little sister's room. For whatever reason, a white comforter says you're a sophisticated betch with a fuck ton of power because you are taking a huge risk to keep a white comforter clean. This white one has a gray floral design you can mix and match with other bed décor and still feel like a queen.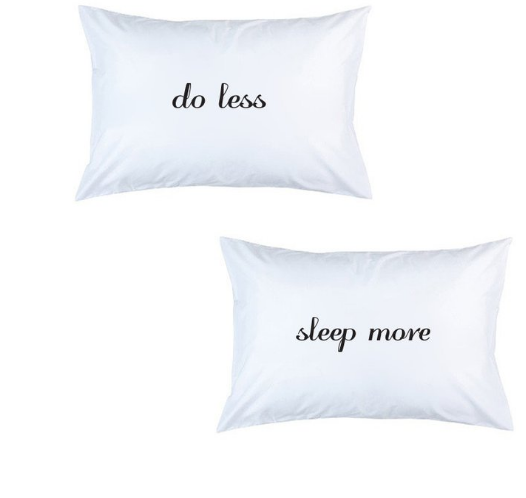 While we're on the topic of bed sets that mix and match, you'll also need pillow cases that inspire you to have sweet dreams, help you go to sleep faster, blah blah blah. It's not like these are like, therapeutic or anything, but at the end of the day you'll feel really good about rewarding yourself with a nap you don't need after barely lifting a finger. Same thing.

If you don't have a $50 UO tapestry hanging in your dorm room, do you even smoke weed dorm? This one comes in either navy or white with rose gold detailing so it'll easily go with any bedroom theme you have going on. Its artsy design will make for the perfect Insta background so all of your followers will think you're somewhere way cooler than your dorm room. Pro tip for those who aren't ready to give up the tapestry life after college: You can actually get your tapestries framed, and it will instantly take your décor from "college stoner" to "cultured intellectual who probably studied abroad in India or some shit." You're welcome.

You've seen this all over Pinterest and even though it's probs easy af to make yourself, ain't nobody got the time, patience, or attention span for that shit. So naturally we're going to buy it instead. This cute photo holder can showcase all the photos you look good in cherish in a v crafty way—one you can totally get away with telling people you made yourself.

Naturally, you're going to get white Christmas lights like every other student and their mother. But these are different and like, literally the best thing I've ever seen. These come with Bluetooth enabled speakers you can pair with your iPhone so you can host the best pregames on campus, make all of your friends jealous, and have your room still looking lit. How fucking cool.