The Best Movies & TV Shows Coming To Netflix This December
December. What a beautiful month. Though the cold weather is not my favorite, December still has a lot to offer. These quick 31 days are filled with ugly sweaters, dreidels, Mariah Carey's soul-filled voice, office holiday parties, latkes, and lots and lots of presents (hopefully). Oh, and a bunch of new movies and TV shows to binge and cuddle up to during the dreadfully cold days. Grab your newly cuffed bae and let's get started. Here's all the best stuff coming to a Netflix device near you this December.
'6 Underground'

Ryan Reynolds stars in this action-packed Netflix original movie about six people from all around the world who fake their deaths in order to take down well-known criminals…obviously, as one does. This sounds interesting to me for multiple reasons—the top being that Ryan Reynolds may be my favorite male actor to watch. He. Is. Beautiful. F*ck wait… Dave Franco will also be featured. I will be confused with which man to watch but I guess that's a pretty good issue to have *wink wink*.  This movie sounds crazy, in the best way.
'Burlesque'

Yeahhhhh you heard that right! Christina Aguilera and Cher make their way back to our computer screens in this 2010 cult classic. I know you all still sing "Show Me How You Burlesque" in the shower and maybe even try to dance to it. Okay so that's just me, you caught me. But seriously, I'm so excited to rewatch this movie.
'A Cinderella Story: Christmas Wish'

Soooo, Gregg Sulkin is the romantic interest in this cheesy film, and I am so for it. I hope you all know who Gregg is, but if not, let me remind you. 2010. Wizards of Waverly Place. Mason, the Werewolf. Ok, he was also on Pretty Little Liars, but who's counting. Anyway, this movie is a classic Cinderella tale, which we all pretend we're over with, but really aren't.
The 'Austin Powers' Trilogy

Get ready for all three Austin Powers movies to make their Netflix debut. Produced, written by, and starring Mike Myers as both Powers and Dr. Evil, Austin Powers is the perfect family movie night comedy to watch when home for the holidays.
'A Christmas Prince: The Royal Baby'
The threequel to the 2017 film A Christmas Prince and the 2018 film The Christmas Prince: The Royal Wedding, you guessed it—this one involves a baby! If you haven't seen the other films in this trilogy, I would suggest doing so before this one. Basically, they're complete classics, and I'm just confused why these movies aren't winning all the Oscars.
'Marriage Story'

 Scarlett Johansson and Adam Driver star in this film about a stage director and his actor wife who struggle through a coast-to-coast divorce that pushes them to their extremes. The story is personal, captivating, and has connections to any family. This is definitely a great movie to watch during the winter season, and it's already getting major Oscar buzz.
'Soundtrack' – Season 1

This new series is about music that connects the lives of random people throughout Los Angeles. This new High School Musical-esque show is coming to Netflix, and I couldn't be more excited to watch while avoiding all my responsibilities. I have been waiting for the day to love a show as much as 10-year-old me loved High School Musical and this is finally it (I hope).
'YOU' – Season 2

Warning: Spoiler Alert
After the dramatic events of last season that saw Joe Goldberg (played by Penn Badgley—or Gossip Girl, as I still like to call him) murder his obsession Guinevere Beck, fans were left on a huge cliffhanger. In season 2, Joe has already moved on from Beck and has his eyes set on a brand-new victim. This thrilling series will have you at the edge of your seats…not gonna lie, way too scary for me. So, you all enjoy it and have fun with your nightmares! I'll be sleeping like a baby, don't mind me.
'Fuller House' – Season 5

Unlike the original show, Fuller House is centered around the next generation of Tanneritos: D.J., Stephanie, and D.J.'s quirky best friend, Kimmy Gibbler. Unfortunately, still no Olsen twins, which is pretty upsetting. But Fuller House's fifth and final season will welcome back several beloved Full House characters, including Bob Saget, Dave Coulier, and John Stamos. It doesn't look like Aunt Becky (Lori Loughlin), will be coming back due to her, um, legal situation, but I'm excited for the other characters to make their appearances. After this season, the Full House journey is officially coming to a close. Enjoy the Tanners while you can!
'Glow Up' – Season 1

This show is for you makeup lovers out there! On this new show, aspiring makeup artists battle to be named Britain's next makeup star. According to Netflix, "they navigate colorful challenges to win a career-making opportunity in the beauty industry". This intense competition will reveal the amazing things makeup can do and its ability to transform you, and probably has some amazing British accents to make it even better.
I hope you're as excited about these movies and shows as I am. I am very ready for some new stuff in my Netflix queue, and I'm assuming the same goes for you. But when one door opens, another one closes, and there are a bunch of great movies and shows leaving Netflix this month too, including: Daddy Day Care, all the Rocky movies, The Pink Panther, Wet Hot American Summer, Billy Elliot, Frasier, About A Boy, Christmas with the Kranks, Get Santa, Leap Year, Mona Lisa Smile, and Schindler's List. Sad! Binge these babies before time is up! Starting…now. Good luck!
Images: Shutterstock; Giphy (10)
The Best TV Shows & Moves To Binge On Netflix This December
You made it through Thanksgiving, but there's like, so much more holiday season to endure. That means more family, more spending money, more office parties, and more blizzards. What a joyous season. The only good part about December is that it means 2018 is slowly coming to an end. That's a good thing at least. So to close out the year, here are some of our top movies and TV shows for you to watch on Netflix this December.
Dec 1: 'The Big Lebowski'
My ex-boyfriend's Instagram bio was "I don't roll on Shabbos" and I thought that was a reference to rolling joints. Turns out it's from this movie, which is about bowling. Basically, these two guys share the same name, Jeffrey Lebowski. But like, one's an avid bowler and one's a millionaire whose wife gets kidnapped. Millionaire Jeff doesn't want to get his hands dirty, so he hires bowling star Jeff to go pay his wife's ransom. Obviously, sh*t goes wrong because you trusted a guy who spends his time in rented shoes with your money and wife's life. This movie is apparently a "cult favorite" and my ex-boyfriend's, so go watch it.

Dec 1: 'Cloudy With A Chance Of Meatballs'
This movie is pure nostalgia. Remember the book we all read and loved in like, elementary school or whatever? This is that, but with a twist. Flint Lockwood sucks at inventing things, but one day makes a food machine that flies up into the atmosphere and actually works. His town is f*cking thrilled (as one would be) but end up getting too greedy and fat making the machine go haywire. IDK about you, but this movie f*cking scared me when it originally came out in 2009. People were legit getting squashed by cheeseburgers and spaghetti tornados coming from the sky. Now thinking about it, that sounds like a pretty good way to go.
Dec 1: '8 Mile'
Once you've binged Lady Gaga and Demi Lovato's documentaries, you can move on to this. It's not really a documentary, but more ~based on a true story~. Eminem plays Jimmy, a guy from Detroit who hates his life working at a car factory and want to be a rapper. Brittany Murphy (RIP) plays Jimmy's love interest and has sex with him in the car factory cause she finds it hot that he stands up for his gay co-worker, Paul, who was getting insulted via rap battle. If that's not reason enough to watch this, here's another: Mom's spaghetti.

Dec 7: 'Free Rein: The 12 Neighs of Christmas'
If you've already watched The Princess Switch and are still in need of your terribly wonderful cheesy Christmas movie, look no further. This movie is based on the show Free Rein, a British TV series with major horse-girl energy. Zoe drops a Christmas ornament and somehow discovers a ~family secret~. Who TF hides family secrets inside Christmas ornaments? How did you even get it in there anyways? This movie includes a Mistletoe Ball, evil b*tch boss, hot elf man, and some sort of Santa in a shack—I like it already.
Dec 7: 'Dumplin'
This movie is what would happen if Toddlers & Tiaras suddenly became woke. The movie stars plus-size teen Willowdean Dickson (find a more southern name, I actually dare you), who signs up for her mom's pageant because she wants to start a "revolution in heels". This is the feminist, body-loving movie I've been waiting for. I feel like this is a role Rachel Green would've died for had she taken up an acting career. I'm just praying it doesn't turn out like Sierra Burgees Is A Loser because that was an abomination. Besides, how could something with Jen Aniston AND Dolly Parton SINGING be bad? The answer is simple, it cannot.

Dec 7: 'The American Meme'
Be #cultured and spend your time watching a documentary starring the likes of Paris Hilton, The Fat Jewish, Emily Ratajkowski, Hailey Baldwin, and more. Watch how these influencers with literally no talent other than posting photos make a sh*t ton more money than you. After showing at the Tribeca Film Festival earlier this year, Netflix jumped to purchase this work of art. Any movie where Paris Hilton and The Fat Jewish are quoted as experts is one I want to see. This documentary may or may not be educational, but either way, it's going to be entertaining.

Dec 16: 'Baby Mama'
This movie is one of Tina Fey and Amy Poehler's best works. Kate, played by Tina Fey, is a single businesswoman who put her career before her personal life and forgets to have a baby. The struggle is f*cking real. She can't get pregnant or adopt, so she hires Angie, played by Amy Poehler, as the surrogate. Angie fakes her pregnancy for a little while thinking she could just steal Kate's money and peace. But then she ends up actually being pregnant with her own baby.
Dec 14: 'Fuller House' Season 4
This show is absolute garbage yet I find myself binge watching it with a half-empty bottle of wine more often than not. Nothing will ever live up to the original Full House, but this show has made it four seasons, so I guess it has to be kind of good? Mary-Kate and/or Ashley have still not returned as Michelle and that's thoroughly disappointing. But there's a Christmas episode included in this season, so it's totally festive. Joey dresses up as Santa so like, that might be charming or scary depending on who you are. And we get to find out the fate of Danny Tanner's love life after Vicky made a return at the end of season three. Thrilling.

Dec 14: 'Chilling Adventures Of Sabrina: A Midwinter's Tale'
Even though it only came out a month ago, you've probably already binged the entire season of the Chilling Adventures of Sabrina. If you aren't scared sh*tless of this show by now, get ready for their holiday special. Christmas time means that the Church of Night (a totally not suspicious name) celebrates the Winter Solstice, the longest night of the year. They all sit around a fire and tell ghost stories. Sounds cute and harmless until you remember that they all literally worship the devil. This is def not your traditional Hallmark holiday special, but if you're a spooky b*tch, you'll enjoy it.
Dec 14: 'The Fix'
Does reading about the state of our crumbling world make you want to hide in a cave for the rest of existence? Yes? Then this is the show for you. Netflix's latest panel show hosts top comedians and poses them with questions about how to solve some of the world's greatest conundrums. Will they solve anything? Probably not. Will they be a hell of a lot closer than our current government is to solving anything? Definitely.
Dec 21: 'Back With The Ex'
The title of this show is also known as the worst possible text message you could ever send to or receive from your best friend. This Australian reality show takes four singles and reconnects them with their exes. I think I would rather tweeze every hair on my body than partake in this, but I'm totally down to watch other people try. The only thing that would make this show better is if there was a Bachelor(ette) spin-off where they put former couples back in the mansion together. I want a full Jake and Vienna breakup meltdown all over again.

Dec 25: 'Anthony Bourdain: Parts Unknown' Season 11
The second last season of Anthony Bourdain's show is coming to Netflix to on Christmas, how pleasant. *Wipes tears*. As a world-famous chef and travel documentarian, Bourdain explores unusual foods and fascinating places around the world. This season takes us through West Virginia, Uruguay, Newfoundland, Armenia, Hong Kong, Berlin, Louisiana, and Bhutan.
 Dec 26: 'YOU'
Just in case you needed to hate Dan Humphrey a little more, here it is. Penn Badgley plays Joe Goldberg, a bookstore owner (classic Dan) who develops a crush on an aspiring writer, Beck. Aw, cute. Until it's not. Turns out, Beck has sh*t privacy settings and Joe knows a thing or two about stalking people (perhaps from his days as Gossip Girl?). In true Dan Humphrey fashion, what starts out as an innocent crush on Serena Beck eventually turns like, criminal. Explore the blurred lines between love-struck or dangerously obsessed with this feel-good show that reminds us all that men are trash.

Images: JESHOOTS.com/Pexels Giphy (6)
The Best TV Shows & Movies Coming To Netflix In December
It's fucking December, guys. As much as I wonder where the hell this year went (since I must've been blacked out for most of it), I'm beyond glad it's almost over. 2017 was pretty shitty, tbh, so here's to hoping 2018 is slightly better—only because I don't think it can get any worse. On the bright side, soon enough, we'll be bundled up for freezing temperatures, yet happily living as recluses for the next three months. With the holiday and winter season approaching, it brings with it a bunch of TV shows and movies we'll gladly binge on the couch instead of tending to our social lives. Whether you're using your boyfriend's, ex-roommate's, or you actually have your own account, log into Netflix, grab cheap wine from Target, and get comfy. Here are eight shows and movies to binge while you eat shitty takeout and live your best life in hibernation.
Movies
'V For Vendetta'
After a batshit crazy war occurs in London, the city is overtaken by a controlling psychotic government. The hero in the film, who goes by V (…couldn't tell you why), tries to fight back in order to get the world back to some sort of normalcy. Along the way, he crosses paths with Natalie Portman, who plays Evey. Together, they probably fall in love, bring world peace, and live happily ever after. I haven't seen this tbh, so whether or not that's actually the ending, this movie is supposedly v good and worth the watch.

'Hitch'
This all-time classic is one you've most likely seen only because it randomly plays during the weekends on E!. Either way, it totally sets the mood for a much-needed girls night rom-com. Will Smith is a "date doctor" in this film, aka that friend who helps you come up with your Hinge messages before there was even Hinge. He helps mentor people with like, corny pickup lines in order to score them a date with someone clearly out of their league. When Smith meets a girl for himself, his cliché tricks fail to work on his journalist girlfriend as she slowly learns his true identity. Moral of the story: You can't ever lie to us girls. We will find out. And we will kill you.

'8 Mile'
Netflix is taking us back to remind us why we fell in love with Eminem to begin with. Not only is he totally hot, protective, and like, family-oriented, but he's also a humble rapper (who may or may not dream about killing his ex-wife). The late 90's film is based on Eminem's actual tough upbringing, his struggles on becoming a famed musician, and most definitely, the only reason you know every word to "Lose Yourself."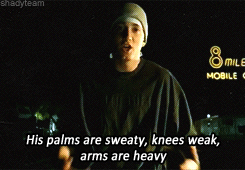 'The Santa Clause'
It's obvs December, so be prepared for holiday classics and annoying Hallmark movies coming everywhere to a screen near you. Netflix has a ton lined up for this month, including all three parts of The Santa Clause. In this classic, Tim Allen "accidentally" kills a man dressed as Santa (um, I thought this was a family movie?) and is immediately transported to the North Pole. He's forced to take Santa's place on Christmas, and suddenly, he begins to gain weight like crazy and grow a long white beard. After he realizes he's neither dreaming nor really fucking high, he decides to take on the job and all of the obstacles that come with it.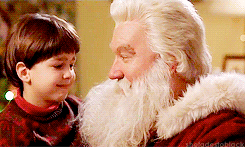 TV Shows:
'Dark' Season 1
This new German series circles around a small town and its shitty, corrupt past when two children go missing. When families go searching for them, they're introduced to shady af people who apparently are the reason why their town sucks to begin with. Supposedly full of twists, time travel, and supernatural stuff, this is being hailed as the next Stranger Things. The first season is going to be extremely binge-worthy when it's too cold to function outside.

'The Crown' Season 2
It has already been awarded the Golden Globe Award for Best Television Drama Series, so with its second season premiere around the corner, we can only hope it exceeds our expectations. The Netflix original is based on the life of Queen Elizabeth II and all those who were a part of it, from the 1940s to modern era. This may sound like your average history lesson, but I assure you, the royal Gossip Girl-like show is much juicier and more interesting than that.

'Fuller House' Season 3
Season 3 of Fuller House comes back this month (again) without the Olsen twins, because quite frankly, they obvs have better things to do than to pretend to be Bob Saget's teen daughters. Um, same. The new season brings more cheesy storylines, annoying af Kimmy Gibbler, and new (hopefully attractive) love interests.

'The Ranch' Part 4
In case you haven't watched a single minute of this, because same, Ashton Kutcher plays a true fuckboy-wannabe in this series. After his football career failed, he decides to run a ranch with family he hasn't seen in over a decade. Talk about awkward. Yet, in typical Ashton Kutcher fashion, he also eventually finds himself torn between choosing his current girlfriend or his high school booty call. See? Absolute fuckboy. However, this shit is apparently pretty funny, so it could be worth watching purely for procrastination.