All The Gross Ways Leo Tried To Gaslight Kendall On 'Paradise'
I'll be the first to admit it—anyone still watching Bachelor in Paradise and expecting to see anything but the contestants at their absolute worst is a fool. And most of the time, I'm fine with that. But Leo talking to Kendall on last night's episode absolutely made my blood boil. I never understood why Becca kept him around as long as she did. And I understood even less when I started seeing the DMs Bekah was getting about him. As if it weren't enough that Leo's presence is breaking poor Grocery Joe's heart, Leo now decided to go off on Kendall in the most f*ckboy-ish way I've seen since Dean. Leo: you're not pretty enough to pull that off, and even Dean barely got away with it. Here are all the things Leo said to Kendall that should make you run far, far away.
"You're A Really Good Actress"
So (spoilers, kind of), let's remind ourselves why they're even having this fight. Kendall found out that Leo kissed Chelsea, and is understandably taken aback. Not even really because of the kiss—Leo's right, to an extent, that everyone's talking to everyone—but because he went out of his way to keep it a secret from only her. Doing that takes away any credibility that you're actually looking for a relationship. Kendall would obviously see that on TV when it aired. So, keeping it a secret proved that Leo just wanted to get a rose, not pursue a future with her. Color me shocked.
Moving on to the actual comment here—this is a classic move from a guy who's done something shady and doesn't want to deal with the consequences. Kendall isn't even outright pissed—she literally just questions him about it. But he immediately turns it around as though she has something to prove in this conversation instead of him. He acts like she could never have liked him at all if she's doubting him now, and tries to force her into the position of fighting for his affection. It's a classic bully move: she expresses unhappiness with one action, and he holds their entire history and relationship hostage unless she drops it.
This is how sh*tty guys get out of ever changing anything or apologizing. They constantly force their partner into considering their concerns too minor to risk the relationship over. But the fact is, the relationship should never have been at stake—and they wouldn't be putting it at stake if they really cared about it.

"You Really Tricked Me"
At this point, Leo has invented an entire drama where Kendall was only pretending to like him. Casual reminder that Kendall has said literally nothing to suggest this. Second casual reminder that they are having this conversation because LEO went for someone else. Just in case anyone else feels like they're taking crazy pills. Anyway, Leo spins all this bullsh*t at Kendall just to divert attention from his own messed up behavior, and try to make it about his own hurt feelings. Not only that, but to make Kendall feel like crap in the process if at all possible.
By refusing to even address what she came to talk about, Leo is being so dismissive that it's hard to believe he sees her as human. His only interest is in walking out with the upper hand—whether that's by manipulating her into coming back to him, or trying to make her seem like a crazy b*tch and walking away. This. Guy. Is. Garbage.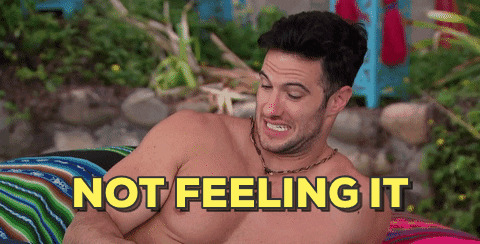 "I Don't Know How You're Still Single"
This moment in his tirade disappointed me, because Kendall responded by saying "you're making me feel wonderful." Admittedly, in the context of "you're also making me feel like crap," but still. Kendall, do not let this backhanded swill make you feel wonderful!!! Also included in this section of Leo's commentary were "I don't know how Arie didn't pick you" and "I don't know how you haven't found someone." All of these "compliments" are just a way of reminding her, when she's already vulnerable, that she is, in fact, still single. That Arie didn't pick her—which I'm sure was painful. That she hasn't found a guy, or been picked by a guy. All very real insecurities for anyone who's single and unhappy about it, let alone someone who has gone on two TV shows to find a boyfriend.
By negging her in this way, Leo is trying to chip away at Kendall's confidence. He's trying to make her less secure in her value by reminding her of times when she hasn't been chosen. And he's doing all this while responding to her saying "why did you secretly kiss another girl" with "I guess this whole relationship was a lie" and acting like he's over it already. He's hoping if he dangles the threat of being alone hard enough, she'll just say "never mind forget I said anything please just take me back!" Again, "I don't know how you're still single" is a terrible "compliment." "I'm so glad I met you" is what good, normal guys say. Good guys respect you enough to treat your relationship status as a choice, and not imply that they've failed at something by not having a boyfriend.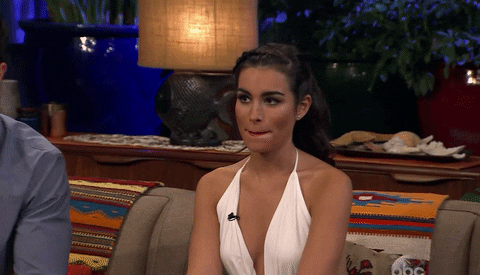 I'm sure I could go on, but you get the idea. Never, ever let guys get away with invalidating your concerns, redirecting every issue back to their own feelings, threatening the relationship every time you try to have a conversation, or actively trying to make you feel insecure. I am more than ready to see Leo go home tonight—Kendall, please girl, dump that hairy man-child and make it as cruel as you can manage.
Images: Giphy (3)
The Best 'Bachelorette' Recap You'll Ever Read: We Need To Talk About Dean's Dad
Could these hometown dates have BEEN anymore terrifying? From Eric's corner boy tour of Baltimore to Dean's abandonment confrontation with his asshole dad, to Peter's mom's hair, that was honestly one of the most real slash scary slash awfully depressing two hours of television. Let's just get into it before I start crying for wittle baby Dean again.
Date with Eric:
"Murder, drugs, and crime… Baltimore is the perfect place to fall in love"
Eric Taking Rachel On Some Twisted Disney Tour: Oh look they're selling drugs over there right now! Shall we take a look!?
Turns out Eric's hometown date isn't exciting enough for the Bachelorette producers so they just show footage from The Wire.

Eric then plays basketball with some guy who seems like he has no idea what the Bachelorette is.
Friend: Eric got straight A's in school growing up
Eric: Yeahhhh man I did.
Rachel: *thinks back to when he spelled façade PSYDE*
Anyone catch Eric's gigantic smile when Rachel hugs him before they go in to meet his family? Was she like touching his dick? I was confused.

We meet Eric's family, and it's hard to pay attention because I'm fully FLIPPING over every one of his family members' outfits: pink pants, an off the shoulder top sequin top, sparkly choker, and serious up do. Somebody knew they were gonna be on TV today.

Rachel: Tell it from the beginning. About how we first met!
Eric: Rachel we are on a dating show, everyone knows how we met. There are fucking cameras in my living room.
Aunt Verna: What's it like being the first black bachelorette?
Rachel: It's chill. Made out with a ton of white dudes.
Eric's mom (who looks 45)'s face during every conversation with every person on this show:

Erics dad: So what are you gonna do next Eric?
Eric: I'm tryina shut it down maaaaan
Date With Bryan:
First of all, OF COURSE Bryan is from Miami. It all makes much more sense to me.
Rachel: Miami just screams Bryan, it's hot, it's steamy, it has cheek implants.

Bryan is wearing an ombre shirt that blends into his pants. He's clearly living his best life.
Rachel: The fuck…dominos? I thought we were going to Liv.
When Bryan was like "I heard you like dominos" I honestly thought he was going to take her to get pizza. What if Bryan was lying about his job as a chiropractor and he's actually a club promoter? Could happen.

Nothing hotter than bringing someone on a date where you speak a different language that they don't understand in front of them the whole time.
Bryan's house reminds me a lot of The Birdcage.
Bryan's obsessive mom: If he's happy, I'm happy. If not, I will kill you.
Everyone watching:

His mom sounds just like my mom except my moms not in love with me: "You skinny Bryan. Are you eating good? Your hair. It is different. Did you cut it? They did not do a good job."
Bryan's mom has a very valid point: You have lots of girls, you went out with LOTS OF GIRLS and you go on a show and you fall in love with the girl on the show? Dis is crazy.

The sister talking about his ex girlfriend's demise sounds like the family killed her and hid her body, especially considering his mom threatens to kill Rachel like two seconds later. Can we get the cops on this, please?
Date With Peter:
Wiscooooo. Are they gonna go to the KK? I lost my sunglasses there in 2010 maybe they can ask a bartender for me? K thanks Pete.
Serious question: Did Peter hire the actors who play the friends in The Devil Wears Prada to pose as his multi-ethnic Midwestern squad?

That couch with the cup holders between every chair looks mad comfortable and amazing for pregames. True Wisco hospitality right there.
Peters mom to his hairstylist: Give me Long Island Medium.

At what point do people like us decide that we would look much better with a hairdo like Lynn's? Like when do we start looking like moms? I don't get it.
I'm bored. Peter is a fuckboy. Doesn't want to commit. Thinks his gapped teeth are too good for Rachel.
Rachel: Omg I totally did not come on The Bachelorette to come away with ONLY a boyfriend.
SIGN UP: Our Bachelor emails are the only thing more scandalous than the Fantasy Suite.
Date With Dean:
How come people are always laughing every time someone opens a champagne bottle? CHAMPAGNE YOU'RE ONE HILARIOUS MOTHER FUCKER!!!!
TBH, if I was this emotionally unprepared for Dean's hometown visit I cannot imagine how Dean felt.
Earth to Dean, maybe the best time to see your dad when you haven't seen him in 19312 years isn't on national television in front of a girl you plan on marrying in 3 weeks.

Realtalk though – total respect for Deans dad's newfound Sikhism. Zero respect for his choice of outfit color.
Liteally so many emotions during this hometown date. First you're SO uncomfortable for Dean. Then you're so sad for his dad. Then you're like really mad at his dad for being an asshole. Then you realize this is being filmed so its like 10x more awkward in real life. How did the Bachelor producers get their entire family on board!? How did Dean's dad raise someone who looks like his job is to stand shirtless outside of Abercrombie and Fitch?!?!? I need answers.
Dean's father the penniless citar player. Does that make Rachel Satine, the courtesan? Come to think of it, Dean does look/act like Ewin Mcgreggor's character in Moulin Rouge. I smell a remake!

"Dinner is made of lots and lots of mung bean…" are they all just going just sit around mediating and farting later?
Dean: I just thank the Lord your mother didn't live to see her son as a mermaid.
Dean's Dad:

Dean's Dad: I'm here honoring you, I made you a lovely curry dinner, I gave you a flower. I AM FATHER OF THE YEAR!

Dean: I love you regardless
Dean's Dad: Well, whatever
Also, like where the fuck do they live? This shit looks like a Lord Of The Rings movie. Also, I feel like the beanbag chairs they are making out on are v unhygienic.

So is Dean like, sleeping over at his dad's place? Surprised he didn't jump on the back of Rachel's Uber XL. "TAKE ME WITH YOU!!!"
Rose Ceremony.
Tbh I hate when she wears so much eye shadow. But her dress is gorgeous so it makes up for it.

Me When She Didn't Call Dean's Name: I AM SHOOKETH!!!!!!!!
Like that was a seriously bold move to let Dean go home even after she said she was falling for him. It made sense and was a logical move because he's a baby and has serious issues he needs to work through but poor baby Dean!!!
It's really a fucking shame she didn't let Eric home because it would have made for an excellent opportunity for him to shout "I DID NOT LEAVE SOUTHSIDE FOR THIS."