The Betches' Bachelorette Guide To Brooklyn
Planning sucks, and bachelorette parties are a ton of work. So we're taking all the guesswork out of planning a bachelorette party by breaking down top bachelorette destinations. Our guides will tell you where to stay, eat, party, how to get around, and give you a sample itinerary that you can follow. You're welcome.
In light of the super sweet (just kidding) comments in our recent The Top 5 Overdone Bachelorette Party Destinations, we decided to offer a bachelorette guide in a city that is both home to most (don't @ me if you don't live here) and cooler than, say, Las f*cking Vegas. Am I building this up too much? Probably. It's Brooklyn, specifically the Williamsburg area, where all the former Murray Hill bros who are now taking over Brooklyn live. Hurry, before it's too late! Book your bach weekend in Brooklyn for a good time in a place as full of ironic mustaches as it is under-the-radar bars. 
Now, Brooklyn is def on its way to dethrone Manhattan as the borough in which New Yorkers actually want to live, which is saying a lot considering there was once a time that taxis wouldn't even go to Brooklyn if they were already in Manhattan. Rude. BK is f*cking huge, so there's a lot of ground to cover, but not to worry, we have a guide for that! 
How To Get There
If you live in the Tri-State area, congrats, you're already there! You can take just about any subway from any borough into most parts of Brooklyn. Since we're mainly focusing on Williamsburg, Greenpoint, and Bushwick, you'll be going off the L, G, and M trains, mostly. You may have to walk a little more to get to where you're going than you would in Manhattan, but that's what ya do in New York, so deal with it. If you live in another state, there are two airports in New York (LaGuardia and JFK) and one in New Jersey (Newark Liberty—but like, Jersey). Flying into LaGuardia is the best bet because it's closest to Brooklyn and traffic is literally always the stuff of nightmares. If you don't want to spend all of your rent money on an Uber from the airport and have a ton of time to kill, take the E train. You'll be waiting for the train in an oven (the station) and will have to transfer at least once, and it will take anywhere from 2 to 17 hours, but the amount of money you'll save will (maybe) make it all worth it. Honestly, I'd just take a cab.
Where To Stay
New York is home to killer hotels, so def splurge on nice digs for the weekend. Our Betches-approved recommendation? The Williamsburg Hotel, which is walkable from the Bedford Ave L stop. We f*cking love it, it's the perfect mix of yuppie and what BK used to be. It's also right next to, like, everywhere, so you don't have to spend a lot of money or time getting from place to place. The most amazing thing about this hotel, though, is its rooftop/pool situation. If you live in New York, you know that there is a shortage of pools here, so the fact that there's one here is huge. And, even better, hotel guests get priority access.
We Stan a New York hotel with a pool. And because it's right across the street water from Manhattan, Williamsburg happens to have a few different subway lines running through it, so you can at least subway to your destinations and save money (because you'll be wasted on the way back, so it's better just to Uber). Also, if being #convenient and #efficient (hi) really excites you, you'll be happy to know that you can walk to most restaurants and bars in the immediate area. More on this later on, y'all.
How To Get Around
New York is a walking city, so you really don't have to spend a ton on transportation. Of course, there will be times when you'll want to Uber (see: 3am), but for the most part, you can walk or take the subway. 
Where To Eat
You literally have to book one of your dinners at Antica Pesa—specifically, your classy dinner when your group has gotten all dressed up. Like most amazing restos, Antica Pesa has two locations: one in Williamsburg and one (the OG) in Trastevere, a neighborhood in Rome. I mean, you know this place is legit if there are only two locations and one of them is in f*cking ITALY. If you're a pasta fiend (welcome, sister), order the ragú d'antra. (But really, you can't go wrong with any of the pasta dishes.) On keto or something? That's fine—they have plenty of protein options, like grilled branzino and hand-cut beef tartare. Food won't taste the same after this, and it will def be a meal to remember. 
Obv, we have to include some killer brunch spots on this list, so I'm starting off strong and throwing out Sauvage. If you have Instagram/know a single human who lives in Greenpoint, you know what Sauvage is. If neither of these things apply to you, allow me to open your eyes to le best seasonal French food. This place is so bougie that this sentence exists on their website: "We are inspired by outsiders and the outdoors; by naturalists and botanists, farmers and wine-producers, and anyone who works to craft their own dreams, hewn from boundless creativity and restless energy." Alrighty, then. The best thing on the menu is hands down the almond french toast. Everyone who eats it, eats it like Meg Ryan in Katz's Deli in When Harry Met Sally. 
Dceptive name aside, Extra Fancy is f*cking good and has serious ~vibes,~ especially if the weather is good. This Williamsburg locale is def not fancy—like, at all—but it has a huge patio with picnic tables/benches/bar out back and a separate patio for dining. This place kind of feels like if pubs were a thing in the U.S. The burger is fantastic, so if you're a firm believer in calories not counting when you're on vacation (which we all should be), order up.
Gemelli is another good dinner or lunch spot (that you'll have to take the L to, but it's worth it) that literally just opened, so you can tell everybody you discovered it (we won't tell). With a green tropical-looking bar (appropriately dubbed "the green room") and an outdoor patio, you'll get the perfect Instas of your Mediterranean-inspired fare. Gemelli has enough on the menu that even the pickiest eater in your group will find something to enjoy, whether it's a meatball sub smothered in cheese (that, dw, you can also get vegetarian), seared provolone served in a cast-iron skillet (think Italian queso), or pesto penne with homemade pesto. Oh, they also have a killer brunch menu.
Other must-dine places include: Sunday in Brooklyn, Shelter Pizza, Xixa, Gran Eléctrica, Seawolf, or (yes) Smorgasburg.
Where To Party
AKA the most important part of the trip. Let's start on a slightly off-beat note, shall we? House of Yes in Bushwick is a movie any day of the week, but on Thursdays they throw Dirty Thursday nights, which have themes like 90s night, Rihanna night, etc. On the weekends, their themes are a lot more out-there (in a fun way) and intense—as in, if you try to show up not fully decked out to theme, you can't come in. This place is so f*cking fun and is a strict no-judgment zone, so you can get weird. Also, the bathrooms are incredible. You'll see what I mean when you go there. Just, if you're gonna go? Be cool. Don't be that shrieking bachelorette party.
Schimanski is perf if the bridal party are still not over their rave days. This club/bar/event space has multiple rooms and hosts acts like Space Jesus, Keys N Krates, and Zhu.
Want to do something really out-of-the-box, yet still memorable (and a little bougie)? Go see a show by Company XIV, which puts on burlesque adaptations of classics like Alice In Wonderland and The Nutcracker. Everyone in the company is so hot and talented, and the shows are incredible. Think tons of skin, tons of glitter and rhinestones, and choreography you couldn't replicate if you took a muscle relaxer.
Last and equally as great is Kinfolk94, which is the happy medium between a bar and a club. Like, you don't have to dress up super fancy (but you can if you want), but there are awesome DJs who spin killer mixes of current hits and throwback jams. I'm not going to tell you how to spend your money, but if you're bringing a big group, it's probably better to coordinate ahead of time with Kinfolk and reserve a table so you can skip the line. The drinks are a tad expensive (as in, like, $12 for a cocktail), but not guess-I'll-just-be-sober expensive. 
Other fun af places to go out are Royal Palms Shuffleboard Club (if you want to cab way out to Gowanus), Freehold, Lot45 (which can be a little hit or miss, so go when they have an event like Drake vs. Kanye night), Baby's All Right, and Elsewhere.
Thursday, Day 1
Arrive in BK (even though you were prob only, like 20 mins away at work before this)! Drop your stuff off at the Williamsburg Hotel and get acquainted with your five-star home for the weekend. 

Walk ~15 minutes to Extra Fancy for dinner and sit on the back patio (the dining one, not the bar one). After dinner, either head to the bar part of the patio or back inside the restaurant for a few drinks before venturing to the next spot. You'll want to be slightly buzzed before arriving, so knock 'em back… responsibly, of course.

Uber to House of Yes! Ok, so if you want a full HOY experience, you will have to be ok with wearing something fun to dinner because there will be no time to go back to the hotel and change before making the journey to Bushwick.

The night will be similar to that episode of

Sex and the City

where they went to Trade, except HOY isn't specifically a gay club. They are incredibly LGBTQ-friendly/supportive, though. Again, like I said, don't be that bachelorette party.
Get Artichoke Pizza (right next to HOY) after your night so you don't die tomorrow.

Goodnight world.
Friday, Day 2
Late and leisurely brunch at Sauvage to recollect yourself after the latest night of your life. 

Once you are feeling like a slightly more functional member of society, head to The Brooklyn Barge, which is exactly what you think it is: a bar on a floating barge. The drinks are a tad on the absurd side price-wise, so if you want another reason to recover after last night, only get one or two drinks here and spend the rest of your time admiring the view, which is amaze. 

Head back to the hotel to lay by/go in the pool and get a little tan before the night begins in a few hours. Maybe get a facial in the spa while you're at it. Or just take a nap.

Get ready for dinner.

Walk exactly two seconds to Antica Pesa and enjoy an amaze dinner/bottle(s) of wine. This is the place you'll want to make emotional toasts and have actual conversations because while it's def a vibe, it's quiet. Like, your parents would like it. 

Take a quick cab to Théâtre XIV, where they have 10pm shows on Fridays and Saturdays. Or, if you're too glittered out from House of Yes, head to Lot45 or any of the other aforementioned places before it gets too late to get in. Orrr, if you're really feeling frisky energetic, you can go to the show at Theatre XIV and then walk to Lot45. 
Saturday, Day 3
Wake up and hydrate for Y7 yoga! It's bikram and kind of feels like you're doing yoga on the sun, but feeling the poison alcohol drain from your body is def worth it. Y7 plays amazing hip-hop music the entire time, so if you want to flow to something that isn't the breeze rustling leaves, Y7's got you. 

You will be drenched after Y7 and, if you're like me, will be rocking a concerning shade of pink. Maybe rinse your face off at the studio before walking to Sauvage and if a 20-minute walk is too much for you after sweating out all of the calories you've ever ingested, maybe go to Sunday in Brooklyn instead. This is just as charming and delicious and a lot closer to walk to. 

Head back to the hotel to save the public from your stench and spend the afternoon by the pool. 

Dinner at Gemelli, where, if you've been saving an Instagrammable outfit (aside from your HOY one), this is the place to pull it out. 

Uber to Kinfolk94, get situated at your table and drink the night away! This isn't the kind of place you'd like, run into Beyoncé, but it's def a scene. So if you want a quiet night of cocktails and friends, this isn't the place for you. It's a good f*cking time, though. 
Sunday, Day 4
Blessed day! Uber to brunch at Randolph Beer in Williamsburg, which is a slightly industrial restaurant close to the hotel but not near any subways (you could take the bus, but like… no). As its name implies, they have a lot of beer, so if you want a pint to go with your pancakes, we feel you. But they also have amazing cocktails that you can get by the pitcher, so RIP in advance. This place also has graffiti all over the walls, so cheers to all your brunch Boomerangs.

Head back to the hotel to gather your things and subway/Uber back to your life. Or continue day drinking in Brooklyn if you're a local! Yolo.
Images: Thought Catalog / Unsplash; companyxiv, houseofyesnyc, gemellibk, sauvage_nyc, anticapesa, wburghotel / Instagram
The 8 Prettiest Rooftop Bars In New York
Spring is finally here, which means New Yorkers will actually start to enjoy paying an exorbitant amount of money to survive living in this city. Unlike most places, spring in New York occurs for approximately two weeks between a disgustingly freezing winter à la March of the Penguins and a summer that is essentially just one giant heatwave. Fun times! New Yorkers generally don't enjoy nature (at least I don't), but that doesn't mean we don't like being outside when the arctic conditions have finally peaced the f*ck out. And because I refuse to pretend that I want to take advantage of the nice weather in Central Park, I will always be the first to propose the plan in the group chat before anyone else has the chance: rooftop bars.
Seriously, name one thing better than drinking against the backdrop of a beautiful skyline in pristine weather conditions. I'll wait. Here's the thing, as much as this city makes me question my will to live, there are times when I am happy to exist in a place where I can have a sit-down dinner at 11pm or run into Karlie Kloss every now and then. One of the most amazing qualities of this city is its ungodly amount of bars serving generous pours. So, while I couldn't tell you where the f*ck to eat in the Theater District for a 6:30 show (which is what most people want to know), I can tell you where to knock a few back as the weather warms up. You're welcome, darlings.
Gallow Green

If you can't picture where Gallow Green is on a map, would West 27th Street between 10th and 11th Avenues help? I know what you're thinking, "Wait. Isn't that where Marquee is?" Why, yes it is, but if you're not in college anymore, you have absolutely no reason to be at Marquee, so just keep walking west and you'll find yourself at the door of the McKittrick Hotel. Now, if you're a cultured New Yorker, you'll know that the McKittrick Hotel is home to the only reason any of us know what Shakespeare's Macbeth is about aka Sleep No More. So far, so good! Just above the steamiest play of all time is a seriously chic cocktail-slinging garden-vibes rooftop bar called Gallow Green. To paint a picture for you, it's the Garden of Eden with a bar in the back. It's named after a Scottish field where accused witches were hanged (neat!), so the bar has kind of an old-timey feel complete with string lights, greenery and tattered white flags hanging from the ceiling. Most importantly, the cocktails are to-die-for and the food is actually pretty amazing, too. I'll take a Sleep No More cocktail with a side of assorted pizzas, please.
Vida Verde
This place has a spring break in Cancun vibe, but for adults, and I am not mad about it. It's right in Midtown, so you can head straight here after you're done pretending to make the world a better place at your finance job. Vida Verde isn't like, revolutionary, but there are two things about it that make me want to go here over every other Midtown rooftop. First, there are more tables than I've ever seen in one place, which is ideal because I have a standing desk at work and now associate standing up with Excel and calendar invites. If there is a drink in my hand and nachos in the vicinity, I need to be sitting, mmkay? Second, there are 10 flavors of margarita. Lastly, a drinking establishment is only as good as its vibe, and Vida Verde clearly knows that, which is why the roof is literally covered in murals and every chair is a different color. I know the menu is prob the most important, but you're playing yourself if you think you're not going to take any Instagrams up here, honey. Take a seat, sip one of your 10 margs and enjoy the beautiful weather up here.
Ophelia
Ophelia is set in midtown East, but like, all the way east to the point that you are almost walking into the East River. But once you get inside, you'll realize it's well worth the trek. Perched 26 stories above the city, the Gatsby-reminiscent bar offers 360-degree views of the East River and Manhattan skyline in both its indoor and outdoor sections, so checking out this rooftop is not weather-dependent. The cocktails are delicious (and will sneak up on you—buyer beware). I had the appropriately named Flapper drink, which came in a glass dusted in sugar, and was prettier than I can ever hope to be (and tasted as good as it looked).
Refinery Rooftop

I avoid the Garment District harder than I do making eye contact with my ex in the Trader Joe's line on a Sunday morning. But I'll gladly step foot in New York's equivalent of District 12 for Refinery Rooftop. If you've ever experienced the nightmare that is a fashion internship, you'll know that those four miserable blocks between 6th and 9th Avenues are the bane of human existence during the summer months, but Refinery Rooftop is a game changer, I promise. I don't even get PTSD-induced flashbacks from my trips to Mood anymore! Anyway, Refinery is not a massive frat house like so many rooftop bars. It actually kind of feels like you got lost in someone's enormous house and just stumbled around until you ended up on her outdoor deck. I mean that in the best way possible: it's quaint, it's chic and it's surprisingly homey! The roof has a giant skylight and the walls are exposed brick, which is chic af. The cocktails are pretty decent, but be sure to order the bar's signature sips because for each one sold, one dollar will be donated to GrowNYC! According to Refinery Rooftop, GrowNYC "improve New York City's quality of life through environmental programs that transform communities and empower all New Yorkers." It'd be cool if they could improve New York City's quality of life by fixing the f*cked up subway system, but I guess environmental programs are cool, too. 
The Crown Rooftop at 50 Bowery Hotel

When it comes to sweeping views, this Chinatown gem truly has them all: Brooklyn, Manhattan, maybe even Queens! Don't get me wrong, Chinatown can def be disgusting what with the constant stench of freshly dead fish and enormous crowds that insist on taking up 110% of the sidewalks, but honestly, this is one of my favorite neighborhoods in Manhattan thanks to the mom in Broad City. Ok, back to The Crown. This summer, The Crown is rolling out all the stops with its new theme, Royal Summer. I'm into it. TBH, one of the things I love most about this place, aside from its bougie theme, is the fact that there are indoor and outdoor sections. As much as I love breathing in the polluted-beyond-reason New York air, sometimes I just want to sit on a plush sofa in an air-conditioned space with a drink in my hand. Is that too much to ask? The Crown doesn't think so! This season's new menu items include a lobster roll with North Fork chips and a "backyard" burger (among other items) and, for the drinks, Rose-Colored Glasses. My friends tell me I wear these on dates with attractive guys, fully knowing they will ruin my life for a few months, but whatever. To each her own, right?
Pod 39 Rooftop
Truth be told, I went on a horrendous date here when I first moved to New York, but the date was bad only because the guy absolutely sucked. The location was amazing and I have since been back many times. This bar is the perfect size, too: it's not too big and not too small, but more importantly, they let only a certain amount of people up at a time, so you will never have to take baby steps with your arms bent and pressed against your body like chicken wings as you try to squeeze through a crowd. I'm not sure if there's a theme, per se, but I have gotten chips and guac and a spicy marg more than once, so I'm going to go ahead and say Mexican is a safe bet? Like The Crown, there are indoor and outdoor sections, but the outdoor part is significantly better than the indoor one, which has exactly one sofa and one table. Feels like they are setting us up to fail here, but whatever. The outdoor part is also just really cute. There's no roof, so obv plan to go on a day/night when it's not monsooning, and enjoy the best views of Manhattan. The lack of roof also means the whole space looks and feels really open, so it doesn't get so loud to the point where you're scream-talking with your date/friends.
A.R.T. Soho

It's the Arlo rooftop in Soho, get it? The Hudson River provides the backdrop to this rooftop bar, so your Instas will be on point. The bar has plenty of seating (and a number of plush chaises), so you won't be fighting anyone for a seat (or, more likely, staring daggers at that table who just. won't. get. up). They've got an inventive signature cocktail list and a respectable selection of craft beer, plus snacks and small plates that I can personally attest are amazing. (Try the deviled eggs or grilled wings and thank me later.) And when the sun goes down, you can check out what's going down at the hotel downstairs, where they host all kinds of fun events, like a CBD pop-up, Movie Night, and once, a haiku poetry slam.
Brass Monkey
Say what you will about this place, but I f*cking love it. It's in the Meatpacking District, which like, chic, and the music here is on fire. The journey to get from the terrifying college-bar vibes of the first few levels can be a lot, but once you actually get to the roof, all feels right in the world again. It's the perfect place to go with a small group because there is so much space up there. You can push tables together, sofas together, your two friends you've always wanted to date together…etc. The drinks are like, fine, but no one really goes to rooftop bars for a truly quality craft cocktail. They are open pretty much all day and night, so go whenever you feel like, but I personally prefer to spend the day here than the night here because, after midnight, this place can be a cesspool rife with body con dresses and dudes asking what sorority you were in, which just shouldn't happen if both parties have graduated. The French Toast and anything from the Something Sparkly part of the menu is a perfect pair, so order up! Be sure to wear sunscreen because there is zero shade up here and no one wants brunch with a side of fine lines, amiright?
Images: Gallow Green; Refinery Rooftop; The Crown at Hotel 50 Bowery; Ophelia NYC; Arlo Hotel; Pod 39, Brass Monkey / Instagram
What To Eat Before Day Drinking So You Don't Die
Yikes. Not sure about everyone else out there, but I'd say a fair majority of the population is nursing a hangover today. This is what happens when you put a holiday dedicated to alcohol and blowing things up in the middle of the week. How could we have avoided these splitting headaches which are being nursed with copious amounts of water and pizza today? We could have eaten the right shit while drinking yesterday. Luckily, I researched (a day too late) what to eat before day drinking to help you immensely the next day in terms of not feeling like shit.
Next time a daytime bender is on the radar (I see you, Saturday Labor Day), here's what to eat before day drinking so you don't die.
1. Pears
Yep, according to Spoon University, Asian pear juice has been shown to reduce the shittiness you experience after drinking by about 20 percent. Eating a shitload of pears before day drinking helps your body get rid of the alcohol more quickly later, so you won't be captain of the struggle bus. Also, Rick Ross credits eating pears to his massive weight loss, so I mean, if it's good enough for the bawss it's good enough for me.

2. Green Juice
Since you're already planning on having nothing but a smoothie for breakfast before your day drinking adventure, make it a green juice instead. Eating things like broccoli and kale before drinking will give your liver an extra boost, and mixing those into a green juice can help boost your electrolytes, which will be depleted after your take four to ten shots.
3. Avocado
God, is there anything avocado CAN'T do? Since these trendy bitches are full of healthy fats and B vitamins, they can help stave off the spins tomorrow morning. Add some to a smoothie, eat some guacamole, or just embrace your basic bitch and nom on some avocado toast.

4. Cucumbers
Yay! Cucumbers are literally on all of our lists for healthy this or that, but they're especially helpful for those of us who are not all about that hangover life. Since they're about 95 percent water, cucumbers will keep you super hydrated AND help flush out toxins hanging out in your bod. According to Men's Journal, "cucumbers also contain small amounts of sugar, B vitamins, and electrolytes, which could help prevent or lessen the intensity of your headache the next day."
5. Salmon
Like our good friend the avocado, salmon has a shitton of healthy fats and vitamins that can prevent you from, like, dying after drinking all day. Nutritionist Marina Chaparro, MPH, RDN, CDE, LD (fuck, that's a lot of letters), says that the B vitamins in salmon help replenish or keep up the ones you'll lose when chugging beer through a funnel (I paraphrase that last part a bit). Eating salmon can also promote short term memory and general brain function, so maybe you'll have a better chance at remembering who you texted.

6. Pickles
Sounds weird, but it's totally true. Eating a handful of pickles before drinking will save you some pain later. Why? According to USA Today, drinking causes us to fuck up our water balance (duh), but pickles are rich in electrolytes and help maintain that water balance. In other words, it's like a vinegary Gatorade that'll prevent that head-exploding feeling the next day.
7. Quinoa
Thanks to the fiber and protein in this ancient grain, eating quinoa before drinking can slow down alcohol's effect on your body. In other words, because fiber fills you up, you're less likely to become a lightweight and get drunk in record time if you eat some black, red, or white quinoa before that game of pong.

8. Eggs
Obv, if you're day drinking, you need a hearty, healthy breakfast. While you're chugging your green juice and nomming your avocado toast, fry up some eggs, too. They're a bitchin' source of protein and are rich in cysteine, an essential amino acid that'll give your liver a much-needed boost.
Bottom line, make sure you're eating SOMETHING before you day drink, even if it isn't on this list. And, it goes without saying, but chugging a few bottles of water before playing Stump or Pong or Power Hour is going to help a lot, too.
Images: Tom Masat, Unsplash; Giphy (4)
Light, Low-Calorie Cocktails That Are Perfect For The Beach
Summertime is coming and that means bikinis, sun, pool bars, and the beach. Obvi you're going to drink this summer, because otherwise, really what is the point of existing? But we all know that alcohol is the absolute worst if you're trying to lose weight. Or even maintain your weight. Alcohol fucks up your metabolism and makes you crave fried cheese, scientifically speaking, so weight gain comes easy. The least you can do is make sure the calories in your drinks aren't pushing you over the top. Too many piña coladas or pre-made margaritas and you won't even fit in those cute white cutoff shorts you've been saving all winter. Here's what you should be ordering.
1. Vodka Soda With Lime
This is the holy grail of the basic bitch drink. Sorry, but there is a reason. Soda water has 0 calories, so you're just drinking the vodka cals, and the lime totally disguises the taste of the vodka. There are only 60 calories in one shot of vodka, so assuming one drink is like a shot and a half, we're looking at about 90 calories per drink, so you can get hammered guilt-free. Bonus tip? It's clear, so when you get sloppy as fuck, you're at least not sloshing something colored all over your white shorts.

2. Skinny Margarita
A regular margarita at most *shitty* bars is a nasty, syrupy, pre-mixed abomination that will run you 455 calories for 8 ounces, and I am not fucking kidding. This is a horrible bastardization of what a ~real~ margarita is supposed to be: tequila, lime, agave, and sometimes a dash of OJ or soda water. But fear not. You can still force the bartender to make you a real marg by ordering it "skinny". It sounds douchey to order, but this is what margaritas are supposed to be made with and will only run you 100 calories a drink. It won't be overly sweet and disgusting and it won't set you back too many calories. Order it on the rocks with salt like a goddamn adult.

3. Gin & Tonic
For most low-cal drinks, you want as few ingredients as possible. A gin and tonic is a classic that they have everywhere that will only run you 150 calories per drink. If you can't stand the taste of gin (fair), add lime  to disguise the alcohol. Bonus points if the bar has diet tonic, which is zero calories, and now you're looking at a 90 cal drink for just the alcohol.

4. Paloma
A Paloma is so refreshing and summery, and it's only 160 calories. It's made with tequila, soda, grapefruit juice, and lime. It's a safe choice to order if you want to mix it up, and it isn't loaded with sugar or calories so you won't feel like a dehydrated sugar monster if you pound these for hours on end.
5. Champear
This is my new favorite brunch option, but really it can be drunk always. A champear is just champagne with a splash of pear juice, and it is fucking amazing. The pear juice is so minimal that it'll only run you 18 calories, and a glass of champagne is only 90 calories. It's classy af and delicious, and way better than mimosas so do this for your next day drinking excursion and be guilt-free.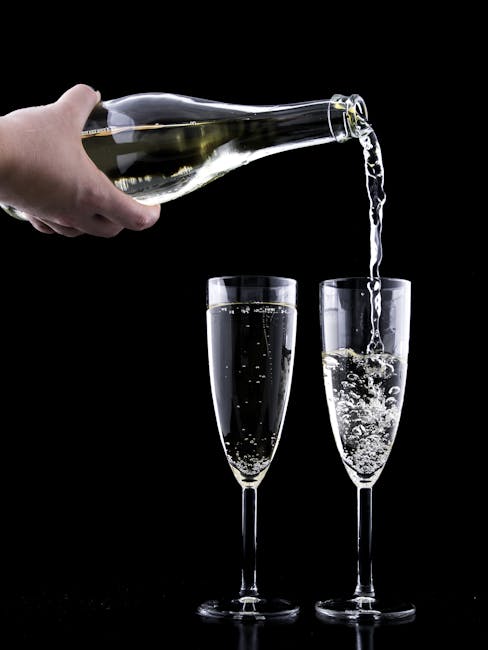 Images: Shutterstock; Giphy (2); Pixabay (2)
It's Time To Shine Even If The Sun Won't: Weekend Horoscope April 6-8
The weekend is here and you know what that means? All bets are off. Blindly take our advice and live the next two days to fullest. You won't regret it until you do. It's time for your motherfucking weekend horoscope April 6 – 8.
Aries
We're a little over halfway through your birthday month, Aries, and it doesn't really seem like you've celebrated appropriately. This is nothing less than unacceptable. The horoscope decrees it; sorry, I don't make the rules! I don't care if your birthday already happened, I don't care if it hasn't happened yet, and I don't care if you held a parade in your own honor yesterday (love the drama though). This weekend you are on 24-hour birthday watch. You should be drunk the entire time, and preferably in a crown. Eat every brunch, drink every alcohol, and make sure everyone treats you like the queen you are.
Taurus
I have one word for you this weekend, Taurus: you. You've been doing the most these past few weeks, and seem to only suffer for it. Your life right now is the truest example of no good deed going unpunished, so it's time to stop fucking doing good deeds. The next 48 hours should be a tribute to you, and anyone who's not onboard can get tossed to the side. You deserve some unadulterated praise and it's about time you get it. Bless up.

Gemini
After what was hopefully a relaxing weekend and moderately lowkey week, it's time to let loose, Gemini. We're not talking balls to the wall blackout, but a weekend full of sunny, light hearted happy hours. Nothing says "spring is coming" like some old fashioned day drinking. Just tell your friends your horoscope says you have to. It's time to break out the rosé and pray that the weather follows suit.
Cancer
After a severe stripping down last week, Cancer, we hope you're taking this weekend to make some time for you. It's rough getting called out, but you're one of the few signs strong enough to take that critique in and make yourself better for it. This weekend, do whatever it is you need to do to get back on track. If that means some good old you time, go for it. Sometimes the only way to get a clear mind is to shut out literally everything else. You'll come out the other side of this weekend with a sense of clarity that most people don't achieve after a year's worth of hot yoga.

Leo
Spring is in the air, and you know what that means, Leo? The stars have ruled it's time to start hooking up with new guys. Leave winter and all of its terrible memories behind; focus your efforts on warm weather and guys who don't make you want to die. Despite what it may seem like right now, they do exist. This weekend, branch out by heading to a new bar in a new part of town. You'll be shocked by how many people you won't recognize. Don't hesitate to hand your number out to a few hopefuls. Most importantly, have fun and make sure everyone sees you doing so. Good vibes attract good people. By the end of the weekend, there might be the very beginnings of love in the air.
Virgo
After surviving last weekend, you deserve a break, Virgo. It's not an easy feat navigating life when Mercury has it out for you, but you made it through in (mostly) one piece. For the next couple days, celebrate with a full routine of pampering. Pedicures, massages, facials, you name it. I want your Saturday looking like a montage from an early 2000's teen movie. Sunday is a day for sleeping and the occasional TV show (but mostly sleeping). The horoscope is eyeing your Netflix queue. Come Monday you should be well rested and ready to take on the week.

Libra
Let's continue last weekend's trend of a new you, and carry it over into new friends. Let's be real, Libra: your friends have been a total drag lately. And by lately, I mean the past six months. It's not necessarily anyone's fault; people grow apart. Sometimes we all have to sit back and realize that the people you spent every living second with in college don't transition into the real world with you. It's a hard realization, but a necessary one. This weekend, start the slow and arduous process of expanding your social circle. Who knows, six months from now you may have a new crew to call your own!
Scorpio
It's been a while since you've let loose, Scorpio, and honestly it's getting kind of boring. We miss the days of you being the wild card friend who would either end the night dancing on tables or crying under them. We're not asking for a full revival of your old ways, but maybe just a visit. This weekend, break out that dusty bottle of tequila and warn everyone in a twenty-mile radius that you're back in action for a limited time only. Maybe take Monday off to recover from the physical and emotional damage you will have incurred (and caused).

Sagittarius
After spending last weekend figuring your shit out, it's time to start implementing some of those much needed changes, Sagittarius. This weekend be sure to leave old baggage behind and start living your new, best life. Friends who aren't supportive? Toss them. Plans that don't excite you? Cancel them. Clothes that reek of old you? Burn them. Nothing is safe in the journey to the New You, and we for one can't WAIT to see the end result.

Capricorn
Listen up, Capricorn. It may be time to step back and take a breath. You're burning the candle at both ends these days, and your mental, emotional, and (probably) physical health are suffering for it. Your social calendar can be put on the back burner for two days if it means maintaining what little sanity you have left. Warn your friends, turn off your phone, and let the next two days be the calmest you've been in months. No joke, you should burn through no less than three heinously expensive candles. The hectic shit can resume come Monday.
Aquarius
After a winter full of pasta, it's time to get back on track, Aquarius. We're not judging; nothing warms those cold January nights like a nice bowl of mac and cheese. But the sun is coming, and the time for hibernation has ended. Use this weekend to turn over a new leaf and kickstart your healthy spring diet. Thanks to literally any celebrity ever, there are countless recipe hacks to trick you into thinking cauliflower tastes like mashed potatoes. Try those and get accustomed to lying to yourself. It may be hard at first, but you'll be loving life come July when it's too hot to wear anything other than a bathing suit.

Pisces
Standing up for yourself can be hard. No one knows this better than you, Pisces. A perennial people pleaser, it's difficult for you to ever put yourself first. But luckily for you, this weekend is when you start. Make your voice heard, Pisces. Your friends will still love you even if your opinion differs from theirs. And if they don't, what kind of fucking friends were they, anyway? Don't make time for people who won't let you live your best life. It may seem harsh, but you'll be stronger for it come Monday.
Images: Giphy (5), Unsplash (1)
Cute Summer Tumblers That Will Hide The Fact You're Drinking In Public
If the first thing that comes to mind when you think of summer isn't day drinking, then you're probably doing your whole entire life wrong. It's kind of just widely accepted that basically every time a group of twenty-somethings are near any kind of water or any facility with a lawn or grill, day-drinking will occur. Unless those twenty-somethings are like, Amish or whatever, in which case they save they day-drinking for Rumspringa. I think. Who knows what Amish do, really? For those of us who are allowed to use zippers, you sadly can't always get away with lugging a bottle of Barefoot Moscato to the beach, so you should probably get a cute tumbler cup to make all of your questionable decisions a little more acceptable. Here are a few that will look really good on your Snap story.

This pineapple tumbler is so extra but like, definitely in the good way. It comes in gold and rose gold so you can find the one that best matches the rest of your life. (Or at least your iPhone.) Plus, there's even a matching set of shot glasses.

Ban.do has a ton of cool shit that's practically begging to be Instagrammed, so this tumbler cup is def a must-have. They have lots of prints and designs to choose from, but if I had to pick one to narrow it down, I'd have to go with the Will You Accept this Rose cup for obvious reasons.

Okay, I know that adding a Starbucks cup to this list is basic AF, but that's totally the point. There's a pretty solid chance that this cup is the physical representation of literally everything you stand for. Realistically, you probably have this leaf print all over everything you own already and basically, own stock in Starbs with all of the iced skinny vanilla lattes you buy.

Not to be super biased but this tumbler is literally perfect. It's hilarious and fits an entire bottle of wine, which are probably your two best qualities, too.

TBH, you'll probably use this once and then realize that even though it's dishwasher safe, nobody has time to continuously clean a curly straw that's sucked down tons of booze. Anyway, it's still pretty awesome so who really cares?
How To Day Drink And Still Make It Out At Night
Day drinking and going out at night are two activities that betches excel at compared to most, but even we'll admit that doing both within the same 24 hour period is a daunting task. You start out the day with a few mimosas, maybe some wine and it feels all too natural with your hearty breakfast of ¼ of a scooped out bagel. The day is full of possibility, and by 4 P.M. you're wasted and invincible. "We're definitely making it out tonight!" says the entire group as everyone plots possible options, only to start falling apart within mere minutes. If you truly want to be one of the few still standing by the end of the night, you need to follow our advice:
Decide Early On That You're Going Out, And Never Look Back.
In order for all of this to work, the golden rule is to commit to the fact that you're embarking on a twelve-hour drinking bender and never question it at any point in time. Especially as the day goes on and your liver hates you more and more, you can't so much as entertain the idea that staying in is an option, which is the immediate gateway to face-planting into your bed.

Stay Consistently Drunk.
This is difficult, but another essential for transitioning from day into nighttime drinking. The problem is that if you get too drunk before 5 P.M., you severely up the chances of getting sent home (unless you make the rare and impressive blackout comeback which will earn you literal cheers from anyone who's crossed your path). On the other hand, if you get too sober at any point, you'll start to get hungover, and TBH that's significantly worse. Maintaining a mid-level buzz is the only way to make it through.
Don't Nap, Or Even Sit Down For Too Long.
Despite your vodka-induced enthusiasm and desire for a "quick, twenty-minute power nap" in the middle of the day, we all know where that road ends. It's you waking up at 4 A.M. covered in Cheetos and wondering what year it is, with 72 missed iMessages from everyone else having a blast at the club. Avoid this easy trap, because you know full well that once your eyes close they are not opening for a v v v long time.

If You Have To Go Home, Bring Friends With You. And Not Boring ones.
While we are banning naps on this list, we do understand that you may need to go home throughout the day, i.e. to change your outfit, pregame, etc. That's acceptable as long as you're accompanied by friends who will prevent you from napping (see above). It's also extremely important that you don't include any downers at this stage who will plant the seed of calling it quits at that point and potentially drag you down with them.
Eat, But Like Not That Much.
If you're going to maintain a steady intake of alcohol for the entire time you're awake, you should probs incorporate some solids into that mix as well. That being said, eating an entire pizza is going to take a lot out of you physically, emotionally and spiritually, and it will be very hard to bounce back from that.

Have Fun Fucking Plans.
This one cannot be understated. A lame house party or even a bar with too many fugly people isn't going to sustain you for five minutes after a solid afternoon of dartying, nor should it. Don't be afraid to change locations until you find a solid venue, since that will also prevent you from sinking into the nearest chair/ couch/ floor. Like this whole endeavor, it's all about endurance and ignoring multiple red flags from your body in the name of a good time, which we truly believe you are all capable of.
A Frosé (Frozen Rosé) Recipe For When You Want To Dage But It's Hot AF
If somehow in the course of your Facebook/Snapchat/Pinterest/Instagram travels you've missed a metric fuck-ton of frosé recipes, consider yourself a homeschooled jungle freak. Literally every food mag, blogger, and celebrity takes a pic of some popular betches sippin' on frosé either next to a pool or on the patio of some trendy restaurant you've never heard of.
If you want to be popular on social media enjoy this frozen alcoholic summertime treat AND have an excuse to take a pic of yourself being cool, it's time you learned to make your very own frosé. We scoured the interwebs and went with betchy mag Bon Appetit's recipe, which we've adapted for your viewing pleasure below.
Ingredients:
· 1 750-mL bottle Merlot rosé
· ½ cup white granulated sugar
· 8 oz strawberries or raspberries, chopped (for strawberries, remove the tops)
· 2 ½ oz lemon juice
Instructions:
Grab a 13×9 pan (the kind you use for brownies lol) and pour rosé in. Freeze that shit until it's almost a solid block of delicious wine ice, which should take like 5-6 hours.
While that shit transforms, grab a saucepan and boil the sugar and ½ cup of water together until the sugar dissolves which should take less than 5 minutes so pay attention. Add the berries and remove from the heat. Let the concoction sit for about 40 minutes so that everything can hang out, then strain the mixture through a mesh sieve unto a small bowl. Chill that shit in the fridge for about a half hour.

Is your rosé frozen-ish? Good. Scrape into a blender with 3 ½ oz of the berry syrup and the lemon juice. Add in about 1 cup of ice and blend until everything is smooth. Put in the freezer so everything can solidify a bit for like 35 minutes.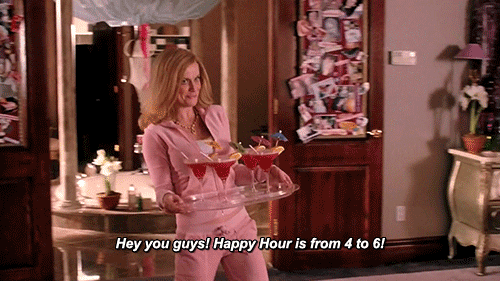 At this point you can blend it one more time then serve or like just eat from the freezer. Really, you do you.