Gurki From 'Dating Around' On Dating As An Indian Divorcee & What Netflix Didn't Show
Going on a first date always sucks. Correction: Going on a first date usually sucks. OK fine, there's the hope of a connection and the off chance that you get to learn something new. But, in my experience, a first date typically disappoints. You usually know within the first 15 minutes whether you're interested in a second date, and if not, you have to spend the rest of the time being polite, when all you want to do is bail. For me, add the complexity of being divorced, Indian, and 38, and I usually spend most of the date hearing questionable comments and trying not to react negatively to them. 
Even though first dates are miserable, when I got recruited to be on Dating Around, I assumed that since I would be committed to at least five first dates, perhaps the odds of a connection were in my favor. With a Netflix team of casting directors that knew what I was looking for, I was also hopeful that they had the resources to find me better dates than I had had luck with in the past. 
I don't discriminate on race or religion when I date and have gone out with all sorts of men. This was also the case on the show. My Dating Around dates on Netflix were a smorgasbord of bros from Puerto Rico, Lebanon, Israel, The Bronx, and Wisconsin (plus someone from the Caribbean and another Indian-American, but both were cut from final edits). We filmed Dating Around over 7-8 days and had 12-15 hour days. All that filming was then boiled down to the 26 minutes of glory you saw on Netflix. 
There were many interactions that weren't shown in the final edit, and I was surprised at the similarities between the comments I heard from my Netflix dates and what I'd heard from other dates in the past. These comments have always been off-putting, but I've heard them so often that I assumed they were just par for the course of dating. After getting thousands of supportive messages due to the visibility on the show, I realized that most of these interactions warranted calling out in the past. 
One guy on Dating Around decided to tell me that he was spiritual and respected all religions, but that if your religion included multiple gods, he wasn't into it. Huh?! Mind you, he had supposedly dated Indian women before and knew the odds of me being Hindu were high. The Hindu religion is based on multiple deities, and I could not figure out if he meant to take a dig, or was just so self-involved he really thought he was woke despite that comment. Did he not realize he was contradicting himself saying he was respectful of all religions except if you believed in multiple gods?
Very early on in the date, he proclaimed his motto: family, faith, and football. I knew the minute he said that it was going to be downhill from there, but I didn't want to write him off so early on in the date, so we kept talking. When I asked him what he was looking for in a relationship, he told me that he wanted a girl that could dress up for his real estate parties but that could also sit with him in a T-shirt and jeans and watch Sunday football. I can respect someone that wants to spend time with their significant other, so I asked if he'd go to yoga with me if I wanted him to. He responded that "Stretching in a room full of chicks and gay men" wasn't his thing. 
"I see… so you want your partner to watch football if she isn't into it, but you won't go to yoga if she wants you to? Isn't that a double standard?" I questioned. I don't even remember his response as I buried myself in another rosé to make it through this date. I didn't realize I'd end up in tears and berated for my culture, but live and learn.
In hindsight, I probably should have called off the date as soon as I saw red flags. But gaslighting at its finest had me second-guessing my own opinions of him. He was so sure about his stance. Was I the one too demanding about equality in relationships and openness to my culture? How could someone that's lived in multicultural New York for over 10 years be so confidently close-minded? Maybe it was me that had the wrong opinions of how a relationship should work? The producers had also told me prior to the date that they really thought we would have a connection. It wasn't until we stopped filming and the entire crew came up to me for hugs that I realized he was in the complete wrong and that a connection was never going to happen. (Next time someone orders a Miller High Life on my date, I'm paying for my check and walking out with zero explanation.)
Aside from fellow divorcee Manny, the most benign comment I got on the show about being divorced was that it was "different". Different? More than half of marriages end up in divorce, so was it actually that different? I think it would be different if you were on a date with a person who was still married. Another guy on the show told me that he had never gone on a date with anyone divorced because he felt it showed they had different family values than his and he wanted someone family-oriented. How is being divorced an indicator that you don't care about your family? Anyone that knows me will tell you how much I cherish my family and commit to my partnerships when in a relationship, why was the fact that I was divorced negating that?
Most dates, on- or off-camera, are disappointed when I tell them I'm divorced. "I'm sorry" is the first thing I usually hear, and then there is an awkward silence and you can see the guys' wheels turning in their heads as they decide whether they want to salvage the date or not. I don't judge men for all of their breakups and still being single, so why am I getting this treatment for a divorce? 
Dating someone that's divorced but still wants a long-term partnership means they actually understand the value in that commitment, I would argue more so than someone who's never been married. They've experienced the negative aspects of marriage, which means they're aware of the challenges. Plus, they've gone through the hoopla of a big fancy wedding, so you know their motivation to be in a relationship isn't driven by an engagement ring, fancy dress, or Instagram photos. 
Being divorced makes you that much more appreciative of a relationship where both parties want to make it work. It also makes you more understanding of how important compromise is. I'm not here to play games or win an argument, I'm here to find a partner to grow with and support. Having a piece of paper from the state provides a false sense of security, and I understand how little that piece of paper actually means without real commitment. Any man would be lucky to be my second husband.
The best (yes, this is more sarcasm) is when a guy finds out I'm of Indian descent. If they have dated other Indian women before, they will usually claim that fact proudly and say they, therefore, understand where I'm coming from. When I probe further it usually turns out that their past girlfriends were from another part of India far remote from where my family is from. There are 100+ languages spoken in India and if you looked at the diversity of cultures, that country could be its own continent. Where my family comes from (I am Jatt Sikh Punjabi; that's right, three different superlatives to dig into) makes it so that most of the time, the only thing I have in common with the other Indian women these men have dated is skin color and a childhood diet full of turmeric and mangos. 
The other guys that haven't dated Indian women will usually be proud of the fact that they love Indian food despite the spiciness or that they know all about Indian cultures because they have been to an Indian wedding. It's not that I don't appreciate these men's eagerness to connect to my Indian heritage, and I understand that our weddings are amazingly memorable, but it often just makes me feel like a token. I don't group all white, brown, or black men in the same buckets, so it's a mystery to me why these modern, supposedly woke, men bucket women this way.
All women regardless of culture, marital status, or age have these types of challenges while dating and it's downright exhausting trying to manage these interactions. Looking back, I should have listened to my gut more and educated these men on the proper way to interact with a multi-dimensional woman instead of second-guessing myself. Had these men known their comments were regressive, perhaps the ones that showed potential would have taken the steps to grow.
I am by no means perfect and have done so many things in my life that others would call mistakes. But, I always appreciate it when I am made aware of my own ignorance because it gives me the opportunity to evolve. If I've learned anything from years of dating, it's that the more front we can be with one another, the more opportunities we can provide for growth. In moments of frustration after dates, I've been totally guilty of saying that there are no good men left (I mean seriously, where are they?). But instead of complaining or settling, I think it's due time to woman up and speak up. There's plenty of fish in the sea, they just might need a little guidance. 
Gurki Basra is an Indian-American fashion industry executive whose experience on Netflix' Dating Around went viral when one of her dates aggressively judged her for her divorce and parent's arranged marriage. She has an MBA and has successfully managed the businesses of over 50+ brands. She is most well known for her time at Barneys New York as Senior Buyer of Jewelry and Watches. She recently launched TeamGurki.com to empower women to break paradigms and set new standards. Additional information and Gurki's portfolio of work can be found on her website or Instagram.
Image: Courtesy of Netflix
Aparna From 'Indian Matchmaking' Opens Up About The Worst Date Of Her Life & More
While arranged marriages are prominent in multiple cultures around the world, Indian Matchmaking is rooted in the South Asian version of matchmaking. In the show, Mumbai-based matchmaker Sima Taparia helps young Indians find their life partner based on a list of preferences they provide her with. True to tradition, the families of the participants are extremely involved in the process and often have their own list of prerequisites. If you think the process is similar to creating a Ship account, you'd be surprised to know just how detailed the actual matchmaking is.
If there's one thing Aparna Shewakramani got by participating in Netflix's newest reality show, Indian Matchmaking, it was the worst date of her life. While Nadia was many fans' instant favorite, Aparna has amassed a following of her own since the show premiered globally on July 16th. Aparna sat down with Betches and answered all our pressing questions about the show and much more. While season 1 of Indian Matchmaking ended on a couple of cliffhangers, we quickly learned that none of the couples are still dating. And although Aparna had a number of great dates with Jay, she told Betches that they are just friends at the moment. 

"I Signed Up For A Docuseries, I Ended Up Being Portrayed On A Reality Show!"
When asked about how she ended up on the show, Aparna remembers finding out about it on Facebook while she was flying home from LA, and her flight was delayed. A friend of hers had posted a call for South Asians looking for a spouse, and Aparna applied without putting much thought into it. When she was later selected and agreed to be on the show, she still didn't know what she was getting herself into. 
Aparna told Betches that initially the producers intended to make a docuseries on the subject, but somehow it ended up being a reality show. "There's a big difference between a docuseries and reality show," said Aparna, "I signed up for a docuseries, I ended up being portrayed on a reality show. Reality shows skew reality a lot more. They take everything out of context. They sensationalize. And perhaps they did that with all of us."  
The Perils Of Reality Television
As someone who doesn't watch any television whatsoever, Aparna was shocked and confused to learn that people take reality television as truth. She was surprised to learn that so many people were watching the show, but the initial reaction was quite negative. "As more thoughtful viewers have tuned in, as the press has started speaking about it, people have been peeling back the layers of the show and not just binging it for entertainment, but for all those nuances. The whole conversation has changed", said Aparna. She is referring to the conversation around casteism and colorism that has been sparked by the show. Most of the participants (and their parents) have been criticized for being discriminatory on the show, and this has initiated an important dialogue that has potential to bring about actual change.
But apart from this unexpected outcome, Aparna is quite unhappy with Netflix's approach to reality television. "They made us into very neat archetypes that evoked emotions in people. Everyone from Rupam, to me, to Vyasar, to Akshay, we all were crafted very cleverly," shared Aparna. She went on to explain that some of her dates were 10 hours long, but what we saw on screen was a 30-second rendition. 
A lot of people online claim to "know" Aparna, but she insists that they know a version of her—the version Netflix chose to portray. She believes that the editors of the show have the power to make it seem like a good date or a bad date based on how they edit the footage. 
Let's Talk About Srini
Aparna's first date on the show, with podcaster and author Srini, was definitely one of the highlights, and she told Betches that it was the worst date she has ever been on. Unlike other contestants, the matchmaker did not give Aparna a list to choose from. Instead, she picked a suitor for her and insisted she give him a shot. Both Aparna and her mother were unhappy with Srini, and the date did not end well. Viewers criticized Aparna for rejecting Srini because he didn't make enough money. Aparna told Betches this is far from the truth and that Netflix cut down large portions of their date.
"Our issue with Srini has nothing to do with his career choice. I have my own travel business on the side and it is a baby. So if someone leaves corporate America to do something creative, then I would be their biggest fan!" Aparna went on to elaborate that she felt hurt and upset by some of the things he said. None of this made it into the show, leaving Aparna skeptical of Sima's matchmaking abilities and Netflix's intentions.
The Aparna We Didn't See On The Show
View this post on Instagram
"They cut down my friendliness and my warmth that I naturally have with all my friends. I feel like I am quite an empathetic person, but that's not a good story I guess," shared Aparna. Apart from that, Aparna has gained a lot of respect for being vocal and unapologetic about her needs. The matchmaker, Sima, often criticized Aparna for these qualities, while at the same time encouraging the male participants who behaved similarly. "Why did Sima like certain other women over me and not like Ankita or I? People come with these notions of what a woman is supposed to sound like or look like to them." She explained, ""I'm referring specifically to how we are taught at a very young age to smile and be sweet and giggle," said Aparna. "And I just want to say no. I don't want to play that game." 
Aparna admits that she has played that game in her 20s and is not about that anymore. "I got dressed for dates thinking, 'what would all men want me to wear? What would all men like me to do right now?' I wish I could shake Aparna from her 20s and tell her you don't have to be likeable to all men. You need to be likeable for the right man for you. Stay authentic and true to yourself." 
Even though Aparna did not walk away from the experience with a husband (or a boyfriend) she is glad to have made so many friends along the way. She speaks to Shekhar every day—they're best friends and are planning to visit each other soon. Similarly, Dilip and Jay are her very good friends. Except Srini, Aparna had amazing things to say about the men she met. She said, "They were so respectful of me, they are my cheerleaders and my champions and I feel very lucky that I walked away from this experience with them."

Don't miss out on any pop culture news or entertainment. Subscribe to our weekly newsletter here. 
Images: Courtesy of Netflix; aparnashewakramani / Instagram
Hannah B's First 'Bachelorette' Promo Is Here, And It's A Mess
From the first moment that ABC announced Hannah Brown as their new Bachelorette, I knew that we were in for six months of eye-rolls and idiotic pageant references. There's nothing ABC loves more than an easy punchline (trigger warning: Colton's virginity), and so you know they're not going to miss a single opportunity to bring up sashes and tiaras and swimsuit competitions and ALABAMA. Well, we've now been #blessed with the first promo for Hannah B's season of The Bachelorette, and the verdict? I am already f*cking tired.
In the clip, which was premiered on Good Morning America today, Hannah B. traipses through a fairytale forest that looks like they tried to remake Avatar with no CGI budget. Hannah B. is wearing a tiara and a sash that says "BEAUTY QUEEN," in case you couldn't use your powers of deduction to figure out that she is, in fact, a beauty queen. She's in a big white gown, but it's one of the ones where it's actually pants, and the skirt part is removable. If I had to guess, she's going to take off the skirt at the end of this thing.
FIRST ON @GMA: The brand new @BacheloretteABC promo! Get your roses ready #BachelorNation! #TheBachelorette ? pic.twitter.com/55qmJzYipN

— Good Morning America (@GMA) April 5, 2019
As she wanders through the forest, she tosses aside the tiara, then the sash, then THE SKIRT. I WAS RIGHT. This is basically every sh*tty perfume commercial ever, and could also be mistaken for a Taylor Swift video from 2010. At least they're going with a tried-and-true concept. Oh! And I almost forgot about the music! As Hannah explores the enchanted forest, with more bad CGI roses growing around her feet, we hear a stupid cover of "You Don't Own Me," the classic song about being a bad bitch who doesn't need a man. Wait—isn't the whole point of this show that Hannah B. does need a man? Mike Fleiss, I'm unimpressed by your mixed messages here.
We're left with what is presumably the tagline for the new season, and man, it's some of ABC's best work, truly. THINK YOU KNOW HER? THINK AGAIN. Wow, I'm just struck by how creative and original that is. I mean, where do they even come up with this stuff? I'm just waiting for next year, when the Bachelorette tagline is probably going to be NEVERTHELESS, SHE PERSISTED. Gotta love the wordsmiths over at ABC.
Remember this tragedy?

So, what's going to happen?? Will Hannah B. ever find her way out of the haunted forest? Will she save herself, or realize that she needs a knight in shining armor? Honestly, I'm not sure her motley crew of guys has any knights in shining armor, so hopefully she's good on her own. We'll all find out when The Bachelorette premieres on Monday, May 13, and you better believe we'll be here ready to roast.
Images: ABC; @GMA / Twitter; Giphy
Pauly D And Vinny's New Dating Show Looks Like A Beautiful Mess
For the past couple of years, pop culture has been riding a major nostalgia wave, for better or for worse. Certain reboots have made us cringe, but we've also been gifted with some instant classics. Case in point: Jersey Shore Family Vacation. I had my doubts when MTV originally announced they were bringing the Jersey crew back together after nearly a decade, but our favorite BFFs like Snooki and J Woww or Pauly D and Vinny are still the perfect amount of crazy for reality TV.
While many of the Jersey Shore favs are married and/or raising kids, my sweet angels Pauly D and Vinny haven't settled down yet. Thankfully, the MTV producers gods heard my prayers, and are blessing us with a dating show starring the world's best DJ and the Keto Guido. A Double Shot At Love is coming back, and I already know it's going to be better than ever. Today, MTV released a teaser promo for A Double Shot At Love, along with all 20 0f the contestants on the show. Watch the video first, and then we 100% need to talk about some of the women competing, because they seem like characters.
If you don't feel like watching the video, it's basically 30 seconds of Pauly D and Vinny playing with baby chicks, and joking about being done with chicks and wanting real love. It's a dumb video concept, but it's so cheesy and cute that I really can't complain. I would've preferred some actual footage from the show, but I'll live. Honestly, I really should be ashamed of how much I love these two. I've met Vinny IRL and he is just as sweet and charming as he comes across here. Why did I not apply to be on this show? Probably because I'm a gay man, but I'm still a little bitter.
So where do I even begin with these 20 lovely ladies competing for Pauly and Vinny's love? Let's start with some basics.
– Eight of the women are from New Jersey or New York, which seems fitting.
– There's a "Brittani" and a "Brittnay," so I can't wait to see those two argue over which misspelling of "Britney/Brittany" is more correct.
– All of the women are between 22 and 33, except for Deseree, who is 37. Sorry Deseree, but you're going home on the first night. That's just how this works.
– Apparently for their photoshoot, each woman was given a $30 Fashion Nova gift card and told to choose her favorite bodycon dress. Once you take a look at the cast photos, you'll see what I mean!
I have neither the time nor the energy to go through and roast all 20 of these brilliant casting finds, but I'll pick a selected few to make some comments. Let's start with Brittani, whose nickname is "B-lashes" according to the press release. I'm proud of Britt for ignoring the bodycon trend, and instead showing up in her best Lisa Vanderpump cosplay. Great work. This is what J-Woww would look like if she got a job selling insurance.

Next, let's talk about Cate, who is from Staten Island, but that should be obvious from literally everything about her photo. I'm all for a good leopard print moment, but this dress really should've been left in 2004. The slicked-back sides look is probably my least favorite hairstyle ever (all the Real Housewives love it, and I simply do not understand), and I'm pretty sure she's wearing a Bump-it. At least Cate toned things done with natural-looking amounts of eye makeup and bronzer. LOL.

This was truly a tough choice, but I think my favorite look out of the bunch is Alli, who seemingly forgot that you're supposed to wear a dress over your Spanx and not just wear your shapewear out. She looks great in that dress, but the dress itself looks like a condom. I'm placing my bets now that Vinny and Pauly will both be all over Alli, because she seems to exude the right mix of confidence and willingness to take shots at a moment's notice.

A Double Shot At Love premieres on April 11 on MTV, and I can't wait to see how much more ridiculous this bunch of women get once they start to speak. Considering that the ladies on The Bachelor can barely form intelligent sentences, I might have to watch this show on mute. Regardless, Pauly D and Vinny, please feel free to slide into my DMs any time.
Images: MTV / YouTube; MTV (3)
Two Virgins, One Sloth: Diggy Moreland On 'The Bachelor' Premiere
Well Bachelor Nation, the time has come. You cried, you shouted, you asked for a recount, you even pulled the fire alarm at the mansion in hopes that the season wouldn't film, but to no avail. Colton's season of The Bachelor has started. Yes, the same man who couldn't commit to a summer fling in Paradise now will commit to finding his WIFE on national TV. I don't know how this season is going to end, but stock up on the toilet paper because I know the journey is going to be a sh*t show.
Episode 1 kicks off with ABC showing a bunch of people around the country that decide to go to their local bar and grill to take in three hours of Colton Underwood. The only explanation as to why someone would do this is that that the amount of liquor required to tolerate this season cannot be stored in a single family home, and people hate to drink alone. ABC literally spends 45 minutes going back and forth showing live footage in LA, Dallas, Utah, and Michigan of people watching THEMSELVES on the big screen. Yes, we're about 45 minutes in and no sign of Colton. What's even funnier?? NO ONE is upset. It seems that ABC got the memo: we know you weren't happy with our pick, so you win, we just won't show him.
We start to see some of the girls and their backgrounds. We have a speech pathologist from California, and Miss Alabama who has only kissed four people in her lifetime. Heather is up next and get this…like the movie SHE'S NEVER BEEN KISSED! (If she makes it to the Fantasy Suite, no condoms will be needed. Just UNO cards and bunk beds). Heather has her eyes wide open at all times, and it kinda looks like she sneezes with her eyes open, so definitely someone you want to keep your eye on.
Next, we meet Bibiana Jr. (aka Nicole from Miami) who brings a lot of spice with her. She's a big family person, meaning Colton: You better have at MINIMUM a 4-door, because the family will be tagging along as well. Dental hygienist Kirpa, and Demi from Texas round out the rest of the intro packages.
Colton then gives his big soliloquy about how he's changed, evolved, and still doesn't wear underwear (this alone should disqualify you from being the Bachelor). In a series of some of the worst shirts I've ever seen, Colton talks to Chris Harrison about how the experience has changed him, and how he's ready to prove people wrong and lose the V-card that's super glued to his chest. Yeah, enough of that.
Somehow, The Bachelor makes LA traffic disappear, and these limos start rolling in hot and heavy with girls with tags still on their dresses, hoping that Nordstrom will take everything back if they get cut early. The first couple of limo entrances are pretty basic, nothing exciting. Miss North Carolina makes it known who she is, followed by Sydney who makes it known that she quit her job to be there so yea, Colton, I hope you can bring home enough bacon for the both of you.
Probably the best virgin joke of the night belongs to Caitlin who "pops his cherry" via a balloon on a string. (Here's $100 saying he didn't get the sexual reference.) More V-card jokes come, and the entrances start getting even more boring….until the sloth. Following the likes of Dolphin Alexis Waters, and Penguin Matt Munson, we have a girl dressed as a sloth moving ever so slowly. Well if there's one thing he's not in a rush to do, it's have sex, so you're probably torturing yourself more than Colton. Tracy shows up in a cop car as the fashion police, and then we get a voiceless Alex, a fake Aussie, and a girl who drops off her daughter (aka her dog) in Colton's hands as she enters the mansion. The last entrance might be the most memorable: a horse and carriage ride in, complete with slipper left behind and everything. But the way gas prices are in LA, I totally get this move.
And finally, the cocktail party starts…LET'S GET TO IT!! Colton proclaims that he's ready, and he begins to meet with all of them. Demi steals him first (which, PRO TIP: automatically puts a target on your back) and then the other conversations follow. The conversations are going as well as you'd think they would…until they don't. Miss North Carolina gets the first kiss, and she's smitten. Chris Harrison then messes up the vibe created by free Hennessy & Patron by placing the first impression rose on the table.
Catherine (the bad dog parent) gets her time, but decides enough isn't enough. She proceeds to steal Colton away from three others in addition to her original time. Despite being warned that it's rubbing others the wrong way, she continues to do it. One thing's for sure: Catherine is definitely going to have Nair put in her shampoo bottle, and it's ONLY NIGHT ONE.
Hannah gets the first impression rose, because he knew "from the beginning of the night." My money is on it being the only name he could remember, but hey, I'll take his word for it. All the girls now hate her and probably are putting itching powder in her g-string. Okay, one rose down…several to go.
Rose ceremony time. All the roses aren't really surprising given the amount of TV time they've gotten. But the final rose is here, and time thief Catherine still doesn't have a rose. But you know ABC…she's getting one, and unsurprisingly, the last rose goes to her. I mean, if we're not gonna have sex on this show, we gotta have drama, right? People who got eliminated before the sun came up and can return to work like nothing happened: Alex D, Laura, Revian, Erin, Devin, Tahzjuan, and Jane.
This season will be drama-filled for sure, mostly because at some point, Colton won't be able to make up his mind, will forget someone's name, or call someone Becca/Tia!
Images: ABC
'Are You The One?' Recap: The Man-Child Doth Protest Too Much
Last week's episode was more lit than a Menorah on day eight, ya heard. Between Geles and Taylor getting in a fight that killed my own brain cells and Kareem throwing inanimate objects at the girl he supposedly loves, the whole episode was the best holiday gift that anyone could have given me. Thanks MTV!
So anyways, we found out that Keith and Alivia are not a match, which thrilled the two potential murderers loose cannons of the house, Alexis and Kareem. Let's pick off where that massive shit storm left off. *pours wine*
Post Truth-Bomb Dumpster Fire
In a not shocking turn of events, Kareem is losing his fucking mind over this Truth Booth being a no-match. While I'm silently dialing 911, DD is loving this psycho shit Kareem is letting lose. Nothing makes her hornier than questioning her own safety.
DD When Malcolm Calls Her A Slut: How dare he? I don't like guys that disrespect me!!!
DD When Kareem Flips A Table In Her Direction:

After being denied by the Truth Booth, Keith is like, "Maybe I do have feelings for Alexis?" which is code for, "Alexis is literally the only way I'm getting laid at this point." Desperate times call for desperate measures, right? Keith runs after Alexis, as she continues to make oddly specific threats about how she wants to mutilate his body.
Alexis is screaming, "I didn't kiss anyone when we were together!!!!" and he's like, "Well, we're in the house, so we're not technicallllllly together." Ah, gotta love those technicalities. Alexis storms off, and the audience collectively takes a breath because Keith may live to see another day.
DD, Jada, and Nurys are all shit talking Malcolm in the most diverse remake of John Tucker Must Die. I'm digging this vibe rn. Anyways, Nurys tells DD that she and Malcolm had sex like, the day before BananaGate.
Finally these two dummies have figured out what was already confirmed to viewers when we saw his ex (yikes): Malcolm ain't shit.

Meanwhile, Geles is talking to Audrey about how she is "so in love with Anthony" and how she would "give up a million dollars for him." It's honestly so good of MTV to let people who are borderline braindead on this show.
Geles has finally realized that Anthony wants nothing to do with her or her eyelashes, and now she sets her sights on someone equally as mediocre—Johnny Bravo. She decides to tell Audrey—ya know, his in-house girlfriend—about this romantic connection she and JB have.
Audrey plays it off like all is well and that she doesn't want to hang Geles by her extensions. She's like, "I love that you're being real with me," and there is literally no part of Geles that is real, so you can cut the bullshit.
DD and Nurys corner Malcolm in a weird deleted scene from The Other Woman. They are all talking and getting in each others' faces, and you know somewhere in the distance, Keith is yelling, "Threesome!"
DD calls Malcolm out for having sex with Nurys, and Malcolm's like, "I had sex with Nurys? I must have forgotten! See here's the thing, I fall a lot, and my dick was out, so like….it could have happened." Geles and Malcolm should be a couple, so they can have the combined IQ of a grapefruit.
DD calls Malcolm out for being a fucking liar, and Malcolm is like, "ARE YOU GUYS TRYING TO DOUBLE TEAM ME RIGHT NOW?!" and Keith is like, "YESSSS."
Malcolm is getting super pissed that he's getting called out for things he actually did and starts calling the girls bitches. Malcolm, wanna intern for the Roy Moore campaign? I feel like it's a good fit for you.
Other Stuff
The girls decide to interview team likable—who I have begrudgingly added Shad to, ugh—and they're like, "We need to stop being so superficial." YA FUCKIN' THINK?! And okay, superficial? I would climb Tyler like a fucking tree.

Joe starts talking about being in a cult and it's like, damn, are the Scientologists gonna be okay with this? When did my remote switch to the Leah Remini show?
Uche is into him now because they both grew up as weird Jesus freaks. Nothing brings two people together faster than the understanding that organized religion is a sham 99% of the time. Mazel tov!
They start talking and realize they kind of actually have a connection (weird). Uche is like, "Yeah, Clinton and I spend every night together, but it's the DAYS that are important." Oh, is that how dating works? Mmm okay, I'll just go ahead and let my boyfriend know that.
Kareem and Nurys are talking about how they are both angry AF and have no control over their behavior even though Kareem looks old enough to be my father.
Kareem says he's going to pursue a different match after Alivia wasn't receptive to his abuse love. Thankfully for him, there are plenty of other girls with low self-esteem and anger issues in the house for him to choose from. Ya know what they say about plenty of fish…
Geles and Johnny Bravo are having the world's lamest conversation, only barely beating any conversation Uche and Clinton have.
JB admits that he's into Geles but won't sleep with her because "he's with Audrey." How noble of him. Don't call him a hero.

They acknowledge that they have a physical connection, and of course, JB runs and tells Audrey about this discovery. She gets upset and JB's like, "What did I do?" If only the steroids he clearly abuses worked on his brain.
Audrey is like, "I'm pretty mad," but the thing is that totally rhymes with "I should date Shad." What? Who said that?
JB goes into recovery mode and immediately tells Audrey everything she's ever wanted to hear ever.
Audrey: Am I prettier than her?
JB: Yes
A: Am I funnier than her?
JB: Yes
A: How long have you been sleeping with Mrs. Windham?
JB: 3 Months
A: And your boyfriend's name is?
JB: Chuck.
They make up in the Boom Boom Room, and JB is like, "Girls think I have a small penis, but I swear I don't."
The man-child doth protest too much.
Everyone is kind of mingling and getting to know each other, and Shad has to go and ruin everything by opening his fucking mouth. I love to hate Shad, mostly because I think in real life he'd probably be my best friend. Truth hurts.
Shad's like, "I need a pretty girl next to me at the match ceremony," and sets his sights on Zoe. Zoe looks like she wants to die round two, because we saw round one when she was with Keith. Shad leans in for the kiss, and Zoe compares kissing Shad to kissing her mailman, which is immediately wrong because we all know Shad doesn't deliver in the bedroom.
Not going to lie, it really annoys me how bitchy Zoe gets toward Shad after that. Like damn bitch, you're sitting lakeside, on a reality show, next to a glorified frat boy named SHAD. Did you think you guys were just gonna go outside and chat?
Ugh, I hate that I like Shad; it's so bad for my reputation.
Match Ceremony
Kareem is up first because he threatened to murder anyone who tried to go before him.
Kareem says that he saw a side of himself he doesn't like, and its like, is there a single likable side to you?
Kareem picks Nurys, and DD's like, "Wow. Lol, again Nurys and I are going after the same shitty guy!" There is truly no hope for these girls.
Anthony's up next and basically says he doesn't give a fuck about what Geles thinks. Thankfully for him, Geles doesn't think too often.
Geles starts yelling at Anthony, and Audrey chimes in and is like, "Well, you are kind of shady." Normally I would tell Audrey to stay in her lane, but if her lane cuts off Geles it's chill.
Now Geles and Audrey are yelling at each other. All the dudes are like, "Why are you this way," except Kareem, who has the weirdest boner from all this conflict rn.
After all this bullshit, Anthony picks Keyana. Of course, Keyana still misses Johnny Bravo because she's a little babyback bitch.

Speaking of bitch, JB is up next! Terrence J is like, "The girls are fighting over you," and the girls are like, "No we aren't!" *eye rolls*
JB and his micro-penis admit they are afraid of the girls, which is probably why he'll come out as gay in a few months. You heard it here first.
JB picks Audrey.
The Shad is up next. He picks Alivia because "she went to a good school and so did I." See, I'm telling you that we would be friends IRL. Ugh.
Keith picks Jada because they are homies. I love both of them, so I'm HERE FOR IT.
Dimitri picks DD because "she can put him in his place," which she could, if his place was the hospital.
Joe picks Uche.
Nicole picks Tyler. Finally pulling her head out of her ass and accepting that he's hot.
Ethan picks Zoe.
Geles picks Clinton.
Malcolm picks Alexis.
Alexis is openly like, "I shouldn't be so in love with Keith," and it's like, yeah, probs not. Alexis is a stage five clinger for sure.
Malcolm says that he deserved being called out by the girls (duh) and apologized for calling DD a dick rider. He said he's "working on himself" which seemed genuine, but I'm also a bottle of wine in, so who knows.
Damn, I hate when everyone is okay and I have no one to dislike. Oh wait, Geles exists! Okay we're fine. I feel good about this match-up, honestly, and it turns out they get five beams! Still failing, but not as much as before, which was also my motto in calculus class.
After The Match Up
Ethan is pumped and decides to skinny dip. Ethan, sweetie, I love you, but put your fuckin' clothes on.
Everyone gets naked except Shad, who sits and watches while comparing getting five beams on AYTO to putting man on the moon. What good school did he go to? University of Phoenix?

Tyler and Nicole are flirting, and she's like, "I love shitty guys," and Tyler is like, "Can't relate." These two are a beam, I'm putting this into writing now.
Keith walks by Alexis, and she's like, "I fucking hate him," and IN THE BEST EDIT IN MTV HISTORY EVER, it immediately goes to her in the confessional crying and shaking about how much she loves Keith. I'm not proud of how hard I laughed at work, while watching this on my phone under my desk during office hours.
Alexis is holding her stuffed animal and drunkenly crying, and Keith is like, "You're immature," and she's like "FUCK YOU, HOW DARE YOU." She tells Keith she loves him and starts crying and screaming. Keith is like, "Can someone restrain her please?" Alexis swears she isn't drunk, but if I was her, I would have blamed that shit on the alcohol so fast.
Keith is like, "I shouldn't love her, but I can't get away," which sums up my relationship with Adderall, so I get it.
The Game
The game this week is about trust, and they make everyone go through an obstacle course. The guys are blindfolded and have to carry the girl piggyback across this whole thing.
Geles is like, "I'm walking towards JB, but he is walking towards his girlfriend, which is a bummer." Geles has lived her whole life blindfolded by her eyelashes, so this challenge should prove extra challenging to her team. She pairs up with Clinton.

Alexis is with Shad and is freaking out at him. She's like "WHY ARE YOU RUNNING INTO THE WALL, IT'S NOT LIKE YOU'RE BLINDFOLDED!!!!!"
Ethan and his dad bod, which he proudly displayed the night before, are struggling to hold Jada up. Jada's like two seconds away from putting Ethan on her back and winning this fuckin thing.
Somehow JB and Audrey win, and Alivia and Joe come in second.
Terrence J, being the good chaperone he is, decides to let the kids have a little party and tells them they are doing a Mardi Gras boat party. All the castmates are pumped, but no one is more excited than me—party episodes are ALWAYS a mess.
Me Next Week:

'Are You The One?" Recap: This Shit Is Bananas, B-A-N-A-N-A-S
Hello people who weirdly read this recap/watch this show—aka my mom, the self-obsessed cast members, the Betches editor, and the people who are members of the cult-like Are You The One? subreddit. It's a fresh new week of AYTO and it's really a well-rounded shit storm this week. There is romance, heartbreak, redemption and flying produce—it's basically on its way to winning an Emmy.

AT THE HOUSE
So last week, they hit a new low, literally, and only got one fucking beam. You can practically see the steam coming from Joe's ears.
JOE: What is this? A reality show for ants? It needs to be at least, 11 times bigger!
They go back to the house, and Kareem does what he does best and opens his big fat trap to spew some stupid shit. He's yelling at Team Likeable—Ethan, Tyler and Joe—and Shad, calling them losers.
He's like, "Hey Tyler, how about you play the ukulele all night, you fuckin' loser!" Good one, Kareem! Yeah, fuck that guy and his musical pursuits! I imagine Kareem is one of those people who practices his arguments in the shower.
If there are two things I am knowledgeable about in this world, its basic 10th grade science—the mitochondria is the power house of the cell—and historic Are You The One? downfalls. One of those skills is useful, and the other is the powerhouse of the motherfuckin' cell. WHAT I'M SAYING IS—as an expert, I can weigh in and say that these no match couples are for sure, and always will be, the reason they lose this game.
Anthony decides to pull his head out of his ass and consider the fact that he and Geles might be fucking up the game by being a no-match couple. He's like, "I'm just now seeing things for what they are," and Geles is like, "god it must be nice to see."
Anthony breaks up with Geles, and she's like, "But if we're not a couple now, we'll never be a couple in the real world!" and okay *puts expert hat on*, it's more likely that if you're a couple in the house, you'll never last in the real world. But I guess Geles really doesn't know what the real world is like, having only seen it through the stripes of her dangling lashes.
She's like, "I'm over this game." And it's like, honey, take a number. I've been over this show since 2014, yet here we are.

Back to Nurys, who is like, "I literally want anyone but DD to be with Malcolm. I don't even care who. E-Money, get over here."
Nurys apologizes to Malcolm for letting a dude lick chocolate off her nipple. It's kinda crazy they don't make a Hallmark card for that.
Nurys starts crying about how she always loses guys to another girl, and it's like, well, you're a self-proclaimed sidechick, so you have willingly put yourself in this position.
NURYS: *crying* It's just so hard having all these problems that I created, knowingly!!!!
Malcolm's like, "I have feelings for two girls again," and they start kissing. This is without a doubt the weirdest episode of Malcolm In the Middle I have ever seen.
Meanwhile, Keith is like, "Oh, was there a fight with Tyler and Kareem? I must have missed it, because I WAS HAVING SEX WITH ALEXIS. Yup, lots of sex. Loud sex, too. Soooooo much loud, screaming donkey sex."
He's like, "Wouldn't it be cool in the real world, if like, everyone fights and nuclear bombs drop, and I'm just like, having sex with Alexis?" *hits blunt* Oh, to be young and have the IQ of a baked potato.
THE CHALLENGE
For the challenge, they have to pair up and make some gumbo. The uncultured swine that make up this cast are like, "What's gumbo?"
Alexis is like, "I'm from West Virigina, we don't know what gumbo is!" Dude, I'm from California. I know people that have literally eaten kale and ice cubes for six straight days, and I STILL know what gumbo is.
The couples have to be strapped up together to make the gumbo, then Terrence J is the judge of the gumbo, because apparently when he's not being the host of a D-List MTV show, he also moonlights as a Cajun food critic. Be sure to add that to your less than stellar IMDb page, TJ.
They all pair off with people, who are mostly new, and they all look like they have never ever spent a second behind a fucking stove. Isn't it hazardous for Geles to be near an open flame with her lashes dangling in the wind?
Really, Shad? You're gonna put fuckin' cinnamon in the gumbo? What do you think gumbo is? A fuckin' pastry? When is the last time you've seen a fucking cup of gumbo sold at a Cinnabon? Jeeeeesus.
Alexis/Keith (team whitebread) win (which is fucking insane), and Geles/Clinton get second.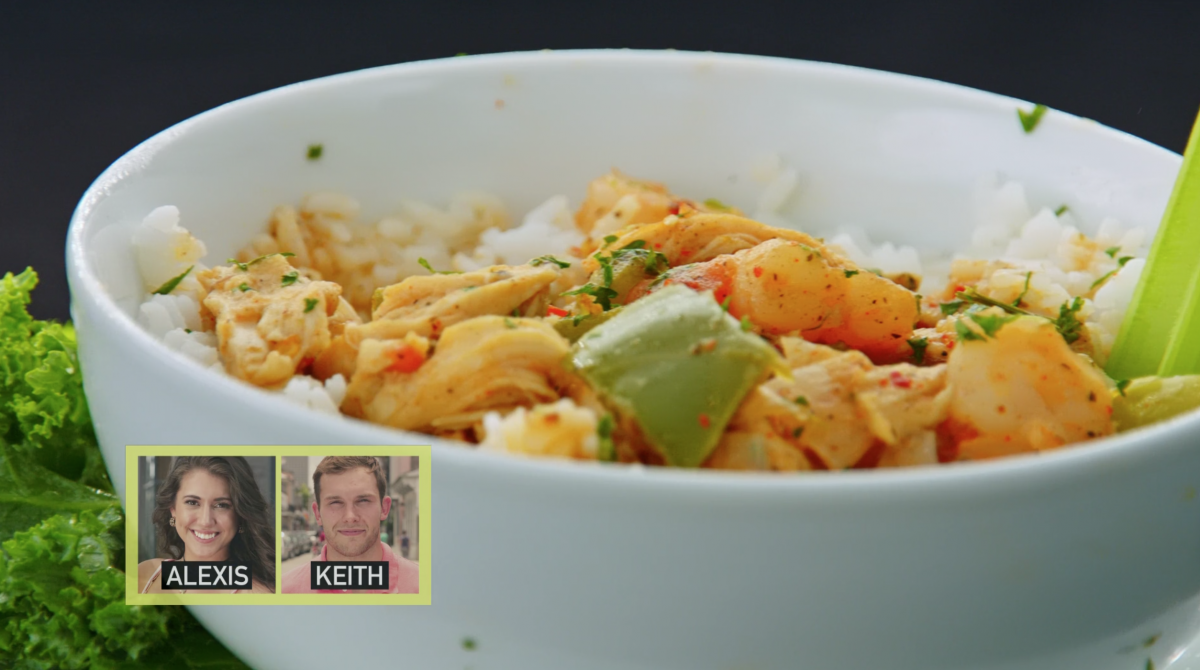 BACK TO THE SHITHOLE MANSION
Malcolm and DD are still flirting and stuff, and Nurys is still flippin' out. Like, why?
Nurys starts yelling at DD for like, rightfully pursing Malcolm, and it's a mess. DD actually picks up some fucking bananas and starts throwing them at her. Never did I think a fruit would be a weapon of choice, so points for creativity. This shit is bananas, B-A-N-A-N-A-S.
Jada's looking at these hoes like they have lost their damn mind.
REAL PICTURE OF JADA: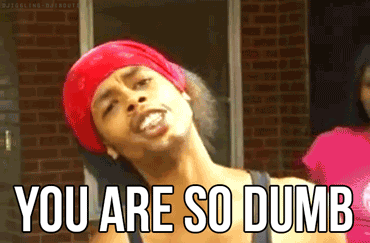 Nurys is crying and is like, "I'm tired of fighting for this man and being the sidechick!" Tyler, can you play Nurys the world's smallest violin?

THE DATE
For the date, they are going on a seaplane that MTV got them via Groupon. Geles is like, "Wow, a plane is on water, that is so crazy." Very good, Geles. Why don't you sit down? We all know that exercise of brain power hurt.
CLINTON: Geles is short, so this will be the first time she can see things!
GELES' EYELASHES:

Alexis looks like she is off to church for her date with Keith, which is giving me whiplash from the Coyote Ugly vibe she normally gives.

Geles and Clinton do what normal people do on a first date and discuss their future children.
CLINTON: Our kids are going to be so cute. So, what's your last name?
Alexis is like, "I'm such a pussy ass bitch, I'm so in love with Keith." Wow, I'm sure he's thrilled to hear that. "I hate myself because I love you." I mean, I've seen every episode of Criminal Minds, and Alexis' reactions to certain things are like, a cause for alarm. *starts twitter poll* Is Alexis a psychopath?
ALEXIS: *cousin murders someone* She should be free. Live free! YOLO! Luv u!
ALSO ALEXIS: *falls in love* This is horrible. Fuckin' A. Worst day of my life.
ME, AN INTELLECTUAL:

THE TRUTH BOOTH
Shockingly (not), they vote Alexis and Keith into the Truth Booth. When Terrence J sees Alexis in her Easter dress, he's like, "I feel like you dressed like a hoe when you're single." She's like, "Well TJ, I'm a spoken for lady, now." God, I feel like Mike Pence directed this episode.
ALEXIS GETTING READY FOR HER DATE:

But alas, team whitebread is a no match. Sad! Very Unfair!
They both take it pretty well—Alexis immediately starts drinking, and Keith immediately plots how to fuck the next girl. This is pretty much how all millennial relationships end.
The house is like, "Hey, we suck at this." Really? What gave that away? Shad, of all people, the Cinnamon man, himself, has the smart idea of doing speed dating to get to know everyone. I thought I hated the cast members before, but now I really hate them for forcing me to agree with something Shad said.
Some couples hit it off like Uche and Michael, who both discovered they have no personalities. Keyana and Anthony bond over the lack of airtime they get on this show. Audrey still pretends like she isn't into Shad, which I totally understand.
Tyler. Sweet, sweet Tyler. Tyler is really into Nicole, who literally looks like she would rather set herself on fire than date him. They go on a little mini date, and the cringe level is off the fuckin' charts. She tells Tyler that she's into short guys, which is a) fuckin' unheard of and b) bad for Ty, since he's so tall. He's damn near whisperin' to Jesus.

There was literally a bigger spark between DD and that banana. Yiiiiikes.
THE MATCH UP CEREMONY
Shad is like, "We can't blackout, the Shad doesn't blackout." Yet, somehow I find myself desperately seeking a blackout anytime I have to watch the Shad.
Keyana picks Anthony, who very obviously does not miss Geles at all. Keyana, however, says she "misses Michael," which is so weird, because doesn't she have a shrine to him in her closet? Like, you can't miss him that much, when you sneak into his bed every night to collect his stray hairs for your collection.
Alexis picks Joe, the only other human in the house who thinks mayonnaise is a spice.
Uche picks Michael, yawn.
Geles picks Clinton, because who else would she pick?

Zoe picks Keith.
Audrey picks the Shad. I'm telling you, they are gonna hook up.
Nurys and Kareem bonded at the speed dating about being chemically imbalanced and off their medications, so they match up too.
DD picks Dimitri (The spelling of his name, I swear, literally changes every episode) in the low grade remake of Dumb & Dumber.
Alivia picks Malcolm.
Nicole cringes and picks Tyler.
Jada picks E-Money. #SomeoneLoveEMoney
I guess the Shad was right twice this episode—they don't blackout. They actually get four beams, which they are stoked about. This whole thing reminds me of college, where I would drink champagne, if I got a 60% on a test.
You can't disappoint yourself if you don't set any standards, I guess.